Our readers support us. This post may contain affiliate links. We earn from qualifying purchases. Learn More
Navy and white rugs are elegant and sophisticated. They can have both classic designs that work perfectly well with traditional homes, as well as contemporary patterns that do wonders in a modern room.
These rugs are so versatile that they can be used in any room, from bedrooms to living rooms, kitchens, sunrooms, and even outdoor spaces.
The navy and white combination is perfect for a cold climate and leather couches but also for a coastal setting with rattan elements.
Here are some of the best navy and white rugs of 2021.
Navy Herringbone Cotton Flatwoven Area Rug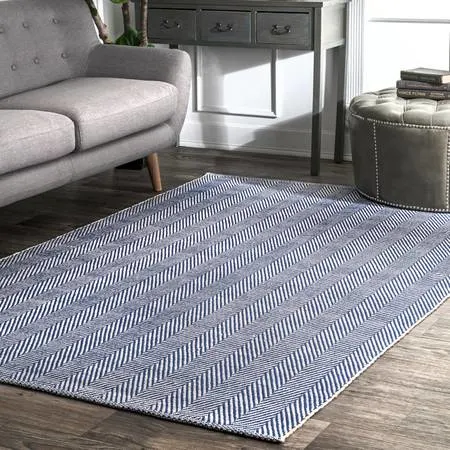 The navy herringbone cotton flatwoven area rug is made entirely of cotton, giving the rug not only an elegant look but also a soft and natural feel to the touch.
This rug has a hand-loomed design that is durable and pet-friendly. In addition, it looks great matched with grey and brown couches thanks to the pale cool color palette. As such, this navy rug is versatile and can enhance the look of many room types, from living rooms to bedrooms, kitchens, and even dining rooms.
It looks particularly incredible when placed underneath a wood chunky dining table matched with wooden chairs. You can easily use this rug in an eating space as its material makes it easy to clean any possible stains.
The Shag White Rug with Navy Lines
|
One of our favorite rugs for 2021 is a shag white rug with an intricate navy design. The lines in navy are drawn on the white background as with crayons, creating an inspiring texture.
This rug is perfect for very bright living rooms in coastal areas that experience cold winters. The plush feature of the rug is great for cold tiled floors as it offers warm padding for your feet.
You can use this rug in a living room, matching white couches and blue decor elements. You can also use it in a bedroom with wooden furniture as the cold navy hue and the warm wood tones go very well together.
Navy Morse Awning Stripes Area Rug
This navy rug can inject a modern flair to any room you place it in. It offers a nice plush surface you can sit on thanks to its 100% natural wool composition.
Its bold rich color scheme however is another bonus. The strong contrast between the navy background and the white stripes that compose its design is a great accessory feature that can make a room instantly more prominent.
This rug works perfectly in a bedroom if you want to add a glamorous vibe that is relaxing to the eyes. Match it with light hardwood floors and white furniture for a contemporary look.
The hand-loomed weave and the hand-tufted construction of this navy and white area rug are sure to make an impact and not go unnoticed, whether in large or small rooms.
Mid-Century Modern Navy and White Rug
|
This pale navy and white area rug with a distinct mid-century modern design is quite a masterpiece. It is such a charismatic piece of decor that can make any living room feel more sophisticated.
This rug design works great in bright and colorful living rooms to create an eclectic decor with a classic twist. It can anchor together different styles of furniture and even different colors. This is why this rug is so popular in 2021, the year when inspiration and artistic creativity is on the front.
Navy Moroccan Geometric Area Rug
A classic shag Moroccan style rug is an all-time favorite and this navy and white area rug is really popular in 2021.
The soft and plush look of this rug offers a soft touch to any living room or bedroom. The white background and navy geometric design, on the other hand, balances the softness and give your interior an edgy look.
This is a machine-made rug in 100% polypropylene, which makes it easy to maintain. Its 1-inch thickness offers a warm cover for your floor while still allowing wooden planks to breathe. As such, this rug is perfect for hardwood floors.
You can place it in cabins or homes in cold climates and still inject a warm feel through its high pile and Bohemian look.
Diamond White and Navy Rug Design
|
This white and navy rug with a diamond design is a beautiful traditional piece with a spiritual vibe. Its pattern made of navy chunky lines with white dots takes inspiration from antique kilim rugs and offers a rich cultural infusion in the room.
This rug can be used in Bohemian living rooms or stylish rooms with an exotic natural vibe. You can place it underneath a dark navy couch and match it with white throw blankets and pillows to create a multilayered design.
Navy Awning Striped Flatweave Tassel Area Rug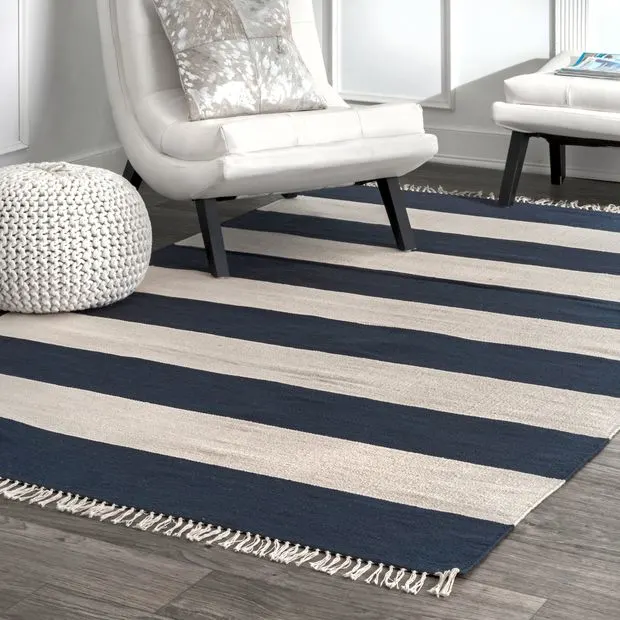 The versatility of white and navy rugs is really incredible. You can have a plush and warm wool rug in this color scheme and complete a cabin look. Or you can have a flat navy and white thin rug to accessorize your beach house. Both work perfectly.
The navy awning striped flat grave tassel area rug is in fact a great addition to white planked floors in a house near the beach. It offers a luxurious style to a coastal home while providing softness and freshness for your floors.
This rug is made entirely of cotton and is a perfect choice for surfers and people who love the beach, the smell of the salt and sea, and small grains of sand across their homes.
The thickness of this rug is just ¼ of an inch, which means you can easily fold it and store it in a car and take it with you on a picnic. You can also just as easily place it in the laundry.
The Abstract Navy and White Area Rug
|
An abstract navy and white area rug is quite contemporary and compelling. This model in particular is one of our favorites as it features a white background in a warm tone, siding more on a shiny ivory.
The navy dots on the other hand are spread throughout the rug in various sizes following a linear pathway.
Its abstract design resembles a modern abstract canvas and is perfect for minimalist interiors. This rug works quite also with a Scandinavian living room with mid-century modern couches and steel framed tables.
Navy Moroccan Trellis Area Rug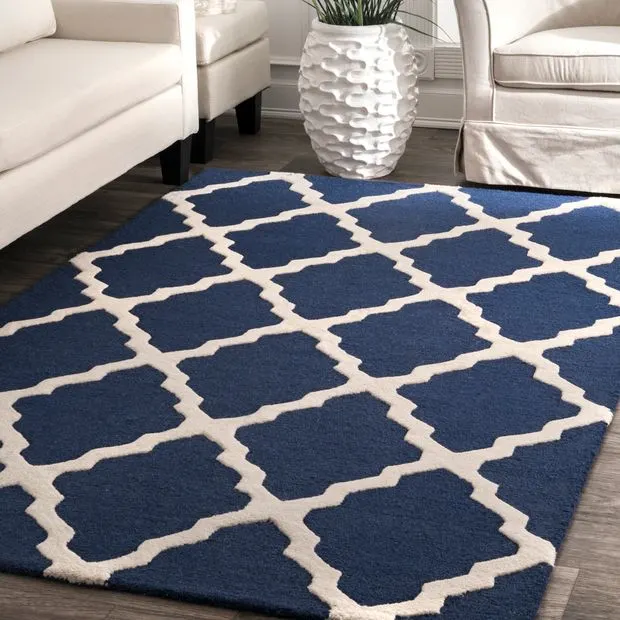 The navy and white Moroccan trellis area rug blends a traditional design with a luxurious material such as wool to offer a timeless piece of decor. This rug is as comfortable as it is beautiful.
Thanks to its classic look composed of bold lines that cross each other to create white diamonds in a navy background, this rug is ideal for an office as well as a living room.
In addition, its hand hooked weave does not go unnoticed and can become a conversation starter when you have people over.
Last but not least, this white and navy area rug offers a strong Moroccan charm as well as an ethnic appeal that can make any room more authentic.
Sea Star Navy and White Outdoor Rug
|
Navy and white outdoor rugs are pretty common. Our favorite for 2021 is this navy rug with a white sea star that looks absolutely magnificent under the sun.
This rug is made of 100% polypropylene, a material that is not only affordable but also very durable. As such, it works perfectly outdoors, whether under direct sunlight as well as exposed to rains or mildew.
The navy background is simple but attractive, making it a great color for wooden decks as well as weaved wooden furniture. In addition, its material composition makes it a very easy-to-maintain rug, that does not fade under the sun and does not stain easily. And even if you find spots on this piece, they are easy to clean with a hose and mild soap.
Navy Faded Imperial Medallion Area Rug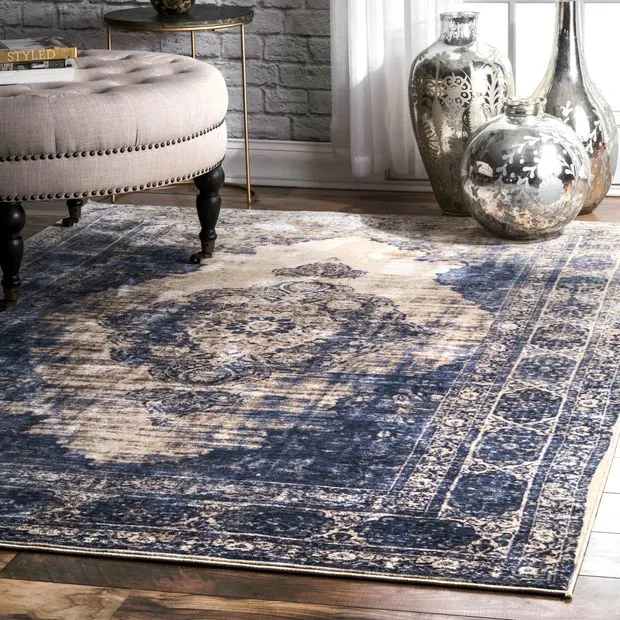 A classic medallion-inspired rug in navy and white just had to be part of this list. This rug is a timeless piece of decor that offers a classic vibe mixed with a laid-back contemporary feel thanks to the faded design.
It is a perfect addition to your bedroom, whether at the foot of your bed or in any other position. Its design in contrasting navy and white colors is slightly blended thanks to the distressed look.
This feature allows the rug to be quite versatile and easy to match with white, grey, navy, black, wood, or even other furniture and bedding colors.
Thanks to its polypropylene composition, you can place it in a mudroom too and enjoy a stylish second entrance to your home. This navy and white faded rug hides any stains or wet spots perfectly, and most importantly, it is very easy to maintain.
Delphina Navy Blue Rug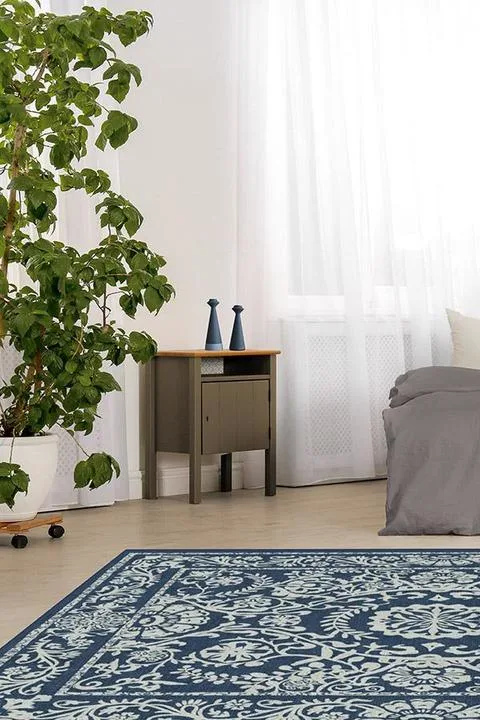 The Delphina navy and white area rug feature a classic design with intricate white floral vines on a navy blue background. It also includes a subtle medallion and two thin frames in a floral vine design.
When it comes to classic looks, therefore, this rug checks all boxes. Its color scheme however is quite contemporary, which makes it a great decor piece for 2021.
Last but not least, this rug can be easily washed in the laundry without worrying about its color fading.
Large Navy and White Area Rug
|
One of the best navy and white area rugs of 2021 is a large Oriental rug with a faint or washout color. This rug is beautiful when matched with a leather brown couch and see-through bamboo blinds. This match offers a relaxed and laid-back beach vibe.
The large surface of the rug serves two purposes. Firstly, it adds a bold and rich pattern to the floors, making it a gravitating design and an interesting piece of decor for a living room.
Secondly, this rug is perfect to bring together different pieces of furniture that are not a set but work as one. You can place the rug slightly underneath the feet of the furniture and create a link between all of them.
Geometrix Navy and White Area Rug
Geometric rugs are very mid-century modern, which is also trending as a design style in 2021. This is why the Geometrix navy and white is so inspiring. This rug is perfect for children's rooms. You can create a whole interstellar theme and match it with spaceship wall elements and starry wallpapers.
Another reason why this rug is great for your children is its washable feature. Every once in a while you can just throw it in the washer and make sure your children are sitting, playing, walking, studying, and crawling on a clean and germ-free surface.
Sela Navy Rug
The Sela navy rug is a piece of art in itself. Its surface creates an abstract painting through dotted patterns on a navy background.
This piece takes the art of pointillism to your floors and makes them utterly more interesting thanks to its wavy design. It adds depth and more dimension to your room, and let's not forget, plenty more character and inspiration.
This rug is perfect for bedrooms, living rooms, kitchens, dining rooms, or large hallways. It is easy to clean and appropriate for a lot of foot traffic.
Diamond Shibori Navy Rug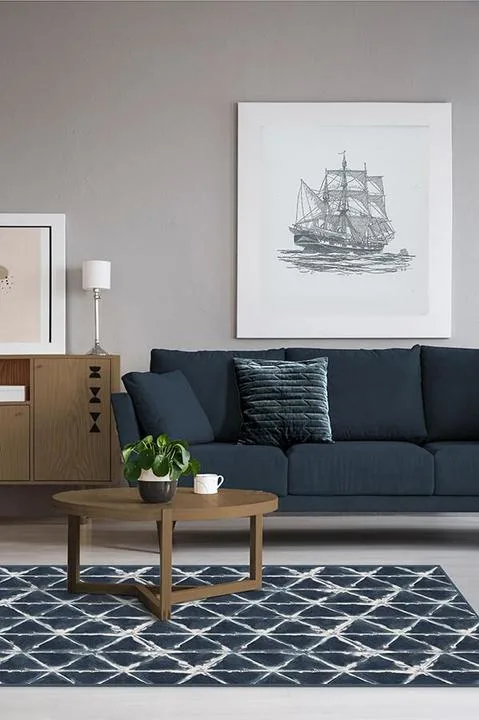 The diamond pattern in white over a navy background on this rug looks like it has been created by strokes of a large paintbrush.
The design is rich and inspiring with a repetitive motif that brings some artistic creativity to any room.
Outdoor Gemma Lattice Royal Blue Rug
We often see the color navy also referred to as royal blue, which just emphasizes how graceful and elegant this color is.
The Gemma lattice navy and white rug is a great addition to an elegant patio. The lattice design offers a classic appeal with a contemporary vibe, so the best for both worlds.
The small white streaks embedded into the navy background create a subtle exotic feel which allows this rug to be integrated into a Boho style as well.
All in all, this rug is quite versatile and also easy to clean, and very durable as it will not fade when exposed to sunlight for prolonged hours.
Linear Striped Navy Rug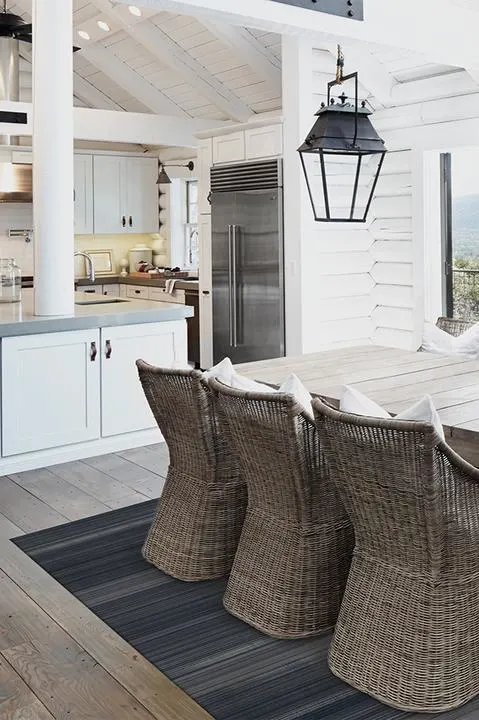 This is ultimately a statement rug. The abstract striped navy and white rug that looks like the whole design has been blurred out creatively can infuse your room with mystery and creativity.
The pattern of this rug looks like a walk into a fog. It is perfect for a moody room, surrounded by wooden furniture. The whole decor can resemble a walk in a forest and make the room feel like you are stepping into a fairytale.