Our readers support us. This post may contain affiliate links. We earn from qualifying purchases. Learn More
Picking out the perfect area rug for large rooms requires a bit of a keen eye, and if you're struggling with the task, here's a handy guide for you:
Typically, a large bedroom is 14'x16' and bigger. As a thumb rule, it needs to accommodate a king or California king-sized bed of 6'3×6' and 6'x6'x7'. Therefore, a 9'x12' rug is perfect for a large bedroom.
A large living room is 15'x20' and bigger, so a 10'x14' sized rug is perfect for it. An oversized bathroom is 9'x10' and larger. You can furnish it with a 3'x5' sized rug or a 4' round rug. A big home office is 12'x14' and larger, and it can be perfectly outfitted with a 8'x10' sized rug.
Below, let's look at each of these room sizes in closer detail:
Rug sizes for a large bedroom
A 14'x16' sized bedroom or bigger is considered large. Now, note that a king-size bed is 6'3"x6'6" while a California king bed is 6'x7'. Both of these should be easily able to fit within a large bedroom. According to that, this bedroom size can be outfitted with a 9'x12, 8'x10', 5'x8', and an 8' round rug.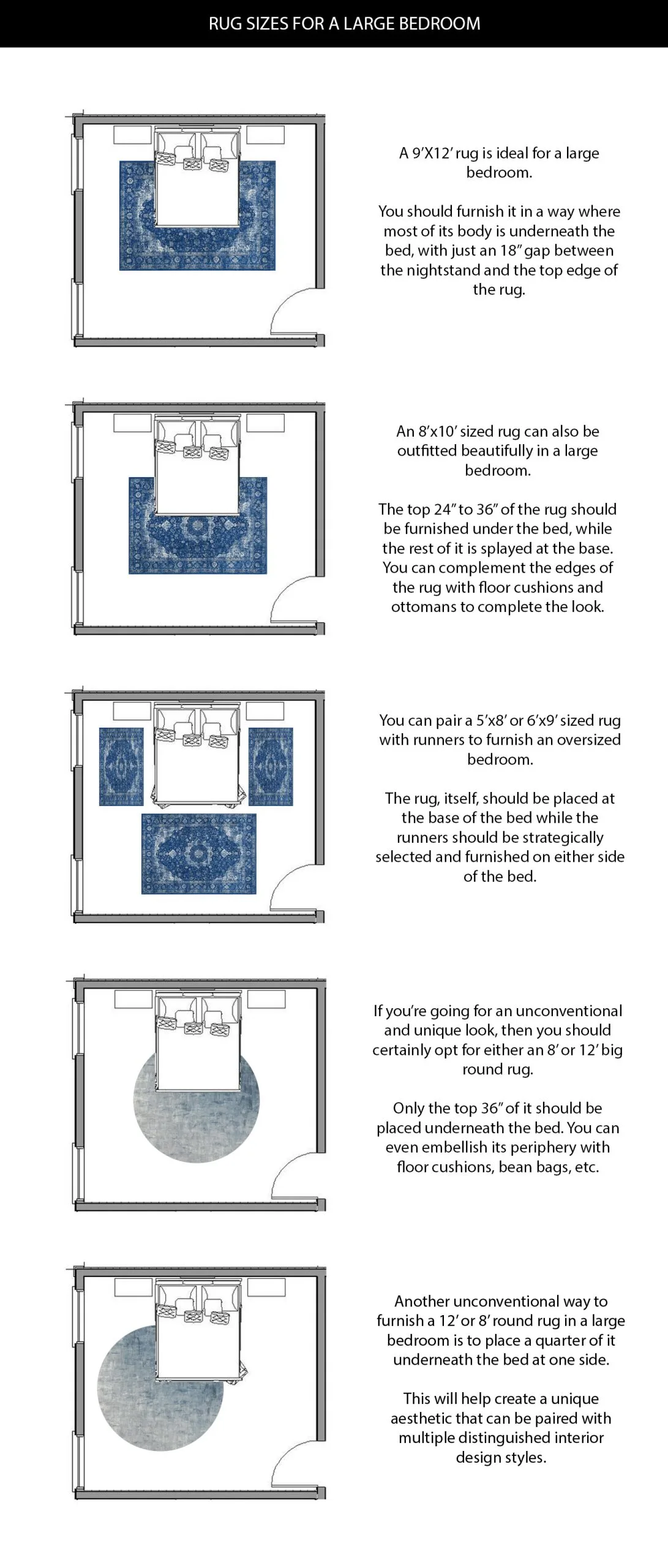 See more:
Rug sizes for a large living room
Any living room that is able to accommodate a 12' wide U-shaped sectional is considered large. But just for reference, an oversized living area spans 15'x20' or more in dimensions.
A 10'x14 sized rug is ideal for a large living room, but you can also opt for a 4'x6' or a round 8' one depending on the kind of look that you're trying to emulate.
Here are some options that can guide you in making the perfect decision according to your space: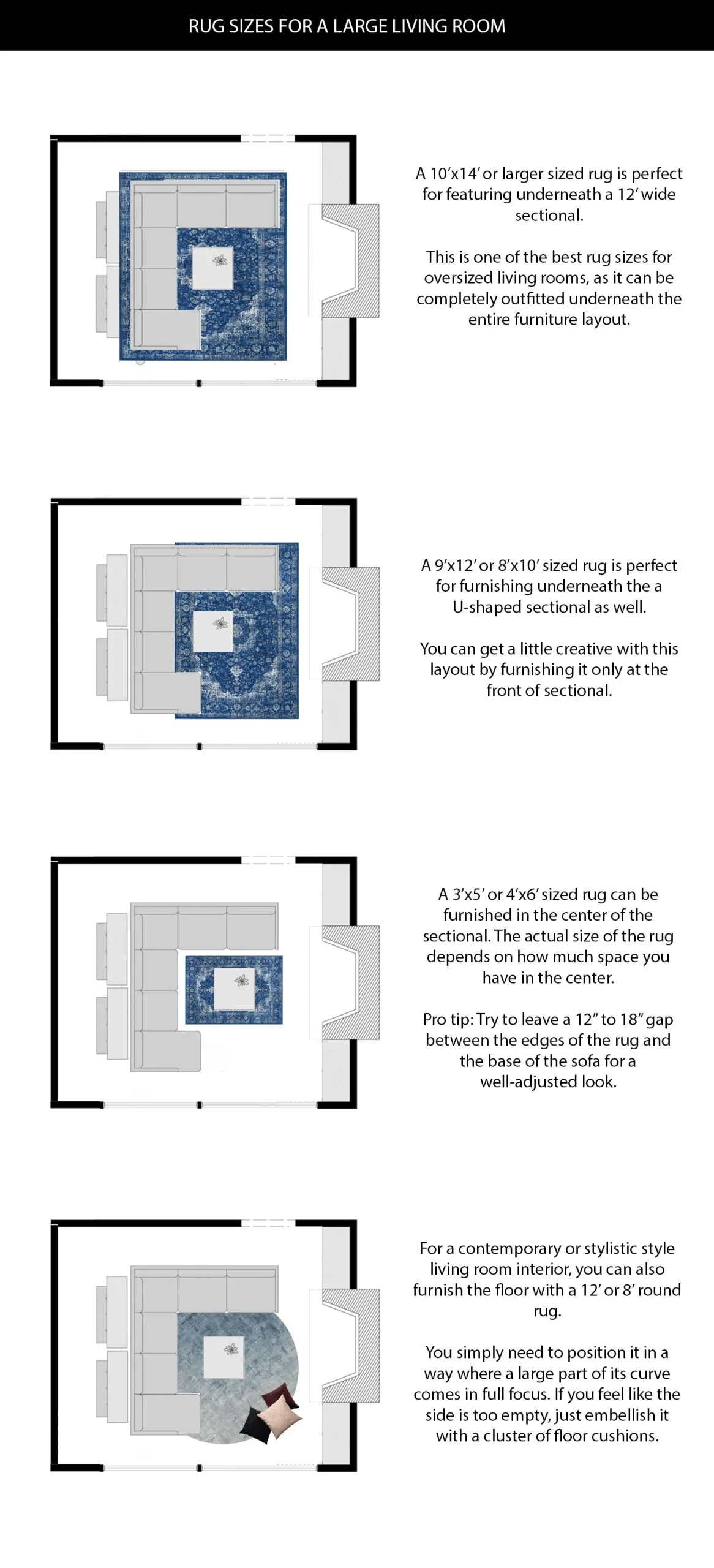 See more:
Rug sizes for a large bathroom
Finding the perfect rug size for a luxury bathroom completely depends on the layout of the space. A 2'x1'3" mat can even suffice for a highly cluttered oversized bathroom. But if you have a big space in the middle, then you can even opt for a 3'x5'.
Here are some options where you can learn how to mix and match various sized rugs according to your bath layout: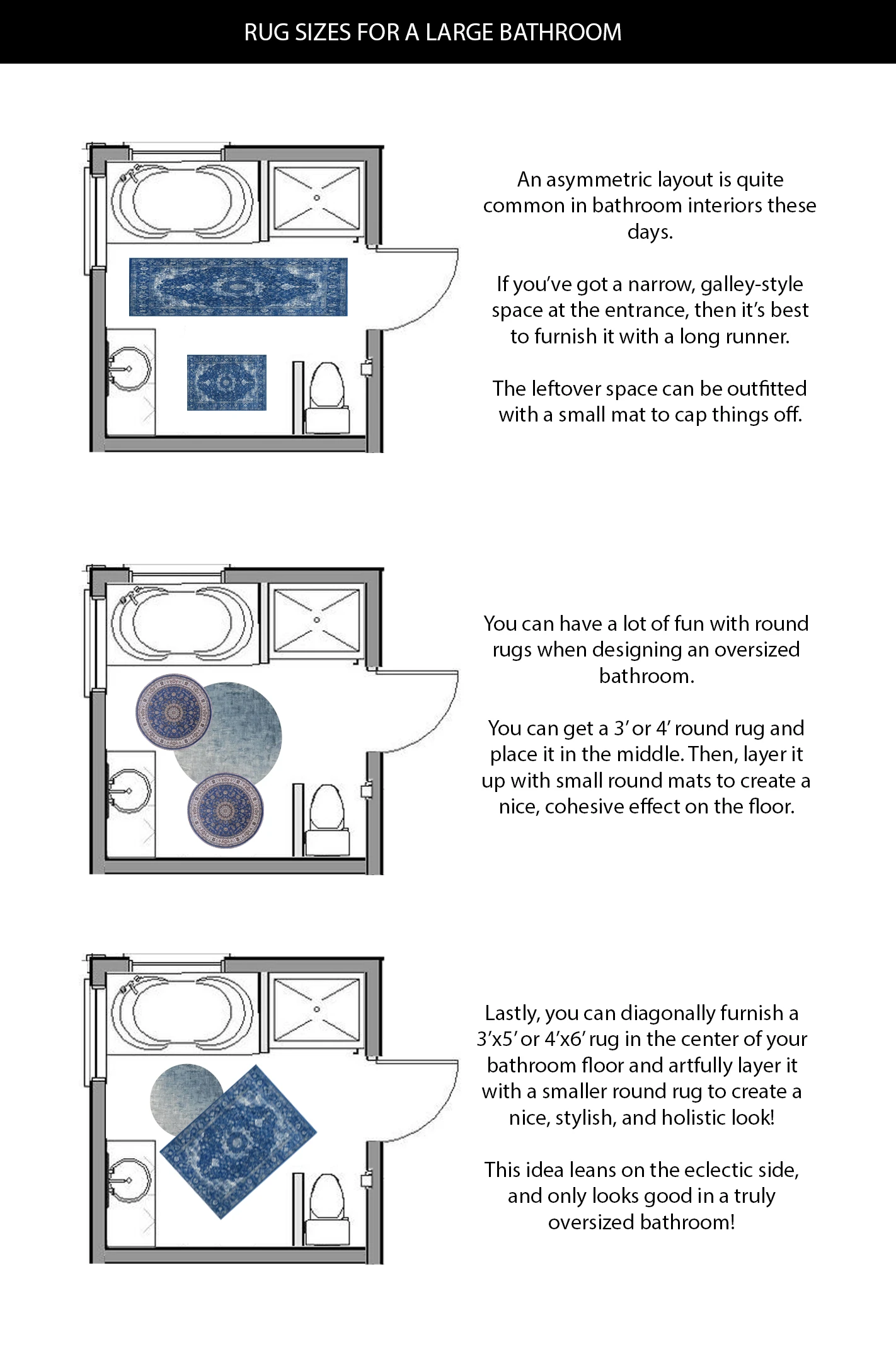 Rug sizes for a large home office
A large home office is 12'x14' or larger in size, and you should consider oversized rug like 6'x9', 8'x10' and more to furnish it.
The actual size of the rug totally depends on your furniture's dimensions – just make sure that the rug is larger than the circumference or covered area of your desk and chair!
See our office desk rugs guide for more layout designs!
So, these are the rug sizes that can be furnished in large and oversized rooms. We hope this guide helps you decide which one you'll be picking for your own rooms!
See more: