Our readers support us. This post may contain affiliate links. We earn from qualifying purchases. Learn More
A balcony is an external part of an apartment or house. It is formed as a projecting platform supported by columns or cantilevers.
Some balconies are enclosed by three walls while others are open on three sides. In both cases, balconies are considered outdoor spaces.
Balconies vary in sizes. Whether big or small, however, they serve as leisure spaces and can even be decorated to become proper social gathering areas for entertainment purposes.
In this case, a balcony can benefit from a rug in order to look more welcoming to anyone using the space.
A balcony rug can also make the floor of the balcony non-slippery and all in all safer. In addition, it serves as a soundproof barrier for the floor underneath.
Last but not least, rugs or mats in a balcony can anchor the furniture pieces and make the entire space look properly curated.
Balcony Rugs vs Mats
|
The main difference between a balcony rug and a balcony mat is size. Rugs are typically larger and cover more floor area. As such, they serve as focal points and are usually chosen for their design and comfort.
Balcony mats on the other hand are smaller and are used to wipe your feet before entering the house or apartment.
Therefore, a mat is usually positioned by the balcony door and has a more functional character. Balcony mats are typically cheaper and less attractive than rugs.
Outdoor Balcony Rug Materials
Outdoor balcony rugs are strong and durable pieces of textiles used to add style and charm to a balcony.
These rugs require very little maintenance. They and are mainly made of synthetic, non-porous material or completely natural fibers.
Both synthetic and natural rugs are easy to clean and can perform quite well in direct sunlight. They are also resistant to snow, rain, sand or hail.
The main feature of a balcony rug however is its resistance to water and spills. As such, these rugs are typically mold-free and easy to clean.
Here is a list of balcony rug materials you can choose from:
Synthetic Balcony Rugs
Synthetic balcony rugs are durable and color resistant, in addition to being water and stain resistant.
The most common synthetic rugs for balconies are polyester, polypropylene, nylon, and olefin.
Polyester
Polyester rugs are probably the most common balcony rugs. The reason for this is that polyester rugs are lightweight and can easily be rolled into a corner when the weather gets cold and wet, and you no longer use the balcony as a leisure space.
In addition, these rugs are easy to clean and come in a variety of colors and designs. So whatever your style is, you can definitely find something you like in polyester.
Polypropylene
Polypropylene rugs are great for balconies as they are resistant to UV rays. As such, the design and color of a polypropylene rug will remain fresh for a long time, making your balcony design always seem vivid.
Nylon
Nylon rugs are durable but expensive rugs. If you want your balcony to look extra fancy and elegant, this is definitely the choice.
Nylon rugs can also hold a great deal of foot traffic, which makes them perfect if you have a large balcony and like to entertain people in it.
Olefin
Olefin rugs are both stain and mildew resistant which makes them a good fit for balconies, especially if you have a grill or dining table in there. In addition, olefin rugs are soft to the touch.
Natural Balcony Rugs
|
Natural balcony rugs are environmentally friendly as well as cheap. Their designs are perfect for a Bohemian look, or a more relaxed design that feels closer to nature.
The only downside to these rugs is they are not as resistant to water as synthetic rugs.
In addition, their colors might fade when spending too much time under the sun, as many natural rugs are dyed with a fresh coat of paint after production.
Natural balcony rugs include jute, sisal, seagrass, hemp, and bamboo. These rugs are not as soft as synthetic ones, but do feel like walking on real grass or straw.
Outdoor Balcony Rug Design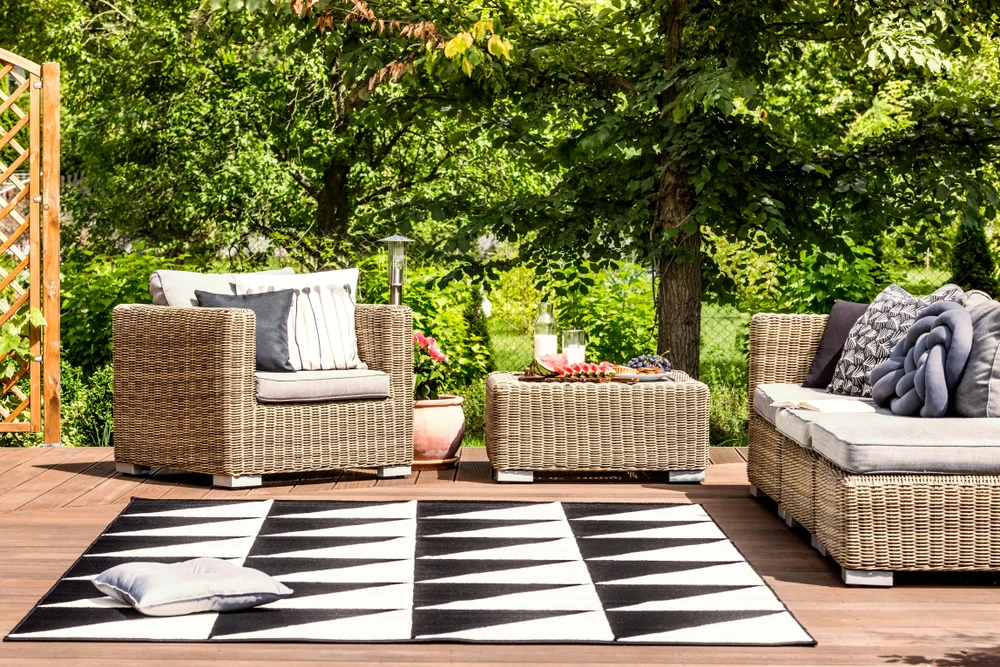 One of the main reasons people opt to place a rug on their balcony is to make the space more inviting through colors and patterns embedded in the rug.
As a result, balcony rugs come in a variety of designs that can hold their freshness for years and years even under direct sun.
The most popular designs for balcony rugs include geometric shapes, stripes, floral designs, and more classic medallions.
In most cases, balcony rugs are solution-dyed.
This means that instead of having the yarns colored at the end of the process, balcony rugs are made of fibers colored at the beginning of the process with appropriate chemical solutions.
This process allows the color to remain vibrant for longer. In addition, solution-dyed rugs are more resistant when it comes to cleaning as well.
In terms of color, balconies are quite flexible as they gain plenty of natural sunlight. The general rule of thumb applies here as in any other area: darker colors create a more intimate atmosphere while lighter colors are more cheerful.
Bright colors such as red, pink, yellow, green or blue add character and fun to the space. A fader palette of pastel colors can create a more relaxing atmosphere.
Outdoor Balcony Rug Making Technique
|
Outdoor balcony rugs come in a variety of colors, shapes, and textures since most of them are made of synthetic materials. The way they are made however is more peculiar in this case.
Balcony rugs can be handmade, machine-made, or braided styles.
Handmade rugs tend to have a short pile that has been woven by hand. As such, these rugs are quite expensive due to the time, energy, attention to detail as well as quality of work put into making them.
Machine-made rugs on the other hand are made through power looms. They feature basic materials and generic textures and shapes when compared to hand made rugs.
That said, machine-made rugs are more affordable and offer a variety of styles and designs that can fit your balcony quite well.
Braided style rugs can be flat waived, cable braided, kilim style, or cord and stitch. These rugs have no pile and less cushion.
This is a good combination for outdoor rugs as a low pile is easier to clean and traps less dust than a high pile rug.
One interesting detail about braided rugs is that these rugs are reversible. They have no backing material and display a design from both sides.
Other rugs are built with a backing material that preserves their shape and makes them sturdier.
How to Properly Care for a Balcony Rug
The good news is that balcony rugs require little maintenance as they are designed to be used outdoors.
This does not mean however that you can forget about the rug or mat completely.
If you want your rug to have a long life and always look at its best, there are a few steps you need to follow.
First of all, consider the climate you live in. If you have a lot of snow and rain, it is better to remove the rug from the balcony and store it in a dry space, ideally indoors.
If you cannot store it indoors, just make sure to roll it up and cover it in plastic. Once you have done that, find a corner of your balcony that is more protected from rain and place it there.
This will not hurt the design of your balcony as chances are you will not use this space as a social area when the weather is this cold.
Next in the maintenance checklist, make sure to clean it monthly. You can either do this yourself or clean it professionally.
Either way, once you have washed the rug, let it dry thoroughly on both sides.
Use the railing to hang the rug or just leave it on the floor when the sun is out and flip it so that both sides are dry.
Last but not least, vacuum regularly to avoid both dirt and mold accumulation. Most outdoor rugs are made of water-resistant material, however, mold can still grow within the dirt.
To keep your rug healthy, remove any dirt as soon as you see it layered over the rug.
General Tips
Here are some key things to keep in mind when it comes to your balcony rug.
Make sure the rug you put on the balcony is an outdoor rug and is water-resistant.
Do not use bleach or hard chemicals to clean your rug. These chemicals combined with the sun, will make the colors of the design fade.
Always let your balcony rug dry completely on both sides after a rainy day or after you have washed it.
Use a rug protector under your balcony furniture to protect the rug from tears.
Clean your balcony rug at the end of every season, ideally.
Always go for a low pile rug on the balcony. These rugs are cleaner and easier to maintain outdoors.
Check the labels to see the characteristics of your rug and make an informed decision before purchase.
Best Balcony Rug Ideas
Here are some of the most interesting balcony rug combinations around the web.
Fresh Blue
|
This runner rug displays a good combination of a striped and floral design in a few shades of blue.
It makes the eyes gravitate towards the balcony floor and injects color and life into the entire space.
This rug has no pile and looks clean and crisp.
Colorful Mix and Match
|
This balcony looks like something straight out of a Disney movie. It is full of colors, stripes, and textures.
Layering has really added depth to the entire setting and has made this balcony more inviting.
Last but not least, the usage of multiple rugs gives the impression of a larger space.
Just Cute
|
A small balcony can also benefit from a small rug or even a mat used as a rug when the space does not allow for more.
This small white runner rug makes the coffee table be more prominent in that space.
It also adds detail and shows that the balcony has been curated as much as any other room in the house.
Contrast Works
|
Black and white are always an elegant combination.
In this case, the black and white diamond pattern design also adds depth to the plain browns and beige shades of the balcony.
The contrast is a wonderful detail that makes the balcony design more contemporary.
The strong patterns and lines of the rug also allow the balcony to seem more intimate and charming.
Full-size Balcony Rug
|
Some balconies are large enough that you can fit an entire living room ensemble in there.
As such, they also deserve a large area rug to make the place look warmer and more charming.
This striped area rug becomes a focal point and an anchor piece for the rest of the furniture in this large balcony. It also evokes an elegant beach house feeling.
FAQS:
How do you clean a stain on a balcony rug?
If you spill something on your balcony rug, make sure not to rub it. Instead, use a white cloth to absorb any moisture from the spill, then use a hose to clean it.
If the stain is persistent, mix mild dish soap with water and scrub the rug gently with a nylon brush.
Let it soak for a few minutes in the soap mixture, then use a hose to rinse it.
What should you look for in a balcony rug?
The main thing to check when you want to buy a rug for your balcony is to see if it is meant to be used outdoors or not.
Despite the balcony being part of the house, the rug will be fully exposed to external weather conditions. Therefore it needs to be waterproof and mildew resistant.