Our readers support us. This post may contain affiliate links. We earn from qualifying purchases. Learn More
If you're looking for the best way on how to place an area rug in your house, then you're at the right place. This guide will offer easy-to-follow tips, along with detailed layout designs showing exactly how to place your area rug within a particular room.
For living rooms, placing the area rug in the center of the sofas is the best way to go. It's best if you can put a coffee table on top of it as well.
For bedrooms, the best way to place a rug is at the foot of the bed. It's best if 12" of the rug extend beyond each end of the bed.
For kitchens, runner rugs are the best options if you have an aisle or galley style kitchen. Otherwise, any rectangular rug that fits in the center of your space is also a good choice.
Living Room Area Rug Placement Tips
For optimal living room rug placement, you should make sure that the rug is always placed in the very center of the furniture.
Of course, every person has a different sized living room, and the placement/style of the sofas varies from one home to the next.
However, the one thing that always remains constant is how the rug always needs to be in the center of the layout to anchor the whole aesthetic.
Below, let's look at popular living room layouts and how the rug should be paired with each one: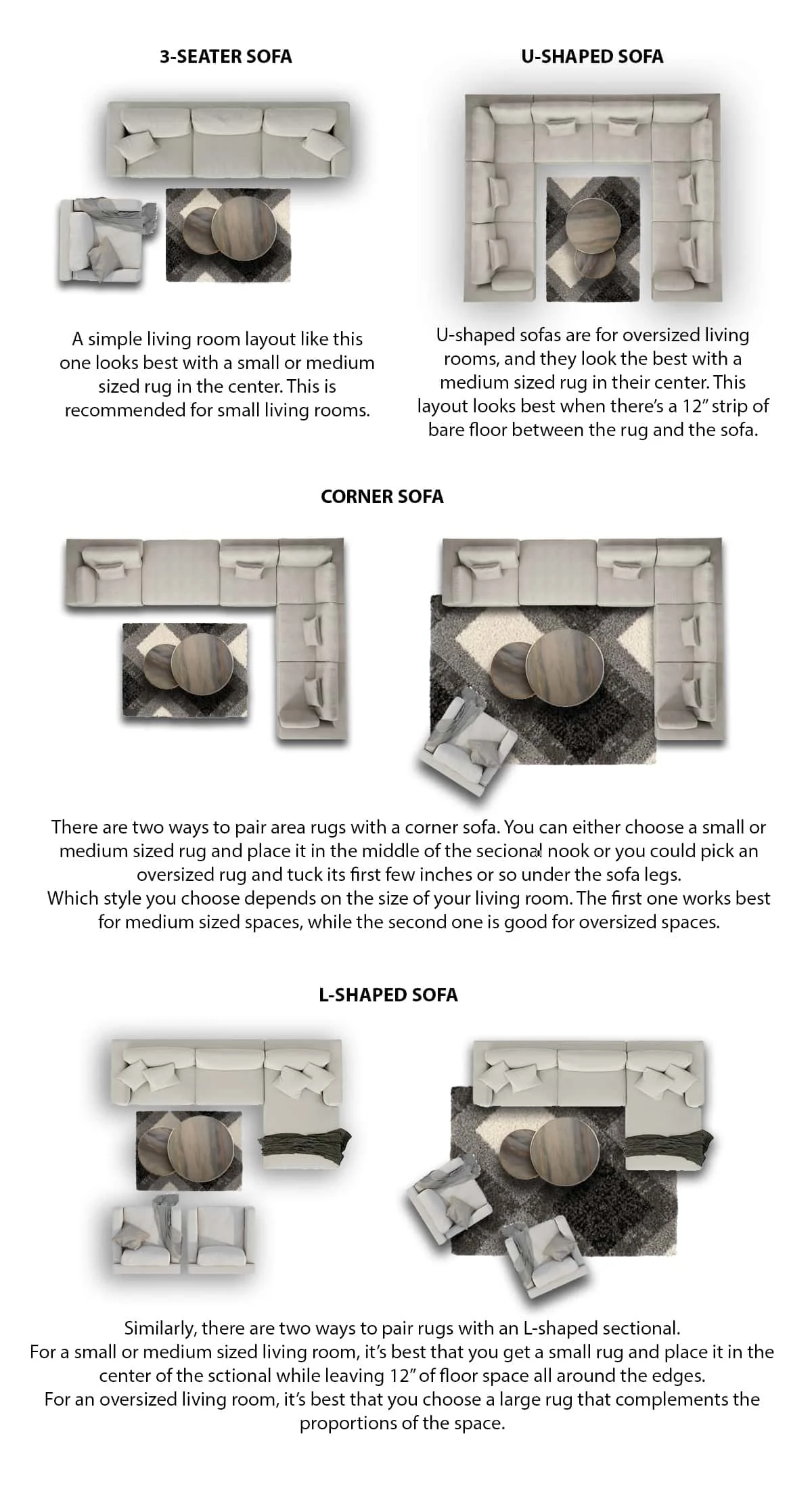 Want to see how all the different standard rug sizes look in a living room? See our common rug sizes guide!
How To Place an Area Rug with a Regular Sofa?
If your living room has a regular 2-seater or 3-seater, then you should choose a small 3'x5' or 4'x6' rug. Place it directly in front of the sofa, top it off with a coffee table, and accentuate with an armchair!
How To Place an Area Rug with Sectionals?
You can place an area rug with a sectional in two ways. If you have a large living room, then go for an oversized rug and place 12" or so of its edges underneath the sectional legs.
If your living room is small, place your rug in the nook of the sectional chaise and seat. It's best if you leave 12" of bare floor between the rug and the sofa.
How To Place an Area Rug with Corner Sectionals?
The best way to place an area rug with corner sectionals is by either picking a small or a large rug. It depends on the size of your living room.
A small rug should be placed in the center of the sofa while leaving 12" to 18" of floor space around its edges. The large rug should have its edges tucked underneath the sectional legs.
Rug Placement on Hardwood Floors
Rug placement on hardwood floors is all about the contrast. The color scheme of the rug should go in contrast with the finish of the wood.
To get the best color contrast with hardwood floors, you need to place the rugs in a wide space. Entranceways, hallways, and other transitional areas are good options.
You can also place your rug underneath the living room, bedroom, and dining room furniture so that they don't end up damaging the finish of your hardwood floors.
You also need to keep functionality in mind, so placing a rug pad underneath the rug will keep it from sliding all over the place, even with heavy foot traffic.
Bedroom Area Rug Placement Tips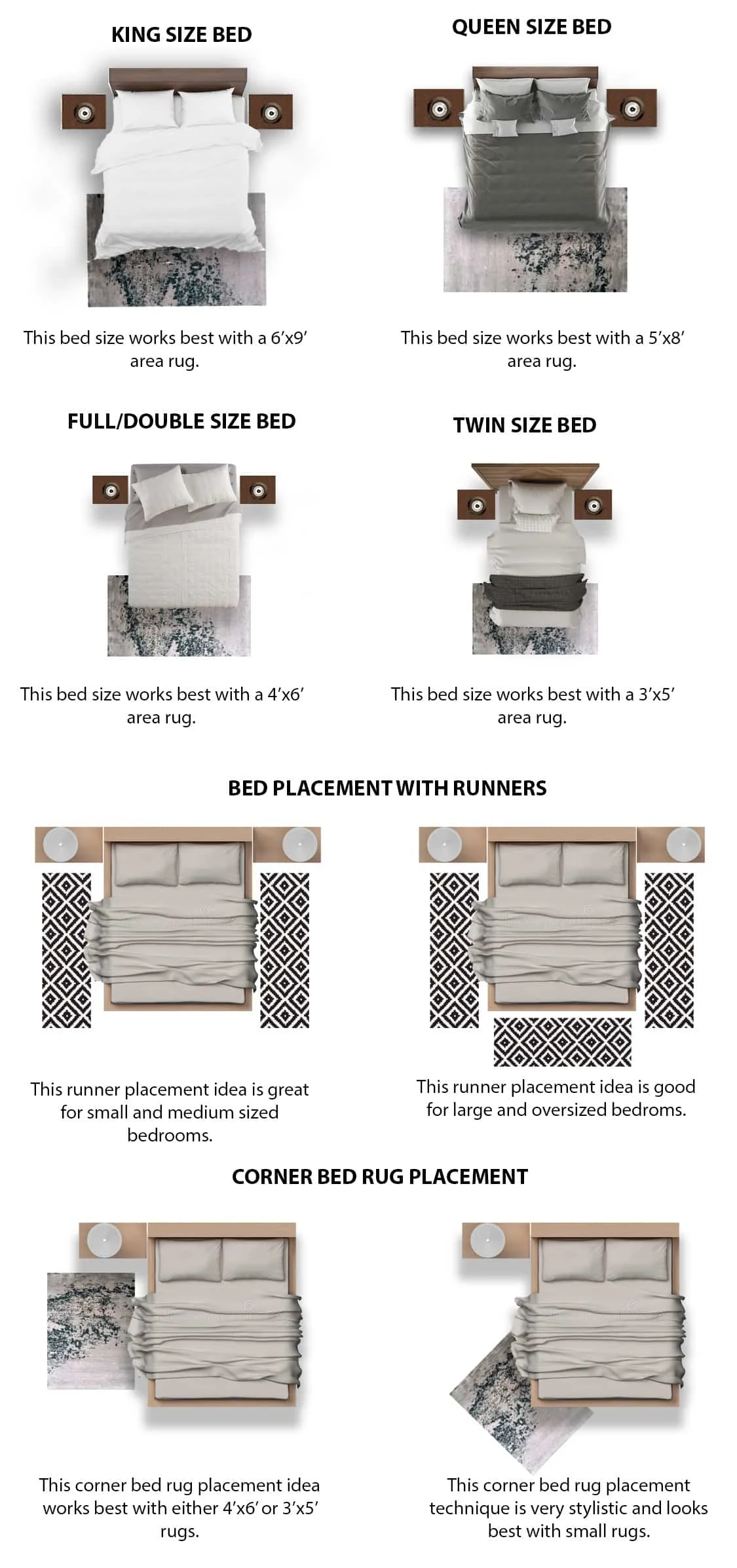 For optimal bedroom rug placement, you should furnish your rug at the foot of the bed. Depending on the size of your space, you can choose different rug sizes.
A good tip for selecting the perfect rug size is to ensure that the rug width is at least 18" to 24" bigger than the footboard. This helps make the overall placement feel more wholesome and natural.
Usually, people choose a king or queen size bed for the master bedroom. Full or double sized beds are used in medium rooms. Then there's there is the twin sized bed, which is reserved for small bedrooms.
Let's take a look at which rugs to pair them with:
King Bed Rug Placement
The dimensions of a king size bed are 6'x6'-6". It would pair well with a 6'x9' rug, as you'll have around 18" or so of rug edges on either side of the footboard with this dimension. This placement idea is perfect for all room sizes.
Queen Bed Rug Placement
The dimensions of a queen size bed are 5'x6'-6" and the ideal rug size for it is 5'x8'. This is because the edges of this rug size will extend beyond the footboard on either side. This placement idea will give the bedroom a holistic look.
Double/Full Bed Rug Placement
A double/full bed is 4'-6"x6' in size and the ideal rug for it is 4'x6', as its 6' wide body would extend gorgeously on either side of the footboard. This placement idea is perfect for small and medium-sized rooms.
Twin Bed Rug Placement
The size of a twin bed is 3'-6"x6', and you can pair it with a 3'x5' rug for the best look. Just place the rug at the base of the bed and see how amazing the layout looks.
Corner Bed Rug Placement
Corner bed rug placement looks good with either a 3'x5' or a 4'x6' rug. Anything bigger is simply not suitable for this type of a layout. You need to place the rug at the side of the bed instead of the base for this look to work.
Placing Bedroom Rug Runners by the Bedside
There are a number of ways to pair runners with beds. The standard size of a runner is either 2 feet to 3 feet wide and 6 feet to 14 feet long.
You can place the runner on either side of the bed, directly aligning it with the bedside table. If your room is large, then you can even add a runner at the base of the bed!
Placing Oversized/Medium Rugs Under the Bed
There are 2 ways that you can place an oversized or medium area rug under your bed. First of all, you need to define the length of the rug. It has to be at least 2 to 3 feet longer than the width of your bed.
The first way involves placing just 18" of the rug underneath the foot of the bed. This nicely covers up all the extra space in front and provides you with many opportunities to design with floor cushions, etc.
The second way includes pulling an oversized area rug all the way to the back of the bed, with just 3-4 feet left between the edge of the rug and the headboard wall.
Placing Rugs In Accent Areas And Nooks
If you've got some leftover space in your bedroom or living room layout – especially a corner or an alcove, then you can use it to create a small reading area or study nook. This space can be accented by placing a classy area rug with accent furniture.
Rug placement in accent nooks is all about how to manage to make the colors and patterns stand out. For example, if you're designing a reading nook, then you can place a 4 feet round rug underneath a cozy armchair, an end table, and a floor lamp.
Similarly, if you're working with a bay window, then you can place a runner rug directly beneath the bench of the bay window seat. Just make sure that the runner has a striking pattern and color contrast that matches with the throw pillows on the bench.
Dining Room Rug Placement Tips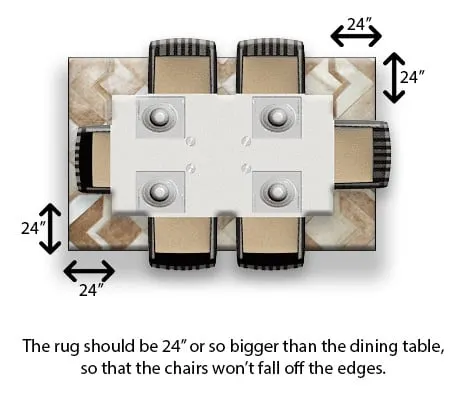 For optimal dining room rug placement, there's only one thumb rule that you should keep in mind: Your rug should be big enough so that your dining chairs won't fall off the edges when you pull them out to sit.
Therefore, the rug needs to extend more or less 24" beyond the table limit.
So, no matter if you're furnishing with a 2-seater, 4-seater, or even a 12-seater, this is the rule you always need to follow.
Placing Oversized Rugs in Dining Room
Placing oversized rugs underneath your dining tables is a trendy way to design interiors these days. If your rug is much larger than your dining table, then you need to make sure that your room is large enough to accommodate it.
Here's a quick pro tip for placing oversized rugs in dining rooms: just make sure that there's a 24" to 30" bare floor between the rug edges and walls. Secondly, your dining set should always be in the center of the rug.
If you're working with an open floor plan and want to feature an oversized rug in your dining area, then place the large rug in the center of the dining zone and put the furniture on top of it. This can help anchor the whole aesthetic while individualizing this zone from the rest of the open floor layout.
Kitchen Area Rug Placement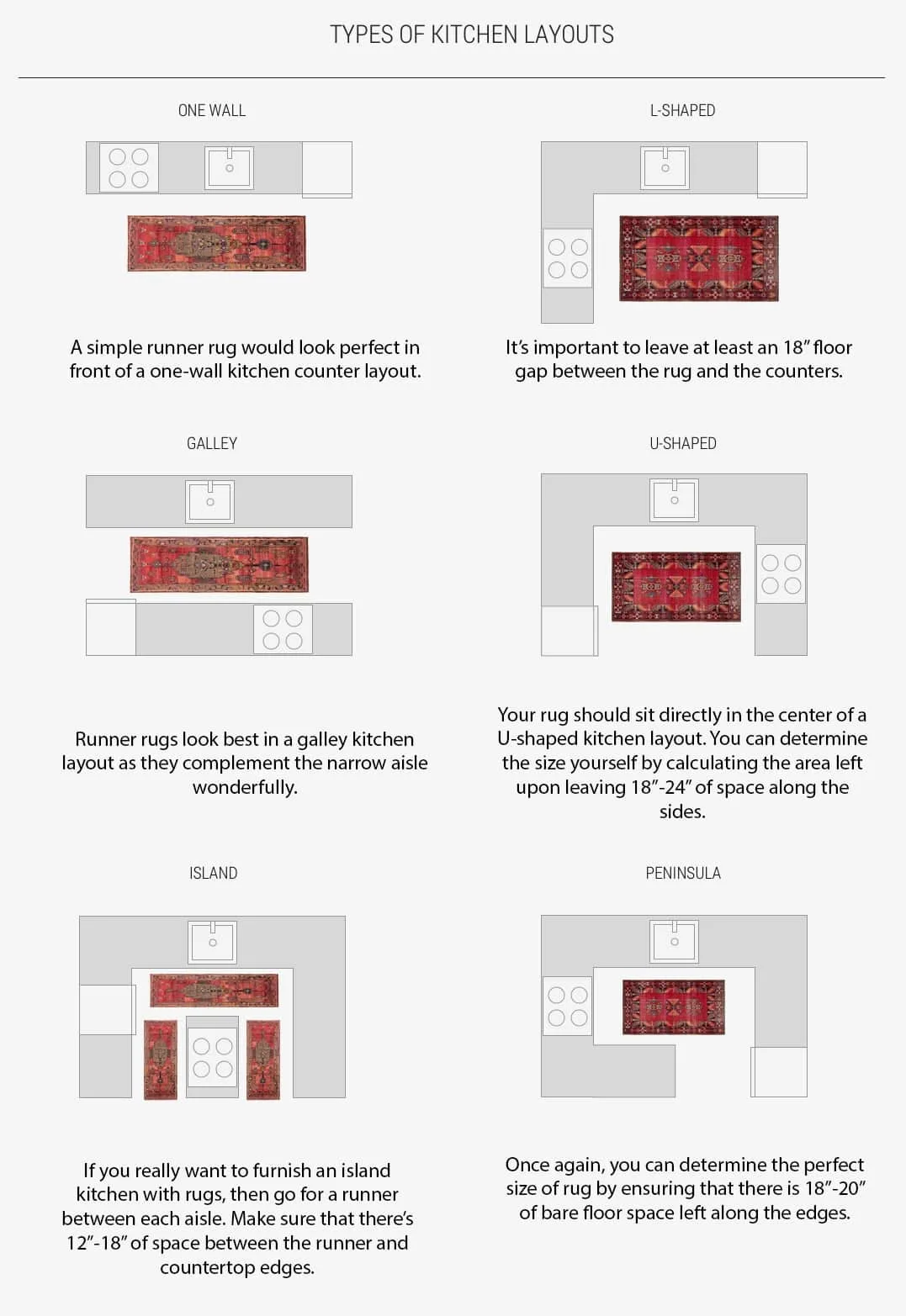 For optimal kitchen rug placement, you should always place your rug in the center of the room.
Here, it's important to know that there are many different styles of kitchens (i.e. galley, peninsula, island, U-shaped, etc.). Some have a narrow middle while others have a spacious one. For narrow kitchen layouts such as single-wall, island, and galley style, you can use runners. For kitchens where there's a large rectangular or square area in the center, you can place bigger rugs.
Thumb rule: always leave a 12" to 18" gap between the rug/runner edge and the cabinets. This will make the placement look more holistic.
Placing Multiple Kitchen Rugs
If you've got a large kitchen with a U-shaped or other asymmetric layout, then you can easily place more than one area rug. You can also place multiple runners in the aisle space of an island style kitchen.
Bathroom Rug Placement
For optimal bathroom rug placement, you can simply feature a small bath mat in front of the bath tub or shower stall.
Since the bathroom is a wet and functional area, homeowners don't prefer putting plush or expensive rugs in there – unless, of course, the bathroom has oversized, spa-like proportions. Even in such cases, only small area rugs of 3'x5', 4'x6' or 4' diameter are placed next to the bathtub or shower stall in order to enhance the aesthetics of the space.
Office Rug Placement
The best office rug placement is when the entire rug is situated underneath the desk and executive chair.
Again, a great thumb rule for selecting the perfect sized rug for your office is: measure the dimensions of your desk and make sure that the rug is at least 24" to 30" larger than it. This will make your space look more holistic.
Area Rug Placement Ideas
Here are some quick tips on different area rug placement ideas:
Diagonal Rug Placement
When placing a rug diagonally under any piece of furniture, make sure that at least one-fourth of it is underneath the surface. This will make the whole furniture layout feel more pulled together.
Entryway Rug Placement
Entryway area rug placement should always be centralized. This will give your ambiance a more holistic look.
You should also choose rug sizes that complement the proportions of the entryway. For example, if your entrance hall is narrow and long, place a runner on it. If it's small and proportionate, put a square shaped rug in it. If it's open and directly merges into the rest of the home, then set it apart with a small rectangular rug or a mat.
How to Keep Area Rugs in Place
Area rugs tend to crumple inelegantly under high-foot traffic areas. The best way to keep them in place is to place rug pads underneath them.
You might need to cut them to suit the size of your rug but it's a surefire way to keep the rug from sliding all around the place. If you've got hardwood floors, then double-sided tape can also be a good workaround.