Our readers support us. This post may contain affiliate links. We earn from qualifying purchases. Learn More
Delve into the captivating world of the chenille rug, a unique player in the rich tapestry of floor coverings. Their luxuriously soft texture and lustrous appearance have placed them in the limelight of interior decor trends.
Still, like any other rug type, they come with their own set of pros and cons.
This guide is designed to help you explore these aspects, providing an in-depth analysis of chenille rugs.
We'll uncover what makes them a special choice, their benefits, and considerations, allowing you to decide if a chenille rug is the perfect addition to your space.
What Are Chenille Rugs?
Chenille rugs are made from a type of yarn called chenille. Chenille yarn is made by twisting two or more strands of yarn together to create a soft, velvety pile. Chenille rugs are known for their luxurious feel and their ability to add a touch of elegance to any room.
Chenille rugs can be made from a variety of materials, including cotton, wool, silk, and synthetic fibers. Cotton chenille rugs are the most affordable option, while wool chenille rugs are the most durable. Silk chenille rugs are the most luxurious, but they are also the most expensive.
Synthetic chenille rugs are a good compromise between affordability and durability.
Chenille rugs come in a variety of styles, from traditional to modern. They can be found in solid colors or with patterned designs. Chenille rugs are a good choice for any room in the home, but they are especially well-suited for bedrooms, living rooms, and dining rooms.
How Is Chenille Made?
Chenille is made by twisting two or more strands of yarn together to create a soft, velvety pile. The yarn is typically made from cotton, wool, silk, or synthetic fibers. The yarn is then woven into a fabric, and the pile is cut to create the characteristic chenille look.
First, the yarn is prepared. This involves spinning the yarn from fibers, such as cotton, wool, silk, or synthetic fibers. The yarn is then twisted together to create a chenille yarn.
Next, the chenille yarn is woven into a fabric. The fabric can be woven in a variety of patterns, but the most common pattern is a plain weave. In a plain weave, the warp yarns (the yarns that run lengthwise) and the weft yarns (the yarns that run crosswise) are interlaced at right angles.
Once the fabric is woven, the pile is cut to create the characteristic chenille look. The pile is typically cut in a variety of lengths, which creates a variety of textures. The pile is cut using a machine that has a blade that cuts the yarns at a specific length.
Finally, the rug is finished by washing, drying, and pressing. The rug may also be treated with a stain-resistant or fire-retardant finish.
Chenille Pros and Cons for Rugs
Chenille is a nice material but nothing is perfect. Here are some pros and cons of using chenille for rugs.
Pros
Chenille is soft and plush. As such, it is a very good material for braided or shag rugs. It is absorbent and very comfortable to walk on.
As a result, chenille feels comfortable and luxurious while still keeping a low price. It is perfect for low-traffic living rooms and nurseries thanks to its softness.
In addition, chenille comes in a variety of colors and patterns to match any design. You can also find them in a variety of styles, from fancy modern to distressed or shabby chic.
You can have a mix of chenille and synthetic fibers to increase the durability of the rug.
Cons
Chenille is a delicate material and should be kept away from humid places as well as direct sunlight which means you cannot use it in sunrooms, kitchens, laundry rooms, entryways, or outdoors.
Maintenance of chenille rugs is difficult as you need to follow the manufacturer's directions to the letter to preserve the quality of the rug. In some cases, you need to dry clean them professionally.
You need to use a rug pad to prevent a chenille rug from slipping in most cases.
Best Chenille Rug Design Ideas
Are you into chenille rugs already? Do you want to see some cool ideas on how to integrate chenille rugs into your living room, bedroom, bathroom, or other room in the house? Here are some ideas to inspire you.
Chenille Bath Rug
|
Chenille is used for towels and other bath accessories and especially bath mats. While these mats are slippery, when used with a proper PVC layer underneath, they become great rugs for the bathroom.
Not only are chenille rugs thick and absorbent, but they also come in a variety of colors to match your bathroom style. They are preferred as plush layers right next to the shower so that you can step on a dry and warm mat.
The most popular one is the salt chenille bath rug. These rugs are soft and luxurious, adding a spa feel to your bathroom. You can find them in different sizes, even as runners for an elongated bathroom shape.
These rugs work perfectly in front of a vanity mirror as well, allowing you to enjoy a warm padded spot where you can rest your feet when putting on make-up in the morning.
Chenille Jute Rug
Chenille tends to be combined with other materials to increase durability and keep the rugs in place. Some 100% chenille rugs with cotton fibers can become loose and result in empty holes in your rug. This is why the integration of jute is so important.
Jute is also a natural and attractive material, making your chenille rug a perfect piece for your living room or bedroom. Here are some options you can choose from:
Rust Bri Faded Washable Area Rug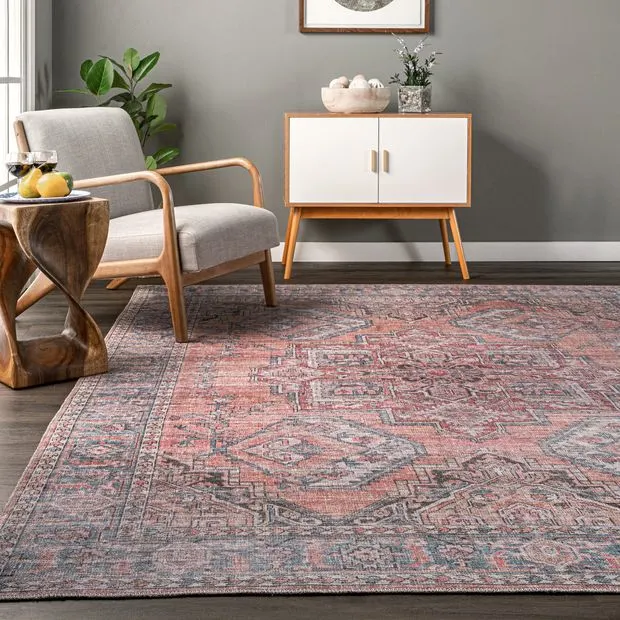 This beautiful rug with a rust color and a faded appeal is perfect for a bedroom with wooden or steel accents. It adds character to the room and allows you to play around with a variety of shades such as orange, white, brown, red, or even some pastel hues in blue and teal to create some contrast.
The rust bri faded washable area rug is low maintenance. As the name suggests, you can throw it in the washer and lay it flat on a patio to dry. Its composition of 50% chenille, 33% cotton, and 17% jute makes it a perfect rug for nurseries, hallways, living rooms, and even kitchens and dining rooms.
If you are wondering as to why this rug can be used in kitchens too, here is why: this rug is stain and water-resistant! So you can add a luxurious feel to your kitchen or dining room without having to worry about ruining your rug with spills.
Rust Tiana Oriental Washable Area Rug
The rust Tiana Oriental washable area rug is another great option for any room of the house. It shows once again that chenille and jute rugs can come in any color and design.
Therefore, with this model, you get the luxurious feel of oriental rugs with the durability of jute, the softness of cotton, and the affordability of chenille. It is a perfect option for kids' rooms with a high-end design.
Heather Chenille Jute Rug Pottery Barn
|
Check out heather chenille jute rugs from Pottery Barn too for more options for your dining room.
This rug has a natural color and a fancy appearance that will make your dining room feel like a space out of a resort. You can be sure to relax and be enveloped in a getaway atmosphere when stepping on this rug.
Chenille Area Rug
Chenille area rugs are great for living rooms with low foot traffic. Here are a couple of interesting options for you to choose from.
Beige Plated Medallion Area Rug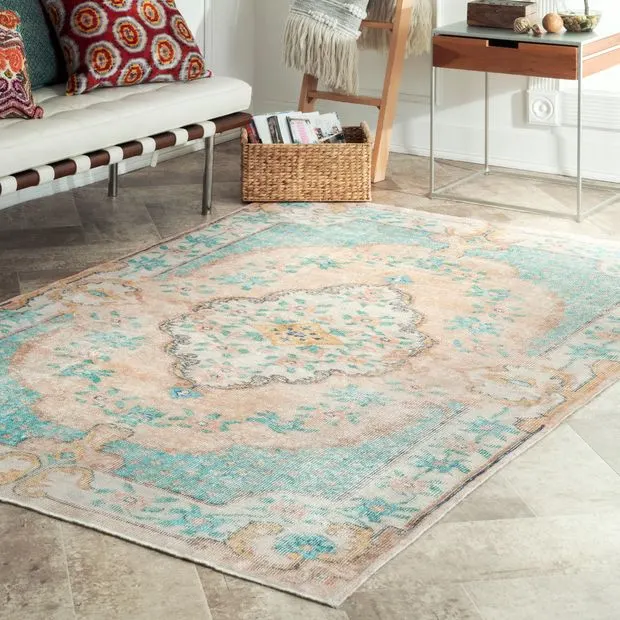 This super creative rug comes in vivid bright colors perfect for a summer home. It is a durable floor cover thanks to the 79% cotton combined with chenille and polyester.
The intricate design can be matched with farmhouse or bohemian styles and enhance a coastal feel. Thanks to the ¼ inch thickness, you can use it to cover stone floors and still get plenty of padding and warmth for your floors.
Last but not least, the beige plated medallion area rug is easy to clean and pet friendly.
Gray Printed Nebulous Flatweave Area Rug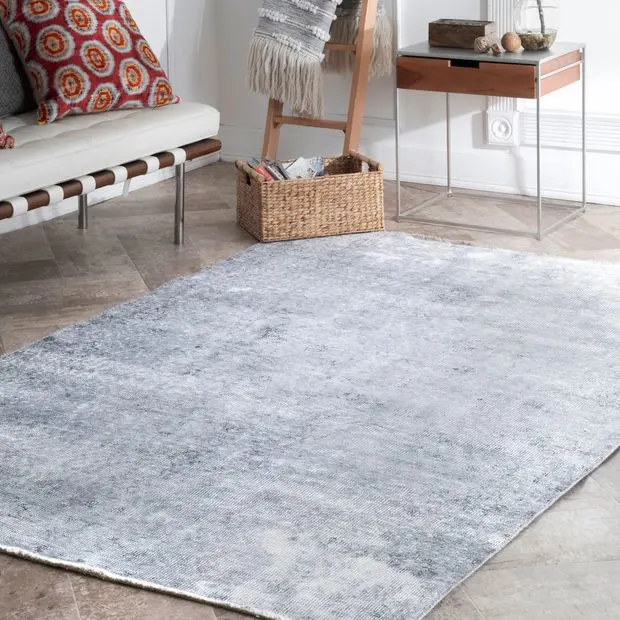 Chenille rugs are so versatile and diverse so you can find them in any design or color. The grey printed nebulous flatware area rug is a fancy looking rug with a sheen that brings up elegance in a room.
Similarly to the previous one, this rug also has a cotton, chenille and polyester composition that makes it durable and soft. You can use it at the foot of your bed or in your living room to add extra spark to the space.
Chenille Braided Rug
|
Chenille braided rugs are unique pieces of decor that can add character to your outdoor spaces, or sunrooms. While chenille does not perform that well with direct sunlight, these rugs manage to bypass that drawback as they look authentic and charismatic even when worn out. In addition, the braided construction helps the colors look diverse and intricate.
Dorma Regency Chenille Rug
|
When it comes to chenille, the Dorma Regency chenille rug is a gem. This rug looks elegant, timeless and classy. It can be used in living rooms or hotel rooms to make the room feel more elegant and luxurious.
You can find these rugs in a variety of colors. The dark ones look perfect on hardwood floors while the light ones can really make tiled or stone floors pop. Either way, your home will benefit from the velvety look of a Dorma Regency chenille rug.
Most importantly, this rug comes with a built in rubber backing and a very low pile that makes it safe to walk on in every part of your home.
Chenille FAQs
Is Chenille A Good Mater For Rugs?
Chenille is a good material to use for rugs because it is soft, plush, luxurious, and affordable.
While chenille is not as durable as other options, it can be mixed with nylon or viscose to create a sturdy rug that is also very comfortable.
Can You Wash a Chenille Rug?
You should not wash a chenille rug, instead, opt for dry cleaning it. Chenille is a delicate fiber that might stretch or expand when washed with water. This is why it is advised to dry clean chenille rugs.
If the label on your chenille rug says you can wash it, do so by hand and cold water. Next, it is best to machine dry it on low heat or leave it on a flat surface. Do not hang chenille on a fence or anywhere else as the rug might get distorted.
You can try machine washing a chenille rug if the fabric is made of synthetic materials. Choose the delicate or hand wash cycle in the washer's options too.
What Does a Chenille Rug Feel Like?
A chenille rug feels like velvet. It is plush and soft and has a subtle sheen. It feels luxurious and comfortable to walk on.
Is Chenille Natural or Synthetic?
Chenille rugs can be made of natural fibers such as cotton, wool, or silk as well as synthetic fibers such as olefin, nylon, polyester, or polypropylene.
These rugs can also be a combination of two materials or even a combination of natural and synthetic fibers. You might also find chenille rugs mixed with jute.