This post may contain affiliate links, we may receive a commission if you make a purchase using these links. As an Amazon Associate I earn from qualifying purchases.
What does your laundry room look like? Can you actually picture it or is it just a blur of white and grays?
Chances are your laundry room is one of the most neglected spaces in your house, despite being used quite frequently. The reason being is that laundry rooms are seen as transitional areas rather than cheerful gathering spaces.
If you want to enjoy your time in a laundry room, however, and not drag doing laundry chores, you need to make it more comfortable and inviting. The best way to do so is by using a laundry room area rug.
|
One of the first advantages of using a rug in a laundry room is to add a touch of detail and creativity to the space and make it feel like a part of the house rather than a neglected detached appendix of the home.
In addition, a rug in the laundry room adds much-needed warmth and comfort to the cold floors of the room. It makes you more inclined to do laundry and, dare we say, enjoy the experience.
Just imagine: You step on a warm cozy rug, in front of fresh laundry in a room enveloped in a clean and steamy detergent scent!
Laundry Room Types and Rug Materials
|
Not everyone has the luxury of having a clearly defined room dedicated solely to doing laundry in their homes.
When space is tight in a house, washing machines are inserted within the mudroom. Other times, a laundry room is an extension of a bathroom. In smaller apartments, washing machines are stacked one over the other within a walk-in closet in a more minimalistic way.
Whatever the design choice, the common denominator in all of these laundry rooms is humidity and the possibility of spills, wet floors, and mold. So when it comes to rugs, some are definitely more appropriate than others in terms of their composition.
Natural materials such as Jute, sisal, and bamboo are nice additions in a laundry room. These are environmentally friendly rugs that can withstand medium levels of humidity and foot traffic. In addition, natural rugs also offer a certain degree of durability.
Low pile cotton rugs are also a good match for a laundry room. These rugs are easy to wash and they also dry fast which allows them to remain mold-free.
Synthetic rugs with a water-resistant tag will also work well in these spaces. Polypropylene rugs are the best synthetic rugs for laundry rooms because they are mold and mildew resistant.
Laundry Room Rug Tips
|
There are many different ways how you can add a pop of color and creativity to your laundry room. Depending on the type of the room itself, there are a vast number of themes that you can pick with regards to an area rug.
If your laundry machines are located in a mudroom, your best option is a sisal rug. Sisal rugs are durable and tough pieces of textile that will also capture mud and protect your indoor floors. In addition, their natural earthy tone will add warmth and character to the entire room.
For a laundry room that is an extension of the bathroom, consider a cotton or polypropylene rug. If your bathroom is small and gets very steamy, then a polypropylene rug is the best solution. Polypropylene rugs come in a variety of shapes and colors and can match any decor you have in your bathroom/laundry room.
If your laundry room is a separate space, you will probably use this room less often than if it were sharing its function with a mudroom or bathroom. In this case, you can opt for a laundry room mat runner or a utility room rug for better durability. It should be noted that these rugs are more functional than decorative, however.
Another option, which is more design-oriented, is a thin cotton rug. You can use a cotton rug of any shape or color to fancy up a laundry room and make ironing and folding a more enjoyable experience.
General Tips
Here are some tips to make your laundry room more appealing:
If you have a dark-colored laundry room, brighten things up with a muted sisal or Jute runner, that lies in front of the washing machine. The combination of dark walls and earthy tones will create a calming balance.
For a small laundry room, consider bold colors. A vibrant Polypropylene runner rug or round rug can really make a difference.
If you have a plain white laundry space, choose stripes as your go-to design. A thin cotton striped rug in black and white or dark blue and white will give your laundry room a coastal elegant feeling.
For a large and vintage laundry room, get a farmhouse laundry room rug with a distressed look to accentuate the 'old-school' atmosphere.
Try to keep a color palette of a maximum of 4 colors in your laundry room to avoid visual clutter.
Avoid wool rugs or utterly expensive rugs that can be damaged and become moldy.
Laundry Room Rug Ideas
Are you still unsure about how to decorate your laundry room with a rug? Here are some of the most inspiring solutions to help you:
Laundry Room Runner Rugs
Laundry room runners work perfectly in front of the washer, dryer, ironing station, or sink. They address these core elements of the room without covering too much of the floor area. As a result, your feet remain warm and cushioned when you do your chores, while the floor and rug remain mold-free.
|
This laundry room has an elongated floor plan that creates a narrow corridor, which is not perceived thanks to the rug. The low pile runner makes the space feel lived-in rather than neglected as a transitional hallway, while still complementing the shape of the room.
The room displays a fresh coastal atmosphere through the long black and white laundry rug in stripes. The contrast within the design of the rug also adds vitality to an otherwise plain white and cold laundry room.
Handmade Laundry Room Rug
The Natural Hand Woven Jute with Wool Fringe Area Rug is a beautiful addition to a laundry room. This rug adds character to the space, and gives it an exotic or Bohemian look when matched with the right accessories.
Laundry Room Farmhouse Rugs
Farmhouse looks are quite interesting for a laundry room as they allow everything to be exposed by design. A farmhouse rug accentuates this look by adding a soft touch to an otherwise rustic and harsh decor.
Shabby Chic Farmhouse Laundry Room Rug
|
Shabby Chic rugs work quite well in a laundry room to emphasize a farmhouse feel, like in this image. The faded design of the rug creates an interesting link between the rough floor tiles, the exposed shelves, the large vintage sink, and the subway tiled wall behind the washer and dryer.
The combination of all these elements creates a warm contemporary farmhouse look. The rug adds finesse and feminine touch to the cold surroundings.
Ivory Laundry Room Rug
The Off White Chunky Loop Area Rug will give your laundry room a farmhouse look through its flat weave and fringe. Its color allows it to be integrated into any type of farmhouse design, whether rustic or more feminine.
This is a unique piece made of organic materials that come in different shapes. You can choose whatever shape matches your laundry room layout.
Laundry Room Whimsical Rugs
A whimsical laundry room rug will put a smile on your face and make chores less annoying. The good thing about those rugs is that they can take any shape or form and still look appealing in any laundry room design, as long as they display a cheerful message.
Braided Whimsical Laundry Room Rug
|
The braided whimsical runner with round edges in this image manages to soften the harsh look of the new appliances. Its overall goal is to make the room look more appealing and fun. It can be used in both modern or vintage settings. Moreover, this rug offers a soft and warm layer where you can stand while loading and unloading the washing machine.
Whimsical Laundry Room Mat
|
This pale and faded laundry room mat is not only fun but also functional. It has a non-slip backing material and a waterproof finish beside the funny text and the captivating look.
Laundry Room Cute Rugs
Cute laundry room rugs add a feminine touch to the room and manage to make it look cuter indeed. The most common cute rugs feature some shades of pink. In addition, they cover large portions of the floor in order to maximize the effect of the design. All in all, these cute rugs make the laundry room look fancier.
Cute Laundry Room Area Rug
|
Laundry rooms can be very curated spaces and display a great deal of elegance and detail. This room becomes even fancier through the large and utterly cute area rug in oriental motifs and soft pink shades.
The rug covers enough of the floor area to make this room appealing to children as well. So while you do the laundry, your little ones can keep you company and play on the floor. If you enjoy this solution, make sure to pick a polypropylene rug that is mold and mildew resistant.
Oriental Laundry Room Area Rug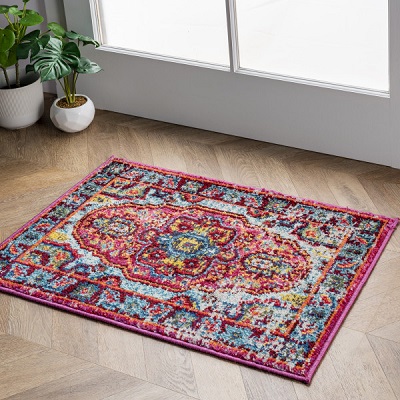 The Multi Mosaic Medallion Area Rug is a perfect choice to make your laundry room more charming. The washout look of the design gives the space a shabby chic style while the bold color infuses the room with character.
See more: