Our readers support us. This post may contain affiliate links. We earn from qualifying purchases. Learn More
Spa bath mats are similar to bathroom rugs and mats but they are definitely more luxurious. They have extra length, extra fanciness, extra plush, and softness.
The rugs are used for a variety of purposes. You can have them by the pools, the hot tubs, saunas, showers, salt rooms, and more functions in a spa. You can obviously have them in bathrooms to spruce things up design-wise.
These rugs are super versatile and can inject creativity into all of these spaces. You can use them to make a space feel warmer and add color and texture to a room. In addition, you can place them close to slippery and wet floors to prevent people from getting themselves hurt.
You can also use these rugs to complete a design look and make a spa or bathroom more memorable.
15 Luxury Spa Bath Mats and Rug Ideas
Luxury spa bath mats and rugs are great at making tiled or marble rooms feel warmer and more lived-in, but in a fancy way rather than a homey one.
Therefore, the most common rugs used in spas are large and expensive ones with minimalistic block colors, oriental designs, or natural elements.
Keep reading to find out our favorite picks when it comes to luxurious spa bath mats and rugs of 2021.
Super cool Spa bath mats and rug brands and collections
Threshold Signature Spa Bath Rug
|
Let's start our list with something simple but really comfy and luxurious, the Threshold Signature Spa bath rug. This is a minimal modern rug offering a classic or better yet, timeless appeal. This rug is appropriate for bathrooms, whether home ones or hotels.
This entire collection is designed to infuse relaxation and a spa feel to any bathroom. The material used to create this bath mat is soft and super absorbing, making it a perfect piece to place next to bathtubs or showers.
What most people love about the Threshold Signature Spa bath rugs is that they are part of a more evolving collection that also includes towels, toilet lid covers, and more accessories. As such, you can easily decorate your bathroom with a spa set without having to mix and match items.
These collections come in a variety of colors. You can choose between dark grey and add some bold accents to your bathroom. Alternatively, you can opt for softer tones such as pastel blue to give your bathroom a spring and fresh vibe.
Last but not least, each rug is tufted and made of 100% polyester, completed with a latex backing material that prevents it from slipping. This combination makes the Threshold Signature Spa bath rugs soft, durable, and easy to maintain. You can just throw them in the washer to restore the fibers to their former glory whenever you notice the rug needs a refreshment.
Kirkland Luxury Spa Bath Rug
|
The Kirkland Luxury Spa bath rug is a small cotton rug that makes a big impact on your bathroom. This precious piece of textile is handcrafted in a rectangular shape with a size of 24 inches x 36 inches x 3/4″.
You can get it in different colors but the most common one is gray. This color works perfectly in white marble bathrooms or even small spas with wooden accents.
The thick and plush grey Kirkland Spa bath (reaching a ¾" thickness) is reversible and luxurious. It is a relatively heavy rug that sticks to the place you position it. Therefore, you can put it in front of a vanity or right when you leave a sauna room, jacuzzi, or shower. This way you can add a soft layer under your feet that also absorbs moisture.
Madison Park Spa Cotton Reversible Bath Rug
|
The Madison Park Spa Cotton reversible bath rug is made entirely, as you probably guessed, of cotton. The reason why the producer emphasizes this fact and why we definitely appreciate it is the softness and high absorption qualities that this material offers, in addition to being natural and good-looking.
Another great benefit of this rug is its reversible feature and flat weave. This luxurious spa rug can be considered a bathroom throw rug that adds charm on both sides. In addition, it feels quite soft and warm underneath your feet.
What's most important, you can just put it in the laundry machine when you notice any stains and it will come out just as it was when you bought it. That is the beauty of cotton rugs and why you cannot go wrong with them.
This particular rug is 27 by 45 inches and can be placed in any classic spa bathroom, provided a rubber pad is used to keep the rug in place.
Martha Stewart Spa Rug
The Martha Stewart Spa rug collection is fun, cheerful, creative, and just plain happy. The colors of these rugs are quite refreshing and can make your bathroom feel more energized by emitting a refined vibe.
The Martha Stewart Spa rugs are relaxing pieces of textile made of microfiber polyester.
Their maintenance is not as low-key as the previous rugs we have mentioned. They need to be washed in cold water and a delicate cycle to preserve the softness and their popping color.
Restoring the pile is easy, all you need to do is shake it gently and avoid ironing.
One of the major advantages of this rug is the anti-skid backing. This means you can use them in super slippery tiles or marble floors and ensure that you walk on soft and warm fibers as well as not fall in the process.
Super cool spa bath mats and rug colors of 2021
Here are some of the most popular spa bath mat and rug colors for this year. Skim through the list to see if any of them matches your bathroom!
Spa Blue Rug
|
Blue is a very common color when it comes to bathroom accessories and especially soft touches like rugs and curtains. It reminds people of the water, the continuity of life, the sea, the sky, and everything else freeing and summery.
In addition, blue is a popping color that does not go unnoticed. You can try it as a dark navy or even a light pastel and will always work in a spa bath.
You can place it in white bathrooms and make the design of the space have more character and charm. These rugs are perfect for next to the bathtub or even in front of the vanity mirror.
Spa Earth Tone Rug
|
Jute or sisal rugs in an earth tone are perfect for dark bathrooms that need a link to nature to feel more like a spa and less like a laboratory.
These rugs are natural, durable, and quite versatile. They are a safe option if you do not feel too comfortable with design moves. Jute of sisal or any other type of natural rug can make the room warmer and inject it with a relaxing 'remote island' feel.
Last but not least, these rugs are affordable and do not need too much effort when it comes to cleaning. They do not perform very well in contact with water, however. Therefore, avoid placing them next to the shower or bathtub. Instead, place them outside a sauna, in a salt room, or in front of a vanity mirror.
Spa Grey Rug
|
Grey is one of the most contemporary rug colors you can think of. It does not make the space feel impressively warm but it does, however, add a modern charm that is timeless.
Grey spa rugs are typically made of cotton and can match a variety of bathroom styles. They look just perfect in contemporary bathrooms with grey concrete-like tiles and plywood accessories.
And let's not forget there are many shades of grey that you can use in your spa bath. You might also choose to mix and match a few different tones of grey throughout your bathroom to create a deeper and more charismatic look.
Spa Pink Rug
|
Spa pink rugs are sweet and charming. They remind you of a cute nail salon where you can unwind for the weekend.
These rugs have a definite feminine vibe and are more appropriate for female bathrooms, with golden accents and pure white surroundings.
You can use a pink spa mat to give cheerful and tender vibes to the bathroom, as well as some hot fanciness to make it more appealing!
Luxurious Spa Bath Mats And Rug Ideas
You might want to try something fancier and more precious for your spa bath. Here are some ideas.
Luxury Dark Southwestern Rug
|
Let's start our list with a large southwestern rug. These rugs feature plenty of patterns and dark bold colors that make your bathroom floors more prominent.
In addition, these rugs can cover large areas of your bathroom and become a focal point in the room.
They might not be waterproof however so be careful not to put them too close to a shower. Although if you have a walk-in shower that retains the water inside, this rug works just fine on your bathroom floors.
Fancy Kilim Runner Spa Bath Rug
|
For a rustic shabby chic look, try a fancy kilim runner in faded earthly tones in your bathroom. These runners can evoke romantic notes of another era and bring them to your 2021 bathroom, making it more inviting and definitely warmer.
If the kilim is flat-woven and very lightweight, make sure to put a rubber pad underneath it to make it more stable so you do not fall.
Look for a polypropylene rug or a cotton one as these options are water-resistant and can be more absorbent too. You might also want to get an outdoor rug for your bathroom to make sure it is waterproof.
Vintage Grey Spa Bath Rug
|
Use a distressed-looking rug in your spa bath to give your space a glamorous and romantic feel. Opt for gray tones to match 2021 trends and enjoy the warmth and charm this rug has to offer.
Find a size that complements the layout of your bathrooms such as a runner in this case for an elongated room, or a circle for a more squared room.
Super Thin Spa Bath Throw Rug
|
Having a small and lightweight throw rug in the bathroom is very versatile. You can place it wherever you need to step on and move it around the floor to where it needs to absorb more water.
There is no perfect spot for this kind of rug but also, every spot where you choose to place it in, works perfectly.
Luxury Spa Bath And Rug Designs
Have a look at our favorite spa bath mat and rug design you can instantly buy to spruce up the interior of your bathroom.
Beige Tribal Striped Bath Mat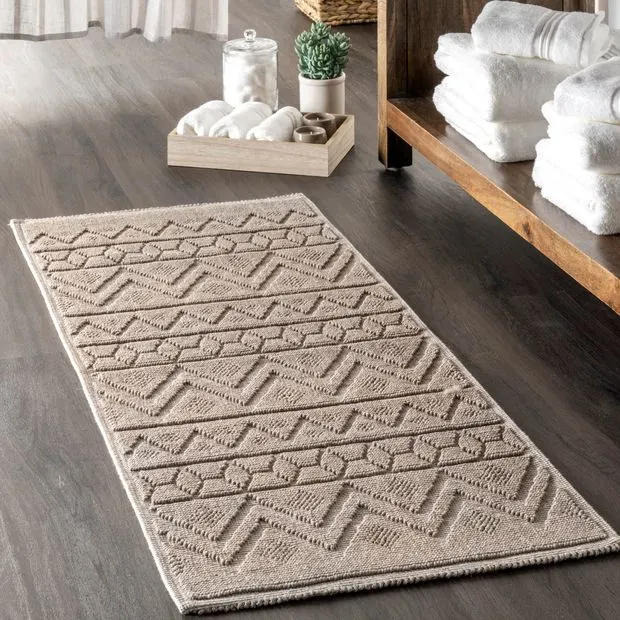 The Beige Tribal Striped Bath Mat is a luxurious cotton rug for your bathroom, machine-made and easy to clean and maintain.
It comes in three muted colors that work well on wooden floors as well as tiles or marble. You can place it in front of your tub and enjoy a very soft and cushioned layer where to step on right out of a relaxing bath.
Beige Indoor Outdoor Medallion With Tassels Area Rug
The reason why we love this rug is that is so versatile. It is not designed as a bathroom mat, instead, you can enjoy its waterproof features and use it in the bathroom too to create a Spa-like environment, especially if you have a big bathroom.
You can even throw in some potted plants and give your bathroom a Bohemian vibe.
Blue Native Indoor Outdoor With Tassels Area Rug
This is a traditional-looking outdoor rug, that can be again a great option for your Spa bath area. The blue evokes fresh tones from the ocean while the while design gives the room a creative touch.
Indigo Hers Area Rug
The perfect decor to celebrate your marriage: the 'his and hers' collection of bath mats. These hand-tufted 100% Micro Denier Polyester rugs are soft, luxurious, comfortable and quite the 'eye catcher'.