Our readers support us. This post may contain affiliate links. We earn from qualifying purchases. Learn More
Pink and blue area rugs are chic and fashionable, and quite the opposite of what people tend to expect. While most pink combinations are girlish and sweet, pink and blue rugs can add huge notes of drama through an eclectic vibe.
These rugs come in a variety of designs and color hues, from dark bold pink combined with navy blue, to pale coral mixed with teal. These colors do not complement one another, instead, they create a sophisticated clash that makes any room more impactful.
All the different hues widen the spectrum of styles and atmospheres that you can inject into your living room, bedroom, kitchen, dining room, entryway, or bathroom.
These rugs are perfect for moody dark interiors full of charm and character. You can place them in living rooms, bedrooms, and especially kitchens and bathrooms. The combination of pink and blue rugs over tiles is quite beautiful.
Living Room Pink and Blue Area Rug Combinations
Living room pink and blue area rugs are ideal for many styles, from soft feminine interiors to shabby chic, eccentric or Modern Oriental. Here are some of our favorite combinations when using pink and blue area rugs.
The Serene and Peaceful Feminine Look
|
The subtle and serene blue and pink area rugs are probably one of the most common rugs used to achieve a peaceful and graceful room.
The interesting pattern and design with some darker blue graphics makes the rug more prominent. Being matched with the pink and navy couch cushions, this rug helps create a contemporary sophisticated look.
The Dramatic Living Room
|
Subtlety is not for everyone. So, if you have a dramatic personality you also need a dramatic interior to competent it and make you feel right at home when you are indeed at home.
Dark and bold pink and navy area rugs are perfect for moody and charismatic living rooms. Combined with dark walls and hardwood floors, this distressed rug looks elegant and chic.
The Colorful Living Room
|
Here is a recipe for a room that never gets boring: a brown leather couch (always in style), dark moody walls, hardwood floors, and a bold colorful rug with different shades of pink and blue.
This combination creates a timeless appeal that is chic and inviting.
The 70s Pink and Blue Look
|
Pink and blue area rugs are great additions that can prevent a 70's decor from looking flat. Matched with a velvet sofa and golden accents, this rug pulls the whole room together into a coherent and fancy setting with a hint of Art Deco.
Bedroom Pink and Blue Area Rug Combinations
Pink and blue come in a variety of shades and so do their combinations. You have the bold deep mauve and navy rug or the neutral blush pink and pastel blue. Both combinations and all the other shades in between make great additions to bedrooms. They inject a vintage vibe that is cozy and embracing.
Here are our favorite bedroom styles using pink and blue rugs.
The Farmhouse Chic Look
|
A western pink and blue area rug combined with a black steel framed queen-size bed creates a very stylish farmhouse look. This is a perfect rug that brings color to a pale palette and creates a perfect decor for an Airbnb. The rich design of the rug combined with farmhouse accents will be quite popular with tourists and their Instagram accounts.
The Delicate Feminine Bedroom
|
A splash of coral pink and blush blue is a great choice for a stylish feminine decor. This rug offers a soft clean look matched with washed-out wooden floors and accessories.
The entire whiteout subtle look creates a warm shabby chic decor that is always appreciated in a bedroom.
The Rich Bohemian Look
|
Sometimes less is more while other times less is a bore. In this case, the latter is definitely true. This bedroom is full of layers, accessories, dark colors, and rich textures. The hot pink and navy rug complements the Bohemian look and makes the interior more vivid.
The Southwest-Scandinavian Look
|
A pastel pink and blue area rug is a great addition to an all-white bedroom.
This soft and delicate decor is balanced out by the crisp Southwestern and Scandinavian motifs, creating a great decor for a young girl's bedroom.
Kitchen Pink and Blue Area Rug Combinations
Pink and blue rug combinations are perfect for traditional kitchens and dark cabinets. See some great design choices here.
The Muted Pink and Blue Kitchen Rug
|
If you have dark cabinets and a light kitchen island, you can balance this design and create a harmonious link through a pink and blue area rug in muted tones. The combination between these two opposite shades of the color spectrum complements the kitchen design and offers a relaxing look.
The Timeless Kitchen Design
|
A distressed pink and blue rug can create a timeless appeal in a dark contemporary kitchen. In addition, it softens up the atmosphere in the room, especially in between the dark kitchen cabinets.
The Moody Dramatic Kitchen
|
Dark blue and hot pink area rugs are a perfect choice for black kitchens. They offer a bold contrast that just adds to the dramatic decor and gives more character to the room. It shows you are not afraid of strong colors and patterns.
The Rustic Kitchen Design
|
A chic pink and blue rug can add harmony and complexity to a white traditional kitchen. The combination of farmhouse design elements with the Oriental design of the rug creates a balanced rustic look that is charming and interesting.
Dining Room Pink and Blue Area Rug Combinations
Both pink and blue are popular colors that combined together in a piece of textile can create a comfortable and inviting decor. As such, these rugs are highly appreciated in dining rooms where people want to feel at ease and inspired to get a conversation going when they have friends and family members over for dinner.
Here are some pink and blue rugs you can use to make your dining room more appealing.
The White Dining Room
|
If you have an all-white dining room from floor to ceiling, then a pink and blue area rug can add a pop of color and make it look more alive.
The distressed southwestern rug in this case works perfectly with the light-colored wood dining set. It breaks the flatness of the color scheme and creates an interior full of character and charm.
The Large Pink and Blue Area Rug for Dining Room
|
Use a large pink and blue area rug to make your dining room floors more appealing. Large rooms need a rug with a strong design to feel more like a home and less like an exhibition space.
The Mixed-Styles Dining Room
|
A large pink and blue area rug with a unique design can be just the item that is missing from your modern dining set within your traditional home. This rug serves as a bridge between the two styles and creates a stylish contemporary look.
The Southwestern Dining Room
|
Here is a great trio when it comes to area rug combinations: brown, teal, and pink. Throw these three colors around in your dining room and you will achieve a charming southwestern look!
Other Interesting Pink and Blue Area Rug Combinations for Your Home
Bathroom Pink and Blue Rug
|
Pink and blue rugs with an Oriental decor have a vintage charm that they inject in any room they are placed on.
When laid over bathroom tiles they also make the bathroom feel more comfortable and inviting.
Office Pink and Blue Rug
|
Pink and navy rugs seem to be quite popular for offices, especially those located within a home. They make this space look more detailed and definitely more attractive.
|
A large oriental pink and blue rug is perfect for a home office space. It adds a touch of style and luxury to the room and makes it a more inspiring area to work in.
Entryway Pink and Blue Mat
|
Using a pink and blue rug in your entryway sets the tone for the rest of the decor of the house. This rug is a good choice for cheerful and bright homes that love patterns.
Best Pink and Blue Area Rugs of 2021
Are you looking to make your home feel more chic and theatrical with pink and blue combinations? Here are our favorite pink and blue area rugs of 2021.
Blue Faded Star Petal Emblem Area Rug
This distressed-looking rug offers a luxurious design for any living room, kitchen, bedroom, or office. It comes in different sizes and shapes, even round, allowing you to be more creative with your home design.
Blue Mottled Medallion Area Rug
The faded pink and blue design of this rug is chic and stylish. Matched with golden accents it creates a very fashionable and glamorous setting.
Blue Barbed Mast Medallion Area Rug
Teal and coral is a very bold and interesting combination in a rug. It offers warm tones that work pretty well on dark hardwood floors. You can also match it with brown couches to create a traditional appeal. Last but not least, this rug looks great in a dining room with a dark wood dining set.
Peach Timeworn Medallion Printed Area Rug
This low pile rug offers a classic look for busy living rooms or bedrooms. Its rich and intense design in pink and blue provide a charming touch to your rooms.
Blue Braided Area Rug
This eccentric rug in hot pink, neon blue, and other intense shades is great for plain rooms in need of a boost of color. In addition, this rug is made entirely of cotton, offering a soft and lightweight layer on your floors. As such, you can use it as a throw rug or just place it on the floor with a rubber pad to prevent it from slipping.
Pink Distressed Persian Area Rug
Persian rugs never go out of style, and the same can be said about pink and blue combinations. This rug has both and as such is a timeless piece that can make your home look fancier in an instant. In addition, its material composition makes it durable and easy to maintain.
Gold Distressed Persian Area Rug
Shabby chic rugs such as the Gold Distressed Persian Area Rug are romantic and mystic. They work well in bedrooms composed of white furniture.
Navy Iris Fading Oriental Medallion Area Rug
The Navy Iris Fading Oriental Medallion Area Rug offers an intense design for dramatic interiors. This rug is perfect for moody settings with dark walls and navy, brown, burgundy or dark green furniture.
Pink Katrina Blooming Rosette Area Rug
This rug is stylish and glamorous. You can match it with brown furniture and light walls to create an interior full of character and charm. It works really well in bedrooms and home offices.
Light Blue Beautiful Rose Bouquet Area Rug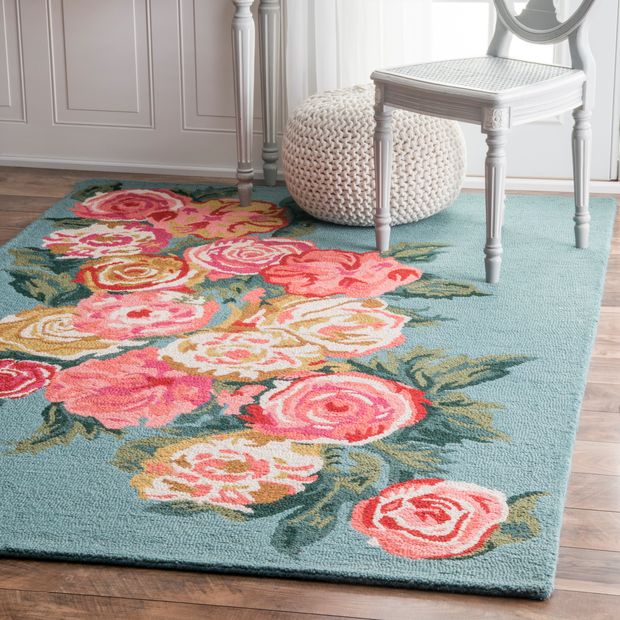 This beautiful rug with a feminine delicate design is a perfect choice for a shabby chic interior. You can place it in a living room or bedroom and give your home a farmhouse look full of color and joy!
Navy Sherra Area Rug
The Navy Sherra Area Rug is made entirely of wood, offering a luxurious and soft finish to your floors. Use this high-end rug to make your living room more appreciated and your floors much more interesting through the contrasting colors: navy blue and hot pink.
Turquoise Moroccan Diamond Area Rug
The hand-tufted Turquoise Moroccan Diamond Area Rug is a precious piece of textile made of wool and viscose. This environmentally friendly rug is perfect for kids' bedrooms. It offers a soft and warm layer to sit on the floor and a nice design that can stimulate their minds.
Blue Faded Vintage Area Rug
This blue and coral rug offers a modern design that turns your floors into a proper art gallery. Place it in a small living room to make it feel more detailed and luxurious.
Blue Persian Charmia Fringe Area Rug
The muted pink and blue tones of the Blue Persian Charmia Fringe Area Rug offer a mature look for a Scandinavian living room. This rug creates a balanced color scheme when combined with grey furniture.