Our readers support us. This post may contain affiliate links. We earn from qualifying purchases. Learn More
Pink and green area rugs are eclectic and glamorous pieces of textile that add a feminine touch to any room they are placed in. This is because of pink, a dominating shade, which has always been associated with delicacy and romance.
These rugs have a strong connection to nature since pink and green is a very frequent combination in trees and especially flower bouquets. As a result, most pink and green area rugs depict floral settings or leafy designs. On many occasions, they also feature birds and especially flamingos.
You can place these rugs in living rooms, bedrooms, outdoor spaces, or entryways to create a direct link between your house and nature in spring.
Pink and Green Meanings and Associations
When you pick decor items for your home you also want to know the meaning of each color and what sort of charm they are going to bring into your home. So here is what a pink and green area rug can do for your interiors based on what these two colors represent.
Green
Green is immediately associated with nature, leaves, trees, and rolling hills. This color represents growth, positivity, new beginnings, and wealth.
In terms of emotions, green is a calm color that allows you to feel relaxed when you look at it. It comes in different shades such as olive green, sage, pastel green, lime, and dark green.
Pink
Pink is always associated with girly things. It is the color of romance and femininity. Whether light or dark, pink always brings a sense of tenderness and delicacy to any environment, in addition to some sweetness and playfulness.
Pink and Green Color Combo
The combination of pink and green is very common in nature. This does not mean however that they complement one another. These two colors are actually opposites, and that is exactly why they work so well when put next to one another into the design of a rug.
Having a bold contrast on a rug creates an impactful design that can inject characteristics from both colors into the room. So with a pink and green area rug, you will get a glamorous and fashionable Bohemian style that is both calming as well as inspiring. With notes of prosperity and positivity, these rugs will make you feel happy and comfortable in your room.
Living Room Pink and Green Area Rug Combinations
Pink and green area rugs are perfect for contemporary living rooms furnished with small pieces. The bold contrast of the design of the rug looks best with minimal Scandinavian couches and side tables. This harmonious combination creates a balance that is soothing for the eyes and does not overwhelm the entire living room.
In addition, the warm pink and green shades go best with hardwood floors or grey tiles. These floor materials allow the design of the rug to dominate the room and become a focal design piece.
The Modern Glamorous Look
|
Pink and green area rugs come in a variety of textures and patterns. If you love this color combo and want to have a modern glamorous look then a block-colored rug is perfect for you. This rug is perfect for small living rooms and modern furniture pieces.
The gold lines between the patterns add a nice touch that makes the living room seem fancier. In addition, matching it with pink cushions and puffs creates a cohesive design with a feminine edge.
The Sweet Floral Rug
|
Most pink and green area rugs feature a floral design that is cute and shabby chic. As a result, these rugs inject a romantic and sensitive feel into the living room they are placed in.
Match it with pristine traditional furniture pieces to create a mixed design that is both elegant and chic.
The Fun Summery Look
|
If you like a Latin summer vibe then choose a pink and green flamingo rug for your living room. This super cheerful rug, with plenty of personality, will make your urban living room reflect some 'summer vacation' charm.
The Faded Pink and Green Area Rug
|
Place a faded pink and green area rug with a fringe within a classic living room to make it feel more comfortable and homely. This wool rug is just perfect for small spaces that are bright and intimate.
Bedroom Pink and Green Area Rug Combinations
Pink and green area rugs are great for an eclectic bedroom full of personality and deep hues. In addition, they work pretty well in children's rooms thanks to the contrasting shades that stimulate their minds.
The Cute Floral Area Rug
|
Add a large area rug with a floral design in pink and green to make your kid's bedroom more colorful and warm. The best thing about this color combination is that it can be used in both girls' and boys' bedrooms, or better yet, in a shared bedroom between siblings.
The Butterfly Sweet Rug
|
For a more powerful kids bedroom design, pick a pink and green area rug in bold shades such as this butterfly modern rug. Layer it over hardwood floors to make the colors more prominent and the floors more interesting.
The Mid Century Modern Design with a Twist
|
Between the many shades of pink and green, this coral and dark green Oriental rug looks perfect inside this Mid-century modern bedroom. The rug compliments the design and makes it more powerful through the rich oriental patterns.
Matched with the artwork, throw blankets, cushions, and wall color, the rug helps create a cohesive design and an enveloping artistic bedroom.
The Beautiful Pink and Green Design
|
For a super eclectic room, opt for layered rugs. Keep the bottom layer in green, as this is the darker and colder hue. Next, add a pink smaller rug on top to make the floors feel warmer. The dark green layer will make the pink top rug more prominent.
This bedroom has fully embraced the chaotic, artistic style and uses a unique peculiar rug as a top layer which shows the designer is not afraid to decorate out of the box.
Other Interesting Pink and Green Area Rug Combinations for Your Home
You can place pink and green area rugs in other settings in the home, and especially patios and gardens, to give them more character and a fresh feel. Here are some more examples:
The Super Colorful Kitchen
|
There is something fun and mystic about pink and green combos. So if you want to make your small space look extra trendy, creative, eclectic, and pleasantly chaotic, a pink and green runner rug or mat is perfect for you.
This rug complements the rest of the kitchen colors, where nothing matches but everything works.
The Vintage Bohemian Outdoor Rug in Pink and Green
|
Faded rugs in pink and green can instantly look both vintage and Bohemian. As such, you can add those attributes to your patio just by placing a distressed pink and green rug in this setting.
Large outdoor rugs can set the mood for your garden or patio and anchor your furniture pieces into a stylish decor.
The Tropical Pink and Green Outdoor Area Rug
|
If you have a dark deck and want to add a 'beachfront resort' vibe to your patio, then opt for a tropical design in pink and green.
A pink tropical flower surrounded by green broad leaves is the perfect rug design to make a grey patio feel warmer.
The Summery Flamingo Outdoor Area Rug
|
If you prefer birds to flowers, go for a flamingo outdoor rug to give your patio a summertime energy.
Enjoy your outdoor space with a weatherproof pink and green area rug and make nature the key elements of your patio design.
Best Pink and Green Area Rugs of 2021
Are you looking for the best pink and green area rugs of 2021? Here are some of our favorite ones.
Green Hand Woven Candy Striped Chevron Area Rug
This half polyester and half cotton rug is an absolute favorite thanks to its design including multiple strikes of pink and green that create a deep and inspiring pattern.
This contemporary-looking rug works really well in bright bedrooms, Bohemian or traditional living rooms, or even game rooms. Its material composition allows it to be quite versatile and easy to maintain.
Pink Flower Bouquet Area Rug
A bouquet rug just has to be part of this list as one of our favorite pink and green area rugs of 2021. This rug is timeless, chic, comfortable, and just plain uplifting.
Place it in a beach house to create a fresh summertime look.
Pink Dimensional Triangles Area Rug
Your kids will adore this pink and green area rug, combined with other shades that just add character to its fun design.
Ideal for a girl's bedroom, this playful rug will be the center of attention for your decor and also provide a nice and luxurious feel when you sit on it. Its 100% wool composition allows you and your kids to comfortably play on the ground for hours.
Pink Multi Braided Classics Indoor/Outdoor Area Rug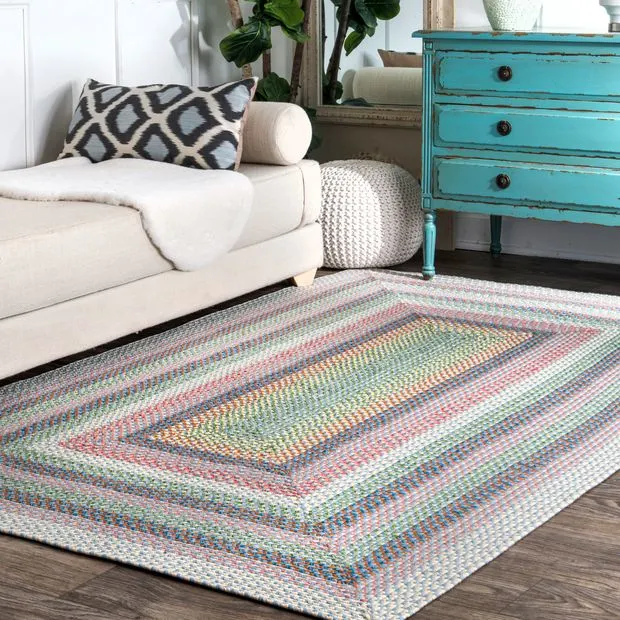 Machine-made polypropylene rugs in pink and green are perfect for outdoor spaces as well as areas with high foot traffic. You can use it in entryways, laundry rooms, living rooms, or kitchens.
The color scheme, consisting mostly of pink and green, features muted colors that can be placed within any decor without too much hustle.
Pink Mardin Regal Clover Area Rug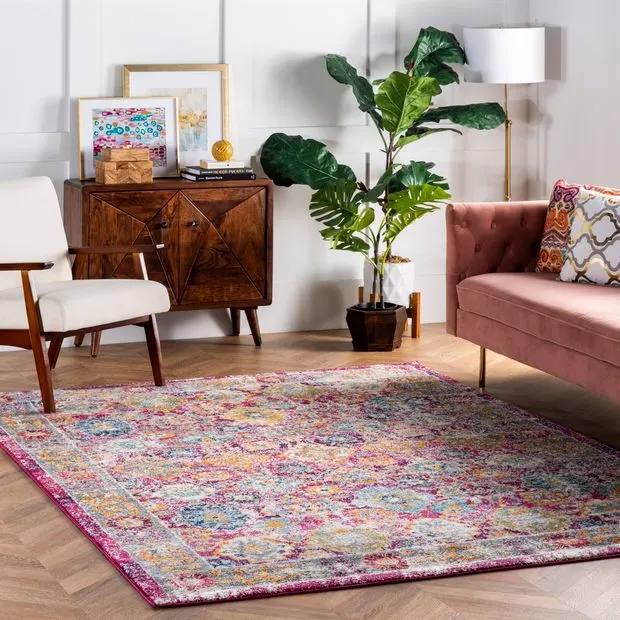 Oriental and distressed are two characteristics that work perfectly with traditional wood furniture. Add a hot pink and green color scheme and you have the recipe for an elegant and super chic area rug that will make your classic decor feel more youthful.
Pink Cistus Area Rug
If you are a fan of flowers then you definitely need to check out this rug. Its design with large pink flowers and green leaves over a white background can add some spring charm to an all-white living room.
Green Persian Clovis Area Rug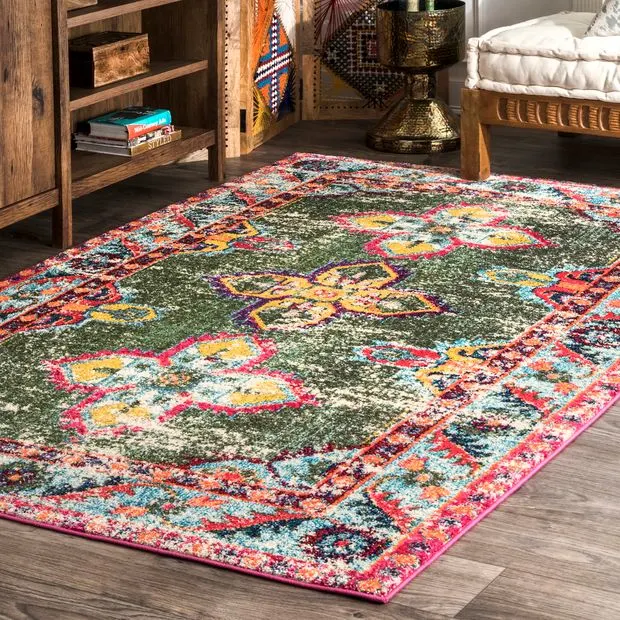 The Green Persian Clovis Area Rug offers a very interesting and cheerful design that really pops up when surrounded by dark wood furniture. This rug is perfect for old traditional homes looking to achieve a timeless appeal.
Marigold Triangle Area Rug
This rug is just precious on many levels. Its design is unique and timeless while its material composition is luxurious and soft: 100% wool. It is a perfect addition to a mountain cottage, looking its best placed in front of a black modern fireplace.
You can also place it in a sunroom full of plants and light to create a Bohemian look and make your room feel fresh and warm simultaneously.
Bonus: This rug is hand-made and therefore entirely unique.
Blush Pink and Green Area Rug
Flatwoven rugs are great in warm climates and busy rooms. This blush pink and green area rug offers a playful design with a great material composition: 65% Wool, 25% Jute, 10% Cotton.
Place it in a kitchen and enjoy its durability. Do not forget to get a rubber pad as flatwoven rugs need something to keep them safely in place.
Pale Pink Area Rug
This 100% polyester rug is perfect for an entryway. Its balanced and warm color scheme can brighten up your dark hardwood floors and set a positive mood for when you enter your home.
In addition, its material composition makes this rug easy to clean and maintain. You can find it in different sizes and get the best one for the layout of your home.
Light Green Area Rug
Hand braided and super soft, this rug offers a joyful spring design with hints of pink and green in pastel shades. The best feature of this rug is its reversibility. So you can use it on one side and turn it around once you see signs of slight stains.
You can also use it as a throw rug and move it freely around your home.