Our readers support us. This post may contain affiliate links. We earn from qualifying purchases. Learn More
Grey and mustard area rugs have been very popular in the past decade, and they continue to be a favorite pick nowadays as well. This bold and cheerful color duo adds a well-balanced color scheme with a hint of eccentricity to any space it is placed in.
Unlike bright yellow and grey rugs, this combination offers a more mature design which allows it to be integrated within any room in the house.
Most grey and mustard area rugs are associated with contemporary decors. These rugs feature geometric shapes and textures in block colors. They display different tones of grey and mustard which makes for a rich and impactful rug design.
Here are some of our favorite grey and mustard area rugs and interior design combinations.
Living Room Grey and Mustard Area Rug Combinations
Grey and mustard area rugs are better suited for Art Deco interiors. You can place a rug with a geometric pattern in a contemporary living room to boost its character and complement its Art Deco style.
Alternatively, you can find a rug with an abstract design in grey and mustard and place it within an elegant and fancy living room and create a unique and refined look for your home.
The Stripes With a Twist Design
|
Grey and mustard area rugs are contemporary and playful. This one in particular is more appealing and unique thanks to the randomness of the stripe design in different hues.
It works pretty well on light hardwood floors in combination with dark grey furniture. This color scheme, both moody and cheerful, is plastered all over the room creating a cohesive décor.
Tip: Match such a playful grey and mustard area rug with a variety of mustard cushions on a grey couch to have an ongoing theme in the living room.
The Fancy Ombré Design
|
Mustard is a very impactful color which is also popular in the fashion industry. This is probably why this setting resembles a photo shoot set. The rug injects an elegant color to the living room and makes it look fancy despite the rustic wall. It's modern design really makes the room feel stylish!
Tip: Use a fancy ombré rug within a Scandinavian rustic setting to achieve a refined graceful interior.
The Contemporary Geometric Rug
|
Art Deco style rugs in mustard and grey are great additions when combined with dark wooden furniture and brown leather couches. These rugs can soften up the gloomy colors of the wood and make the entire living room feel warmer and more contemporary.
Tip: Use an area rug with a geometric grey and mustard design to make a traditional living room seem more modern.
The Elegant Abstract Rug
|
Grey and mustard rugs work well with other warm colors such as terracotta and beige. This palette creates a stylish living room with a fashionable edge. The elegant abstract design in particular, inserted within a Neo-Classical building creates a living room full of character and charm.
Tip: Match an abstract grey and mustard area rug with Mid-Century Modern furniture to create a high-end living room look.
Bedroom Grey and Mustard Area Rug Combinations
Grey and mustard area rugs are perfect for kids' bedrooms. They offer an intriguing color combination that is also unisex. As such, you can use it for both boys' and girls' rooms and steer clear of the traditional blue and pink tags.
The Toddler First Rug
|
When you choose a rug for your kids' bedroom you want it to be inspiring and playful in order to stimulate their minds and creativity. The grey and mustard area rug with a geometric design and different shades of both colors is a great addition to your toddlers' bedroom.
Apart from the cheerfulness, it brings to the room, it also looks fancy enough to create a stylish look.
Tip: Match a grey and mustard area rug in your kids' bedroom with other elements, such as the chair in this image, to create an ongoing theme within the room.
The Multicolored Graphic Rug
|
Grey and mustard area rugs can add a splash of color to dark floors and lighten up the bedroom, especially kids' ones. An interesting graphic design like the one in the picture creates an astonishing look for a unisex bedroom.
Tip: Mix and match a grey and mustard area rug with white and black furniture pieces and accessories to create a bold funky style.
Entryway Grey and Mustard Area Rug Combinations
Grey and mustard area rugs and runners are great options for entryways. They deliver the first look of your home and set the theme for a bright and welcoming household.
The Vintage Entryway Rug
|
Grey and mustard vintage rugs are rare but beautiful. This floral design is a great way to inject a shabby chic look into your entrance and set the tone for the rest of the decor of the house. This design works well on light hardwood floors to create a bright and joyous look for your entrance.
Tip: Place a floral grey and mustard runner within a small south-facing hallway or entryway to give it a farmhouse appeal.
The Abstract Grey and Mustard Area Rug
|
Large entryways can benefit from an area rug much more than a runner. This abstract area rug placed within a traditional home creates a nicely balanced design. It adds a contemporary touch to the house and makes the floors more interesting.
The Abstract Grey and Mustard Area Rug becomes a focal point where the eye gravitates, right when you walk through the door. Its design is interesting enough that you do not need to hang any artwork on the walls.
Tip: Match an abstract grey and mustard area rug with grey walls to give your home an urban summer infusion.
More Interesting Grey and Mustard Area Rug Combinations For Your Home
Kitchen Runner in Grey and Mustard
|
You can use a kitchen grey and mustard throw rug to make the room feel brighter. The mustard resembles the nice and happy color of the sun and brings the same positive energy to your kitchen.
Combined with grey, it creates a balanced color scheme that allows you to match it to different kitchen cabinet colors.
Laundry Whimsical Runner Rug
|
Laundry rooms can get boring and bring your mood down if you leave the floors plain. So, adding a cool and retro-looking grey and mustard runner with a whimsical design can make your laundry room a much more interesting place to be.
The mustard background and the grey false stains make this setting seem more fun and inviting.
Outdoor Grey and Mustard Area Rug Idea
|
Mustard and grey rugs work really well on concrete polished floors, hardwood decks, pale stones, or grey patio tiles. This is why you can choose an outdoors grey and mustard area rug to accentuate the design of your patio or garden.
The way the sun reflects on these colors is a nice touch to your outdoor space. You can use a geometric pattern to make the outdoor living room instantly feel more modern.
Sunroom Warm and Happy Area Rug
|
You can place a grey and mustard rug in a sunroom to complement the warm atmosphere that the sun brings in. The combination of warm and cold hues creates a mature look that is both happy and elegant.
Best Grey and Mustard Area Rugs of 2021
Mustard Abstract Area Rug
This 100% polypropylene rug is a great option for living rooms in homes with kids and pets. It has a low pile which helps circulation and does not shed. The color scheme is modern and muted, offering a variety of matching possibilities.
You can pull colors from the rug and choose the couches, pillows, drapes and other accessories based on this palette. By doing so, you will achieve a playful living room that looks modern and appealing.
Mustard Venice Area Rug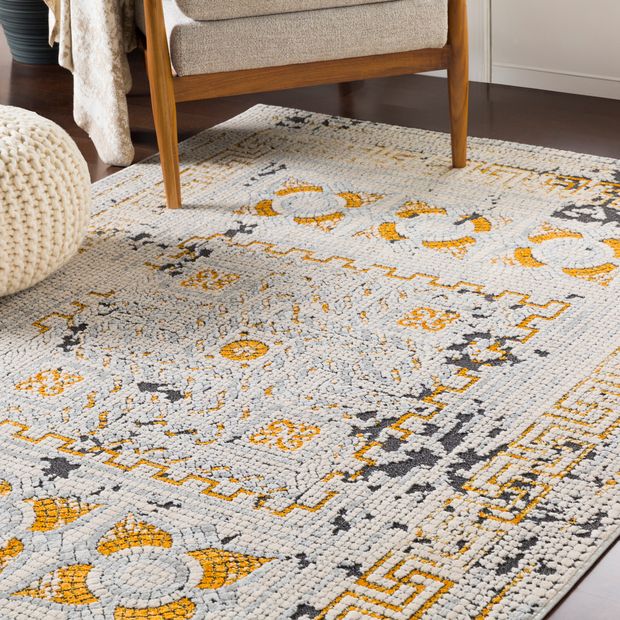 Also known as the Venezia rug, this grey and mustard area rug reflects the charm and fashion sense of Venice through the detailed mosaic design. It offers a luxurious look and works best on dark hardwood floors.
You can place it in a large living room surrounded by gold frames and mirrors to achieve a stylish and graceful atmosphere in your interior. Bring Italian style and charm to your home with the Mustard VNZ-2300 Area Rug!
Gold Faded Rosette Bouquet Area Rug
In the rug industry, mustard is also known as yellow, gold or ochre, so you will find a few gold and grey combinations on this list, including the Rosette Bouquet area rug.
This rug mixes a few styles such as shabby chic and Oriental, to bring to you a unique and gentle floral design with a modern edge. The way the colors have been distributed makes it a piece of modern art, perfect for offices and bedrooms. Match it with white furniture pieces like in the image to create a fresh look.
Gold and Grey Abstract Area Rug
This mustard and grey area rug has a very unique composition that makes it soft and durable. It is made of polypropylene, polyester, jute, and cotton to bring the best qualities of each material to your living spaces, whether bedroom, kitchen, living room, or sunroom.
Its abstract design is a perfect choice for elegant decors with golden accents.
Gold Milky Medallion Area Rug
This elegant rug with a Persian Medallion design is a perfect addition to your kitchen. Its flat surface makes it very comfortable to walk on, and its material composition allows you to clean stains without any trouble.
You can also place it underneath a dining table and enjoy a nice texture and splash of muted color that will not overwhelm the space and allow you to enjoy dinner in a peaceful room.
Sunflower Interconnected Diamonds Area Rug
Rugs should match your personality, and if you are an energetic person who loves to be bold and loud, the Sunflower Interconnected Diamonds Area Rug is perfect for you. You can use it in a designer's office or a small living room to make the space more inspiring and vivid.
This is a hand-hooked low pile rug that will brighten up the atmosphere and bring a youthful vibe to the room.
Yellow and Grey Area Rug
This is one of our favorite mustard and grey area rugs for a few reasons. The design on the surface of this rug is unique and graceful. In addition, this rug is entirely made of wool which makes it luxurious to the touch and extra comfortable.
You can use it in a bedroom and make the room feel warmer and fancier. Alternatively, you can place it in a traditional living room, to give it a 70's vibe.
Gold Splash Abstract Area Rug
The Gold Splash Abstract Area Rug is a gorgeous piece of textile with a very attractive and modern design. Because of its low pile, it is best to be used with a rubber pad underneath. Alternatively, you can place it in a dining room or even a living room and anchor it down with a few furniture pieces such as side tables or armchairs.
Gold Abstract Mural Area Rug
The Gold Abstract Mural Area Rug is a great rug for a white interior. It offers a muted color palette that complements the serenity of a completely white interior with both light and dark hardwood floors.
In addition, its design is modern, abstract, creative, and alluring, just perfect for small living rooms in need of some subtle patterns and design details.
Yellow Ombre Shag Area Rug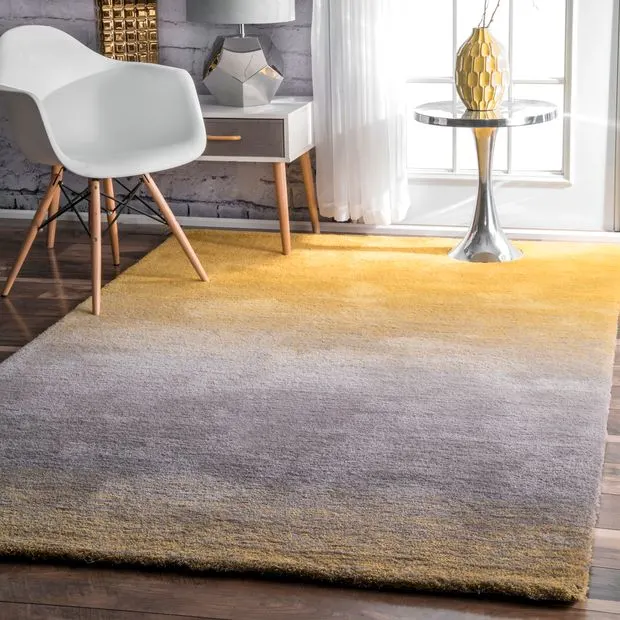 Last but not least, this Ombre Shag Area Rug makes our list of the best grey and mustard area rugs of 2021 thanks to its design.
Every designer loves an ombre effect. It is modern, elegant, stylish, and creative.
The best thing about this rug is how it feels to the touch however. This shag rug is soft and provides a perfect layer where to sit on the floor. It is great for large living rooms with a lot of foot traffic. In addition, you can use it in your TV room and enjoy some quality time with the family!
Also, let's not forget how well it works within old and rustic settings. You can use this rug to make a room feel timeless.