Our readers support us. This post may contain affiliate links. We earn from qualifying purchases. Learn More
Fireplaces are great attractions in a house and they can easily become the most loved space for any member of the family.
But how do you protect your floors from the inevitable sparks and flying embers?
Fortunately, designers have already thought of that, by introducing the right fireplace rugs.
These heatproof rugs can take care of your floors by also offering a bonus feature: exquisite designs to complement the fireplace.
Here's all you need to know regarding rugs, mats, and fireplaces and their beautiful relationship.
Can You Place a Rug in Front of the Fireplace?
Yes! However, not all rugs can be placed in front of a fireplace.
Fireplace rugs are made of a specific design and material to withstand any possible damages that might occur from fire, sparks, or embers that might fly into them.
In addition, fireplace rugs are flame resistant. They are in fact tested and certified to follow regulations regarding flammability.
Fire-resistant rugs are also known as hearth rugs.
Standard Rugs vs Fireplace Rugs
Standard rugs are comfortable and attractive but they cannot offer a good layer of protection against fire and possible hazards right next to the fireplace.
What Are Hearth Rugs?
|
Hearth rugs are pieces of textile that you can place in front of your fireplace without having to worry about burning down the house.
Contrary to many decorative mats, hearth rugs are made of heavy duty, fire-resistant materials and are designed to protect the area in front of a fireplace from sparks, ash or embers.
While many people believe that hearth rugs are only functional, they come in many different shapes, colors, or sizes. As such, hearth rugs can be as beautiful and interesting as any other type of throw in front of a fireplace.
Most importantly, hearth rugs can be made of many different materials as what makes them fireproof is not only the fabric, rather the additives and production technique.
As a result, hearth rugs are the best option to protect your floors in front of a fireplace and also to create an inviting design story that accentuates this focal feature of the house.
Rug Materials for Hearth Rugs
Hearth rugs come in many materials, textures, colors and designs. These include both natural fibers as well as synthetic ones.
Synthetic rugs are affordable and flexible solutions for fireplace mats. They are treated with fire retardant agents to make them safe in the proximity of a fire.
Natural fiber rugs on the other hand ensure longevity and a soft feeling to the touch. In addition, they are more elegant and vibrant looking.
Here are some of the most common materials used for hearth rugs.
Fiberglass Hearth Rugs
Fiberglass mats are considered the safest option when it comes to hearth rugs.
These rugs are designed as heavy duty, industrial grade hearth mats that prevent burns and scorching.
In addition, they are durable and of high quality, which also means these rugs are some of the most expensive hearth rugs in the market.
Typically, fiberglass rugs are seen as more functional than design-oriented.
Polyester Hearth Rugs
Polyester hearth rugs are fire retardant mats made of lightweight polymer fibers.
These rugs are easy to maintain but not as durable in case of flying embers. Therefore, polyester hearth rugs are mostly used with closed fireplaces.
Olefin Hearth Rugs
Olefin hearth rugs are made of both polypropylene and polyethylene fibers.
Contrary to standard Olefin rugs, hearth Olefin rugs are not only fluffy and colorful but also flame resistant.
Be sure to check the labels whether your rug is a hearth rug or a standard throw before placing it in front of a fireplace.
Nylon Hearth Rugs
Nylon is a synthetic material made of polymer fibers. This material makes for a good hearth rug as it melts in contact with hot coals instead of going up in flames.
As a result of melting however, nylon hearth rugs are safe but not very durable.
In addition, Nylon rugs do not provide a very good layer of protection for hardwood floors.
Polypropylene Hearth Rugs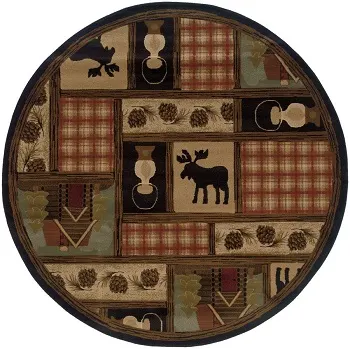 Polypropylene hearth rugs are some of the most resistant rugs.
While standard polypropylene rugs can withstand water, sand and mildew, hearth polypropylene are also manufactured to resist flames and heat. This feature can be found in the specifications of the rug.
Polypropylene hearth rugs come in a variety of decors. Some of these rugs can mimic the look of sisal rugs and look quite organic.
All in all, polypropylene hearth rugs are perfect for any type of fireplace design.
Wool Hearth Rugs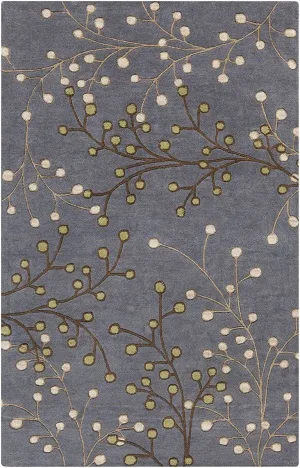 Wool hearth rugs are sustainable and soft textiles that have made a good name for themselves in the interior design world.
These are wool rugs made with fire retardant additives that allow these rugs to perform very well in contact with hot embers.
They are easy to maintain and quite resistant.
In addition, wool hearth rugs can come in a variety of styles, designs, and textures.
Sisal Hearth Rugs
Sisal hearth rugs are made of plant fibers and fire retardant additives.
They can withstand areas with high foot traffic.
Sisal hearth rugs are great fireplace rugs as they are resistant to heat and can match any design style.
In addition, sisal hearth rugs are made of organic materials which allows them to be one of the healthiest options as well.
Hearth Rug Sizes and Shapes
Hearth rugs are placed in front of a fireplace, which in turn has a very specific shape, size, and design.
While these rugs come in a variety of shapes, the most common are; square, half circle, half-round and rectangle.
The size and shape of the rug is selected based on the style and size of the fireplace.
Typically, a modern fireplace looks better with full shaped rugs rather than a half-circle.
In addition, a large fireplace also requires a larger rug, not only for protection but also to create a larger and softer space where to sit.
Fireplace Rug Ideas
The choices between hearth rugs are endless. They come in any color, material, texture, pattern, or style.
Therefore, you need to be able to read the room well in order to choose the right fire resistant rug.
Learn how to choose an area rug color in our detailed guide!
Here are some ideas to get you started;
Modern and Chic
|
This modern and pale design is accentuated from the rectangle rug in front of it.
The entire room seems clean and crisp and the rug speaks the same language.
In addition, this natural-looking rug is also matching the larger area rug.
This is a great move that brings together the entire room.
Rustic and Warm
|
This picture emits warmth from every pixel of it.
The soft edge of the half-circle really complements the warm color of the brick.
The entire ensemble makes for a very comfortable setting.
Modern with a Twist
|
This very sleek white design is brought to life through the large Oriental rug in front of it.
In order to protect the rug, a smaller fire-resistant mat is layered on it, right next to the fireplace.
The entire combination looks perfectly curated to create a modern yet comfortable interior.
General Tips and Ideas
There are a few things to keep in mind when you look into rugs to place in front of the fireplace.
Not all rugs are hearth rugs. Check the labels to make sure that the textile you have bought is heat resistant and has a 2.5 mm thickness.
Make sure to secure the fireplace correctly before placing a rug in front of it. Rugs do provide a layer of protection but they cannot live forever when in contact with hot coals.
Add a slip-resistant backing to your hearth rug so you avoid any dangers from the rug moving all of a sudden.
Do not neglect your hearth rug. Make sure to clean it regularly to avoid any dust build-up. Check the labels for further instructions.
Choose a material that compliments your interior design. Hearth rugs can come in any shape, form, or material as any other rug.
See more:
FAQ:
How can you tell if a rug is fire resistant?
A fire-resistant rug can look exactly the same as any other throw mat in front of a fireplace.
So the only way to figure out whether a rug is fire resistant or not is the good old fashioned way: read the label.
How do you place a rug in front of a fireplace?
Before placing a rug in front of a fireplace take into account the style of the fireplace, the size of the unit, and the design of the fireplace.
Make sure to cover enough space to protect the floor around the fireplace as much as you can.
What is the best fireproof rug for a wood stove?
The best fireproof rug for a wood stove is a full circle rug or two half circle rugs.
Wood stove rugs are considered as stand-alone pieces and a full rug can cover enough space to protect the floor in the area from the stove to the wall.
What is better, natural or synthetic hearth rugs?
Both natural and synthetic fireplace mats are flame resistant and can provide a good layer of protection in addition to a nice design that accentuates the fireplace.
Natural hearth rugs however are more durable and will last for longer, which might make them a better option.
In addition, as natural rugs are made of organic material, they emit fewer fumes when burned and can be safer and healthier in terms of allergens.
What is the lifespan of a fireplace rug?
The lifespan of a hearth rug depends on how well you look after it.
Typically a synthetic hearth rug can last from 3 to 5 years. A natural-fiber rug however is more resistant. Some of these rugs can last from 5 years to 5 decades.
If you follow the instructions on how to take care of the fireplace rug properly, you will definitely increase the lifespan of the rug itself.
Try cleaning them with a sponge and warm water or get professional vacuuming.
Conclusion
Rugs and mats in front of a fireplace have a special place in the world of interior design. They create a comfortable and inviting area to sit in front of the fire.
In addition, these pieces of textiles also provide a good layer of protection for the floor in front of a fireplace.
This is why most people consider getting a rug in front of an open fireplace. Open fireplaces can become dangerous especially if you have hardwood floors.
The chance for embers to burn the top layer of the floor and leave a mark is considerable.
It is the fireplace rug that can actually protect your floors, your home, and your family while still creating an attractive and interesting look.