Our readers support us. This post may contain affiliate links. We earn from qualifying purchases. Learn More
Bathrooms can often seem bare and uninviting through their glossy tiles. This is why bathroom rugs are introduced as an interesting addition to the entire interior design of a bathroom.
Bathroom rugs add a splash of color and warmth to otherwise cold floors. They are used to make the bathroom more comfortable as well as more 'homey'.
|
Should You Have Rugs in Your Bathroom?
|
Having a rug in your bathroom is strongly advised. Bathroom rugs can serve multiple purposes in this room.
Firstly, they add another layer of decor to the bathroom by matching the shower curtain, towels, or any other piece of soft fabric you might have in the bathroom.
In addition, bathroom rugs provide a soft landing for your feet in front of the sink and mirror, as well as right next to the shower or bath.
Lastly, they absorb water and prevent your feet from slipping if the floor is wet.
How Many Rugs Should You Have in the Bathroom?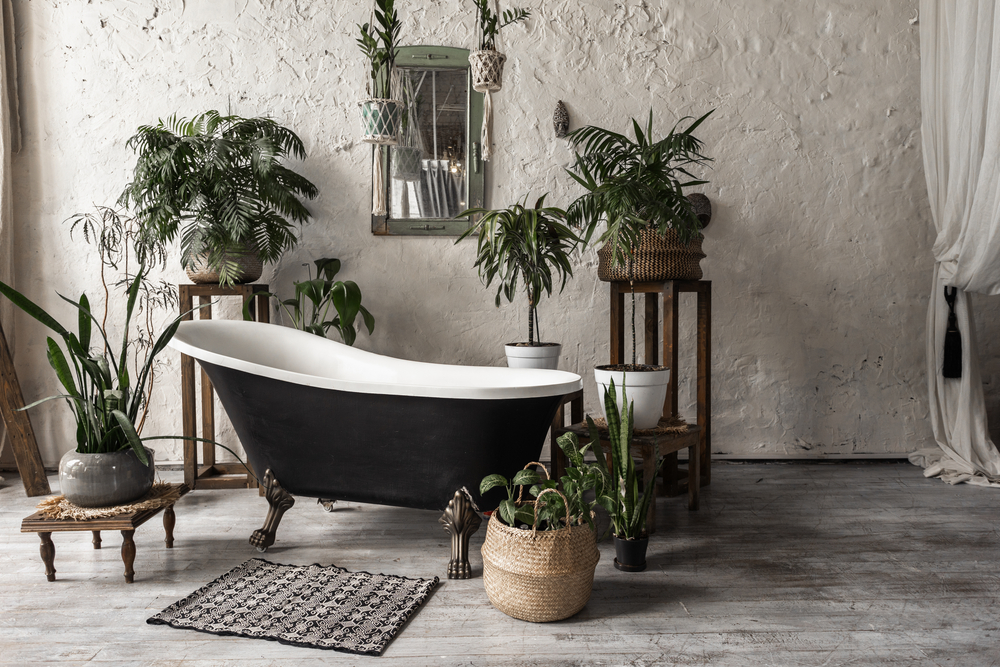 The number of rugs you should have in the bathroom actually depends on the bathroom.
One thing to keep in mind is to never cover the entire bathroom floor with rugs as it will promote mold growth.
Typically, it is normal to have two to three rugs in a bathroom. These can be placed in front of the sink, in front of the bath or shower, and if there is enough space, you can even have one in the middle of the bathroom.
How Do I Choose a Bathroom Rug?
When choosing a bathroom rug it is important to consider the following: purpose, position, material, shape, size, and color scheme.
What is the Purpose of a Bathroom Rug?
When choosing a bathroom rug keep in mind why you want to add this item to your bathroom.
If you want something to absorb water in front of a shower or bath, make sure to choose a non-slippery rug or use a non-slip underlay underneath it, in a cotton material that resembles a towel.
If you want something purely decorative, pick a rug that matches the color of your bathroom and place it in the middle of the room.
Whatever you choose, make sure to keep an eye out for the following features before deciding on one.
Where Should You Place a Bathroom rug?
|
You can place a bathroom rug in front of a vanity mirror or sink to absorb droplets of water and provide a warm and plush backing for your feet when you get ready in the morning.
A bathroom rug placed next to the shower or bath can absorb extra water dripping after you are done washing your hair and body. This placement will also prevent you from slipping when your feet are wet.
Placement in the middle of the bathroom makes a design statement and adds extra details to your bathroom. Lastly, you can put a bathroom rug or mat in front of the toilet to keep your feet warm.
What Bathroom Rug Materials Can You Choose From?
The most common materials for a bathroom mat are cotton, bamboo, chenille, polyester, and nylon.
Cotton bathroom rugs are probably the most common rugs as they are soft to the touch, easy to clean, and very easy to color match. These rugs come in a variety of colors, designs, and patterns. However, they are not very durable especially in an extremely wet bathroom.
Bamboo rugs are also referred to as wooden mats for bathrooms. These rugs are attractive and inexpensive. They go well with modern bathroom designs but are not particularly warm or soft to the touch.
Chenille rugs are very absorbent and come in a variety of colors. They are typically made of rayon, acrylic, and polypropylene. These are the best options for very wet bathrooms. In addition, these rugs are soft and plush when you step on them.
Polyester rugs are very durable and perform quite well in bathrooms with high foot traffic.
Nylon rugs provide a great non-slip option for bathrooms. They are durable choices for bathroom rugs as well.
How to Choose the Correct Bathroom Rug Shape for Your Bathroom?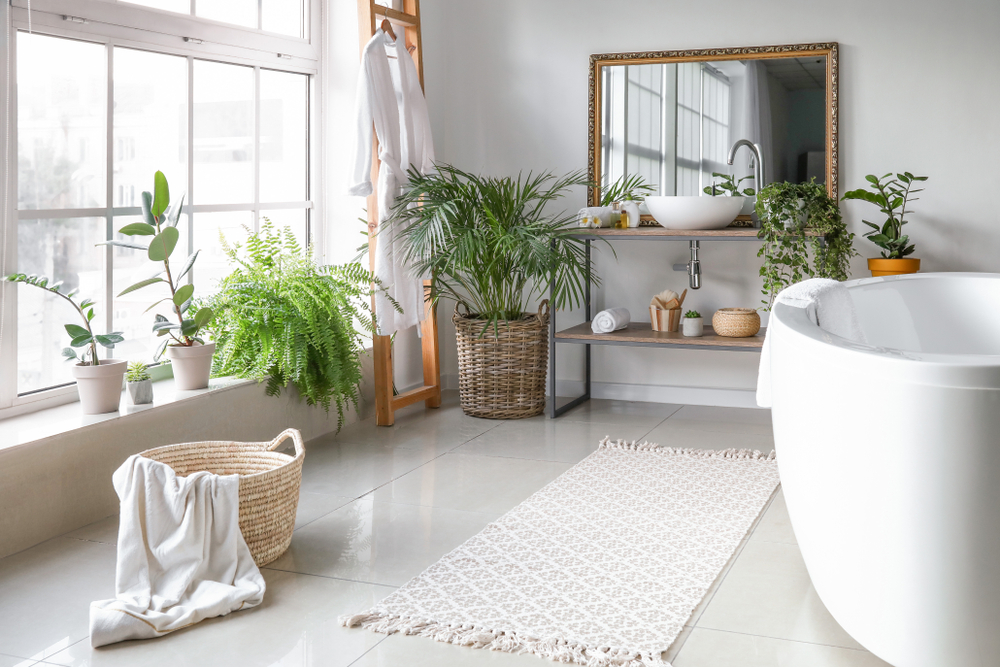 There are a few bathroom rug shapes you can choose from. They usually depend on where you position the rug and how big your bathroom is.
If you have a large bathroom you can opt for a rectangular, round, or square rug.
You can use a runner rug in front of a bath or double vanity, or if you have an elongated bathroom design.
In addition, you can use smaller rectangular or elliptical rugs for smaller spaces in front of the shower or small sink.
What Are the Best Bathroom Rug Sizes?
Bathroom rug sizes depend on the size of the bathroom itself as well as its placement in the bathroom.
Usually, a sink or shower/bathtub rug can vary between 17″ x 24″ and 21″ x 34″. These rugs are small as they are only used to catch any water drops from splashing.
A master bath rug or an area rug is larger. It can be around 27″ x 45″ and become the focal centerpiece of your bathroom. This rug is also used as a design statement.
22″ x 60″ bathroom rugs are also available and are usually placed in front of a double vanity.
Learn with about bathroom and vanity rug sizes with detailed layout designs.
What Is the Best Rug for a Bathroom?
The best rugs for a bathroom are made of absorbent material, plush top finish, non-slip backing, and last but not least, a nice color to match your bathroom interior, towels, and shower curtains.
Here are our top picks for the best bath mats of 2020:
Best Shower and Bath Rugs / Mats
The Gray Iris Trellis Bath Mat is a soft cotton mat with a non-slip latex backing that makes it safe even when soaking wet.
This mat has an interesting diamond texture and comes in an earthy color palette. Therefore, you can experiment with the color scheme of your bathroom.
What makes this rug the best choice is its rectangular shape and various sizes, which means this rug is big enough to become a focal point in your bathroom but also small enough to be easy to move about.
Last but not least, this rug can be washed in the laundry machine, thus remaining germ and hustle-free!
Best Wooden Bath Rug
|
Opting for a wooden bath rug will give your bathroom a tropical and relaxing look.
This is our pick for the best wooden mat as it is unique and free from repellants. In addition, it can be easily integrated into a modern grey bathroom.
Best Rug for Bathroom Sinks
The Ivory Tribal Striped Bath Mat is a soft and plush Indian rug made of cotton. It features a nice design with three main colors that allow this rug to be matched to black, white, grey, or other earthly tones in a bathroom.
This rug would sit perfectly in front of a sink, to provide a plush landing for the feet and soften the harsh lines of a sink cabinet.
Best Rug for Toilets
Toilets are a bit trickier when it comes to placing a rug in front of them due to the high amount of germs that can be trapped under the rug.
As a result, any rug you put in front of a toilet needs to be washed very often which can lower its quality considerably. This is why using bath mats is a better solution for a toilet.
What Is the Difference Between a Bath Rug and a Bath Mat?
A bath mat is an absorbent, non-slippery pad used in front of the toilet or shower. Bath mats are also known as pedestal mats and are more affordable than bath rugs.
Bath rugs on the other hand are plushier and more luxurious items used both for their absorbent character as well as to make the bathroom fancier.
In most cases however, the two terms are used interchangeably and refer to the same thing, as their primary function is one and the same!
Are Toilet Mats Unhygienic?
Compared to other bathroom rugs and mats, toilet mats are the most unhygienic ones as they trap all the germs that are in proximity to the toilet.
How Should You Care for Toilet Mats?
Make sure to wash your toilet mat once a week at a high temperature to keep it germ-free.
In addition, do not forget to air it out completely before placing it in front of the toilet again in order to prevent mold from growing.
FAQs
Here are some of the most common questions regarding bathroom rugs and their features. Check them out to better dress your bathroom floors.
How do you make a bathroom rug non-slip?
There are different ways to make your bathroom rug non-slip.
The most common practice is to add an anti-slip rug underlay, usually made of rubber. These rubber layers can vary from affordable padding to more expensive and higher quality rug pads that also make the rug softer.
The second way to make bathroom rugs non-slippery is to use velcro strips underneath your rugs. You can get those strips in DIY stores.
Rug tape is another suitable solution to keep bathroom rugs in place. This type of tape sticks to the floor through rubber backing instead of adhesive.
Should the bathroom rugs and towels match?
|
It is a good idea to match your bathroom rugs with your towels. What this means is that you can pick a color scheme and use this scheme throughout the soft textiles in your bathroom.
The bathroom rug does not necessarily need to be the exact same color as your towels.
One simple way to ensure that your bathroom rugs and towels match is to pick two colors of the towels and pull one of those colors for the bathroom rug.
Are toilet mats old fashioned?
In 2020 toilet mats are regarded as old fashioned.
If you want to have some more soft fabric in the bathroom opt for bathroom rugs, instead of a toilet mat set.
You can mix and match up to two bathroom rugs, positioned in front of the vanity mirror and the shower or bathtub.
What can I do with old bathroom rugs?
Old bathroom rugs can be recycled like any other rug or piece of textile in your home. There are many different ideas for you to reuse your old bathroom rugs.
You can donate them to an animal shelter or even use them for your own pets in the house.
Another totally different idea is to repurpose them as chair pads and use them in another room in the house.
Alternatively, you can place them outside your service door or keep them in the car to clean your shoes when the weather is wet.
What is a good accent color for a Grey bathroom?
Grey bathrooms are very modern and appreciated nowadays.
Since grey is a neutral color, there are many different accent colors that can make your grey bathroom pop. Here are some options:
Grey tiles with light blue bathroom rugs for a calm interior
Grey resin floors and dark green rugs for a wild, natural tone
Lime rugs and towels with grey bathroom walls for an eclectic interior
Light pink bathroom rugs in a grey girly bathroom
Cherry red bathroom rugs in a dark grey bathroom for a strong contrast
Grey floors and wall tiles combined with yellow bathroom rugs for an industrial look
How often should you wash your bathroom rug?
Wash your bathroom rug weekly to keep it germs free if you are using the bathroom very often and your rug is made of a soft material like cotton.
If your rug has a rubber backing, however, you only need to wash it once a month as the rubber prevents extensive mold from growing, unlike cotton rugs.
How often should you replace your bathroom rug?
Bathroom rugs are resilient which is why you only need to replace them every two years if you are washing them regularly according to instructions.
However, as per any other rug, you might need to replace them sooner if you see signs of wear and tear.
Replace your bathroom mat immediately if you notice any mold growth that does not go away after having washed the rug.