Our readers support us. This post may contain affiliate links. We earn from qualifying purchases. Learn More
Oval and round area rugs have the kind of shape that is perfectly suited for open-floor home interiors. Their softly edged designs don't have any sharpness at all, which means that they enhance the visual flow of the spaces that they are furnished in.
Such types of rugs are also used to emulate shapely contrast in home interiors. In a room full of rigidity and sharpness, they can feel like an aesthetic oasis. They're the perfect statement pieces and a great way to introduce beautiful accents in several interior designs. Further, we'll take a look at everything that you need to know about round and oval rugs.
8 Gorgeous Oval/Round Area Rugs For You
Round and oval area rugs come in many shapes, sizes, and designs. Below, I've shared a variety of them that you can pick from. Most of them vary in materials, color scheme, and overall impact, so these mini-reviews will help you get a better idea of where/how/when you can place a certain rug of your choice:
1. Red Medieval Herald Indoor/Outdoor Area Rug
Note: although the image shows a rectangular rug, this is available in round.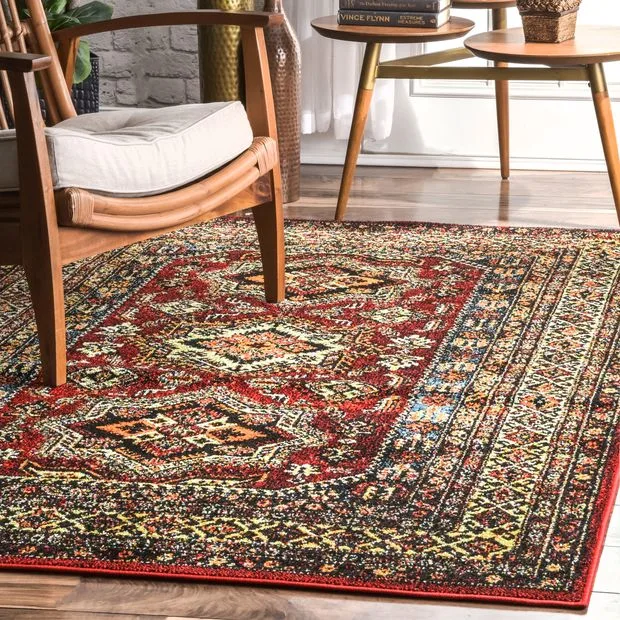 All sizes: Round: 8'
Material: Polypropylene
If you're looking for something fun, quirky, and colorful to brighten up your home interiors, then this particular round rug would be right up your alley. It's got a bright color scheme – a vivid combination of red and yellows arranged in a contemporary oriental floral/arabesque pattern that would make an excellent accent piece.
Despite its traditional outlook, this rug exudes a casual appeal that I feel would complement any kind of furniture that you put on it. It would especially spruce up your round-topped dining table set (especially if you've got a tulip table), but would feel just as attractive as a stand-alone piece splayed in the middle of your foyer or lobby. You can even pair it with your bed or design a cute accent nook with it.
The 8 feet diameter of this rug ensures that it always makes a statement in every space. Since it's a hand-tufted piece, the pile is pure 100% wool while the backing is sturdy cotton. It's absolutely hard-wearing and built-to-last. It's recommended for indoor use only, so it's best if you don't furnish it in semi-outdoor or fully outdoor areas.
Main Features
Material: polypropylene
Machine made
Indoor/outdoor use
Incredibly hard-wearing.
Perfect for accenting.
Requires professional cleaning.
2. Brown Indoor/Outdoor Krem Area Rug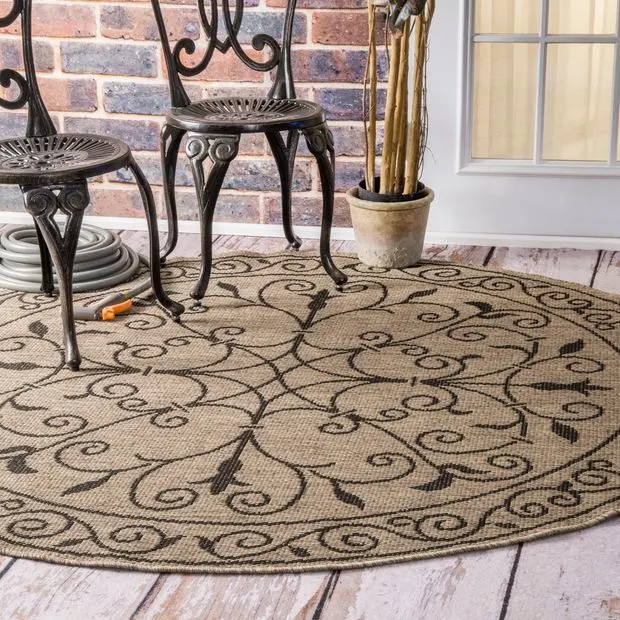 All sizes: Oval: 5'x8'
Material: 100% polypropylene
If you're looking to introduce some pattern highlights in your home interiors, then this particular area rug would be an excellent choice. It features a gorgeous neutral brown color scheme consisting of pecan browns, and sandy hues. This uniquely blended color scheme with deco-style patterning would be a great way to accent and add some decorative value to your spaces.
As far as placement is concerned, you can place this contemporary area rug in the middle of your living rooms (preferably under your coffee table) or at the foot of your bed (maybe with a footstool or small chaise on top). Since this is also an outdoor rug, you can also place it in your verandahs or porches.
I think that this oval rug is relatively compact in dimensions, so anything that you decide to put on top of it would have to be adequately proportioned. If it's too big, then it'll hide the design of the rug. If it's too small, the scale of the whole thing would look off.
This area rug is very plush in texture and has been machine made in Belgium. Its 100% polypropylene manufacturing ensures the utmost durability. It also means that this rug is pretty stain and fade resistant as well.
It can withstand heavy wear and tear as well as constant foot traffic. Therefore, you can also place it in your entrance lobbies, wide corridors, and foyers. If it gets dirty, you can just spot check it with a damp cloth and mild detergent.
Main Features
Available in a vast variety of sizes.
Features art-deco inspired patterns.
Has a contemporary aesthetic.
Has a unique color scheme of mint-green and brown-neutrals.
Made from sturdy, durable polypropylene with jute backing.
Easily maintained with regular vacuuming and spot checking.
Highly resilient against heavy foot-traffic.
3. Black Jute Braided Area Rug
All sizes: Oval: 3'x5', 4'x6'
Round: 4', 6', 8'
Material: Jute
The ebony color of this oval rug complements its stylish elliptical shape really well. Its neat, minimalist looks are perfect for introducing some solid accenting in neutral-themed interior designs.
You can find it in a number of sizes, which gives you plenty of opportunity to experiment with how to assimilate it within your spaces. I personally prefer using it as a freestanding accent piece, but you can always match it with sleek, modern furniture items for a wholesome effect as well.
If you like the design but are struggling with placement ideas, here are a few: it can be a centerpiece in your entrance lobby, a statement piece at the foot of your bed, and a foot-rest at the base of your reading chair (pro tip: here you can even place an ottoman on it as well).
The braided design is stain resistant and recommended or indoor use only. I'd recommend some extra rug padding just to be sure as kids have a way of trampling even the most solidly surfaced rug bottoms. However, if you've got an adult-only home, then it would be perfectly fine as it is.
This oval area rug is quite sturdy. It's also stain and fade resistant, so you don't have to be scared of accidental spills or intense sunlight. Its edges are sewn with fabric tape, so you don't really have to be afraid of fraying. Plus, it's machine washable, so if it gets dirty, you can just put it in the laundry and it will become as good as new.
Main Features
Available in so many different sizes.
Easily matched with a number of interior themes.
Stain and fade resistant.
Its edges are sewn to prevent fraying.
Highly comfortable to stand on.
4. Peach Florid Dreams Area Rug
All sizes: Oval: 4'x6', 6.7'x9, 8'x10'
Round: 4', 5', 6', 8'
Materials: 100% polypropylene
If you love contemporary iterations of classical rug designs and aren't afraid to splurge a little, then this particular area rug would make an excellent addition in your homes.
It's "fashionably faded" and features a grey backdrop with bright oriental designs on top. The strategic blend of vivid colors such as blue, orange, red, and more on top of a neutral background makes this rug a perfect accessory to accent your spaces.
I think this rug is the perfect blend of fun, quirky, and striking. It even has a subtle boo-chic flair that would especially complement vintage style homes.
If you want to highlight its unique design, then you can make it the centerpiece of your living rooms, entrance foyers, and even bedrooms. However, I think it would be important to mention that if you put any furniture directly on top of it, its overall impact would diminish a bit.
This oval area rug is machine-made in Turkey and is made from 100% polypropylene. Therefore, it's adequately stain resistant and can even withstand wetness. It would be best to outfit it with a rug pad so that it doesn't crease or move around.
Main Features
Available in a few sizes.
Features a gorgeous contemporary-oriental design.
Has a vivid color scheme over a neutral backdrop.
Features a distinctly boho-chic appeal.
Made from sturdy polypropylene.
Has a pile height of 0.38".
Stain-resistant, can be vacuumed and spot cleaned.
5. Gray Starfish And Stripes Area Rug
All sizes: Round: 4', 6'
Oval: 3'x5', 5'x8'
Materials: Polypropylene
If you adore live patterns that consist of birds, animals, and sea-creatures, then you'll definitely love this gorgeous starfish themed area rug.
The marine theme has been stunningly featured as the main design. It features a simple star fish in the middle of a serene grey backdrop. The portrait style designing is extremely calming. If you need something tranquil to accent your interior designs, then I recommend choosing this particular rug.
While the whole design of this round rug is a thing of beauty, I think it's the high-contrast blend of blue and grey colors that makes this rug truly striking. The understated color scheme also means that this rug would make a fantastic accent piece.
Pro tip: don't place any furniture items on top of it – just furnish it as it is in your empty circulation areas such as entrance foyers, living rooms, and reading nooks. Not only would it be an eye-catching focal point, but would also liven up the overall aesthetic of your spaces.
The functional qualities of this round area rug are just as impressive as its aesthetics. It's soft, and is made out of polypropylene. It's also sturdy and can be featured in outdoor areas as well.
Main Features:
Highly soft and comfortable.
Made from 100% polyester.
Features a marine-inspired theme.
Has understated accents on a neutral backdrop.
6. Off White Tribal Moroccan Tassel Area Rug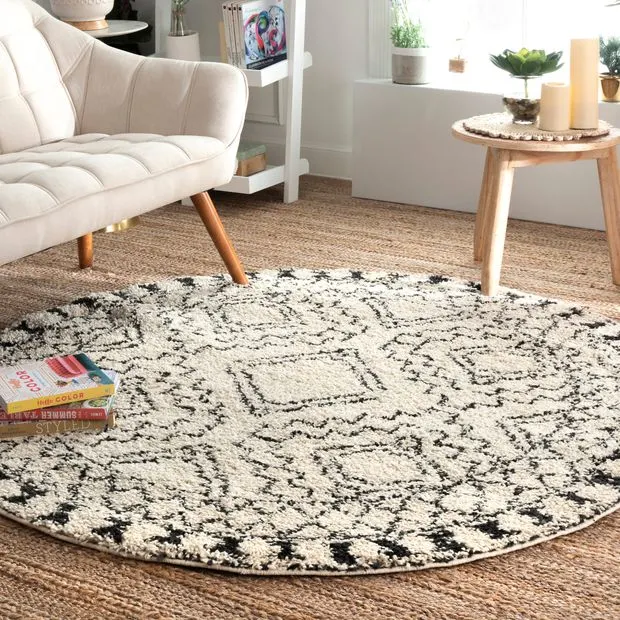 All sizes: Oval: 3′ x 5′, 5'x8', 8'x10'
Round: 4′, 5,3', 6′, 8', 10′
Materials: Polypropylene
Capturing the gorgeous beauty of Beni Ourin rugs in its compact round form, this area rug would make an excellent addition to Scandinavian, modern, and minimal style homes.
It's understated and features pencil-thin tribal-geometric style motifs designed over a shaggy grey-white backdrop. I think that this rug is very unique and would make an excellent centerpiece.
It can be placed under your dining table set in a brightly lit modern home. However, I think it would look the best when it's used as a solitary accent piece in living rooms, lobbies, and circulation areas. It can also be accompanied next to your comfortable reading chair in a private alcove.
It is machine made and entirely synthetic: 100% polypropylene. Therefore, it's highly durable, stain resistant, and can be easily cleaned. It's sturdy and able to withstand high wear and tear so you can place it in spaces with high foot-traffic as well.
I'd recommend using it with a rug pad to prevent creasing, sliding, and shifting – especially if you live in a house with kids.
Main Features:
Available in a number of sizes.
Has a pile of sheer 0.25" and is comfortable to stand on.
Machine made from polypropylene and has a jute backing.
Features gorgeous Beni Ourin inspired geometric patterns.
Recommended for residential use only.
Can be maintained with spot cleaning and occasional professional cleaning.
7. White Shaggy Area Rug
All sizes: Oval: 3'x5', 4'x6', 5.3'x7.6', 6.7'x9'
Round: 5'3″, 6', 8', 10'
Materials: Polypropylene
Shag rugs have a way of softening the hard edges of any space and when you couple that with an elliptical shape, it becomes even more impactful. Therefore, this white colored oval shag rug is the perfect way to cozy up your spaces with style and elegance.
The plain solid coloring and fluffy texture of this rug make it a great potential focal point for any space.
But I think that like all shag rugs, it's mainly the texture of these rugs that glamorizes the space. It's very striking – instantly catches the eye, even – and is perfect for accenting. You can feature it in an industrial style living room or reading area, an eclectic bedroom, or even a retro style dining space.
Shag rugs look best amongst visual clutter, so always remember to pair them up with lots of contrasting elements such as metal accent floor lamps, statement end tables, and colorful artwork.
This particular oval shag rug is machine made from polypropylene. Like all synthetic rugs with downy piles it requires regular maintenance. You can keep up its white, downy aesthetic by regularly vacuuming (without the beater bar). Try not to furnish it in high-traffic areas or the pile might start matting very soon.
Main Features:
Has a snow white pile.
It's downy and comfortable.
Can be vacuumed.
Needs to be sufficiently aired-out.
Machine made in Turkey.
Made entirely out of polypropylene and is very sturdy.
8. Rust Dynast Area Rug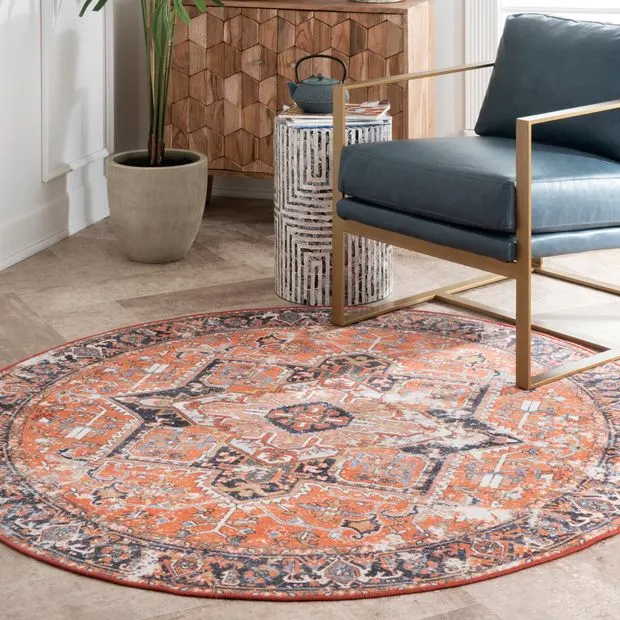 All sizes: Rug Size: Round 5.5', 8'
Material: 100% Polyamide
If you want a touch of traditional in your homes, than this round area rug is an excellent choice. It's very bold, consists of vivid colors, and has an artfully distressed finish that gives the whole rug an authentic traditional vibe.
The oriental motifs at its center and border are reminiscent of the 'medallion' style in typical Persian rugs. It would make an excellent focal point as well as a centerpiece in your home interiors.
I think that classical-inspired round rugs have a very contemporary aura because originals only came in oversized rectangular forms back in the day. So this particular round rug would be a great way to bring some color into a quietly classy modern space.
It would also complement the artful visual clutter of an eclectic, neo-classical, and bohemian style interior design.
This round rug has been machine made from polypropylene and is highly durable. It can be maintained with regular vacuuming and spot cleaning. It has a very comfortable pile and I'd suggest using a rug pad underneath it so that it doesn't crease.
Main Features
Available in just one size.
Made from polypropylene.
Can be vacuumed and requires spot cleaning.
Has medallion style motifs and oriental borders.
The color scheme of this rug is bold and vivacious.
Durable and stain-resistant.
Has a dense, high-performance pile of 0.5".
Important Considerations for Choosing a Round Shaped Rug
Here are some important design considerations you must know about before finalizing your round/oval area rug purchase:
Of course, knowing the size of your round/oval area rug is of the utmost importance. This is so the rug can complement the scale of your space.
If you furnish a small room with a large 8' round rug, you'll have no circulation space and it'll take away from the ambiance. Similarly, you cannot just put a 5' round rug under your large circular-top dining table.
Proportions and scale matters a lot. Even an accent oval rug that you want to put in your corridors has to harmonize with the dimensions of the space, or the end results won't be very visually and functionally pleasant.
Before buying your rug, carefully appraise the size of your space and ask yourself this: will the rug look perfect here or not?
See our Rug Sizes Guide with detailed layout designs for further reference.
The material you choose for your round/oval area rug is just as important as the size. But here, you have to consider functional aspects more than anything else.
Are you buying a rug for a high-traffic zone?
Or is it just an accent piece that won't really get any foot traffic at all?
Do you live in a home with a growing family and naughty children?
Do you want to invest in a reversible rug?
Are you looking for a long-term or short-term investment?
What's your budget?
All of these questions will help you get a better understanding of your requirements, and thus lead you to the right material.
Polypropylene and other synthetic rugs are affordable but relatively short-term investments. Jute and natural fiber rugs are sturdy and easy to clean. Similarly, delicate orientals may be a long-term investment but they don't really suit high-traffic areas.
At the end of the day, rug maintenance is also quite an important factor to consider before finagling your purchase. This partially depends on the material, so both aspects are partially interlinked.
For example, a synthetic shag rug with acrylic fibers requires special attention during vacuuming (you have to take off the beater bar). However, polypropylene rugs are highly durable, stain-resistant and can be easily cleaned. Similarly, flatweave rugs are reversible and moderately easy to clean.
Therefore, it's best to do some basic research on the pros and cons of certain rug materials before buying.
The style of your round area rug encompasses various factors such as color schemes, textures, and patterns. This is a crucial factor to consider because if you furnish a rug meant for a certain interior design style into one that clashes with that aesthetic, you'll have to make returns.
So, always do your research on what rug style suits what interior design before locking that final purchase.
See more:
Conclusion
So, these are some amazing round and oval area rugs representing different styles, genres, and color schemes. Some of them are bold, eclectic, and quirky while others are understated and contemporary.
We hope our suggestions and comments can help you better understand placement techniques, materials, and maintenance.