Our readers support us. This post may contain affiliate links. We earn from qualifying purchases. Learn More
Rugs are one of the major parts of interior styling. Aside from lending personality to the floor space, they're also used to emulate contrast and accents. Therefore, refreshing them each year is an excellent way of keeping up with the latest trends.
If you're looking for a stylish rug upgrade, then bold colors and patterns are making a huge splash on the trends chart in 2022. Homeowners are also looking for sustainable options, so natural fiber and hand-woven rugs are great options. Other than that, understated neutrals with the occasional bright accent are also in fashion for 2022.
In contrast, 2021 was all about vintage and Moroccan rugs with subtle color schemes. Warm colors were the 'it' trend last year and long, plush piles were really appreciated. Monochromes and flatweaves capped things off with understated drama.
A Decade-long Review of Rugs in Style
| | |
| --- | --- |
| Year | Trends |
| 2011 | Curves and organic designs |
| 2012 | Bold jewel tones |
| 2013 | Dark neutrals with textures |
| 2014 | Cool and pastel shades in solids |
| 2015 | Modern Orientals |
| 2016 | Neutrals and metallic hues |
| 2017 | Boho chic rugs with Scandinavian flair |
| 2018 | Light colors and eco-friendly materials |
| 2019 | Nordic, vintage, & geometric patterns |
| 2020 | Natural fibers and tonal layering |
`
Rugs in Fashion for 2022
1. Jewel Tones & Geometric Patterns
Rugs that feature a stylish combination of geometric patterns articulated in jewel tones (red, emerald, sapphire, cerulean, etc.) are one of the top trends in 2022. They not only emulate a lively vibe within spaces, but are also a fantastic way to evoke colorful contrast in otherwise dull spaces. The visually pleasing geometry feels even more striking through the use of bright colors. If you're wondering just how this combination works, here're a few amazing rugs for you:
Multi Prismatic Simon Honeycomb Area Rug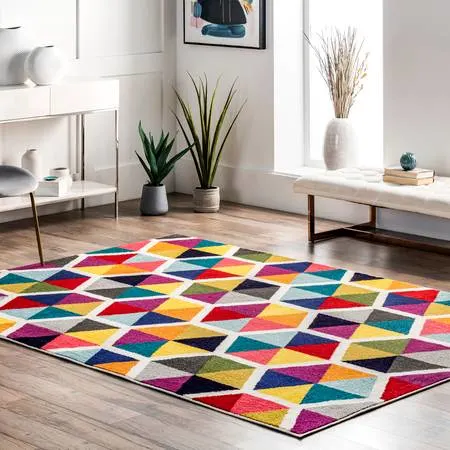 This rug features a stunning prismatic design that's filled out in the most vibrant colors. From shocking pink to autumn rusts and biloxi blues, each hue has been arranged in a totally eye-catching manner.
This rug will make an excellent addition within neutral interior designs. It is perfect for adding a pop of color to dull wooden floors. It'll add a lovely contrast to your ambiance, especially if you pair it with sophisticated neutral furniture. If you want to add a bit of contrast, then a planter or two in the corner would do the trick.
Multi Carnival Shag Area Rug
The shaggy zig-zag design of this area rug is elevated by its jewel tones. The combination of bold pinks, oranges, and reds is complemented with emeralds, blacks, and whites.
The texture of this rug alone is something of a statement maker. Although it would look pretty great in a boho-chic living room, this rug would look the best in a cozy bedroom. You can also design a nice little reading nook by pairing this rug with an oversized wing chair and a sleek modern lamp.
2. Pastel-Neutral Combination
While pastels and neutrals have individually been appreciated as solid rug trends in the past, they've only appeared as a combination in 2022. Homeowners are loving the subtle cheer of a pastel pink splash on grey or a light blue pop on a dove backdrop. It's a truly whimsical trend, and here are two of our favorite rugs that represent it:
Cynthia Rowley In Bloom Pastel Rug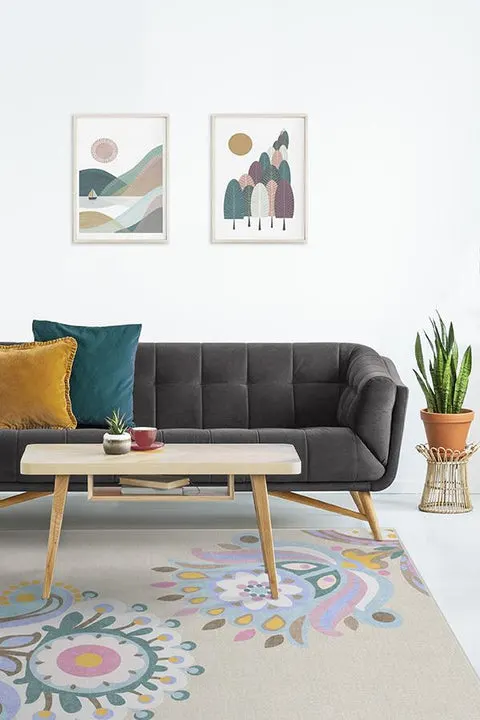 This rug is not your typical abstract or floral – in fact, it's a fantastical version that features an eye-pleasing combination of various pastel shades. From lovely light pinks to light-hearted mustards, powdery blues, and dull greens, there's a world of whimsy in the design of this rug.
It's perfect for featuring in living rooms, bedrooms, offices, and dining areas. Just try to pair it with leggy scandinavian style furniture whose upholstery/finish is darker than the rug. This way, there would be a distinct contrast between the rug and the surroundings.
Eisley Pastel Rug
This rug features a classic contemporary-moroccan design in a combination of bastel blue and grey against an ivory white backdrop. It's not only stunning, but also unconventional in a fanciful way.
This rug would pair best with an ambiance whose secondary color scheme matches the lightness of its blue design. Try not to use it in classic or traditional spaces. Instead, feature it in bubbly contemporary ambiances that are light and playful.
3. Bold Patterns
Rugs with bold patterns come back in style off-and-on, but it seems that 2022 is the year they're trending the top charts again. If you want to see the kind that homeowners are opting for, then here are three great ones:
Camellia Currant Rug
Featuring bold florals with impact-worthy and highly stylistic patterns, this rug is as fabulous as they come. Its white backdrop makes the bold colors stand out even more and it's a veritable statement piece that will really pair well with dark-hued floors.
The great thing about this rug is that it's design is rather abstract. This means that you won't have any problems with furniture placement. With living rooms, just put a showy coffee table with metal accents in its middle. With bedrooms, accentuate its corners with similarly colored floor cushions. And with dining areas, just make sure that the material or upholstery of your chairs doesn't overwhelm the color scheme of the rug.
Watercolor Paintwork Multicolor Rug
The colorful and abstract design of this area rug is an absolute stunner and feels as if it's been plucked out of an impressionist painting. WIth so many lovely hues, it's a rug that will easily be able to emulate contrast within bland and neutral spaces.
The fun and quirky aesthetic of this rug is perfect for introducing a pop of color in your bedrooms – just furnish it at the base or side of your bed for the best impact. For living rooms, put it in the middle of your sofa formation and top it off with metal accented coffee tables – the gold of brass would make an especially nice combination.
Multi Abstract Circles Area Rug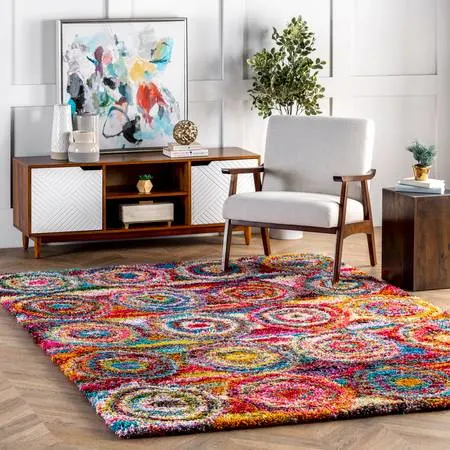 The shaggy texture of this rug is uplifted through its multi-hued color scheme. With such bright, bold jewel tones in the mix, this rug feels more like an art piece than anything else.
Since this area rug has such a bright countenance, you'll want to feature it in the middle of all your furniture layouting. Moreover, it'd be best if you pair it with furniture that leans on the neutral side, so that the true potential of the rug can fully come into view. If the ambiance seems too bland, then you can always spice things up with an art piece that features some bold colors.
4. Themed Rugs
These days, people appreciate an interior design that tells a certain story. Abstracts are slowly becoming last season and homeowners are looking for rugs that feature a specific theme. Storytelling has always been an inherent part of the design process and these days, rugs are being used to capture this phenomenon. Here are some great themed rugs that you'll love:
Aqua Ocean Scene Area Rug
With the soaring popularity of the coastal and naval style home designs, ocean-themed area rugs are in high demand. This particular one features a scenic view of the coral reef and would make an excellent addition within a rightfully themed interior.
Perfect for featuring in living rooms, bedrooms, and dining areas alike, you just need to make sure that the edges of this rug aren't obscured by furniture or any other accouterments. You should also pair it with similarly-hued furniture – maybe a coral statement sofa to match the starfish or a light blue accent chair that's a shade or two darker than the rug itself.
Multi Stallion Border Area Rug
This stallion rug is perfect for those who want to design a cowboy themed interior design. The artistic rendering of the horse in the middle is truly exemplary and the neutral color scheme is timeless enough to complement various material palettes.
This rug is designed in the portrait style and slated to become a statement piece. So, if you're featuring it in your living areas or bedrooms, try to avoid putting any furniture on it. Similarly, it's recommended that you don't use this particular rug for dining areas, as it would take away from its integrity.
Pro tip: If you want to go the extra mile while featuring it in your spaces, then you can also use this rug as a wall hanging. It will certainly make an epic impact.
5. Convenient Washable Rugs
Rugs can be highly inconvenient to clean, especially if you live in a house with growing children or pets. This is why washable rugs are taking the design world by storm. They're highly easy to maintain. In case of any spills or mud tracks, you can simply throw them in the washing machine and they'd be as good as new. Most of them come with non-slip backings and are extremely hardwearing. Here are two that really stand out:
Beige Pia Washable Striped Area Rug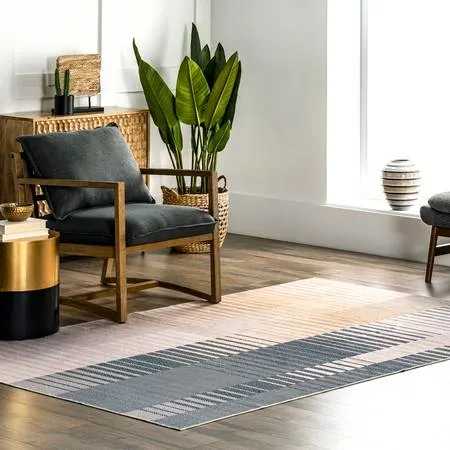 This neutral washable rug is sophistication personified. Its unique striped design features a contrast of grey and skin colors, both of which have been beautifully intertwined within the design.
This rug is perfect for all types of room. From neat little reading nooks with oversized accent chairs to living rooms that require some understated accentuation, this washable rug can be featured everywhere!
Off White Zahara Faux Cowhide Washable Area Rug
Animal print rugs have always been associated with exclusiveness and luxury, which is why a washable version of them is so popular. This particular rug has a classic asymmetrical border with a faux cowhide texture. It's understated, classy, and perfect for featuring in all types of spaces.
The neutral color scheme of this rug might have made it non-viable for high-traffic areas had it not been washable. But as it stands, you can readily feature it in lively living rooms and cluttered dens alike. In case of any accidents, it can be simply laundered at home.
6. Contemporary Antiques
Both contemporary and antique rugs have individually become old-fashioned, but together, they make for a fun and stylish combo. Homeowners are loving the vintage funk that these rugs bring to an ambiance. From bold colors to classic designs articulated with twists, there's so much to explore in this genre. Below, we've listed three of our favorites:
Multi Mosaic Medallion Area Rug
This contemporary oriental rug features a popping color scheme. The red and sky blue color scheme is overlaid by a fun vintage design that looks fresh and innovative thanks to the unique color scheme.
Now, when it comes to featuring this rug in your interiors, you can pair it with both light and dark floors – no matter what your choice, the colors will always stand out. It's suggested not to top it off with furniture. Instead, make it the focal point of your space and spread out your furniture layout all around it. It might be best to pick out neutral accompanying furniture with just a few bold-hued accessories in strategic places. This will make the rug feel like the statement piece.
Aqua Iris Fading Oriental Medallion Area Rug
This lovely aqua rug has got style, panache, and a contemporary-antique outlook that will make your interiors feel fresh and unique. Its cool color scheme is interspersed with darker, contrasting designs and the overall effect is quite enchanting.
It's best if you pair this particular rug with furniture that's upholstered in similarly upholstered colors. The floor can be neutral and the ambiance can be accentuated with darker highlights to get the right look. A hand-painted solid wood coffee table in similarly funky colors can make an excellent accompaniment to this rug, but you can also opt for a heritage-style distressed wood piece. A live edge table would also be a good choice.
Prado Blue Bouquet Rug
Light, breezy, and unique, this contemporary take on antique rug designs is perfect for living rooms with darker floors. The multicolored patterns on its surface contrast beautifully against the white-beige backdrop.
This rug is a statement piece and should be treated as such when being featured in a living space. For bedrooms, it would look amazing as a freestanding piece surrounded by colorful cushions at the foot of the bed. For dining areas, it would work well with something like the Tulip table. And for living rooms, you can feature it with a an acrylic or glass coffee table for the best effect.
7. Monochromatic Colors
Monochromatic color schemes are the ones that use only a single hue. They're quite aesthetically pleasing and have been a trending feature in rugs in 2022. They have the added benefit of being timeless, beautiful, and sometimes even sleek. You'll love discovering so many new shades of the same color within the same piece. Here are some stunning monochromatic rugs that you'll instantly want to make your own:
Pink Moroccan Trellis Area Rug
Featuring the best of modernity and tradition, this monochromatic area rug is pretty in pink. The striped pastel and dark pink format is broken up with subtle moroccan style patterning. The overall designing is simple, but totally impact worthy.
The thing with monochromatic pastels is that they require neutral accompaniment. So when you're choosing the surrounding furniture, it's best that you opt for dull colors like grey, dove, beige, etc. so that bright and cheerful pink of the rug can stand out. You can also pair it with floor cushions in various contrasting colors. As for the coffee table, you might want to choose something that's finished in cool hues. Glass and stainless steel are great options.
Yellow Textured Moroccan Jute Area Rug
This monochromatic area rug features the brightest, happiest shade of yellow. It's classic Morroccan and rendered in beautiful lozenge style designs. The lovely single-hue color scheme adds so much charisma and gravitas to the entire design.
The unique color scheme of this rug would only stand out when it's surrounded by shades that are darker than it. Therefore, while picking it out, make sure that your floor is finished in dark colors like espresso, ash grey, etc. to balance things out, the walls in the background can be while and you can even add a statement planter in a corner to brighten things even more. The sofa should also be chosen in neutral shades so that the rug can fully pop within its surroundings.
Gray Moroccan Lattice Area Rug
This is a classic monochromatic grey area rug – the kind people imagine when they hear the term "monochrome." The grey color scheme makes up its backdrop and is rendered in a variation of shades – some light and others dark. The geometric overlay on the surface caps things off with a lot of visual panache.
As for featuring this rug in places, you can certainly make it your living room centerpiece. Even pairing it up with a plain grey sofa in the same color would be a grea. You can simply add some contrast by choosing a metal coffee table and a multi-colored accent chair. Some cushions and contrasting decor or accessories would also make for good additions.
8. Retro Rugs
Oldschool retro rugs are one of the most fashionable floor accessory in 2022. Their bold colors, distinct patterns, and inherent vintage appeal is what's making them beloved once more. Some of them take design hints from the 60s, while others are all about the 80s or 90s. With groovy shapes and shaggy textures, you'll see a lot of unique variety in this genre. Here are some of our top recommendations:
Black and White Retro Checker Tiles Area Rug
This black-and-white checkered rug dazzles with its classic retro aesthetic. The stark color scheme is absolutely striking and slated to make a great statement wherever you feature it.
This rug has quite a stylistic appeal. It's perfect for featuring in sleek, artistically furnished interior designs. It's excellent for setting up in living rooms and bedrooms alike. For living rooms, you can top it off with either plush floor cushions or a sleek stainless steel or wooden coffee table. For bedrooms, you can simply furnish it at the foot of your bed and accentuate it with colorful cushions along the corners.
Metro Red Rug
Featuring a 60s groovy linear funk, this rug is reminescnt of a time when the space age rage was in full swing. The asymmetric curves carried out in dull red and blues speak of fun and quirky aesthetics.
This rug has the potential to be a veritable statement piece. It will look the best when it is paired with a combination of dark and light colored furniture pieces. Since the design of this rug is set against a beige/white backdrop, you can cap it off with espresso hued coffee tables for contrast. As for the main furniture, the sofas can mimic the lightness of the rug's backdrop while the accent chair can be chosen in either the red or blue color that's featured in the pattern.
Trutina Primary Rug
This modern retro rug encapsulates the unique points of the de stilj and memphis movement from the twentieth century. It's simple, artistic, and absolutely perfect if you're working with a modern, minimalist, or even a scandinavian style ambiance.
The artfully cluttered design of this rug features shapes that are rendered in primary colors against a backdrop of white. It's good enough to be featured as a standalone statement floor piece, but you can also top it off with furniture. Just make sure that it is slender or "leggy" enough that the design isn't completely overshadowed.
Buffalo Plaid Blackwatch Rug
The 70s were all about the plaids. The unfettered simplicity of this particular pattern made it quite desirable at the time, and homeowners are finally coming back to it. This particular one in green is eye-catching because of its jewel-toned appeal.
The great thing about this rug is that it doesn't have a pattern that requires showcasing. You can top it off with any kind of furniture you want. The only drawback is that it shouldn't be dark, or it will be camouflaged with the design of the rug. Instead, choose bright wooden or brass pieces and pair it with sofas that are upholstered in contrasting colored fabrics.
These are the top 8 rug trends that are being appreciated by homeowners all over the world. Some are variations of previous trends while others are totally new. We hope you find your ideal rug aesthetic here and are able to give your spaces that extra, up to date oomph.