Our readers support us. This post may contain affiliate links. We earn from qualifying purchases. Learn More
Burgundy is a deep red color with a dark purple undertone. This color is actually named after the French Burgundy wine. As such, it presents a sophisticated character that is also transferred to burgundy couches.
A burgundy couch is often also called a dark red, maroon, or scarlet color. It is a bloody red tone with a small dash of blue that adds a mysterious touch to the couch. As such, it goes well with blue-toned rugs, in addition to beige and plain colors and deep red tones.
Here are some of our favorite matches and rug models that you can pair with a burgundy couch.
Retro Burgundy Three Seater Couch and Blue Rug
This image looks like a painting. The colors are so rich and popping and the style of the room is utterly appealing.
The minimal three-seater burgundy couch in a wood frame and simple cushions looks perfectly matched with the large blue rug. The subtle differences in shades of the rug add texture to the floors. This texture has the ability to give the room not only have a retro vibe but also a contemporary look.
The cool tone of the rug offers a much-needed balance in this burgundy and pink room. It makes it fashionable and attractive to both genders, despite the predominant pink walls.
Sky Blue Striped Shaggy Area Rug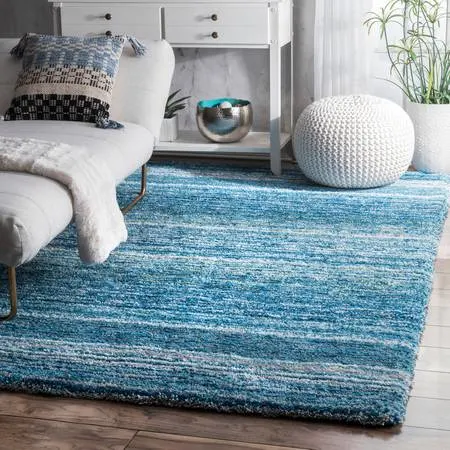 The Sky blue striped shaggy area rug is a real design piece that can make a burgundy couch look more luxurious. It offers a sophisticated look through the striped design but also the plush feel.
This rug is hand-tufted and made of 100% polypropylene fibers. You can clean it very easily and enjoy its durability for years. As such, it is perfect for a large home with plenty of foot traffic.
Burgundy Chester Couch and Plain Ivory Rug
|
A Chester couch is a classic and one in burgundy color is certainly a piece to be cherished. If you are so lucky to own a classic Chester, you can style it with a plain ivory area rug to maintain the couch, the focal point of the room.
This combination works best in bright living rooms or offices with white walls. It allows the vintage velvet burgundy couch to dominate the space and add color and life to the room in a very sophisticated way.
Marble Golden Ivory Rug
The marble golden ivory area rug is an elegant piece that can brighten up your living room when paired with a burgundy Chester couch. Its marble motif matches the sophistication of a Chester sofa. Its gold hues, on the other hand, can add some vibrancy to the space.
You can easily wash this rug in the laundry machine. This is a great bonus with light colors such as beige or ivory that get stained very easily.
When it comes to maintenance, the marble design of the rug is a big bonus too. It makes dust or stains less visible and allows for less frequent washings of the rug.
Elegant Two Seater Velvet Burgundy Couch and Faux Cowhide Rug
|
Burgundy couches can also have a romantic shabby chic look that is stylish and cozy. If you want to make this look a little more contemporary and glamorous you can pair an elegant burgundy velvet two-seater couch with a faux cowhide rug. This combination will allow you to enjoy shabby chic within an urban living room.
Keep the rest of the decor plain or white. By doing so you will allow the color of the couch to really make an impact.
Black Macchiato Faux Cowhide Area Rug
You can match a burgundy couch with the black macchiato faux cowhide area rug. with this combination, you will create a rustic look perfect for a cabin. In addition, this rug also has hints of gold to add some glamour to its rough appearance.
This rug is made of 72% polyester and 28% acrylic and it offers a very soft finish where you can sit on. Thanks to its fancy design, you can even style it in a penthouse or city loft, and bring a bit of an industrial look with a twist to your home.
Fancy L Shaped Traditional Couch and Beige Rug
|
Shiny burgundy couches with a velvet finish are quite glamorous. You can match these couches with a wool plush area rug with Moroccan diamonds to create a look that is fancy and yet not too over the top.
A plush wool area rug is not only beautiful but also ecological. The beige colors offer a mature and sophisticated design when paired with a burgundy couch with a sheen while the plush feature allows your floors to remain warm and padded throughout the year.
Ivory Elliana Wool Pinstriped Area Rug
The Elliana wool pinstriped rug offers a contemporary design that can bring your traditional burgundy couch to a 2022 living room full of style.
This rug is made of 80% wool and 20% cotton, handwoven to offer a soft and durable textile that can make your living room comfortable and inviting. It has a ½ inch thickness and it is perfect to sit on as it is free of allergens and utterly soft.
Leather Chester Couch and Oriental Rug
|
Matching a burgundy Chester couch in leather with an Oriental rug offers a timeless look that never goes out of style.
This look is very versatile. You can use it in small spaces to add character to the tiny floor plan. In addition, you can also place it in a big living room to create a focal point that people gravitate towards.
Most importantly, Oriental rugs in red and blue can be used to accentuate a variety of styles. Depending on the rest of the decor, you can create an eccentric space through Scandinavian furniture or even a more sophisticated living room through classic built-in cabinets.
Sima Burgundy Rug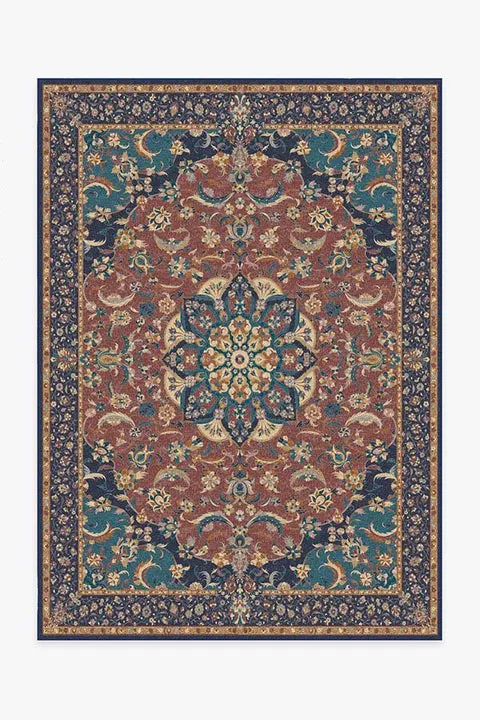 The Sima Burgundy Rug is a beautiful textile with an oriental motif that features a classic floral design. Thanks to its burgundy and blue shades it works perfectly with a leather burgundy couch.
In addition, its surface has rich tones that display a central medallion and surrounding flowers. Thanks to the intricate design, this rug adds depth and sophistication to any living room decor.
Ultra Modern Burgundy Sofa and Thin Blue Rug
|
An ultra modern burgundy sofa looks much more inviting and comfortable when paired with a pale blue rug in a very low pile.
This mix is great for large living rooms in brutal concrete walls or even simple grey walls. The two colors and their clean look add charm to the space without becoming too overwhelming.
Also, pairing the burgundy couch and blue rug with elegant small tables in gold frames will make the decor look fancier and more expensive.
Navy Herringbone Cotton Flatwoven Area Rug
This herringbone cotton rug is completely flat but still soft to the touch. It has been hand loomed using cotton cotton fibers. As such, this rug is free of allergens and is great for small living rooms as well as large ones with plenty of sunlight. This is a durable piece of textile and its colour and texture will remain fresh and striking over time.
The navy herringbone rug has a contemporary design that works very well with burgundy couches. It softens the look of an ultra modern couch and allows you to blend in other shades as well so you can enrich the decor of the space with other tones and shades you like.
Glamorous Burgundy Sofa and Abstract Oversized Area Rug
|
This is a combination for large homes and glamorous hotel lobbies. This burgundy sofa is a piece of art that looks even more beautiful when accentuated by an abstract oversized rug.
To make this combination work you need a silk or wool rug with a subtle sheen and a beige design. These features will make the design of the sofa come to the forefront and become the most attractive piece you have in the room.
Also, make sure the area of the rug is much larger than the footprint of the sofa. This way the sofa looks like floating in the beautiful and luxurious design of the rug.
Ivory Ruth Washable Splatter Area Rug
This is a one piece design, made of polyester. You can easily wash this rug in your laundry machine and enjoy its smooth surface for years.
It is a durable piece of textile, spill and stain resistant and it also has an integrated non slip backing. As such, you can use it in warm climates and during the summer season, without having to worry about the floors becoming too hot.
Its modern abstract design works great with unique burgundy couches. In addition, you can choose the size that works best for your living room.
Last but not least, this rug is easy to fold and store if you ever choose to remove it from your living room for a party or other reason.
Burgundy L shaped platform sofa and black rug
|
The most compelling combination of a burgundy sofa however is probably this: a black rug, a moody ultra modern setting and a sleek L shaped platform sofa.
Black and burgundy make a very powerful look that just emanates strong energies and makes a living room feel more mysterious as well as luxurious.
Black And White Moroccan Trellis Area Rug
The black and white Moroccan Trellis area rug is one of the most appreciated rugs by the New York Times.
It's elegant design is complemented by a very soft surface which makes it perfect for any home.
The classic black and white design goes perfectly well with a burgundy couch and creates a beautiful balance when paired with an ultra modern couch such as the platform one suggested in the previous paragraph.
See more: