Our readers support us. This post may contain affiliate links. We earn from qualifying purchases. Learn More
Finding that perfect grey area rug for your living room really requires you to study the style and dimensions of your space. The best one should be proportionate to your furniture, be just the right shade so that the rest of your furnishings shine, and of course, feature the best make and materials.
Here are a few handy tips that you can use to select the best grey rug for your living room:
Right medley of shades: When you narrow down your rug color to grey, that doesn't mean that you should limit yourself to just one shade. In fact, you can select a fun medley of greys as long as the design and style complements the overall theme and ambiance of your living room.
Never compromise on size: Living rooms come in different shapes and sizes, so you can't set and standardize the rug size for them. A small, apartment-based living room can look just as good with a 4'x6' as an oversized modern house living room might look with a 9'x12' sized grey rug. It's all about the proportions.
Shape: Both rugs and living rooms come in different shapes and sizes. Sometimes, a round grey rug might look better in an eclectic living room than a typical rectangular one. Don't be afraid to think out of the box.
Right texture: Lastly, you must specifically focus on the right texture when selecting the best grey rug for your living room. Is it shaggy? Tufted? A flatweave? How are any of these texture types going to contribute to the atmosphere of your living room? Answer these questions before picking your best choice.
So now, without further ado, let's take a look at the top 20 best grey rugs you can pick out for your living rooms.
1. Gray Broken Lattice Area Rug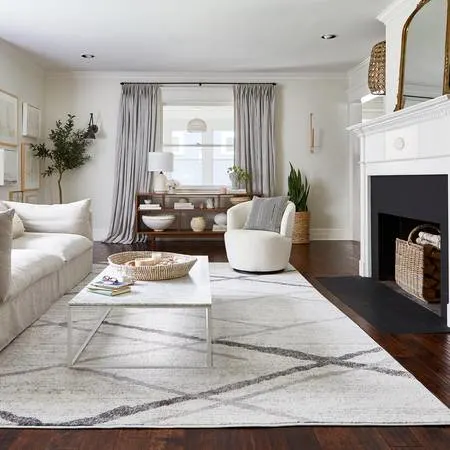 If you've got a living room with dark floors, then this is the perfect rug to counter them with a light, refined and understated flourish. The smooth snow-grey backdrop is interspersed with a broken lattice pattern done in darker shades for contrast. It's a very modern-contemporary aesthetic that would make an instant impact within your space.
The asymmetrical design of this rug is excellent for pairing up with visually light coffee tables (see our coffee table rug size guide) – especially ones that have thin legs/base or are made from glass or acrylic. You can also either pair it with similarly hues furniture, or opt for something that's either a shade or two darker for contrast. As far as accessorizing is concerned, you can break out ye old fluffy ottomans, braided cotton baskets, or even rattan accent chairs to ramp up the visual dynamic.
2. Floral Medallion Yellow Grey Rug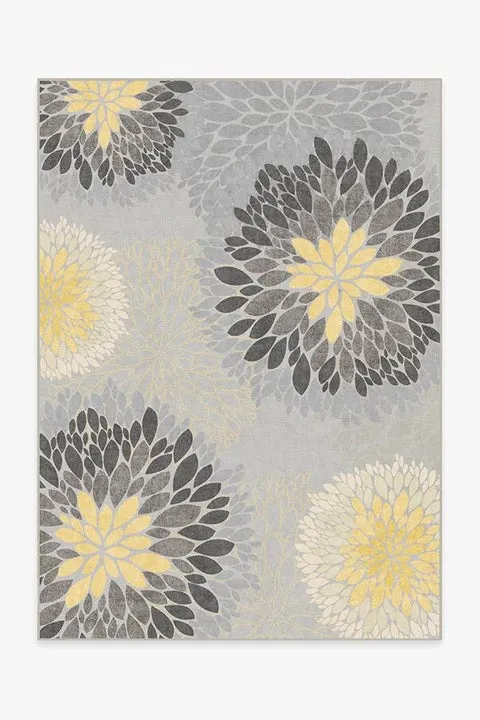 If you'd rather have some fun with your grey living room rug, then this combo with a bit of yellow in the mix would be a perfect choice. Charmingly contemporary, there's just an inherent sense of cheer within this particular rug. Its light backdrop is embossed with a striking contrast of yellow and dark grey flowers that would look positively stunning in any living room.
As for styling, make sure that your backdrop (i.e. walls) are done in a light enough shade so that they won't take away from the design of the rug. Leave out the coffee table, but if you must pick one, make sure that it has a light frame and is mostly made out of transparent glass so that the design of the rug can shine. The accompanying furniture can be a slightly different shade from either the same or a different color daily (think: Paris grey, air force blue, etc.).
3. Beige Serena Textured Crosshatch Area Rug
Modern living rooms don't tend to be as stark these days as they used to be in the past. They're more "lived-in" now, and most of that is achieved by using the right rug. This textured grey one is a great choice if you're seeking to breathe some life into a minimalist living room.
The gorgeous, embossed pattern of this rug is fluffy to the touch and feels absolutely cozy – especially when paired with sleek modern furnishings. Whether you're putting it over a tiled or wooden floor, it's going to have a timeless impact on both.
4. Gray Regency Stripes Washable Area Rug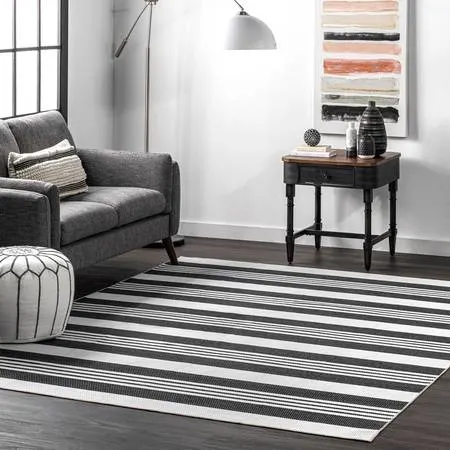 Stripes are the most timeless rug pattern that you'll ever know, and it's certainly got a sophisticated appeal when you're emulating them in a stylish dark grey hue. This type of grey rug is perfect for breaking up the monotony of a typical neutral interior design, where all the furniture and accessories have been selected in the same primary color scheme without any breaks.
This particular striped rug is excellent for making a statement on solid-colored dark floors. It can be paired with small pouffy ottomans and coffee tables of every kind. It's a total classic, so if you want to bring in some rustic accents, then it can totally set off against them as well.
5. Stormy Grey Plush Rug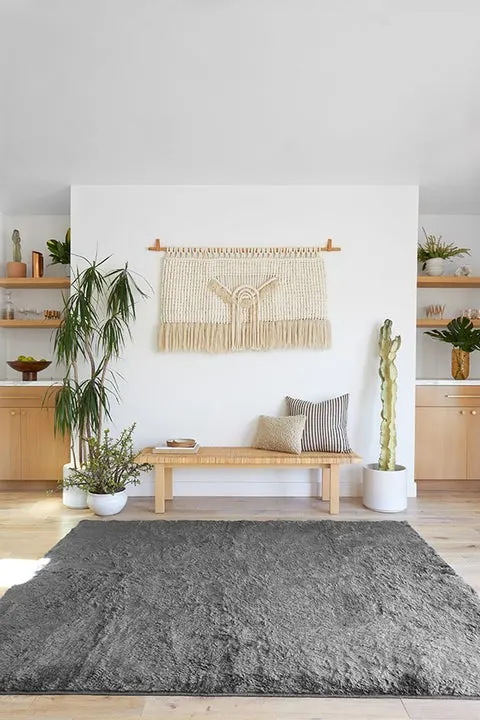 If you're into solids, then a simple slate-hued shag rug would be an excellent option. The best thing about this rug is that it has a very solid impact and its texture gives the floor an added depth. It's statement-worthy and owns it, which makes it a positively amazing addition in any living room.
When it comes to styling this particular grey rug, it's best that you pair it with a minimalist, Scandi-modern, or neutral theme. Its surroundings need to be sufficiently understated so that the boldness of the rug might stand out. Pair it with a sofa with a gentle sandy brown or cream-colored upholstery in modern style. Add some striped floor cushions to the mix. And as for flooring, make sure that it's three to four shades lighter than the rug itself.
6. Gray Alanna Buffalo Plaid Washable Area Rug
Ginghams may be rustic, but plaids are totally timeless. This rug, with its classic boxy outlook features so many shades of grey. It's classic, dynamic, and perfect for bringing that extra oomph to your wooden or tiled floors.
Since the overall outlook of this rug is visually dynamic, you need to pair it with solid colored furniture. The multiple shades of grey require some grounding, so choose a charismatic color – black, charcoal, slate, and even chocolate brown are good options. The accent furniture can be light, and you can even opt for something small and striped. As for the coffee table, either choose something totally transparent like glass/resin or something heavyset like a square coffee table.
7. Gray Maren Abstract Marbling Art Area Rug
If you're looking for something stylistic and artistic all in one, then you'll love this area rug with its marbleized effect. Its abstract design and contrast with a white backdrop make it instantly eye-catching. The effusion of multiple shades of grey that offset into a deep black gives it an edgy charisma.
This rug is designed to be a star, so you should feature it in the appropriate spaces. Match it with dark floors so that its pattern immediately pops out. The background should also be white so that the black parts of the rug are highlighted. If you need some contrast, then opt for cushions that feature minimal black patterning on the sofa. It's all about designing an ambiance with an achromatic theme. It needs to bedazzle the eye while making the rug stand out.
8. Chrysanthemum Ash Grey Rug
The sheer elegance and artistic integrity of this rug are some of the most beautiful things you'll ever see. Rendered in several shades of grey, the chrysanthemum flowers on this rug make for a classy and sophisticated pattern that can complement any interior design theme.
You can feature this rug in a modern, contemporary, or eclectic interior design style. Remember that you want to make the flowers stand out, so you need to pair this rug with solid furniture and accessories. It's best that you choose either white or black sofas, but if you're embracing your eclectic side, then choose something bright and bold. A cheerful yellow sofa would look excellent with the understated elegance of this rug just as well as a black tuxedo silhouette sofa might.
9. Black Irregular Parallel Bars Area Rug
If you're looking for something fun to lighten up a somber living room interior, then this area rug would be absolutely perfect. It features irregular stripes that give it an illusive quality. Moreover, the stark combination of black and white makes it visually captivating.
This rug has the potential to become an amazing statement piece. It has such a bold pattern that you need to ground it with solid-colored furniture. Choose earthy colors like brown and feature the rug on wooden floors. Bring in some fresh green accents in the form of a statement planter or two and cap off the whole look with a couch cushion that complements the rug's color scheme.
10. Light Gray Jada Abstract Leaves Area Rug
Bright, breezy, and absolutely sophisticated, this area rug features a whimsical pattern that would imbue your spaces with unfettered grace. The leaf-like grey veining on the lighter backdrop makes for a highly elegant combination – one that is timeless enough to be paired with any number of interior designs.
This area rug is pretty easy to style – it's perfectly suited for modern, contemporary, and even boho-chic spaces that have been dressed in neutral colors. Since you want the rug to stand out, you can pair it with dark-colored floors. The surrounding furniture can be airy and sleek in various shades of grey. You can bypass the coffee table, but if you really want one, then try furnishing with a cluster of Scandinavian style nesting tables instead.
11. Amalia Grey Rug
The artistic pattern of this grey rug makes it an instant hit. Its classy and sophisticated – perfect for pairing with cozy contemporary spaces. The white lines on the grey backdrop gives the design an extra dimension, making this rug a veritable masterpiece.
When it comes to styling, this rug requires you to play in contrasts. It should be paired with floors that are lighter than it, or are a different color entirely. As for the furniture, match it with a chaise lounge or an oversized sofa in a shade of grey that's at least two tones lighter. Pair it with a coffee table made of stainless steel and glass. If that's too sleek for you, then you can also bring in a tufted ottoman coffee table that matches your sofa.
12. Watercolor Paintwork Grey Rug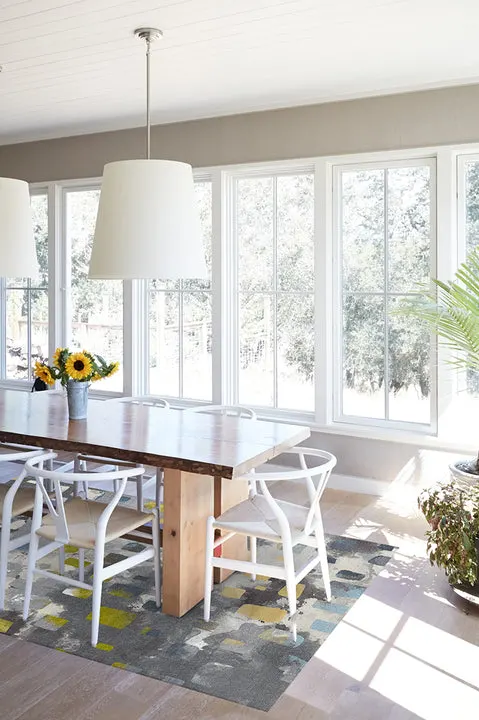 If a completely grey rug feels like it'd be too boring, you should opt for this one – the abstract pops of yellow on its surface makes it feel like an impressionist painting. The subtle contrast of light and dark tones also makes it feel rather enchanting.
This types of a rug should be paired with light wooden or tiled floors. Just make sure that the floor surface is lighter or in contrast with its primary color scheme, so that it doesn't end up blending. As for the furniture, you can either opt for grey or brown upholstered modern sofas. A rustic wooden coffee table in the middle would cap things off really well.
13. Black And White Woven Ombre Pinstripe Area Rug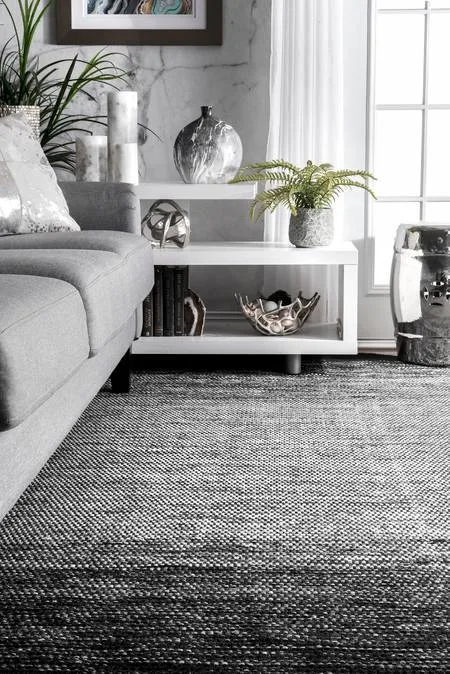 The gradient design of this area rug is one of the most sophisticated one that you'll ever see. The gentle contrast that starts with the darkest shades and merges into the lighter half is absolutely stunning.
This rug would look amazing when paired with lighter furnishings. A gentle dover grey sofa with cozy cushions would look absolutely wonderful. Just make sure that it's lighter than the ombre of the rug. You can also feature a modern white coffee table on top of the rug, but if you want to highlight its gradiant, then go for something made out of glass and stainless steel.
14. Gray Moroccan Diamond Area Rug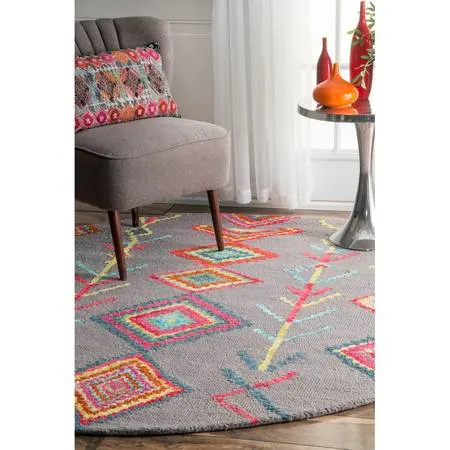 If plain grey feels too bland to you, then you can get this Moroccan rug with a gray base. Its bright neon patterning is fun, quirky, and eclectic. It will never make your space feel boring.
You can place this rug center stage in the middle of your sofa arrangement and top it off with a non-legsy coffee table. Eero Saarinen's classic Tulip table style design is a good option. You can also opt for a number of nesting tables in the middle. Try to pick a sofa in the exact same shade of grey as the base of the rug, and top it off with cushions that are just as bright as the pattern on the rug.
15. Beni Warm Grey Rug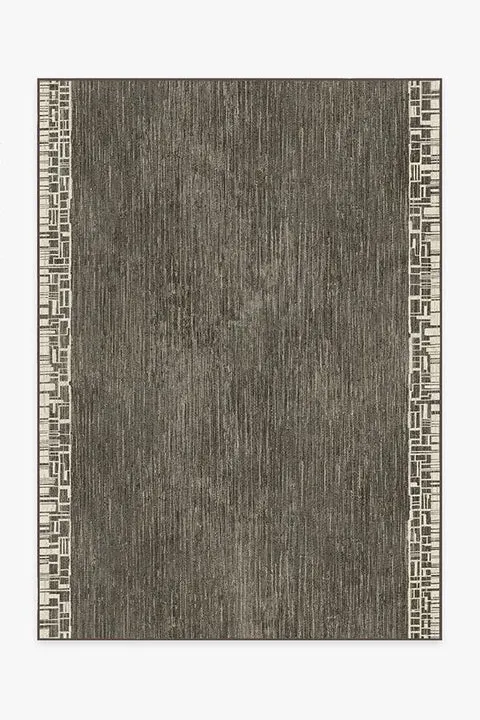 This warm grey area rug is sleek, simple, and great for featuring in sophisticated contemporary living rooms. This specific shade of grey is unique in its own right, but its surface texture makes it even more compelling.
You can feature this rug in the center of your sofa arrangement. Note that its borders need to be highlighted, so you shouldn't place the edges underneath the furniture. Instead, try to leave an 8"-12" gap between the sofas and the rug edges for the perfect look.
16. Gray Elegant Borders Area Rug
Perfect for monochromatic ambiance indulgement, this rug is the perfect combination of classic and modern. Its light grey surface is embossed with a white pattern that is a minimalist rendition of classic orientals.
Overall, this rug has a slightly eclectic appeal and its distinct delicate visuals need it to be center-stage in the living room. It's best to avoid putting a coffee table atop it, to begin with, but if it can't be helped, then go for something transparent (glass or acrylic are viable options). The sofa upholstery should match the rug surface so that it isn't overshadowed. However, the side furniture and accessories can be chosen in darker colors to provide some nice accentuation.
17. Light Gray Diamond Trellis Area Rug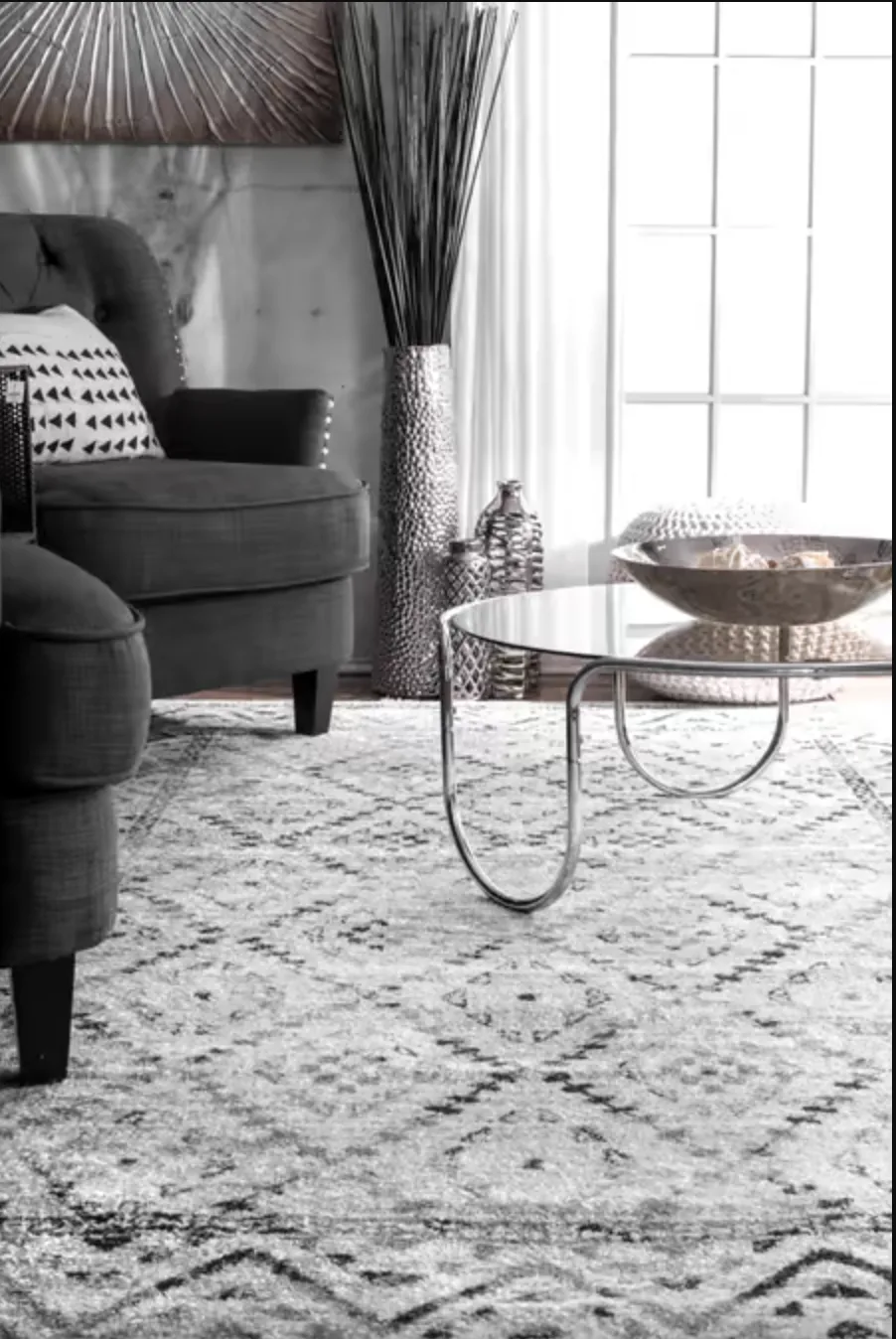 Soft, fluffy, and featuring just a hint of Moroccan style tradition, this area rug is perfect for living rooms whose floors lean on the stark and impersonal side. The lozenge diamond pattern on the rug's surface is set against a backdrop of light grey, which adds depth and personality to the entire design.
The overall visual impact of this rug leans on the light and bright side, which is why it should be set up with dark-colored furniture. Slate and charcoal are great upholstery options, and as far as the coffee table is concerned, you can pick something stylish and artistic with stainless steel accents. However, if that sounds too cold, then you can also opt for a wooden coffee table to bring in some warmth to the overall ambiance.
18. Smugglers Geo Grey Rug
Artsy and unique, this area rug would bring a sense of immediate playful eclectics to your living room. It has the kind of pattern that makes a person stop and pursue the surface of the rug in detail. This definitely makes it an eye-catching choice.
As for placement, this rug is a statement maker. Make sure to choose a large size and feature it with solid-colored monochromatic furniture. If your sofas are black, then the accent chair should be white and vice versa. If you want to break the monotony, then you can also pick out a wooden coffee table – just make sure that it's not heavy-set or it might take away from the aesthetic quality of the rug itself.
19. American Flag Grey Rug
Every patriot must absolutely adore this lovely American flag rug finished in grey. It's simple, sweet, and perfect for stylizing a modern or contemporary style ambiance. The gently faded facade of this rug also makes it prime for being paired with darker hues amidst the surroundings.
This particular rug may have a specific theme, but you can literally feature it in any type of living room, be it midcentury modern or even eclectic. In fact, the grey color of this rug would positively pop when it's accompanied by a wooden coffee table – just make sure that it doesn't lean on the heavy side. As for the rest of the furniture, try to keep things as plain as possible, but you can get experimental with color schemes.
20. Orissa Grey Rug
Smart and stylistic, this area rug has an eye-catching pattern that will instantly draw all perusers to the floor. It's bold, brilliant, and perfect for adding that extra oomph to your floor surfaces.
Since this rug is statement-worthy on its own, it's best to pair it up with a living room ambiance that leans on the plain side. If you complement it with more patterns, it will just clash. So, make sure that the backdrop of the walls is either white or the very lightest shades of grey. The furniture should also be selected to make the rug stand out, so pick out furniture with plain and light upholstery. As for the coffee table, pick something that's painted a stark white to complement the rug pattern.
See more:
These are the top 20 area rugs that can emulate style, grace, and even a little bit of fun into your living rooms. We hope you find one that matches your tastes on this list!