Our readers support us. This post may contain affiliate links. We earn from qualifying purchases. Learn More
The kitchen is quite often considered the heart of the house. Sometimes it can even shadow the living room. The kitchen experiences a lot of foot traffic, which demands an area rug that is comfortable and of good quality.
What is a Kitchen rug used for?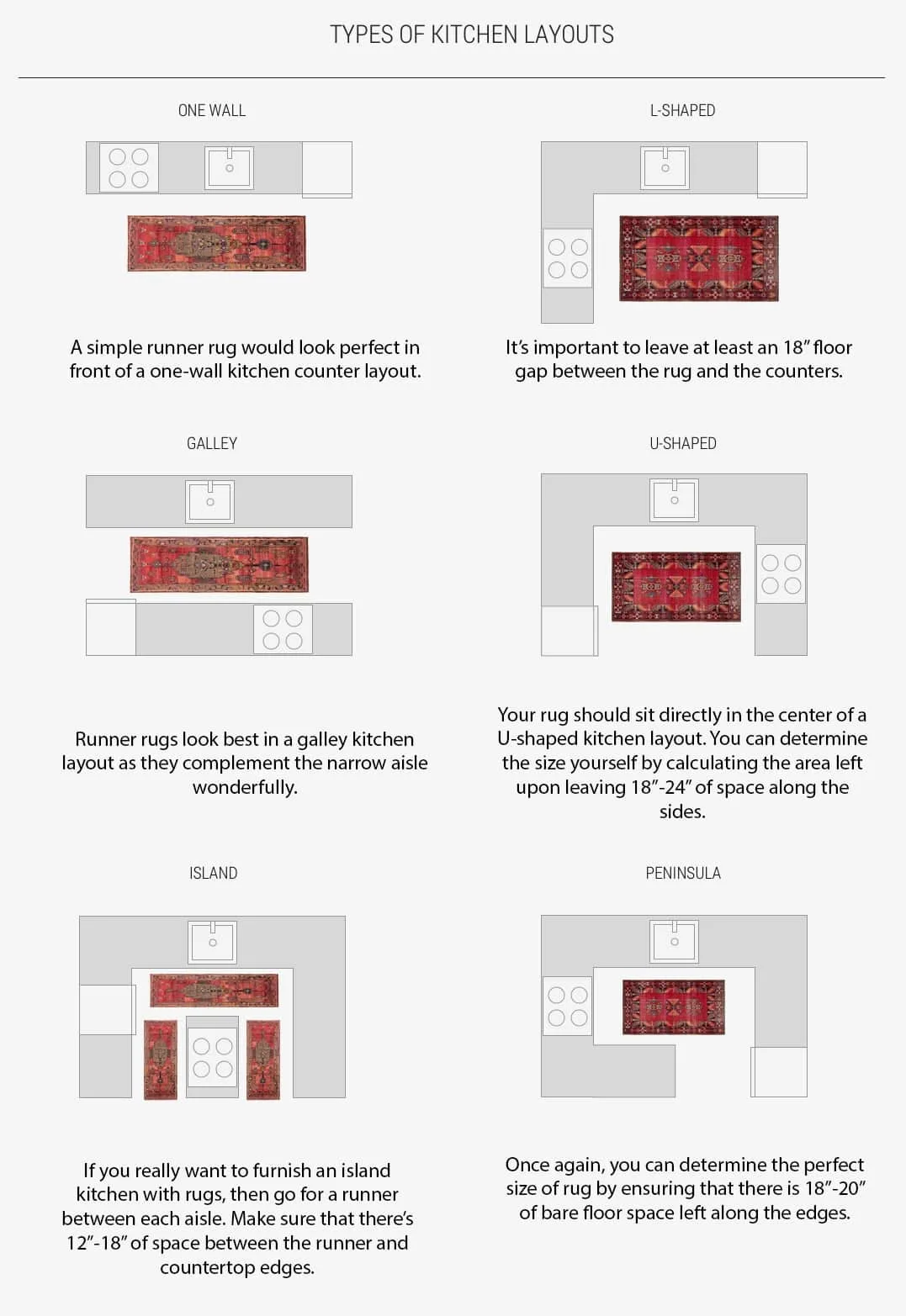 Kitchen rugs serve a lot of purposes. First of all, they can make the entire kitchen space seem warmer, more attractive as well as more enjoyable to be in. In addition, these rugs can add color and character to the room by creating a link between the kitchen cabinets and the floor.
Placing a rug in the kitchen can also protect the floor, whether it is hardwood, ceramic tile, or stone. A rug will add another layer of stain protection and sound insulation, thus ensuring that your floor covering remains intact for many years. Also, if you do not like your floor design, an ample rug will solve that problem too!
|
The internet has a split opinion when it comes to using kitchen rugs, as most people are concerned that a rug will get stained quite easily in such an environment. However, the truth remains that adding a rug in your kitchen will certainly outweigh all the cons!
As long as you pick a durable and easy to clean material, with a rubber backing and a beautiful design, you will certainly enjoy a rug in the kitchen. If you are having trouble wrapping your head around kitchen rugs, here are some frequently asked questions to help you choose the most appropriate rug for your kitchen.
Kitchen Rug FAQs
Should Kitchen Rugs Match?
|
Kitchen rugs that are in plain view with one another should always match, in order to create a cohesive design. After all, a kitchen rug is also used to add a splash of color and creativity to the kitchen.
How to Match More Than 2 Kitchen Rugs?
You can match more than 2 kitchen rugs in a few easy steps. First of all, start by choosing 3 colors, textures, and motifs that can be combined with one another. Avoid copying the same rug in order to create a more interesting design. Stick to the rule of three so you do not overwhelm the kitchen with a confusing design.
Next, lay them close together and align them in order to create a well-thought-out collage. If you want to match more than 2 kitchen rugs, make sure they are all visible so your ingenious design does not go unnoticed.
All in all, you can try to match two or more area rugs in the kitchen as well as runner rugs with larger rugs. You can also match round rugs with rectangular rugs and create a more playful combination. In addition, you can match different colors, textures, and patterns in order to avoid a copy paste design.
Should Kitchen Rugs Match Worktops and Cupboards?
|
It is not essential for a kitchen rug to match the worktops or cupboards. What this means is that you do not have to go overboard to find the exact same color hue of your cabinets for your kitchen rug. All you need to do is find a kitchen rug that complements the cabinets and countertops and makes them more prominent.
If you have light cupboards and worktops you can match them with dark kitchen rugs such as burgundy or navy blue Oriental rugs. You can also opt for light rugs for a more neutral and elegant design.
Darker cabinets can also be matched with dark rugs for a rich and powerful atmosphere in the kitchen. Alternatively, you can use earthly colors to mute down the harshness of dark cabinets.
Should Kitchen Rugs Match the Flooring?
|
Whether it is a kitchen rug or any other rug, they always should match the flooring in terms of color shade. Therefore, before buying a kitchen rug, make sure to pin down the color of the floor and start picking a rug from there. By combining the rug with the floor you can create a relaxing, comfortable, and attractive environment.
What Type of Rug Is Best for the Kitchen?
|
The best type of rug to use in the kitchen is an indoor/outdoor rug. This rug is resistant to spills and moist areas as it is made of polypropylene. Polypropylene rugs are easy to clean as well as durable.
That said, you can also be brave and experiment with other types of rugs if you find a design you cannot resist. When 'design' is your priority, you can consider an Oriental rug as well as Jute or cotton rugs. These rugs can really accentuate the look of your kitchen.
In terms of shape, anything works in this space. The kitchen is quite a versatile area based on the layout of the cabinets. Therefore you can place round rugs, square rugs, runners, or even half moon rugs in it and still make the interior design concept work.
Where Should Kitchen Rugs Be Placed?
|
You should place kitchen rugs in the areas of the kitchen that experience the most foot traffic. In addition, you should also place a rug in the spots where there are more spills and stains. These include the spaces in front of the sink, the stove, and the refrigerator. You can also place rugs in the pathways created between the kitchen cabinets and the kitchen island if there is any.
In addition, it is also a good idea to place an ample rug under a table if there is one in the kitchen.
Before placing a rug in the kitchen, however, consider how much of the floor space you want to be covered. If it is a small kitchen, just place a rug in front of the sink for extra warmth when doing the dishes. A narrow long rug can also be used to make the kitchen seem bigger. If you have a big kitchen, you can add runners to make the room more comfortable.
See more: Best Rugs & Materials for High Traffic Areas
What Size Is a Kitchen Rug?
|
The most common kitchen rug sizes include runners of the following dimensions: 5 by 8, 4 by 6 and 2 by 3 feet. Other longer runner rugs are also used in the kitchen including 2.5 by 8 and 2.5 by 12 feet.
In larger kitchens, any rug of over 4 by 6 feet can be a perfect addition.
For bigger open kitchen designs, you can use large rectangular rugs to inject character and elegance to an otherwise plain kitchen. In this case, it is best to leave 6 inches of empty space between the rug and the kitchen cabinets.
See more: Rug Sizes Guide
What Size Rug Goes in Front of the Kitchen Sink?
|
The most appropriate size rug to go in front of a kitchen sink is anything 6 inches larger than the length of the sink.
The most common shapes used in front of kitchen sinks are small rectangular rugs as well as half-moon of crescent-shaped rugs. These rugs add warmth and a soft surface for any user in front of the sink, making the entire experience of doing the dishes a more pleasant one!
Can You Use a Bath Rug in the Kitchen?
If you want to be practical and ignore looks and aesthetics then you can definitely use a bath rug in the kitchen. Bath rugs have an added rubber layer which makes them very easy to clean and maintain, especially in wet areas.
In terms of looks, however, bath rugs are not the ideal option to use in the kitchen as they are mainly associated with bathrooms and toilets. Therefore the best option is to use any rug of your choice and add a rubber backing to it for extra protection.
What Are Kitchen Mats For?
|
Kitchen mats are important pieces of textiles used in the kitchen to add a layer of security to this room. These mats are usually made of gel backing that protects the users from slipping. In addition, they protect the floors from moisture, stains, and spills.
Kitchen mats are easy to clean and move around in the kitchen. They provide a soft cushion for floors and make standing for prolonged hours more comfortable.
What Kitchen Rug Goes Well With Hardwood Floors?
|
There are several rugs you can use on your kitchen hardwood floors. The most appropriate ones are natural fiber rugs with rubber backing. These rugs prevent you from slipping even if the floor or the fabric of the rug gets wet. In addition, these rugs are made from plant fibers and are natural, durable, and easy to clean. They include jute, sisal, and seagrass rugs.
Other kitchen rugs that go well with hardwood floors include synthetic rugs. You can also place a silk rug that looks absolutely stunning on hardwood floors. These rugs however are harder to maintain in kitchens as they are more prone to staining.
How Long Should a Kitchen Runner Be?
|
A kitchen runner rug should be between 2.5 by 8 feet. Depending on the size of the kitchen, however, runner rugs can vary in size. One rule of thumb to keep in mind in this case is to allow 6 inches of empty space between the end of the rug and the beginning of the kitchen cabinet.
Does a Wool Rug Work in the Kitchen?
|
Wool rugs work well in certain areas of the kitchen. You can use a wool rug in any dry space of the kitchen which could be a breakfast nook or a kitchen island away from the sink.
It is not a good idea to use a wool rug anywhere else in the kitchen where there is a risk of the rug getting wet or stained. These areas include the space in front of the sink, oven or refrigerator. Wool rugs are difficult to clean. In addition, they are more delicate and harder to maintain than other rugs.
See more: Wool vs Polypropylene Rugs: Which Is Best?
Top 10 Rug Ideas for Kitchens
Black and White with a Twist
|
A dark red Oriental rug is the perfect choice to spice up a black and white kitchen. This runner rug full of rich patterns and textures adds not only character but also ingenuity and elegance to this dark kitchen. It brightens up the space and creates an interesting link between the kitchen cabinets and the floor composed of black and white tiles.
Nature Knows Best
|
You can never go wrong with a Jute rug made of natural materials in the kitchen. This runner rug looks wonderful as it not only matches the hardwood floors but also the kitchen cabinets. Its earthy hues offer a great blend that accentuates the dark cabinets.
Persian Rustic Blend
|
This Persian rug adds a hint of fanciness to this rustic kitchen, thus creating an interesting and inviting interior. The rug covers most of the walkable space allowing anyone to feel comfortable while being barefoot in the kitchen.
Round and Round it goes
|
Round rugs go perfectly well with round tables in the kitchen. They also soften the sharp look of kitchen cabinets and make the entire space seem cozier. What is more evident in this case is how a round Jute rug can cover up a busy floor and create a more peaceful design.
Refresh with Beige
|
This beige rug full of interesting geometric patterns mimics the floor and blends in with the room perfectly. It is a great example of how rugs can add warmth without overwhelming the design of the kitchen cabinets.
Matchy Matchy
|
Matching Oriental is not only easy but also quite fun. It is a perfect way to add a rich feeling to a white kitchen.
Elegant Grey
|
The faded gray color of this silk rug matches the kitchen cabinets and makes the dark hardwood floor more prominent. The entire ensemble looks elegant and charming.
Blissful White
|
White is a color that never goes out of style. This is true for kitchen cabinets and rugs as well. This kitchen area rug creates a peaceful, relaxing, and blissful interior.
Go Big or Go Home
|
When the kitchen flows into the living room, a large area rug can really pull all the elements together into a cohesive and well-thought design.
Charming Pastel Blue
|
A pale blue runner rug can add charm to a white kitchen. This combination makes the room fancier and brighter. The length of the runner rug also creates the impression of a very large kitchen!