Our readers support us. This post may contain affiliate links. We earn from qualifying purchases. Learn More
What are high traffic areas?
In a residence, high traffic areas constitute as the space where people move around a lot. They include entranceways, the living room, the den, the mudroom, and even the kitchen – especially in homes with growing children, pets, and regular guests.
Often, lobbies and hallways (whose sole purpose is to act as a transitional area from one part of the home to another) are also considered high foot traffic areas. Other than that, oversized lobbies and communal spaces in commercial and retail interior designs are also considered to be heavy traffic areas.
High traffic areas are those that experience a lot of walking on. This large amount of foot traffic can cause your floors to wear over a long period of time, but if that part of the floor is covered with an area rug or a carpet, then it won't take long for it to become matted – especially if the rug is made out of delicate material. It will get squashed, the pile will become dull, and even the colors will start to fade away.
This is why you should select hardy and resilient rugs for areas that receive high foot traffic. There are many rug materials and you can easily find ones that are able to stand the tests of time in areas with high wear and tear.
Now, let's take a look at what type of rug materials you should choose for these high-traffic areas:
What rug materials are best for high traffic areas?
The rugs featured in high foot traffic areas need to be sturdy and qualitative. The material needs to be as durable and long-lasting as possible, so that even a large amount of walking and trodding cannot wear down the surface.
Here are some of the best natural and synthetic rug material choices for you to furnish your heavy traffic areas:
Not sure which size to get? Check out our rug sizes guide with illustrations to demonstrate each size.
Natural high traffic area rug materials
Wool
Wool rug piles have the ability to spring back up to their natural countenance even when they're walked on multiple times. This is why it is considered one of the most durable rug materials for high traffic areas.
Other than that, wool rugs also have a longer lifespan. They're incredibly sturdy, resilient, and have a natural affinity to resist high foot traffic. They are an investment for the long run and also come in many interesting designs.
Another reason why wool rugs are one of the best options for heavy traffic areas is that their soft pile is incredibly comfortable to stand on without getting matted. Wool fibers also repel stains and are easily able to hold their own against dirt. They require relatively lesser and infrequent maintenance. Since you'll be furnishing them in high traffic areas, there would be lesser chance of dust mites and bacterial growth.
Lastly, wool rugs are absolutely luxurious, and are available in so many versatile designs, pile-heights, and colors. You'll be easily able to match them with any space.
See more: Polypropylene vs Wool Rugs: Which Is Best?
If you're looking for recommendations, here are 3 of our top picks:
Black Scandinavia Diamond Area Rug
The lighthearted, casual-chic design of this rug will emulate sunny cheer to your homes. It may be designed in light hues, but its incredible durability and ease of maintenance will ensure that it can hold its own within ay heavy traffic area that you furnish it in. Tufted and designed with a low pile, it will never matt or become grungy no matter how much you trod on it.
Beige Wool Striped Flatweave Area Rug
Handmade from wool and cotton, this flatweave rug is naturally sophisticated and very elegant. It's also incredibly light, so you'll to tape it with a rug pad to ensure that it doesn't bunch up. Otherwise, it would withstand the wear and tear of a high traffic area pretty well.
Multi Floral Border Hand made Woolen Area Rug
The traditional-modern designing of this wool area rug has been power-loomed to perfection. Aside from adding a lot of personality to your spaces, it's the perfect choice for furnishing high-traffic areas, as its pile will always spring back up and won't succumb to matting. Its generous pile is very comfy to stand on, so it will also emulate physical coziness within your spaces.
Cotton
Cotton rugs don't have much of a pile, which is why they're incredibly easy to clean. They're typically flatwoven, so they're able to withstand high foot traffic without matting or losing their beautiful countenance.
Another benefit of the low pile of cotton rugs is that it doesn't need to be steam-cleaned. You can easily maintain it with regular vacuuming, and if it gets too dirty, just put it in a machine and you'll be good to go. Afterwards, you can even air-dry them outdoors, like your regular load of laundry.
The highly pragmatic appeal of cotton rugs also accompanies with a stylish availability of many colors, patterns, and designs in this genre. If you're searching for beautiful cotton rugs that are versatile enough to complement any setting, here are 3 of our best recommendations:
Multi Iris Medallion Flatweave Area Rug
This hybrid cotton-polypropylene rug features the best marriage of natural and synthetic materials. With its stunning color scheme, traditional designing, and amazing sturdiness, it would make a popping addition to your spaces. But best of all is the fact that it can easily withstand a lot of foot traffic without losing its beauty.
Navy Herringbone Cotton Flatwoven Area Rug
This cotton flatweave rug is simplicity and elegance personified. Its miniature herringbone pattern is extremely beautiful and the lightweight durability of this rug will ensure that it will never succumb to high foot traffic. Just put a sturdy rug pad underneath it and you'll be good to go.
Blue Awning Stripes Tassel Area Rug
The ivory-blue folksy design of this cotton rug makes it an instant statement piece. Aside from its amazing insulation properties and striking visuals, this rug is also infused with incredible hardiness, which will make it the perfect addition to all your high-traffic areas.
Natural fiber
Natural fibers consist of jute, sisal, seagrass, and hemp. The rugs woven out of these fibers are some of the sturdiest, most resilient, and durable, which makes them the perfect choice to furnish in high traffic areas.
Derived from plants, the natural texture and coarseness of these rugs ensures a flat weaving. Since there are no piles, these fibers don't matt. Some of them – especially jute and sisal – are even braided into stunning, statement-worthy designs that tend to become a statement worthy addition in a space.
A general point to take note of is that natural fiber rugs do not come in multi-color options. In fact, aside from jute (which is sometimes dyed or block printed), natural fiber rugs only come in a natural brown or khaki color.
Another important point to note is that the texture of these rugs is not super-soft. Your feet will not 'sink' into it. In fact, these rugs have a classic, coarse appeal that ensures their tight, long-lasting durability.
Natural fiber rugs are highly absorbent, so they stain easily, so although they're an excellent choice for high-traffic areas, you should probably consider other options if you live in a home with growing children and pets that tend to urinate.
Other than that, natural fiber rugs are an eco-friendly choice. They're also biodegradable, and if you're searching for some good rug designs in this material, here are some great options:
Natural Jute Braided Area Rug
The rugged charm of this sisal-jute hybrid area rug will infuse your spaces with a rustic charisma. Its flatwoven pile and simple design ensures that no amount of heavy foot traffic will ever hinder it. Just place a rug mat underneath and enjoy its elegant presence within your home interiors.
Syston Hand-Braided Beige Area Rug
This round braided area rug is an instant focal point that has been braided to perfection. Its warm, natural color scheme comes from a combination of jute and sisal. It's incredibly versatile and will be able to complement a number of interior design styles with its beautiful visuals. But best of all: it will never succumb to the heavy weight of constant foot traffic and requires very little maintenance.
Gray Solid Leather Flatweave Area Rug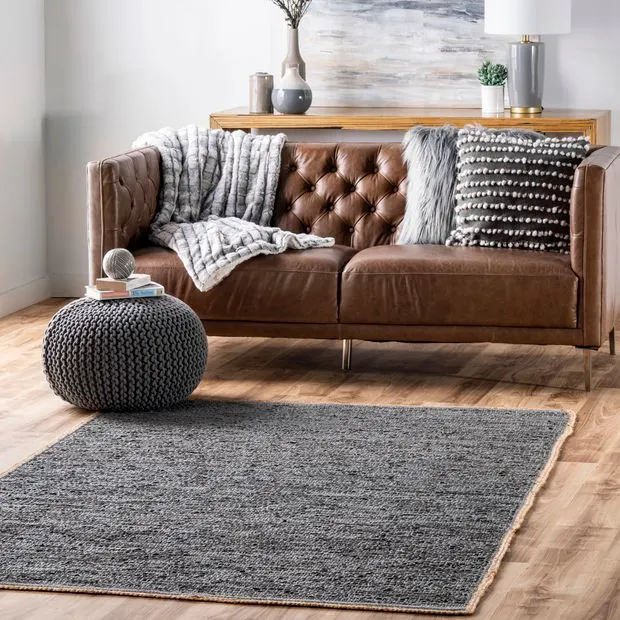 This cotton-hemp hybrid area rug is a bohemian masterpiece. Brimming with multi-colored abstract personality, it will add a ton of character to your spaces. Its flat weave will never become matted or encumbered by heavy traffic and will maintain its natural colored spark for a long time!
Synthetic
Nylon
Nylon is the most resilient and coveted of all synthetic rug materials, which is the reason why it is a bit expensive. Nylon rugs are popular for their incredible durability, which is complemented with softness. So, even if you place these rugs in heavy traffic areas, you can rest assured that they can maintain their pile shape without succumbing of inadvertent matting while providing a soft surface to walk on.
Nylon rugs are also highly absorbent of colors and are pretty resilient to dirt, which makes them a good choice for homeowners with children and pets.
The best part is the nylon rugs require very little maintenance and have a high-quality aesthetic that doesn't diminish with age and use. They're the Holy Grail of high-traffic areas and if you want some recommendations, here are our top 3 picks:
Ruby Jungle Safari Area Rug
The bold cheetah-patterned, jewel-colored countenance of this nylon rug would make an incredible addition to your interior designs. With a cut pile and a non-skid latex backing, it will improve the aesthetics of your high traffic areas while providing the flexibility of easy maintenance. It's machine-washable, so you won't have to invest in steam cleaning – just a round in the washer will make it good as new in case of any dirt, muck, or stains!
Ivory Textured Diamonds With Tassels Area Rug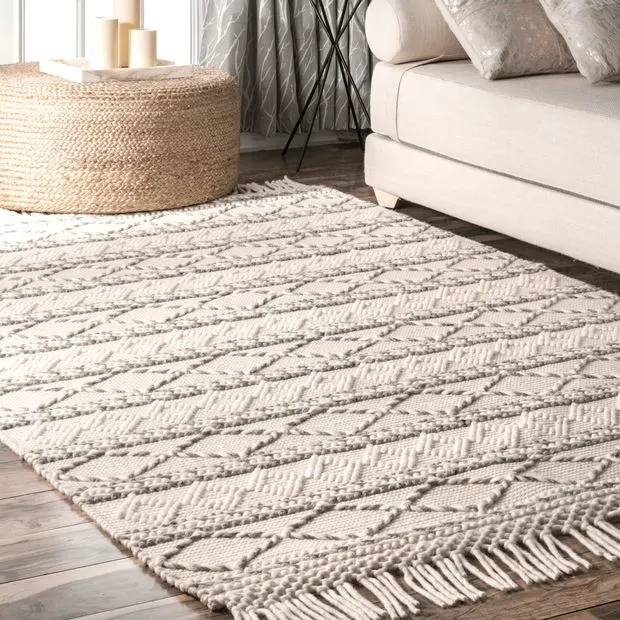 Inspired by the traditional mountain berber coverings, this wool-nylon hybrid rug will make an understated, elegant, and naturally sophisticated addition to your high-traffic spaces. It's a little bit on the expensive side, considering its synthetic looming, but the amazing durability and stain resistance more than makes up for it.
Pink Printed Persian Overdyed Vintage Area Rug
Dramatic, abstract, and brimming with personality, this nylon rug is a long-term investment that your heavy traffic areas will really appreciate. With its incredible insulating properties and a latex backing, its functional feasible as well as aesthetically viable. You'll love how cozily your feet will sink into its 0.5" pile every time you walk on it and you'll certainly appreciate its great durability.
Polypropylene
Another synthetic rug material that can hold its own in high traffic areas is polypropylene. Its mildew and stain resistance goes hand in hand with a durable pile that remains fresh-looking even through a lot of wear and tear.
The great thing about polypropylene rugs is that they're sturdy enough to be featured in outdoor areas as well. You can furnish them on your porch, by the poolside, or any other such place. Their extreme water and dirt resistance will ensure that they remain in top condition (provided that you perform regular maintenance as well).
Polypropylene rugs are pretty cost-efficient as well. They're also soft to the touch and don't let any stains set in too quickly. This is why they're perfect for homes with children and pets. Here are some of our top recommendations in terms of designs:
Yellow Chinese Art Deco Area Rug
This statement golden-yellow rug with a delicate lace-like honeycomb pattern will make a beautiful statement piece in your interior designs. Available in several other colors and promising stain-resistance of the highest caliber, it will be an excellent addition to your living rooms and entrance areas. Backed in cotton and featuring a 0.33" pile height, you'll love how soft and comfortable this rug will feel under your feet.
Blue Winter Abstract Area Rug
This abstract polypropylene rug features a beautiful combination of blue and white hues. It looks like a piece of art and will bring a joyful countenance to your living room, lobbies, and even dining room interior designs. Its 0.5" pile will not only provide a soft under footing but will also retain its form under heavy traffic. It's chic, affordable, and slated to become a beautiful accent piece no matter where it's furnished.
Multi Flourishing Medallion Area Rug
Designed in the vein of faded orientals, this gorgeous traditional-contemporary rug is all about enhancing the drama of your space. Its jewel-toned color scheme is artfully faded and features a gorgeous symmetric geometry that will make it an eye-catching statement piece. Soft, comfortable, and designed to last, this polypropylene rug will add quality aesthetics to all your high traffic areas.
See more:
So these are some of the best rug material choices for heavy traffic areas within your home. We hope you liked our recommendations as much as we loved picking them out for you!