Our readers support us. This post may contain affiliate links. We earn from qualifying purchases. Learn More
The kitchen is often considered the heart of the home, a place where meals are prepared, memories are made, and conversations flow.
When it comes to designing a kitchen, one of the most popular and timeless choices is white cabinets. White kitchen cabinets exude a sense of cleanliness, brightness, and versatility. However, to truly make your kitchen shine, you'll need the perfect wall color to complement those pristine cabinets.
Soft gray provides a modern, sleek backdrop, while blues evoke coastal freshness. Earthy greens suggest organic warmth, and muted pinks introduce subtle vibrancy. Each hue complements white, ensuring a harmonious and elegant kitchen space.
In this article, we'll explore the best wall colors to pair with white kitchen cabinets, helping you create a space that's inviting, stylish, and uniquely your own.
14. Sky Blue
Soft pastel shades, such as pale mint green, soft sky blue, or light blush pink, can lend your kitchen a fresh, airy feel.
These colors introduce a sense of tranquility and charm, balancing the crispness of white cabinets with a touch of color.
Pastels work especially well in kitchens with plenty of natural light, creating a welcoming atmosphere.
Furnishing Tips: Create an Interesting Background with Open Shelves and Beautiful White Dishes
Consider various shades of sky blue and pick one that complements your overall vision. Some options include pale sky blue, robin's egg blue, or even a slightly muted teal.
Open shelving with white dishes and blue accents can serve both functional and decorative purposes.
Add a kitchen island in white if you have enough space to create a cosy and functional kitchen with blue walls.
13. Pink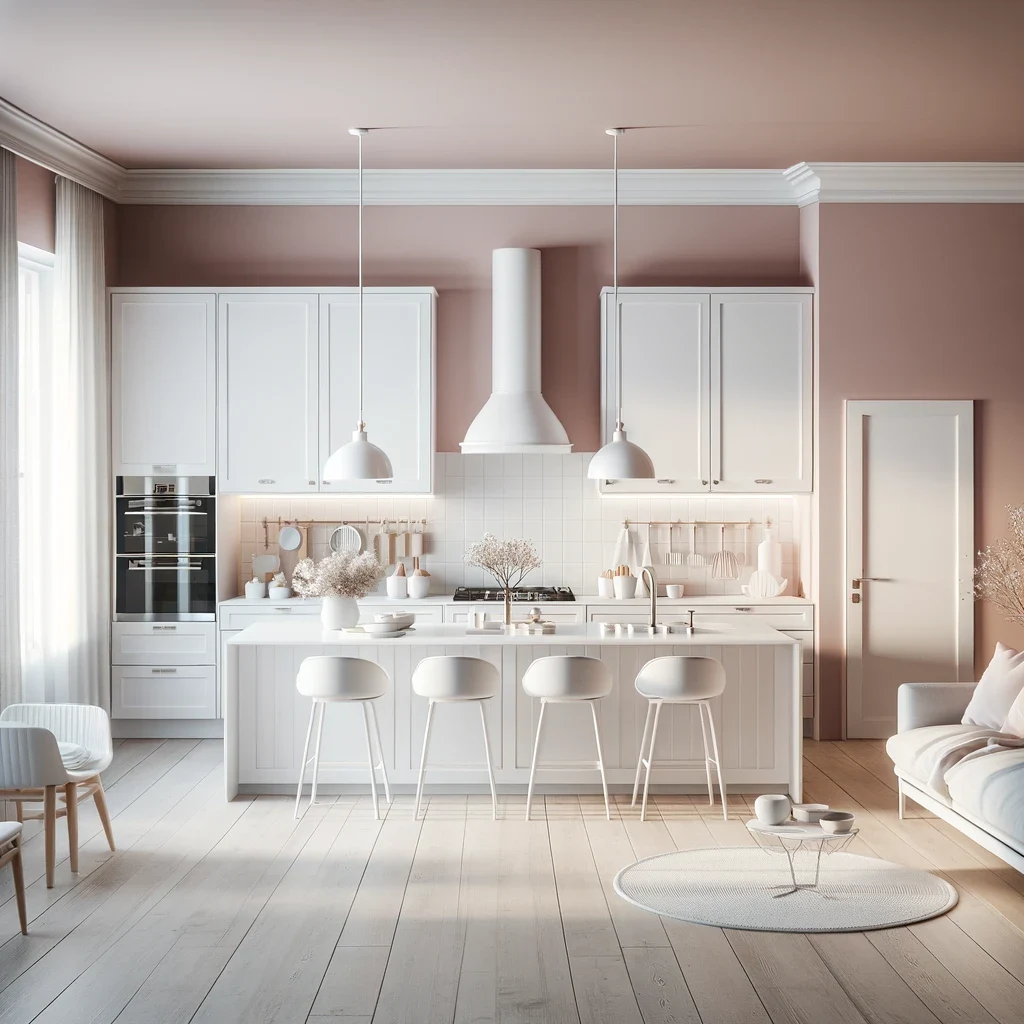 Pink walls exude warmth and femininity, creating a welcoming ambiance.
When paired with white kitchen cabinets, the contrast offers a clean, modern aesthetic, effortlessly blending the gentle charm of pink with the timeless elegance of white.
Furnishing Tips: Create a Stylish and Warm Kitchen with Muted Dusty Pink Walls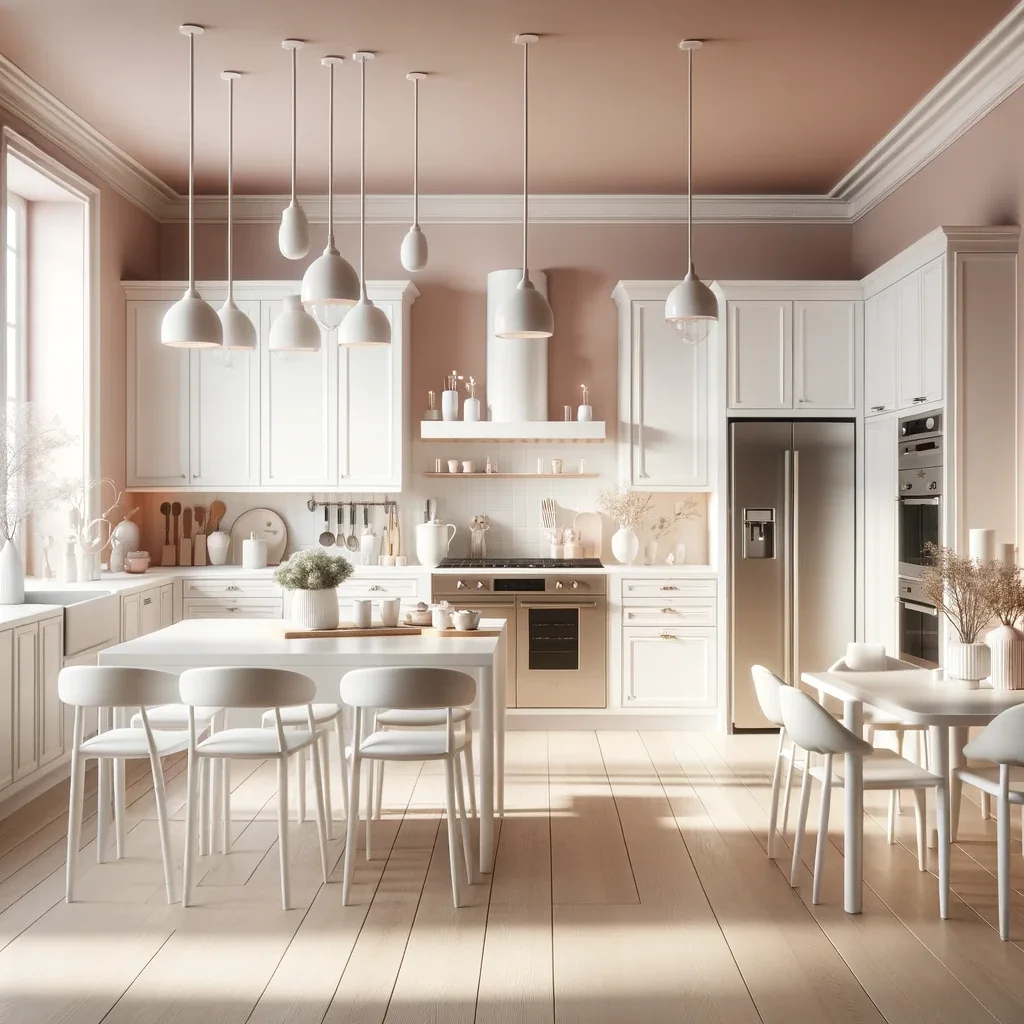 Consider white or brushed nickel hardware for cabinets and faucets to maintain a cohesive look.
Choose a slightly dark and muted shade of pink to create a dramatic effect.
12. Buttercream
If you want your kitchen to radiate positivity and energy, consider a buttercream yellow.
Yellow walls infuse the space with a burst of vibrancy, while the white cabinets keep the room looking crisp and clean.
This combination is perfect for kitchens where the family gathers, as it creates a cheerful and inviting atmosphere.
Furnishing Tips: Enjoy a Modern Design with Extra White Shiny Flat Kitchen Panels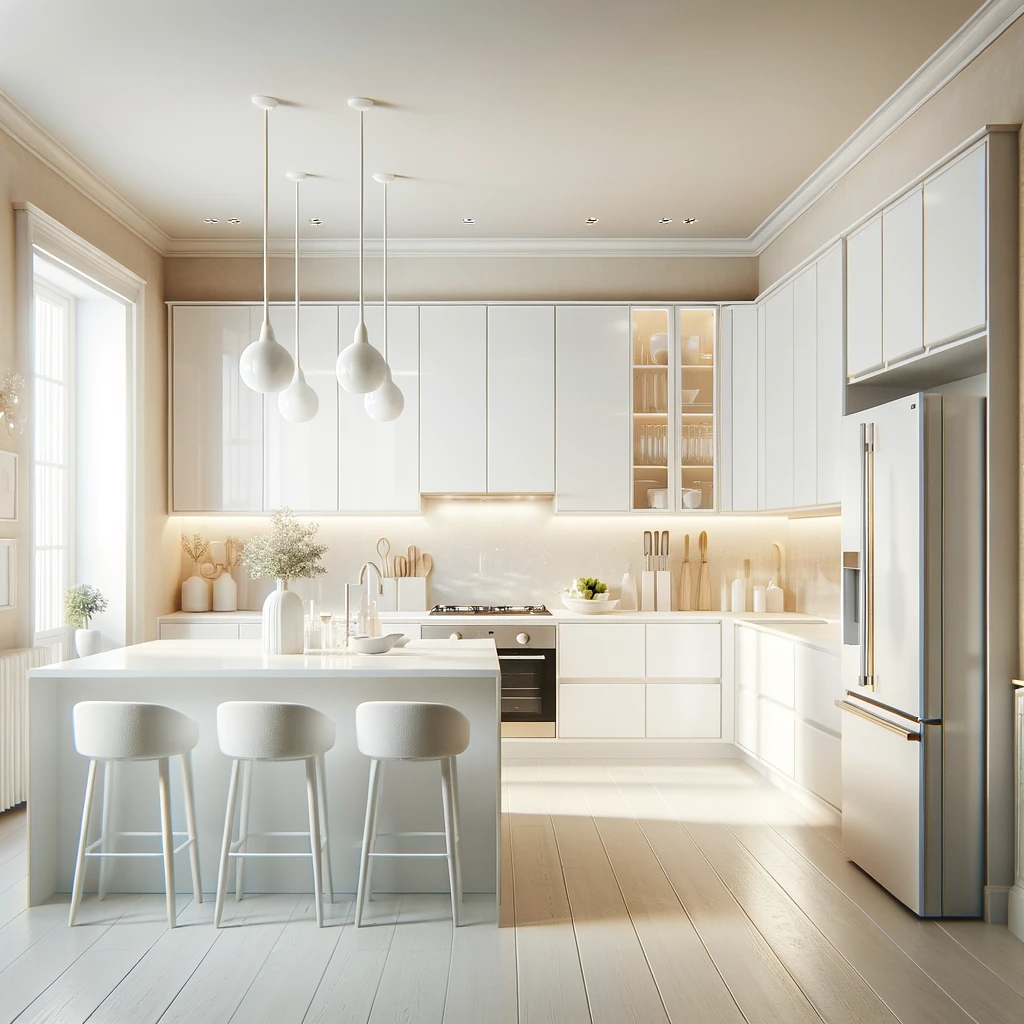 White kitchen cabinets pair beautifully with buttercream walls. They create a clean, fresh look and provide a nice contrast.
You can choose from various cabinet styles, such as classic shaker, modern flat-panel, or traditional raised-panel, based on your preference.
Stainless steel appliances are a popular choice, as they offer a modern and timeless look that pairs well with buttercream and white. However, you can also choose white appliances for a more seamless blend.
11. Terracotta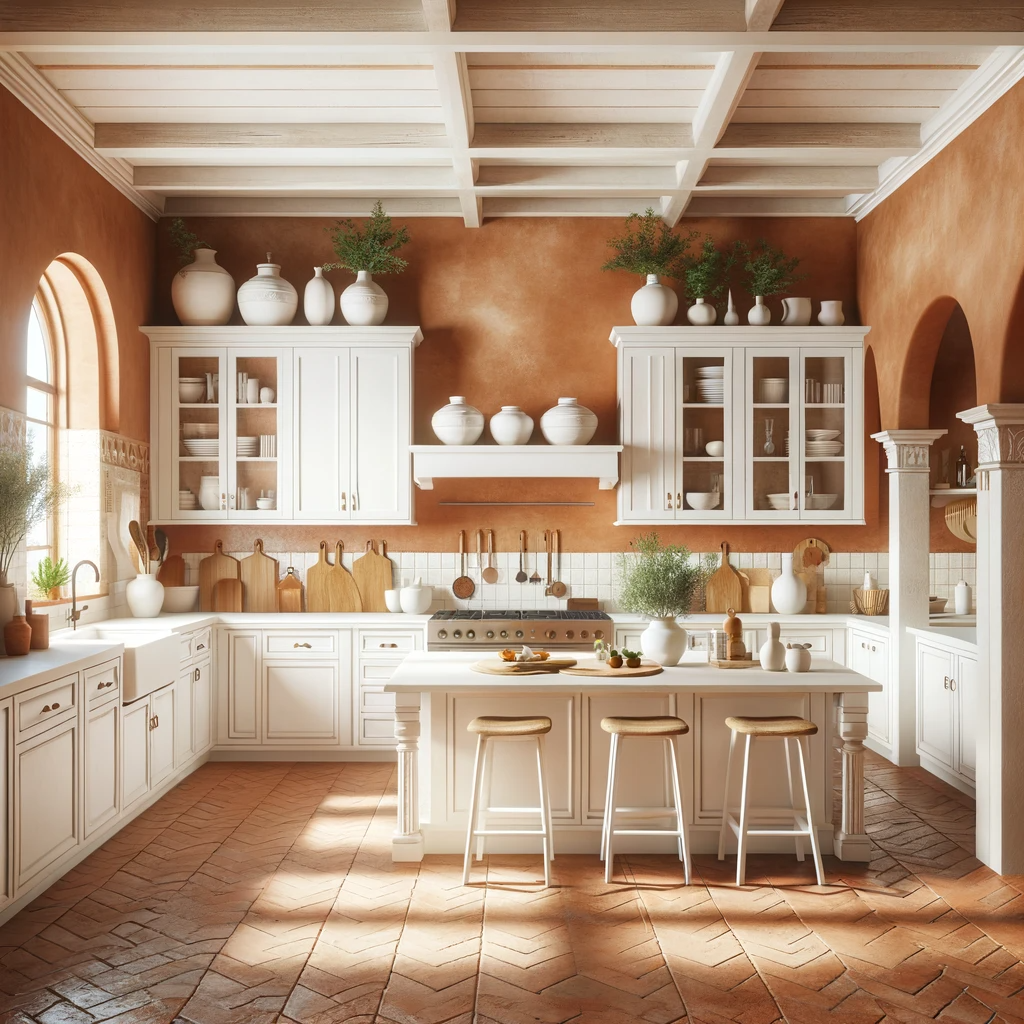 Designing a kitchen with terracotta walls and white decor can create a rustic, and inviting atmosphere. Your personal style and preferences should guide your design choices.
The balance of terracotta and white can be adjusted to suit your unique vision for your kitchen, creating a space that feels both warm and functional.
Furnishing Tips: Match the Vintage Charm or Terracotta Walls with Off-White Kitchen Cabinets
Terracotta walls can be quite bold, so it's important to balance them with white kitchen cabinets, in off white, eggshell or ivory.
The white cabinets will provide a clean and fresh contrast to the warm terracotta, making the space feel more open and airy.
Consider warm, natural flooring options like terracotta or clay tiles, which can complement the terracotta walls while providing durability and easy maintenance.
Alternatively, light-colored hardwood or laminate flooring can create a beautiful contrast.
10. Beige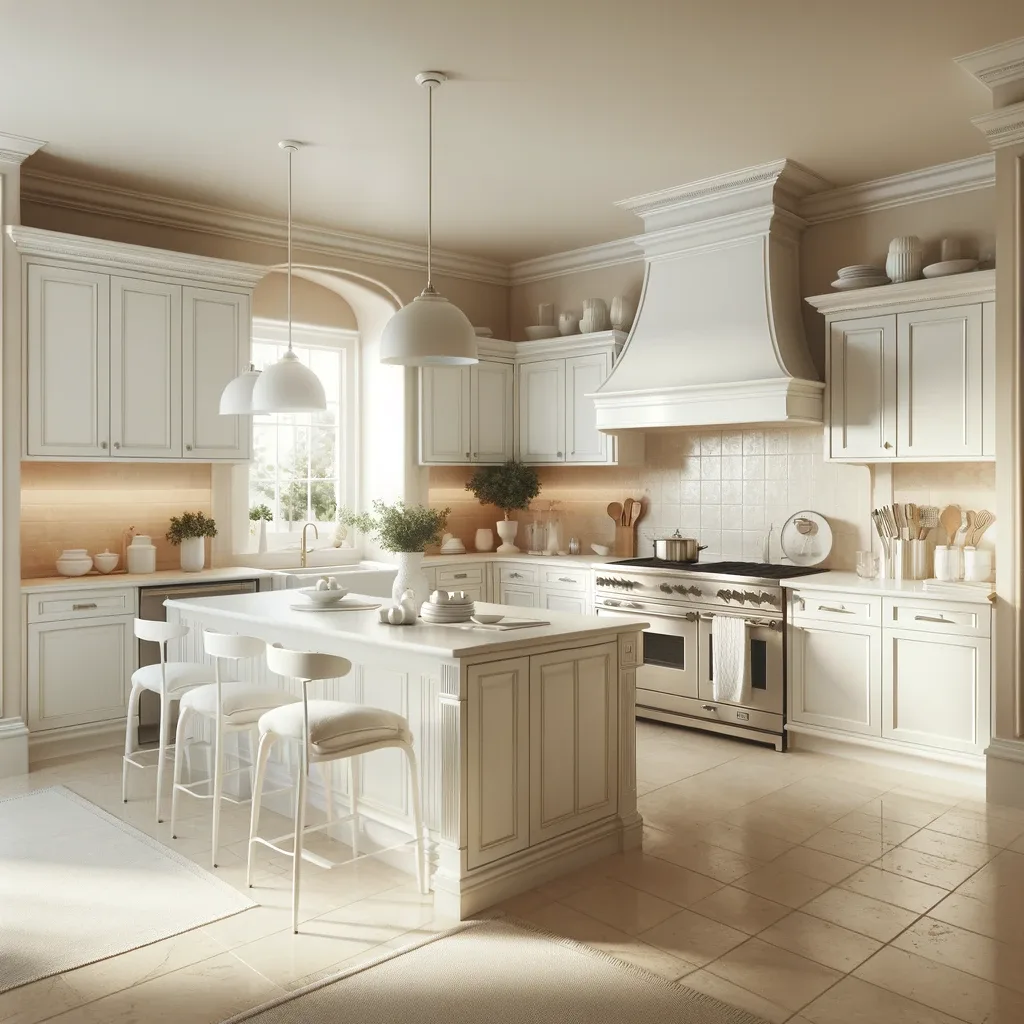 Earthy neutrals like beige, taupe, or greige (a mix of gray and beige) are wonderful choices to create a warm and inviting ambiance in your kitchen.
These colors provide a complementary backdrop for white cabinets, and they work well with a variety of countertop and flooring materials.
Furnishing Tips: Make Your Kitchen Floors Warmer and Your Atmosphere More Inviting with a Large Jute Rug
Add a natural rug like jute or sisal to make the flooring of your kitchen stand out.
Choose furniture pieces in dark muted tones to complement the undertones of the beige walls and add depth to a design with white kitchen cabinets.
Make sure to add plenty of greenery whether large or small, to give life to the muted setting of your white and beige kitchen.
9. Orange
Designing a kitchen with orange walls and white kitchen elements can create a vibrant, energetic, and unique space.
Orange comes in a wide range of shades, from bright and bold to more muted and earthy tones. Select an orange shade that complements your style and creates the desired energy and warmth in the kitchen.
Furnishing Tips: Create a Warm and Moody Vibe with Dark Cherry Hardwood Floors
Orange is a strong, dominant color, so white will be essential to balance it. White cabinets, countertops, and trim are commonly used to create a clean, fresh contrast.
Add an elegant dramatic effect through dark or cherry tone hardwood floors that will intensify the warm hues of your kitchen.
Keep the cabinets simple and minimalistic to create a contemporary design that complement the bold color of the walls.
8. Coral
Designing a kitchen with coral walls and white elements can create a warm, inviting, and charming space.
Here are some design ideas to help you achieve a harmonious and stylish coral and white kitchen:
Furnishing Tips: Create an Elegant Contrast with Stools in Dark Wood
To enhance the overall design, add some accent colors through accessories like kitchen towels, small appliances, or decor. Soft greens, blues, or even a hint of gold can work nicely with peach and white.
Use this color if you prefer a warm and inviting kitchen.
Add chairs and stools in dark wood to create some contrast in the room.
7. Grey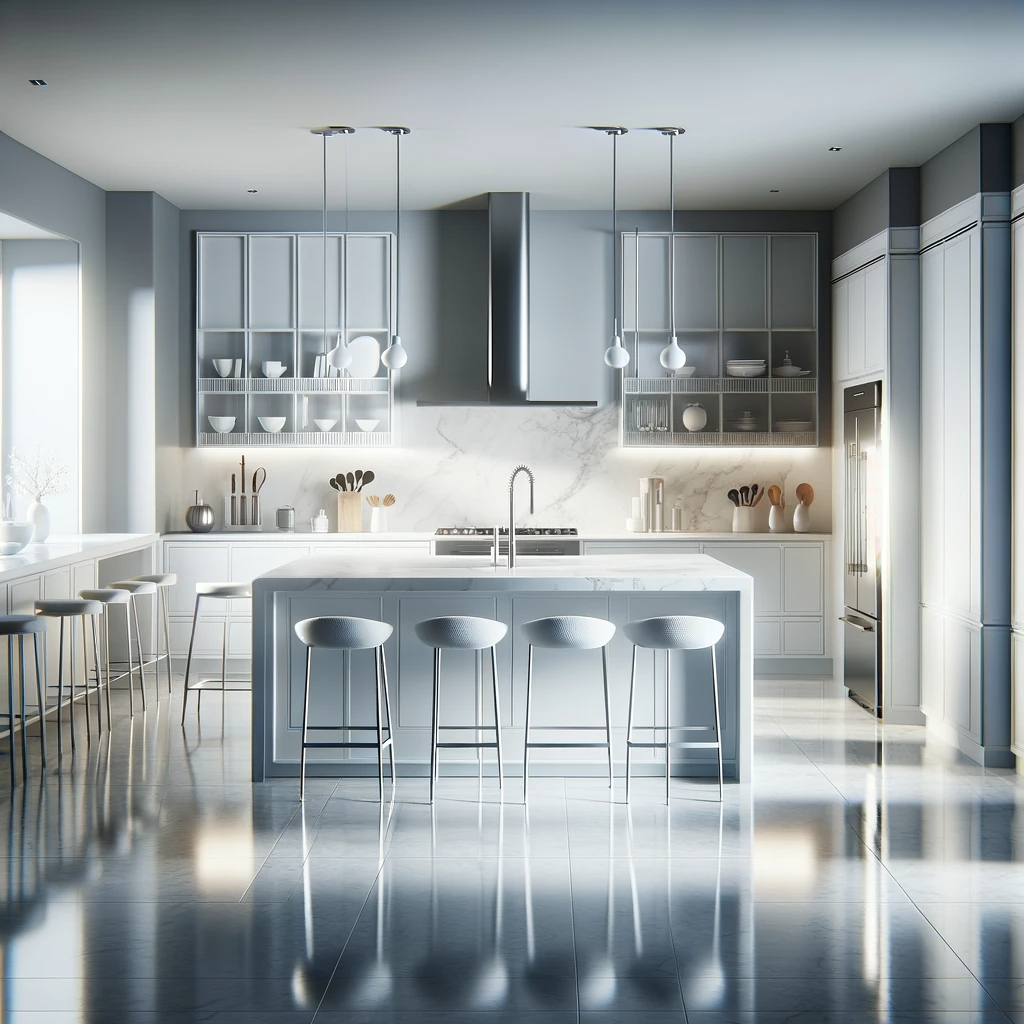 Gray is a versatile and sophisticated color that pairs wonderfully with white cabinets.
Light gray walls create a neutral backdrop, allowing your white cabinets to take center stage while adding a touch of warmth. Darker shades of gray can create a sense of contrast, giving your kitchen a modern and elegant look.
Consider colors like "Repose Gray" or "Agreeable Gray" by Sherwin-Williams for a timeless and subtle pairing.
Furnishing Tips: Make The Room Feel Warmer with a Natural Wood Large Dining Table
Add warm tones to your white and grey kitchen. You can do so by inserting a natural wooden dining table or wood kitchen counters, matching a terracotta brick wall.
Add more texture through runner rugs and potted flowers.
6. Sage
Sage walls and white decor create a soothing and timeless combination that works well in a variety of kitchen styles, from rustic and cottage to contemporary and transitional.
Furnishing Tips: Use Artwork with Hints of Sage to Make the Space Feel More Curated
Sage green can vary from soft, muted greens to more intense, grayish greens. Select a shade that suits your style and lighting conditions while creating a calming and inviting atmosphere in the kitchen.
Light-colored flooring, such as white or light grey tiles, hardwood, or laminate, complements the sage and white color scheme and adds to the fresh and cheerful atmosphere.
Incorporate artwork, decorative items, or kitchen textiles that incorporate white and sage green themes to tie the room together.
5. Green
Green is an increasingly popular choice for kitchens. Rich green hues, such as deep emerald or forest green, can add a sense of opulence and connection to nature.
When paired with white cabinets, green walls can evoke a feeling of balance and serenity, making your kitchen an oasis of calm.
Furnishing Tips: Add Luxury Through White Marble Countertops
Choose a shade of green that complements your style and lighting conditions while creating the desired atmosphere in the kitchen. Some popular options include forest green, mint green, or a warm olive green.
White cabinets offer a clean and timeless look, balancing the green walls. Shaker-style cabinets are a popular choice for classic aesthetics.
White countertops, such as quartz or marble, work well with green walls and maintain a bright and fresh ambiance.
4. Yellow
Designing a kitchen with yellow walls and white kitchen cabinets can create a bright, cheerful, and visually appealing space.
Here are some design tips to help you achieve a harmonious and stylish yellow and white kitchen:
Furnishing Tips: Make a Difference with Black Appliances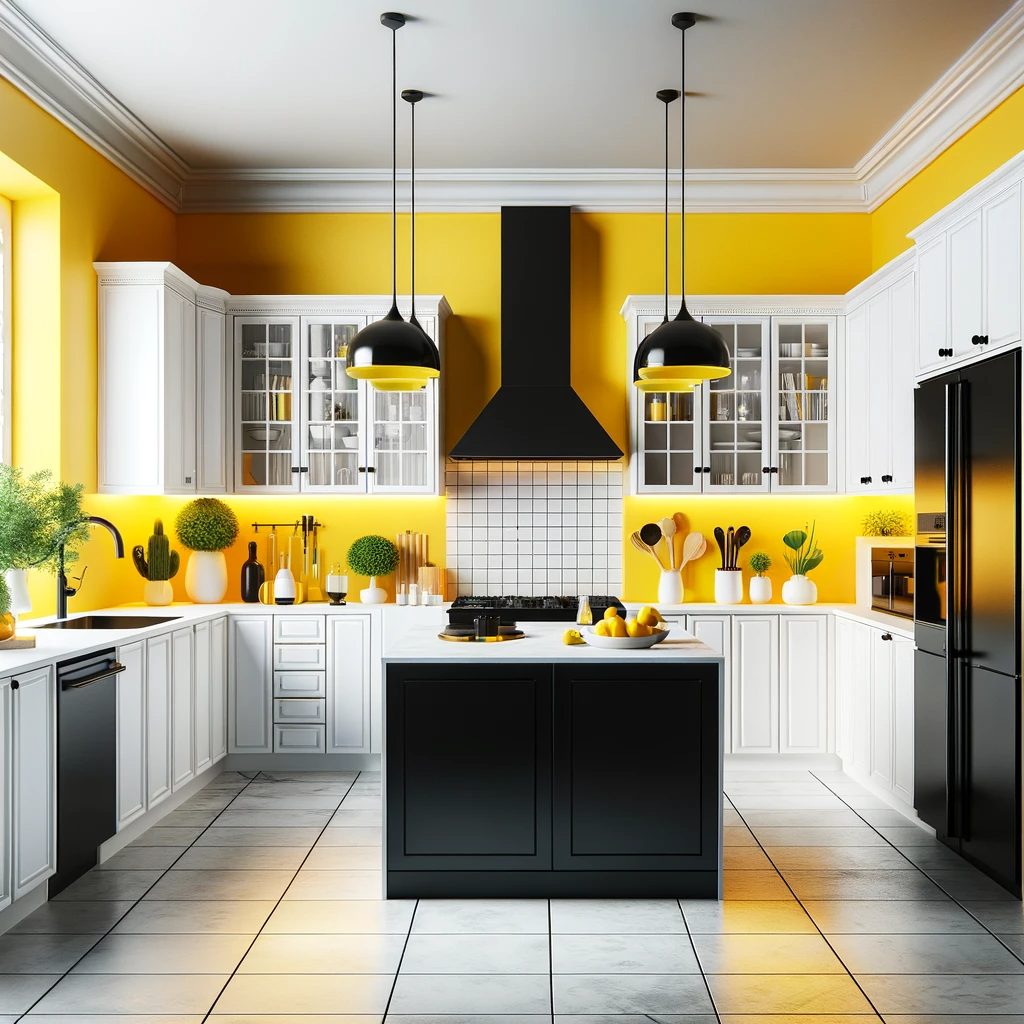 Yellow comes in various shades, from soft pastels to bold and vibrant hues. Select a shade that complements your style and lighting conditions while creating the desired warmth and cheerfulness in the kitchen.
White cabinets provide a clean and timeless look and create a fresh contrast with the yellow walls. Shaker-style or flat-panel cabinets can work well with this color scheme.
Stainless steel or black appliances can offer a modern contrast to the yellow and white decor. Alternatively, white appliances can seamlessly blend with the white elements.
3. Black
Black walls and white cabinets create a dramatic and modern combination that works well in contemporary and minimalistic kitchen styles.
Your personal style and preferences should guide your design choices, allowing you to create a kitchen that is both striking and functional.
Furnishing Tips: Spread Black Accessories Throughout the Kitchen for a Striking Contrast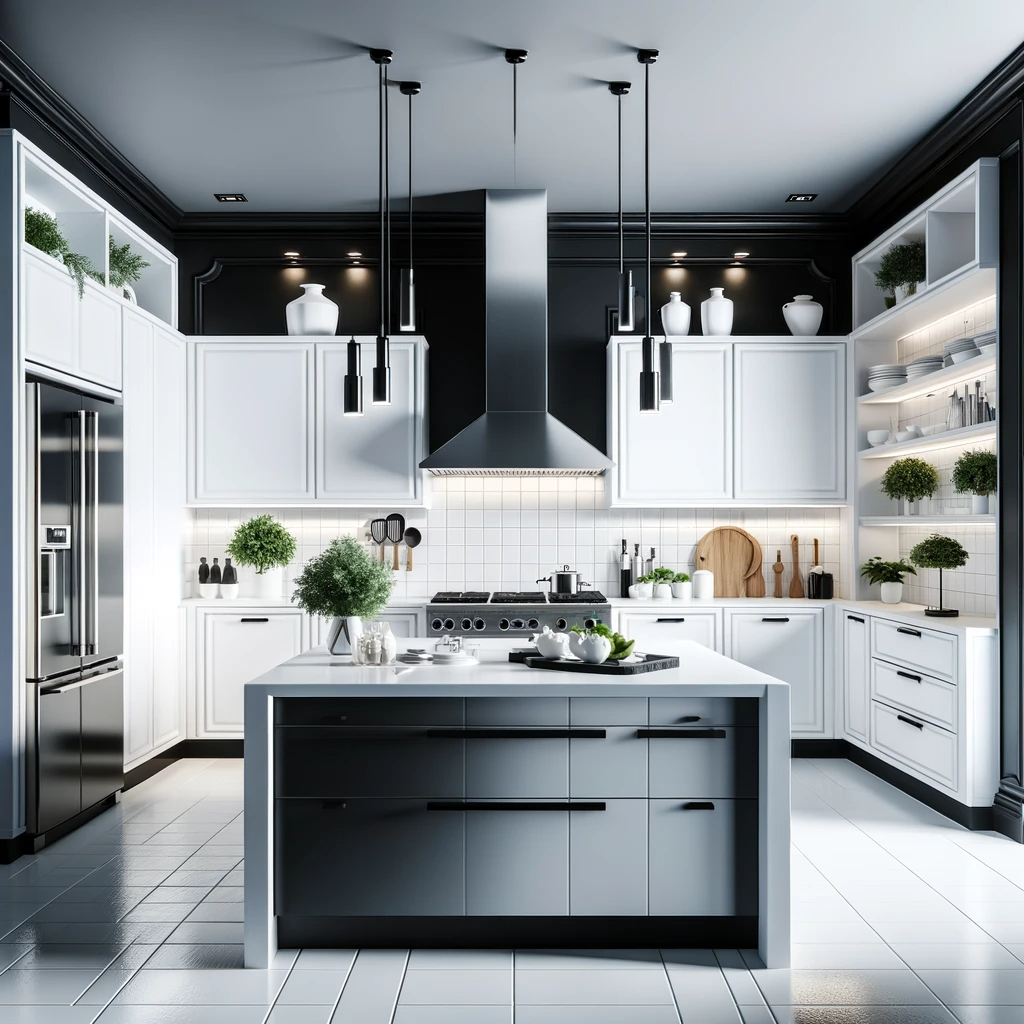 An organized kitchen enhances the overall look. Ensure you have adequate storage to keep clutter to a minimum.
Add white and black accents through accessories such as dishes, utensils, small appliances, and kitchen textiles.
Consider light and airy white curtains or blinds to maintain a bright and inviting atmosphere. Sheer or semi-sheer options can let in natural light while providing privacy.
2. Navy
For a striking and bold contrast, navy blue is an excellent choice. Navy walls alongside white cabinets create a nautical and timeless look, perfect for both modern and traditional kitchens.
This combination brings depth and character to the space, and it's particularly effective when accented with brass or gold hardware.
Furnishing Tips: Use Shaker Style Cabinet Panels for a Modern Farmhouse Look
Navy blue can vary from deep and rich to softer, more muted tones. Select a shade that complements your style and lighting conditions while creating a cozy and elegant ambiance in the kitchen.
White kitchen elements, such as cabinets, countertops, and appliances, are ideal for creating a fresh contrast with navy walls. Consider shaker-style or beadboard cabinets for a classic look.
A white subway tile backsplash is a classic choice that pairs well with navy walls. You can also consider white and navy blue mosaic tiles or geometric patterns for added texture and visual interest.
1. White
For an ultra-modern and minimalist look, consider using various shades of white throughout your kitchen.
This monochromatic approach can create a sleek and spacious appearance, especially in kitchens with a lot of natural light. Use varying shades of white for the walls, cabinets, and countertops to add depth and interest.
Furnishing Tips: Use a Subway Tile Backsplash to Add Depth to Your White on White Kitchen Design
To avoid a monotonous look, incorporate various textures and shades of white. Consider using different materials, such as white subway tiles, white shaker cabinets, white marble countertops, and white-washed wood accents.
Introduce natural elements such as potted plants, herbs, or a wooden cutting board to add warmth and life to the all-white kitchen.
Adequate storage solutions and organization are essential to maintain a clean and uncluttered look in an all-white kitchen.
Read more: Best flooring with white kitchen cabinets