Our readers support us. This post may contain affiliate links. We earn from qualifying purchases. Learn More
Oak cabinets, with their warm and inviting tones, provide a versatile backdrop that can be paired with a wide range of colors to create a harmonious and aesthetically pleasing space.
Enhance their rich tones with soft neutrals like beige or ivory, or opt for earthy greens and blues for added depth.
The right wall color not only complements oak's natural beauty but also crafts a cozy, welcoming kitchen environment.
In this article, we'll explore the best wall colors to enhance the beauty of your oak kitchen cabinets and make your kitchen a cozy, stylish haven.
11. Soft Pink
For a kitchen with a touch of whimsy and charm, soft pastel colors can be an excellent choice. Soft pinks, light lavender, or gentle aqua can infuse your kitchen with a playful yet elegant ambiance.
These colors bring a sense of freshness and can be an exciting way to balance the earthy tones of oak cabinets.
Furnishing Tips: Create a Serene Kitchen with a Minimalistic Scandinavian Design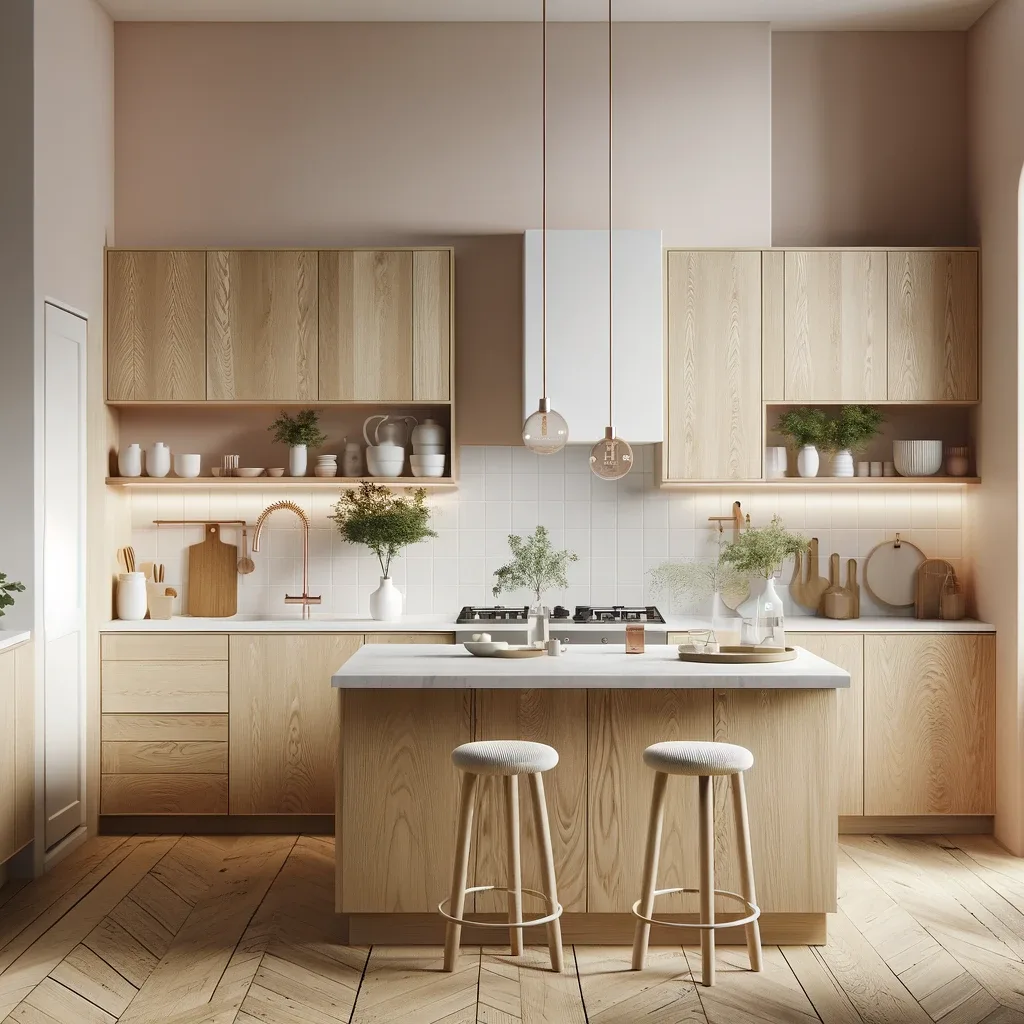 Soft, warm pinks with a touch of peach or beige often work well with oak cabinets.
Keep the design of your kitchen cabinets minimal and without any hardware to create a contemporary Scandinavian look.
Add plenty of broad-leaf plants to infuse the space with elements of nature.
10. Coral
Combining coral walls with oak kitchen cabinets creates a bold and vibrant design that exudes warmth and energy.
The lively tones of coral can create a striking contrast with the oak cabinets. Here are some furnishing tips to help you make the most of this eye-catching combination:
Furnishing Tips: Adorned the Design with a Backsplash with Rectangular Tiles in a Matching Coral Shade
Select a coral shade that complements your oak cabinets. Softer, warm coral tones with a touch of pink or orange can work well, but the choice depends on your personal preference and the lighting in your kitchen.
Create a unique kitchen design by choosing a small square tile in coral as a backsplash.
Use the hardware of your kitchen cabinets as accessories and select a warm brown color that complements the coral of the walls.
9. Charcoal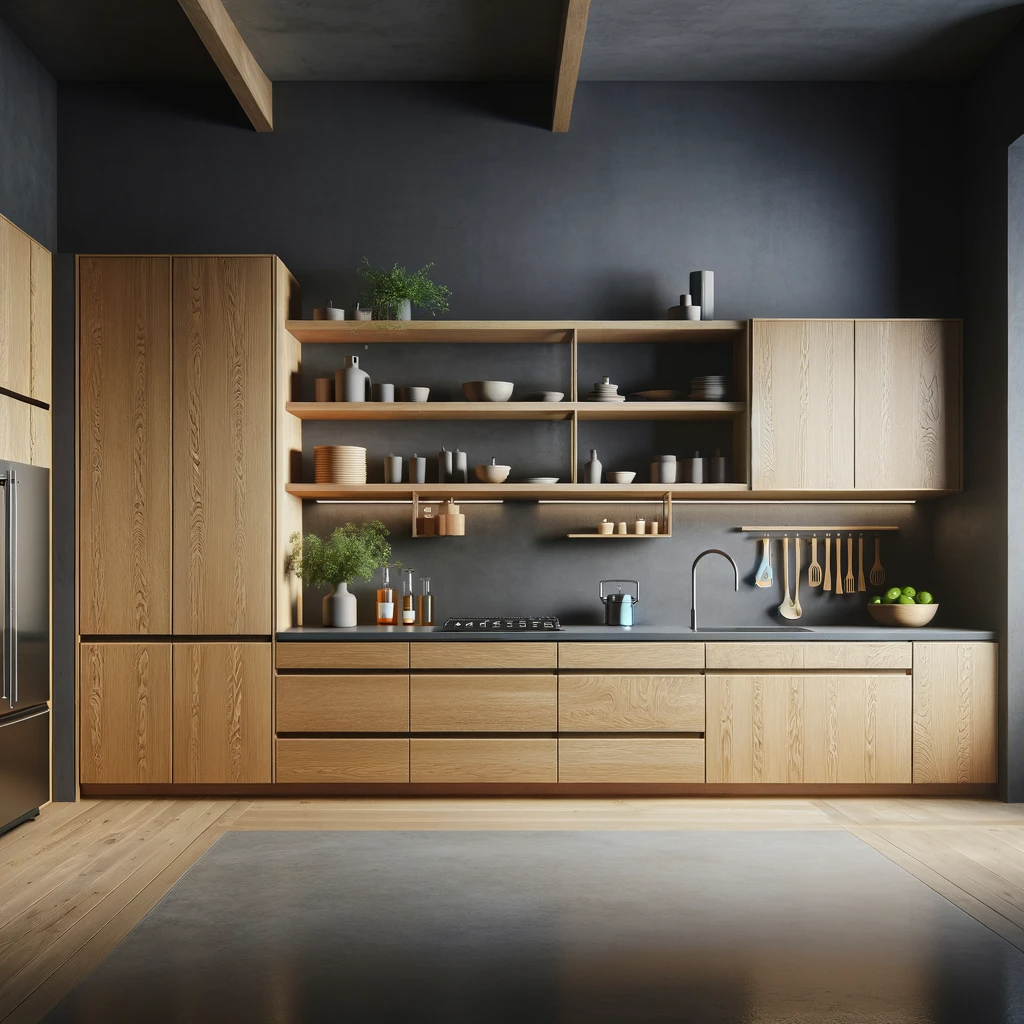 Combining charcoal walls with oak kitchen cabinets creates a striking and bold design that can be both sophisticated and cozy.
The deep, rich tones of charcoal contrast beautifully with the warmth of oak. Here are some furnishing tips to help you make the most of this captivating combination:
Furnishing Tips: Create a Soothing and Elegant Japandi Style with Oak and Charcoal Hues
The specific shade you choose should align with your oak cabinets. Dark charcoal with undertones of warm gray or deep blue can work well.
Charcoal is a perfect choice for oak kitchens in a Japandi style. Keep the rest of the design clean and minimalistic to create a calming look that is functional and inviting.
8. Blue
Various shades of blue can work wonders with oak kitchen cabinets. Pale blues, like robin's egg or sky blue, create a fresh and airy feel, perfect for a coastal or cottage-style kitchen.
Deeper blues, such as navy or teal, add a touch of sophistication and drama. The coolness of blue tones contrasts nicely with the warmth of oak, resulting in a well-balanced and inviting space.
Furnishing Tips: Complement a Modern Aesthetic with High-end Stainless Steel Appliances Integrated into the Oak Units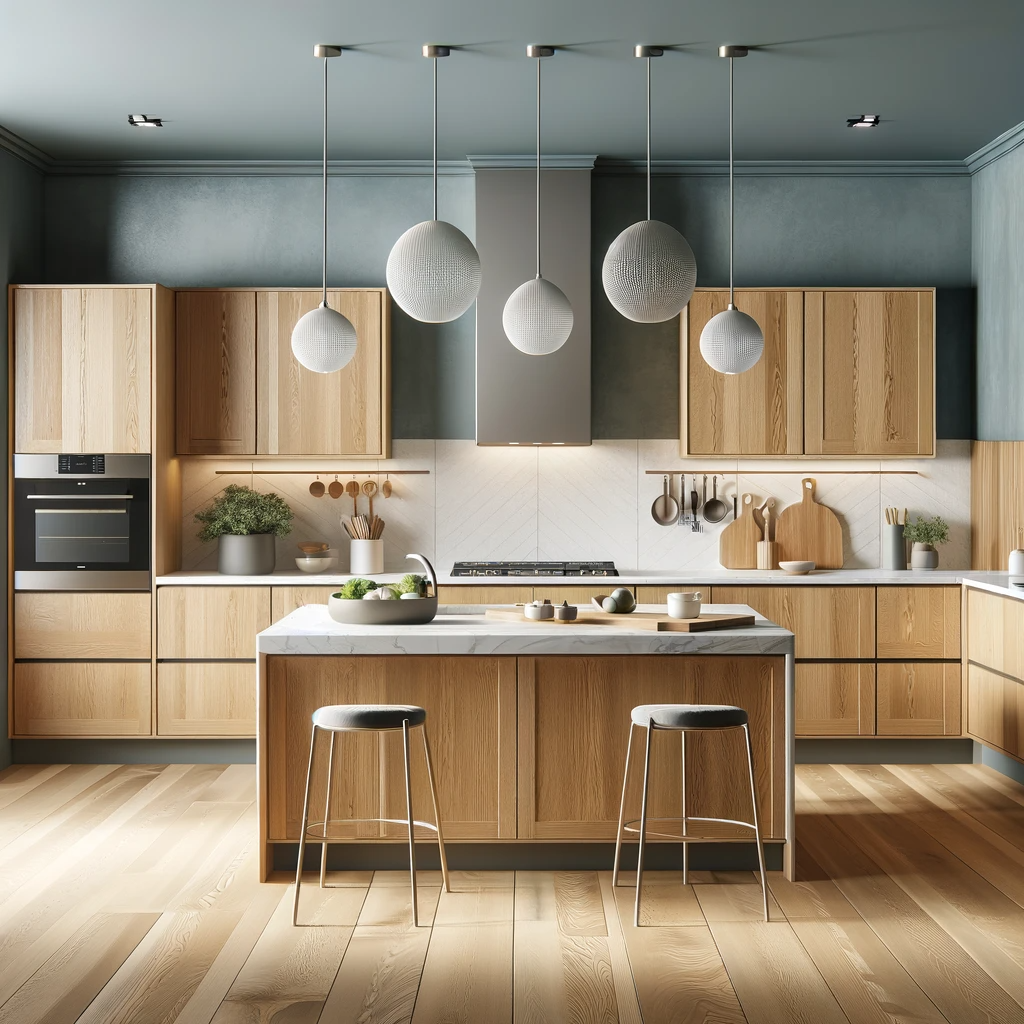 Aim for a dusty blue color that will match the muted and moody tones of the wood as well.
Create contrast with stainless steel appliances and hardware.
If space permits, add a kitchen island to create a functional kitchen that is easy to walk around.
7. Dusty Green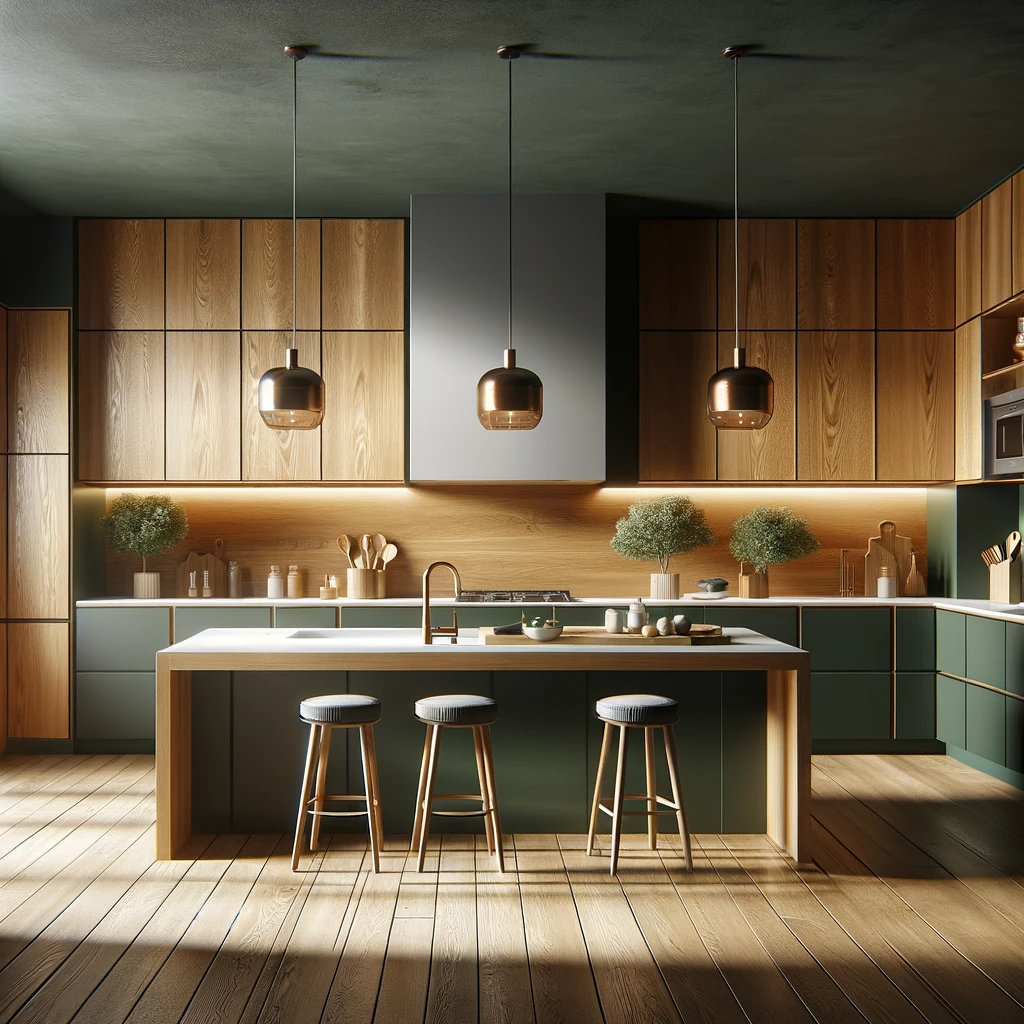 Combining dusty green walls with oak kitchen cabinets creates a fresh and charming kitchen design.
The muted, earthy tones of oak blend beautifully with the calming and soft qualities of dusty green.
Furnishing Tips: Create a Fairy-tale Kitchen with Classic and Traditional Cabinets in Oak
Use this combination if you prefer a traditional-looking kitchen with vintage hardware.
Add plants in the form of flowers rather than leafy ones, to splash the space with color and delicacy.
Make sure to add adequate lighting. Pendants over important areas such as a kitchen island can brighten up the space.
6. Light Green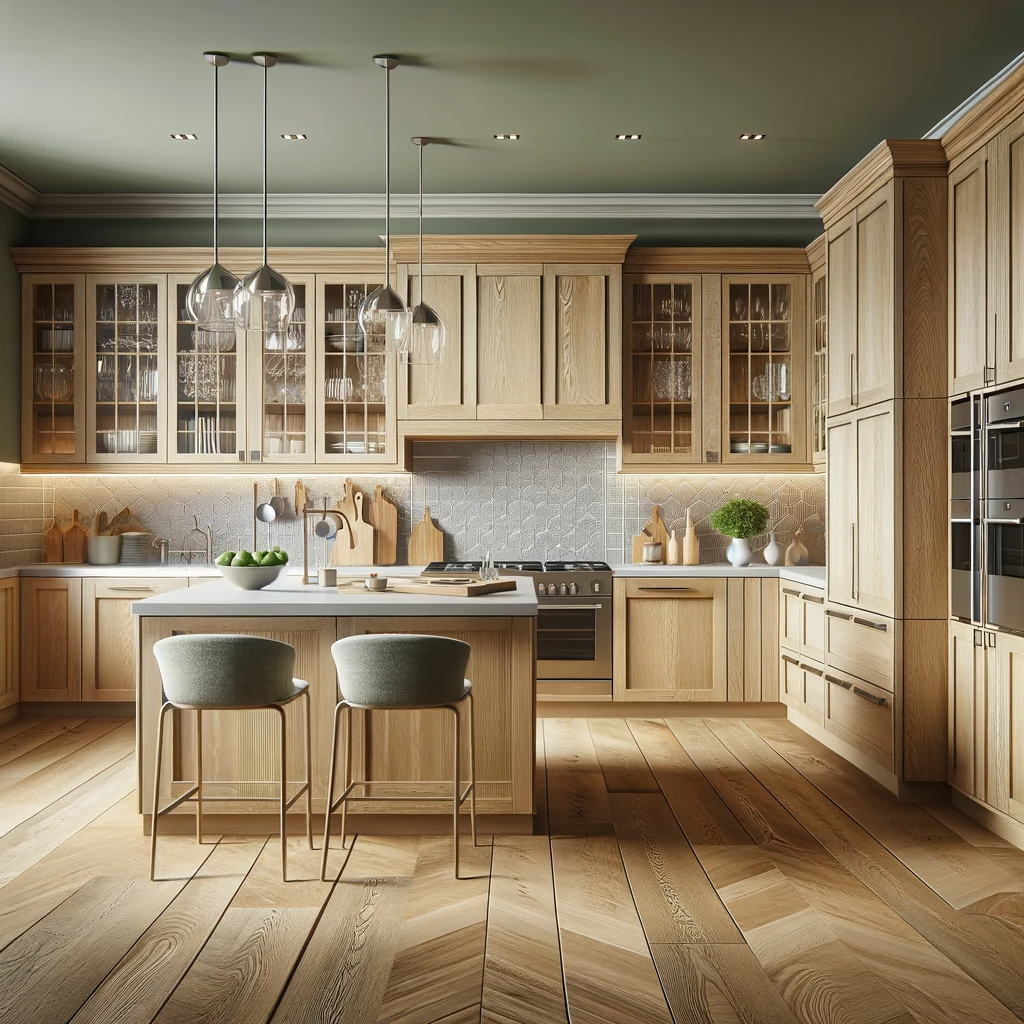 Green tones, particularly earthy greens, complement oak cabinets beautifully. These colors reflect the natural elements and create a connection with the outdoors.
Soft sage, muted olive, or warm mossy green can all enhance the warm tones of your oak cabinets while bringing a touch of nature indoors.
Green walls create a calming and welcoming atmosphere, making your kitchen feel like a cozy retreat.
Furnishing Tips: Add Glass Shelves for a More Contemporary Look
Light green is a broad category, and there are various shades to choose from. Pastel greens, sage, or mint can all work well with oak.
Open shelves painted in a matching green or a contrasting color can add visual interest and provide a place to display decorative items, dishware, or glassware.
Consider adding glass shelves for an open and modern feel.
5. Ivory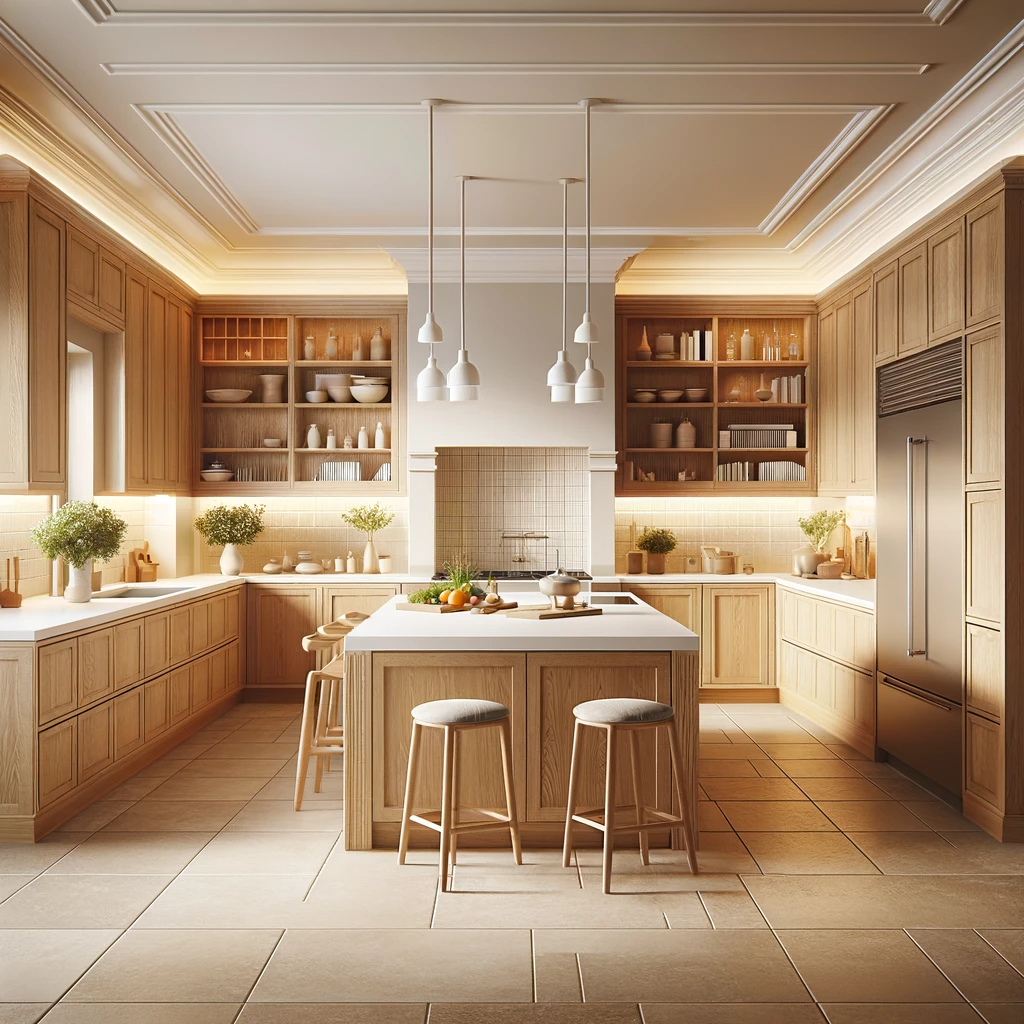 Ivory walls complement oak kitchen cabinets beautifully, enhancing their natural grain and warm undertones.
The subtle elegance of ivory balances oak's robustness, creating a harmonious and inviting ambiance in the kitchen space.
Furnishing Tips: Create a Crispy Clean Look with Creamy Tiled Floors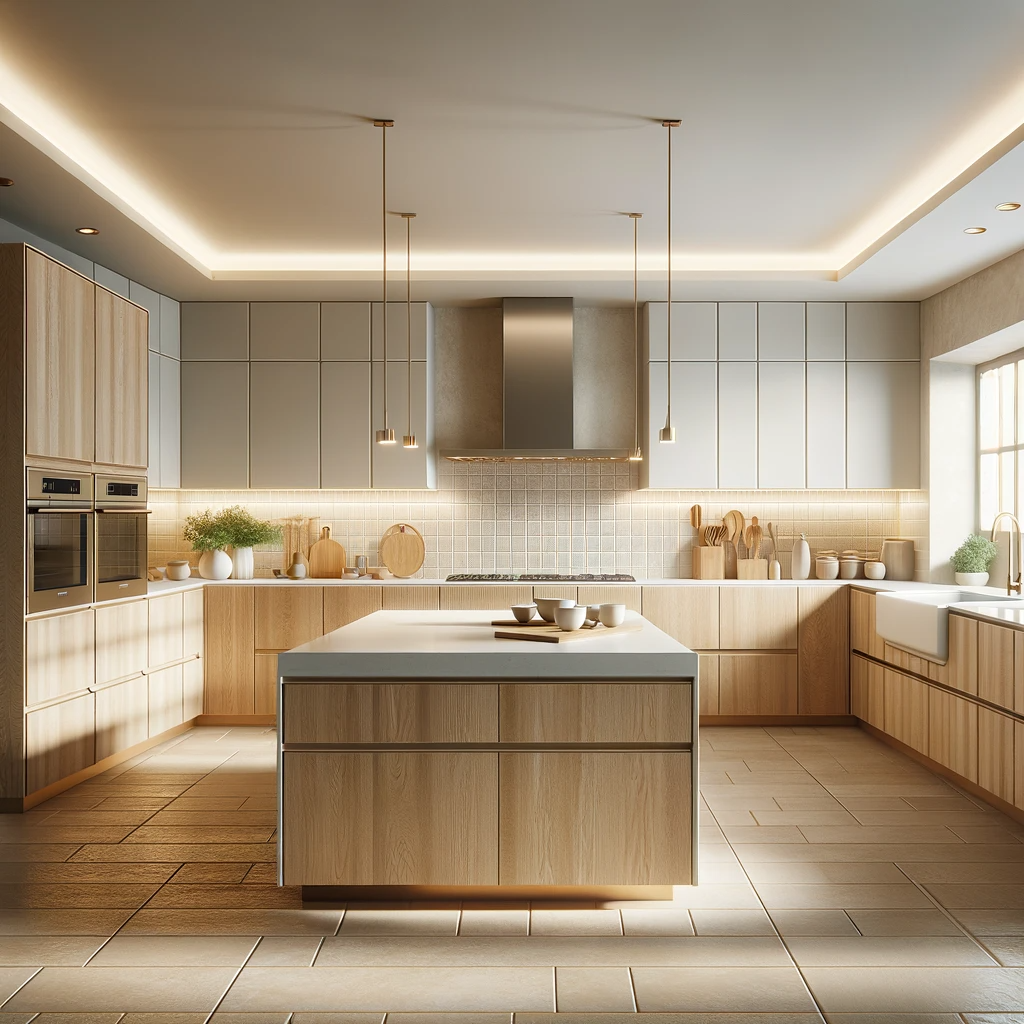 Decorate your kitchen with artwork and decor items that complement the ivory and oak color scheme.
Wooden frames for artwork or mirrors can harmonize with the oak cabinets. Accessories in shades of ivory and warm tones can enhance the overall aesthetic.
Keep light-colored countertops and tiled floors to create a soothing and clean look in your kitchen.
4. Beige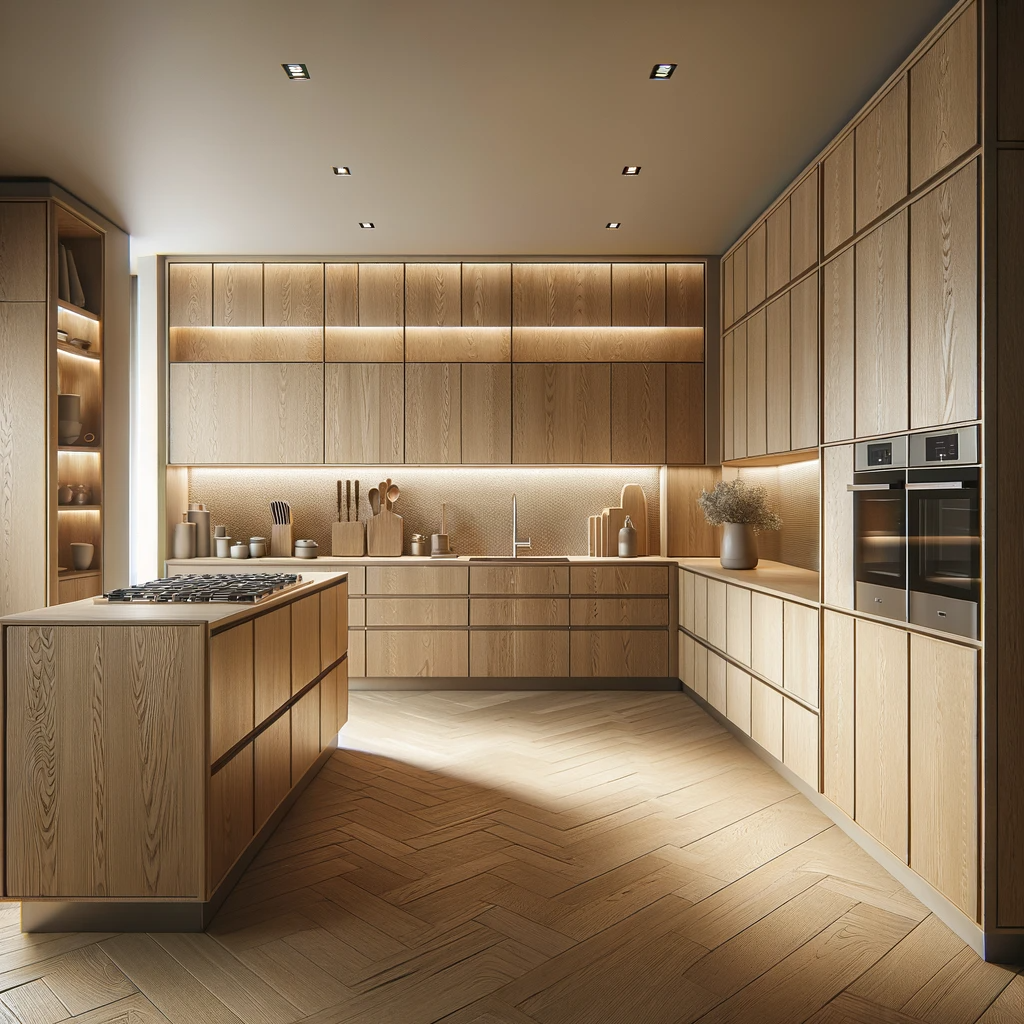 If you prefer a more neutral and timeless look, consider warm beige tones. These colors are a great choice for creating a cozy and inviting kitchen atmosphere.
Beige walls with undertones of yellow or peach harmonize well with the natural warmth of oak cabinets, creating a comfortable and classic setting.
Furnishing Tips: Design a Dramatic Kitchen with Oak Cabinets, Beige Walls and Black Countertops
Select backsplash and countertop materials that offer a bold contrast that will make the beige and light color of the oak come to life. A black granite countertop can work well in this case.
Match the dark shade of the countertop with the hardware of the cabinets to create a cohesive look.
3. Soft Grey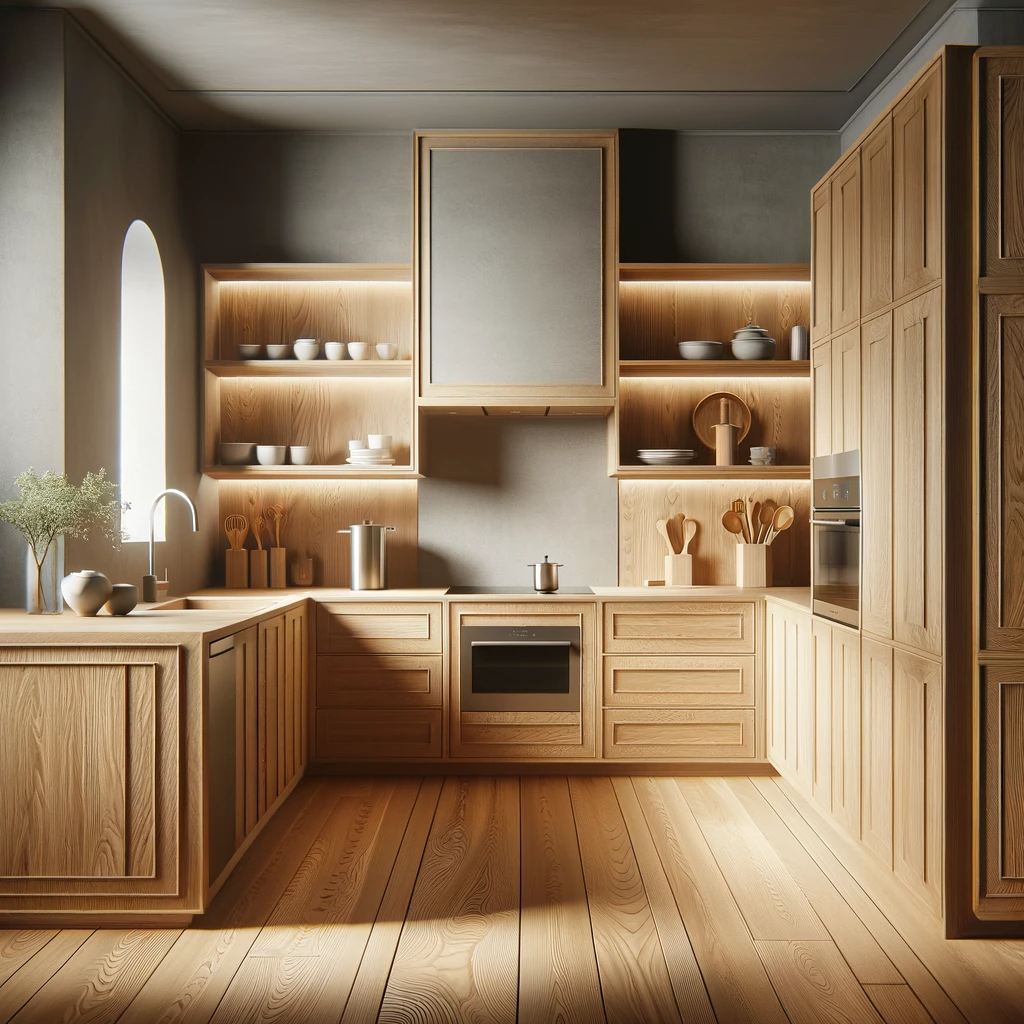 Soft gray is a versatile color that pairs harmoniously with oak cabinets. The cool undertones of gray provide a balanced contrast to the warm, earthy hues of oak.
Light gray walls create a contemporary and elegant ambiance, while deeper grays add depth and sophistication to your kitchen. This combination is ideal for achieving a modern and trendy kitchen aesthetic.
Furnishing Tips: Leave Your Windows Bare so Natural Light Can Flood the Space
Choose a soft grey shade that complements your oak cabinets. Warm grey tones with subtle undertones of beige or taupe work well to harmonize with the warmth of oak.
Test several paint samples in your kitchen to find the perfect shade.
Ensure you have adequate lighting, especially under the cabinets. LED under-cabinet lighting can brighten the workspace, creating a well-lit and inviting environment.
Incorporate potted plants or herbs on windowsills or countertops. The greenery can create a fresh and lively atmosphere while complementing the soft grey and oak color palette.
2. Black
If you're looking to add a pop of drama to your kitchen, consider using bold black accent walls. Black walls can create a striking contrast with oak cabinets, infusing energy and personality into the space.
This bold accent works best as a feature wall or in small doses to avoid overwhelming the room.
Furnishing Tips: Place Strategic Lights that Highlight the Oak's Texture and the Black Walls' Depth
The most crucial element in this design is the contrast between the black walls and oak cabinets. The black serves as a powerful backdrop, making the oak cabinets stand out.
Ensure that the cabinets are well-maintained and in excellent condition because they will be a focal point.Adequate lighting is essential in a kitchen with dark walls. Ensure you have under-cabinet lighting, pendant lights, and recessed lighting to brighten up the space.
Light fixtures with metallic finishes (such as brushed nickel or gold) can add a touch of luxury and contrast.
Choose countertops that bridge the gap between the black walls and oak cabinets. Light or neutral-toned countertops can help create a harmonious transition between the contrasting elements. Natural stone like marble or quartz with subtle veining can be a good choice.
1. White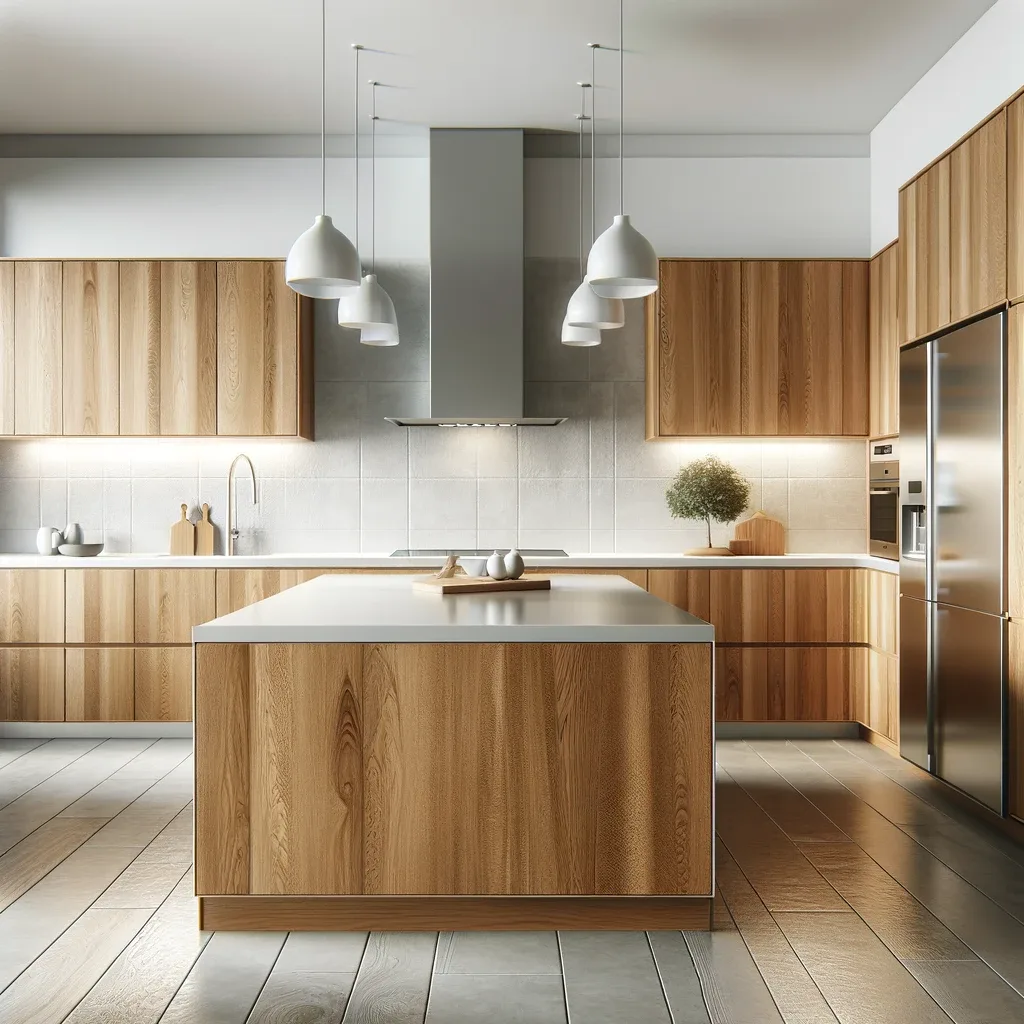 White is the ultimate neutral color that pairs beautifully with oak cabinets. It provides a clean, timeless look and creates a sense of spaciousness in your kitchen.
White walls also allow the natural beauty of oak to shine, making your cabinets the focal point of the room.
Whether you opt for a crisp, bright white or a softer, warmer shade like ivory, it's a timeless choice that complements oak wonderfully.
Furnishing Tips: Add Character with a White Tablecloth, Featuring Delicate Lace Detailing Along the Edges
Choose cabinet hardware (knobs and handles) that contrast with your oak cabinets. Sleek, modern metallic finishes like brushed nickel or black can create a stylish juxtaposition against the warmth of the wood.
Incorporate textiles like curtains, tablecloths, rugs or seat cushions in shades that resonate with your color scheme.
Soft, muted tones that match or complement the oak cabinets can create a cozy and cohesive look.
A strategically placed rug can add a burst of color and texture to your kitchen. A rug with a pattern that includes white, oak, and accent colors can help to unify the design.