Our readers support us. This post may contain affiliate links. We earn from qualifying purchases. Learn More
In interior design, every element plays a crucial role in creating a harmonious and visually appealing space, even an overlooked element such as the trim.
Grey trim, with its neutral and versatile nature, has gained popularity for its ability to complement a wide range of interior styles.
Whether your home exudes modern minimalism, classic elegance, or rustic charm, finding the right wall colors and designs to enhance the beauty of your grey trim is essential.
In this article, we'll explore some of the best wall colors that pair seamlessly with grey trim.
10. Dark Seafoam
If you're looking to infuse a sense of freshness but in a moody way into your space, consider using a dark seafoam color alongside grey trim.
Make sure to have a green or blue undertone to the grey trim so that it works better with the hues of the walls.
Furnishing Tips
This approach is particularly effective in spaces like home offices, craft rooms, mudrooms, laundry rooms or vintage and shabby chic living rooms.
Continue the color of the trim on the floors as well to create some continuity in the design.
Use different shades of blue and green in your furniture and keep the palette cool, and refreshing to create a cohesive look.
9. Burgundy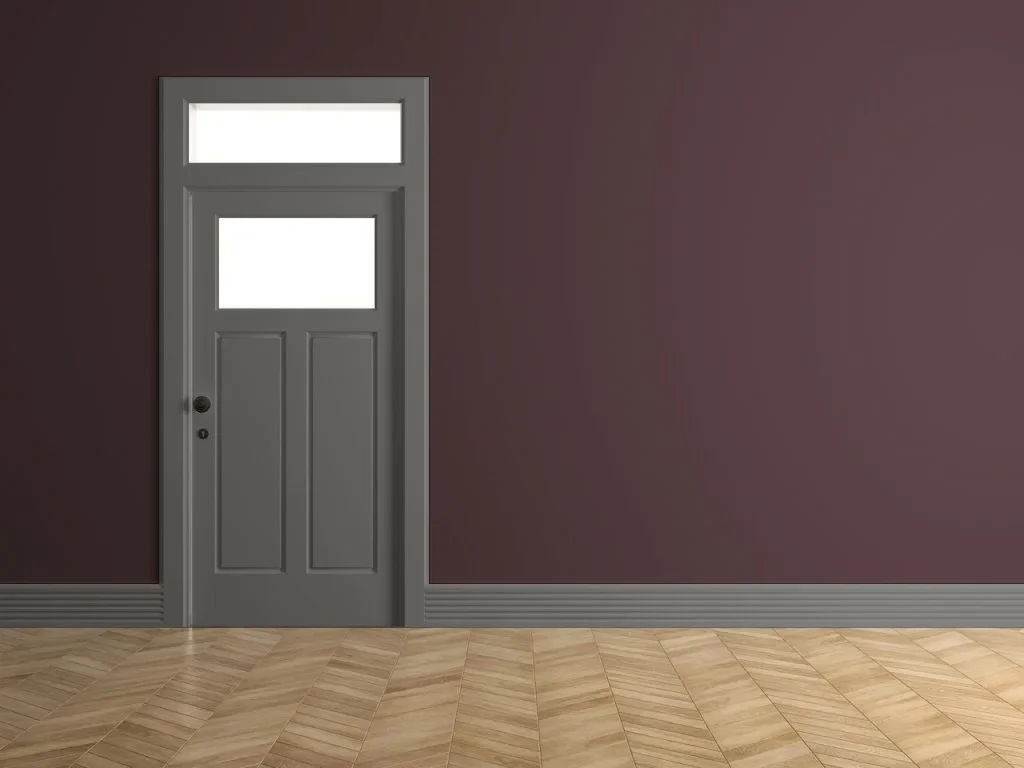 The combination of burgundy walls and grey trim offers a classic and dramatic canvas that can be beautifully enhanced with the right furnishings.
This pairing exudes a vintage charm, allowing you to play with textures, colors, and styles to create a space that's effortlessly chic.
Furnishing Tips
Use white furniture to make a strong contrast between the walls and the rest of the decor of the space.
As such, large bathrooms with vintage features such as stand-alone bathtubs and white porcelain sinks could work well with this combination.
Introduce accents in gold and silver to create a sophisticated look that feels vintage, to the point of evoking even an antique charm.
8. Mustard
Creating a visually appealing and harmonious space with mustard walls and grey trim requires a careful balance of colors, patterns, and textures.
Before committing to larger furniture pieces, try out smaller decor items like pillows, artwork, and accessories to see how they interact with the mustard walls and grey trim. This will help you refine your color palette and style.
Furnishing Tips
Introduce patterns that incorporate both mustard and grey hues. Geometric patterns, chevrons, or even floral designs that include these colors can tie the room together beautifully.
Use accent pillows and throws to bring out the mustard and grey color scheme. You can mix and match patterns and textures to add depth to the space.
A well-chosen rug can anchor the room and tie the color scheme together. Look for rugs that have elements of both mustard and grey or neutral shades.
7. Terracotta
For a warm and inviting ambiance, earthy tones are an excellent choice. Terracotta, muted yellows, and rusty oranges can harmonize beautifully with grey trim.
These colors create a cozy and welcoming atmosphere that's perfect for living rooms, bedrooms, or dining areas.
This color scheme is especially appealing in spaces where you want to foster a sense of comfort and relaxation.
Furnishing Tips
To enhance the connection to nature, consider incorporating wooden elements in your décor and furniture choices.
Add a coastal vibe by inserting jute or sisal rugs and picking a grey trim with subtle blue undertones.
Give your space a rustic charm by leaving elements exposed such as a boarded ceiling or a brick wall.
6. Floral Wallpaper in Grey Tones
A floral wallpaper with grey tones and grey trim in your space can create a sophisticated and charming ambiance.
Make sure to customize the shade of grey for the trim to ensure it complements both the floral wallpaper and the rest of the furnishings.
Also, consider the scale of the floral pattern in the wallpaper. If it's a large-scale print, balance it with furniture of varying sizes to avoid overwhelming the space.
Furnishing Tips
Introduce neutral colors such as white, cream, or beige in your larger furniture pieces to prevent the space from feeling too monotonous. These neutrals will help balance the patterned wallpaper.
Introduce metallic accents like gold in your furniture hardware, lighting fixtures, or decorative items. These accents can add a touch of glamour and contrast to the grey and floral theme.
Select a rug that complements the color palette of the room, including both the grey tones and any accent colors from the wallpaper. A rug with subtle patterns can enhance the overall design.
5. Charcoal Grey
If you're a fan of modern design and enjoy a touch of drama, pairing grey trim with dark bold wall colors can create a striking visual impact.
Deep, rich colors like charcoal can provide a compelling contrast against the soft cool tones of grey trim.
This bold approach works particularly well in rooms with abundant natural light, as the contrast adds depth and dimension to the space.
To maintain balance, consider incorporating lighter shades in your furnishings and accessories to prevent the room from feeling too heavy.
Furnishing Tips
Use muted tones in your furnishing but make sure to keep them light to give the space the illusion that it is big.
Insert plenty of wooden elements in your chairs or keep the floors in natural wood to make the room feel warmer and inviting.
Make sure to use a light grey for the trim and continue that color onto your doors to create a sophisticated contrast that is classic yet timeless.
4. Dusty Grey
Dusty grey walls and grey trim offer a versatile and serene backdrop for a variety of design styles.
The goal is to create a cohesive and visually pleasing environment that reflects your personal style preferences.
Experiment with different combinations and arrangements until you achieve a look that resonates with you.
Furnishing Tips
Embrace a minimalistic Scandinavian design with light oak wood floors and furniture pieces to complement the monochromatic look of dusty grey walls and trim.
If you are a fan of color, consider incorporating a statement furniture piece, such as a bold-colored sofa or an intricately designed coffee table, to serve as a focal point in the room.
3. Yellow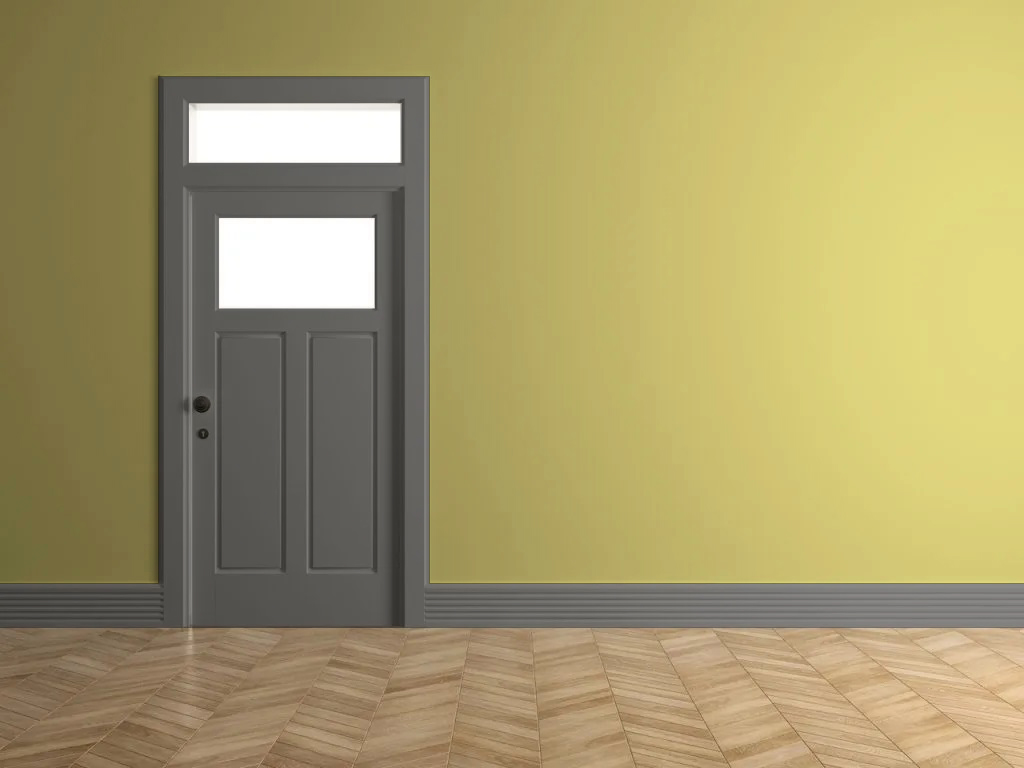 Designing a space with yellow walls and grey trim can result in a vibrant and visually appealing contrast.
The key is to create a cohesive and inviting space by carefully selecting furnishings and decor that complement both the yellow walls and the grey trim.
Furnishing Tips
Integrate grey upholstery for larger furniture items like sofas and chairs. This will help tie in the grey trim and create a cohesive look.
Introduce artwork with pops of yellow to reinforce the wall color. The yellow accents in the artwork can help tie the wall color with the rest of the decor.
If possible, customize the shade of grey for the trim to ensure it complements both the yellow walls and the furnishings.
2. Greige
Grey trim lends itself well to a palette of soft neutrals, creating an atmosphere of timeless sophistication. Grey hues like a charming greige is an excellent choice for a wall color.
This hue provides a subtle contrast to the grey trim while maintaining an overall cohesive and elegant look.
Consider a monochromatic color scheme where varying shades of grey, from light to charcoal, create depth and interest without overpowering the space.
This approach works particularly well in spaces where you want to evoke a sense of calm and understated luxury, such as a kitchen.
Furnishing Tips
Greige walls and grey trim work great with contemporary furniture that will stand out, such as elements with metallic accents or glass.
Keep your floors polished and shiny to infuse the space with elegance and light.
1. White
For a timeless and elegant look, pairing grey trim with classic whites is a fail-proof option.
Crisp white walls create a fresh and airy backdrop that allows the grey trim to stand out in all its sophistication. This combination works well in both traditional and contemporary settings.
Furnishing Tips
Use the combination of white walls and grey trim in a kitchen and keep the cabinets in the same color to create coherence and elegance.
Add accessories in gold or brass to infuse the space with luxury and charm.
Keep your floors bare if you have light hardwood floors so that the natural color of the wood can provide a warm tone for the entire setting.