Our readers support us. This post may contain affiliate links. We earn from qualifying purchases. Learn More
Selecting the best wall color to complement your gray kitchen cabinets is a personal and creative endeavor. The right choice depends on your style preferences, the mood you want to create, and the amount of natural light in your kitchen.
Gray cabinets are a popular choice due to their versatility and timeless appeal, making them a perfect canvas for a wide range of color palettes. Crisp whites amplify their minimalist appeal, while soft pastels introduce a soothing ambiance. For those seeking a bold contrast, deep navy or rich jewel tones can make the cabinets pop.
Experiment with paint samples in your kitchen to ensure the chosen color works harmoniously with your gray cabinets and other design elements.
14. Greige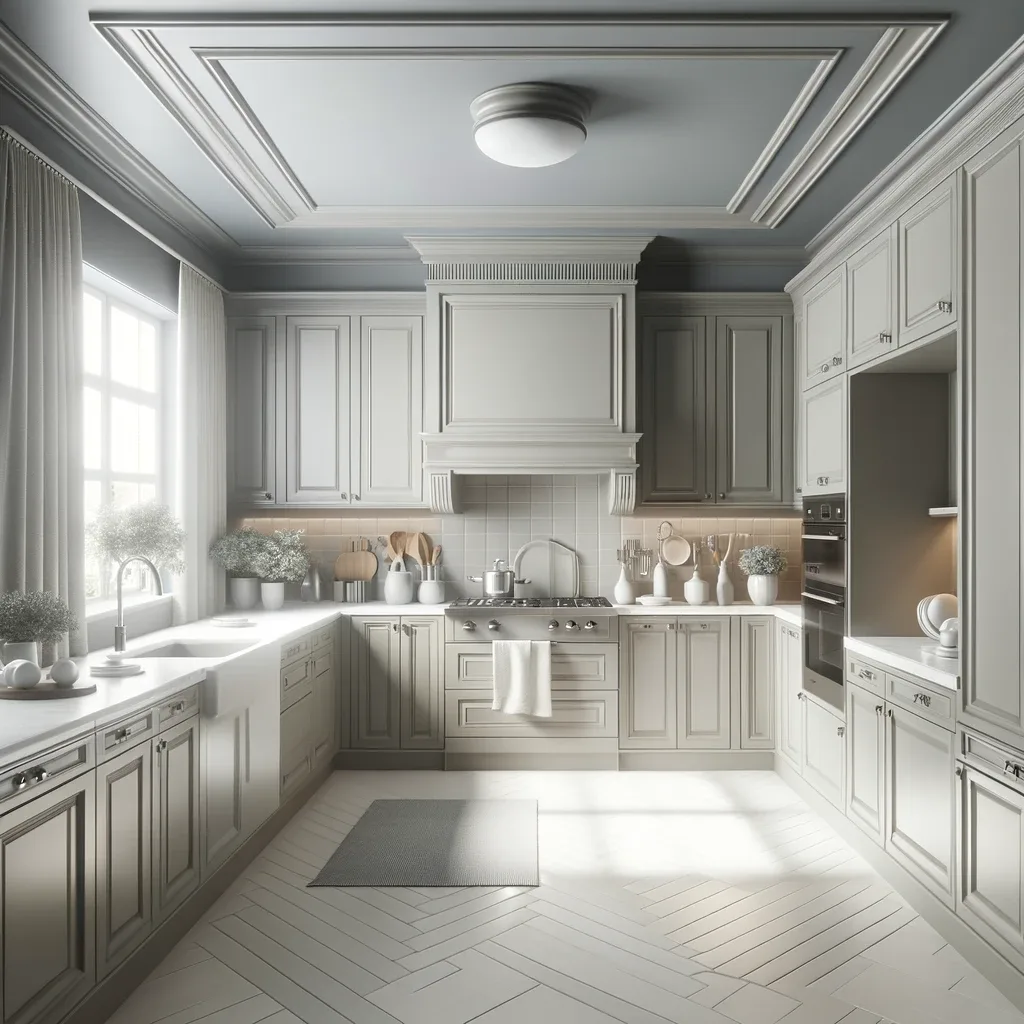 For a sophisticated and cohesive look, consider choosing greige walls alongside your gray cabinets. This monochromatic approach adds depth to the space, providing an elegant, understated ambiance.
Varying shades of gray, from light to dark, can add visual interest and texture, creating a harmonious and soothing kitchen environment.
Furnishing Tips: Create a Dreamy Kitchen with Pure White Countertops Offering a Crisp and Clean Surface that Brightens the Entire Kitchen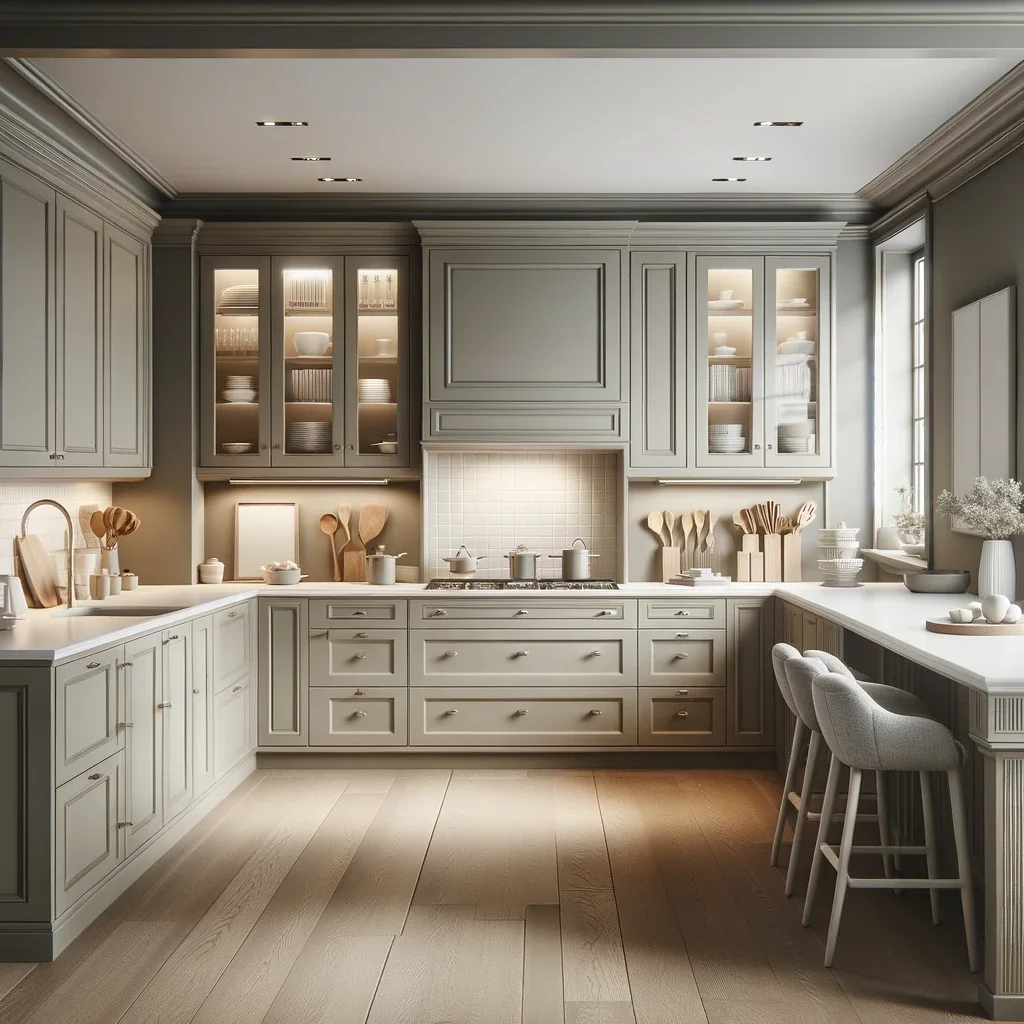 Select greige and grey shades that work well together. Light greige walls and medium grey cabinets create a classic and balanced look, but feel free to explore variations based on your preferences.
Consider neutral countertop materials, such as white or light gray. These neutral tones provide a clean and cohesive base for the greige walls and grey cabinets.
Introduce metallic elements like brushed gold, brass, or stainless steel for cabinet hardware, light fixtures, and faucets. These accents can add sophistication and a touch of luxury.
13. Green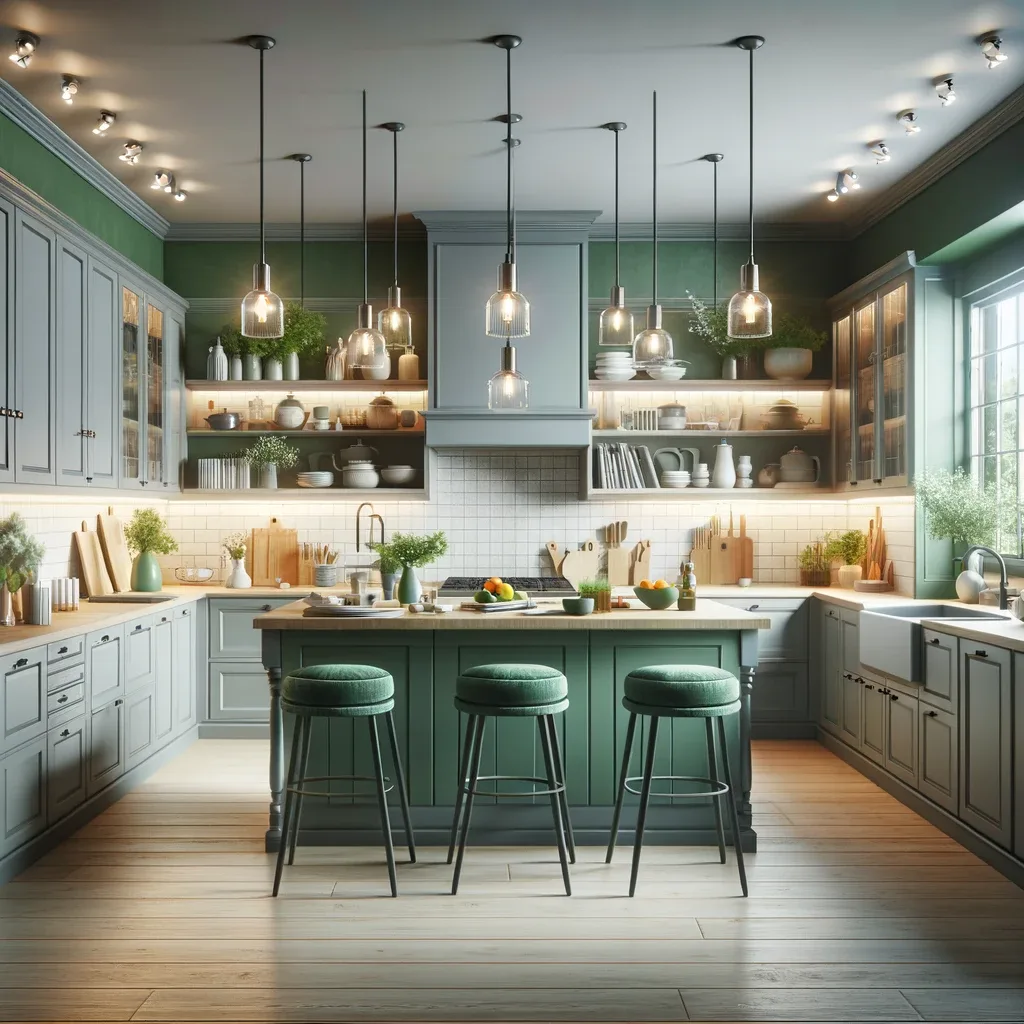 Subtle green tones, like sage green or muted olive, can create a calming and nature-inspired atmosphere in your kitchen. These earthy shades pair beautifully with gray cabinets and give your space a welcoming and organic feel.
The blend of gray and green is perfect for those who appreciate a connection to the natural world within their culinary haven.
Furnishing Tips: Create Different Ambiances Within the Kitchen with Bright and Energizing Lights
Accessorize your kitchen with white or light-colored decor items to create a contrast with the green walls. White dishes, vases, or small appliances can serve as focal points.
Green walls can sometimes make the kitchen feel dim. Ensure you have sufficient lighting, including under-cabinet lighting and pendant lights, to keep the space well-lit.
Keep a coordinated color palette to ensure a cohesive look. The green walls, grey cabinets, and accent colors should work together harmoniously.
12. Black
For a modern and high-contrast look, consider dark wall colors like charcoal or black. These bold choices make your gray cabinets stand out and lend a sense of sophistication to your kitchen.
This combination is perfect for those who want to create a statement space with a contemporary edge.
Furnishing Tips: Add Plenty of Texture to Make the Design Bolder
Select the shade of grey for your cabinets carefully. Light or medium greys often work well with black walls. Light grey cabinets can create a fresh, open feel, while medium greys can add depth and contrast.
Dark greys on the other hand offer a more dramatic look and work well if you go for an extra dark, almost charcoal hue.
To prevent the kitchen from feeling too dark, opt for white or light-colored countertops. This creates a visual contrast and adds brightness to the space.
Introduce texture and patterns to break up the monotony of the black and grey color scheme. Consider using textured tiles for the backsplash, patterned curtains, or textured countertops.
11. Terracotta
Combining terracotta walls with grey kitchen cabinets can result in a warm and stylish kitchen design.
To create a harmonious and inviting space, pay attention to the choice of terracotta shade, grey cabinets, complementary elements, and decor.
When executed thoughtfully, this color combination can give your kitchen a unique and inviting character.
Furnishing Tips: Create a Striking Balance Between Polished Grey Cabinets and Rough Terracotta Walls
Terracotta comes in various shades, from pale and muted to deep and rich. Consider the natural lighting in your kitchen and the desired mood. For a more vibrant look, opt for a richer terracotta; for a softer appearance, choose a more muted shade.
Consider whether you prefer a matte or gloss finish for your cabinets. Matte finishes tend to give a more muted and earthy look, while gloss finishes can add a contemporary touch.
10. Orange
If you're looking to add a splash of color without fully committing to a painted wall, consider incorporating red or orange accents. These bold and vibrant colors can be introduced through kitchen accessories, artwork, or a colorful backsplash.
These pops of color can create a dynamic and eye-catching focal point within your gray-dominated kitchen.
Furnishing Tips: Add Finesse and Elegance with Brushed Gold Accents
Orange walls can make the kitchen feel warm and vibrant, but it's essential to ensure you have sufficient lighting to keep the space well-lit, especially in areas with limited natural light.
To maintain a cohesive and stylish look, incorporate accents and decor that harmonize with the color scheme. Metallics like brushed gold or stainless steel can add sophistication, while wooden elements provide a natural touch.
Select furniture and accessories that fit with the overall color scheme. This includes barstools, pendant lights, and small appliances that align with the style of your kitchen.
9. Navy Blue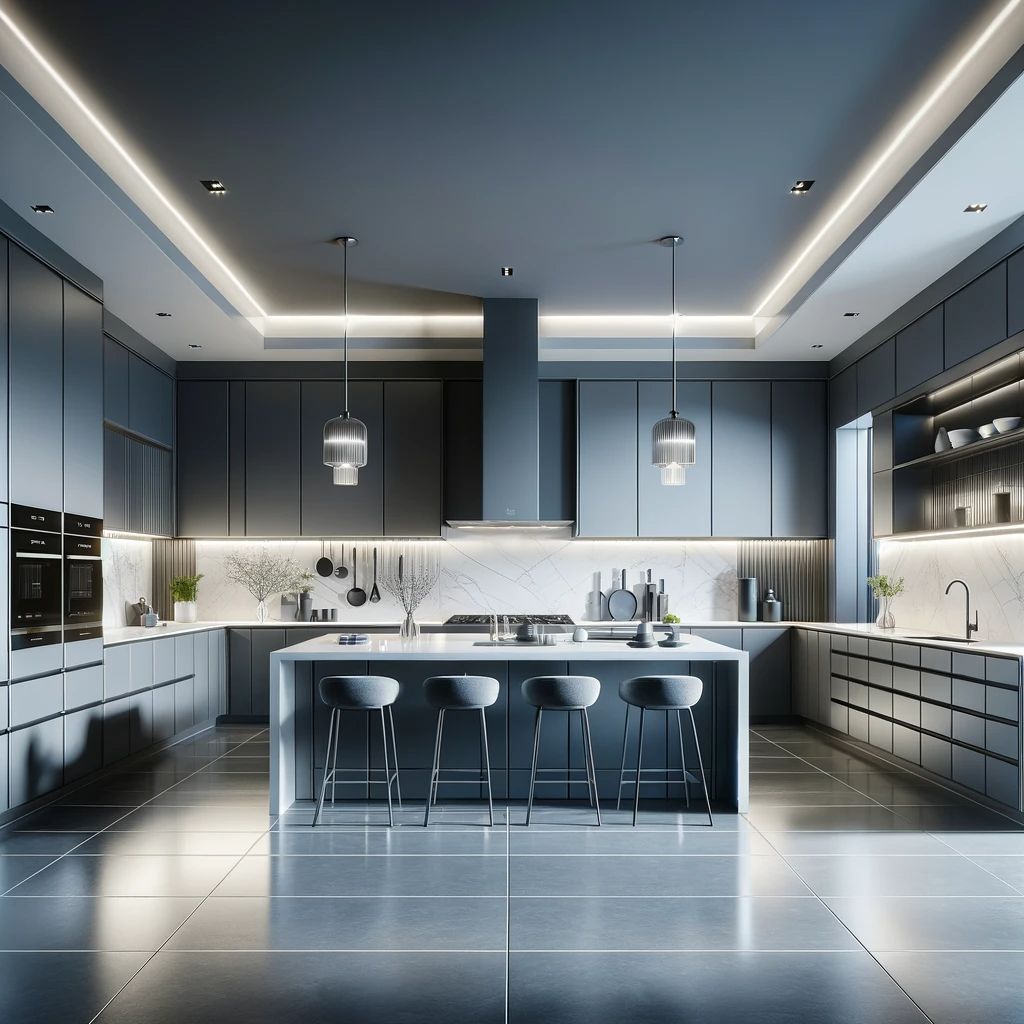 For a touch of drama and a striking contrast with light gray cabinets, consider painting your kitchen walls in a dark navy blue or deep blue-gray.
This bold combination brings a sense of elegance and depth to your kitchen. The rich color choice is particularly appealing in contemporary and upscale kitchen designs.
Furnishing Tips: Offer a Clean and Classic Contrast to the Navy Walls with White Subway Tiles
When selecting your backsplash and countertop materials, choose options that complement the navy blue and grey color scheme. Neutral or complementary shades can balance the design. White subway tiles are also a good choice for this color scheme.
Pay attention to the choice of cabinet hardware, as it can impact the overall look of your kitchen. Select hardware that complements the color scheme and style of your kitchen.
8. Pastels
Add a pop of color to your gray kitchen with soft pastel shades like pale pink, lavender, or mint green. These colors introduce a playful and whimsical element to your kitchen while maintaining an airy and light atmosphere.
Pastels can be used sparingly in accents, decor, or as a colorful backsplash to create a cheerful and inviting kitchen space.
Furnishing Tips: Create a Charming Kitchen Where Soft Grey Meets the Whimsy of Pastel Pink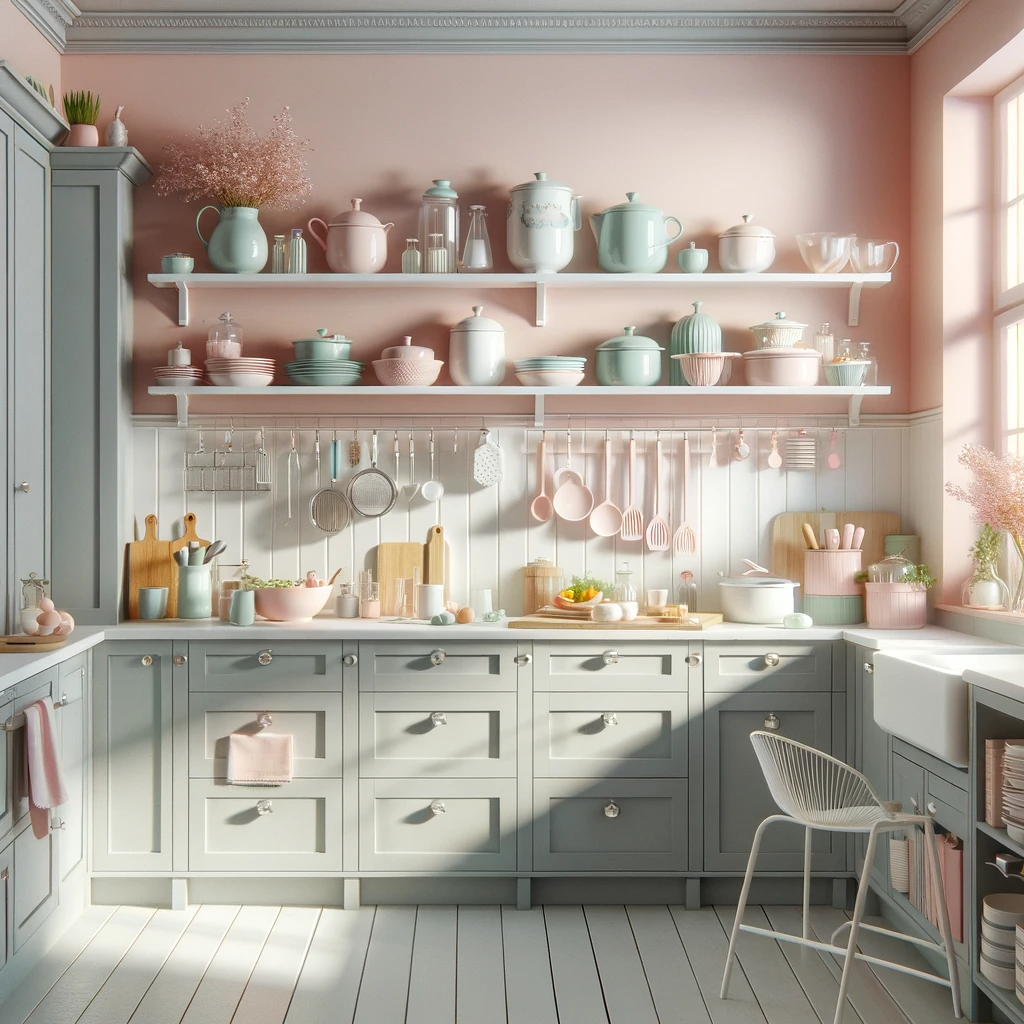 Achieving the right balance between pastel pink and grey is essential. It's often recommended to use a soft and muted shade of pastel pink to prevent the space from feeling overwhelming.
Consider a transitional style kitchen to match with the timeless grey and pink combination. Add accents in white such as accessories, stools or even a white countertop to create a balance between the pastel pink and grey tones.
7. Cream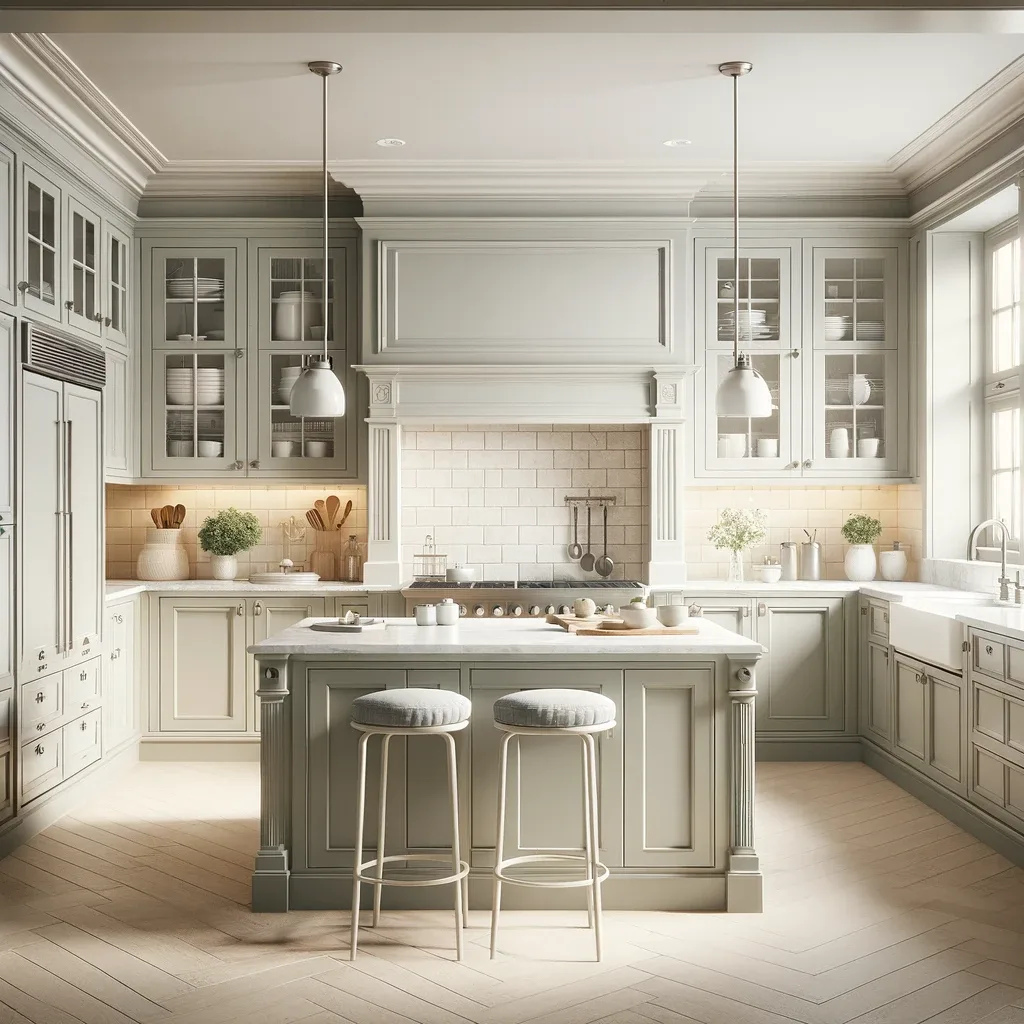 Warm neutrals, such as cream or beige create a cozy and inviting atmosphere. These neutral colors work well with both light and dark gray cabinets, adding warmth and timelessness to your kitchen.
They serve as the perfect backdrop for various decor styles and accent choices.
Furnishing Tip: Choose Smooth, Matte Grey Cabinetry, Featuring Simple, Handleless Doors that Epitomize the Minimalist Aesthetic
Choose a soft shade of grey to match the smooth finish of cream walls. You can opt for greige cabinets to create an elegant design.
Given the neutral and balanced nature of the color scheme, it's often best to keep the design clean and minimal. This can help prevent the space from feeling overly busy.
6. Coral
Coral is a lively and energetic color that can infuse your kitchen with a sense of warmth and personality. It creates an inviting and dynamic atmosphere, making the kitchen a lively focal point.
The coral and grey combination is well-suited for modern and contemporary kitchen designs. It allows for sleek materials, clean lines, and a chic and sophisticated appearance.
Furnishing Tips: Use a Dynamic Play of Colors with Two Tones of Coral on the Walls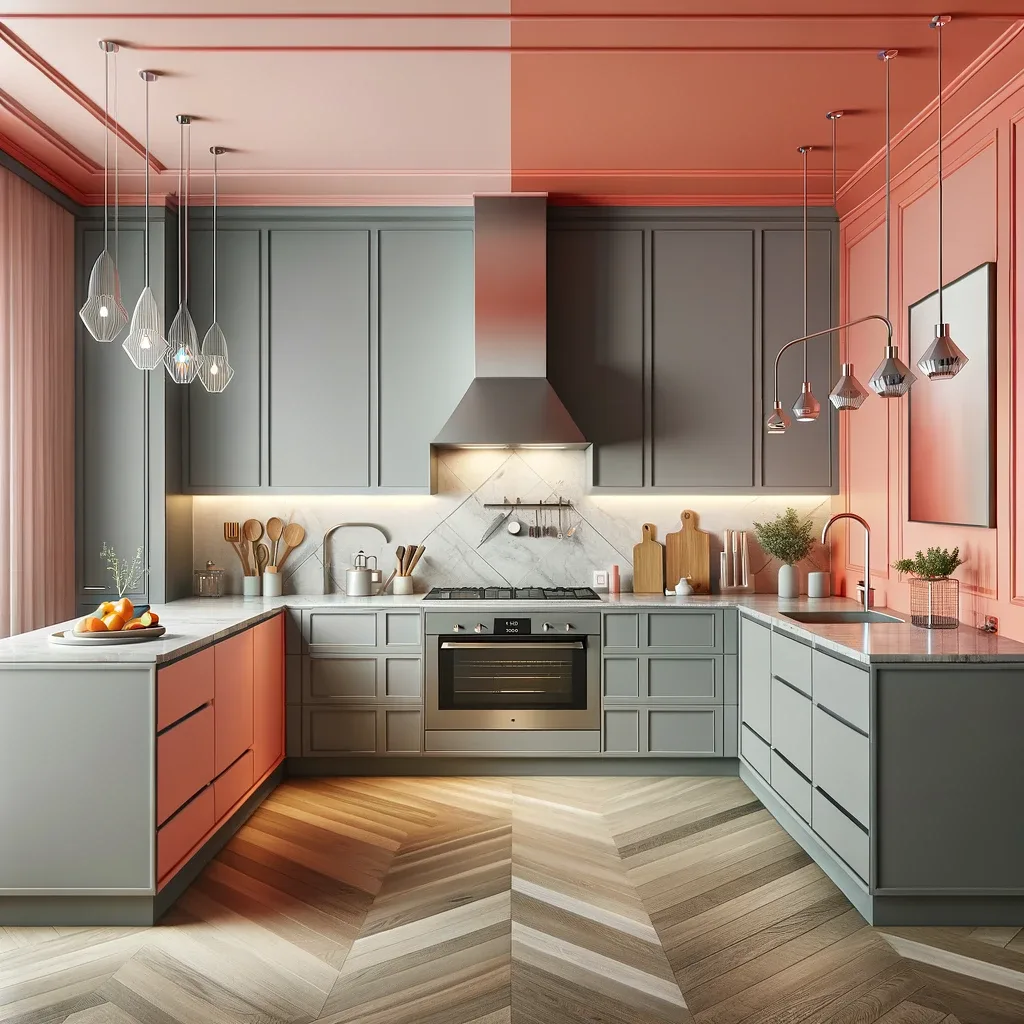 Select a coral shade that complements your style and the desired mood for your kitchen. Softer corals can create a more subtle look, while bolder corals add vibrancy. You can choose to use both by creating a horizontal or vertical break between the two.
Incorporate wooden elements in your kitchen to add warmth and texture. Wooden flooring, butcher block countertops, or wooden chairs can enhance the inviting feel and provide balance.
5. Teal
Teal and grey can be adapted to various design styles, from mid-century modern to eclectic. The neutrality of grey cabinets provides flexibility in choosing different shades of teal, from soft pastels to rich, saturated tones.
Teal walls offer opportunities to incorporate other accent colors in your kitchen decor, including accessories, dishes, and decor elements. This can add depth and visual interest to the design.
Furnishing Tips: Soften Up The Cold Tones of Grey and Teal with Natural Wood
Incorporate wooden elements in your kitchen to add warmth and texture. Wooden flooring, butcher block countertops, or wooden shelves can enhance the inviting feel and create a balanced contrast.
Given the lively nature of the teal walls, it's important to balance the design with complementary and neutral elements throughout the kitchen.
4. Yellow
Yellow and gray are complementary colors, creating a visually appealing contrast.
Soft, buttery yellows add warmth and cheerfulness to your kitchen, making it an ideal choice if you want a kitchen that radiates positivity and energy.
Yellow accents, decor, or even a yellow feature wall can be integrated to create a lively and inviting space.
Furnishing Tips: Create a Cozy Farmhouse-Style Kitchen, Where Rustic Charm Meets a Cheerful Palette
Create a farmhouse-style kitchen with a modern and eclectic twist by painting your walls a lively yellow.
Pay attention to the color of your kitchen cabinets. Light or medium grey cabinets often pair beautifully with yellow. Light grey cabinets can create a fresh and balanced look, while medium grey cabinets add depth and contrast.
3. Dusty Blue
Dusty blue hues are excellent options to pair with gray cabinets. This combination infuses your kitchen with a coastal or beachy vibe, evoking a sense of tranquility and relaxation.
The blue-gray interplay brings a touch of freshness and can make your kitchen feel like a seaside retreat.
Furnishing Tips: Create a Cohesive Look with Open Shelving with Grey Brackets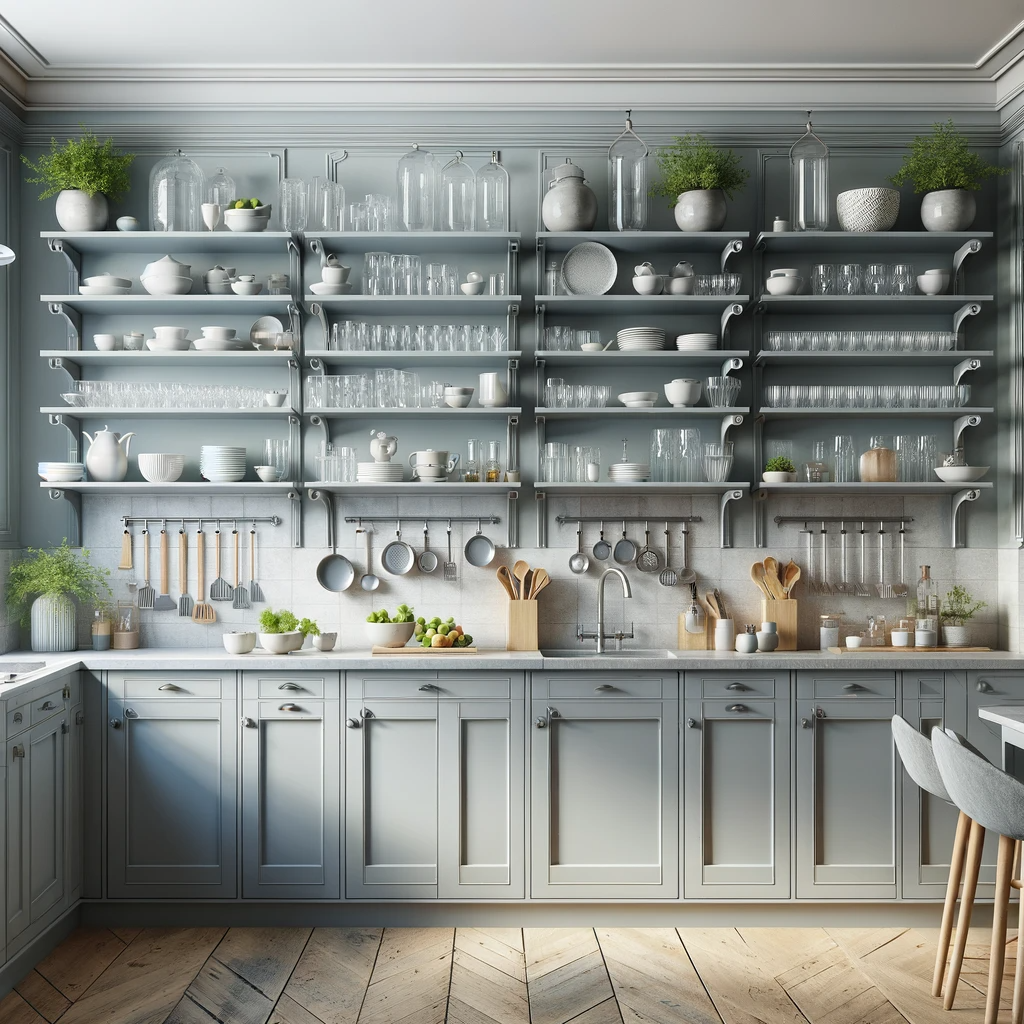 Keep a clean and elegant design for your kitchen, with minimal clutter on your countertops. Open shelves with grey brackets can break up the dusty blue wall space and provide a platform to display your favorite kitchen items.
2. Dark Grey
The combination of dark grey walls and grey cabinets is undeniably striking and makes a powerful design statement. It adds a sense of drama and elegance to your kitchen, making it a standout feature in your home.
Also, dark colors like grey and black can be forgiving when it comes to concealing smudges, fingerprints, and everyday wear and tear, which can be a practical advantage in a high-traffic area like the kitchen.
Furnishing Tips: Add a Luxurious Touch with White Carrara Marble Countertops
Paint your walls and kitchen cabinets the same shade of dark grey to create a cohesive look that is sophisticated and calming.
Leave white elements in the space such as Carrara marble countertops or even white trim to break up the overall grey color scheme.
1. White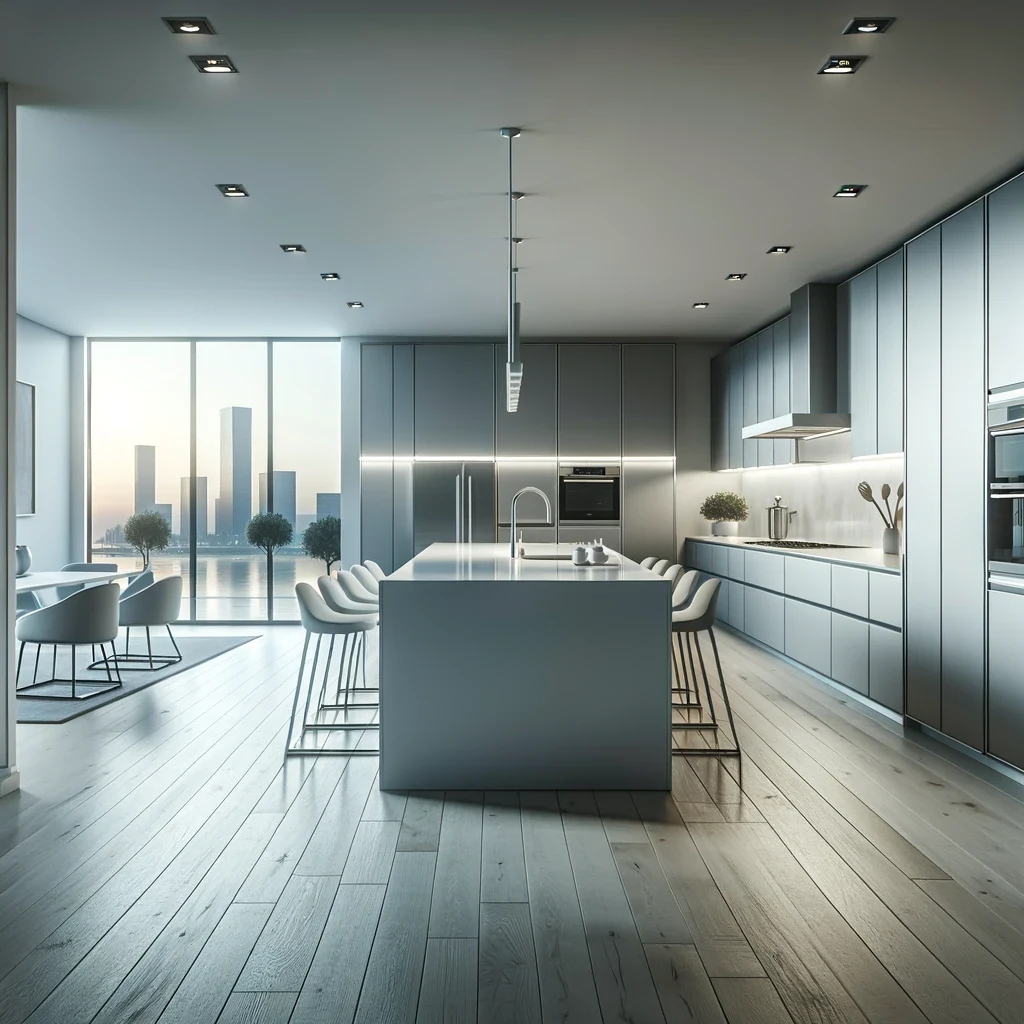 White walls with gray kitchen cabinets are a classic choice that never goes out of style. This combination creates a sense of spaciousness and airiness in your kitchen.
Whether you opt for pure white or off-white shades, this pairing provides a fresh and clean backdrop for your culinary endeavors. It also allows your gray cabinets to take center stage, showcasing their sleek and modern aesthetic.
Furnishing Tips: Display an Array of Colorful Dishes, Mugs, and Jars, Adding a Playful Touch to the Space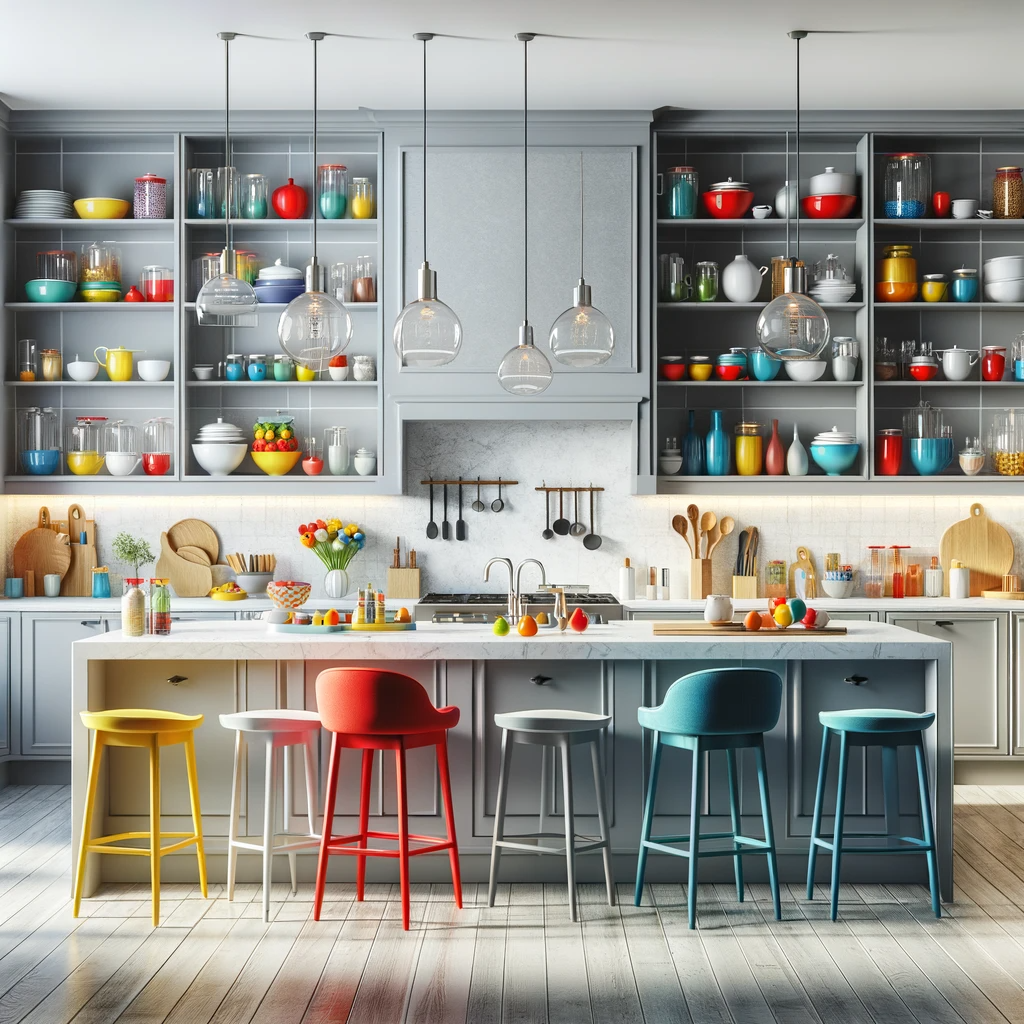 To add depth and interest to your kitchen, consider using various shades of gray. For instance, your island or lower cabinets could be a darker gray while the uppers are a lighter shade.
Since white walls are versatile, you can introduce color and style through your choice of kitchen accessories, such as dishes, cookware, or even colorful barstools.
Incorporate texture in your design to prevent it from feeling too monochromatic. You can introduce texture through a subway tile backsplash or wood textured countertops.
Read more: Best floor colors with gray kitchen cabinets