Our readers support us. This post may contain affiliate links. We earn from qualifying purchases. Learn More
Cherry kitchen cabinets are classic and elegant but can sometimes feel outdated. One quick fix for this issue, is painting the walls a new color that will refresh your entire kitchen.
The key is to strike a balance between enhancing the warmth and beauty of the cabinets while creating a harmonious and inviting environment. Whether you opt for a classic white, a deep navy, or a unique olive green, there is a perfect wall color that will elevate your kitchen to new heights.
Cherry kitchen cabinets exude warmth and elegance. To amplify their richness, consider pairing them with soft beige, muted gray, or a classic cream. For contrast, deep blues or greens can be striking. Choosing the right wall color accentuates the cabinets' natural beauty, ensuring a cohesive and inviting kitchen ambiance.
Ultimately, your choice should reflect your personal style and the atmosphere you want to create in your culinary haven.
7. Tan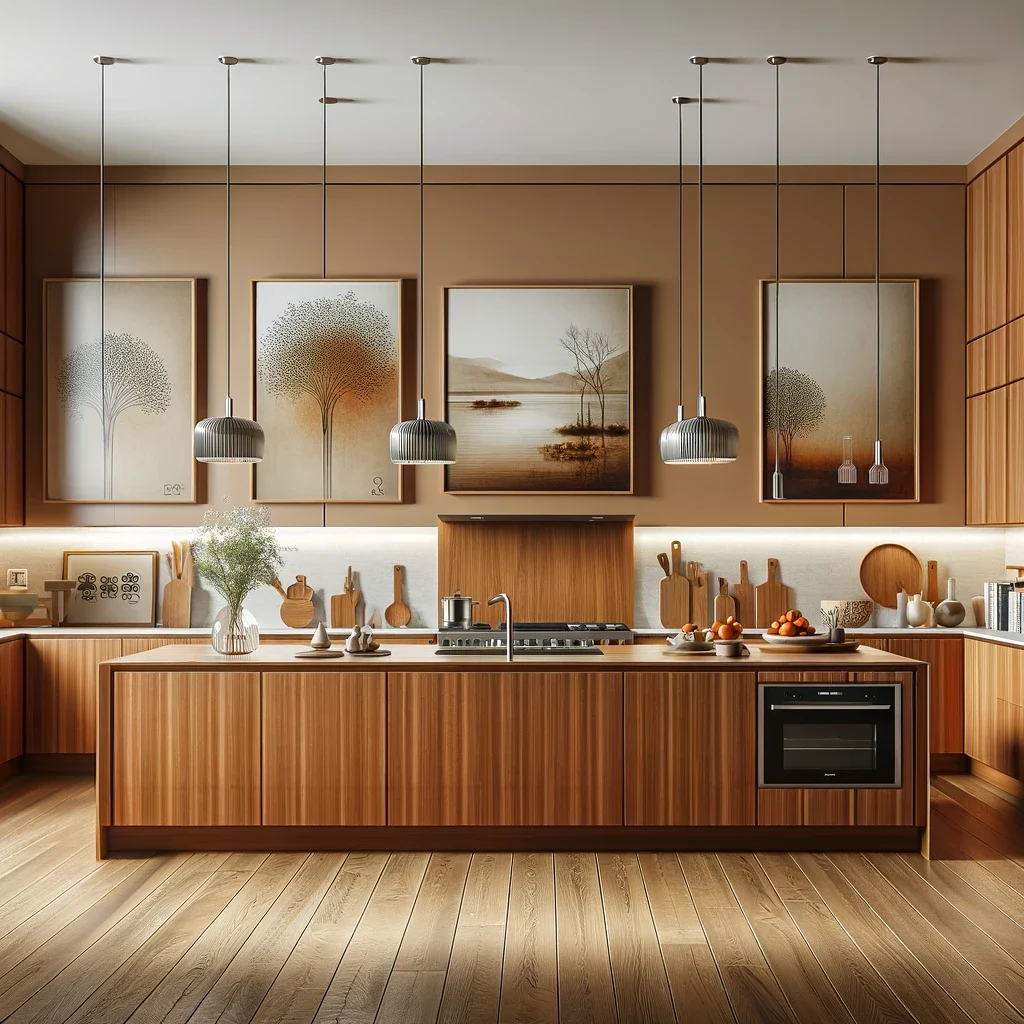 If you prefer a cheerful and warm kitchen, consider tan walls.
This color enhances the warmth of cherry cabinets while adding a touch of vibrancy to the space. It's an excellent choice for traditional and cottage-style kitchens, creating a cozy and welcoming atmosphere.
Furnishing Tips: Display Your Dishes and Kitchen Accessories on Cabinets Without Panels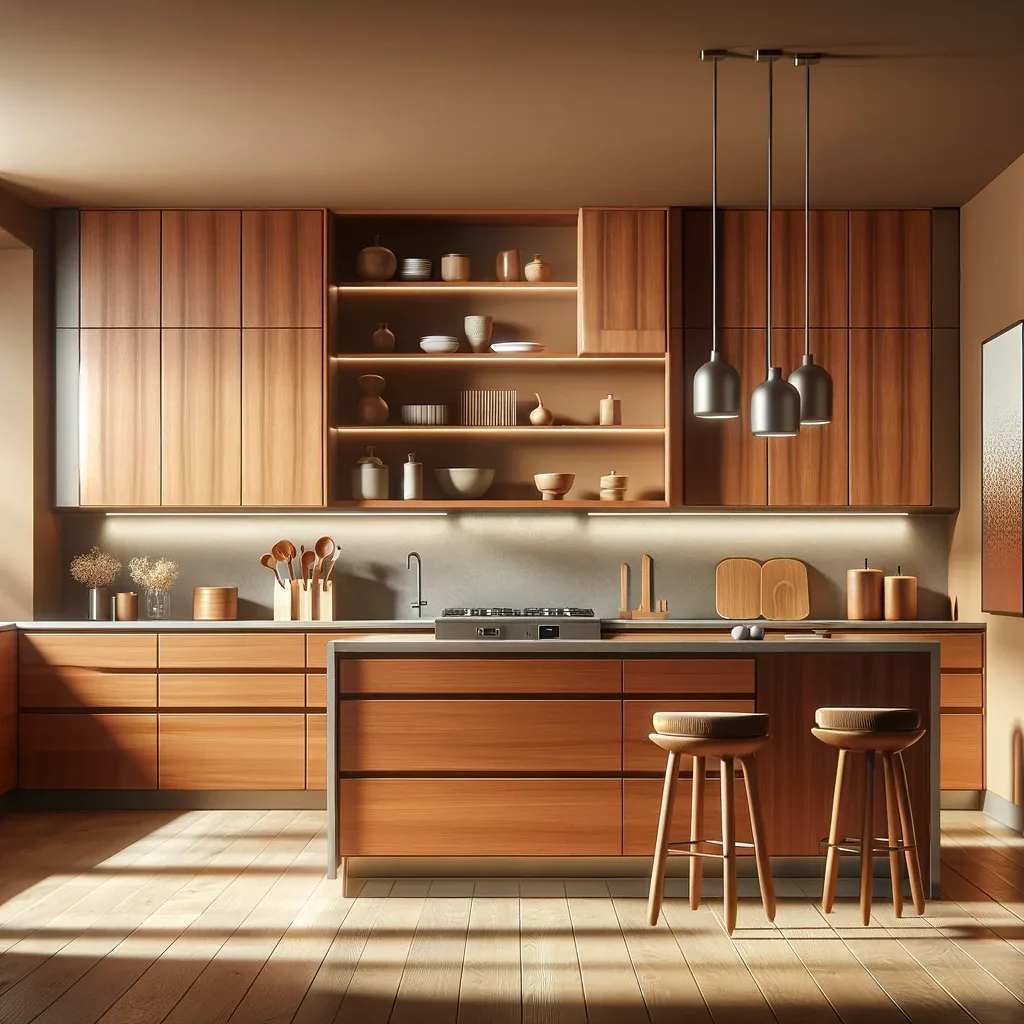 Tan comes in various shades, from light and soft to deeper and warmer tones. The choice of tan should complement the cherry wood. Light tans can create a fresh and open feel, while deeper tans add coziness and depth.
Select countertops that work well with both the tan walls and cherry wood. Lighter granite, quartz, or marble countertops can create a balanced look, while darker countertops can add contrast and depth.
If possible, consider adding glass doors to some of your upper cabinets or leave them without panels. This not only allows you to display decorative kitchen items but also breaks up the solid cherry cabinet fronts. It can create an open, airy look in the kitchen.
6. Blue
Blue is a deep, dramatic color that pairs exceptionally well with cherry cabinets. The contrast between the blue walls and the warm wood cabinets creates a luxurious and inviting ambiance.
This combination is perfect for those who want a bold and contemporary look in their kitchen.
Furnishing Tips: Choose Between Brushed Nickel, Antique Brass, or Oil-Rubbed Bronze Hardware
The choice of hardware for your cherry wood cabinets can play a significant role in the design. Consider brushed nickel, antique brass, or oil-rubbed bronze hardware that complements both the blue walls and the cherry wood while adding a touch of warmth.
Stainless steel appliances can provide a modern contrast to the traditional warmth of cherry wood and blue walls. They also reflect light and add a sleek touch to the kitchen.
Ensure there's a balance between the blue walls, cherry wood, and other elements.
5. Cream
Cream is a neutral color that complements cherry cabinets without overpowering them.
A warm beige or cream can create a sense of harmony and balance in your kitchen. This color is perfect for those who want a classic, understated look that radiates comfort and sophistication.
Furnishing Tips: Adorn the Walls with Artwork to Make the Kitchen More Inspiring
Consider hanging artwork or decorative wall pieces to personalize the space. Select pieces that coordinate with the color palette and reflect your personal style.
4. Sage Green
For a more unique and earthy feel, consider sage green. This warm, muted green complements the reddish-brown tones of cherry wood beautifully.
The combination of cherry cabinets and sage green walls brings a sense of coziness and a connection to nature, making it an ideal choice for a rustic or traditional kitchen.
Furnishing Tips: Intensify the Green Theme with Pots and Plants on the Countertops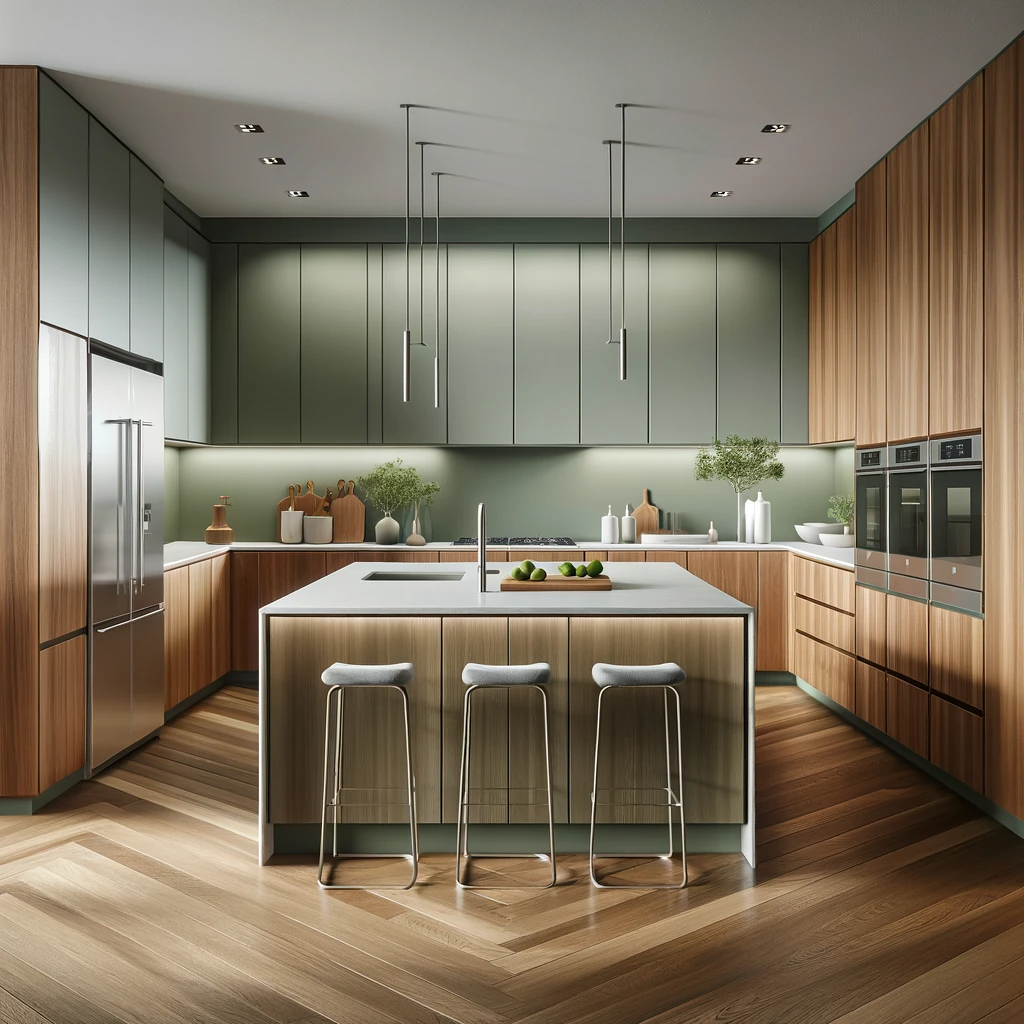 A colorful or patterned rug or runner can add texture and personality to the space while tying together the color scheme.
Incorporate indoor plants or fresh herbs in decorative pots to add life and a touch of nature to the kitchen. The green color works harmoniously with sage green walls and cherry, providing a natural and inviting feel.
3. Beige
Beige walls can create a calming and inviting atmosphere in your kitchen.
This color works particularly well in kitchens with cherry cabinets, as it balances the warmth of the wood with a refreshing and peaceful backdrop.
It's an excellent choice for a coastal or country-style kitchen.
Furnishing Tips: Add a Touch of Luxury with Brass Accents
Consider the natural lighting in your kitchen and the color of your cherry cabinets when choosing the shade of beige. Lighter beige tones can make the space feel more open, while darker beiges can add coziness.
The hardware on your cherry cabinets can make a difference in the overall design. Consider oil-rubbed bronze or antique brass handles and knobs to add a touch of warmth and elegance to the cabinetry.
Add pops of color through decor items, such as colorful kitchen utensils, artwork, or decorative objects. These accents can break up the neutral palette and create a visually stimulating kitchen.
2. Grey
Gray is a versatile and trendy choice for kitchen walls. When paired with cherry cabinets, a soft, warm gray can create a striking contrast.
The subtle sophistication of gray provides a calming backdrop that allows the cherry cabinets to take center stage. This combination is perfect for a contemporary or transitional kitchen.
Furnishing Tips: Accentuate the Beauty of Grey Through Polished Concrete Countertops and Backsplash
Consider the tone of your cherry cabinets; if they are dark, lighter shades of grey can provide a pleasing contrast, while with lighter cherry cabinets, you can opt for a darker grey to create a cozy atmosphere.
The backsplash is an excellent place to introduce texture and pattern. Consider subway tiles, mosaic patterns, a geometric design or a concrete backsplash that continues onto the countertop as well.
Stick to a color that complements both the grey and cherry, tying the two together. Make sure there's a balance between the grey walls, cherry cabinets, and other elements. Avoid overwhelming the space with too much grey or too many dark elements.
1. White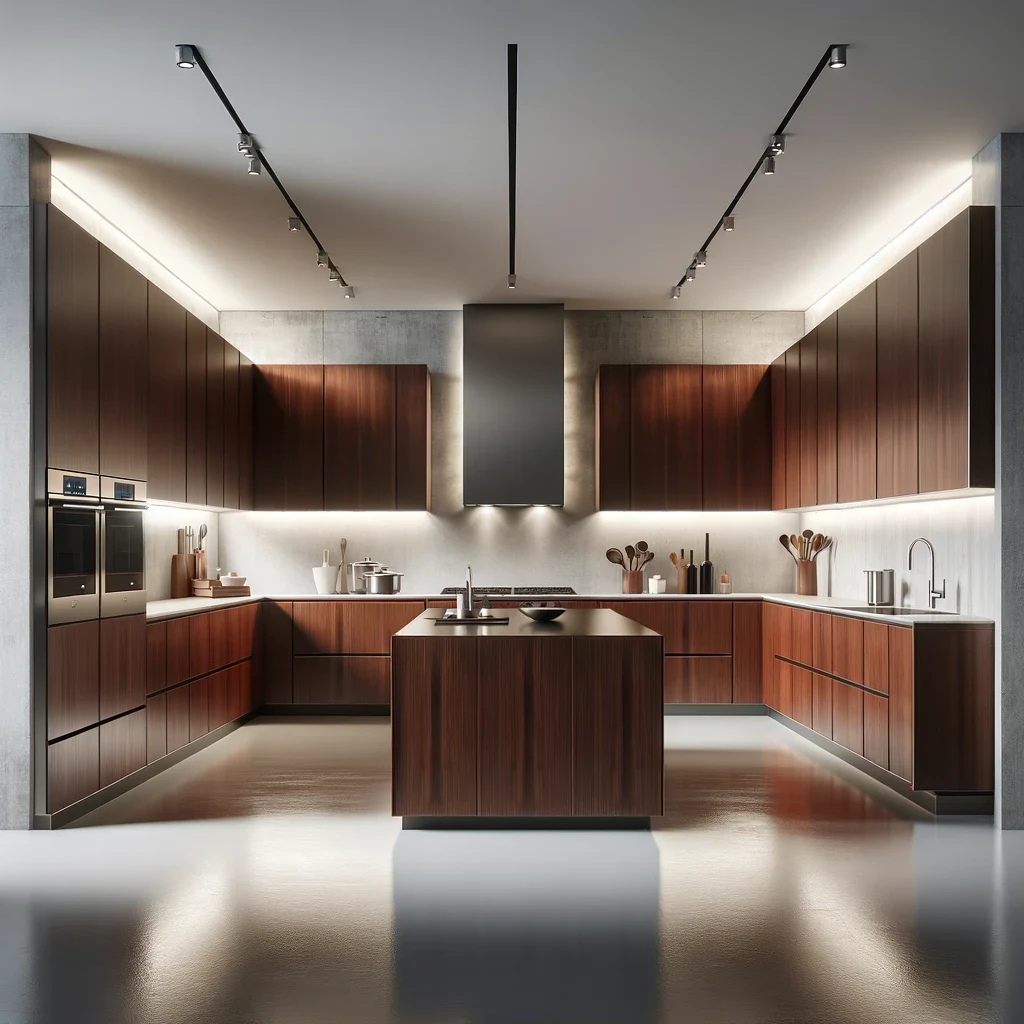 White is a classic choice that will never go out of style. When used alongside cherry kitchen cabinets, it creates a timeless and elegant look.
White walls brighten the space, making it feel open and airy. The contrast between the white walls and the rich cherry cabinets is visually pleasing and creates a clean and inviting atmosphere.
Furnishing Tips: Create a Calm Setting with Crips White Quartz Countertops
Use countertops that create a pleasing contrast with both the white walls and cherry cabinets. Light granite, quartz, or marble countertops can work well, offering a bright and clean surface that complements the white walls while contrasting with the richness of the cherry wood.
Enhance the kitchen's decor with decorative accessories. Think about adding decorative jars, vases, or colorful kitchenware that ties in with the color scheme.
Pick rustic hardware to give your kitchen a vintage look that is warm and inviting.