Our readers support us. This post may contain affiliate links. We earn from qualifying purchases. Learn More
When it comes to interior design, the color palette plays a pivotal role in setting the mood and ambiance of a room.
Black bedroom furniture, with its timeless elegance and versatility, can be a bold and dramatic choice for any bedroom.
However, selecting the right wall colors to complement and enhance the beauty of your black furniture is crucial.
Whether you're aiming for a cozy retreat, a modern haven, or a glamorous sanctuary, here's a guide to help you choose the best wall colors for your black bedroom furniture.
12. Burgundy
Designing a bedroom that exudes warmth, sophistication, and a touch of opulence can be achieved through the combination of burgundy walls and black bedroom furniture.
This rich and dramatic pairing can create a visually striking space that embraces both modern elegance and cozy comfort.
Furnishing Tips
When working with such bold colors, balance is key. While burgundy and black create a strong contrast, it's important to ensure that the overall ambiance remains inviting and harmonious.
Consider using a slightly lighter shade of burgundy to prevent the walls from overpowering the room. This will help create a cozier atmosphere while still maintaining the dramatic effect.
Dark colors can sometimes make a room feel smaller or cozier than desired. To counteract this effect, ensure that you have ample lighting in the room.
Opt for a combination of ambient, task, and accent lighting to illuminate the space. Mirrors can also be strategically placed to reflect light and make the room feel more open.
11. Dusty Pink
Combining dusty pink with sleek black bedroom furniture is a captivating way to infuse your space with a blend of romance, sophistication, and modern style.
Selecting the appropriate shade of dusty pink is essential. Opt for muted, slightly subdued tones rather than overly vibrant ones.
Dusty pink shades that lean towards more earthy or vintage undertones will create a refined and elegant look.
Furnishing Tips
Achieving balance is crucial in any design. To prevent the room from feeling too heavy, use the 60-30-10 rule for color distribution.
The primary color should cover around 60% of the room, while the secondary color (black furniture) occupies 30%, leaving the remaining 10% for accent colors and decorative elements.
10. Soft Pink
The combination of soft pink walls and black bedroom furniture offers a perfect blend of delicate charm and bold sophistication.
This pairing allows you to create a bedroom that is both inviting and stylish, balancing the warmth of the pink with the sleekness of the black.
Opt for a soft and muted shade of pink that evokes a sense of tranquility and elegance. A pale blush or dusty rose can create a soothing backdrop that complements the boldness of the black furniture.
Furnishing Tips
Keep your floors a simple grey to complement both colors in the bedroom.
Consider adopting a minimalist design approach to keep the room feeling clean and uncluttered.
Let the pink walls and black furniture be the main focus, and use minimal decor to maintain a serene and organized ambiance.
9. Light Honey
The pairing of light honey walls with black bedroom furniture offers a striking combination of warmth and contrast that can transform your bedroom into a cozy and visually appealing haven.
Opt for a light honey or warm beige shade that imparts a welcoming and soothing atmosphere.
Furnishing Tips
Complement the room with plenty of white to create a timeless look. You can pick a large white area rug, soft window curtains, or white bedding to keep the entire space looking clean and crisp.
Do not add too much wall art in order not to overwhelm the room, especially if you have many pieces of furniture in it.
8. Black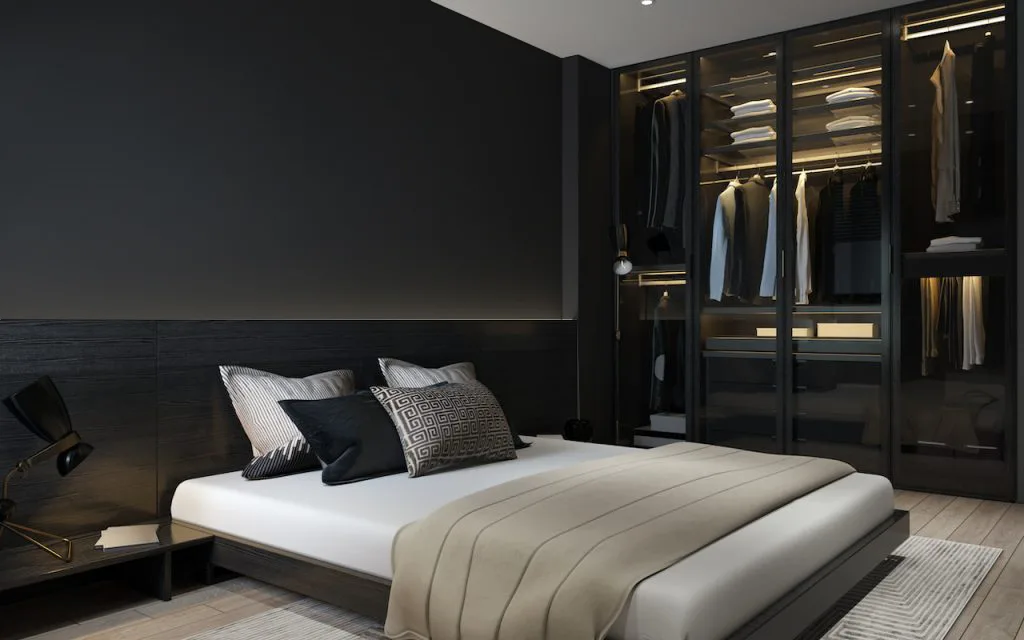 Creating a bedroom with black walls and black furniture offers a bold and dramatic design statement that exudes sophistication and modernity.
While this combination may seem daring, with the right approach, you can achieve a stunning and visually captivating space.
Furnishing Tips
The key to making this monochromatic design work is to play with texture. Introduce a variety of textures to break up the visual monotony and add depth to the space.
To add an element of glamour and contrast, introduce metallic accents in gold, silver, or brass. Metallic tones will reflect light and create a luxurious touch.
7. Dark Green
Combining dark green walls with black bedroom furniture can create a captivating and luxurious space that blends natural tranquility with modern elegance.
The deep, rich tones of both colors offer a sense of sophistication and comfort.
Forest green, emerald green, or even deep teal can bring a sense of lushness and depth to the room. These shades will set the tone for the entire space.
Furnishing Tips
Create a sophisticated look with a large Oriental area rug in earthy tones that can balance out the dark green and black color scheme.
Add natural elements in wood or rattan to soften up the look of the bedroom.
6. Light Blue
Combining light blue walls with black bedroom furniture offers a harmonious blend of serenity and contrast.
The soft, soothing hue of light blue creates a calming atmosphere, while the boldness of black furniture adds a touch of sophistication and modernity.
Soft pastel blues or tranquil sky blues can evoke a sense of calm and tranquility. Consider the undertones of the blue to ensure it complements the black furniture.
Furnishing Tips
Incorporate subtle patterns in textiles like bedding, throw pillows or curtains. Gentle patterns can add visual interest without overpowering the serene color scheme.
Keep a white trim in your bedroom to create a coastal vibe despite the black furniture. You can accentuate this vibe by using white elements such as curtains or rugs in the bedroom.
5. Seafoam
Combining seafoam walls with black bedroom furniture offers a beautiful juxtaposition of soothing tranquility and bold sophistication.
The soft and serene seafoam color creates a calming atmosphere, while the contrast of black furniture adds a touch of drama and modernity.
Seafoam with subtle blue or green undertones can bring a sense of freshness and tranquility to the space.
Furnishing Tips
Create a shabby chic look with this combination by adding elements such as bedside tables or pillows in the same style.
Utilize layered lighting to create a warm and inviting atmosphere. Table lamps, pendant lights, and wall sconces can all contribute to a balanced lighting scheme.
4. Beige
Combining beige walls with black bedroom furniture offers a classic and timeless design that balances warmth and contrast.
Select a shade of beige that complements the ambiance you want to create.
Warm beiges with subtle undertones of yellow or tan can add coziness to the space.
Furnishing Tips
Integrate neutral and earthy tones in decor elements to maintain a cohesive and calming atmosphere. Soft grays, creams, and natural wood tones can enhance the warm and inviting feel of the room.
Add personal touches through meaningful decor items, photographs, or items that reflect your personality.
These personalized elements will make the space uniquely yours and create a sense of intimacy.
3. Charcoal
Charcoal walls with black furniture create a sophisticated and bold design that emanates modern elegance.
The deep, dark tones of both charcoal and black offer a sense of drama and contrast that can transform your bedroom into a stylish and inviting sanctuary.
Here are some design tips to help you master the art of working with charcoal walls and black furniture:
Furnishing Tips
Select a charcoal shade that strikes the right balance between depth and richness. Test different shades to find one that complements the black furniture while creating a cozy atmosphere.
Choose wall art and decor that aligns with the color palette and enhances the ambiance. Artwork with shades of charcoal, black, and complementary colors can tie the design together and add visual interest.
2. Orange
Combining orange walls with black bedroom furniture offers a vibrant and energetic design that's both bold and visually engaging.
The striking contrast between the warm and lively orange and the sleek black creates a dynamic and exciting atmosphere.
Choose an orange shade that suits the mood you want to create. Rich and warm oranges like burnt orange or terracotta can create a cozy and inviting ambiance, while brighter oranges can add a playful and energetic vibe.
Furnishing Tips
Paint your walls in two different shades of orange to create a more interesting bedroom design with black furniture.
Incorporate neutral tones like white, gray, or beige as accents to balance the boldness of the orange and black.
1. White
The combination of white walls and black bedroom furniture offers a timeless and elegant design that blends contrast with sophistication.
The clean and neutral canvas of white walls allows the boldness of black furniture to shine, creating a visually striking and harmonious space.
Choose a crisp and pure shade of white for the walls to create a clean and fresh backdrop. The white walls will not only make the room feel spacious but also allow the black furniture to stand out.
Furnishing Tips
Introduce a variety of textures to add depth and tactile interest to the space. Mixing textures can create a dynamic and visually appealing environment.
Consider using materials like plush bedding, soft area rugs, and textured decor items.