This post may contain affiliate links, we may receive a commission if you make a purchase using these links. As an Amazon Associate I earn from qualifying purchases.
Living rooms are great spaces where you can let your creativity run wild and make the room really yours. You can add your character, your identity, your scent, your taste, by mixing and matching a variety of soft elements and be intentional about creating a stylish multilayered interior decor.
This is why interior designers turn to pillows, cushions, curtains, blankets, and last but not least, throw rugs to make their living rooms come to life. By tastefully combining these elements, you can turn your living room from a cozy space to an elegant and relaxing lounge.
People get quite confused with the term throw rugs. Some think it's the same as throw blankets while others believe it's another term for area rugs. The truth is a throw rug is a soft piece of textile that can serve as both a blanket and a rug. It truly depends on where it is placed and how it is used.
While you use a blanket to cover yourself for extra warmth, a throw rug is normally used to cover areas on the floor or furniture. These throws are sturdier and easier to remain in place without slipping like a lightweight thin blanket.
The proper definition of a throw rug is a versatile piece of rug, easy to move around. Its main features include a light weight (compared to other rugs) and relatively small size (although larger versions are also available).
If you are still confused, there is nothing to worry about. Interior design is fluid after all.
Why Use Throw Rugs in the Living Room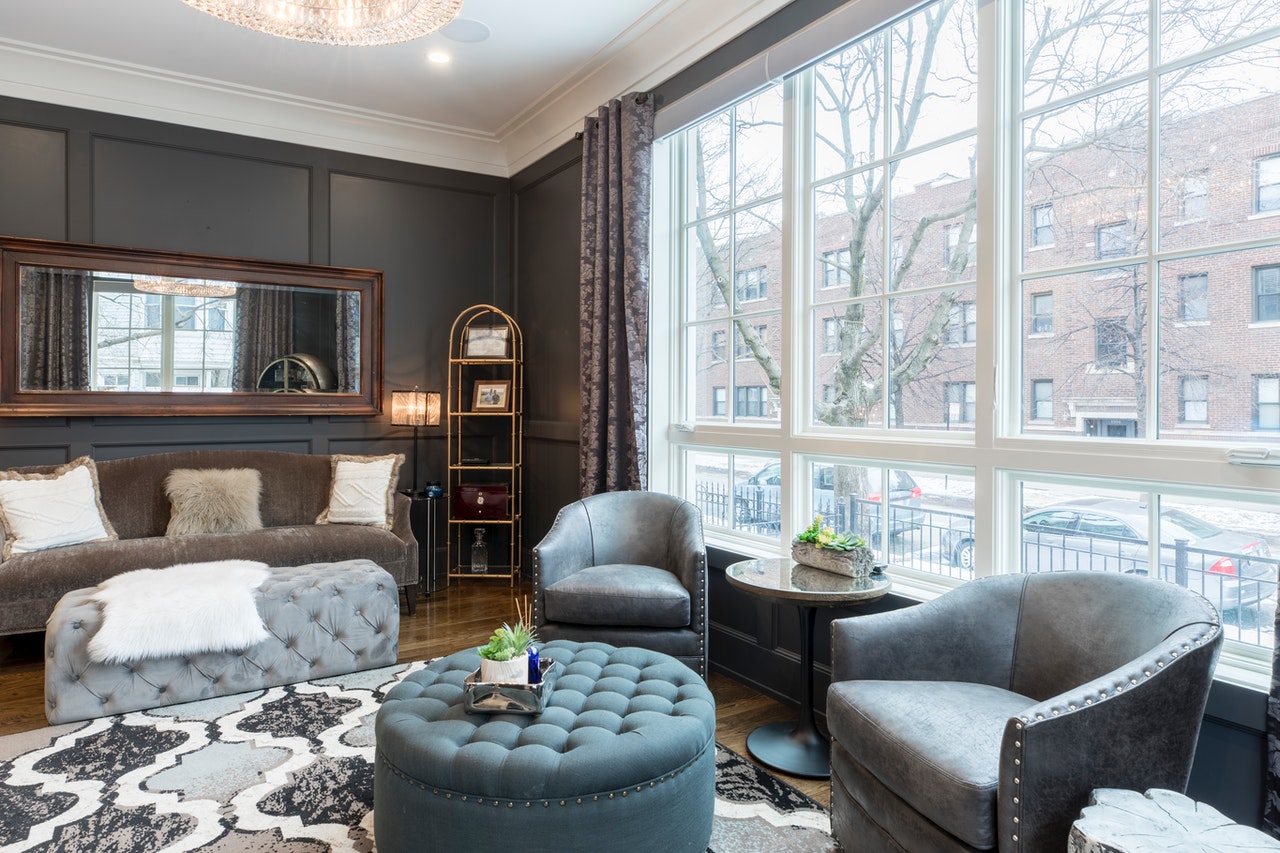 There are three main reasons why you should use throw rugs in the living room.
Design
Throw rugs add interesting design elements to your living room's palette. By matching various throw rugs along the couches, or layering them on the area rug, you can enrich your lounge with textures and patterns.
You can also match scattered throw rugs near the fireplace or side tables with the area rug to make the room seem lived in. This is a great strategy for Airbnb hosts or stagers wanting to show the potential of the room by selling an immersive experience besides the stylish look.
Comfort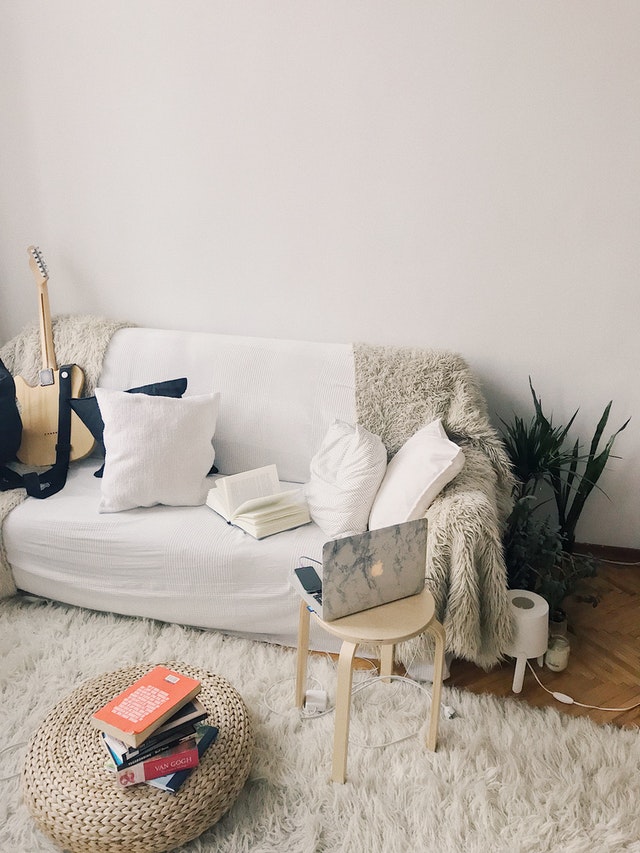 Another reason to use throw rugs is to add another layer of comfort to your living room furniture pieces. One good trick is to place a throw rug on a rectangular coffee table and immediately transform it into an ottoman that you can place your feet on.
You can also use throw rugs to sit on the ground and provide a nice seating pad for when you have people over. They work perfectly next to fireplaces or bay windows.
Another use for lounge throw rugs is to place them in wooden benches or chairs and make their surface softer. They are easy to move around and way more stylish than seating pads.
Protection
Throw rugs are small pieces that can be used to cover your sofa and protect its fabric in the spots you use the most. These rugs remain tucked into place and cover just enough to be stylish, without overshadowing the original look of the couch.
Throw rugs are smaller than blankets and harder to slip and fall off the sofa. These rugs are also easy to wash and dry, which is why they're great to protect furniture surfaces, whether couches, ottomans, benches, and chairs.
Top 7 Living Room Throw Rug Ideas
One of the best ways to get inspiration, is the internet. So here are some great ideas on how to use throw rugs in the living room and create a unique style.
Follow our Pinterest account and boards for more cool interior design inspiration and tips.
The Chair Throw Rug
|
Wooden chairs are certainly beautiful, but not very comfortable. Putting a nice fluffy throw rug on such chairs is a great idea on how to instantly turn them into proper armchairs you can comfortably sit in the living room.
So if you have a rustic interior or a tight space, you can simply decorate it with a few sleek framed chairs, whether in wood or steel, and cover them with throw rugs. Keep the rugs looking scattered and carefree for a more realistic and captivating look. You will notice that your living room will instantly look warmer and more detailed.
The Fireplace Throw Rug
|
Having a fireplace in your living room is a great asset. You can cozy up to the fire with a nice cup of tea during those cold snowy days and use it as the most romantic spot in the house.
To do so, use a small throw rug, preferably hearth (so that it does not burn from its proximity to the fire), and place it right next to your fireplace as a sitting pad. Add some cushions to create a proper 'Instagramable' setting.
Faux leather or faux sheepskin rugs are great to create the alluring cabin decor. The best thing about these rugs is that you can easily pick them up and place them somewhere else in the living room when you are not sitting by the fire.
You can move them to a chair or a coffee table, or just layer them on the area rug to create a multilayered design. This way, you will be constantly changing the look of your lounge and never get bored in your own living room.
The Bay Window Throw Rug
|
Bay windows are great spots in your living room where you can just sit and unwind, meditate or read a book by enjoying great light quality. They do however get cold, especially if the seating area is not a warm fabric. This is why a small throw rug can become your best friend in this space.
Apart from the undeniable beautiful design feature, this rug will also provide a soft and warm layer for you to sit on. Wool throw rugs are the best option in this case. These rugs work well with both traditional to modern bay windows, creating a setting worthy of a magazine cover.
The Rustic Couch with Throw Rugs
|
Throw rugs are great in creating that rustic Scandinavian look, especially when you have an unconventional couch in your house. They are perfect for Airbnb cabins trying to establish a 'remote cabin' character, or a ski resort lounge area.
You can add multiple fluffy throw rugs on your long couch and combine them with pillows, cushions, and blankets. This will create a cozy and carefree look. This is a great strategy if you have a lot of people over at your place or a house full of kids.
Throw rugs are easy to move around and wash when they get dirty. They are great for areas with high traffic as they protect your sofa from spills or tears. This is also why they're perfect for Airbnb living rooms, as you can wash them frequently after your guests have left the house and provide great customer service at all times.
The Multilayered Living Room with Throw Rugs
|
If you like layers upon layers in your living room, then throw rugs are going to become your new best friend. Yes, you can certainly layer a couple of rugs on the floor to create more depth and make it look more interesting. But do not stop there!
Take this strategy to your sofas or benches. You can create a whole multilayered concept and make your living room special with throw rugs.
The best thing about using throw rugs is that they allow you to be creative and flexible. You can change the look and follow different themes throughout the year to make your living room more unique. Just move the throw rugs to different locations or switch them up completely to make your living room look fresh and new every so often.
The Elegant Boho/Scandinavian Living Room with Throw Rugs
|
Throw rugs can get messy, but messy is not always a bad feature in a living room. You can be intentionally messy to create a comfortable living room with a hint of Bohemian and Scandinavian style in it.
Mix and match multiple throw rugs, blankets, and cushions to turn your living room into a proper canvas that shows your artistic spirit. In this case, messy is synonymous with cozy.
The protective Throw Rug
|
You have probably seen this 'move' being made quite often. Placing a throw rug or blanket over a white or beige sofa to protect the spot where your feet are more often resting will protect the fabric from getting stained or dirty.
Throw rugs work better than blankets in this case. This is because they are smaller and heavier so they're easier to remain in the allocated place. Also, they make the couch look much nicer.
Top 7 Living Room Throw Rugs of 2021
Here is our list of favorite living room throw rugs of 2021.
The Blue Throw Rug
Handmade rugs are always in style. What makes the Blue Shaded Striped Kilim Fringe Area Rug a top choice for 2021 is its refreshing blue color and the coastal feel. This vacation look is just what any home needs.
This 100% cotton rug is soft and easy to fold. You can layer it over carpet or a larger and thicker area rug. You can also use it to cover your couch during summer or carelessly throw it at the edge of an L-shaped sofa for extra style.
The White Throw Rug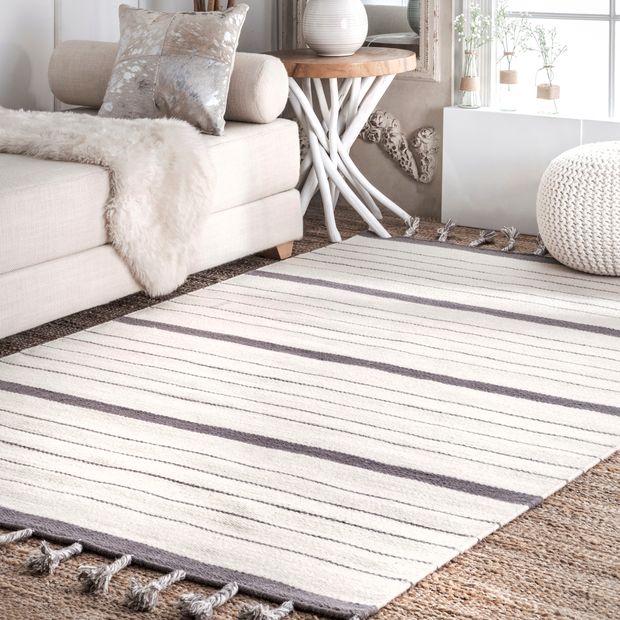 The Gray Pinstriped Flatweave With Tassels Area Rug is great in living rooms with a pale color palette. It goes perfectly on wooden long benches or bay windows.
Its material combination (mostly wool) also allows this rug to be soft and warm to sit on. So you can just throw it on the floor for extra sitting when you have people over. Then, just fold it inside a cupboard when it is not needed.
The Fluffy Throw Rug
The Ivory Soft Solid Faux Sheepskin 2′ x 6′ Area Rug is an all time favourite when it comes to throw rugs. Think of it as a luxurious scarf for sofas, that makes the entire living room outfit seem perfectly accessorised.
This rug has the ideal shape to go over the couch. Alternatively, you can throw it on a daybed in the living room in a fancy way. It's fluffy texture can make the room look elegant and modern, but in a soft and warm way.
The Large Throw Rug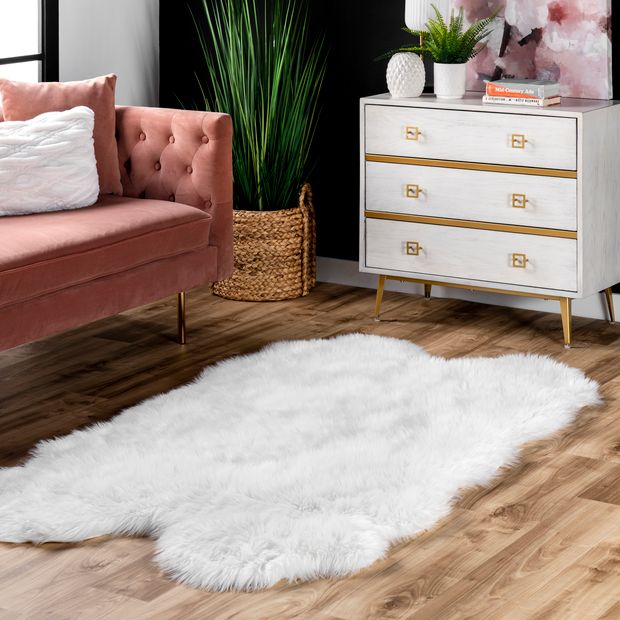 The White Faux Sheepskin Quarto Shag 3′ 6″ x 6′ Area Rug is a large throw rug. It's particular size makes it so that it can work as folded as well as fully open. You can place it on an area rug or close to the fireplace. You can also throw it over a couch, or along a bay window. Let it drip over the edge to create a link between the sitting area and the floor.
The Cabin Throw Rug
Faux cowhides are great pieces to throw around the living room to give it the famous luxurious Scandinavian edge. The Gray Spotted Faux Cowhide Area Rug is a great throw rug due to its size and color. It's unique texture and shape will definitely make your living room more interesting, while giving it a modern cabin vibe.
The Dark Throw Rug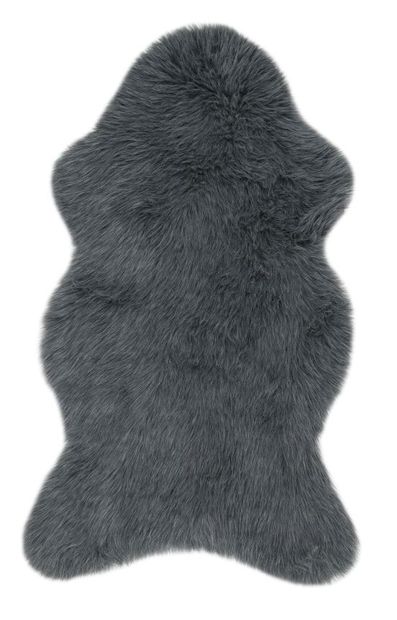 Poly-acrylic fur is a comfortable and soft material for a throw rug. The Graphite HGY01 2′ 6″ x 4′ 2″ Area Rug is a small piece of textile. As such, you can match it with any living room decor. So if you want to create a bit more depth in the design of your home, this is a great piece to start with.
The Braided Throw Rug
Wool and cotton braided rugs are soft, warm, lightweight and beautiful. This is just the perfect combination for a throw rug. You can match the Gray Fragmented Stripes Braided Tassel Area Rug with leather sofas to make their surface smoother.