Our readers support us. This post may contain affiliate links. We earn from qualifying purchases. Learn More
Do you feel like your kitchen looks dull and uninspiring? Do you want to change the atmosphere in your kitchen without spending a fortune? Then you are definitely in the right place. Welcome to our 'throw rugs for kitchens' guide, inclusive of fun and cool designs, as well as inspiring samples.
A throw rug is a versatile piece of textile that you can place within the small aisles between kitchen cabinets and lighten up the atmosphere.
These rugs are flexible and lightweight and do wonders in your kitchen because they not only soak up any water spills (which, to be honest, are very common in this room) but also provide a warm layer under your feet – a much-needed comfort when you cook or do the dishes.
The best feature of throw rugs however is their size. These rugs are smaller than area rugs which means you can place several of them within a room and create different levels of details on your kitchen floors.
Small rugs are perfect for kitchens because they allow you to soften up the rough character of kitchen cabinets and tiles. Meanwhile, you can get artistic by mixing and matching a few of them in different spots such as in front of the sink, the dining table, a bay window, or a kitchen island.
In this guide, we will introduce you to our favorite picks for small kitchen throw rugs and how to combine them with other items to really make your kitchen come to life.
Why Use Throw Rugs in the Kitchen
There are many rug choices for your kitchen but throw rugs are definitely some of the best, if not the best option. And here is why:
Kitchen throw rugs are washable and most times you can even put them in the laundry machine and dry them at home. This is perfect because kitchen rugs do get many stains.
These rugs are small enough to be placed within kitchen aisles.
Kitchen throw rugs are colorful and attractive and can be matched with one another to create a multilayered design and make your kitchen more interesting as well as beautiful. In addition, they make the kitchen seem warmer and more exciting, thus allowing you to be in a better mood when you are in that room.
Cotton throw rugs in the kitchen can soak up water and prevent you from slipping (provided they have a rubber backing).
Kitchens experience a lot of foot traffic and throw rugs can protect your kitchen floors from getting scratched or stained by oil spills and other condiments.
Throw rugs can also provide a nice soft landing for any dishes dropping on the floor, and maybe even save them from breaking.
You can move throw rugs around and place them right on the spot you are standing and cooking. An added level of comfort will make you feel better and enjoy the entire experience more.
Basic Things to Remember When Using Small Kitchen Throw Rugs
Before enjoying your new kitchen throw rugs make sure to keep in mind a few things in order to be safe:
Always use a rubber backing for your throw rugs to prevent them from slipping.
Get a durable and high-quality material that can soak up spills and offer a soft landing for your feet, preferably stain-resistant and waterproof.
Match your throw rugs to the floors and the cabinets of the kitchen.
Consider the style of your kitchen before picking the design of your throw rugs.
Keep them away from wood-burning stoves.
Make sure to let them dry thoroughly when wet, before placing them on the floors again. This will avoid mold built-up.
Top 7 Kitchen Throw Rug Ideas
Without further ado, this is our list of favorite kitchen throw rug ideas to inspire you in your own design project.
Scattered Cotton Throw Rugs
|
Having multiple smaller throw rugs makes it easier to decorate a kitchen. For example, you can place a few runners between the kitchen aisles. There are two ways to go with this strategy: use the same design scattered around the floor or match different patterns and textures on several throw rugs.
While the latter feels a bit intimidating, using the same design and color throughout the kitchen is something that definitely works. It creates a nice balance to the kitchen decor and helps tone down the unavoidable messiness of this room.
Red Throw Rugs for Your Kitchen
|
Red throw rugs and especially the ones with an oriental design or kilim style, are very popular. These are bold and versatile lightweight pieces of textile that add charm and intensity to the room.
This is also why red kitchen throw rugs are quite popular. You can use these rugs to add color to the kitchen and make it more impactful. Red oriental rugs work well with both white and dark kitchens. Within a white kitchen they manage to create a vivid contrast. When placed in a kitchen with dark cabinets however, red throw rugs can inject passion and character to the room, making your dishes taste even more amazing.
Round Throw Kitchen Rugs
|
Round throw rugs work perfectly in U-shaped kitchens. They soften the sharp edges of the room by providing an interesting centerpiece to the kitchen.
This jute rug in particular, creates a rustic atmosphere in the kitchen. It matches the warm wood countertops and manages to make this kitchen design look detailed and complete.
Seamless Throw Rugs for Kitchens
|
Throw rugs do not necessarily need to be eclectic and all over the place. They can also be seamless and concealed by following the same shade of the floor.
You can pick a simple beige throw rug with faint decorations on it, to just lie there in silence, doing its job to support you in your kitchen tasks. This is a great option for anyone who likes accessories to remain minimal in a kitchen. This strategy allows the design of the cabinets to be at the forefront of the decor.
Shabby-Chic Throw Rugs
|
If you are into shabby-chic kitchen decor, then throw rugs are perfect for you. Because these rugs tend to get tossed around quite often, they are bound to get some wear and tears, which is a characteristic of this style.
You can create a cosy kitchen with a shabby-chic oriental rug like the one in the image. To do so, pull some color from your exciting kitchen and get a rug that has all of these colors to complement their appearance. Find a faded design to create a timeless look that needs little maintenance as well.
Large Throw Rug Decor
|
When it comes to throw rugs, size is more of a suggestion. So if your kitchen layout and space allows, you can use a larger throw rug. The difference between an area rug and a large throw rug lies in a couple of features: weight and pile height.
This large rug is so thin, you can fold it and unfold it like a piece of cloth or a table cover. It uses a rubber padding to remain in place while it provides this kitchen with a coastal look.
The best thing about this rug is that you can leave it on during all summer and replace it with another design more fitting to winter when the weather gets colder. All you have to do is fold it and put it in the storage until next year.
Cotton Throw Rug Combination
|
Striped rugs help the room look larger and bigger. They accentuate the passages between the kitchen aisles and make them feel inviting and curated.
So if you have a plain white kitchen, you can choose a few washable throw rugs in stripes to make the floor look more interesting. This design doesn't overwhelm the decor of the room. In fact, it just adds a few layers of details while still maintaining a calm and relaxing atmosphere.
See more: Top Kitchen Area Rug Ideas with tips on layout, matching rugs and placement.
Top 7 Kitchen Throw Rugs of 2021
Here is a list of some of our favourite throw rugs to make your kitchen look better in 2021.
The Colorful Throw Rug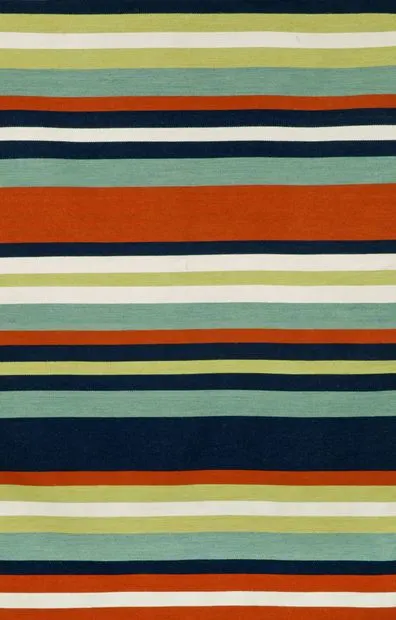 The Navy 6301/33 Tribeca Area Rug is a colorful striped rug with a very summery palette. It works perfectly with white kitchen cabinets and beige or light hardwood floors.
This is a handwoven rug in soft polyester that allows it to be flexible and easy to move around. One particular detail about this throw rug is that you can use it both indoors and outdoors which means it is resistant to water and moisture, perfect for kitchen areas.
The Monochrome Throw Rug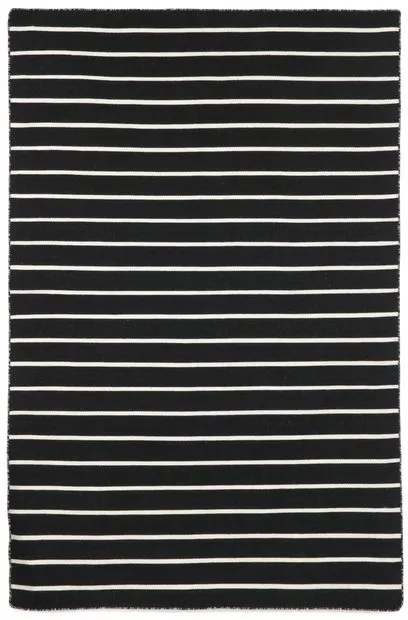 The Black Pinstripe Area Rug is a flat woven throw rug that works as both an elegant option as well as a casual throw rug in a kitchen. It's black background with faint white lines creates a strong focal point in the room.
This throw rug works better as a large area rug in a U-shaped kitchen or as a couple of matching runners between kitchen aisles. In addition, the monochrome palette makes this a versatile piece that you can use within many different kitchen colours.
The Mixed-Material Throw Rug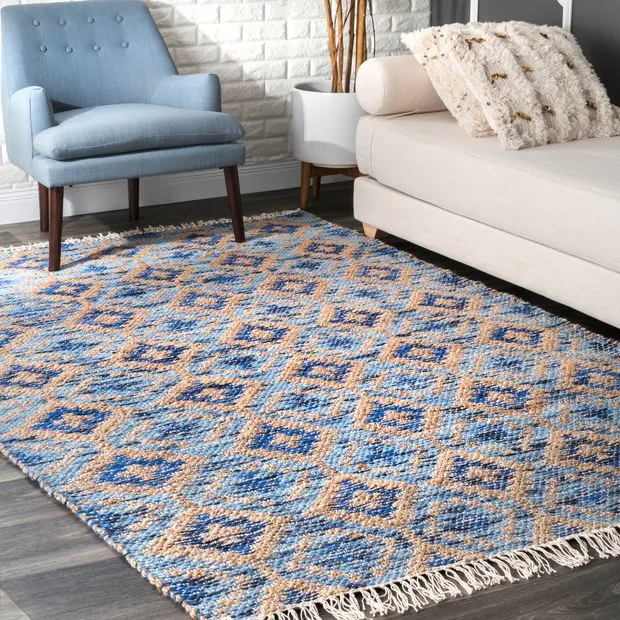 The Blue Amity Fringe Kilim Area Rug has a very interesting design and can work perfectly as a kitchen throw rug. It's uniqueness lies in the blue and beige texture as well as the material composition: wool, jute, cotton and polyester. This combination allows the rug to be durable as well as soft.
You can use it under the dining table in the kitchen or close to a kitchen island so that you can match the details of the rug with cushions or seat pads.
The Natural Throw Rug
You can use the Natural Interspersed Greyscale Area Rug in any kitchen. It's colors and features look perfect in any kitchen, especially one with a farmhouse or rustic decor.
This is a hand loomed, flat woven jute and cotton washable throw rug. You can match it with wood or steel framed furniture pieces.
The Shabby-Chic Throw Rug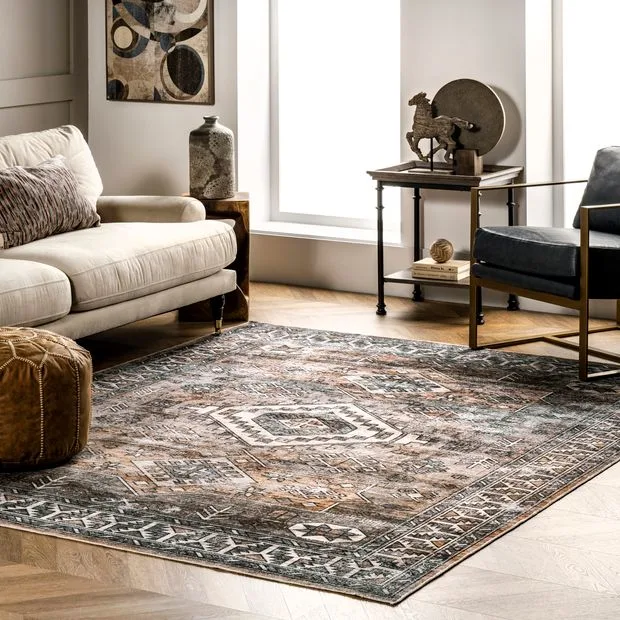 The Rust Timeworn Tribal Washable Area Rug is an elegant throw rug that works best in traditional large kitchens with copper hardware. It also looks perfect on both tiles and dark hardwood floors.
This throw rug is not only washable but also stain resistant. And best of all: it contains an integrated rubber backing that prevents it from slipping.
The Shag Throw Rug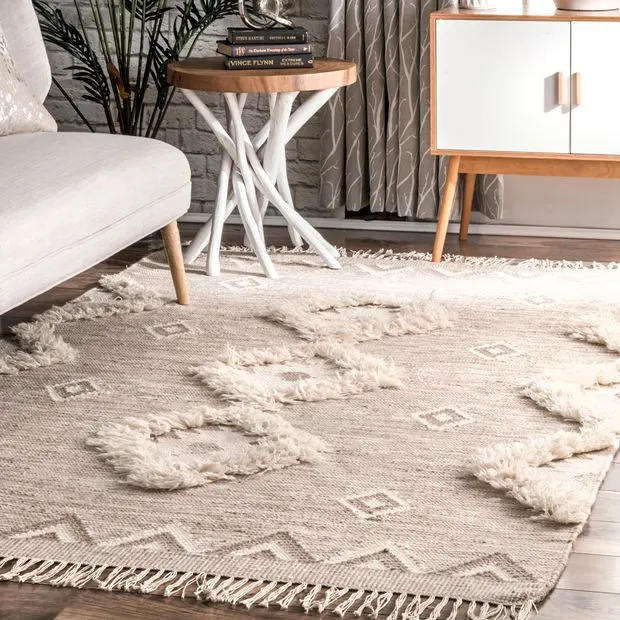 The Beige Shaggy Moroccan Lattice Fringe Area Rug is a very usual rug. It's color is seamless while it's design is anything but. This rug works best in Bohemian kitchens with plenty of plants and natural sunlight in it.
This throw rug is made entirely of wool, which means it is soft, warm, charming and precious. To preserve the quality of the rug, it is best to place it far from the sink or oven. This will protect it from any unexpected spills.
The Handwoven Throw Rug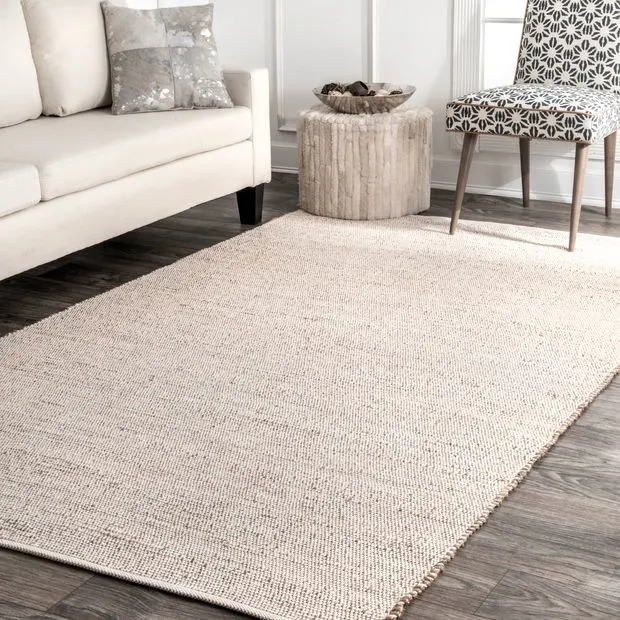 The hand loomed flatwoven Natural Handwoven Chaste Area Rug is a perfect throw rug for dark kitchens. This soft piece of textile can make your harsh kitchen cabinets look softer. In addition it will help create an overall more relaxing atmosphere in this room.
Here is our bonus tip if you really like this throw rug: combine it with linen curtains for a coastal feel so you can always feel like you are on vacation when stepping into your kitchen.