Our readers support us. This post may contain affiliate links. We earn from qualifying purchases. Learn More
There is a certain appeal to hotel rooms that people cannot seem to resist. The nice decor, the fresh look, the cozy numerous pillows, the extra layers infusing the room with comfort, are all elements carefully arranged within the confines of the bedroom to allow guests to have a wonderful night's sleep.
The only downside to a hotel room is the new mattress and different pillow softness that can trick your brain into thinking you are into uncharted territory. But what if you could have the same alluring hotel look harmoniously combined with the familiarity of your own bedroom? Wouldn't that just be marvelous?
You can do so by turning your bedroom into a relaxing oasis. Here is the secret ingredient: throw rugs!
Throw rugs are small and versatile pieces of textile that can be placed around the bedroom to make each spot where they land look extra curated. In addition, you can match them with the bed covers, the curtains, the cushions, and pillows to create a 'picture perfect' setting and give you the impression of being away on holiday.
Why Use Throw Rugs in the Bedroom
Bedrooms tend to look cold and empty if not curated properly. Ideally, you want your bedroom to feel like a hotel room rather than a student dormitory. You can recreate that added level of comfort with the right throws, whether blankets, duvets, or rugs. This is why throw rugs are great elements to use in these rooms to make them more appealing.
Throw rugs create a link between the bed, the floors, and the walls thus resulting in a cohesive interior design that can be properly perceived in every dimension of the room. Throw rugs can be matched to the bed covers and the drapes to create coziness, a multitude of warm layers you can dive in, and, last but not least, an overall beautiful room full of pleasing colors and textures.
These rugs are not just pretty but also functional. You can place them on chairs, benches, bedside aisles, or in front of the vanity to provide extra comfort and warmth on each of these spots.
The best thing about using throw rugs in the bedroom however is that you can change its look as often as you like. So if you feel like you need a change of scenery and a fresh new atmosphere, just place different throw rugs in different spots in the room or get new ones completely. These rugs are small and versatile so moving them around is quite easy.
Throw rugs appeal to your creativity and will always inspire you to try out new looks and improve the atmosphere in your bedroom, and consequently, your mood.
Top 7 Bedroom Throw Rug Ideas
Throw rugs are a bit different than area rugs. They are more like accessories to the overall design. So if an area rug is a blouse to the bedroom outfit, a throw rug is a very stylish scarf. It makes the bedroom look well dressed but it needs to be positioned correctly. Here are 7 ways that you can use throw rugs in the bedroom.
Throw Rug for Chairs
|
One place where you can use a throw rug in a bedroom is the chair. It is always nice to sit on something warm and fluffy, whether it is when doing your makeup in front of a vanity, trying shoes on, or reading a book.

Throw rugs are especially useful on wooden chairs. You can match these rugs with the larger area rug in the bedroom, the bedspread, cushions, and curtains. It will add softness to the harsh edges of the bedroom furniture and make the room seem more comfortable.
Throw Rug by the Bed
|
Throw rugs are the perfect choice for small bedrooms. You can place them between the bed and the wardrobe to provide extra warmth for your feet when you wake up in the morning. Make sure to add a rubber pad so that it does not slip on the floor.
Choose a runner rug to follow the shape of the aisle that is formed in that space to make the room feel bigger. Striped rugs, such as in this example, are perfect not only to emphasize the length of the room but also to bring colors and cheerfulness to the space. You can match these rugs with blankets on the bed to make it look like it absolutely belongs in that area.
Decorative Bedroom Throw Rug
|
Some throw rugs can be purely decorative in the bedroom, especially when you have a plain carpet. The throw rug in this image adds texture and depth to the boring beige carpet. It gives the bedroom a Bohemian and natural feel, allowing it to look like a relaxing oasis.
Round throw rugs are great options in large bedrooms. This soft shape can make the room feel more feminine and inviting. You can place it close to one angle of the bed for a modern look. Also, you can move it around to change your bedroom appearance every once in a while.
Vanity Mirror Throw Rug
|
Having a throw rug next to your vanity mirror will make you feel like a movie star in a makeup set. The soft feeling underneath your feet will allow you to enjoy the warmth and comfort of the rug and concentrate on your appearance.
You can choose a white and fluffy rug with a feminine touch like in the image, or even a flat woven cotton rug for a more minimal and gender-neutral look. Either way, the throw rug will become an accent piece in the bedroom, adding an important design element to the room.
Throw Rug in Bed
|
If you like the saying 'less is a bore' then this throw rug strategy is great for you. Mix a few cushions and blankets with a nice and fluffy throw rug at the end of the mattress to achieve a colorful collage of textures and patterns. Find a custom shape or even a rectangular rug placed sideways to give the room more character and style.
This way you will make your bed look more appealing. You will just want to jump into the comfort of this intentional messiness at the end of the day!
Matching Throw Rugs on the Floor and Bed
|
Your bedroom is your sanctuary. Every inch of it. This is why you can find yourself lying on the floor meditating or immersing yourself in a good book right next to your bed, but not on it.
If that is you, then a couple of throw rugs scattered around the room will be perfect to cold and hard floors. You can just pull the rug wherever you are sitting or lying, to create an added layer of comfort. Match a couple of them, one on the end of the bed and another on the floor, to accentuate the idea that you can use the entire bedroom for comfort and not just the bed.
Kids Bedroom Throw Rug
|
Throw rugs are great to use in kids' bedrooms. You can place them for extra padding on the floor during playtime, or just throw them around the room to protect the area rug or carpet from stains.
You can move them around the space easily and even throw them in the washer when they get stained. These rugs can also provide more colors and patterns to stimulate the brain of your child and make the whole room seem more artistic.
See more: Master Bedroom Rug Ideas
Top 7 Bedroom Throw Rugs of 2021
Here is our list of favorite bedroom throw rugs of 2021.
The Natural Throw Rug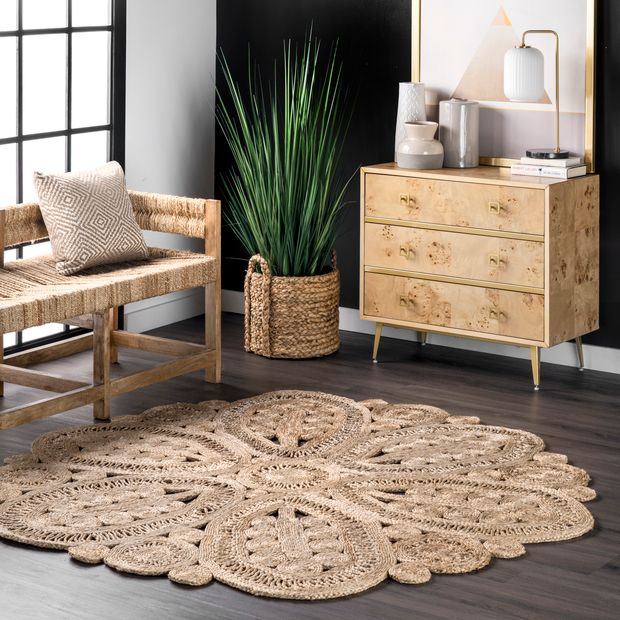 Round rugs with cutouts seem to have been designed with rug layering in mind. They allow the colors and materials of the bottom layer to come through, while providing a creative design for the top layer. This is why they would be perfect as throw rugs.
The Natural Braided Floral Blossom Area Rug can be used as a throw rug in a large bedroom to accentuate a Bohemian style and create a direct link to nature. Mix it with linen sheets, beige carpeting, wooden shades, and broadleaf plants for a proper exotic setting.
The Cotton Throw Rug
Cotton rugs are lightweight and flexible. They can be washed at home in the washing machine and dry very fast. These features make them great throw rugs. You can place them in the bedroom when you feel you need extra warmth and just fold them inside the storage when you want the room to feel fresher.
The Lavender Turin Cotton Flatweave Area Rug can also be used as a throw rug for a coastal look with a twist. Its lavender color offers a refreshing spring feel to any bedroom.
The Colorful Throw Rug
Colorful throw rugs are always used to brighten up a bedroom in a fun and cheerful way. The Multi Braided Area Rug is a good addition to both a monochromatic room in need of some bold shades as well as an eclectic bedroom full of artistic spirit. You can match it with colourful pillows and wooden furniture.
The Fluffy Throw Rug
Fluffy rugs are greatly appreciated in a bedroom thanks to their plush and soft surface. They are ideal to create a warm and elegant look.
The Light Gray Faux Sheepskin Quarto Shag 3′ 6″ x 6′ Area Rug is a perfect addition to the edge of a king-size bed. Just throw this rug carelessly to create a stylish Scandinavian setting within your bedroom.
The Faux Sheepskin Throw Rug
Faux sheepskin throw rugs are some of the most popular ones to place in the bedroom as well as other rooms in the house. They are soft, plush, and can match any room size. Their peculiar and natural shape is a great addition to any decor.
The Natural One and a Half Piece 2′ x 4′ 5″ Area Rug can be used as a runner on the side of the bed or as a throw blanket on the bed. You can even place it on a chair or bench in the bedroom. This piece is quite resourceful thanks to its size and shape.
The Large White Plush Throw Rug
Large white faux leather sheepskin throw rugs are perfect accessories in a bedroom, especially in cold climates. These rugs can drip from the edge of the bed to the floor to create a cascade of comfort and plushness.
You can place the Natural Octo Pelt 6′ x 7′ Area Rug partly underneath the bed, allowing the rug to reach the vanity mirror. This way you can step on a fluffy warm material when you wake up in the morning. You can also enjoy its luxurious feel when you get ready in front of the mirror.
Soft Retro Throw Rug
The Gray Faux Sheepskin Trellis Area Rug is a very interesting design that combines retro patterns with the soft and plush feeling of a throw rug. Its shiny surface makes the room look fancy and contemporary.
This 100% acrylic rug is warm and durable. It can become a great asset to your bedroom if you are into a chic Scandinavian style. You can place it in front of your wardrobe or even a walk-in closet so that you have a soft layer on the floor for when you try on clothes. In addition, this is an elegant piece that will make your bedroom look more luxurious.