Our readers support us. This post may contain affiliate links. We earn from qualifying purchases. Learn More
The most durable rugs for your home are wool, nylon, and polypropylene. These rugs perform better than all other textiles under heavy foot traffic. In addition, they provide great decorative elements as well as warmth and comfort for your floors.
It is important to know which rug is the most durable one. This is especially relevant if you are looking for options for a mudroom or a laundry room. These spaces, in addition to heavily used living rooms, sunrooms or patios, get more spills, stains, direct sunlight, and overall, more usage.
This is why you need to pick durable textiles that can hold their structure and not only that. Rugs also need to provide the comfort and beauty that a rug is known and appreciated for.
The Most Durable Rug Materials Available
While wool is quite popular as a durable natural material, nylon and polypropylene are also great options. These materials will last a lifetime while also being quite affordable.
Although these are the most durable materials, other threads can be used to make sturdy rugs that also offer a pleasant feel.
Here are some of these materials explained and their features described.
Wool
Wool is an all-time favorite material in the fashion industry as well as home decor. It is natural, warm, soft, attractive, and let's not forget, very durable. While it is true that wool rugs are more expensive than other natural fibers (and also synthetic ones), these rugs will also last longer. As such, they can be considered a good investment. You can buy a wool rug and preserve it as an heirloom that can be passed down to generations.
One of the best features of wool is its delicate feel and elegant appeal that comes as a result of the high plush pile. The surface of wool rugs is usually easier to maintain as the fibers themselves are stain and water-resistant, in addition to being resistant to mold and other bacteria.
All in all, wool rugs are not only durable and comfortable but also perfect for those who suffer from allergies and can only be around natural and clean items in their home. So wool rugs are a good choice for high traffic areas and homes with pets, gardens, patios, and sunrooms.
One of our favorite most durable wool rugs: Beige Felted Wool Tasseled Area Rug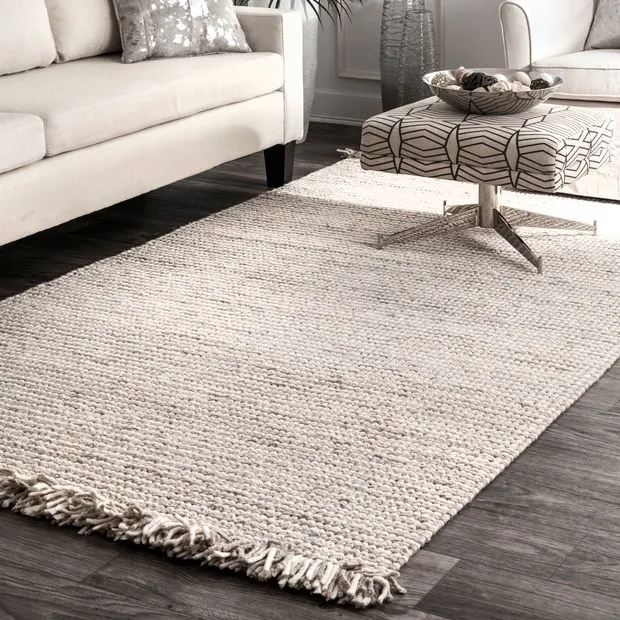 The Beige Felted Wool Tasseled Area Rug is an elegant rug with a very contemporary look. It is a low pile rug with a thickness of ½ an inch, completely handmade in wool. The texture of this rug is therefore unique and cannot be replicated. It elevates the design of any room you put it in, whether a bedroom, kitchen, dining room, or even hallway and home office.
What makes this rug so durable is the way it has been tightly woven, in addition to the 100% wool composition and its low maintenance feature.
Nylon
Nylon is a more affordable material used in rugs, but still very durable and quite attractive. This is a synthetic fiber created to look like silk. In fact it offers the same appearance as silk, but at a much lower cost.
Nylon rugs are some of the most durable rugs you can find. They tend to be water-resistant, stain and spill-resistant as well as fire-resistant. In addition, nylon rugs display powerful and bold colors thanks to the way the fibers absorb light and reflect beautiful hues.
These colorful rugs are also quite soft, becoming great choices for homes where people like to sit on the ground and enjoy family time playing on a rug with pets.
One of our favorite most durable nylon rugs: Blue Printed Persian Overdyed Vintage Area Rug
The Blue Printed Persian Overdyed Vintage Area Rug is a super durable rug made entirely of nylon. It has a low pile of ¼ inch and is machine-made in Egypt. This bold and powerful design can add class and grace to your living room or bedroom.
You can match it with broad leaves plants and get a bohemian vibe going on. You can also place it in a more minimal setting to create a classic timeless appeal and let the oriental prints poke through the design. Let's not forget that you can choose different hues of the same design and match it with the surrounding decor of your home.
As a nylon rug, this one is very easy to maintain. It is stain and water-resistant and you can use it in a home with heavy foot traffic and pets. It is a great choice for entryways and mudrooms too if you want to add some sparkle and elegance right at the door.
Polypropylene
Polypropylene is a very popular material choice in the rug industry as it is resistant to mold and mildew and very easy to maintain. This material can be used for both indoor and outdoor rugs, making it one of the most durable rug materials you can ever find. Therefore, you can place it on your patio, near a pool, or even on a terrace or balcony without having to worry about the color fading or the rug ripping at any point.
You can also use polypropylene rugs with heavy furniture pieces on top as they can withstand the load and offer a great layer of protection for your floors. This is especially advantageous if you have hardwood floors you do not want to scratch.
Polypropylene is a synthetic fiber, completely non-toxic. Therefore, you can use these rugs in the living room and most importantly, in areas that experience a lot of foot traffic and spills or dirt such as kitchens, mudrooms, bathrooms, or laundry rooms.
Last but not least, polypropylene rugs are some of the most affordable pieces of soft decor you can find, in addition to being extremely durable and easy to maintain.
One of our favorite most durable polypropylene rugs: Charcoal Solid Braided Indoor/Outdoor Area Rug
The Charcoal Solid Braided Indoor/Outdoor Area Rug is a durable polypropylene rug that can be used both indoors and outdoors thanks to its water and stain resistance properties. The dark color also works in its favor and extends its lifespan by hiding any traces of dirt or spills really well.
Last but not least, this rug is utterly beautiful and modern and manages to elevate the appeal of any room you place it in.
Cotton
While you might think that cotton is extremely delicate, this material is in fact a good choice for rugs in high traffic areas. Yes, compared to the previous ones (wool, nylon, and polypropylene), cotton rugs are not as durable, but they do offer a level of sturdiness that is quite impressive.
In addition, cotton rugs are stylish, contemporary, and comfortable. They are also very easy to clean. In most cases, you can just throw them in the laundry machine and let them dry on a flat surface. You can also steam cotton rugs and bring back their natural appeal.
Cotton rugs are perfect for bedrooms and bathrooms. They offer soft and comfortable padding for your feet at an affordable cost and a low level of maintenance required.
One of our favorite most durable cotton rugs: Multi Cotton Stripes Area Rug
The Multi Cotton Stripes Area Rug is a playful and beautiful durable cotton rug that feels majestic under your feet. You get a little bit of roughness combined with a lot of softness, comfort, freshness, and warmth all into one piece of textile.
This rug is perfect for interiors with plenty of natural light. You can use this rug to add some flair to your entryway, laundry room, or sunroom. It is a hand-loomed rug that adds character to any room you place it in. In addition, it protects your hardwood floors from scratches. It also offers a natural padding in between your furniture and the floors.
Other durable material choices for rugs are jute, sisal, chenille. These natural materials use very strong threads that can preserve the shape of the rug throughout time. In addition, a mixture of a few materials together can create a super durable piece of textile that can last for years without shedding or losing its color, shape, and appeal.
Blends of wool and nylon or polypropylene and jute can create long-lasting rugs. They combine the best features of both materials into one perfect piece of decor. Therefore, make sure to check the label and find out the material composition of the rug you are interested in. By doing so you can figure out just how long the rug might be part of your home.
The Most Durable Rug Types Available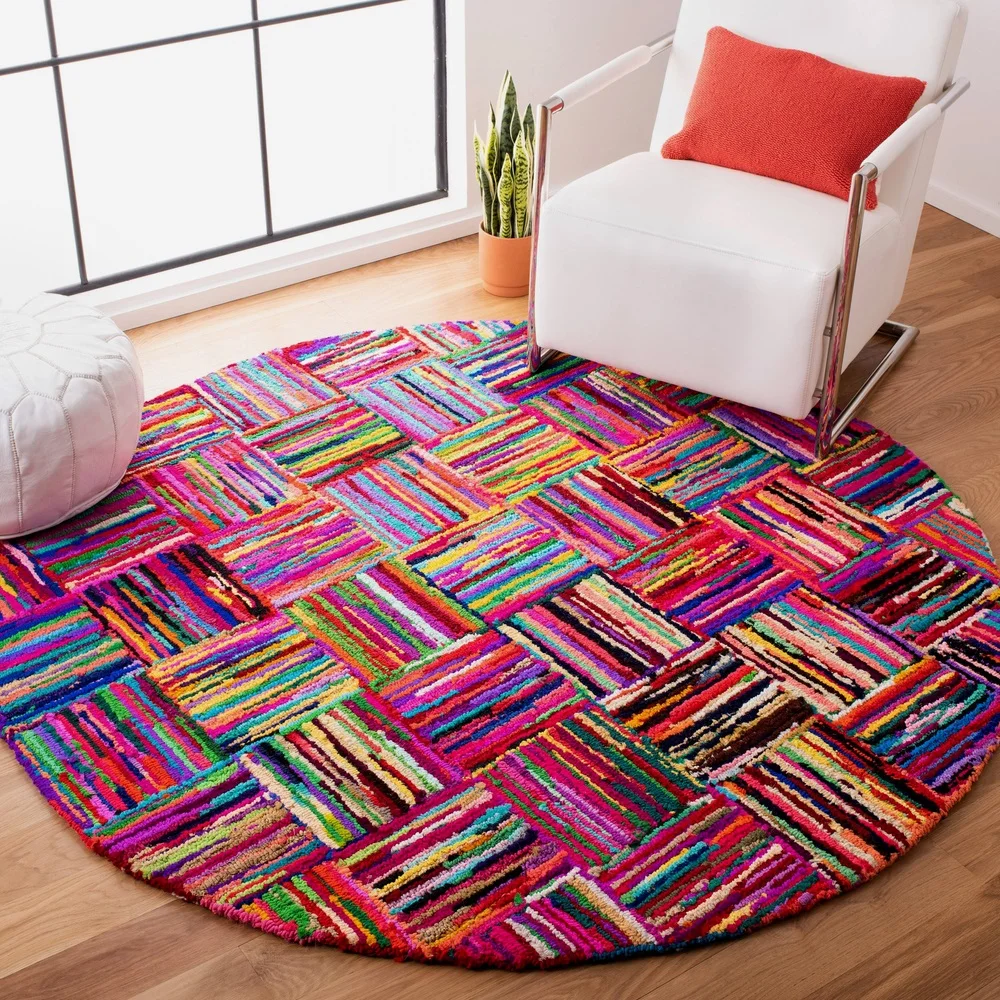 Rugs gain their durability not only through the materials used but also through their structure and composition. For instance, low pile rugs will perform much better than plush or shag rugs in areas with a lot of foot traffic.
So what type of rugs are more durable? Here are a few insights.
Low pile rugs are definitely the most durable. Their structure is more stable as they are made with small loops that do not stretch under extreme foot traffic. Therefore, these types of rugs manage to preserve their structural integrity. In addition, low pile rugs have fewer chances to accumulate dirt and allergens. Therefore, they are perfect for people who want low-maintenance rugs in their homes.
Next, color and pattern can actually help a rug be more durable if chosen correctly. For instance, dark colors and heavy patterns can hide stains and stretch the periods between vacuums or rug cleaning. And while cleaning does help the rug look better the very next day, it also damages the fibers through time. Therefore, it is advised not to clean the rugs too often in order to increase their life expectancy.
Size and shape also help. The smaller the rug, the more durable it is. In addition, round rugs are less prone to lose their shape than rectangular ones.
What Rugs to Avoid for Heavy Traffic Areas
We like to be thorough with our suggestions. So after covering which rugs are best for high traffic areas, and which are the most durable, here is a list of rugs to avoid. Check out this list if you have a crowded home, full of pets and guests.
Silk Rugs
In terms of material, silk rugs are beautiful but very delicate. These rugs are perfect for home offices or bedrooms. They have a fancy sheen and a very gentle appeal, but these rugs would be ruined in homes with pets. In addition, silk rugs are usually light colors and quite pricey. So it would be a shame to ruin them by placing them in entryways or mudrooms for instance.
High Pile Rugs
Next, shag rugs, high pile rugs, or plush rugs, especially white ones, are not a good choice for high-traffic living rooms or dining rooms. While these rugs feel great when walking on them, and give rooms a modern 1970s appeal, they do however capture dust and debris in between the threads. In addition, the loose structure of the rug makes them not too durable. They may create empty patches, especially where furniture legs lie, and also shed and become annoying throughout the room.
Last but not least, these rugs lose their appeal when used in high-traffic areas. What happens is people walking over shag rugs very often will flatten the pile. This in turn will change the character of the rug itself.
White Rugs
More rugs to avoid if you are looking for longevity are white or any light-colored rug. These rugs are captivating, clean, elegant, and minimal but also very prone to dirt and damage. They also shed easily and can cover your entire home in white threads.
That said, you can use silk rugs, shag rugs, or any other type of expensive and delicate rug to really make a room pop. Just be strategic where you place the rug in order to preserve its value and appearance.
All in all however, wool combines both elegance and durability into a warm and charming area rug.