This post may contain affiliate links, we may receive a commission if you make a purchase using these links. As an Amazon Associate I earn from qualifying purchases.
Soft rugs are comfortable pieces of textile that allow your feet to slightly sink in when you step on them. They have a plush character and a tender surface that is quite appealing to the touch.
The softest rug materials include natural fibers such as wool and cotton. Silk is another popular as well as fine material. It is also quite luxurious when it comes to rugs.
It might come as a surprise, but jute and sisal rugs can also be treated and woven to create a soft feeling. Other soft synthetic options include polyester and propylene rugs.
The softest and most popular rug materials for living rooms are indeed wool rugs. They come in a variety of colors and designs. In addition, wool rugs provide a very comfortable layer to sit on and spend quality time with your family or friends.
The softest rugs for the bedrooms on the other hand are cotton rugs. These rugs are soft and lightweight. They are perfect to land your feet when you get out of bed or when you spend time in front of the vanity.
Softest Rug Materials
There are many spaces in a home such as the living room and bedroom, that can benefit greatly from a soft rug.
Knowing what materials make the softest rugs will make your job at choosing an appropriate rug much easier.
Natural Fibers Softest Rugs
Wool Rugs
Wool is a very soft and natural fiber, used not only in clothing but also in rugs.
In addition to being soft, these fibers also have a unique ability to spring back when stepped upon, which creates a very nice and comfortable feeling in a rug. Its natural composition allows you to interact and enjoy this layer of the floor.
Apart from being soft and plush, wool rugs are also durable and fire resistant.
Most wool rugs are easy to clean and maintain. They do not gather dust easily and can last for decades, growing softer and softer over time.
Last but not least, wool also has a luxurious character and warm feel to it. These features make wool rugs great additions to any living room.
See more: Wool vs Polypropylene Rugs Comparison
Cotton Rugs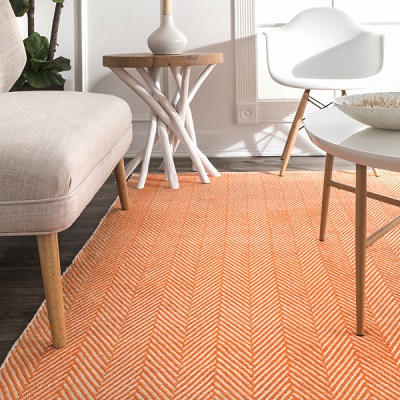 A soft rug does not necessarily need to be fluffy and high pile. Cotton rugs are the perfect example of this.
Cotton is also a very soft and organic material used in a variety of textiles. This is quite an appealing material for rugs as it allows them to be not only soft but also lightweight and therefore easy to move around the room.
They come in many different shapes and designs and can be placed anywhere to make a space look more cheerful.
Compared to wool rugs, cotton rugs have a major advantage as they do not shed.
Cotton rugs can be machine-made or handwoven. In most cases, you can wash these rugs at home and still preserve their color and finish.
Silk Rugs
Silk is a soft and luxurious material and as a result silk rugs are utterly elegant and chic. In addition to its appearance, silk is also a healthy rug to keep around as it is known to not cause any allergies.
Silk rugs can be hand woven or machine made. Either way, they provide an attractive sheen and inspiring surface. These super soft rugs are suitable for both living rooms and bedrooms.
Most silk rugs come from Asian countries and embellish thousands of years of experience in rug making.
Blended Rugs
Blended rugs offer the smoothness and softness of one material combined with the durability and flexibility of the other.
The most common and softest fluffy rugs are blended silk and cotton, wool and cotton, silk and wool as well as wool and sisal.
The wool and sisal rugs might sound strange to some people, but they are some of the softest and most durable rugs available due to the combination of both those fibers.
Jute Rugs
Jute is used to make thick soft area rugs. A soft jute rug is naturally smooth and shiny by design. These rugs are made of jute fibers that have been treated to become even softer through the weaving process.
Synthetic Fibers Softest Rugs
Polypropylene Rugs
Polypropylene rugs are the most popular rugs ever made. These rugs are soft, durable, available in a variety of designs, colors, textures, patterns, and also quite affordable.
Polypropylene rugs are treated with substances that make them fade resistant, water resistant, stain resistant, as well as mold and mildew resistant.
These rugs are perfect for rooms with heavy traffic and harsh conditions. Some of them are available for outdoor spaces as well. They are able to preserve the same softness throughout their surface even on a patio or balcony.
In terms of looks and designs, polypropylene rugs mimic natural materials such as cotton and wool and can display numerous patterns and textures.
Olefin Rugs
Olefin is a soft material used to make synthetic rugs that look exactly like wool, but that costs considerably less. Despite their reduced price, olefin rugs still look great in a home. Contrary to wool, however, olefin rugs are not as durable.
Similar to other synthetic options, olefin rugs are soft and resistant to stains, mold, mildew and water spills. As a result, you can use olefin rugs indoors as well as outdoor spaces such as balconies and porches.
Olefin rugs are thin pieces of textile that can dry really fast and are easy to maintain.
Polyester Rugs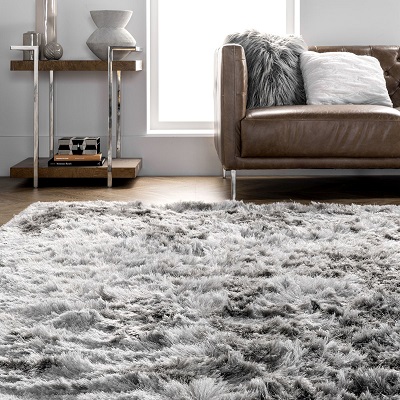 Polyester rugs are the most affordable option for anyone looking not to spend much on a soft area rug with an impeccable design.
These rugs are easy to dye and come in both muted tones as well as bold bright colors. They are perfect for eclectic interiors or bohemian rooms.
Polyester rugs however are not known for their durability and are not recommended to be used in living rooms or other areas of the house that experience a lot of foot traffic.
In addition, soft polyester rugs are easy to stain and can be hard to clean and maintain properly.
Blended Poly Silk Rugs
Similar to natural fibers, synthetic soft rugs are also created by blending different fibers in order to get the best properties of each.
The softest synthetic blended rugs are poly-silk ones. Poly silk rugs are durable, resistant to stains and mold. They offer the same softness as silk rugs, but with lower price tags.
As a result of their treatment, poly silk rugs can be used outdoors as well as provide a soft layer for your patio living area.
Softest Rugs for the Living Room
|
Living room rugs experience a great deal of foot traffic in addition to other activities such as reading, playing, watching TV or just spending quality time with the family sitting on the floor.
The softest rugs for a living room are wool rugs. Wool rugs are made of a natural material that offers comfort, warmth, a cute plush feeling, great character, interesting designs, and of course durability.
The wool rug in the picture shows that soft rugs can be contemporary and low pile, and even become a focal point in the room.
The black and white design creates a balanced look between classic and mid-century modern. The entire living room seems elegant and comfortable.
While wool rugs can be slightly out of your budget, the next best thing and softest synthetic material for a living room is polypropylene. Polypropylene rugs offer the same cozy feeling as a wool rug and similar durability.
In terms of placement, soft rugs are usually placed in the middle of a room. Since these rugs are chosen exactly for being comfortable and inviting, they tend to become the focal point of a space, and a noticeable piece that grabs anyone's attention.
You will find that most soft rugs are large area rugs and are placed either in the center, anchoring the furniture, or close to the couch, providing a soft landing for your feet.
Softest Rugs for the Bedroom
|
The softest rugs for bedrooms are cotton rugs. These rugs are not only soft but also lightweight and flexible.
You can place them on the sides of the bed, in front of the vanity, close to the wardrobe, or inside your walk-in closet. You can even use soft cotton runners throughout the room instead of a larger area rug.
Cotton rugs come in a variety of designs and can be easily matched to your pillows and other items in the room such as picture frames, bed cover, or curtains.
One other unique feature of flat-woven cotton rugs is that you can reverse them whenever you want and they still will look good.
You can also pick a bright bold color such as the mustard rug in the picture and make it an accent piece that adds character and makes the room look more cheerful.
If you want something fancier, however, silk rugs are also a perfect option for a luxurious bedroom. Silk rugs can be preserved quite well in a bedroom considering that bedrooms do not experience much foot traffic or stains.
What is the Softest Jute Rug?
|
Jute is a soft natural fiber that comes from the stalk of the plant rather than the leaves. Among the numerous jute rugs, the softest one is the hand-braided jute rug.
This rug is easy to maintain and can be cleaned by vacuuming. It offers a fresh new look and add a sense of style and creativity to whatever room it is placed in.
In addition, hand-braided jute rugs can be mixed with other innovative materials such as denim or cotton to create a deep and meaningful design.
See more: White Fluffy Rug Ideas
Softest Rug FAQs
What is the Softest Sisal Rug?
Sisal rugs are not usually appreciated for their softness, however soft sisal rugs do exist.
The softest one is the looped weave sisal. It is indeed the large loops that allow the rug to offer a soft cushion for your feet.
These types of rugs can be used in hallways or other areas with heavy foot traffic since sisal is a strong natural material.
What is the Softest Shag Rug?
Polyester rugs are known to be the softest shag rugs. While polyester might not be the softest fiber, when used to make a high pile rug, it creates a comfortable and very tender surface.
Polyester shag rugs are not just soft but also fluffy and plush. They create a wonderful immersion feeling that makes these rugs great for living rooms as well as bedrooms.
What are the Softest Natural Fiber Rugs?
The softest natural fiber rugs include wool rugs, silk rugs, cotton rugs, jute rugs, large looped sisal rugs, and a blend version with any of the fibers above.
What is the Thickest Soft Area Rug?
The thickest soft area rugs are wool and polypropylene rugs. Thick rugs have a shaggy look due to their pile height.
Thick soft rugs are highly appreciated for their appearance as well as their warmth. These rugs might be considered a bit more high maintenance than flat woven alternatives however, but what they lack in maintenance effort they make in softness and comfort.