Our readers support us. This post may contain affiliate links. We earn from qualifying purchases. Learn More
Quartz countertops are celebrated for their sturdiness and the touch of opulence they lend to the heart of the home. But what is it about quartz that sets it apart from natural stone counterparts like granite or marble? First, it's important to understand that quartz countertops are engineered stones, crafted by combining ground quartz with resins, polymers, and pigments. This manufacturing process not only allows for a wide range of colors and finishes but also enhances the material's durability, making it resistant to scratches, stains, and heat – essential qualities for the kitchen environment.
The exclusivity of quartz countertops comes from both their aesthetic appeal and their performance. The price tag, often higher than other materials, reflects the advanced engineering and the benefits it brings, including its non-porous surface that resists bacterial growth, making it a hygienic choice for food preparation areas. That said, quartz countertops must be looked after and cleaned properly.
Despite its cost, quartz remains a popular choice among homeowners and designers alike, due to its versatility and the value it adds to a property. Whether one is looking for a minimalist chic, a traditional warmth, or a bold modern statement, quartz offers options to suit every taste.
In this comprehensive guide, we've compiled a stunning collection of 37 kitchen designs that showcase quartz countertops in all their glory. Through vivid pictures and detailed descriptions, we invite you to draw inspiration, learn about the nuances of quartz, and perhaps find the perfect countertop idea that resonates with your vision for a dream kitchen.
1. Elegance in Simplicity: White Quartz Countertop in Modern Kitchen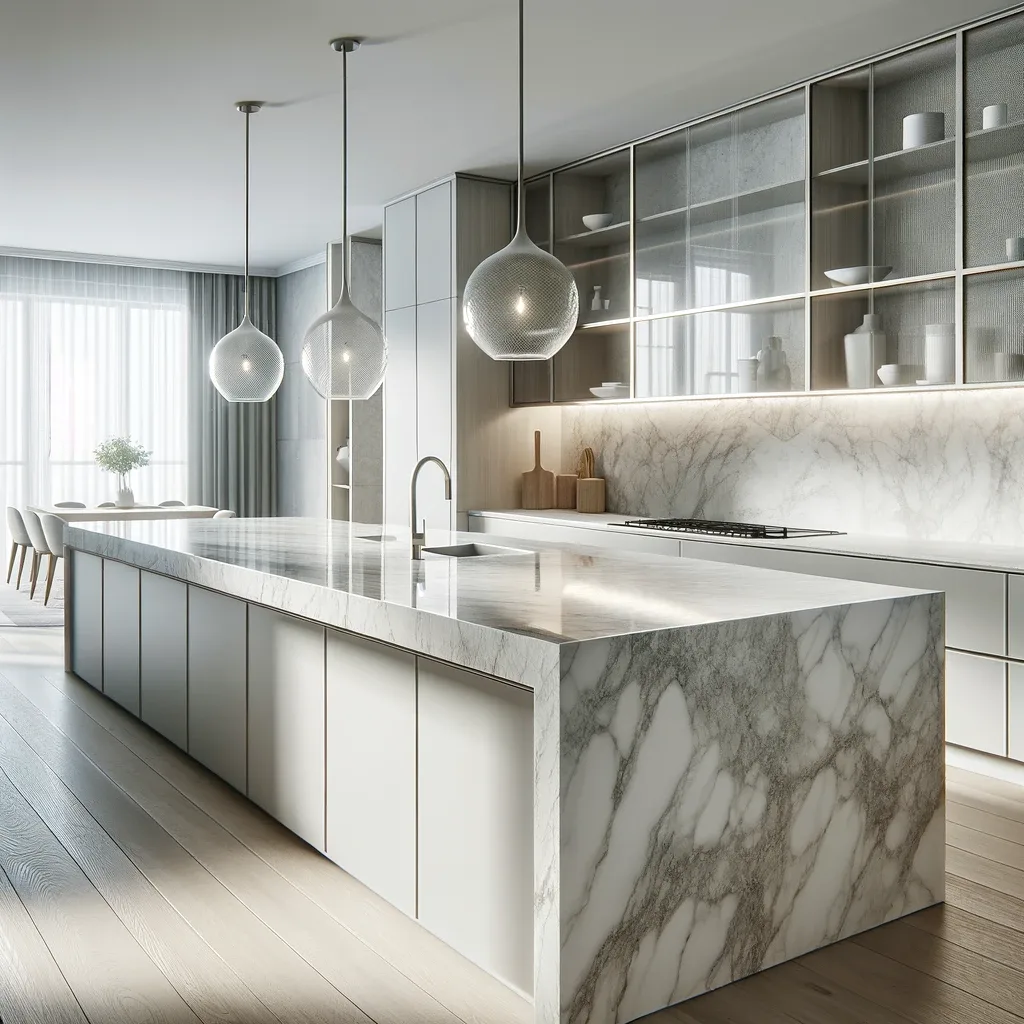 This elegant and simple white quartz countertop perfectly encapsulates modern sophistication with its clean lines and subtle gray veining, providing a serene and polished surface that enhances the kitchen's minimalist aesthetic. The handle-free cabinetry underscores the sleek, contemporary design, offering an uncluttered and harmonious visual flow. Above, geometric pendant lights add a layer of modernity, casting a soft, inviting glow that reflects off the quartz, accentuating its pristine quality and making it an exemplar of modern kitchen design.
2. Abstract Elegance: White Quartz with Bold Veining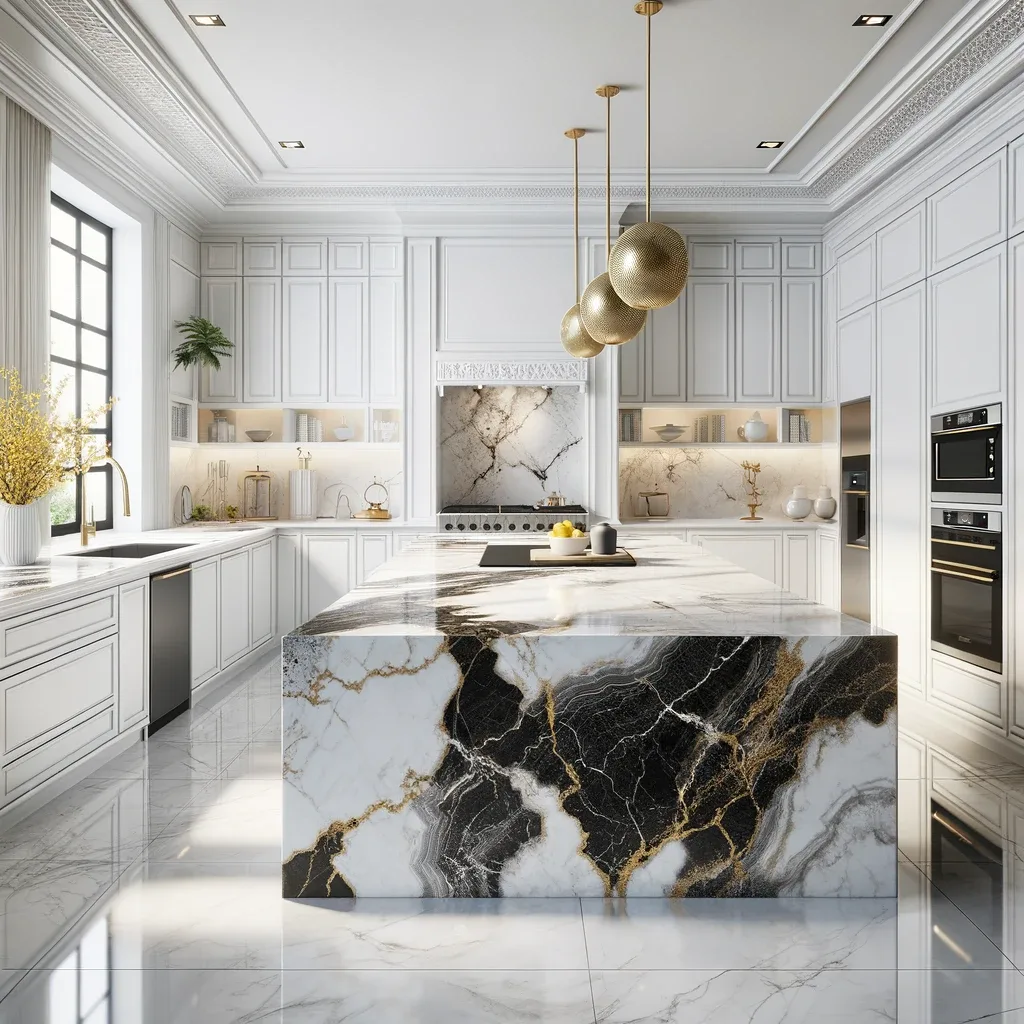 This pristine white kitchen boasts countertops of black and white quartz with bold and gold veining. This opulent design element adds a touch of luxury to the space. The room features high-end stainless steel appliances nestled within elegant white cabinetry. A grand island takes center stage, topped with the same black and white quartz and finished with a sophisticated edge. Overhead, modern gold-accented pendant lights hang, offering a warm, welcoming light. The floor is laid with white tiles that have a subtle reflective sheen, and the walls are fitted with minimalist white panels that enhance the kitchen's brightness. To complete the scene, an arrangement of yellow flowers adds a pop of color on the island.
3. Serene Elegance: White Quartz Masterpiece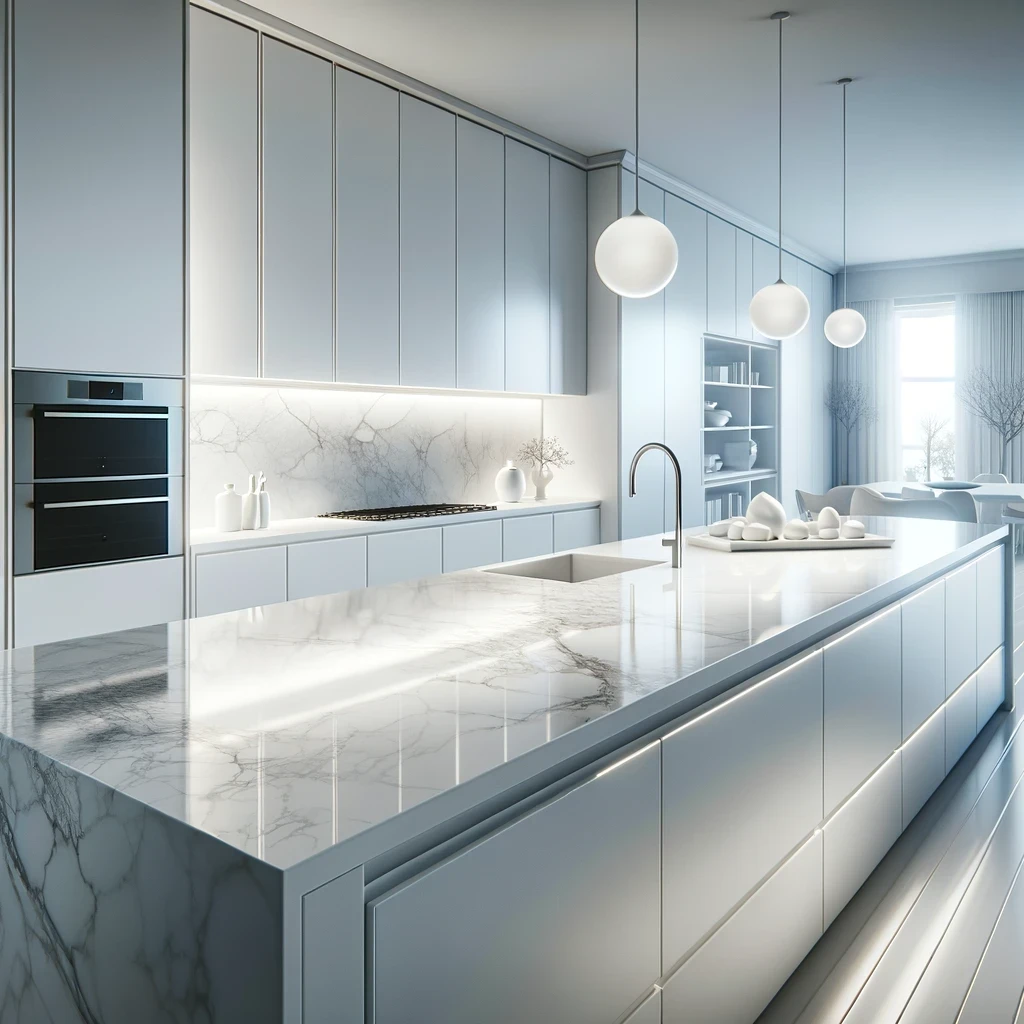 This luxurious kitchen boasts a pristine white quartz countertop that radiates contemporary grace. The surface gleams with a glossy finish, showcasing delicate gray veining that adds depth and sophistication. Flanked by sleek, handle-free cabinetry in a glossy white finish, the kitchen exudes a tranquil, minimalist charm. Strategic lighting highlights the smooth lines and pure hues, creating a space that is both functional and artistically inspiring.
4. Modern Chic: Quartz Harmony in Design
In this sophisticated kitchen, the centerpiece is an expansive island with a dark gray quartz countertop, contrasting beautifully against the light wood cabinetry. The quartz features intricate white marbling that provides a stunning visual texture, harmonizing with the polished chrome fixtures and pendant lighting. The overall design is a balanced blend of modern and natural elements, creating a welcoming space for culinary creativity and social gatherings.
5. Timeless Appeal: Classic Quartz Sophistication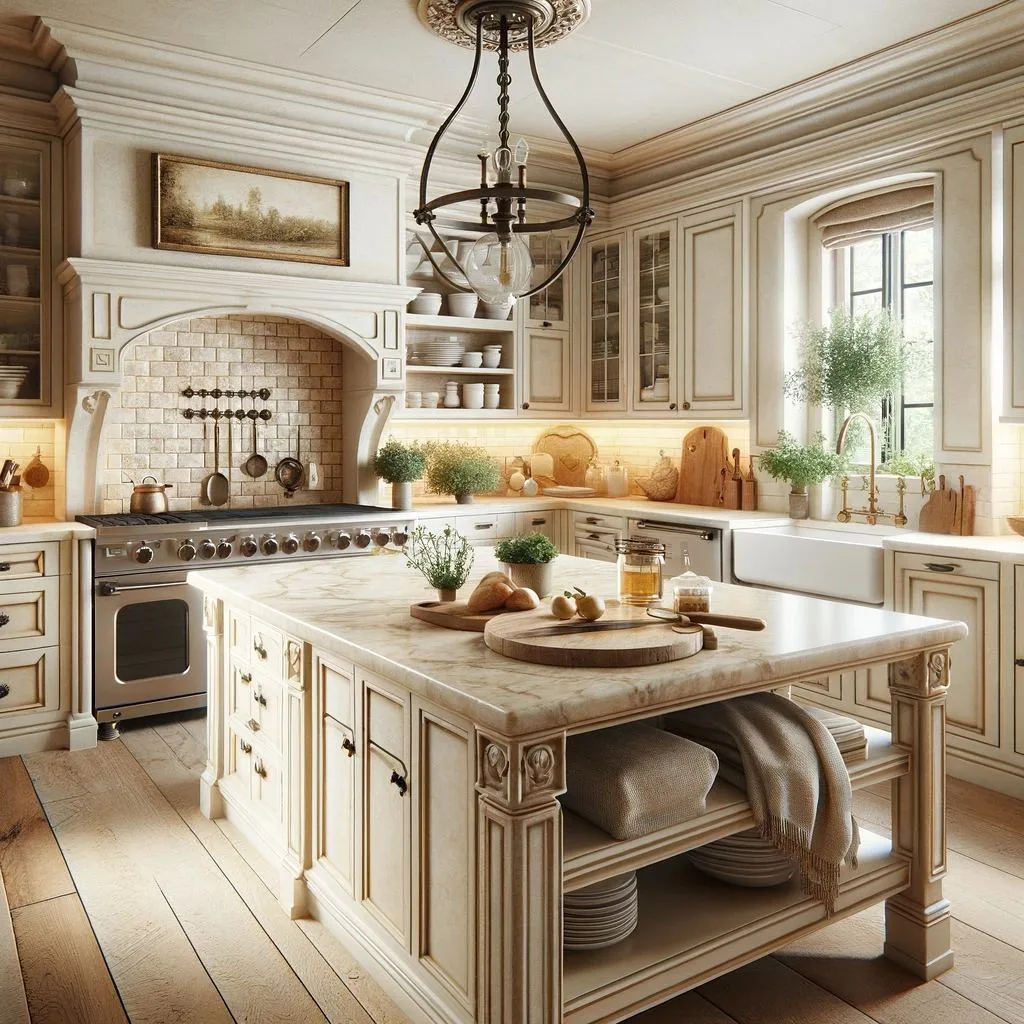 A kitchen that marries classic charm with modern functionality, featuring a warm beige quartz countertop with soft swirls of tan and cream. The countertop's edge is gently curved, adding an element of traditional elegance. The backdrop of ivory cabinetry is adorned with vintage-style brass handles, and the walls are accented with artisanal subway tiles. Above the island, a wrought iron chandelier casts a warm glow, while potted herbs and a rustic breadboard on the countertop invite a sense of homely warmth.
6. Contemporary Contrast: Bold Quartz Statements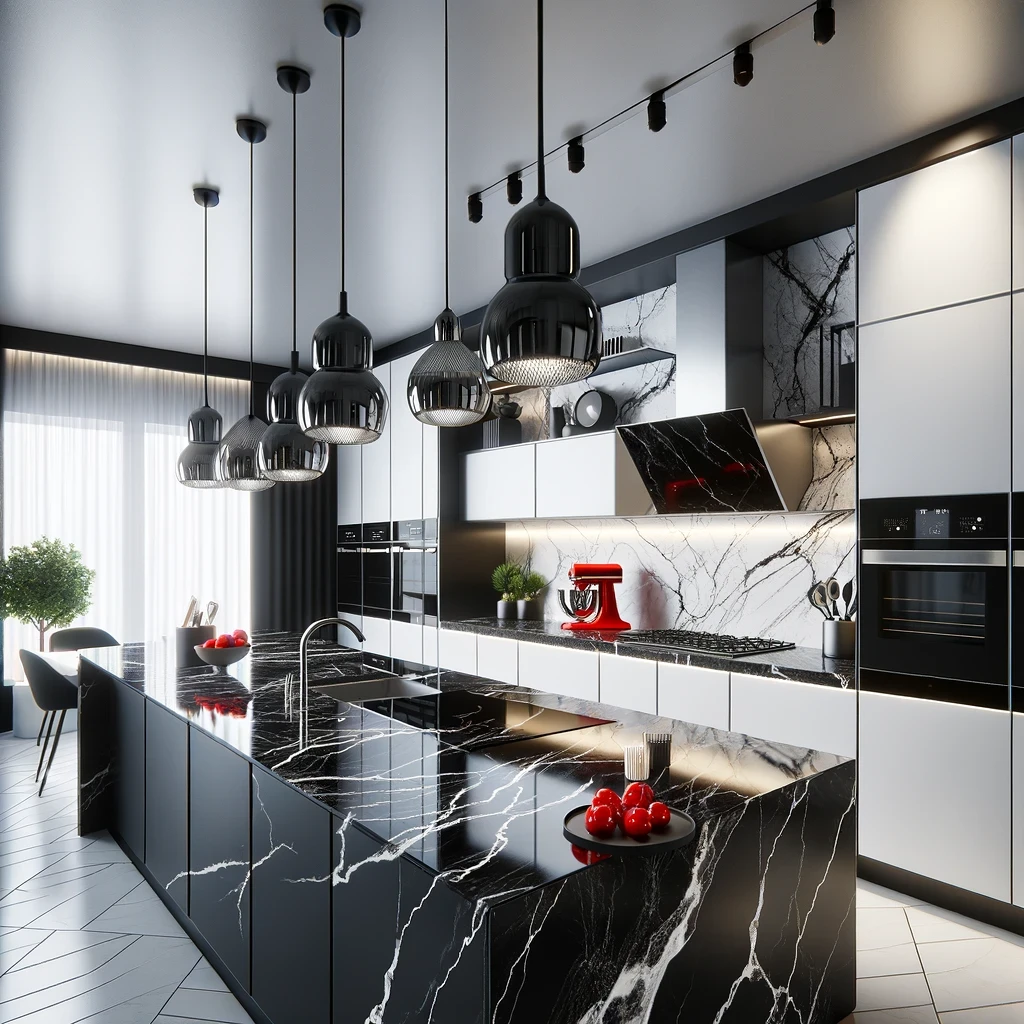 A cutting-edge kitchen where a jet-black quartz countertop offers a dramatic focal point, contrasting sharply with high-gloss white cabinetry. The countertop is adorned with a striking white vein pattern, enhancing the dynamic contrast. Innovative built-in appliances are seamlessly integrated into the cabinetry, and a series of modern pendant lights with a metallic finish dangle above the countertop, reflecting light off the polished stone. A few bright red decorative elements, like a mixer or a set of cookbooks, provide a vibrant pop of color to the monochrome palette.
7. Island Oasis: Quartz Elegance Meets Functionality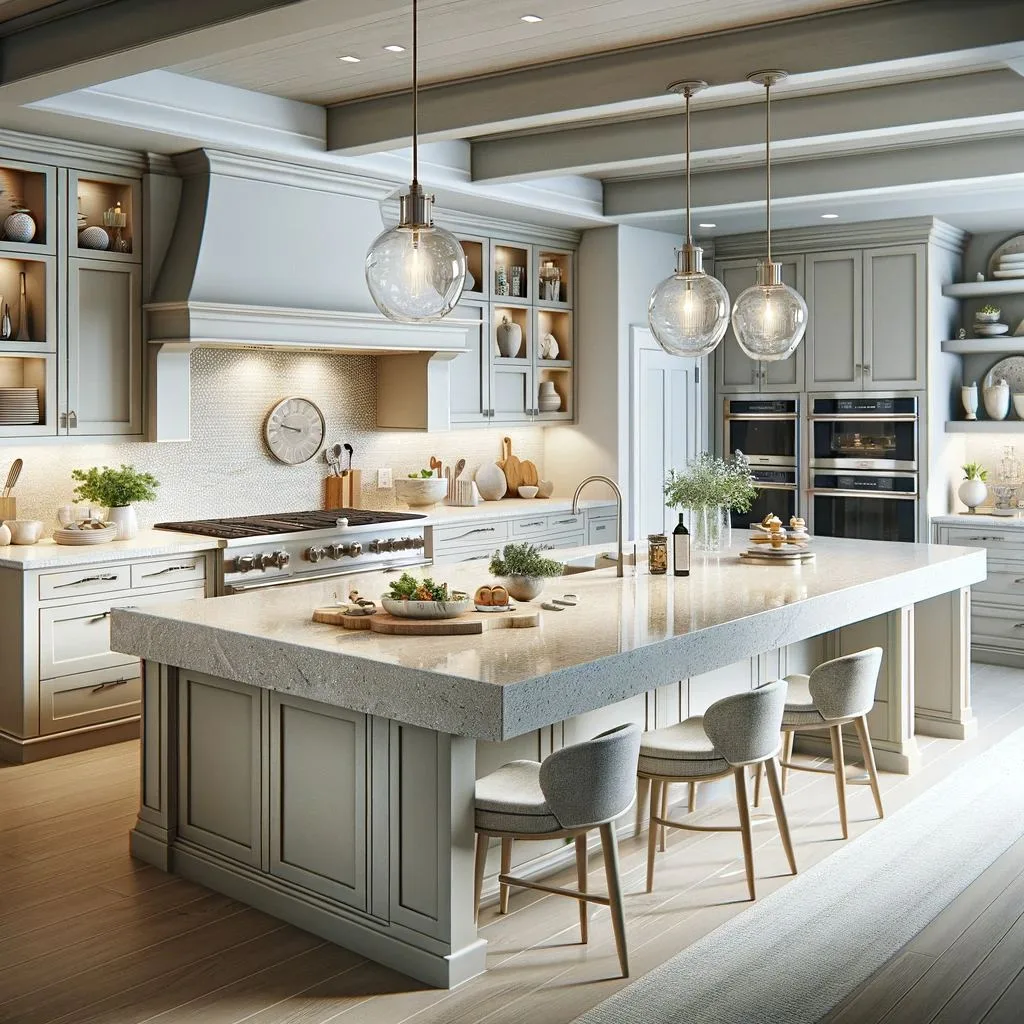 A spacious kitchen where the island is the star, topped with a smooth, cream-colored quartz countertop. The island's generous size provides ample room for meal prep and casual dining, with elegant pendant lights hanging above to illuminate the workspace. The rest of the kitchen complements the island with streamlined cabinetry in a soft gray shade, high-end stainless steel appliances, and a subtle mosaic tile backsplash that adds texture without overwhelming the serene palette. The overall atmosphere is one of sophisticated tranquility, perfect for both cooking and entertaining.
8. Elegance Redefined: Quartz Kitchen Mastery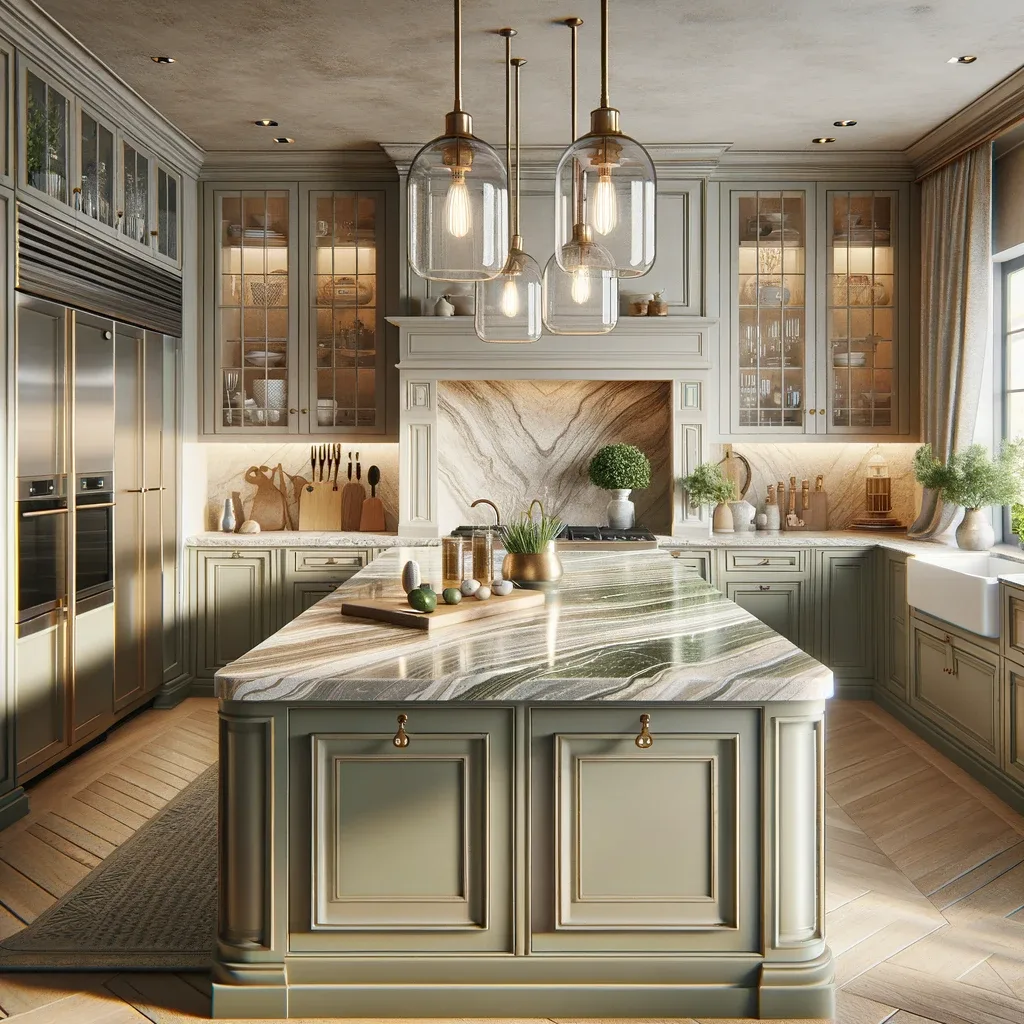 A kitchen where luxury meets practicality, featuring an island with a polished quartz countertop in a rich shade of taupe. This countertop is the quintessence of elegance, with delicate streaks of pearlescent white that catch the light. The surrounding cabinetry, in a muted shade of sage green, complements the earthy tones of the countertop. Above the island, a trio of brass lantern-style pendant lights adds a classic touch to the modern setup, while the latest stainless steel appliances promise a kitchen where style and function are in perfect harmony.
9. Quartz Harmony: The Heart of the Home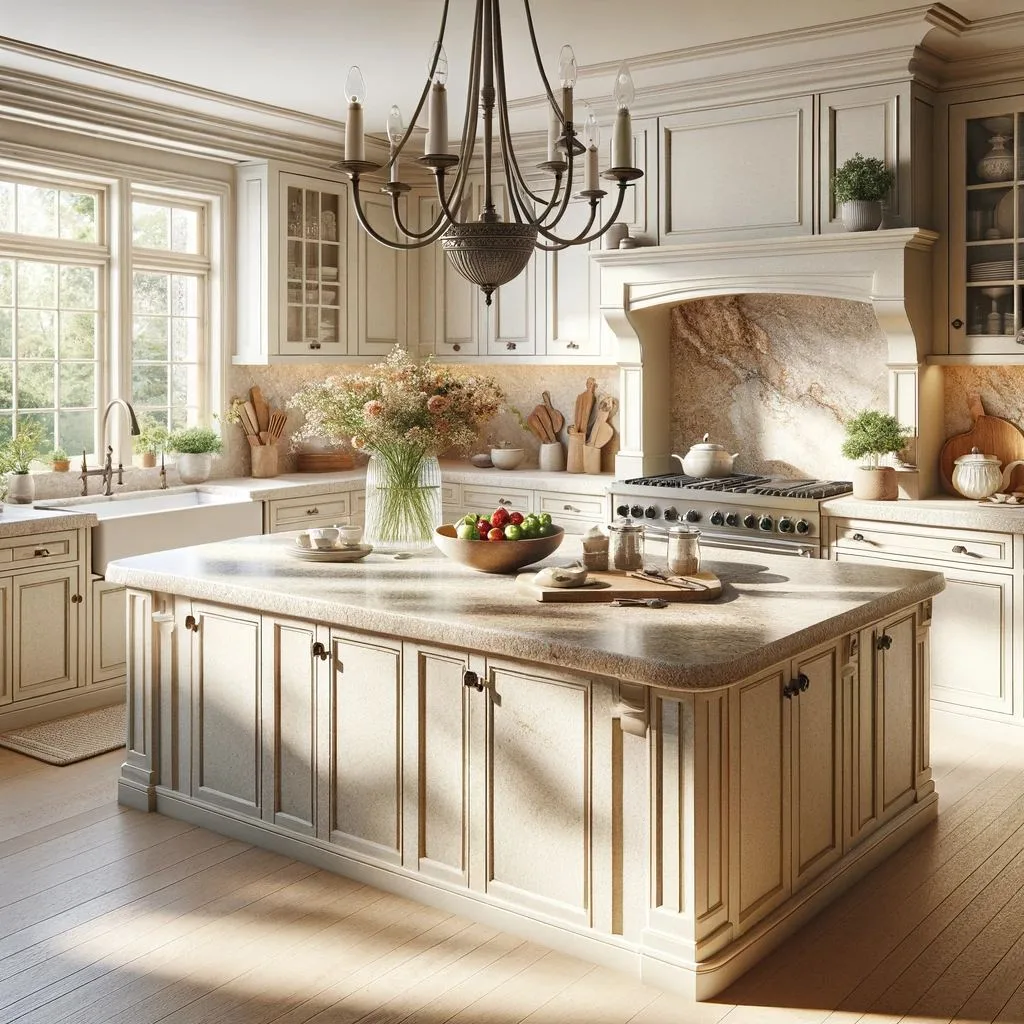 This kitchen features an inviting quartz countertop with a spectrum of warm beige to light brown shades, creating a homely and welcoming space. The countertop boasts an elegant eased edge, enhancing the kitchen's traditional appeal. Surrounding the countertop, the cabinetry is painted in a soft ivory with classic panel doors, providing a subtle contrast that highlights the quartz's natural beauty. Overhead, a vintage-inspired chandelier casts a soft, diffused light, while fresh flowers and a bowl of fruit on the countertop add splashes of color and life to the room.
10. Quartz Elegance: Timeless Kitchen Design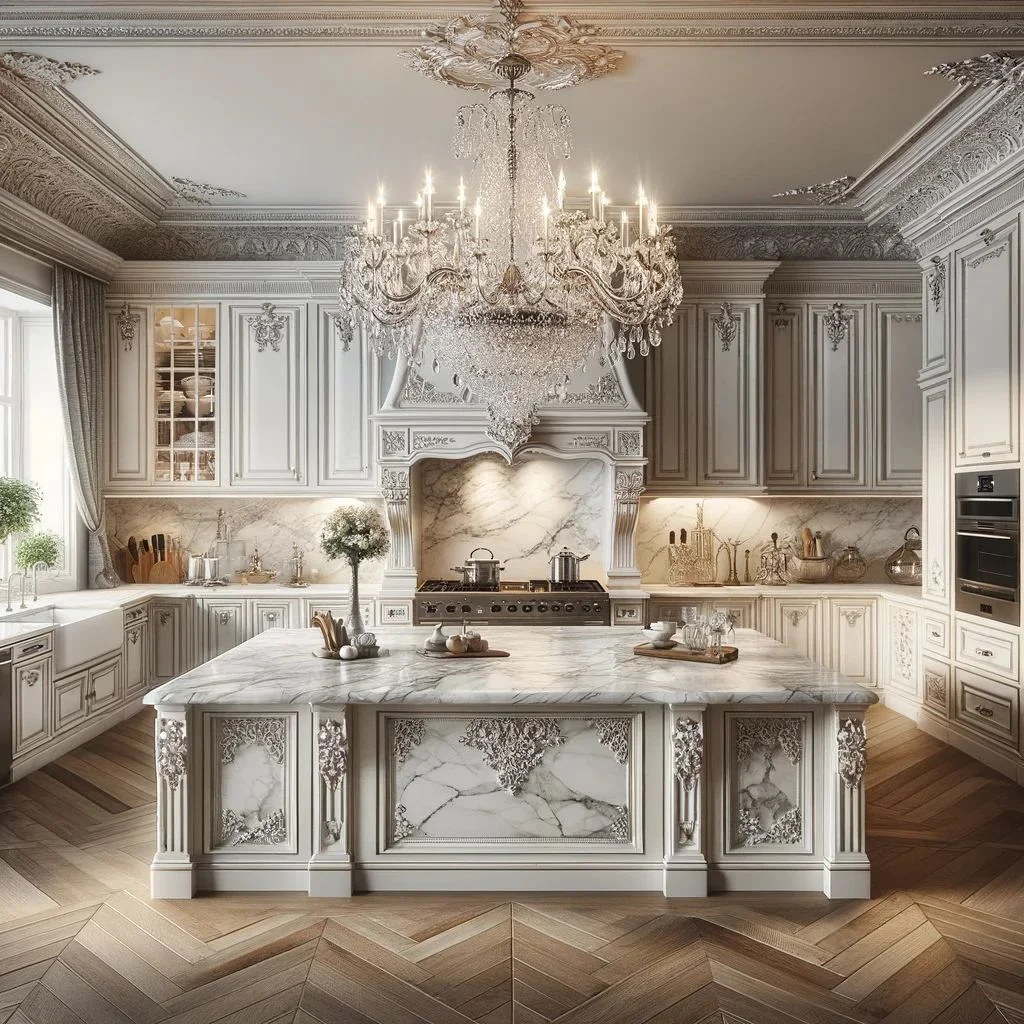 An opulent kitchen design that merges timeless elegance with modern functionality. The countertop is a polished quartz in a classic shade of marble white with subtle gray veins running through it. It is complemented by traditional white cabinetry with intricate moldings and state-of-the-art stainless steel appliances. An ornate crystal chandelier hangs above the island, casting a luxurious glow over the space, while the herringbone-patterned wood floor adds depth and warmth to the room. The overall effect is one of enduring sophistication, making the kitchen not just a place for meal preparation but also the home's showpiece.
11. Sleek Serenity: Quartz Countertop Perfection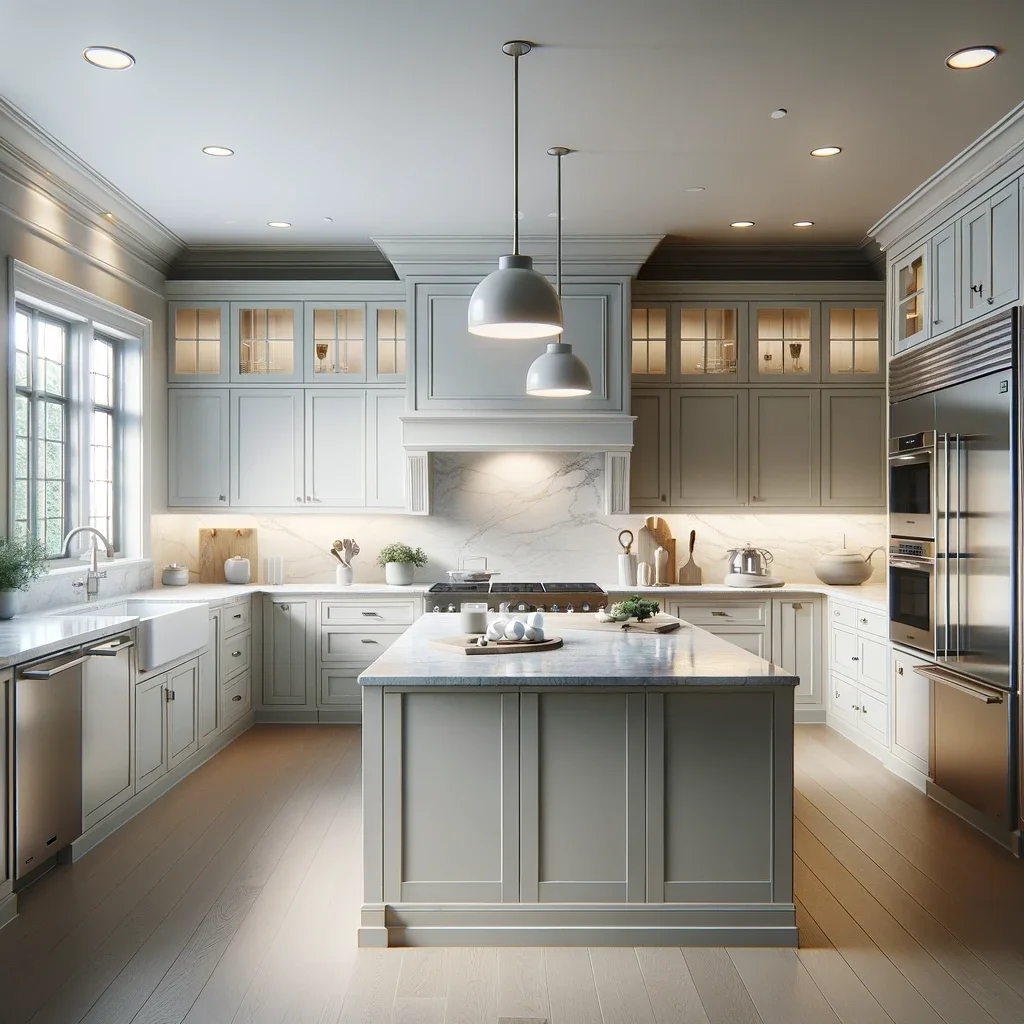 A kitchen design that highlights the seamless beauty of quartz countertops. The countertops have a smooth, polished surface in a serene shade of off-white, accentuated with subtle light gray flecks that add depth and character. The cabinetry is designed in a classic shaker style, painted in a soft dove gray that complements the countertops. State-of-the-art appliances are built into the cabinetry, offering a sleek and integrated look. Under-cabinet lighting casts a soft glow on the quartz, enhancing its natural shimmer and providing a warm ambiance to the space. This kitchen epitomizes the perfect blend of tranquility and modern functionality.
12. Quartz Grandeur: The Art of Surface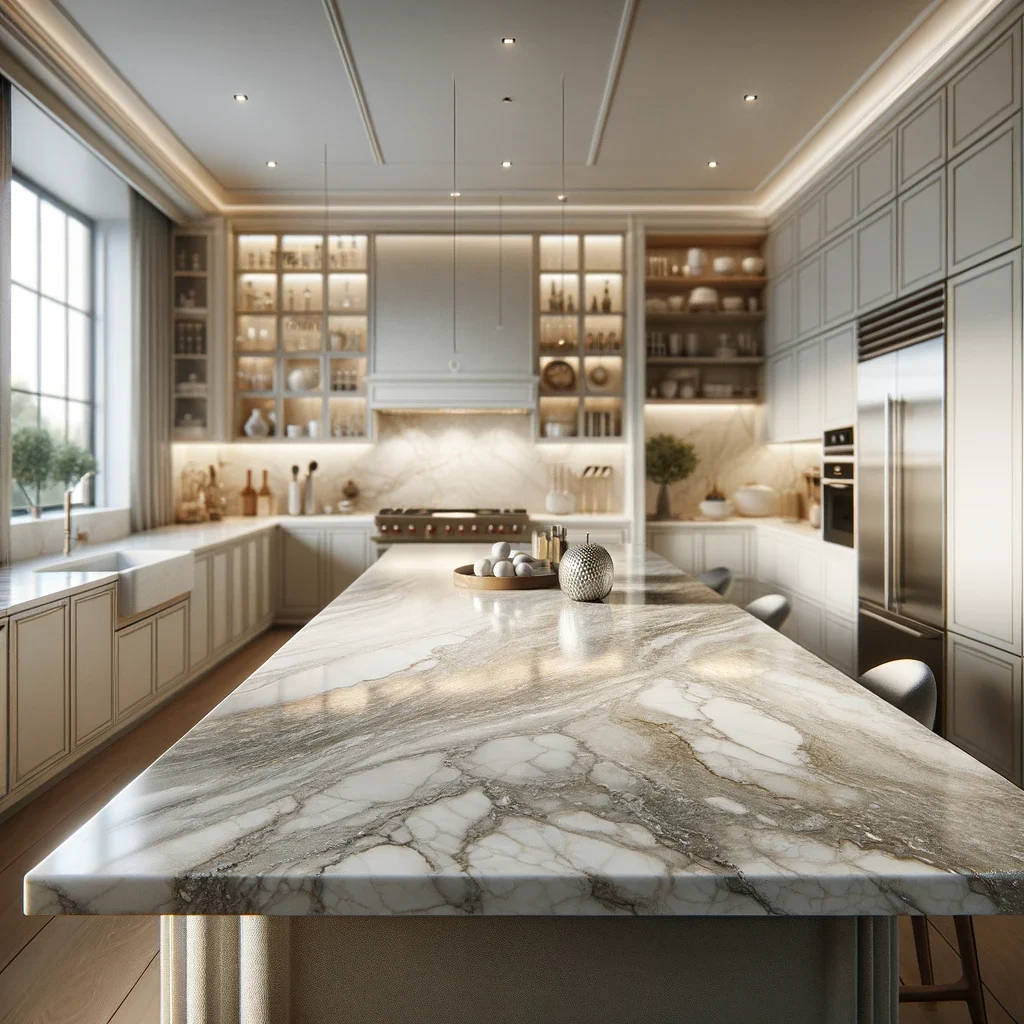 The quartz countertop gleams with a luxurious sheen, displaying a broad spectrum of soft creams and intricate grays that form a subtle, elegant pattern. The edges of the countertop are slightly rounded, softening the kitchen's overall look while maintaining a modern vibe. In the background, the harmony of contemporary white cabinetry and high-end appliances is visible, providing a context to the countertop's central role in the kitchen's aesthetic. The lighting is soft and diffuse, highlighting the countertop's texture and the ambiance of a well-designed culinary space.
13. Practical Kitchen with Durable Quartz Worktops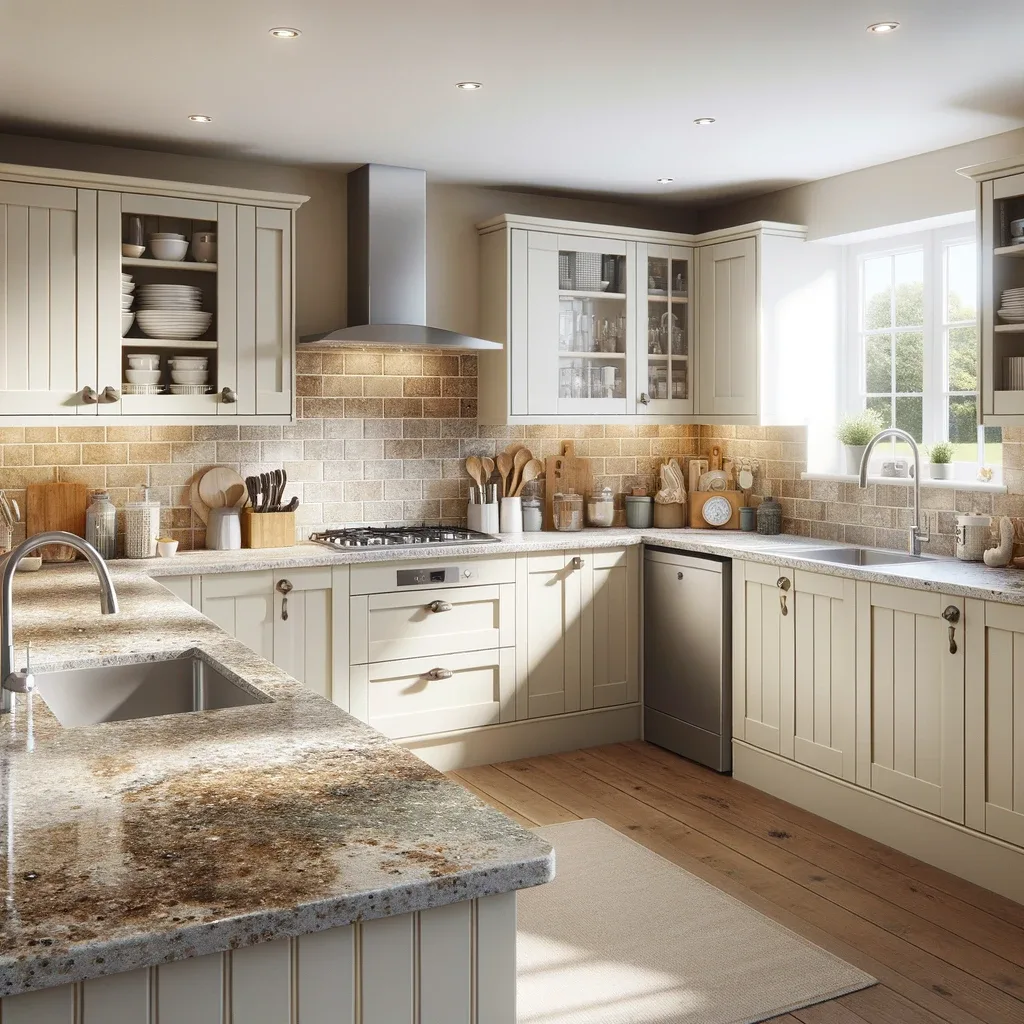 A typical family kitchen design featuring durable quartz worktops with a versatile pattern of mixed flecks of brown, cream, and gray, complementing a wide range of kitchen styles. The worktops have a polished finish and are mounted on classic shaker-style cabinets in a neutral cream color. This kitchen includes practical elements such as a stainless steel undermount sink, a gooseneck faucet, and energy-efficient appliances. The room is brightened with recessed lighting and has a tiled backsplash in subtle earth tones that tie the space together.
14. Contemporary Clean: A Modern Kitchen Design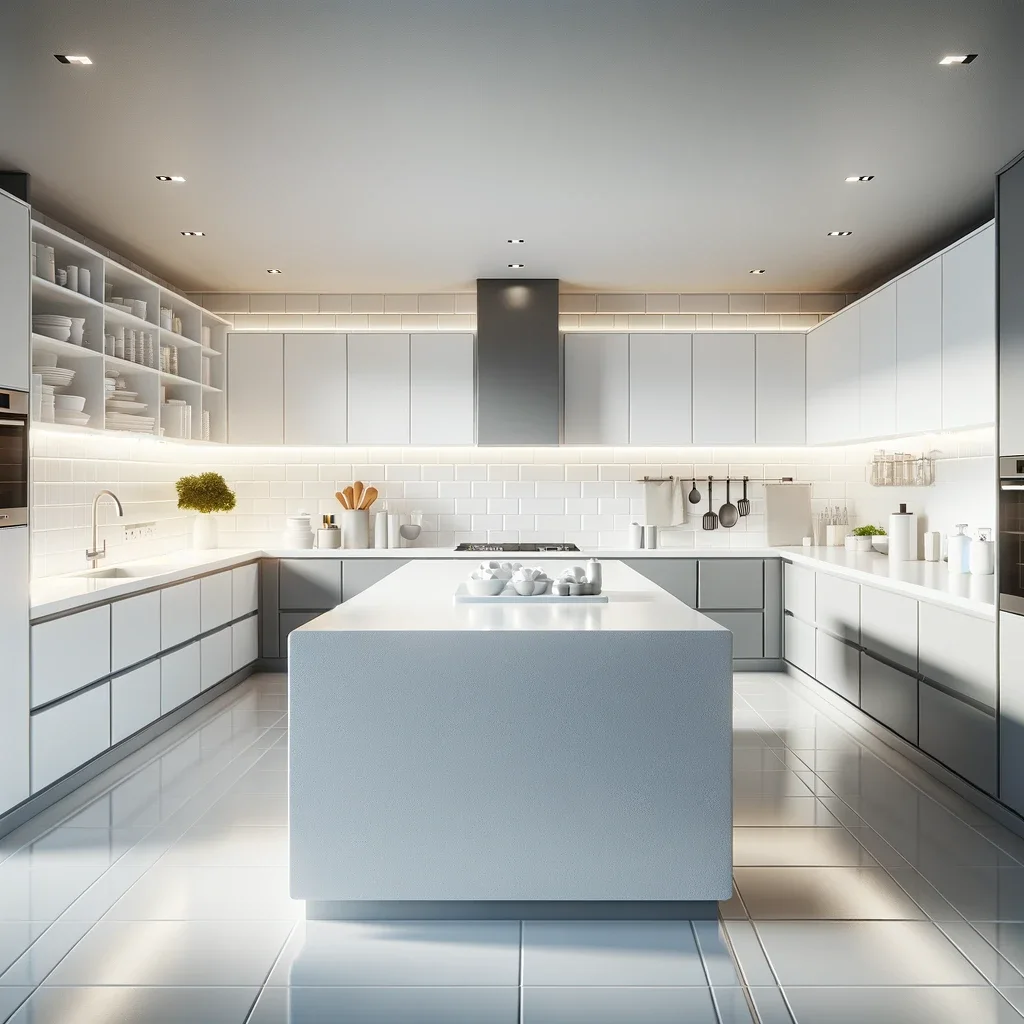 A modern kitchen design with a pristine white quartz countertop that boasts a simple yet striking pure white hue. The countertop has a high-gloss finish that enhances its clean look and is paired with ultra-modern, handleless cabinetry in a high-gloss grey. The walls are adorned with white subway tiles and stainless steel appliances are seamlessly integrated into the cabinetry. The lighting is provided by sleek, recessed LED lights, adding to the kitchen's contemporary ambiance. The overall aesthetic is one of simplicity and sophistication, with a focus on open space and light.
15. Farmhouse Fresh: A Cozy Farmhouse Kitchen Design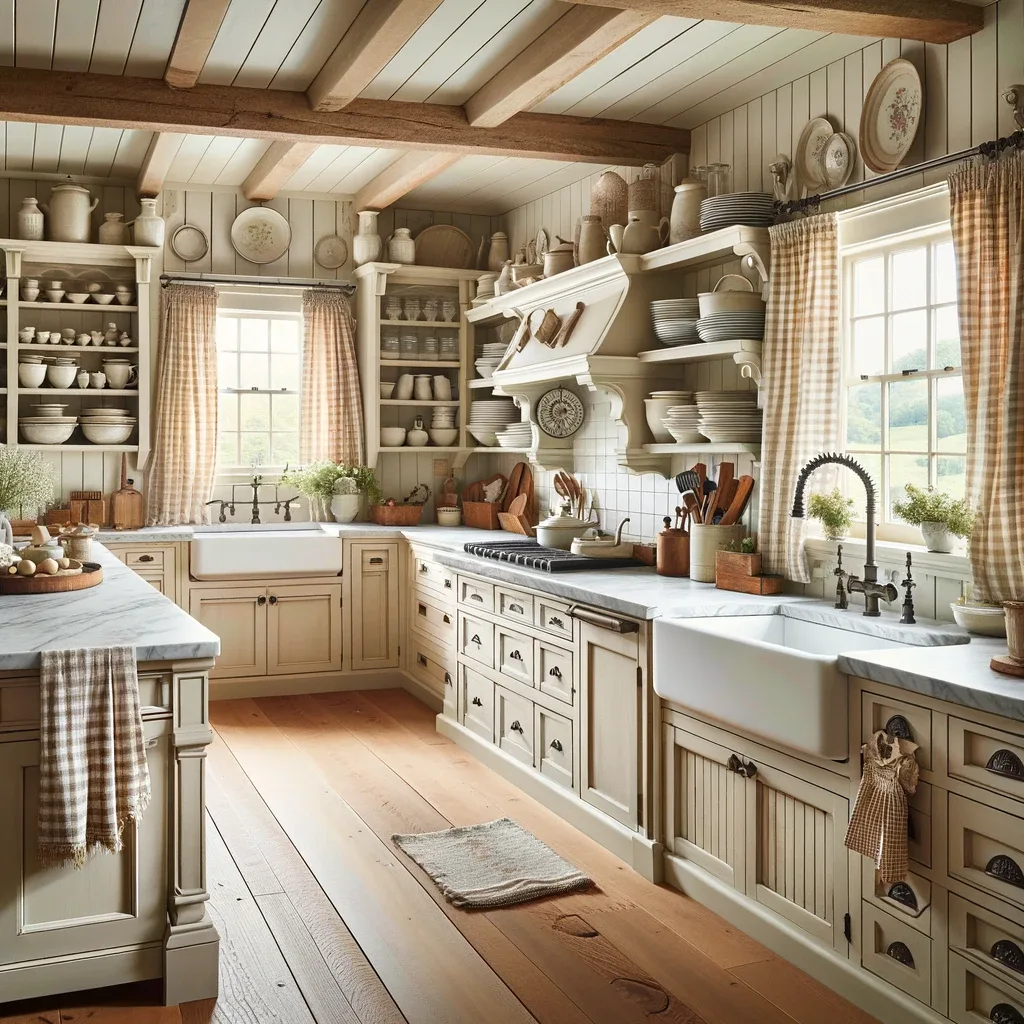 Classic quartz countertops in an off-white shade with subtle grey veining, add to the rustic charm. The countertops have a honed finish for a more natural look and are complemented by traditional shaker-style wooden cabinets painted in a soft, creamy white. Vintage-inspired hardware and a classic apron-front farmhouse sink complete the country aesthetic.
16. Understated Elegance: Timeless Quartz Kitchen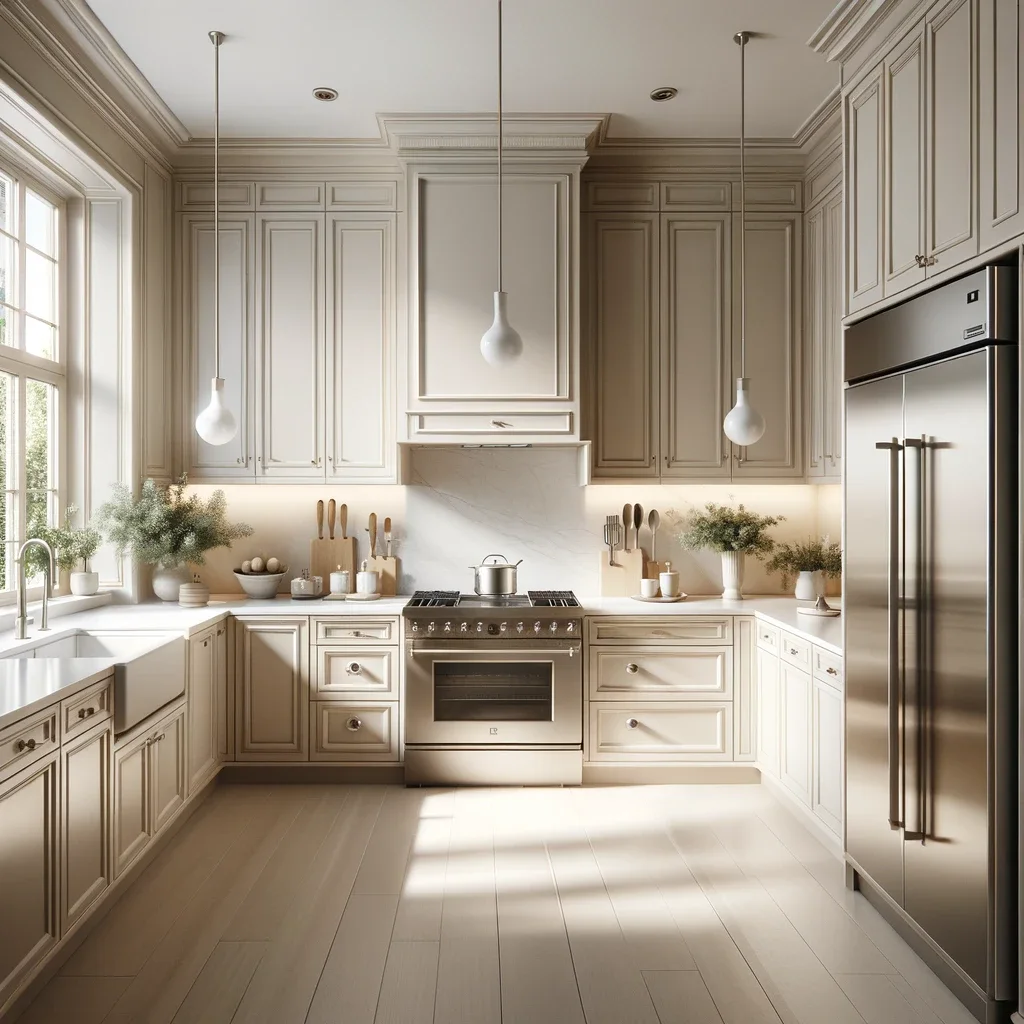 This kitchen is a testament to understated elegance, boasting timeless quartz countertops that encapsulate refined simplicity with their pale, monochromatic color scheme. The lustrous quartz pairs beautifully with the soft beige cabinetry and the modern touch of stainless steel appliances. Its sleek and elegant aesthetic is maintained throughout, eschewing any over-the-top elements for a serene and inviting cooking space.
17. Elegant Grandeur: Chic Quartz Kitchen Design
Embrace the elegant fusion of grandeur and simplicity in this kitchen, where the chic white quartz countertops make a grand yet effortless statement. Dark wood cabinets provide a counterpoint, offering a luxurious touch without excess. The look is completed by high-quality stainless steel appliances and a timeless white subway tile backsplash, presenting a space that's both majestic and gracefully understated.
18. Elegant Serenity: A Luxurious Kitchen with Quartz Accents
This kitchen is a tranquil retreat, where the harmonious blend of white, gold, and gray quartz countertops whispers luxury. Under the contemporary pendant lights, the polished surfaces gleam, enhancing the clean lines of the design. The space is punctuated with lush greenery, providing a vibrant contrast to the kitchen's streamlined elegance, complete with high-end appliances that reaffirm its sophisticated simplicity.
19. Gleaming Gold and Quartz Symphony: A Kitchen Masterpiece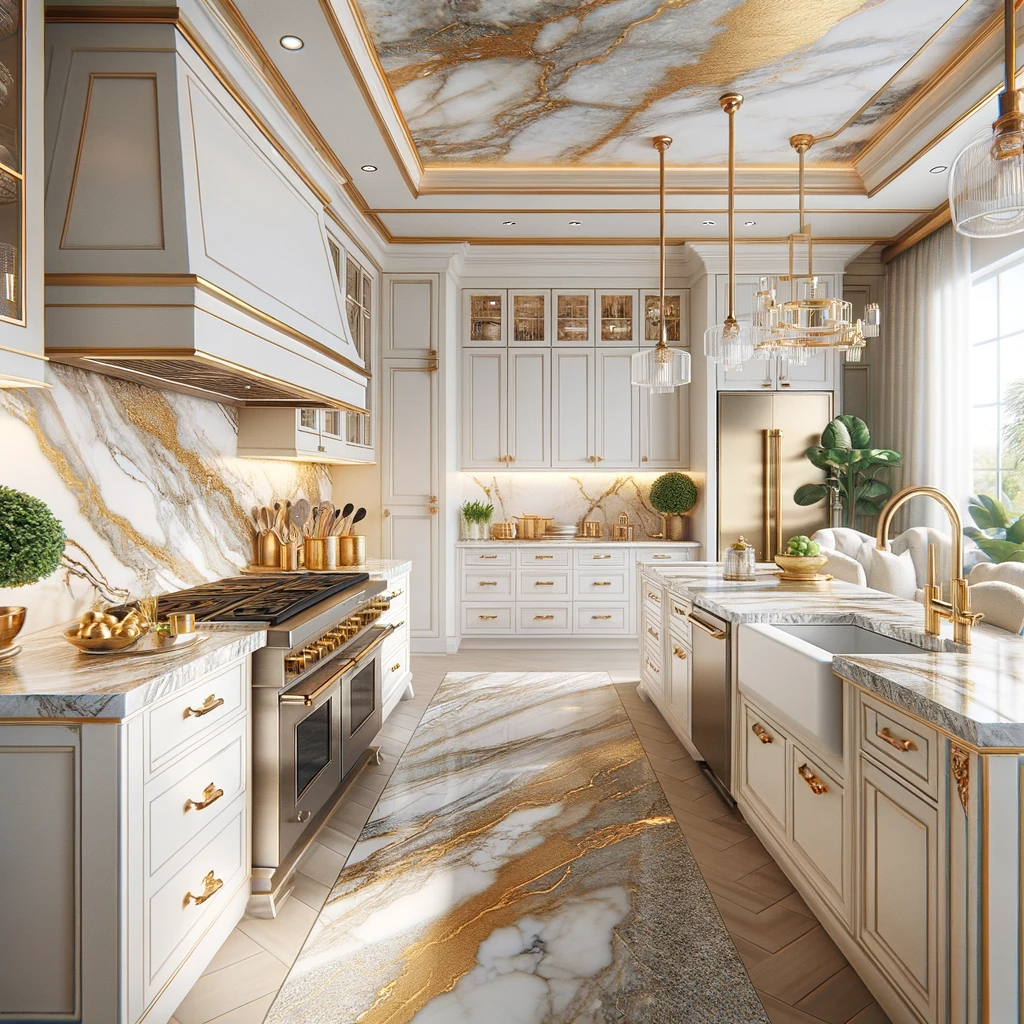 Witness a kitchen that radiates elegance with a full view of quartz countertops laced with gold. The space is designed with an eye for luxury, featuring a harmonious blend of white, beige, and gray quartz, all accented with subtle gold veins. The countertops extend to provide a generous cooking area, with a medium-sized undermount sink and gold-tone faucet adding functional sophistication. Gold handles on white cabinets enhance the kitchen's regal feel, while state-of-the-art appliances ensure the space is as practical as it is beautiful. Potted green plants and soft under-cabinet lighting bring warmth and life to this exquisite kitchen.
20. Elegant Farmhouse Kitchen with Quartz Countertops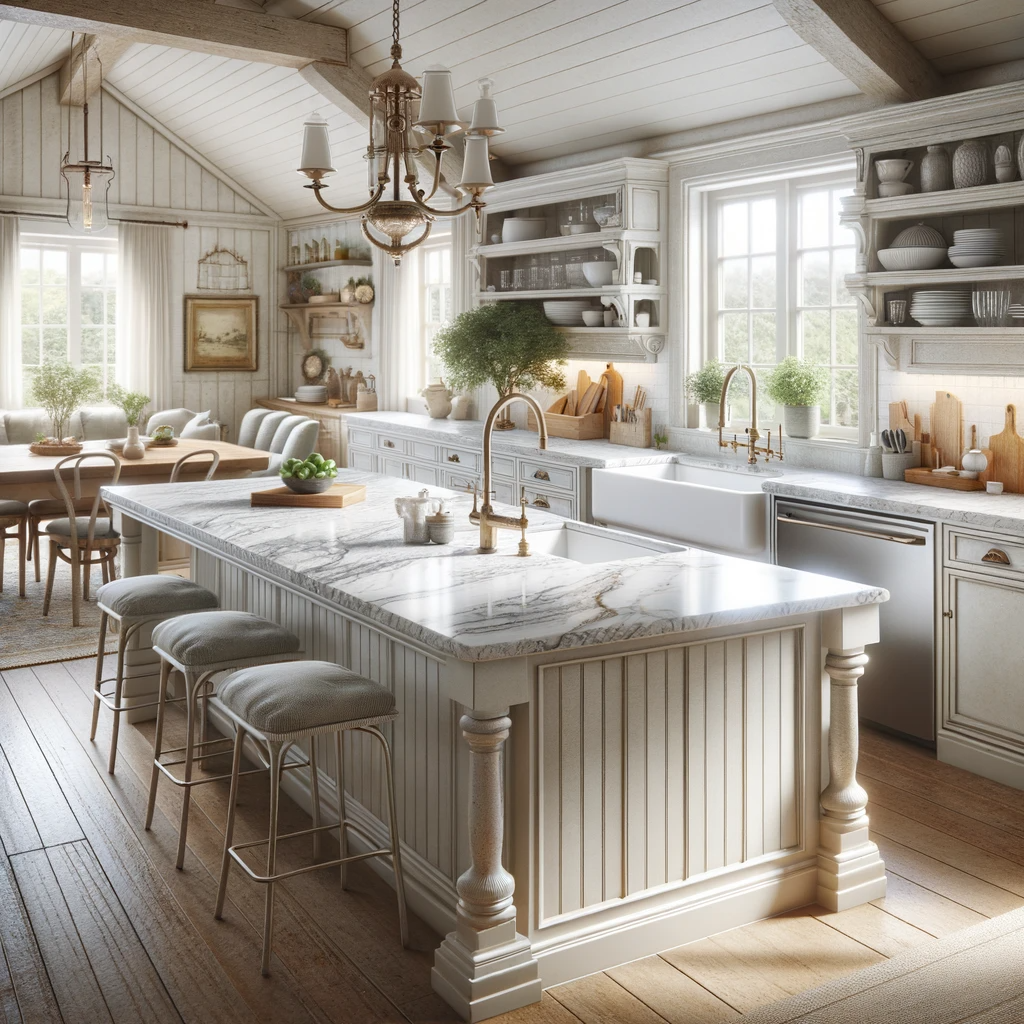 A tastefully designed farmhouse kitchen with spacious elegance. The kitchen layout ensures ample room for meal preparation and entertaining. The soft, natural light from the surrounding windows illuminates the quartz countertops, highlighting its intricate patterns and shine. Accents of vintage decor provide a homely, rustic feel, while modern amenities ensure functionality within this charming space.
21. Elegance Meets Rusticity: Idyllic Farmhouse Quartz Kitchen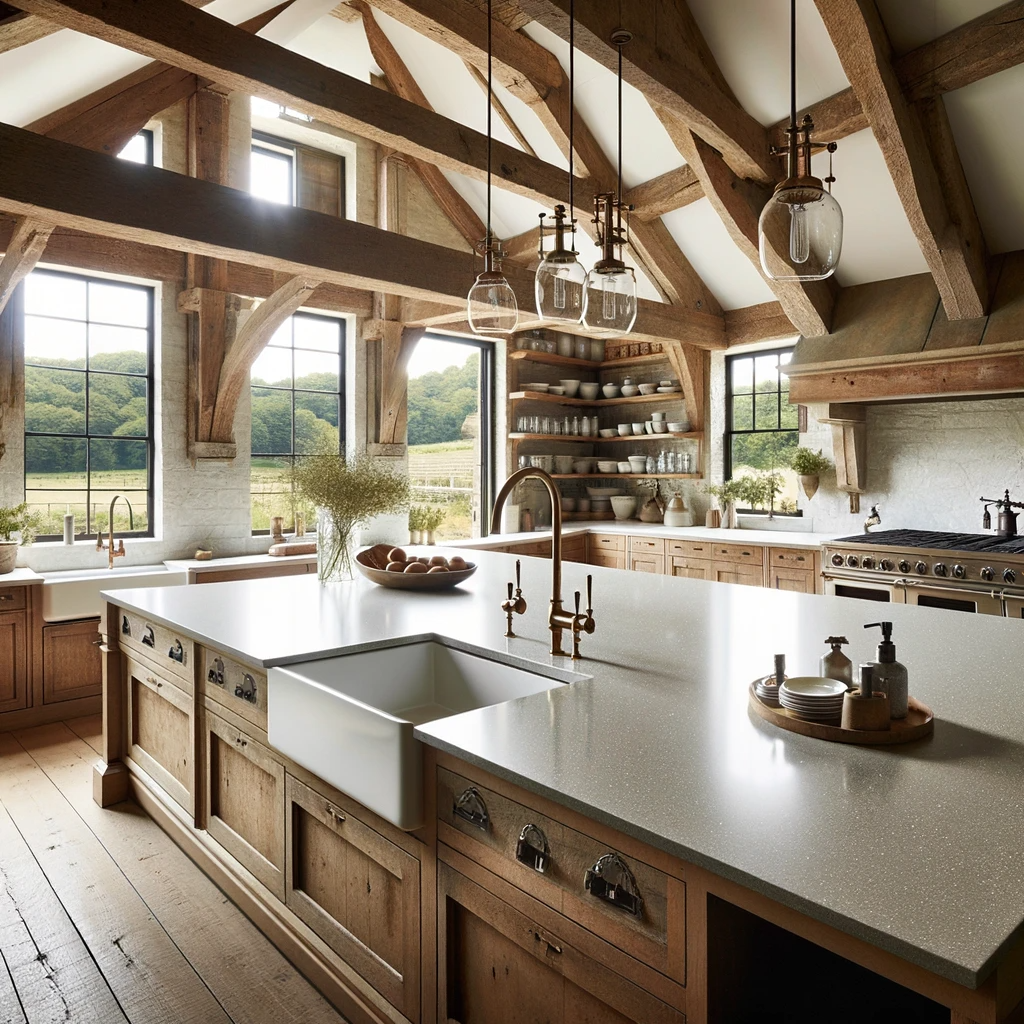 An idyllic farmhouse kitchen is reimagined with a contemporary twist, featuring a grand island with quartz countertops and a sink with polished taps. The design fuses rustic wooden beams and cabinets with the pristine sophistication of quartz, offering a luxurious yet homely feel. Large windows invite the countryside serenity inside.
22. Modern Farmhouse Chic Kitchen with Quartz Countertops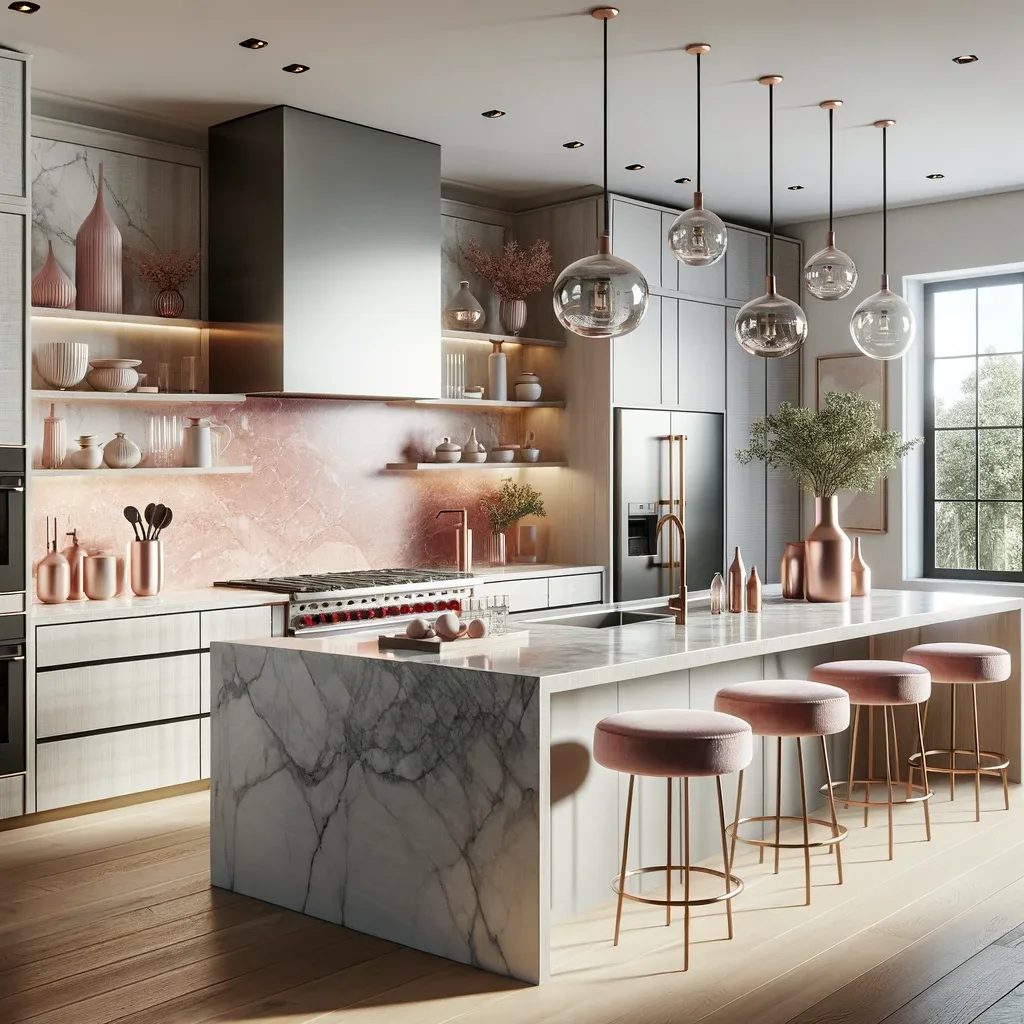 Pops of pink are introduced through stylish bar stools, decorative vases, and unique pendant lights, which provide a touch of modern vibrancy to the space. High-end appliances and minimalist cabinetry reflect the kitchen's modern ethos, while large windows ensure the room is bathed in natural light, making the pink elements truly shine.
23. Modern Farmhouse Quartz Kitchen with Navy Accents
This kitchen design is a modern twist on the classic farmhouse look, featuring navy blue accents that complement the pristine white quartz countertops. Navy blue bar stools add a pop of color, while the white shaker cabinets and stainless steel appliances maintain the kitchen's modern and clean aesthetic. Natural light pours in through the large windows, highlighting the lustrous quartz and the navy accents, creating a welcoming space that's perfect for both cooking and social gatherings.
24. Contemporary Kitchen with Bold Quartz Highlights
Explore a kitchen where contemporary meets bold elegance. Vivid accent colors enliven the room through chic bar stools, a dynamic backsplash, and decorative elements, creating a striking contrast with the quartz's natural beauty. Glossy flat-panel cabinets and the latest kitchen appliances exude a polished, contemporary feel. The design is completed by generous windows that invite natural light to enhance the vibrant colors and reflect off the quartz, making the kitchen a lively hub of the home.
25. Luxurious Quartz Brilliance with Accent Flair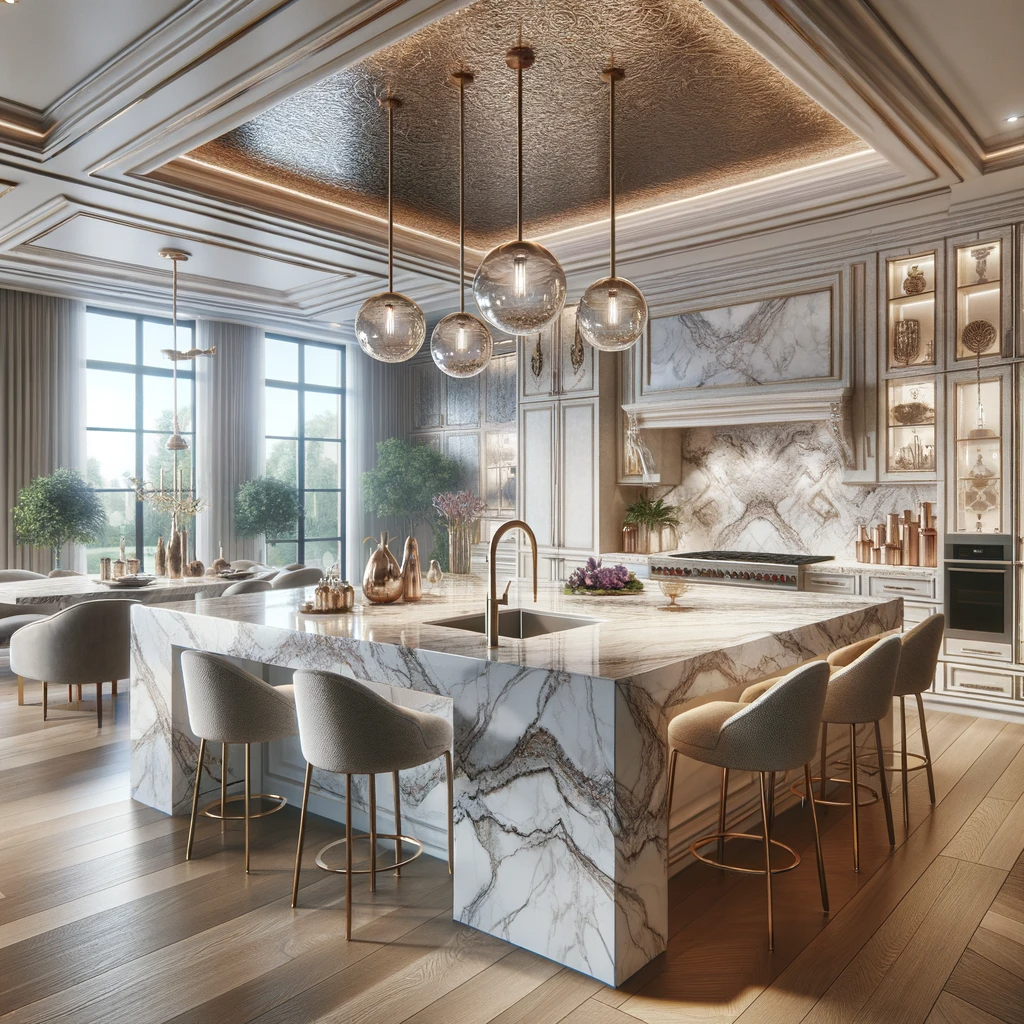 An opulent kitchen, where the quartz countertops are the stars, gleaming with unmatched brilliance. To complement the quartz, subtle accent colors are introduced through sophisticated bar stools and decorative pieces, adding a layer of elegance without overshadowing the countertops. The surrounding cabinetry is designed with a minimalist approach to keep the focus on the quartz, while modern appliances are chosen to blend seamlessly with the environment. Large windows ensure that the quartz remains the highlighted feature, reflecting the light and enhancing the overall grandeur of the space.
26. Quintessential Elegance in Quartz-Adorned Kitchen
Discover the allure of an elegant kitchen, where the radiant quartz countertops command attention, reflecting the room's grace and style. The classic elegance is further accentuated by the sophisticated choice of cabinetry and the subtle infusion of red accent pieces that speak of a refined taste. The design embraces a layout that marries tradition with modernity, featuring state-of-the-art appliances, all highlighted by the warm glow of pendant lighting that dances across the polished quartz surfaces.
27. Dark Quartz Elegance in Modern Kitchen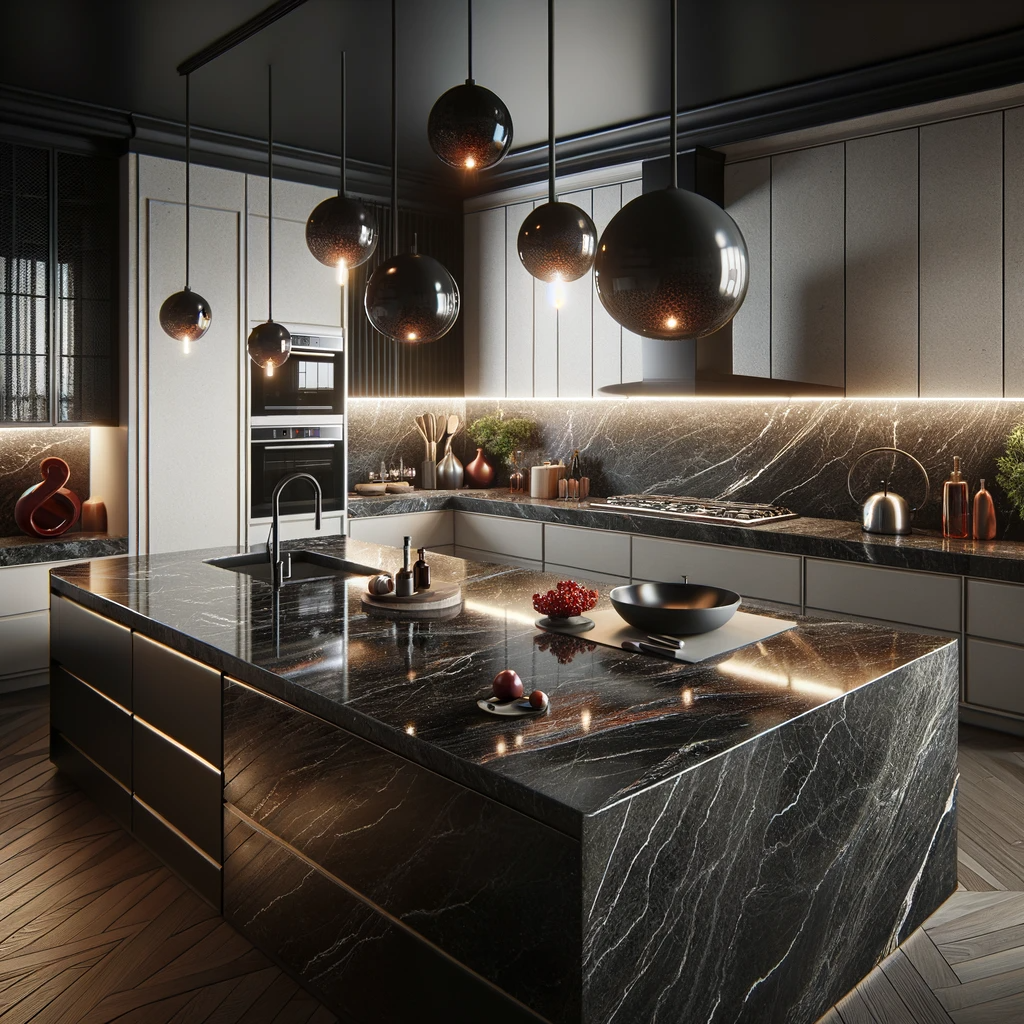 A kitchen where dark quartz countertops provide a bold statement of luxury and sophistication. The deep tones of the countertops contrast beautifully with the lighter cabinetry, creating a striking visual balance. Elegance is at the forefront of this design, with the dark quartz glistening under chic pendant lights, while red accents in the form of decorative elements add a touch of warmth and depth. This kitchen is a blend of modern design principles with the timeless appeal of dark, rich surfaces that promise both style and durability.
28. Light Accents on Dark Quartz Kitchen
The countertops serve as a dramatic centerpiece, surrounded by lighter-toned cabinetry and flooring that illuminate the space. To complete the look, light-colored decorative elements and bar stools are strategically placed, introducing a serene yet sophisticated atmosphere. The interplay of light and dark within this kitchen makes for a timeless elegance that's both inviting and strikingly beautiful.
29. Rustic Radiance in a Quartz-Lit Farmhouse Kitchen
This kitchen combines the rustic charm of a farmhouse design with the contemporary elegance of dark quartz countertops. Bathed in natural light from large windows, the dark quartz surfaces gleam, highlighting their natural beauty and the kitchen's organic vibe. The infusion of natural light not only enhances the kitchen's welcoming atmosphere but also showcases the depth and richness of the dark quartz, making it a stunning focal point of the home.
30. Minimalist Kitchen with Elegant Green Quartz Countertops
A spacious and luxurious kitchen with a broad and elegant green quartz countertop. This countertop is polished, with a scattering of soft white marbling throughout, offering a sophisticated and clean appearance. The kitchen is designed with a minimalist approach. The overall design is open and airy, with sunlight filtering through sheer curtains, illuminating the high-gloss white cabinetry and the subtle reflective surfaces of high-end appliances. The kitchen exudes a sense of calm sophistication, with a balance of natural beauty and modern design.
31. Grand Kitchen with Expansive Green Quartz Worktops
The countertops shimmer with a gentle polish, featuring subtle white marbling. Interspersed across the surface are sophisticated purple accents: a set of amethyst coasters, a cluster of lavender, and a violet glass vase with a bouquet of purple wildflowers. The kitchen is designed with an open concept, featuring sleek white cabinetry and state-of-the-art stainless steel appliances that reflect the light, enhancing the quartz's natural sheen. The lighting is a combination of natural sunlight streaming through large windows and soft pendant lights that cast a warm glow, highlighting the purple hues and creating a regal yet welcoming atmosphere.
32. Beach Kitchen with White Quartz Countertops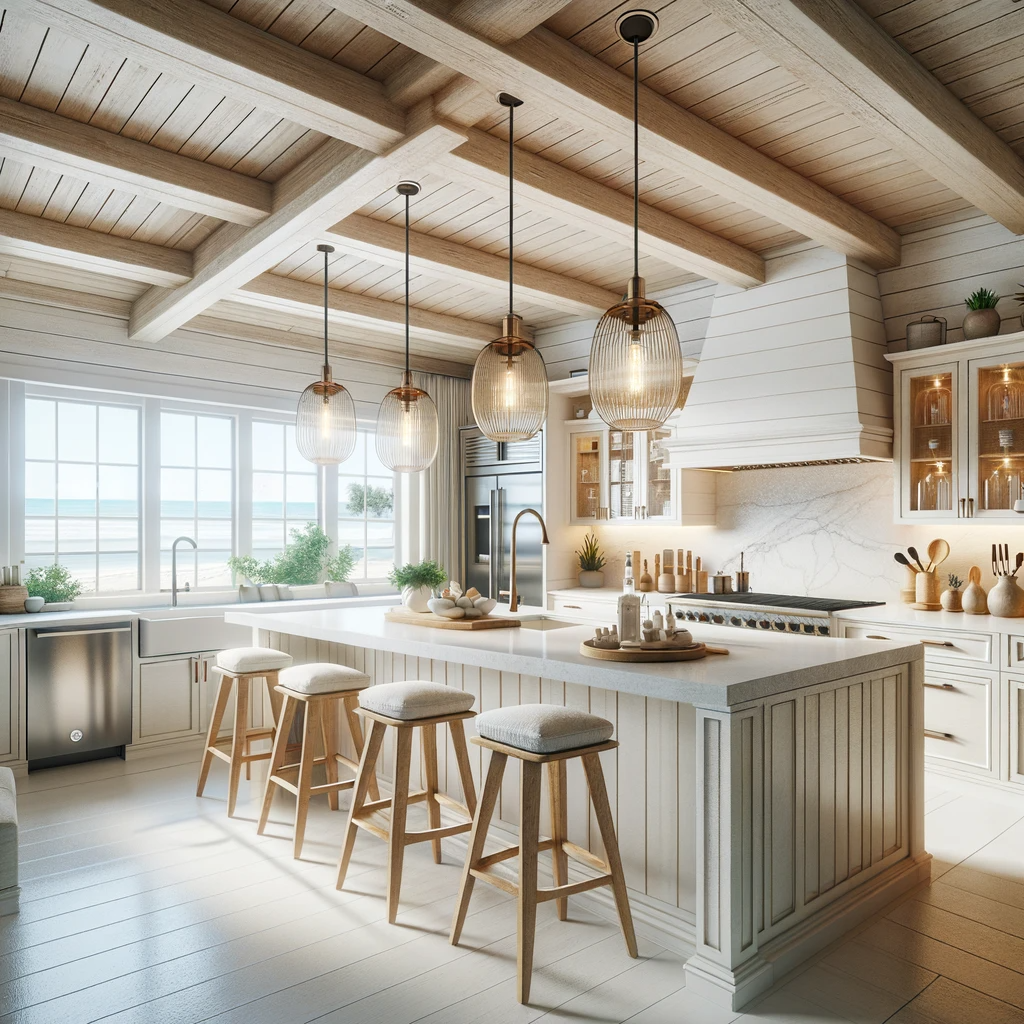 A beach-style kitchen with a touch of realism. The ceiling is finished with lightly stained wooden beams that give a cozy cabin feel, complementing the bright white quartz countertops. The island sits under stylish yet simple pendant lights that illuminate the space with a soft glow. Bar chairs with a natural wood finish and cushioned seats provide comfortable seating, and the overall design blends modern appliances with rustic charm, evoking the relaxed vibe of a beach house.
33. Coastal-inspired Kitchen with White Quartz
A coastal-inspired kitchen that marries contemporary design with a hint of beachside charm. The ceiling is detailed with white-painted wood beams for a realistic, cottage-like feel. Below, the kitchen island glows with a pristine white quartz countertop, accented with vibrant orange details like a fruit bowl or decorative vase, adding a pop of color. This kitchen design combines functionality with a breezy, beach aesthetic, enlivened by the cheerful orange accents.
34. Modern Eclectic Kitchen with White Quartz and Deep Teal
A modern eclectic kitchen that integrates a consistent color theme with functional design. The cabinetry is a uniform deep teal, providing a luxurious yet bold backdrop. The same deep teal is reflected in the modern bar stools that line the island. Stainless steel appliances are tastefully placed within the colored cabinets.
35. Chic, Modern Kitchen with Designer Quartz Countertops with Striking Blue Accents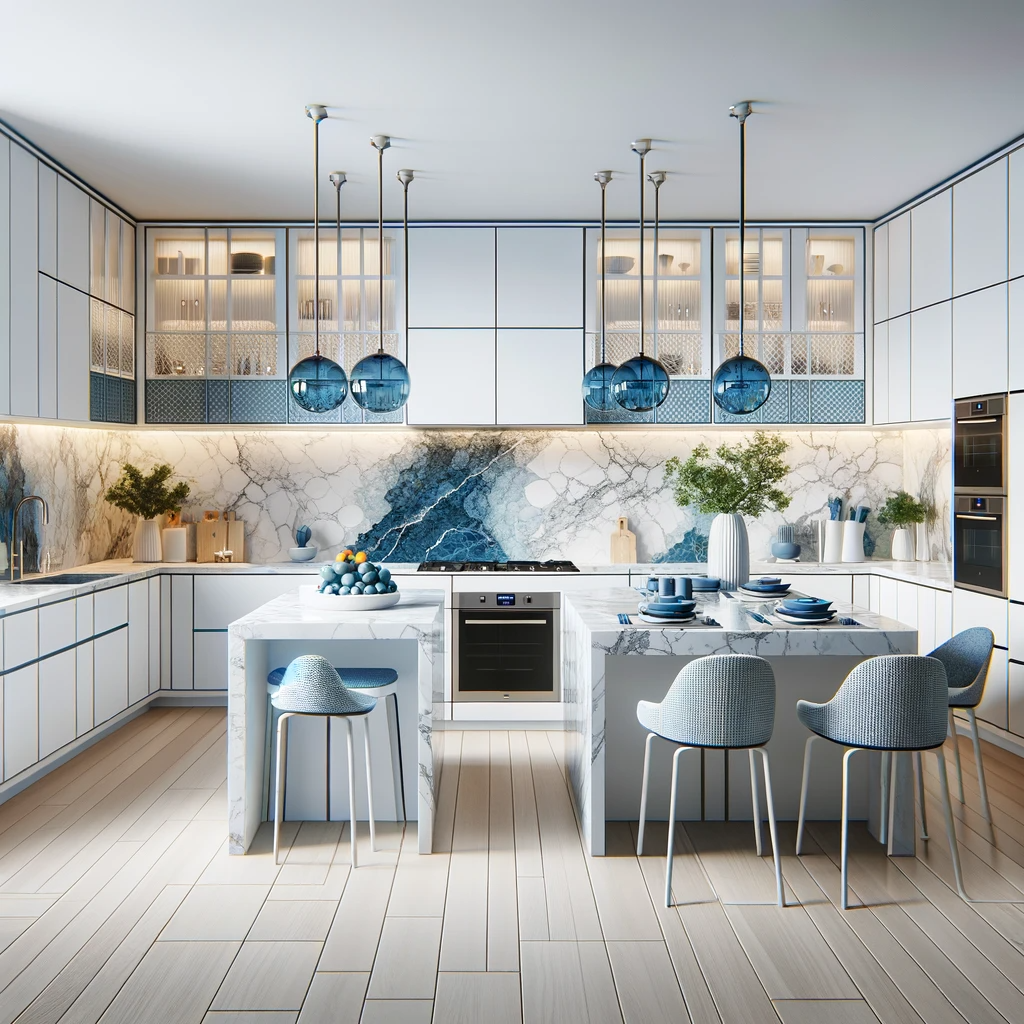 The countertops exude a clean and sophisticated pattern, with the blue accents tastefully integrated, ensuring a cohesive and stylish appearance. The cabinetry is minimalist with a high-gloss white finish, punctuated by subtle blue handles that echo the countertops' accents. State-of-the-art appliances are built-in and finished in stainless steel, blending seamlessly with the kitchen's aesthetic.
36. Scandinavian Kitchen Featuring Sleek Quartz Countertops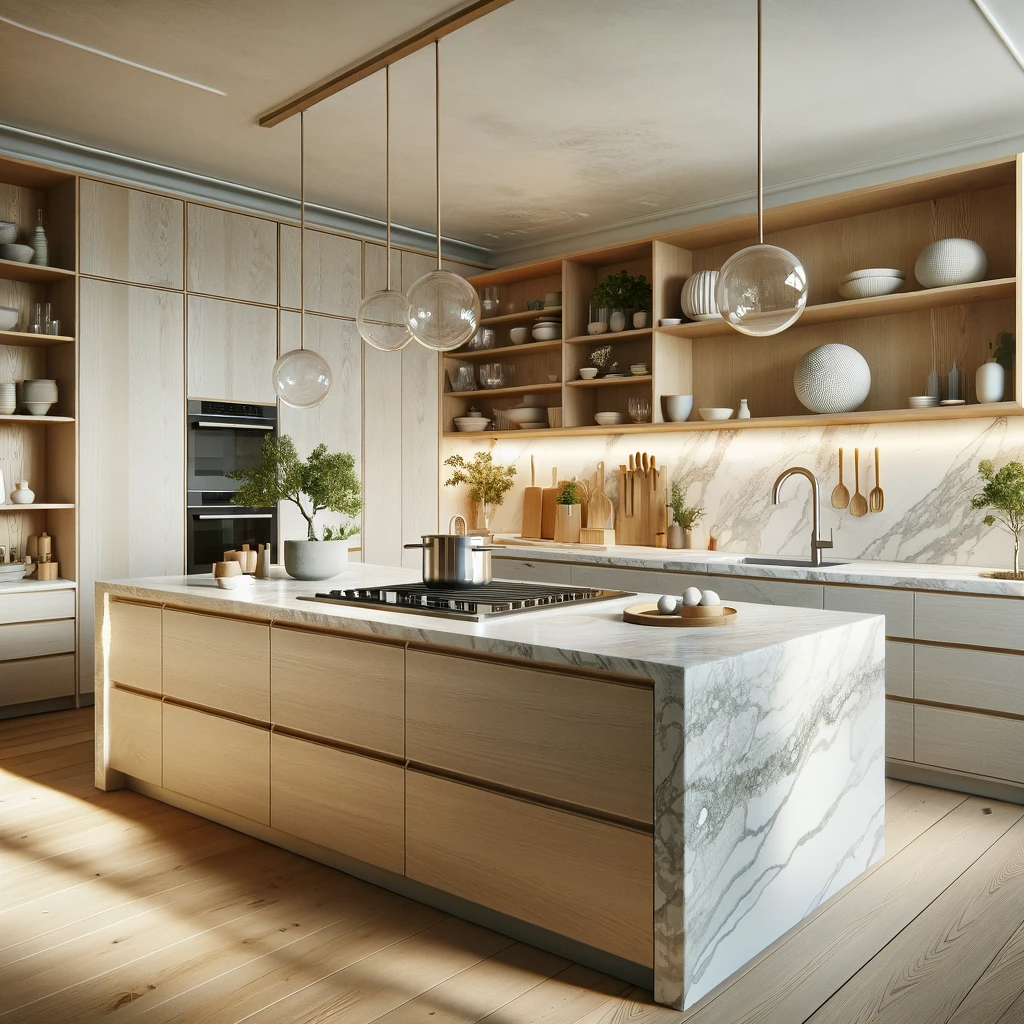 A Scandinavian kitchen where functionality meets serene aesthetics, featuring sleek quartz countertops. The surfaces are a tranquil blend of white with delicate gray marbling, enhancing the room's spacious feel. The cabinetry, true to the Scandinavian style, is made of light wood with minimalist handles, providing a warm yet refined touch. Energy-efficient appliances, with their streamlined designs, are integrated within the wooden elements, preserving the kitchen's seamless look. The space is illuminated by generous natural light, which dances across the quartz, highlighting its subtle patterns and contributing to a peaceful, harmonious atmosphere typical of Nordic interiors.
37. Scandinavian-style Kitchen with Sleek, Minimalist Design Elements
A Scandinavian-style kitchen with sleek, minimalist design elements. The space is illuminated by natural light from large windows. The cabinetry is made of light-colored wood, featuring simple, handleless doors. The quartz countertops have a pristine, white appearance, complemented by a subtle marble-like pattern. Stainless steel appliances are integrated into the space, and there are green plants placed around to add a touch of nature. The floors are a pale hardwood, and there's a large, rectangular wooden dining table surrounded by modern, white chairs in the center of the kitchen.
Read more: 8 Best Kitchen Cabinet Colors for Brown Granite Countertops