Our readers support us. This post may contain affiliate links. We earn from qualifying purchases. Learn More
Pink and grey area rugs are best suited for luxurious interiors that need a touch of feminine spirit to brighten them up. Also, these rugs are most appropriate for bedrooms and nurseries due to their soft and warm appearance.
Modern decor practices however seem to gravitate towards pink and grey area rugs as great choices for living rooms and kitchens as well. The bold contrast between cold and warm shades is highly appreciated. It adds depth, charm, fanciness, and a delicate character to these rooms.
You can place a pink and grey area rug on brutalist exposed concrete floors to make them seem more homely. In addition, you can use these rugs on tiles to give them a softer feel. You can even place them on dark hardwood floors for a strong and bold contrast. Last but not least, layering pink and grey rugs on a plain carpet is another good way to add color to your rooms.
In terms of style, pink and grey area rugs work well when inserted into shabby chic interiors. Another style that goes quite well with this combination is Scandinavian and ultra-modern.
Without further ado, here are some of the most interesting interiors featuring pink and grey area rugs.
Living Room Pink and Grey Area Rug Combinations
Living room pink and grey area rugs are more suited for Mid-century modern interiors and specifically Scandinavian styles. Also, these rugs work best when paired with grey couches and blush pink cushions.
Here are some of our favorite living room combinations involving pink and grey area rugs.
The Abstract Design
|
This abstract area rug has a design that is both crisp and delicate. The stains of grey match the cold shades of the walls and furniture. Meanwhile, the blush pink splatters add a refined warm feeling to the room.
The abstract design is like a proper modern canvas that makes the living room seem graceful and utterly modern. In addition, it becomes a gravitational piece for the otherwise plain room decor.
Tip: Use an abstract pink and grey area rug in a monochromatic living room. This combination will make the living room feel modern but in a soft way. Match the rug with grey Scandinavian furniture for a clean, almost minimal, look!
The Geometric Design
|
Geometric area rugs can always add a touch of modernity to a living room. The same goes for this pink and grey area rug with geometric patterns in different shades of both colors. The decor in this apartment is quite soft and ladylike, with a refined taste.
The numerous shades of the rug on the other hand, can be matched with other accessories in the room. You can combine the throw rug on the couch and several cushions with the area rug.
Tip: Add a geometric pink and grey area rug to a plain grey room to create a feminine living room vibe. This rug is great for ladies working in the fashion industry.
The Traditional Design
|
The classic pink and grey area rug in this living room features a symmetrical design with floral patterns in both colors. In addition, it shows a distressed, almost shabby chic look, through faded colors. This gives the rug more character as a design piece.
The traditional look of the rug makes the living room design timeless while the modern furniture pieces allow it to be fashionable and edgy.
Tip: Match a shabby chic pink and grey symmetrical design rug with modern furniture pieces to give depth to your living room's decor and create a traditional-contemporary timeless combo!
Bedroom Pink and Grey Area Rug Combinations
Pink and grey area rugs are more suited for girl bedrooms, especially those with a shabby chic look. Here are some ideas on how to decorate your bedroom with pink and grey area rugs.
The Fancy Bedroom
|
While most pink and grey area rugs are associated with girly and sweet bedrooms, there is a way to use this rug combination for more mature designs. Pick a rug that has strong dark grey shades combined with faded blush pink hues and match that with white walls and fancy furniture pieces like in this example.
Tip: Pick an Oriental rug in pink and grey hues with a high contrast between the shades to achieve a more mature look in your bedroom.
The Shabby Chic Girl Bedroom
|
This is probably the most common look for a pink and grey rug combination: layering it on a beige carpet to add some depth to the floor.
This Shabby chic design is utterly sweet and romantic. In addition, it does a perfect job at taking this bedroom into another dimension. The whole picture looks a cheerful and delicate atmosphere where dreams come to life.
Tip: Match a pink and grey shabby chic rug with muted tones to create a soft and relaxing immersive bedroom.
The Classic Modern Rustic Bedroom
|
Rustic bedrooms tend to look cold and harsh, but a pink and grey area rug can really soften the look of steel frame beds and create a good balance resulting in the famous 'Studio McGee' look that we have all grown to love.
Tip: Match the rug with cushions and curtains to achieve a proper classic modern rustic look.
Kitchen Pink and Grey Area Rug Combinations
Kitchen pink and grey area rugs are most suited for traditional kitchen cabinets with brass hardware. They work best as runners within the aisles created between the kitchen island and the rest of the cabinets in large kitchens. The best rugs in these two colors are oriental distressed runners that soften the look of harsh cabinets. Here are some ideas for you to take inspiration upon.
The Vintage Runner Rug
|
Runner rugs always work better in kitchens, especially those that have an island in the middle and several aisled for circulation. This vintage pink and grey area rug gives much-needed character to the grey and oak kitchen.
The washout old look of the rug complements the traditional style of the cabinets. The combination of pink and grey on the other hand creates a beautiful palette of pastel colors in the kitchen, by adding some subtle warmth to the room.
Tip: Use a washout pink and grey rug if you have a kitchen in cool tones to make it look warmer and more feminine, without overwhelming the design.
The High Contrast Rug
|
Oriental rugs work well in almost every kitchen design. This one however mixes Oriental motifs with Southwestern hints and becomes a strong design element in this kitchen. The high contrast between the blush pink and the dark grey hues of the rug complement the two tones of the kitchen: blue and white. The feminine combination of the rug softens the harsh look of the stainless steel appliances and the harsh edges of the cabinets.
Tip: Match a high-contrast pink and grey rug in a kitchen that has two contrasting colors to create a link between the cabinets.
The Coastal Look
|
While pink and grey might not seem very coastal to you, they can in fact achieve a calming beach house feel when inserted within the right kitchen color. In this case, a washout pink and grey runner matches the pale color of the hardwood floors and the white kitchen cabinets.
It is the perfect choice for a beach farmhouse decor kitchen.
Tip: Use an Oriental rug in faded pink and grey to match pale hardwood floors and create a soft farmhouse decor that looks fancy and refined.
Dining Room Pink and Grey Area Rug Combinations
Pink and grey area rugs in dining rooms are usually paired with wooden tables and chairs to create a farmhouse or cabin style. Here are some ideas on how to match these rugs with your dining room furniture.
The Modern Farmhouse Look
|
Place a large area rug in pink and grey tones underneath an all wood dining table for a modern farmhouse look. Small hints of blue add character to the rug and depth to the decor of the room. Also as a bonus touch, the throw rug on the bench creates a link between the floor and the table, which shows that the room has been designed to the detail.
Tip: Match a pink and grey dining room rug with other throw rugs, frames, and wall decor to create an immersive design.
The Southwestern Urban Look
|
Southwestern rugs in pink and grey are rustic and warm. They work great with wooden dining tables and chairs to create a cabin feel in a townhouse or city setting. The mixture of the remote look with the urban setting creates an interesting bold design.
Tip: Find a Southwestern rug design in pink and grey to give your dining room a Desert Boho feel without making it feel too rustic.
The Classic Modern Look
|
The 'Classic Modern' look is very much appreciated nowadays, especially in large dining rooms with a lot of light and brightness. Pink and grey area rugs do wonders in such settings because they add style and fanciness to the room through the gentle contrast between the warm and cold tones.
Tip: Make the pink and grey area rug a unique piece in the dining room by keeping everything else neutral and allowing the blush pink to pop up.
Best pink and grey area rugs of 2021
Here are some of our favorite pink and grey area rugs that can make your rooms look fancy and refined.
Pink Jewel Medallion Washable Area Rug
This classic-looking pink and grey area rug is perfect for both a living room and a bedroom. It is a washable rug made of recycled synthetic fibers which allow it to be stain and spill-resistant as well.
The faded colors and washout look allow this rug to be blended within any decor, preferably surrounded by grey walls.
Beige Cubist Trellis Area Rug
This modern rug in geometric patterns is made of 100% polypropylene and is a perfect choice for a bedroom or nursery.
Beige Pastel Strokes Area Rug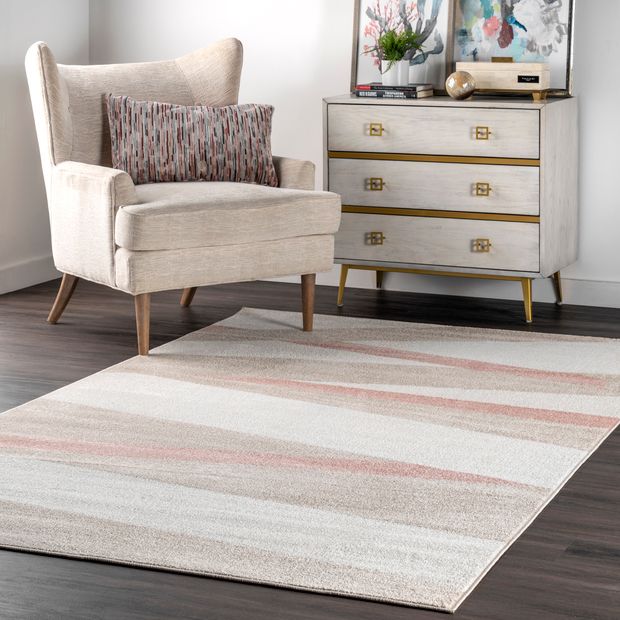 Pastel colors are quite calming, especially in the modern pattern of the Beige Pastel Strokes Area Rug. You can use this in a small living room to make the space look bigger and brighter.
Pink Floral Imperial Medallion Area Rug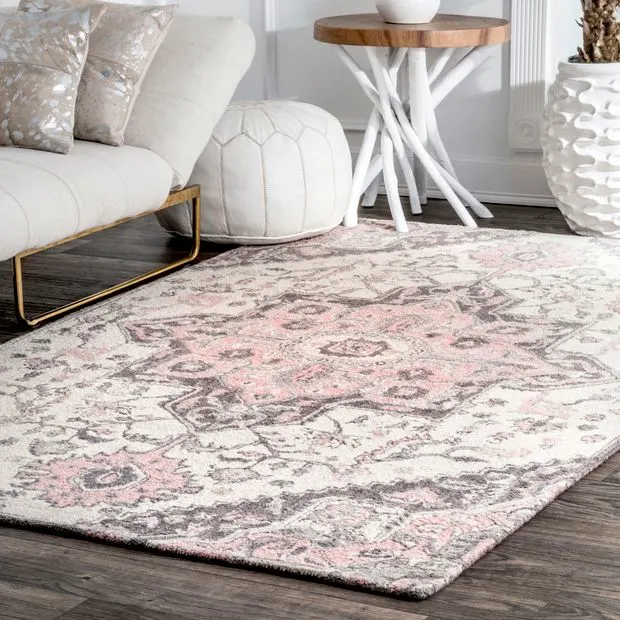 This Oriental rug is perfect for those who prefer traditional decor and a hint of refined feminine touch to their interiors.
Pink Allurance Medallion Fringe Area Rug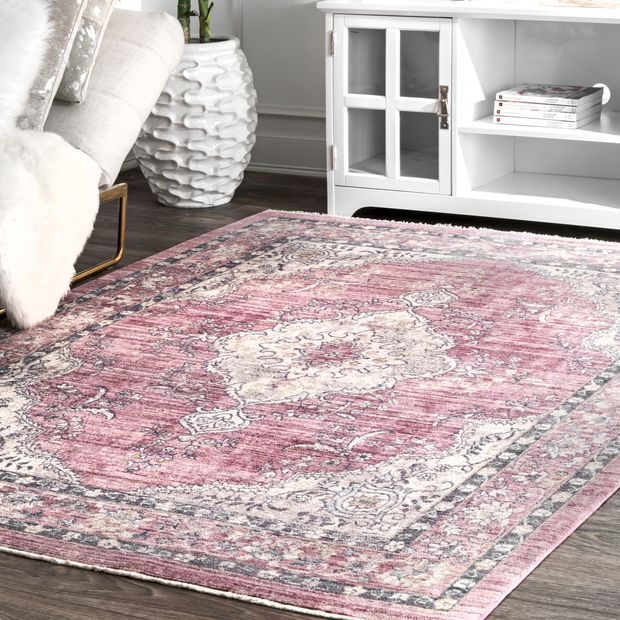 This 100% viscose pink and grey area rug works well as a living room rug as well as a kitchen runner. Also, its bold pink color can add character and cheerfulness to any room.
Pink Flatwoven Mottled Stripes with Tassels Area Rug
If you are into throw rugs then this one is a great choice for your kitchen. You can also place it in living room, dining room, and of course bedroom for a casual look. You can give your home a coastal feel during the summer and fold it inside the closet when the weather gets colder.
Pink Woven Bordered Solid Area Rug
The soft tones of this rug combined with the soft feel of wool, can really add warmth to your living room or bedroom. It's a perfect solution for those who like a casual look with a luxurious feel.
Pink Floral Vintage Flatweave 5′ 3″ x 7′ 6″ Area Rug
A vintage rug is always a good investment. In fact, most vintage rugs are timeless and can be matched with any design style. Most importantly, vintage rugs look quite good when paired with wooden furniture. As such, this rug can work really well in a dining room that needs a pop of color to bring it to life.
Hot Pink Naomi 7′ 6″ x 10′ Area Rug
Show your creative and unapologetic artistic spirit by adding this abstract pink and grey area rug to your living room. Match it with a brown leather couch for a bold interior design move.