Our readers support us. This post may contain affiliate links. We earn from qualifying purchases. Learn More
Blue couches are known for their versatility, elegance, and calming effect on the room's atmosphere. To take your interior decor to the next level, consider adding throw pillows in complementary colors.
A blue couch offers a rich backdrop for color experimentation. Neutral shades like beige or gray highlight its depth, while vibrant yellows offer lively contrast. Coral or rose pillows evoke a beachy vibe.
For added sophistication, opt for metallic gold or silver cushions. The right pillow choice transforms a blue couch into a captivating interior statement piece.
In this article, we'll explore the best pillow colors to pair with a blue couch, helping you create an inviting living space, comfortable and eccentric.
10. Black
If you have a deep blue couch, opt for black cushions in varying shades and textures.
This adds depth and visual interest to the seating area.
Consider using matte black, shiny black, or even black with subtle patterns.
Furnishing Tips: Be Bold with Different Textures and Materials on Your Black Pillows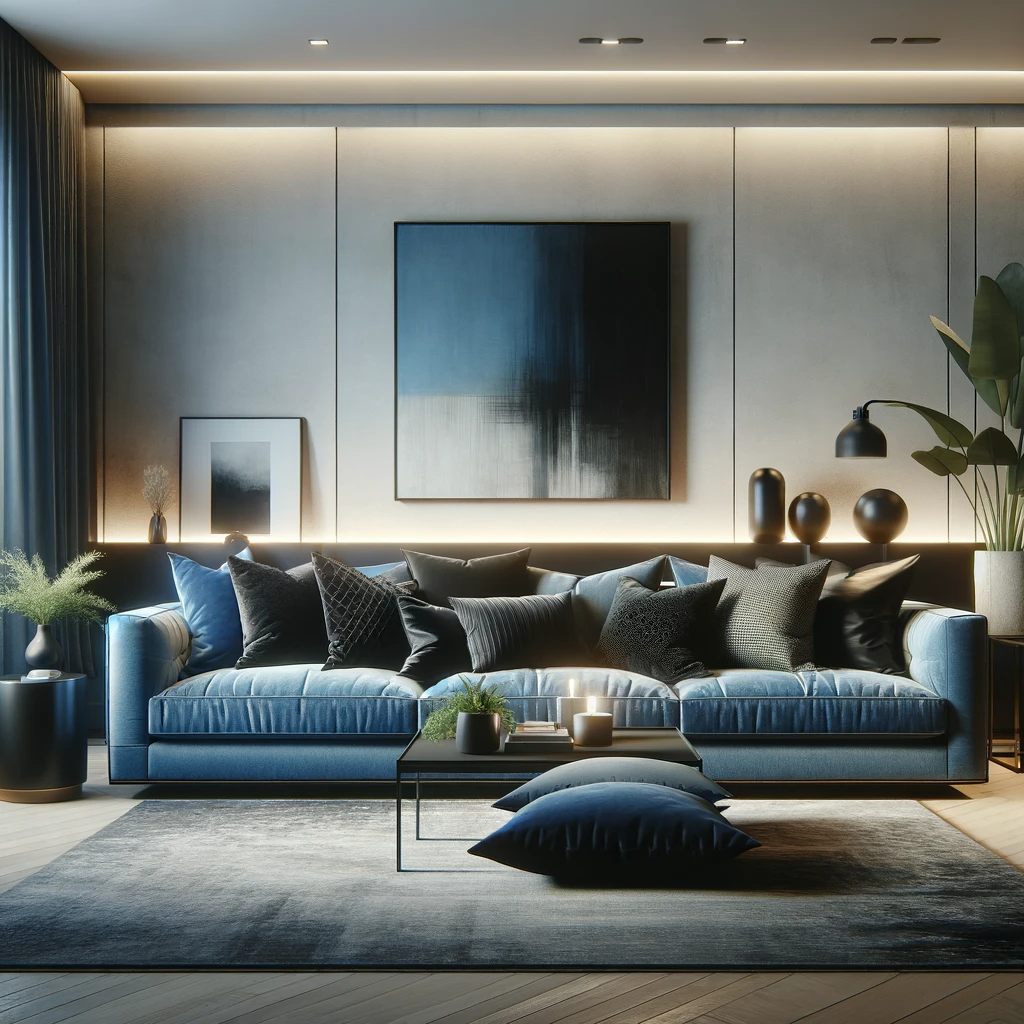 Experiment with different textures for your black cushions. Velvet, silk, faux fur, or even leather can add tactile diversity to your seating arrangement, making it more inviting.
Add plenty of white elements in the room to make it brighter. Try a white area rug, curtains and accessories to balance the cool dark tones of the blue couch and black cushions.
9. Red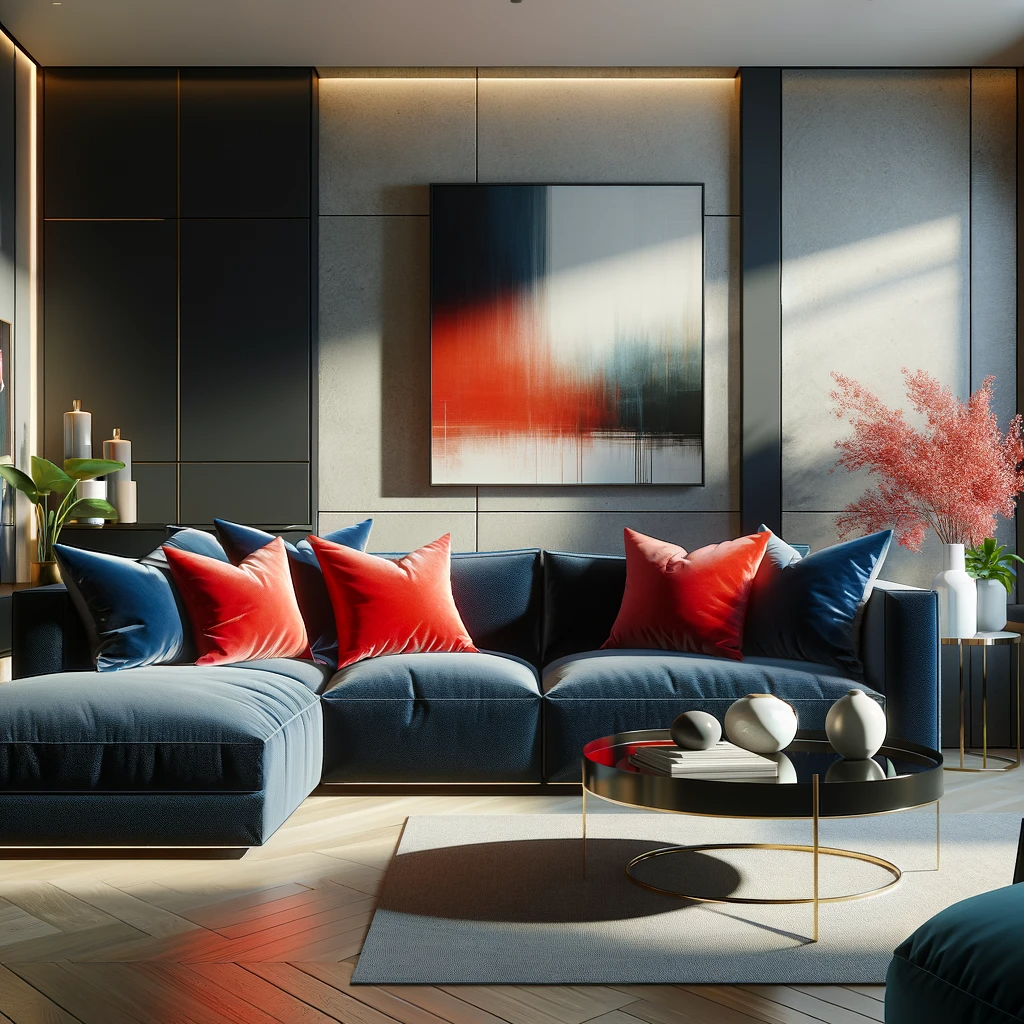 Pairing red cushions with a blue couch can create a vibrant and visually appealing contrast in your living space.
This color combination can evoke a sense of energy and warmth.
Furnishing Tips: Try a Serene Look with a Light Blue Couch and Maroon Pillows
Red and blue are complementary colors on the color wheel, which means they can create a striking contrast. To achieve balance, use varying shades of red and blue.
For example, you can choose a deep navy blue couch with bright red cushions, or a lighter blue couch with burgundy or maroon cushions.
Extend the red theme to other accessories and decor items in the room. Red throw blankets, artwork, or decorative vases can tie the color scheme together and create a cohesive look.
8. Orange
Pairing orange cushions with a blue couch can create a vibrant and visually striking color combination in your living space.
This pairing brings together two bold and complementary colors that can infuse energy and personality into your decor.
This combination works best with a rust shade and a teal couch.
Furnishing Tips: Embrace an Eclectic Bohemian Vibe with This Color Scheme
Incorporate natural and earthy elements into your decor to add warmth and balance to the bold color combination.
Wooden furniture, rattan accessories, or indoor plants can complement the vibrancy of orange and teal while providing a grounded feel.
Pay attention to lighting in the room. Ensure that your living space has adequate natural light during the day, and use well-placed artificial lighting, such as table lamps or pendant lights, to create an inviting ambiance in the evening.
7. Cream
Cream is a versatile color that works well with almost any color scheme.
Cream pillows can tone down the intensity of a bold blue couch while maintaining an elegant and modern feel.
Cream pillows also add warmth to the room without overpowering the space, creating a harmonious balance.
Furnishing Tips: Introduce Wooden Furniture and Accessories to Add More Warmth to the Room
Consider a symmetrical layout if you have a blue couch with cream cushions. This move will exude elegance and make your room feel balanced and inviting.
Include pieces of furniture in warm wood such as honey oak. Also, add some dark accents such as picture frames or metallic furniture to create a bold contrast in the room.
6. Muted Green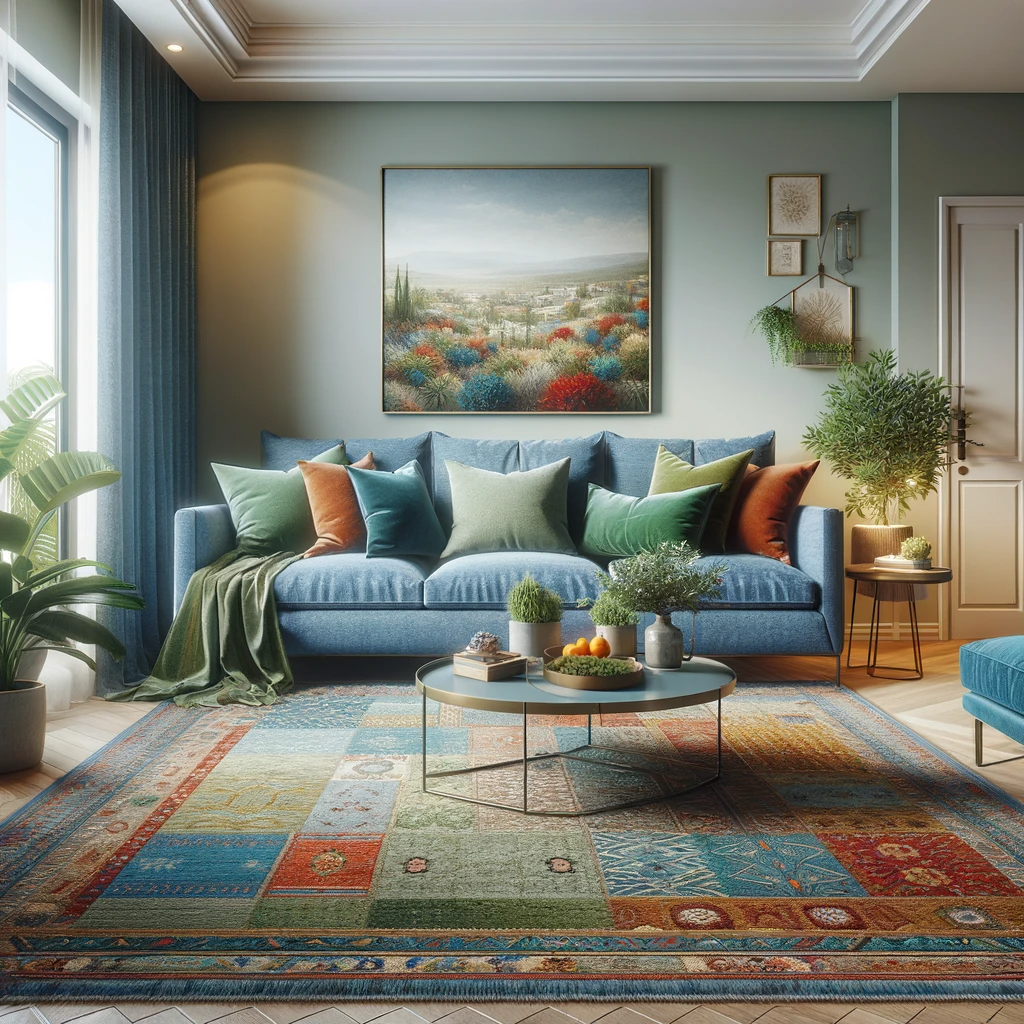 Embrace the harmonious beauty of nature by adding muted green pillows to your blue couch.
Colors such as sage or olive green create a serene and natural vibe, perfect for those who love a Bohemian or vibrant theme.
The combination of different shades of blue with green can evoke a sense of tranquility and relaxation.
Furnishing Tips: Use Lighting to Your Advantage to Create a Mysterious Moody Ambience
Create a moody yet vivid environment with green pillows, a blue couch and a colourful area rug with shades of red, rust and green.
Add plants to make the space feel more natural and inviting.
Complete the look with golden accents to create an uplifting and inviting living room.
5. Tan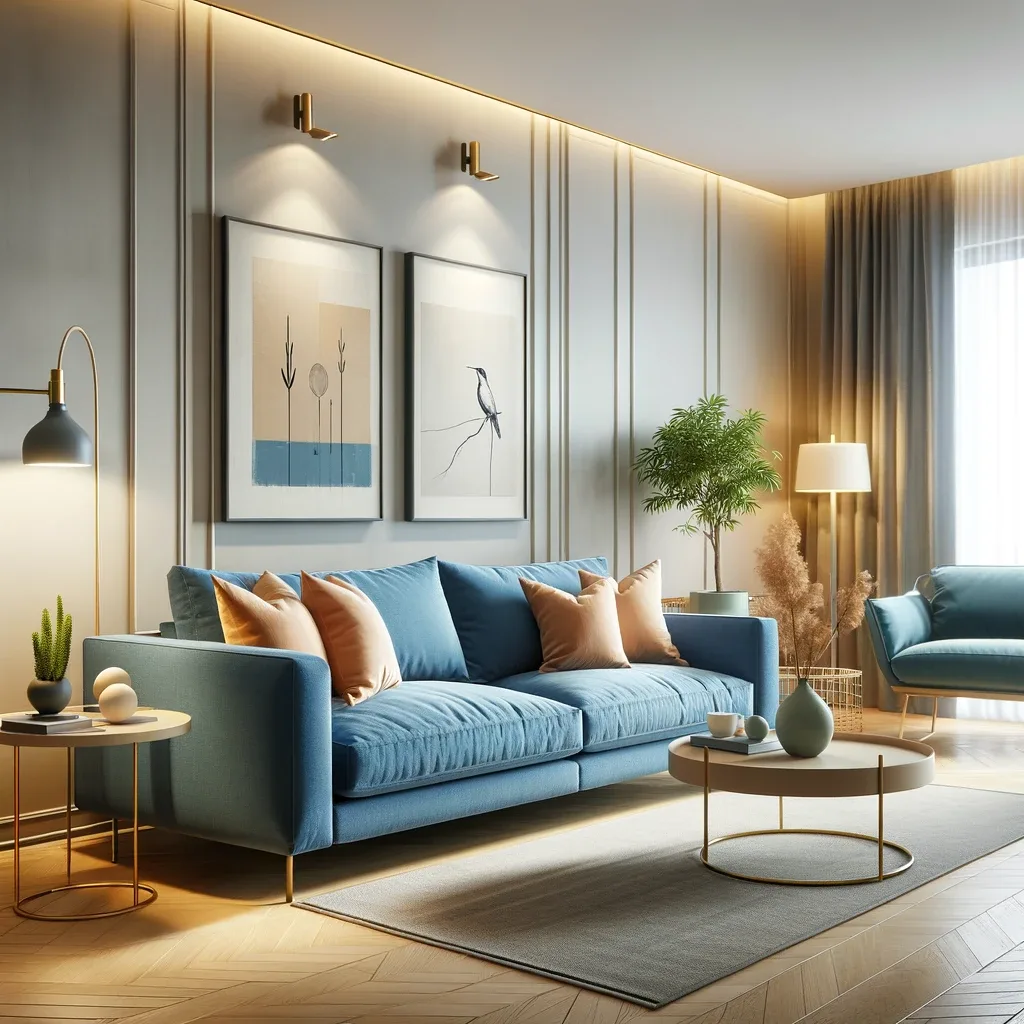 Neutral tones like tan or beige offer a timeless and sophisticated look.
They provide a soft and calming backdrop for your blue couch, allowing it to take center stage.
These earthy neutrals work particularly well in creating a cozy and inviting atmosphere in your living room.
Furnishing Tips: Create a Charming Rustic Vibe with Wooden Floors and Natural Stone Walls
Create a warm atmosphere with tan cushions matching a suede blue couch. The contrast between these two colors will bring along cabin style rustic vibes.
This combination works best if you have wooden floors, rustic walls in stone and dark colours to envelop everything into.
4. Dusty Pink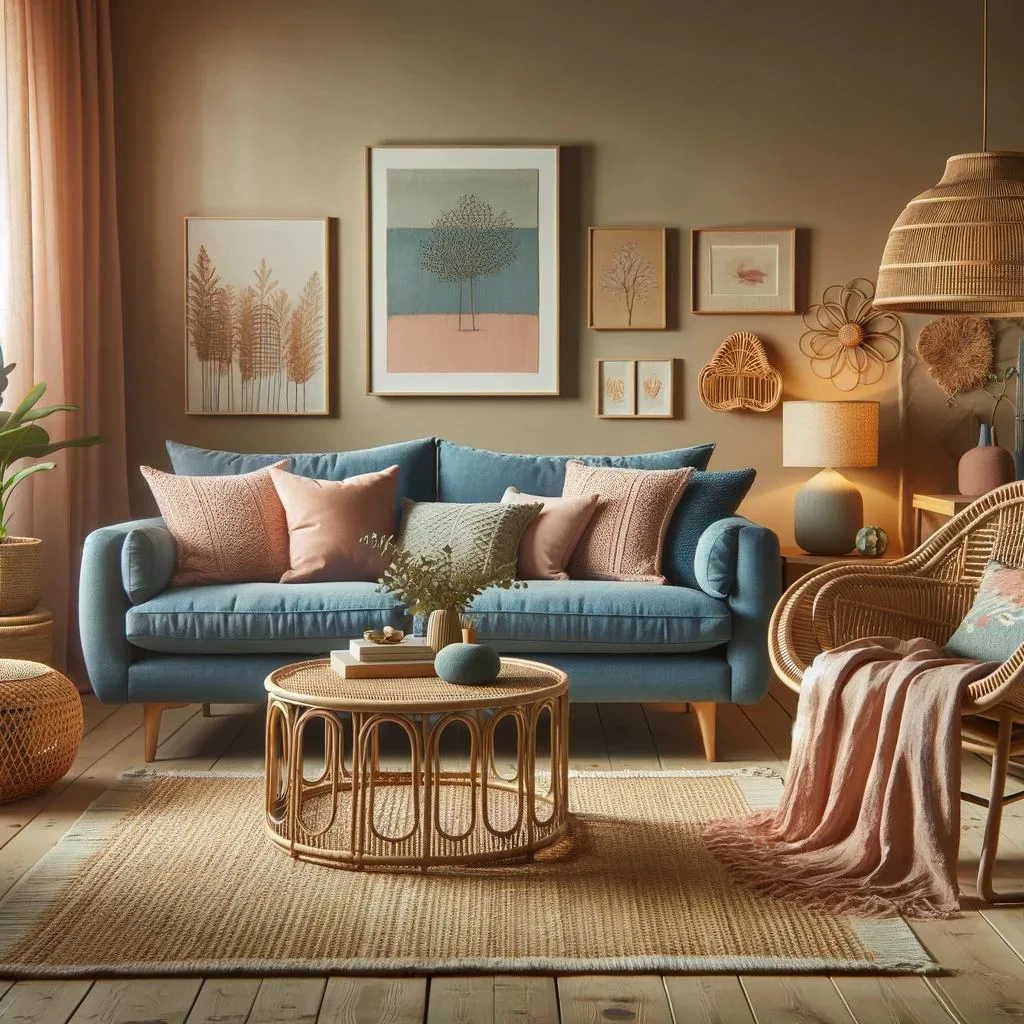 For a more adventurous and lively feel, consider introducing dusty pink throw pillows.
This warm shade creates a striking contrast against a blue couch, infusing your space with energy and personality.
It's an excellent choice if you want your living room to feel calm and yet dynamic.
Furnishing Tips: Add Pastel Colours to Create a Fresh and Serene Living Room Vibe
Create a calm and relaxing atmosphere with dusty pink cushions matching a dusty blue couch.
Add hints of sea and the coast with artwork or rattan furniture pieces to intensify the fresh sense of serenity within the room.
3. Navy Blue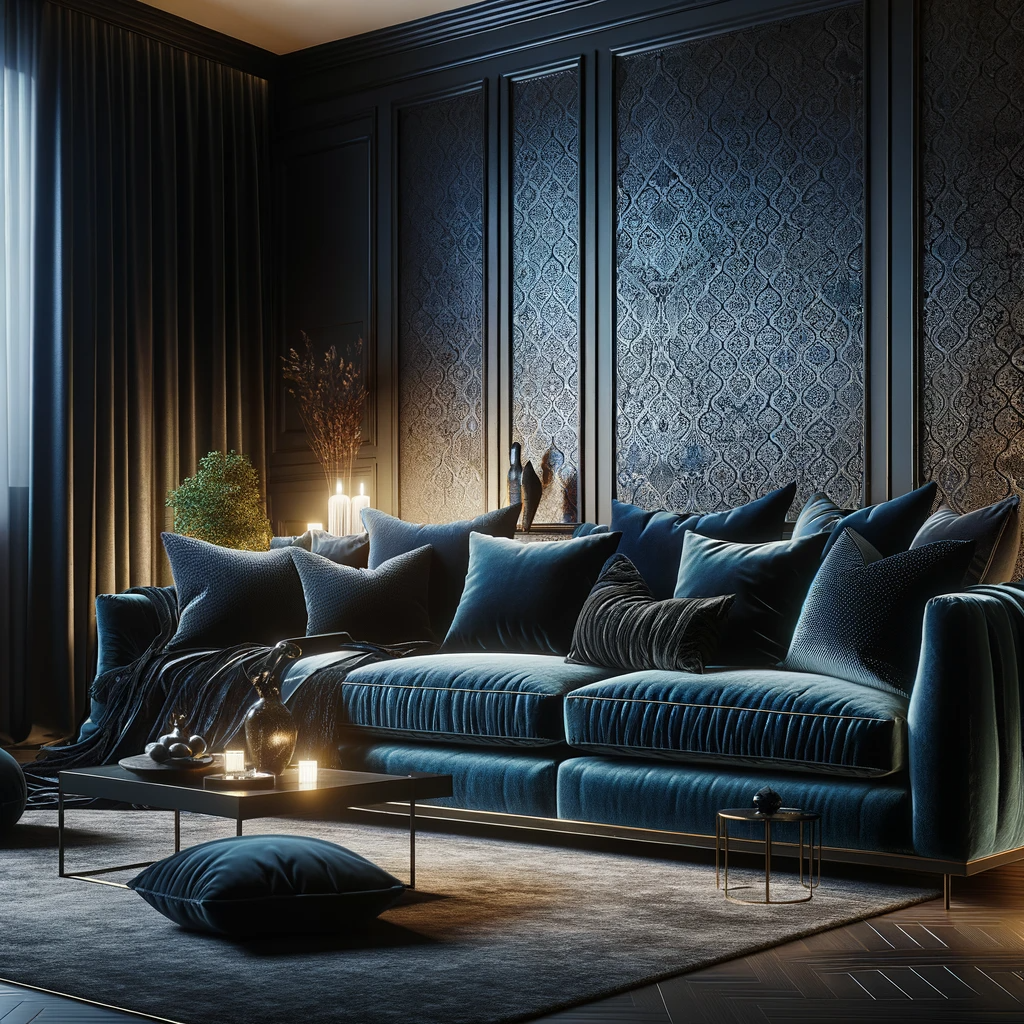 A monochromatic look can be incredibly stylish and sophisticated.
Pairing your blue couch with navy blue throw pillows adds depth and richness to the overall aesthetic.
Opt for different shades of blue to create a layered and cohesive appearance. This combination creates a serene and cohesive atmosphere, perfect for relaxation and comfort.
Furnishing Tips: Fancy Up with Blue Velvet Couch and Cushions
Navy on navy is elegant but can look fancy and glamorous as well if you use a shiny velvet couch and pillows.
Match this duo with golden accents and yellow accessories to create a luxurious living room décor.
2. Yellow
If you're looking to add a pop of color and vibrancy to your living room, consider incorporating sunny yellow pillows.
Yellow and blue are complementary colors on the color wheel, making them an ideal match.
The bright and cheerful hue of yellow pillows can create a visually appealing contrast, adding energy and personality to your space.
Furnishing Tips: Complement a Dark Navy Couch with the Warmth of Mustard Cushions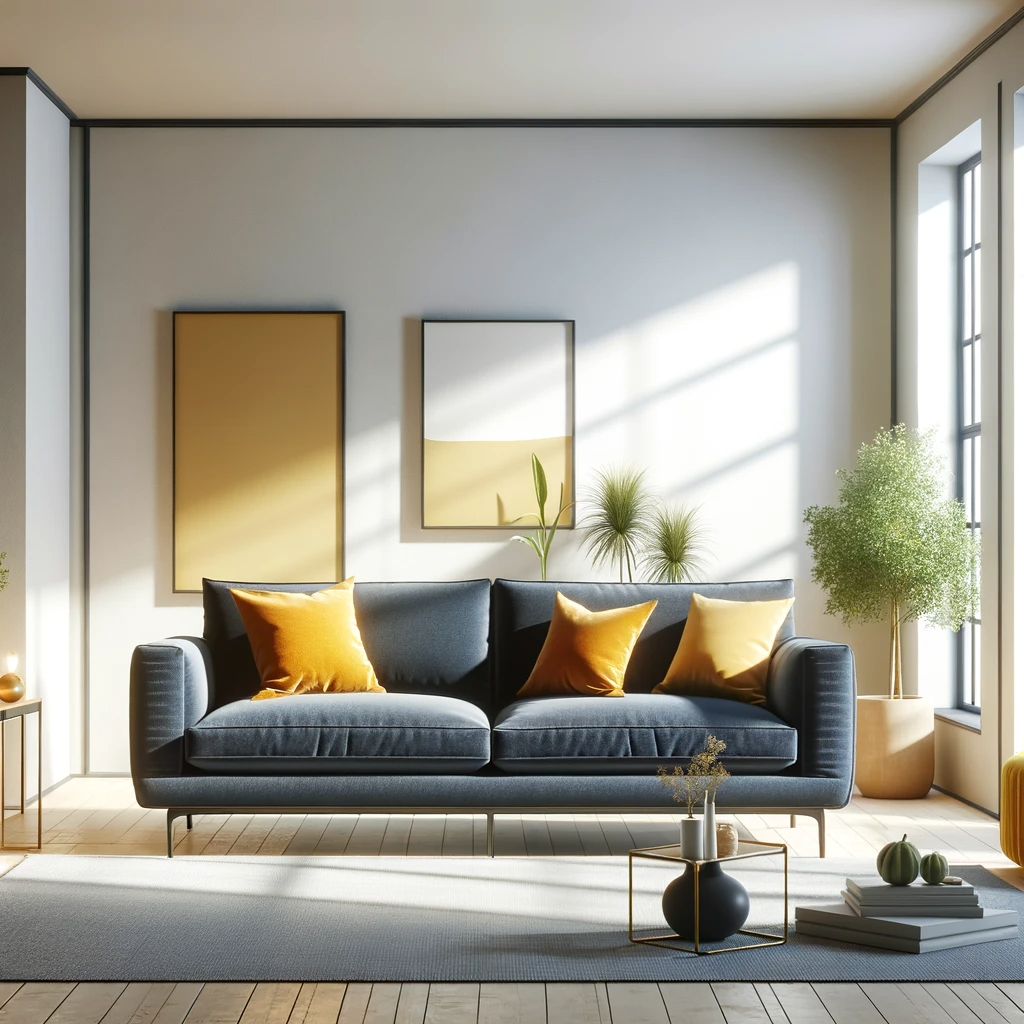 Blue and yellow come in various shades and tones. Experiment with different shades of blue for your couch and various shades of yellow for your cushions.
For example, a deep navy blue couch paired with sunny, mustard yellow cushions can create a striking contrast.
Extend the color scheme to other accessories and decor items in the room. Yellow artwork, decorative vases, or blue accent pieces like a blue coffee table can tie the color theme together and create a cohesive look.
1. White
White pillows are a timeless choice that complements a blue couch exceptionally well. They add a touch of elegance and simplicity to your living room.
Crisp white pillows can create a striking contrast against a deep blue couch, making it pop and drawing attention to the couch's unique features.
White pillows also help in balancing the room's color palette, providing a clean and fresh look.
Furnishing Tips: Place White, Cream and Ivory Pillows to Create Depth and Dimension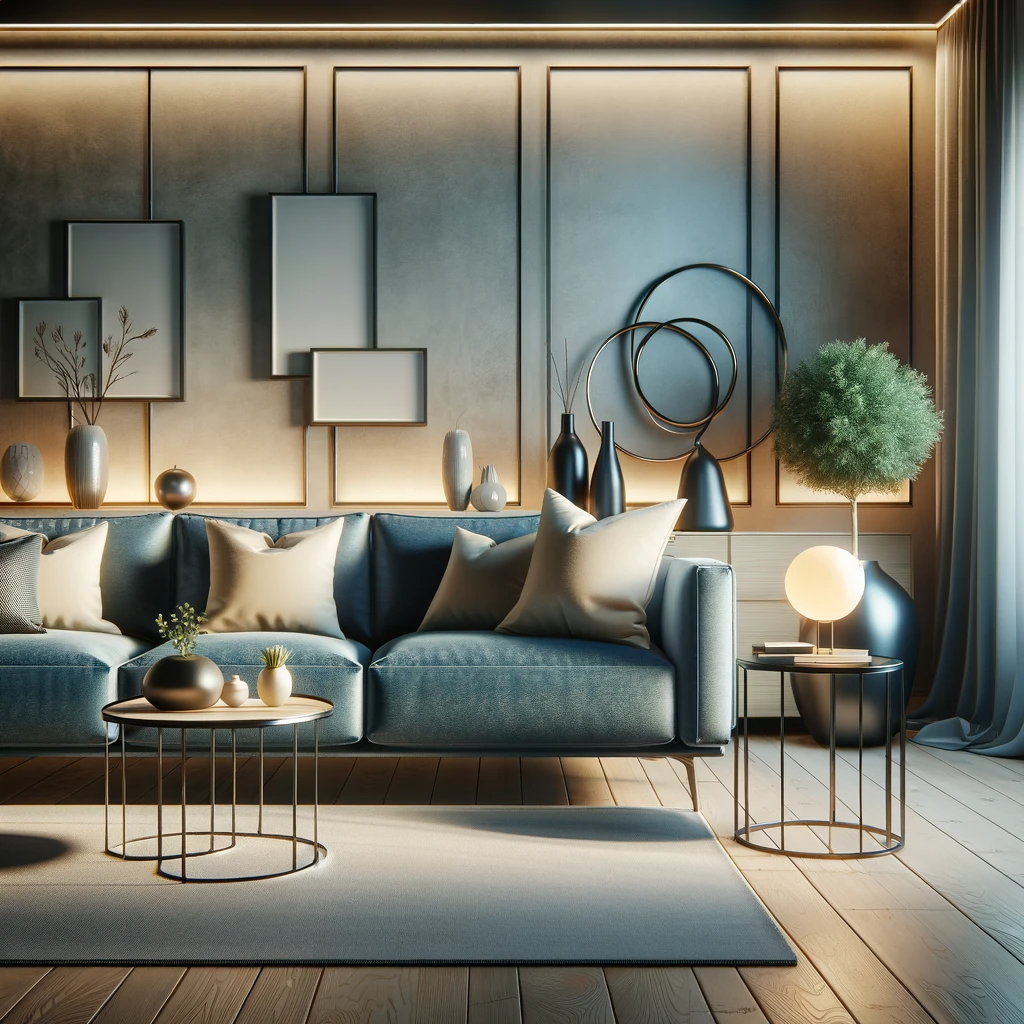 Use different shades of white to create depth and dimension. Mixing shades like ivory, cream, and pure white can add visual interest without deviating from the overall white theme.
Introduce natural wood elements to warm up the space and add a touch of contrast. Wooden furniture, such as coffee tables or bookshelves, can provide a grounding effect in an all-white room.
Layering is key in an all-white space. Add decorative items like textured rugs, interesting coffee table books, and decorative trays to create depth and interest on surfaces.
Read more: