Our readers support us. This post may contain affiliate links. We earn from qualifying purchases. Learn More
Persian rugs are so timeless that they seem to never run out of demand. Unique and classy, these rugs give your floor and interior designs an amazing personality.
However, they are quite expensive, but that's for a reason, which is what we will discuss here in addition to all the different types of Persian rugs you can decorate your houses and work spaces with.
(Fun fact: The most expensive Persian rug was sold at Sotheby's auction in New York for a price of 33 million US dollars. This is proof of the quality, durability, and beauty of Persian rugs.)
What is a Persian Rug?
While most people classify all Persian rugs in a single category, they are actually available in many distinct designs. They originated in Iran, but different cities have different flavours. Each one has a distinguished pattern or a color scheme or some other defining feature that sets it apart from the rest.
Below, let's take a look at all of them:
Types of Persian Rugs
Persian rugs are classified on the basis of region. Each region in Iran has its own style of rugs, and the rug type is mostly named after its place of origin. They are further classified into three main categories: city, village, and tribal.
City rugs are considered best and of the highest quality because they are made for commercial purposes. They are usually woven by men who are experts at this work, called master weavers.
Village and tribal rugs, on the other hand, are often woven by families, and sold as a source of additional income.
The designs on these wonderful rugs are not just a combination of knots; they are an expression of the culture and history of that region. Some weavers create patterns out of memory or inspiration even. Let's take a look at city rugs first.
City Rugs
Let's take a look at Persian city rugs and their major defining features:
Nain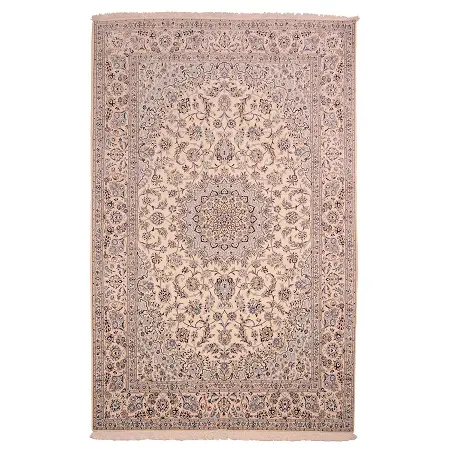 Nain is a city that houses 10th century mosques. Unlike typical Persian rugs, the ones woven in this city are mostly comprised of colors such as ivory, blue, and pink.
Such a unique color palette makes Nain rugs very popular. They mostly contain floral motifs and are made from a combination of silk and wool. These are made both in and out of the city, following the traditional pattern, of course.
Nain rugs have an extremely high knot count – sometimes even bordering one million knots per square meter. They're, therefore, of incredibly high quality, and expensive as well.
Isfahan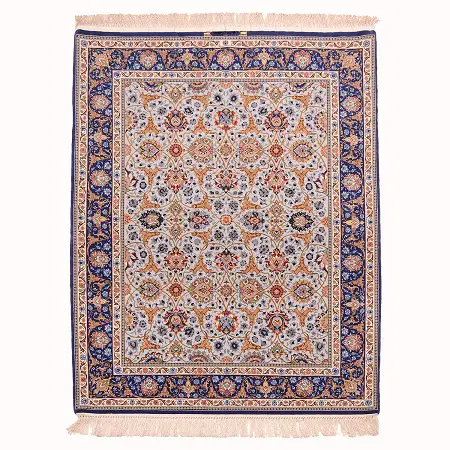 Isfahan is a popular tourist destination in Iran, and has a rich culture and history. There are mosques and palaces in the city which play a major role in the patterns of the rugs. The rugs use floral patterns that are mostly inspired by the palaces' gardens and tile work of the city's mosques.
They are made from silk and wool. Their designs are extremely symmetrical and visually pleasing. Their color schemes are mostly subdued and they're perfect for complementing understated contemporary, modern, and eclectic style interior designs.
Qum
Qum is the home of silk rugs, the like of which you will not find anywhere else. Its patterns take inspiration from all over the country and are comprised of medallions, gardens, animal and floral motifs. The detailed designs on these luxurious rugs look absolutely amazing.
Their high knot-count and luxurious silk-cotton weave makes these rugs one of the most coveted in the Persian genre. They also come in beautiful jewel-color schemes and make gorgeous centrepieces in modern, eclectic, and boho-chic home interiors.
Tabriz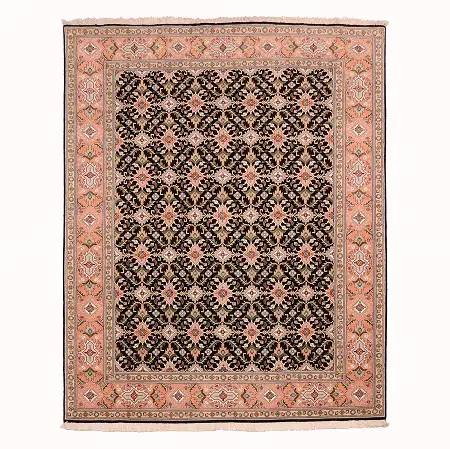 Tabriz is among the biggest cities of Iran, and its rugs are usually characterized by their central medallion which is surrounded by further details. The patterns are mostly floral or related to gardens in some way, such as weeping willows.
As the city of Tabriz is one of the leading rug weaving centres in the entire world, these rugs are especially well-made. They are of extremely high quality and woven from a combination of silk, wool, and cotton.
They come in bold color schemes of red, maroon, and gold. They also have a very traditional aesthetic, which is great for accenting eclectic, contemporary, and boho-chic interior designs.
See more: Fancy Area Rug Ideas
Village Rugs
Bijdar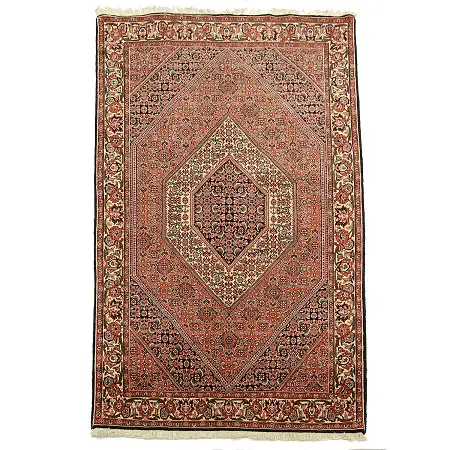 The artisans of Bidjar take great pride in their rugs, and the whole village is involved in the weaving of rugs. The villagers work as a team to dye the wool and then wash it before turning it into a masterpiece.
To some people, Bidjar is synonymous with strength and durability, which is why it is also considered as the king of rugs.
The reason why these rugs are so sturdy is because the artisans use a heavy wood-and-metal comb to beat the weft, so that the pile actually stands up.
These rugs come in red, blue, and earthy hues with beige accents. The Herati (fish) pattern is a major motif in these rugs. They're great for adding sombre undertones to an interior design and are perfect for areas with heavy foot traffic.
Ardabil
Ardabil boasts a lustrous history of rug weaving. These rugs usually feature light color palettes, and geometric patterns comprised of diamond shaped medallions. A popular Ardabil design is known as Mahi, which consists of diamond medallion surrounded by small fish.
Aside from Mahi, there are three other major Caucasian patterns that can be found on Ardabil rugs. They're known as the Shirvaan, Karabagh, and Gendje.
The symmetrical geometry of these rugs is always very appealing. They're also very thin, so they're not suitable for high traffic areas. These days, these types of Persian rugs are most widely available in runner formats and are great for layering in interior designs.
(Fun fact: Several Ardabil rugs are collectors' items and there's even one featured in Victoria & Albert Museum in London.)
Hamadan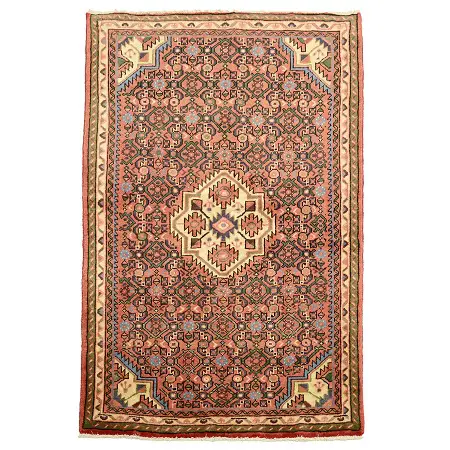 As one of the oldest cities in the world, Hamadan produces the finest rugs. Hamadan rugs use deep shades of red and blue combined with some creamy accents.
Although comprised of geometric patterns most of the time, these rugs also sometimes feature floral designs. The most commonly used motif is the Herati pattern along with the classic Persian style medallion design.
Hamadan is basically a city but the surrounding village areas are predominantly involved in rug weaving, which is why all the rugs of this region are termed Hamadan to make it simple.
They're good quality rugs, often compared to the sturdiness and durability of their Bidjar counterparts. They're also perfect for emulating a bold traditional flavour in contemporary style interior designs.
Heriz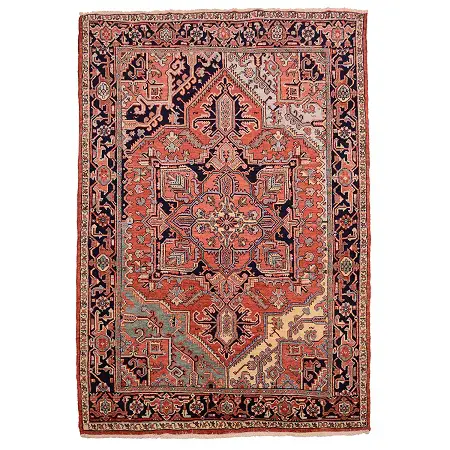 Heriz rugs are quite durable and there is a very interesting reason behind it. The village of Heriz is located in Mount Sibalan beneath which lies a dense copper deposit. The water that the sheep in this region drink is filled with traces of copper, which is why these sheep produce extremely durable wool.
A central medallion dominates the design of these rugs. In fact, a right angled medallion is the most recognizable features of these rugs. Afshar, Sarab, Gorevan, and Mehraban are some other types of Heriz rugs that are crafted in the surrounding villages.
Heriz rugs are mostly available in large sizes and their rough texture is another major characteristic that these rugs are defined by. They're woven from wool, so the weave is extremely sturdy. They're great for medium traffic areas.
Kerman
Kerman rugs feature a wide variety of designs, excellent tensile strength and a broad palette. Some of these rugs were woven specifically for collectors from the West who would spend lavishly on them, while others were woven to serve the local market; hence, you will find a great range of patterns on these rugs.
The base color scheme of these rugs is dominantly red (often varying between rich burgundies to vibrant cherry hues). They can also be recognized by a central medallion design.
Kerman rugs feature damask rose motif in most of its designs. To meet the Western demand, these rugs often use repetitive motifs and striped patterns and sometimes the traditional Persian designs comprising of flowers, animals, and other pictorial patterns.
While before, they used to be the crème de la crème of the Persian rug genre, these days, they come in decidedly lower qualities. However, the handwoven factor still makes them quite the durable pick as compared to synthetic rugs.
Kashan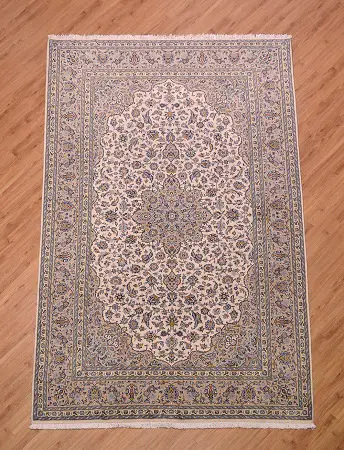 Kashan is one of the finest and oldest Persian rugs (known for its pottery and textiles), and if you are a first time buyer, you cannot go wrong with this one.
The silk designs of Kashan are absolutely amazing. However, they are also available in cotton and wool. The sale of Kashan began around 19th century and has been increasing ever since the world over. They feature a rich color palette and consists of medallion, floral, and arabesque style motifs.
Abaadeh, Moud, Mashad and Senneh are other varieties of Persian village rugs, each of which are special in their own way.
Tribal Rugs
Baktiyar
Bakhtiyar, Bakhtiari and Bachtiar are some other terms for Baktiyar rugs. These are among the most durable of Persian rugs because of the way the wool is treated before weaving.
Khesti, garden motif, is the most popular pattern on Baktiyari rugs, where the rug is divided into four quadrants, each one depicting plants and animals. They are extremely thick and solid as the weavers actually beat the wool before looming it.
You can feature these rugs in your eclectic, contemporary, boho chic, vintage and rustic style home interiors. They can also be placed in high-traffic areas thanks to their resilience.
Afshar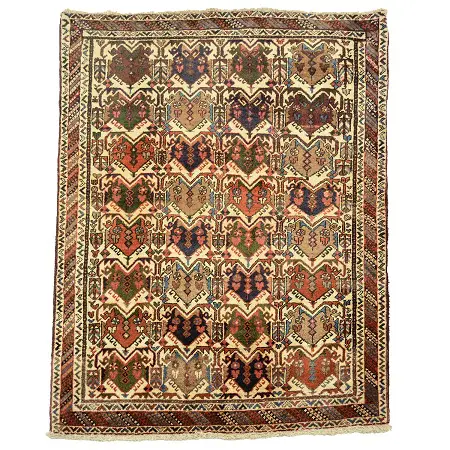 Afshar rugs are becoming scarce and therefore, increasing in value. They feature three common beautiful designs: diagonal rows, center and corner piece, and three medallions.
They typically come in rich red and royal blue tones. The motifs used in their designs are largely geometric. The medallions featured on Afshar rugs are lengthy, which is also one of their defining characteristics.
The quality of wool on Afshar rugs is so high that it almost shines. These rugs are used both as a floor covering and a wall hanging. Although mostly made in the size of area rugs, these are also available in larger sizes sometime.
You can use these rugs to emulate traditional geometric contrast in your modern and contemporary home interiors.
Qashqai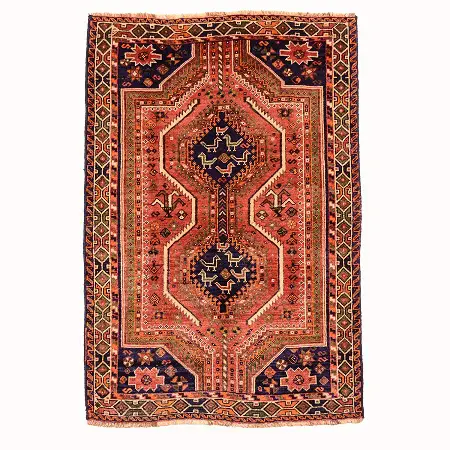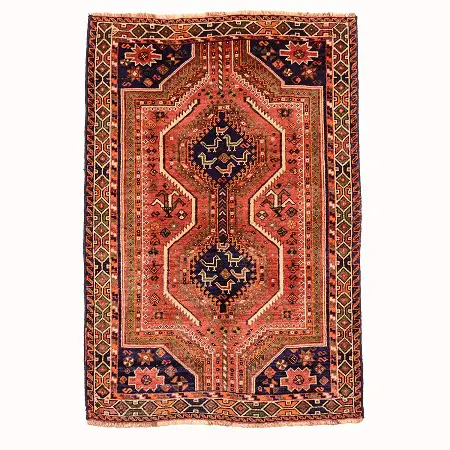 The people of Qashqai have a rich history, which is a combination of both struggle and inspiration. The pattern on Qashqai rugs is usually dominated by medallions most of the time. Lozenge diamond motifs with four hooks and hexagons are also common motifs in these rugs.
These rugs are absolutely stunning, thanks to the determination and patience of their artisans. Unlike other weavers who feel the need for speed, the carpet weavers of Qashqai use only natural dyes and techniques that take a longer time to finish.
Their rugs, therefore, are gorgeous and full of detail. They are also coarse and have a gorgeous tribal appeal that is representative of the weaver's vernacular. These rugs are perfect for featuring in contemporary, rustic, and industrial style interior designs.
Gabbeh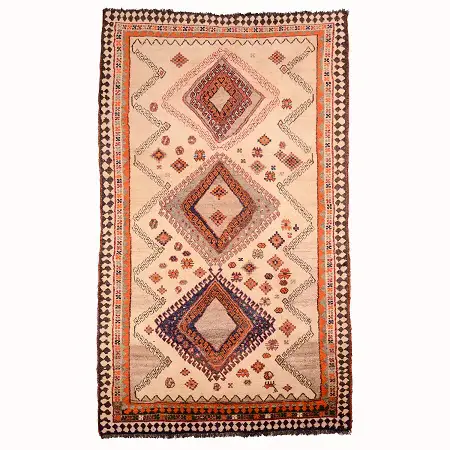 Gabbeh is usually woven by women, and has an interesting pattern consisting of geometric shapes in various colors. These are also known as 'gabba' and are among the traditional types of Persian carpets.
They are raw, coarse, made from hand-spun wool and quite thick, because they are basically sleeping rugs. Because of their coarse nature, gabba is low-priced as compared to other Persian rugs. The motifs usually consist of large shapes interspersed with tribal animal patterns.
The thick piles and minimalist nomadic designs of Gabbeh rugs makes them an instant hit in modern and sleek contemporary interiors.
Baluch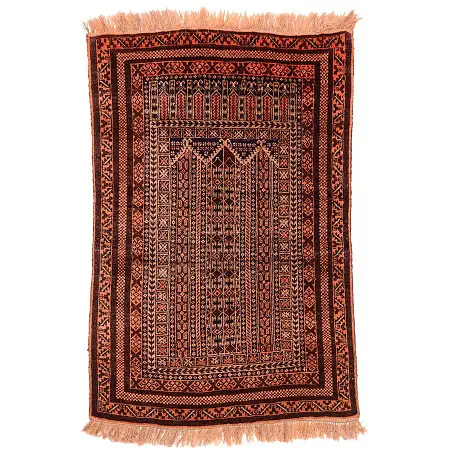 Baluch rugs traditionally served as prayer mats, animal coverings, or a floor covering to provide a place of sitting while eating. These are also called baluchi or beluchi rugs, and they use dark shades of brown, purple, red, blue, and ivory.
The rugs feature geometric shapes that are almost always outlined in black, making all the shades appear even darker. These rugs are normally made in the size of smaller area rugs, and finding a larger size is quite unlikely.
What materials are Persian rugs made of?
Persian rugs are made using only natural fibers, which come by at a steep price. Here's how you can categorize them:
Wool
Wool is the most common natural fiber used in the making of Persian rugs. Wool has a natural resilience to crushing/matting caused by furniture and footsteps, which keeps it looking new for a long period of time.
It also helps prevent indentation caused by furniture that's put on top of these rugs for a long time. Moreover, wool is also much better at covering stains and soiling. If that is not enough, woollen rugs are easily washable which only adds to their fresh look, and makes them soft.
(Note: wool is a thick fiber, which means that the rugs woven from its thread have much, much less detail than cotton or silk. The design feels pixelated and blown up, which is a very defining feature to recognize woollen Persian rugs by.)
Silk
Silk rugs are mostly used as wall hangings because they are way too delicate and expensive to let people walk all over them.
Silk rugs give your space a luxurious touch that nothing else can. Silk fibers are the finest, which means it requires the most focus and concentration to weave them into complicated designs. This is why they come at such steep prices.
Cotton
Persian rugs are also woven from cotton fibers. Once again, they're not as fine as silk, but they are thinner than wool, but still not as intricate as silk.
Natural fibers such as these are good for our environment, as well as for the air indoors. Unless someone has an allergy to wool, woollen rugs are probably the best choice, considering their durable, resilient, and practical nature.
The colors on synthetic fibers tend to fade away quickly which makes your rug look old and worn out within a few years' time. Natural fibers, on the other hand, retain their colors for much longer. This is why Persian rugs make your rooms come alive and pop with color.
Synthetic fibers are artificially made which means they can be controlled, unlike natural fibers which are beyond human control. Natural materials vary from one another and this makes each and every rug unique; never will two Persian rugs look exactly the same.
Other
Artisans also use jute, sisal, cotton, and silk to make Persian rugs, but they are not as common.
Design of Persian rugs
In today's world, manufacturers are always looking to increase production so that they can meet with the market demand. This means that most products are standardized and look alike.
However, Persian rugs are a different story; in fact, they are a work of art. Each one is literally one of a kind because their designs come from the weaver's imagination. No two Persian rugs are ever the same. That's what makes them so special!
Additionally, there's a lot of work that goes into designing a Persian rug. The weaver has to sit on their loom for long periods of time, every single day, until the rug is complete – which can take anywhere from 3 to 8 months or more.
The quality of Persian rugs is determined by the number of knots per square inch. The more knots there are in an inch, the better the rug is in quality.
It is amazing how the placement of knots can result in such intricate patterns on rugs. Persian rugs use asymmetric knot or Senneh, and if you have seen a Persian rug, then you know how complex its designs are.
Most Persian rugs mostly contain curved motifs, the weaving of which is quite challenging as compared to geometric designs. Ensuring the knots are lush and dense while sticking to the pattern is a feat very few can achieve, making Persian rugs masterpieces that you take home with pride, and cherish for decades.
These rugs boast intricate floral designs as well as medallions and animal figures, all of which speak to the area's culture and art.
How to identify an authentic Persian rug
In today's market where there is a wide variety of products to choose from, here is a list of tests you can do to confirm the authenticity of a Persian rug.
1. Handmade
Each Persian rug is unique because an authentic Persian rug is handmade. The art of weaving rugs is a skill that is transferred from generation to generation, and artisans add their personal touch to every one of their products.
The only way to make sure a rug is handmade is by looking at its back or underside. The pattern on the back must match the pattern on the front to prove that it is handmade. The knots are also asymmetrical as compared to the harmony of synthetic rugs.
2. Fringe
The fringe of handwoven Persian rugs is always knotted and seamlessly conjoins with the rest of the rug weave. In comparison, the fringe of a synthetic rug is usually glued or sewed on.
3. 'Made in' label
Like all products, authentic Persian rugs have a label – usually on the back – that states that the rug was made in Persia, or Iran, as the modern world knows it.
Like mentioned before, Persian rugs are more like a work of art, and the men who put their effort into weaving a rug often sign the label which is further proof of its authenticity.
4. Natural fibers
Another way to confirm a Persian rug's authenticity is the material it is made of. Unlike other rugs, Persian rugs are made of natural fibers, wool being the most common.
5. Colorfast dye
Persian rugs use colorfast dyes so that they do not fade quickly. When you buy a Persian rug and bring it home, put a damp light colored fabric on it and leave it overnight.
If the fabric bleeds with color in the morning, take your Persian rug back to where you bought it from. You should get your money back, because the store must give you that guarantee; in case it does not, do not buy from such a store.
Common Persian Rug Sizes
You can find a Persian rug in all sizes, including:
• 2×3
• 3×5
• 4×6
• 5×8
• 6×9
• 8×10
• 9×12
• 10×14
They are also available in larger sizes as well and those are the most dominant ones you'll find in the market. In fact, the most popular sizes of Persian rugs seem to be 6'x9' and everything larger than that.
See our popular rug sizes guide for more information.
The main reason for this is because the designs are much more intricate, spaced out more coherently, and look positively majestic when spread out in an interior design. Larger Persian rugs also have a way of broadening the layout of the room, so homeowners prefer them over smaller sizes.
Persian runners are also a popular choice for corridors and hallways. Some are even used in show kitchens that aren't used for cooking.
Persian style round rugs have a largely contemporary vibe thanks to the free-flowing shape. They're best for being paired with sleek modern dining tables (think: the tulip table, etc.). Or they can be used as an accent piece in boho-chic or eclectic bedroom and lounge interior designs.
Why are Persian rugs so expensive?
Like all good things in the world, Persian rugs are quite expensive and most customers look upon it as an investment rather than an expense.
Persian rugs are so durable that they are often passed through generations, provided they are well taken care of. Passing it on makes the rug more even more valuable because it becomes like a family heirloom. In such cases, these rugs and carpets can also even increase in value because collectors do not mind the price as long as they can get what they want.
What makes Persian rugs durable is craftsmanship, the time invested in making them, and the materials they are made of. As compared to synthetic fibers, natural fibers, such as wool, cotton, jute, sisal, and silk are much more durable and the rugs woven from them are built to last.
Lastly, handmade products require so much effort on the artisan's part that they really are priceless. Persian rugs are made using a special type of knot which very few can master. Additionally, these rugs take months and sometime years to complete.
A craftsman must charge enough to be able to make and supply more products. Hence, customers consider them exorbitantly priced, but in all honestly, it is difficult to put a price on something that is handmade.
Persian Rug vs. Oriental Rug
The basic difference between these two rugs is their place of origin. Persian rugs come from Persia/Iran and Oriental rugs come from China, Pakistan, India, Turkey and Tibet.
Both are hand-made, feature detailed motifs and last for generations.
So, this is everything that you need to know about Persian rugs. We hope this guide helps you pick apart different types, tell the rug's authenticity, and informs you why they are a quality investment.