Our readers support us. This post may contain affiliate links. We earn from qualifying purchases. Learn More
Blending indoor comfort with outdoor charm, pergolas with roofs attached to houses are a trend rapidly gaining popularity among homeowners. In this article, we delve into a range of innovative pergola ideas that seamlessly connect to your home, offering both aesthetic appeal and functional benefits. From traditional designs that evoke a sense of time-honored elegance to modern structures that speak to minimalist chic, these pergola ideas are all about creating a harmonious extension of your living space.
Whether you're looking to create a cozy outdoor nook, a stylish entertainment area, or a tranquil retreat, these pergola inspirations are sure to spark your imagination and transform your home's exterior into a delightful and versatile haven
1. Classic Wooden Pergola Over a Stone Patio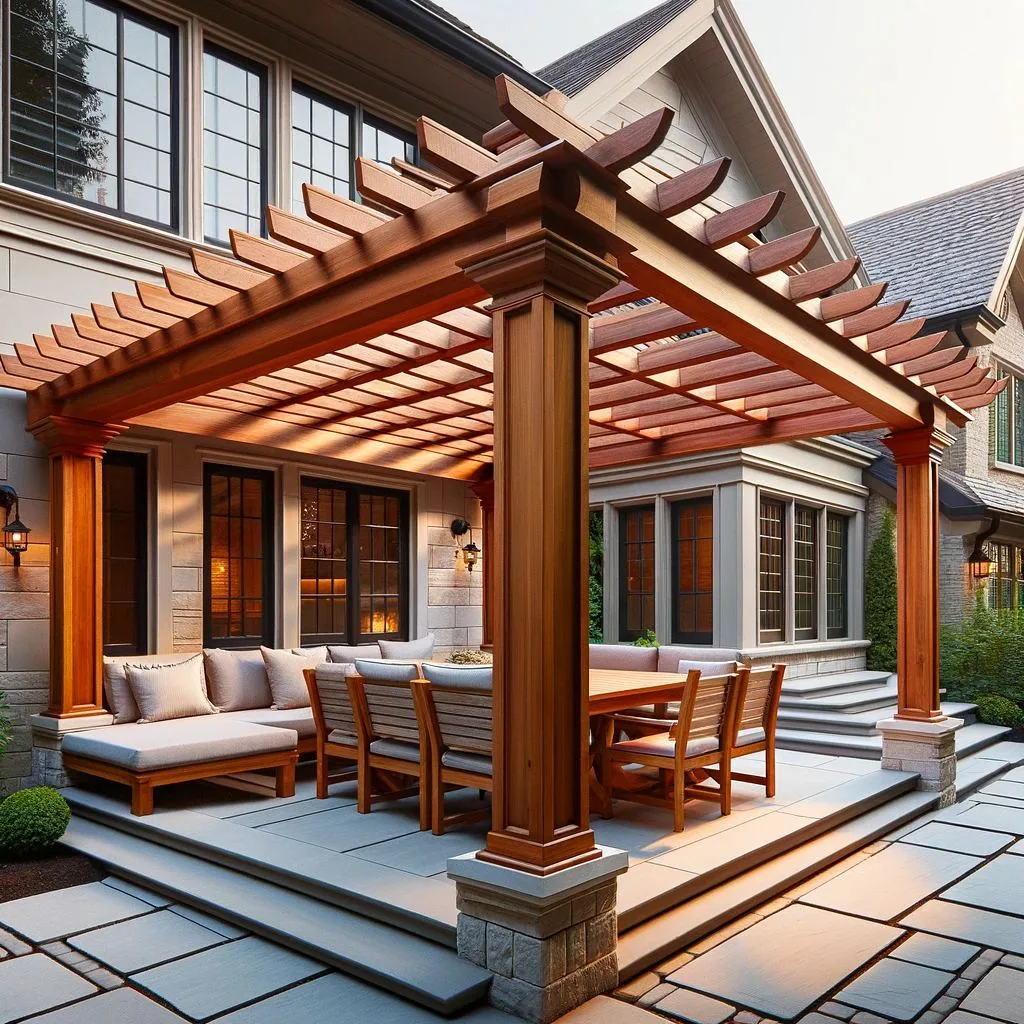 This timeless design features a wooden pergola attached directly to the house, extending over a stone patio. The natural wood contrasts beautifully with the stone, creating a rustic yet elegant outdoor living space. It's perfect for those who love to entertain outdoors, providing shelter from the sun while still allowing for a breezy, open feel. This pergola offers an ideal spot for outdoor dining or lounging, blending seamlessly with the home's exterior.
2. Modern Glass-Roofed Pergola Extension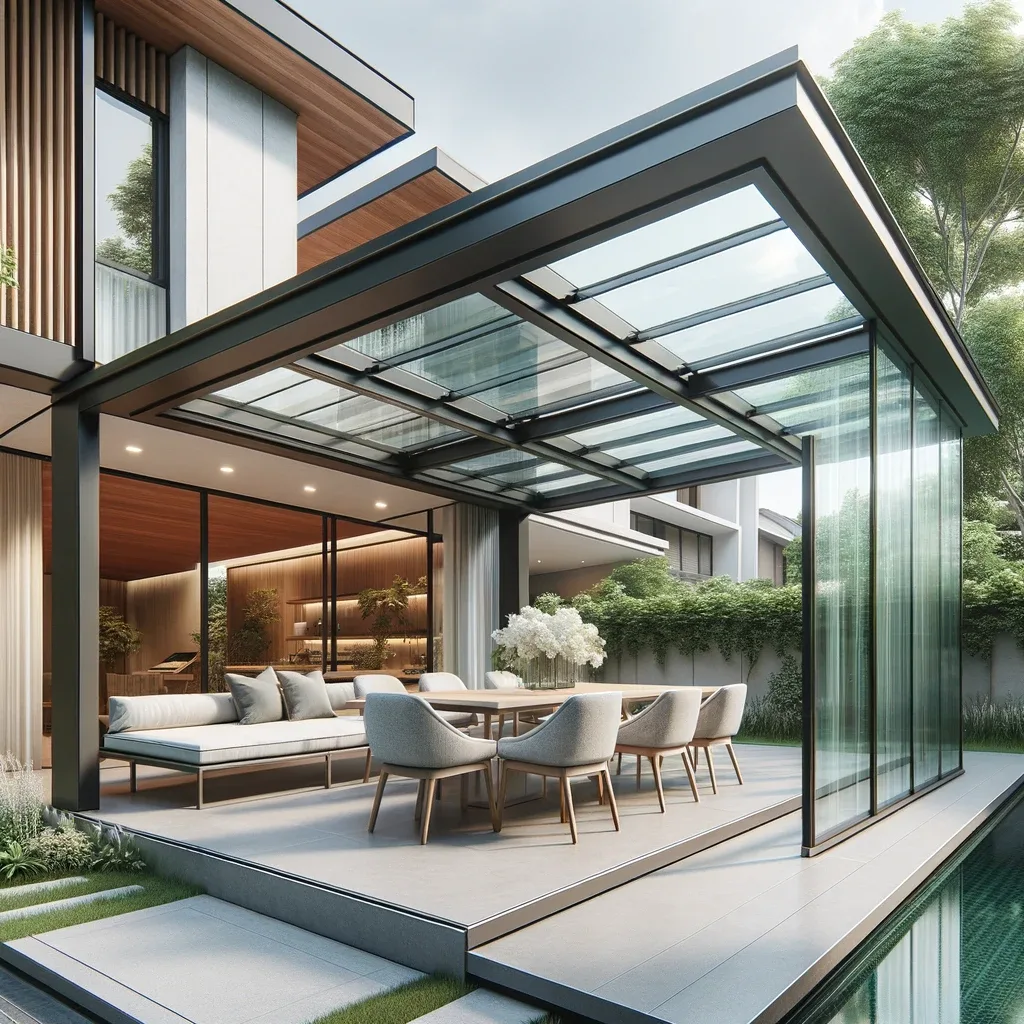 A contemporary take on the traditional pergola, this design features a sleek glass roof attached to the house. The glass roof allows natural light to flood the area while providing protection from the elements, making it a year-round outdoor space. Its modern aesthetic complements a minimalist home design, offering a chic space for relaxation or hosting gatherings.
Vine-Covered Pergola with Retractable Roof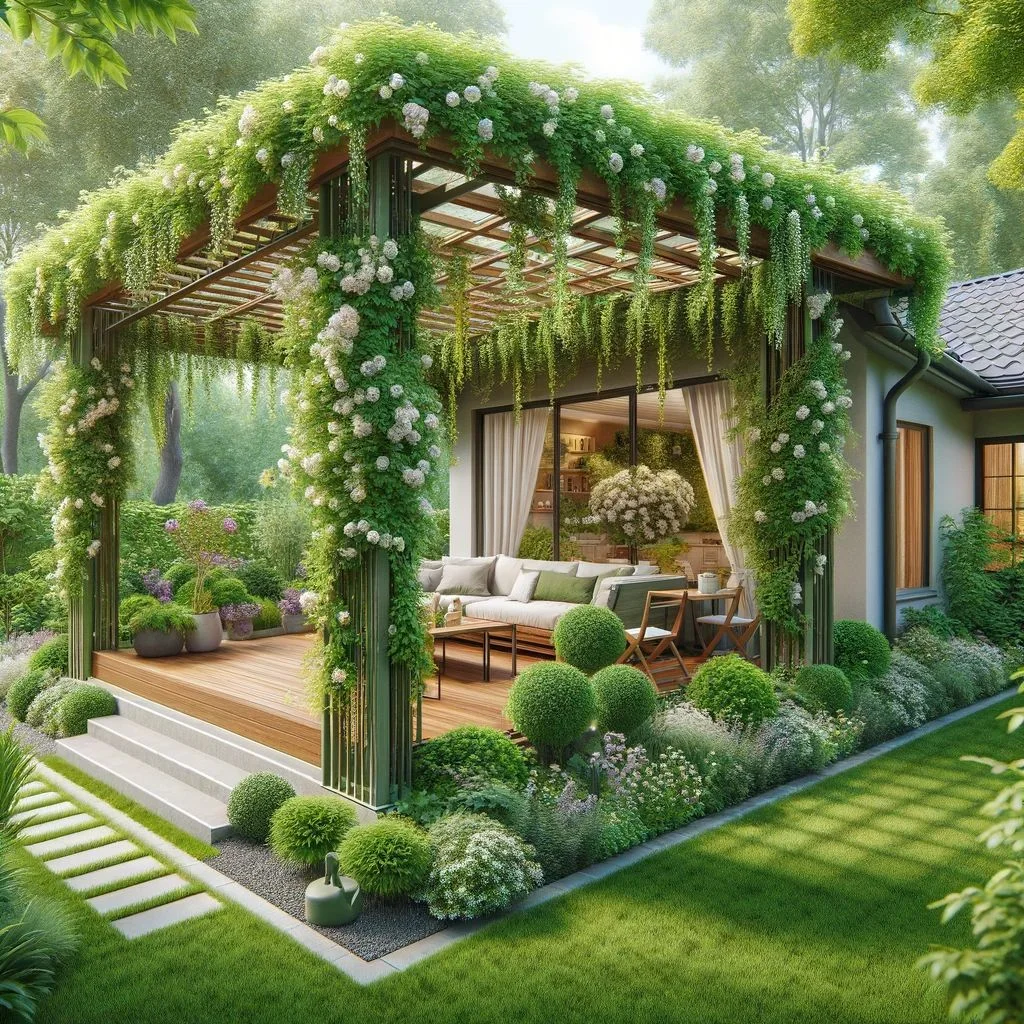 This pergola idea merges nature with functionality, featuring a structure with a retractable roof attached to the house. When covered in climbing vines or flowering plants, it provides a picturesque green space. The retractable roof allows for control over the amount of sunlight or shade, making it versatile for all seasons. It's a delightful retreat for those who appreciate a garden atmosphere right at their doorstep.
Elegant Louvered Pergola for Sophisticated Charm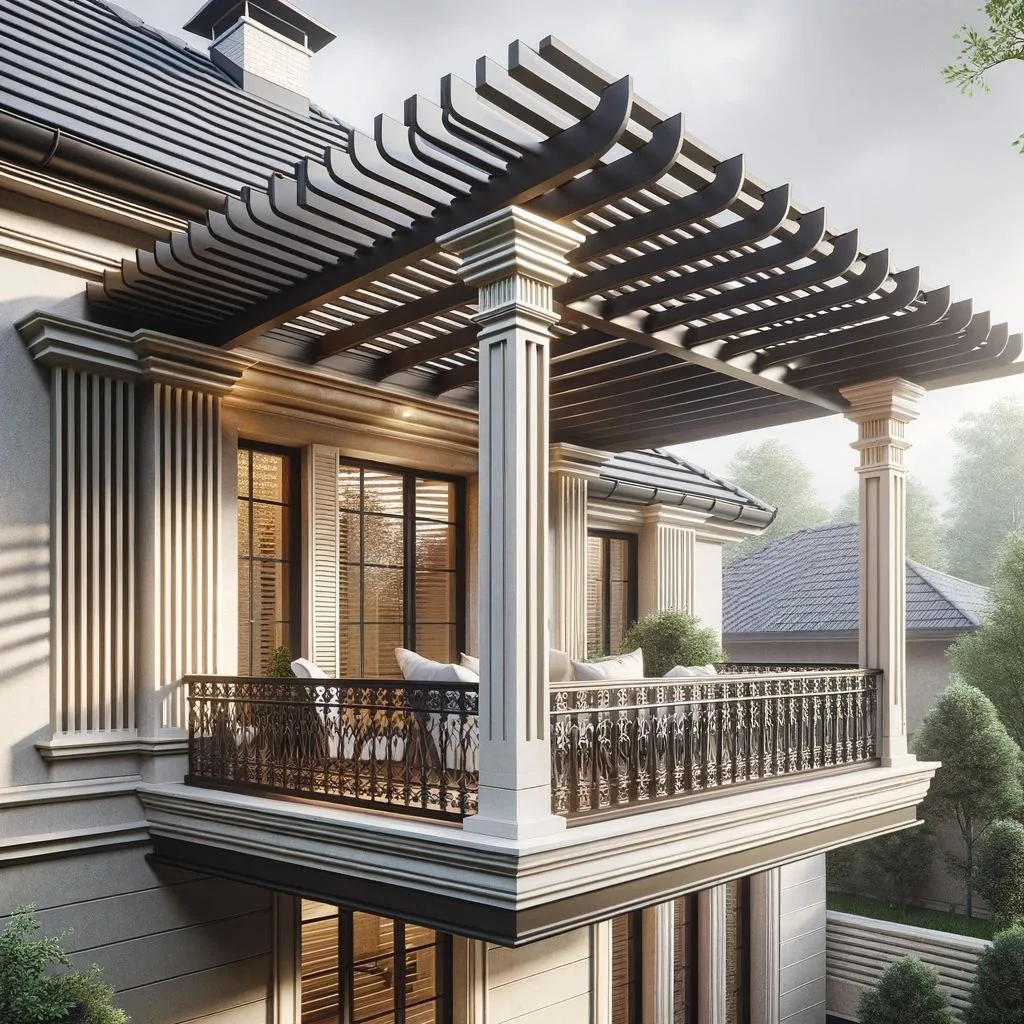 Perfect for a more upscale look, this pergola with adjustable louvered roofing panels is attached to the house. It offers a sophisticated space that can be adjusted for sunlight preference, ideal for an outdoor reading nook or a classy spot for evening cocktails. Its elegant design enhances the home's architecture, adding value and style.
5. Rustic Pergola with Tiled Roof Integration
For a touch of Mediterranean flair, this pergola idea features a tiled roof that matches the house's roofing, creating a cohesive look. The sturdy structure provides a shaded area that remains cool even in warmer climates. It's a great addition for homes with a rustic or country style, offering a cozy space for family gatherings.
6. Sleek Steel Pergola with Polycarbonate Roof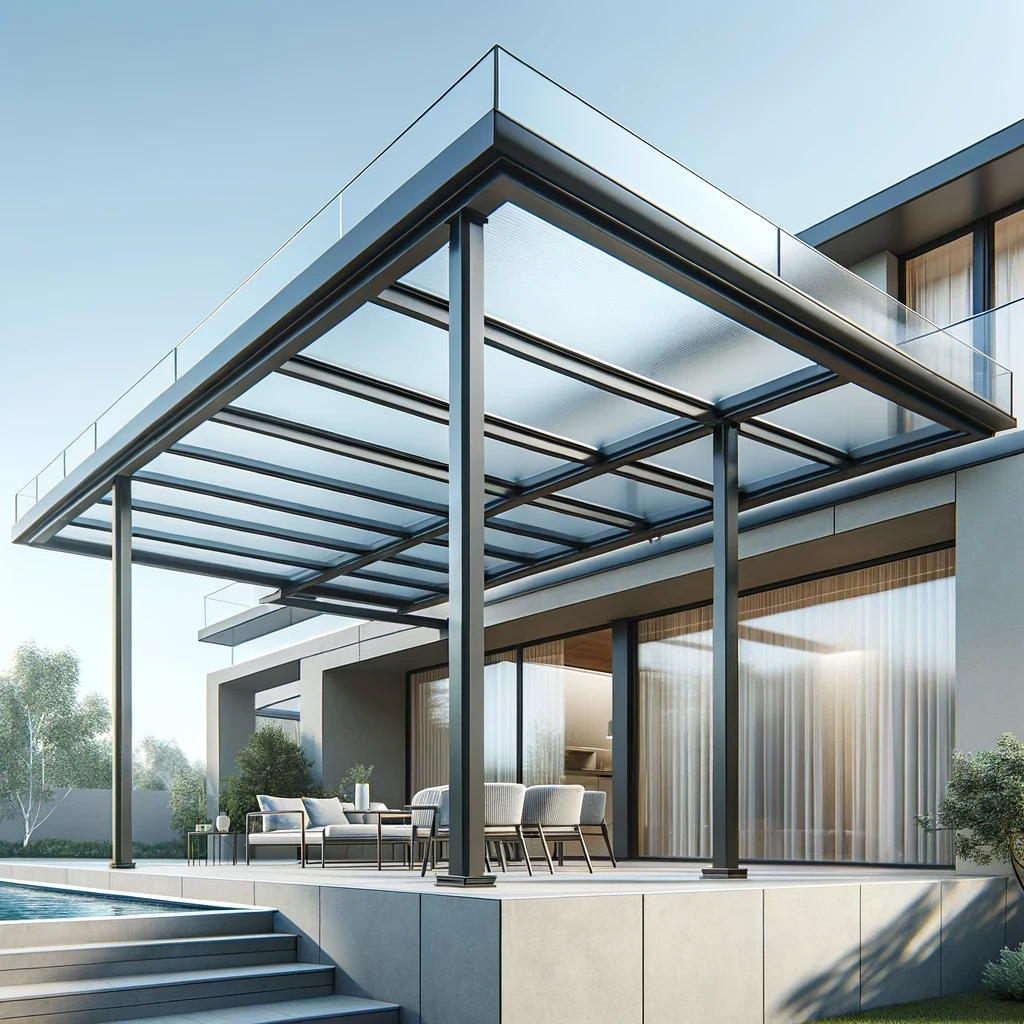 This pergola combines the durability of steel with a translucent polycarbonate roof, attached to the house for a modern look. It's perfect for contemporary homes, offering a light-filled yet shaded area. This pergola is ideal for those who love modern design and are looking for a low-maintenance outdoor living space.
7. Cozy Wooden Pergola with Shingled Roof
A classic design, this pergola features a shingled roof that matches the house, creating a seamless extension. It's perfect for creating a cozy outdoor living room, complete with comfortable furniture and lighting. This design is ideal for those who want to extend their living space outdoors in a way that feels like a natural part of the home.
9. Chic Pergola with Fabric Canopy Cover
Combining style and flexibility, this pergola attached to the house features a fabric canopy cover. This design allows for an easy change of the canopy's color and pattern, matching different seasons or occasions. It provides a chic and versatile space for outdoor dining or lounging, perfect for those who enjoy regularly updating their home's look.
10. DIY Pergola Attached to the House
Embrace the satisfaction of creating your own space with this DIY pergola attached to the house. Ideal for handy homeowners, it offers a customizable area for relaxation or entertainment. Its adaptable design allows for various materials and styles, perfectly tailoring to your home's aesthetics. This DIY pergola is not only a fun project but also a valuable addition to your outdoor living space.
11. Entryway Pergola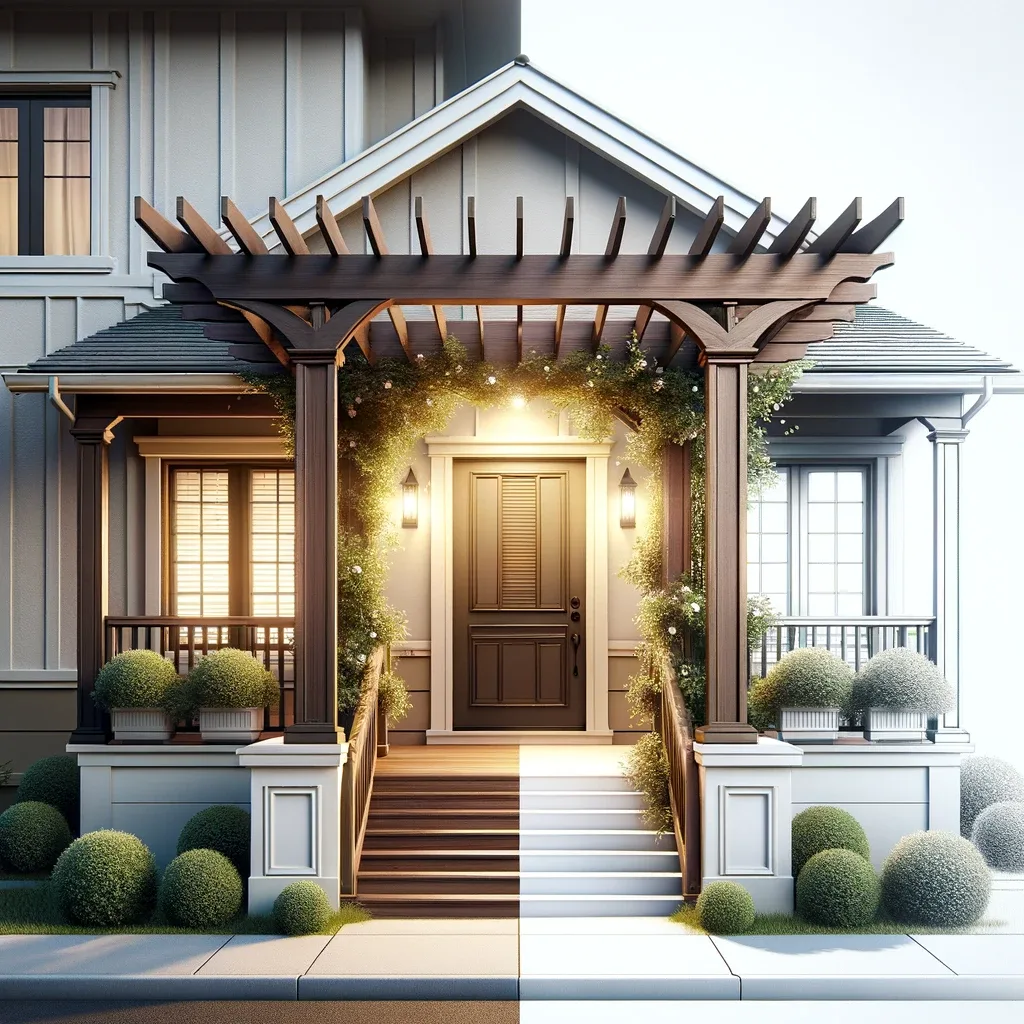 The entryway pergola attached to the house adds a welcoming charm to your home's entrance. Designed to enhance curb appeal, it frames the entryway, creating an inviting path for guests. This pergola can be adorned with lights or climbing plants, offering a beautiful transition into your home. Its elegant structure elevates the overall appearance of your house, making a lasting first impression.
12. Pergola with Plants
This pergola, adorned with plants and attached to the house, offers a lush, garden-like atmosphere. Perfect for nature lovers, it integrates greenery into your outdoor living area, creating a serene retreat. The structure supports a variety of plants, from flowering vines to cascading greens, enhancing the aesthetic appeal. This plant-covered pergola is an ideal space for relaxation amidst nature, right at your doorstep.
13. Garage Door Pergola
Enhance your garage's appeal with a garage door pergola attached to the house. This feature adds a touch of elegance to a typically utilitarian area, blending functionality with style. The pergola can be designed to complement the home's exterior, creating a cohesive look. Ideal for adding visual interest, it transforms your garage door into a striking architectural feature of your home.
14. Rustic Wooden Pergola
Bring a touch of rustic charm to your backyard with a wooden pergola attached to your house. Crafted from natural wood, this pergola exudes warmth and coziness, making it perfect for traditional or country-style homes. It's great for creating a shaded outdoor area, where you can unwind or entertain guests amidst the beauty of nature. Its sturdy construction ensures longevity and a timeless appeal.
15. Victorian-Style Pergola
Add a touch of elegance with a Victorian-style pergola attached to your house. This design features intricate details and ornate decorations, reflecting the grandeur of the Victorian era. Ideal for homes with classic architecture, it enhances your garden or patio area with its timeless beauty. This pergola is not just a decorative piece but also a functional space for relaxation.
16. Integrated Lighting Pergola Attached to the House
Illuminate your evenings with a pergola attached to your house, featuring integrated lighting. This design is perfect for those who enjoy outdoor living, even after the sun sets. The built-in lights create a cozy ambiance, ideal for dinner parties or quiet nights under the stars. It combines functionality with aesthetics, making your outdoor space inviting and well-lit.
Read more: 10 Beautiful Pergola Lighting Ideas
17. Master Bedroom Balcony Pergola
Elevate your master bedroom's balcony with an elegantly designed pergola, transforming it into a serene retreat. This pergola provides a shaded sanctuary, perfect for enjoying peaceful mornings or tranquil evenings. Its structure is both stylish and functional, complementing the master bedroom's aesthetic while offering a private outdoor space for relaxation.
Read more: