Our readers support us. This post may contain affiliate links. We earn from qualifying purchases. Learn More
Creating an inviting and stylish outdoor space is an ambition for many homeowners, and incorporating a pergola into your backyard design can transform your outdoor area into a haven of relaxation and entertainment.
In this comprehensive guide, we explore 50 innovative ideas for backyard pergolas that cater to a wide range of styles, sizes, and functionalities. From the classic elegance of wooden structures adorned with flowering vines to modern, minimalist designs with sleek metal frames, this collection promises inspiration for every taste and budget.
Whether you're looking to create a cozy nook for quiet afternoons or an expansive shelter for lively gatherings, these ideas will help you envision and execute the perfect pergola for your outdoor sanctuary.
1. Classic Wooden Pergola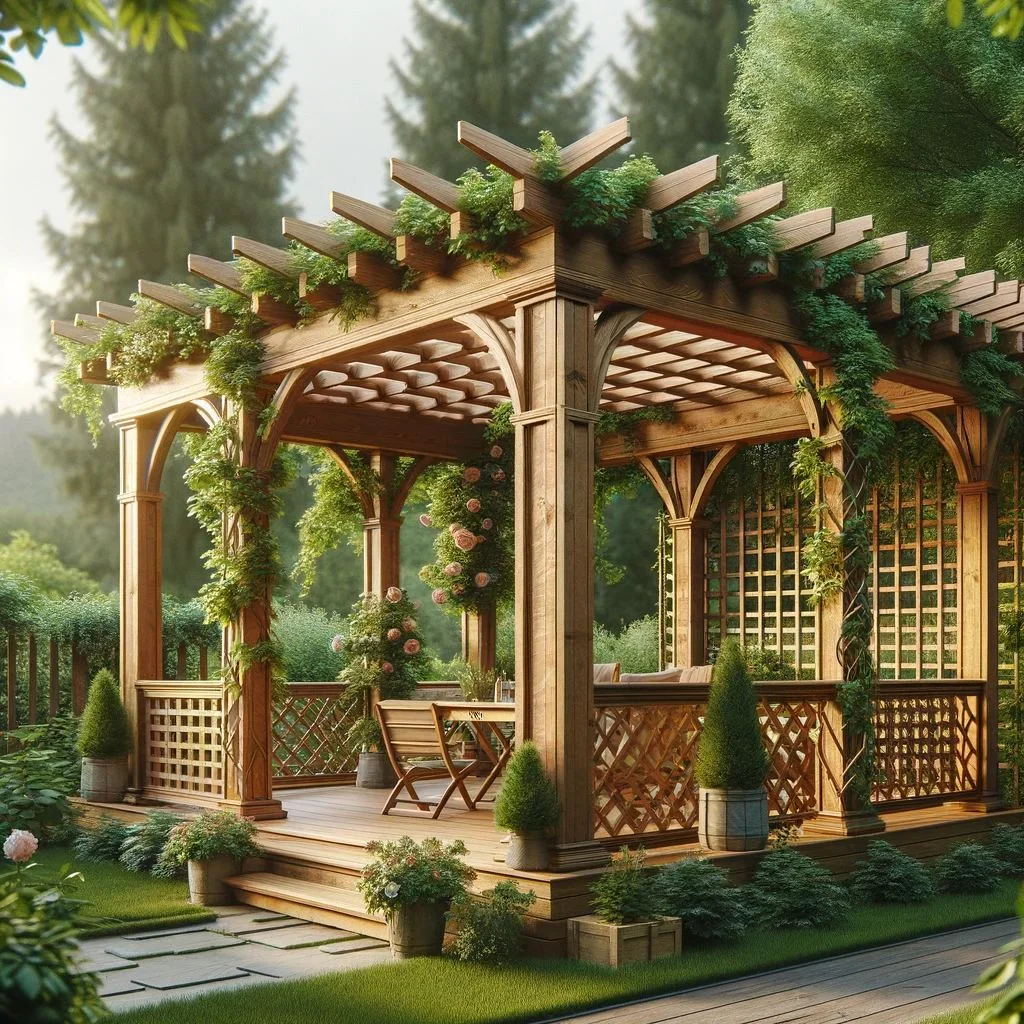 This beautifully crafted wooden pergola could stand proudly in your backyard. Its sturdy posts and lattice roof are perfect for supporting climbing plants, such as fragrant roses or lush ivy.
This pergola brings a touch of rustic elegance to your outdoor space, and its natural wood construction can be stained or painted to harmonize seamlessly with your home's exterior. Picture yourself under its shade, surrounded by the beauty of nature and the charm of traditional design.
2. Modern Steel Pergola
This sleek, modern steel pergola, is a true embodiment of contemporary design. Its clean, straight lines and minimalist structure provide an industrial yet elegant aesthetic, making it a striking addition to any modern landscape.
This steel pergola can be customized with retractable shades, offering the perfect balance of sunlight and shade. Its durable construction ensures longevity, making it a smart and stylish choice for those who appreciate modern design principles.
3. Pergola with Swings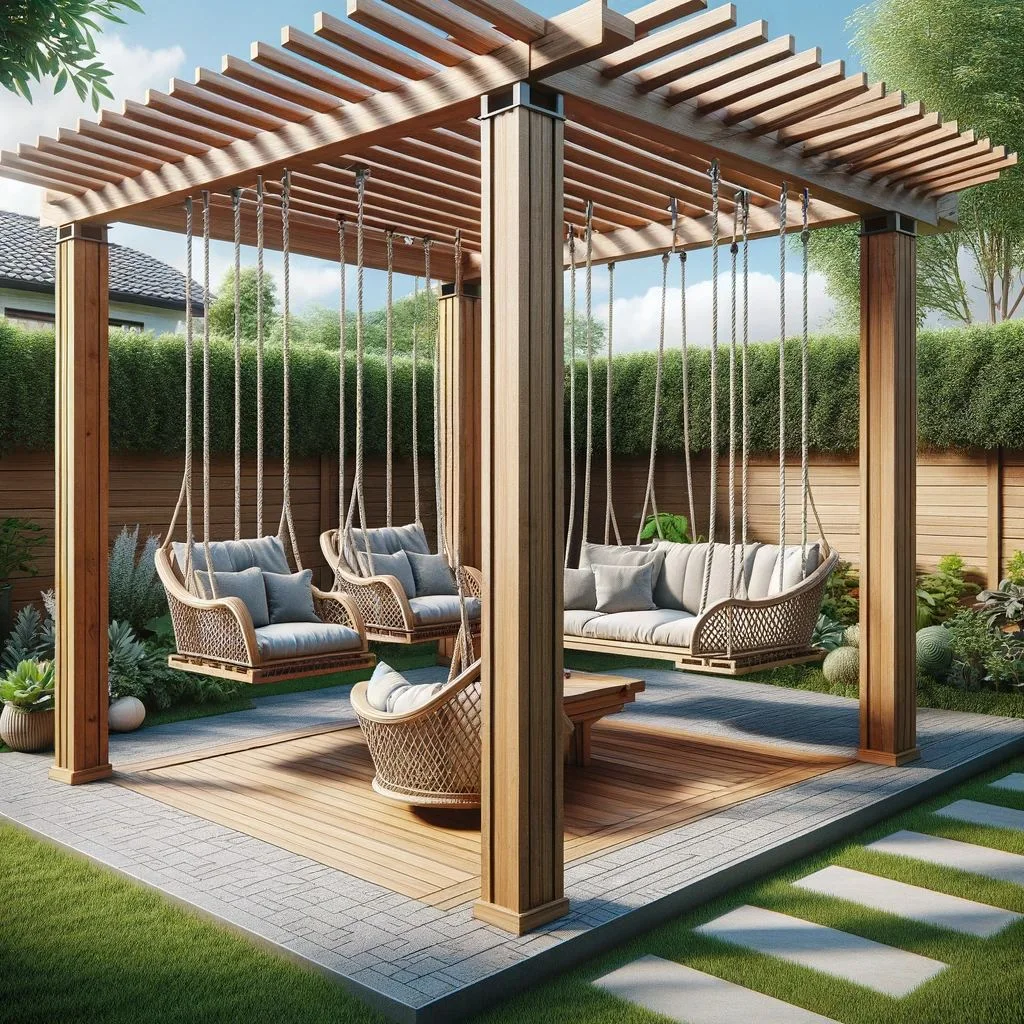 This pergola doubles as a playful retreat, featuring swings that hang gracefully from its sturdy beams. The design is a delightful addition to any family's backyard, offering a unique space for relaxation and fun.
The swings invite both children and adults to enjoy the gentle breeze and the tranquility of the outdoors. This pergola with swings combines functionality with fun, creating an inviting area for everyone to enjoy.
4. Pergola with Retractable Roof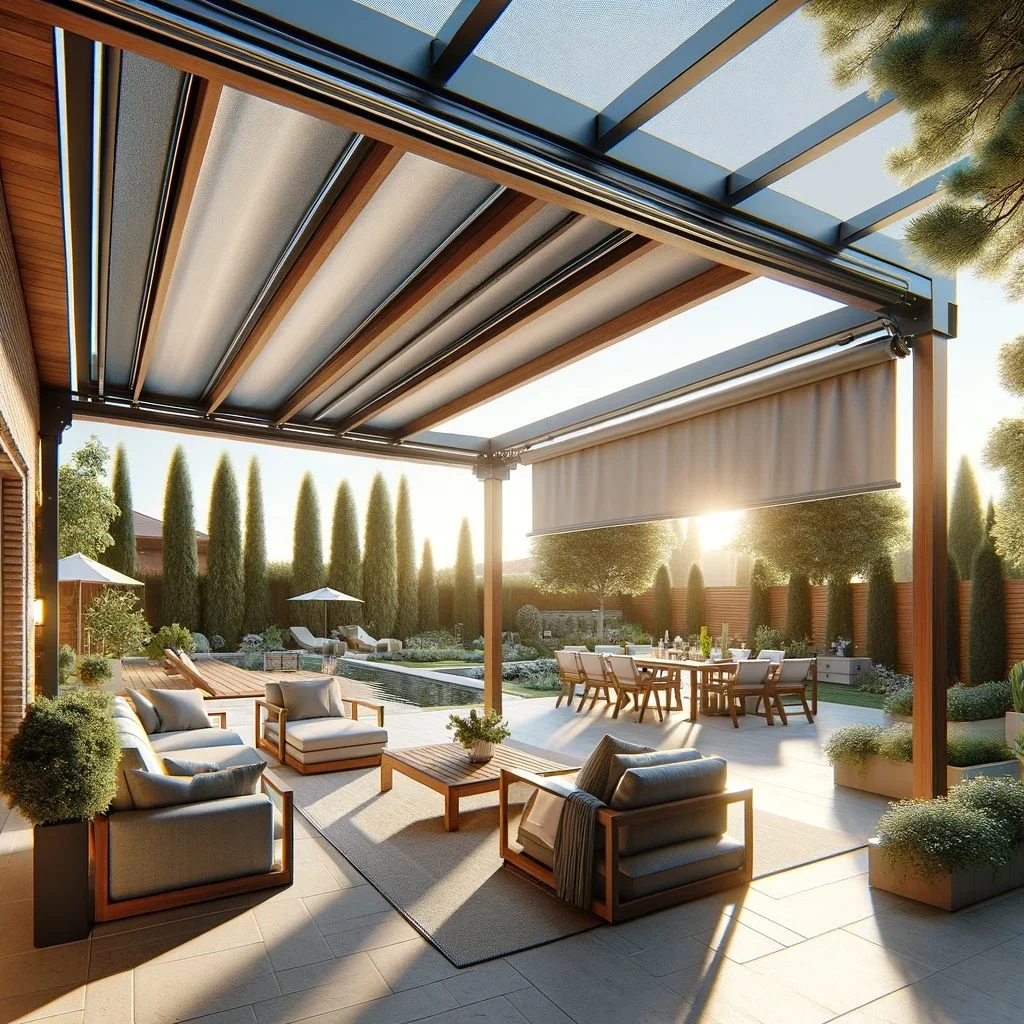 This versatile pergola is equipped with a retractable roof system. The innovative design allows you to enjoy the warmth of the sun or the comfort of shade with just a simple adjustment. It's particularly suitable for areas with changing weather conditions, offering adaptability and convenience.
The retractable roof pergola is an ideal solution for those who wish to make the most of their outdoor space, regardless of the weather.
5. Pergola with Built-in Benches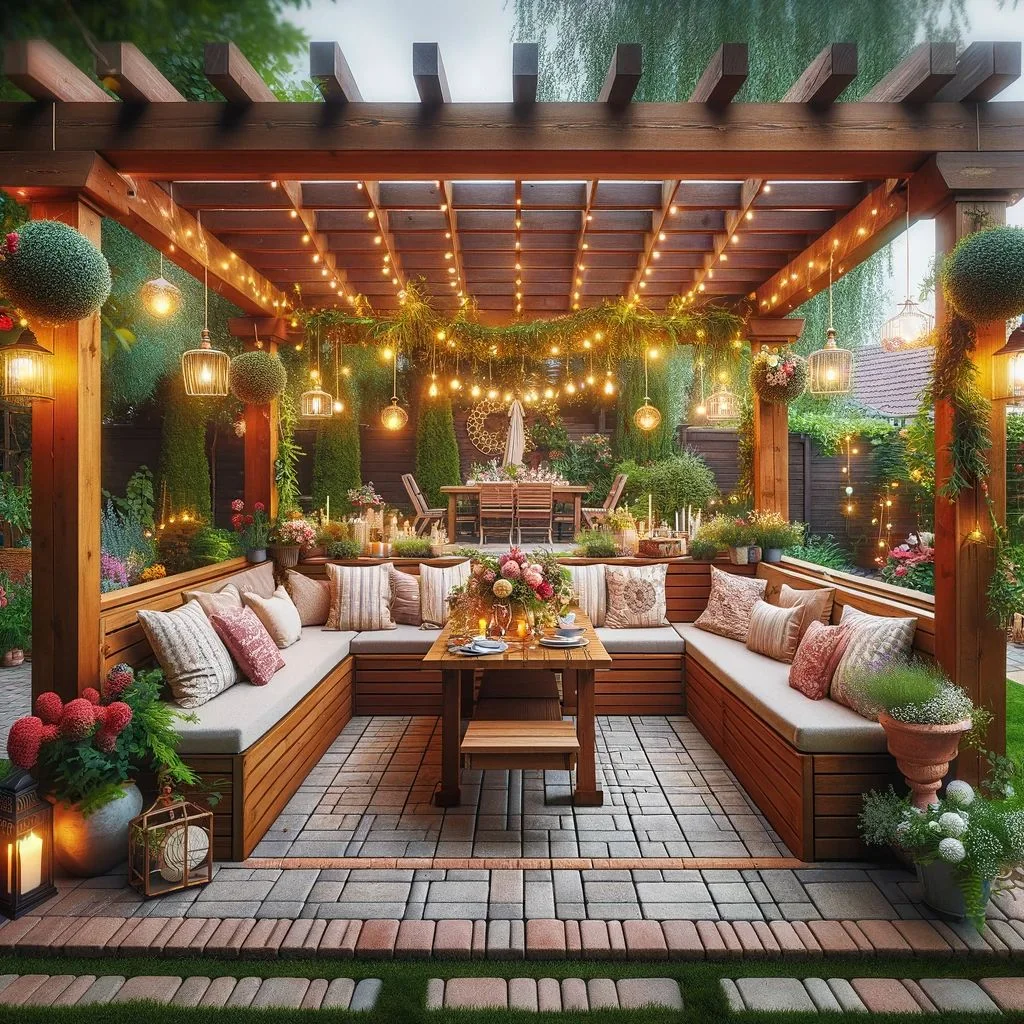 This pergola not only offers shade but also serves as a cozy gathering spot with its built-in benches. The design is perfect for hosting social events or enjoying quiet evenings in the comfort of your backyard.
The benches, crafted from the same material as the pergola, create a unified and elegant appearance. It's a wonderful way to create an intimate and inviting outdoor space.
6. Garden Oasis Pergola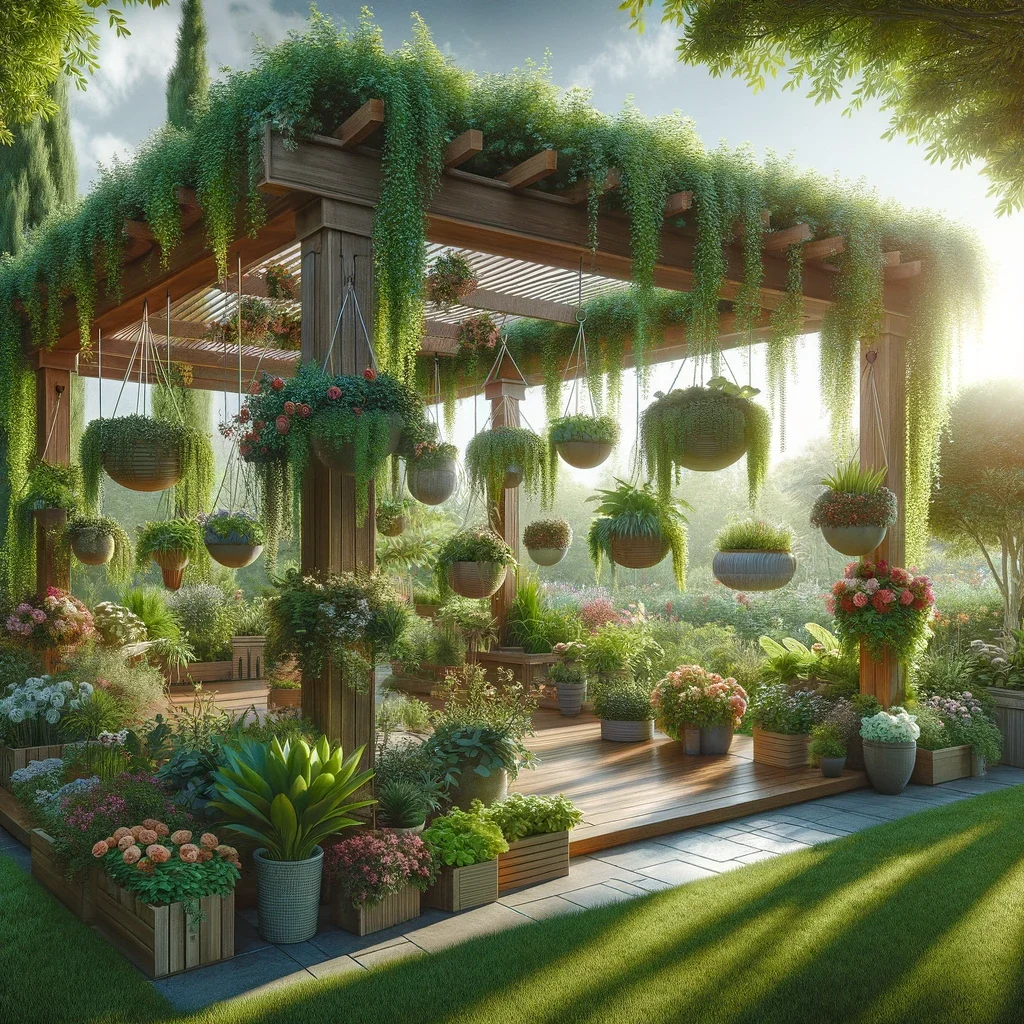 This pergola creates a verdant garden oasis. The design incorporates planters and hanging gardens, creating a paradise for those who have a passion for gardening.
The pergola becomes a tranquil retreat, enveloped in greenery and blooming flowers, offering a serene escape from the hustle and bustle of daily life. It's an ideal way to combine the architectural beauty of a pergola with the natural charm of a garden.
7. Pergola with Outdoor Kitchen
This pergola merges entertainment with functionality by featuring an outdoor kitchen. The design is a dream come true for culinary enthusiasts who love dining al fresco.
Under the shade of the pergola, you can cook and enjoy meals, making the most of the outdoor environment. It's a perfect combination of practicality and pleasure, enhancing the experience of outdoor living.
Find more outdoor kitchen design ideas here.
8. Beach-Style Pergola
This pergola captures the essence of the beach with its design. Made from driftwood or weathered wood, it exudes a coastal charm.
Adorned with white sheer curtains and nautical decor, this pergola creates a relaxed, beach-like atmosphere, making it an ideal retreat for homes inspired by the seaside. It's a unique way to bring the tranquility of the beach to your backyard.
9. Pergola with Fire Pit
This pergola is designed around a cozy fire pit. This idea is perfect for extending outdoor living into the cooler months. The fire pit becomes the heart of the space, providing warmth and a welcoming ambiance for gatherings.
It's an excellent way to create a focal point in your outdoor area, where friends and family can come together and enjoy the beauty of the outdoors, even on chilly evenings.
10. Japanese-Inspired Pergola
This pergola draws inspiration from the elegance and simplicity of Japanese architecture. Its clean lines and use of natural wood reflect a minimalist aesthetic, creating a peaceful and harmonious outdoor space.
This pergola is complemented by bamboo screening, adding a touch of privacy and tranquility. In the foreground, a serene koi pond with vibrant fish enhances the Zen-like atmosphere. Surrounded by a lush garden, this pergola is a perfect embodiment of a tranquil, Zen-inspired retreat.
11. Covered Pergola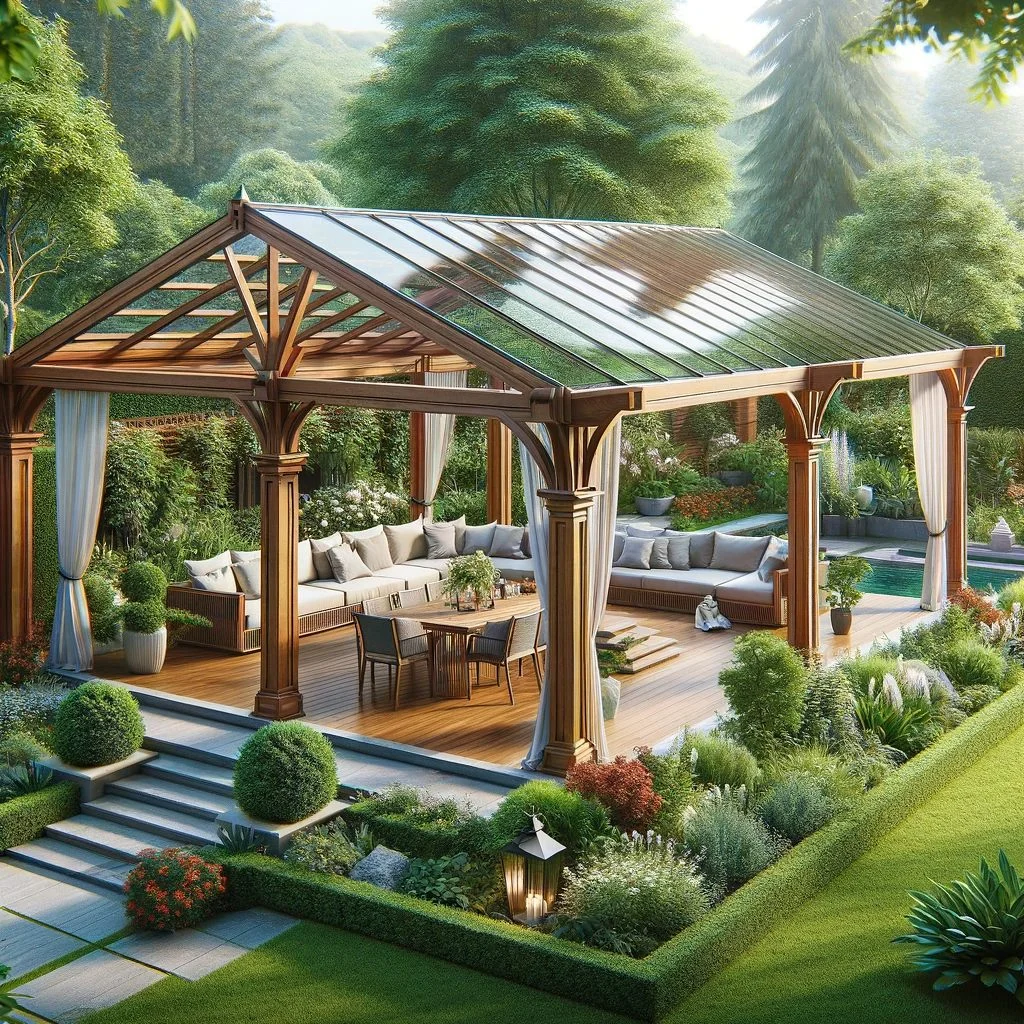 This pergola offers not just shade but complete coverage, creating a protected outdoor living space. The covered pergola is ideal for regions with unpredictable weather, allowing you to enjoy the outdoors rain or shine.
The roof can be made of durable materials like polycarbonate or traditional tiles, blending functionality with aesthetic appeal. It's perfect for those who love to entertain outdoors without worrying about the elements.
12. Pergola with Decorative Screens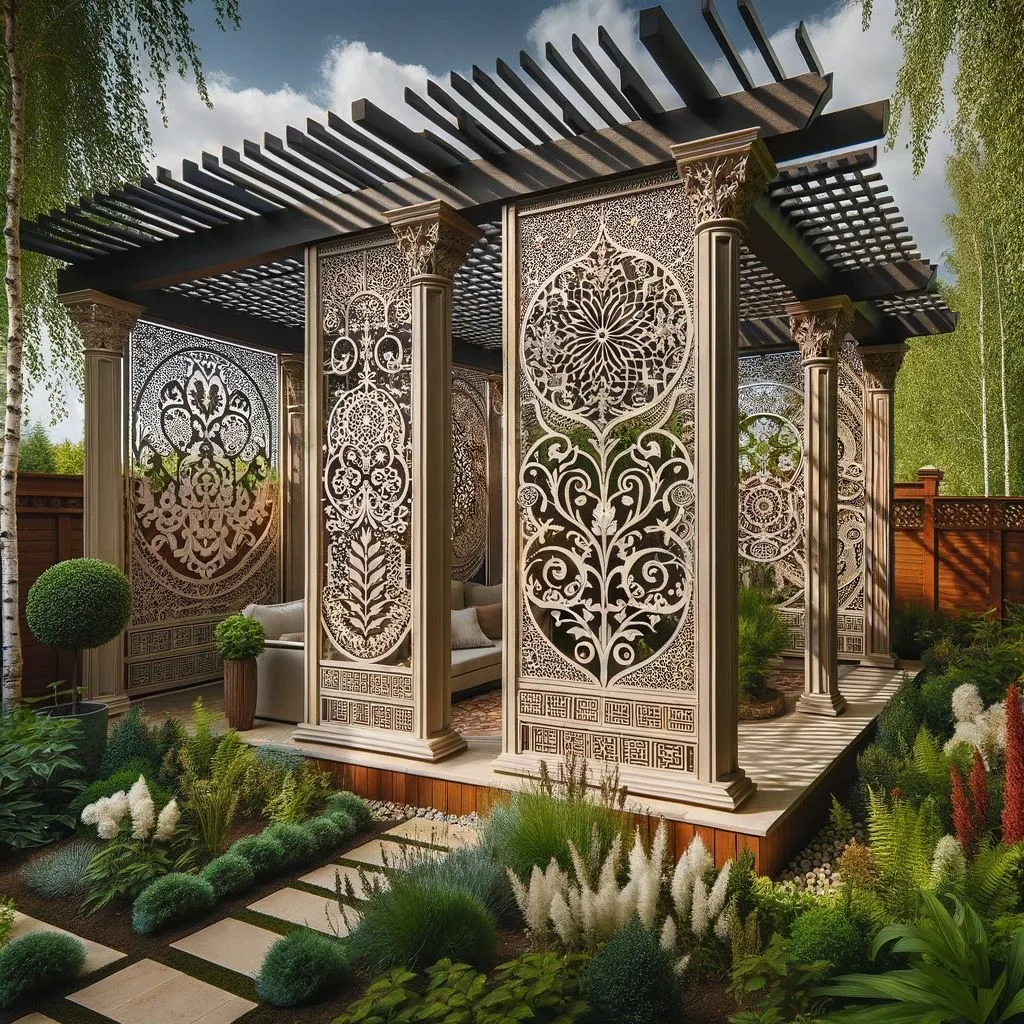 This pergola is adorned with decorative screens, adding an artistic touch to your garden or patio. These screens can feature intricate designs, ranging from geometric patterns to natural motifs, providing both beauty and privacy.
This pergola style is ideal for creating a secluded retreat, where the play of light and shadow through the screens adds an enchanting ambiance. It's a perfect blend of functionality, privacy, and artistry.
13. White and Wicker Pergola
This pergola exudes elegance and simplicity, featuring a pristine white structure complemented by wicker details. The style creates a light, airy atmosphere, perfect for a garden brunch or a tranquil reading nook.
The wicker elements add a touch of rustic charm, while the white framework brightens up any outdoor space. It's a timeless design that effortlessly blends with various landscaping styles.
14. House Extension Pergola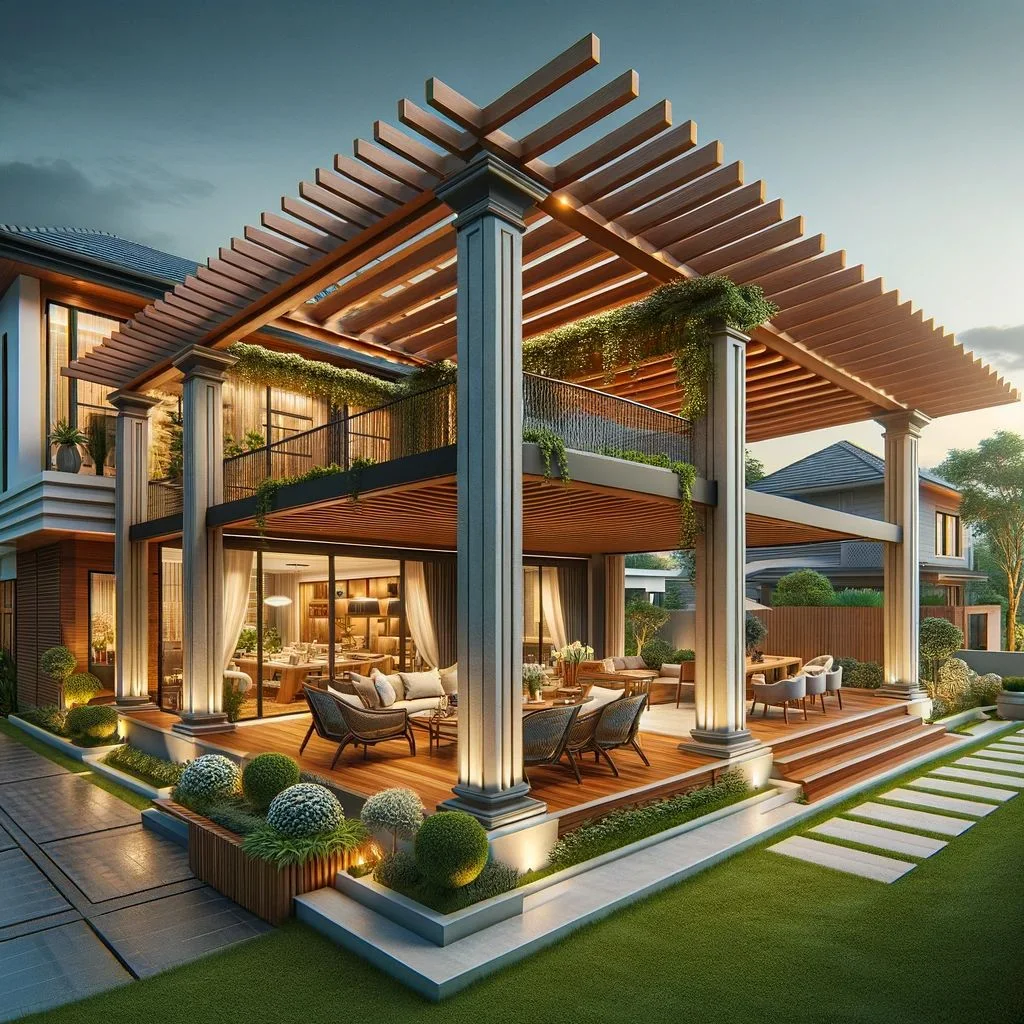 This large pergola extends seamlessly from your home, creating a fluid transition between indoor and outdoor spaces.
This house extension pergola can be designed to match the architecture of your home, offering an additional living area that's both functional and stylish. It's perfect for those who love to blend indoor comfort with the beauty of the outdoors, effectively expanding their living space.
Find more idease for pergolas attached to yoru home here.
15. Recycled Material Pergola
This pergola is constructed from recycled materials, showcasing an eco-friendly and creative approach to outdoor design. Utilizing reclaimed wood, metal, or even repurposed plastic, this pergola is not only sustainable but also unique in its character.
Each piece tells a story, contributing to a design that's both environmentally conscious and visually interesting.
16. Natural Materials Pergola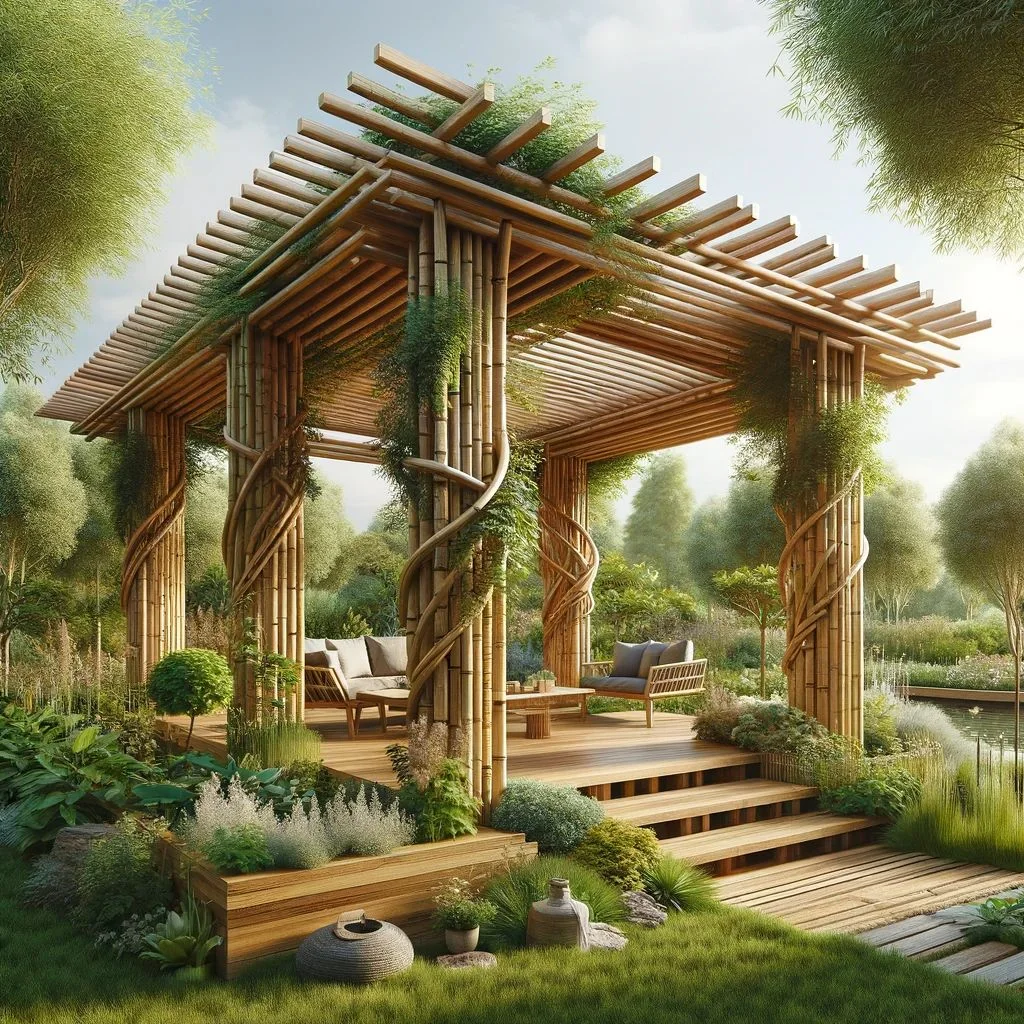 This pergola is built entirely from natural materials like bamboo, cedar, or pine. The design harmonizes with the surrounding landscape, creating a rustic yet elegant outdoor space.
The use of natural materials ensures that the pergola blends seamlessly with the garden, offering a tranquil spot to relax and connect with nature.
17. Dark Wood Pergola
This pergola is crafted from rich, dark wood, exuding sophistication and strength. The pergola style makes a bold statement, standing out against the lighter tones of your garden or patio.
The dark wood can be complemented with lighter-colored furnishings or vibrant plants, creating a striking contrast. It's a perfect choice for those who prefer a more dramatic and luxurious outdoor setting.
18. Private Space Pergola
This pergola is designed specifically for privacy, creating a secluded haven in your backyard. It can be enclosed with lattice, drapes, or tall plants, offering a personal retreat for relaxation or meditation.
It's ideal for urban gardens or any outdoor space where seclusion is desired, providing a peaceful escape from the outside world.
19. Art Oriented Pergola
This pergola doubles as a canvas for artistic expression. It can feature sculptural elements, artistic panels, or even serve as a support for outdoor art installations.
It's a perfect choice for art enthusiasts or anyone looking to add a creative flair to their outdoor space, blending functionality with artistic beauty.
19. Tiny Pergola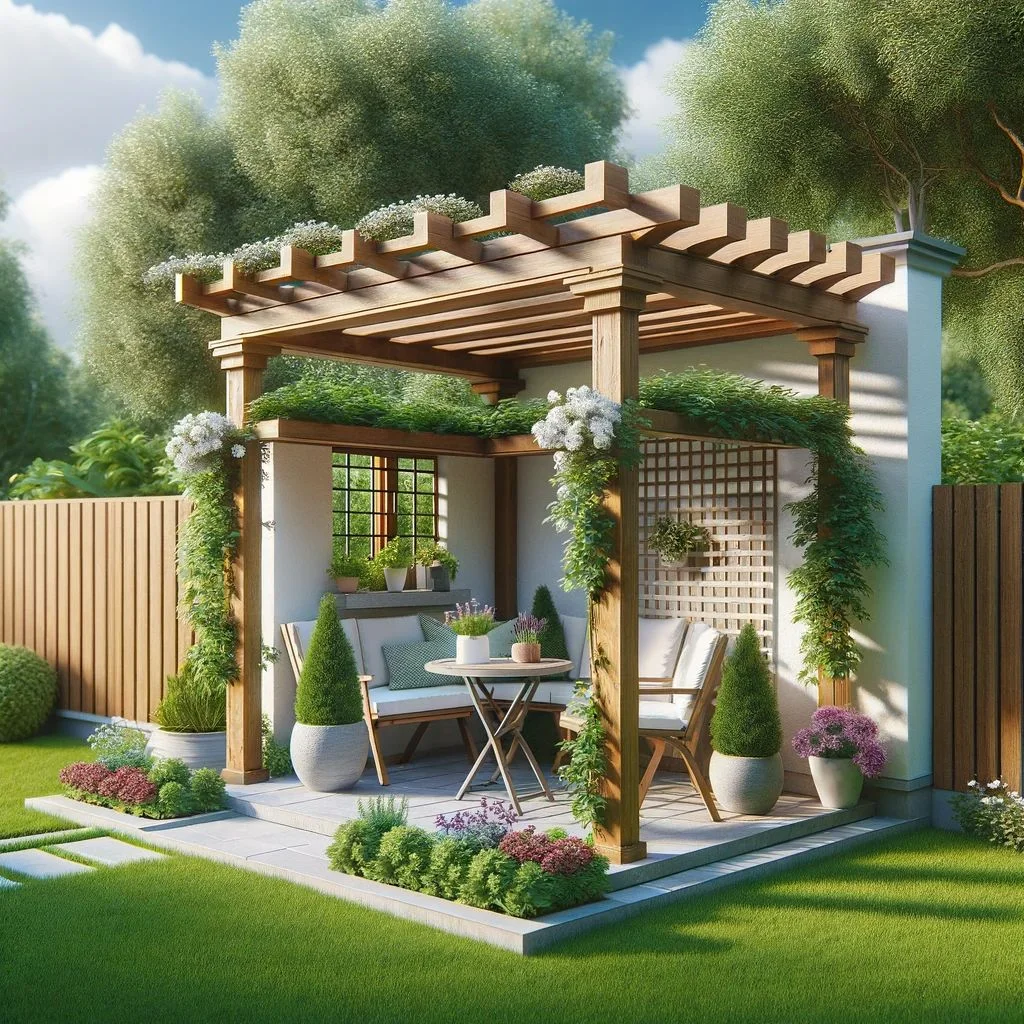 This small, quaint pergola is perfectly sized for a cozy garden corner or a compact patio. Despite its size, this tiny pergola can be a charming addition, providing enough space for a bistro table, a couple of chairs, or a small bench.
It's ideal for creating an intimate outdoor setting, where space is limited but style and comfort are still priorities.
20. Brightly Colored Pergola
Vibrant colors, instantly brightening up your garden or patio. This style adds a playful and cheerful touch to your outdoor area, perfect for those who love bold and expressive designs.
The bright colors can be coordinated with your garden flowers or outdoor decor, creating a lively and inviting space.
21. Fairy Light Pergola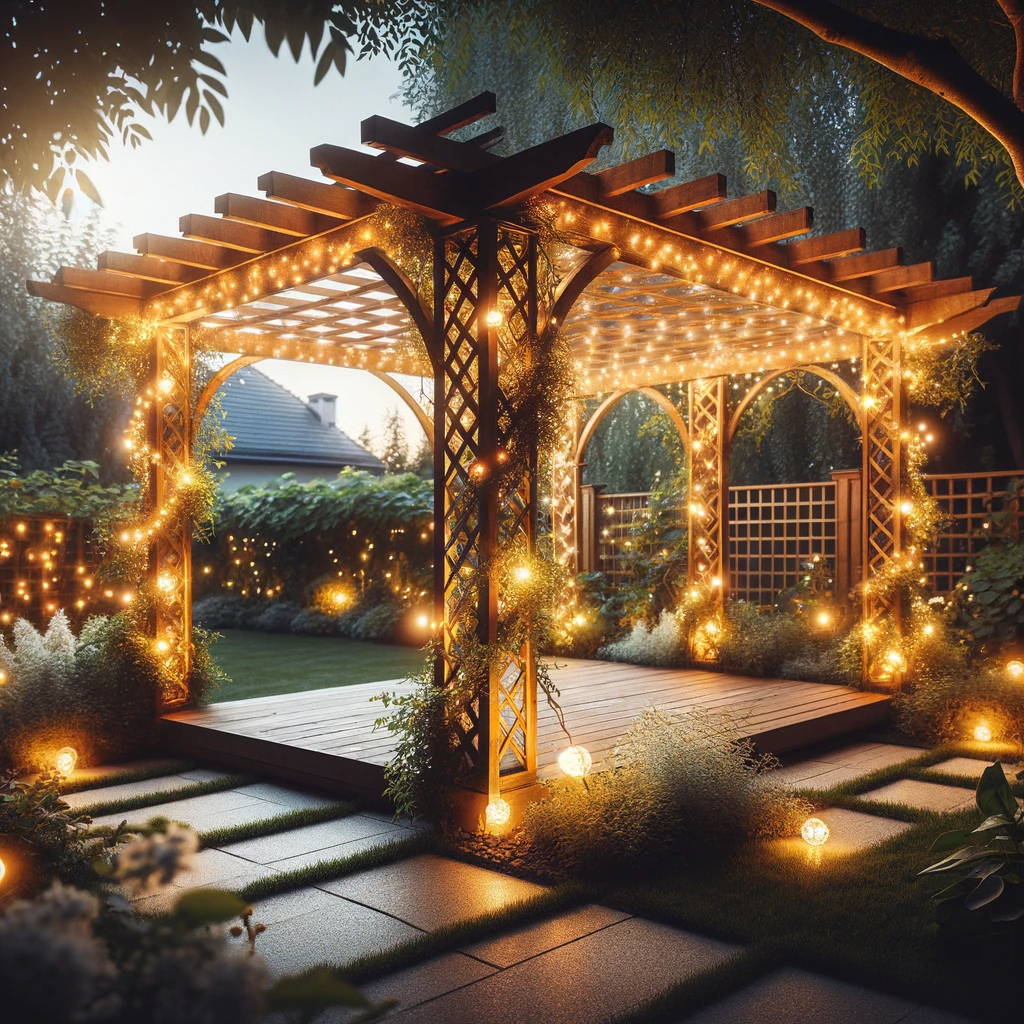 This enchanting pergola is adorned with a multitude of twinkling fairy lights, creating a magical ambiance in the evening. The structure is typically made of wood or metal, featuring a lattice roof that allows the lights to be woven in and out, casting a soft, romantic glow.
Vines or light, flowery plants are often encouraged to grow over the sides, enhancing the fairy-tale atmosphere. It's a perfect spot for evening relaxation or hosting intimate gatherings under the starry lights.
Find more pergola lighting design ideas here.
22. Elevated Pergola
The Elevated Pergola stands above the ground, accessed by steps or a small staircase, offering a splendid view of the surrounding garden or landscape. This type of pergola is often made from sturdy wood or composite materials and features a classic slatted roof.
It's ideal for those who want to enjoy an elevated perspective, perhaps overlooking a garden or a water feature. The elevation provides a sense of privacy and seclusion, making it a serene retreat.
23. Poolside Pergola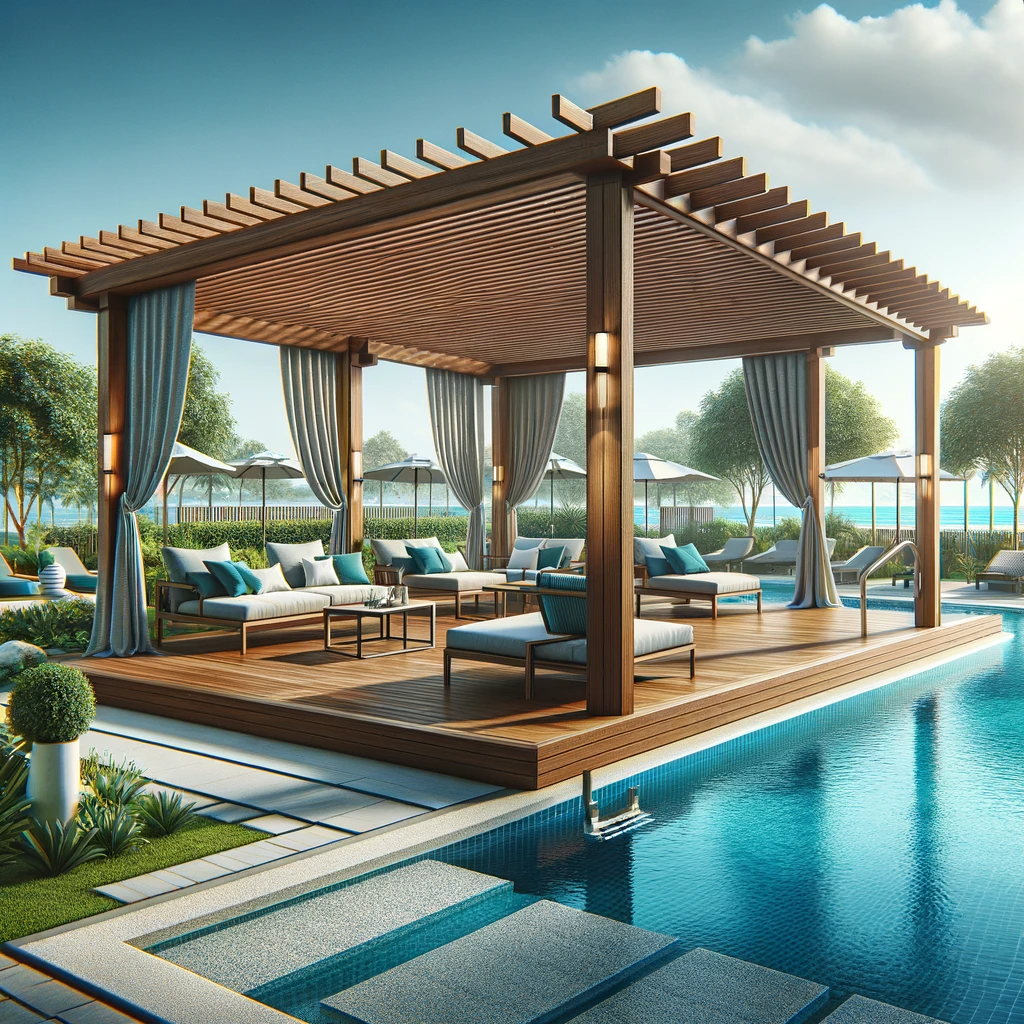 Located adjacent to a swimming pool, the Poolside Pergola is a stylish addition that offers shade and relaxation for swimmers. It's typically constructed with weather-resistant materials like treated wood, aluminum, or vinyl to withstand moisture and chlorine exposure.
The design often includes comfortable seating, and sometimes drapes or screens for added privacy and sun protection. It's a perfect spot for lounging after a swim or hosting pool parties.
24. Children's Playground Pergola
This pergola is designed with children in mind, often situated over a sandbox, swings, or a small play area. The structure is usually made from durable, child-safe materials and painted in bright, cheerful colors.
The roof provides shade, protecting children from the sun while they play. It often features whimsical designs, like cut-out shapes or patterns, to stimulate the children's imagination and add a playful element to the garden.
25. Circular Pergola
The Circular Pergola is a unique and visually striking design, featuring a round structure often centered around a focal point like a fire pit or a garden statue. Its curved lines create a cozy, enclosed feeling, making it an excellent spot for gathering with friends or enjoying quiet reflection.
The construction can vary, but wood and wrought iron are popular choices for their aesthetic appeal and structural integrity. Climbing plants are often encouraged to grow over it, adding to its natural charm.
26. Barbeque Area Pergola
This pergola is specifically designed for outdoor cooking and dining, often incorporating a built-in barbeque grill, counters, and storage areas. Made from fire-resistant materials, it provides ample ventilation for grilling while offering shelter from the sun or rain.
The structure is usually large enough to accommodate a dining table and chairs, making it an ideal spot for family cookouts or entertaining guests. It often features additional lighting and possibly fans for added comfort.
27. Sunken Pergola
The Sunken Pergola is built into a depression in the ground, creating a cozy, intimate space that is somewhat secluded from the rest of the yard. The lower level offers a unique vantage point, often accentuated with built-in seating around the perimeter.
The design can vary, but it often features a traditional lattice roof and climbing plants for a natural, enclosed feel. This type of pergola is perfect for quiet relaxation or intimate gatherings.
28. Long Corridor Pergola
This pergola style is characterized by its length, stretching out like a corridor, and is ideal for creating a picturesque walkway in the garden. It's often lined with columns or posts and covered with a lattice roof, encouraging climbing plants to create a living tunnel.
This design is perfect for connecting different areas of the garden or for simply enjoying a leisurely walk under a canopy of greenery.
Find ideas for pergolas with the roof attached to your house here.
29. Small Arch Pergola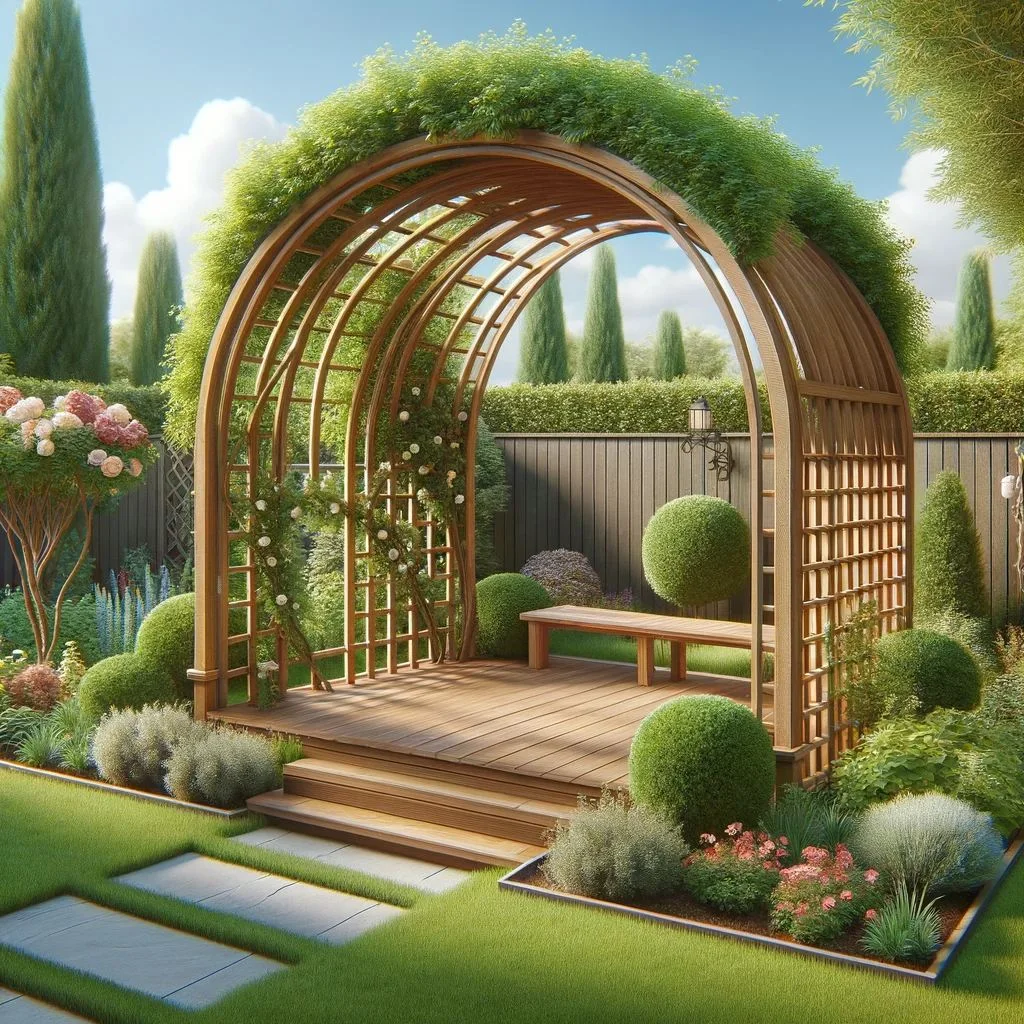 The Small Arch Pergola is a compact design, perfect for smaller gardens or as an elegant entranceway. It typically features an arched top, adding a touch of sophistication and charm.
Constructed from wood or metal, this type of pergola is often used as a support for climbing plants, creating a natural archway. It's ideal for adding a decorative touch to a garden without taking up too much space.
30. Jacuzzi Pergola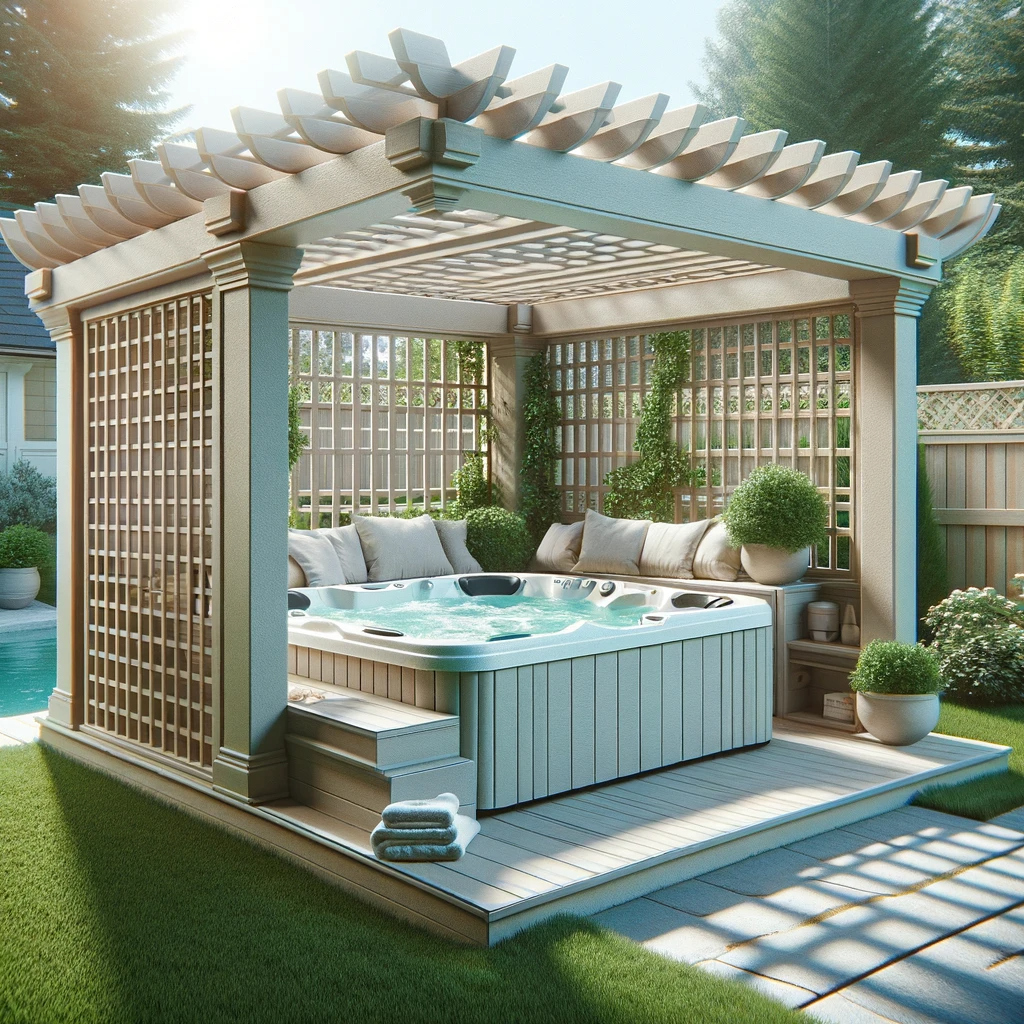 Designed to enhance the outdoor spa experience, the Jacuzzi Pergola provides privacy and shade for a jacuzzi or hot tub. It's constructed with materials that can withstand the heat and humidity, often featuring open sides for easy access and ventilation.
The roof can be solid for full shade or latticed for a dappled sunlight effect. This pergola often includes additional amenities like shelving for towels and beverages, making it a luxurious addition to any backyard spa area.
31. Stone-Look Pergola
This pergola style mimics the rustic charm of natural stone, creating a robust and earthy feel in the backyard. It features stone pillars supporting a sturdy wooden roof, blending seamlessly into a garden with its naturalistic appeal.
The roof, made of timber, complements the stone with its warm tones, offering a perfect balance between ruggedness and elegance. Ideal for those who appreciate an old-world charm, this pergola is perfect for vine growth, adding to its natural allure.
32. Extra Tall Pergola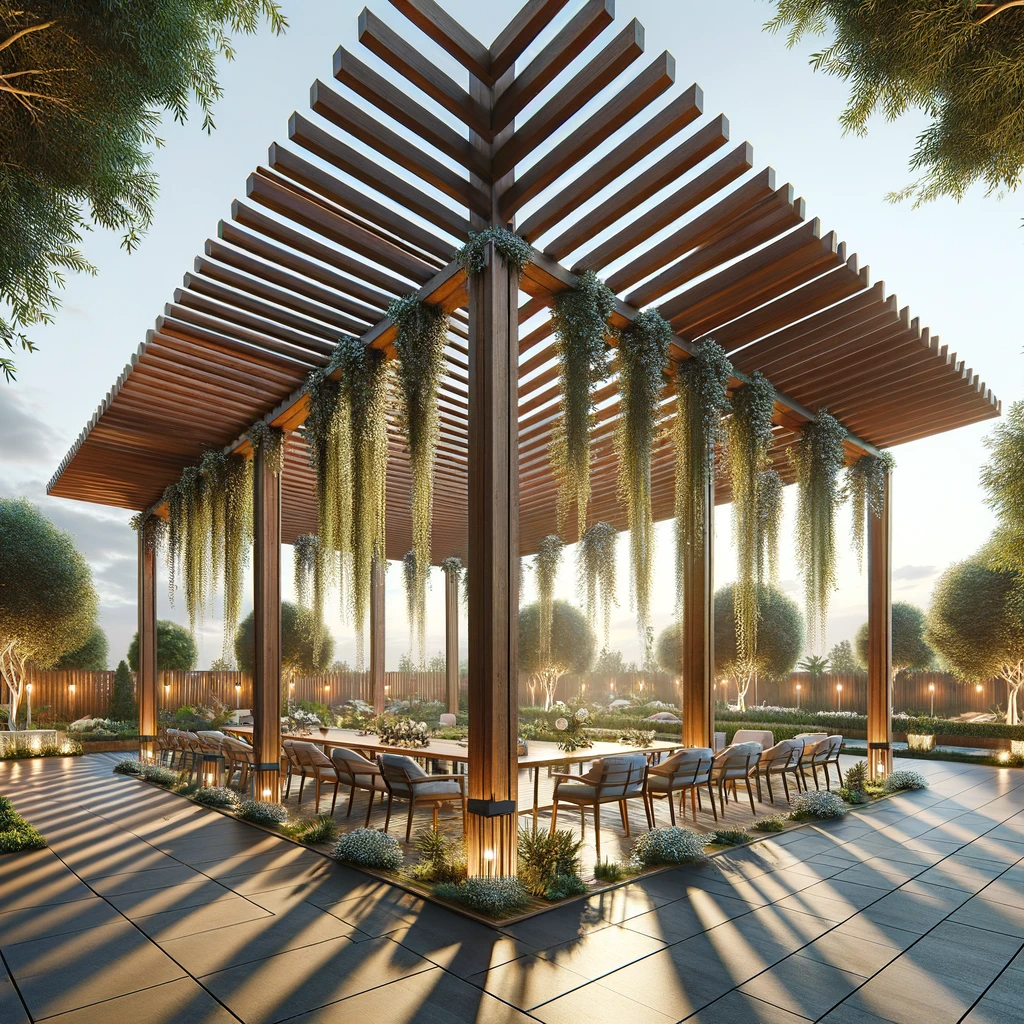 Designed for spaces with high ceilings, the extra tall pergola stands out with its impressive height, making it ideal for hanging plants and outdoor lighting. The structure's elongated wooden or metal beams provide an airy, open feel, enhancing the sense of space in the garden.
This pergola is perfect for hosting gatherings, with ample room for standing and moving around comfortably. The extra height also offers enhanced privacy and a unique perspective of the surrounding landscape.
33. Fountain Pergola
Combining the tranquility of water with the coziness of a shaded retreat, the fountain pergola features a built-in water feature at its center. The sound of trickling water adds a serene atmosphere, perfect for relaxation.
The structure, typically made of wood or metal, encircles the fountain, providing shade and a peaceful area for seating. This pergola style is a wonderful addition to any garden, creating a focal point that blends the soothing elements of nature with architectural beauty.
34. Fishing Pond Pergola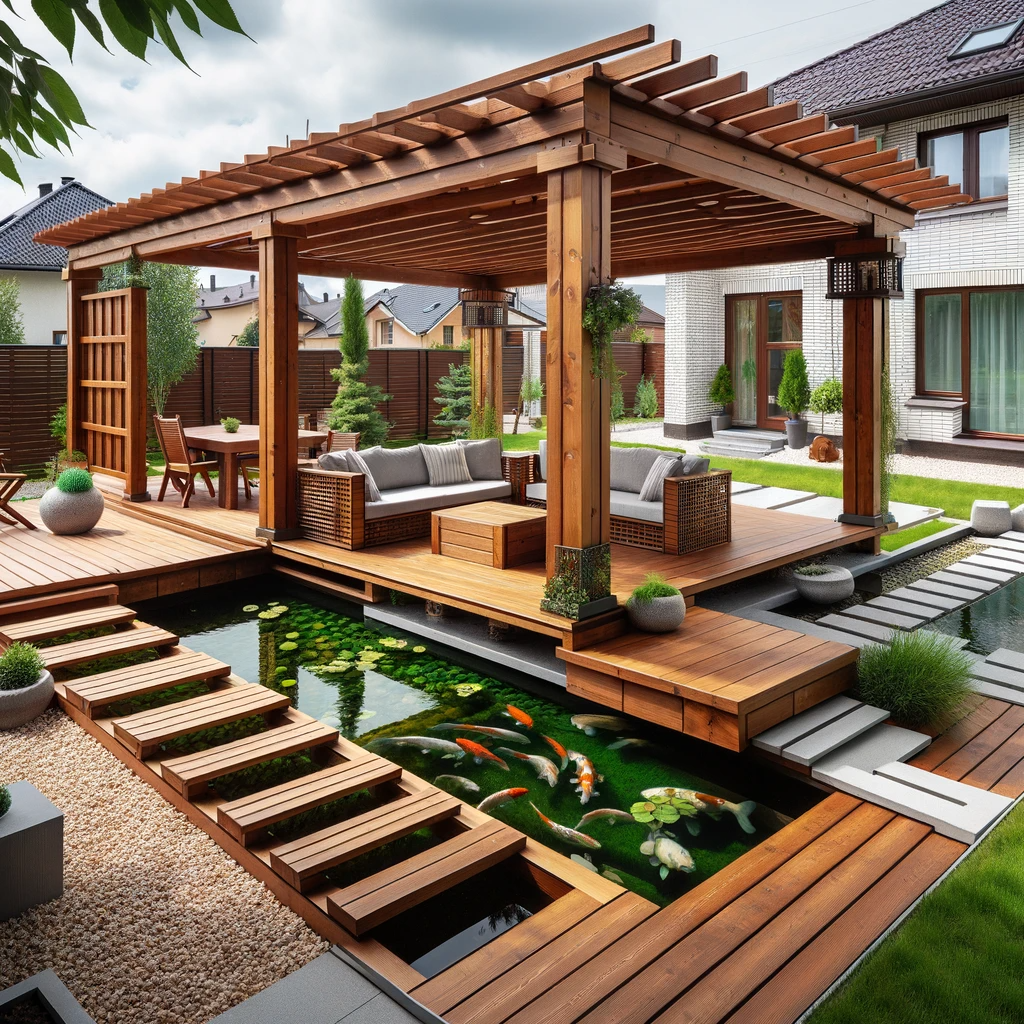 Ideal for the angling enthusiast, this pergola is built adjacent to or over a small fishing pond, providing a shaded spot for fishing in comfort. The design often includes features like built-in benches or steps leading directly into the pond.
The structure's open sides offer unobstructed views of the water and surrounding landscape, making it an ideal spot for relaxation and nature watching. This pergola style is a perfect blend of functionality and leisure, offering a unique outdoor experience.
35. Work Area Pergola
Specifically designed for outdoor workspaces, this pergola provides a shaded, airy environment conducive to concentration and creativity. Equipped with amenities like built-in desks or workbenches, it's perfect for gardening, crafting, or remote work.
The structure is typically designed with ample natural light and ventilation in mind, creating a comfortable outdoor office or workshop. This pergola style merges productivity with the beauty of the outdoors, offering a refreshing alternative to the traditional workspace.
36. Minimalist-Style Pergola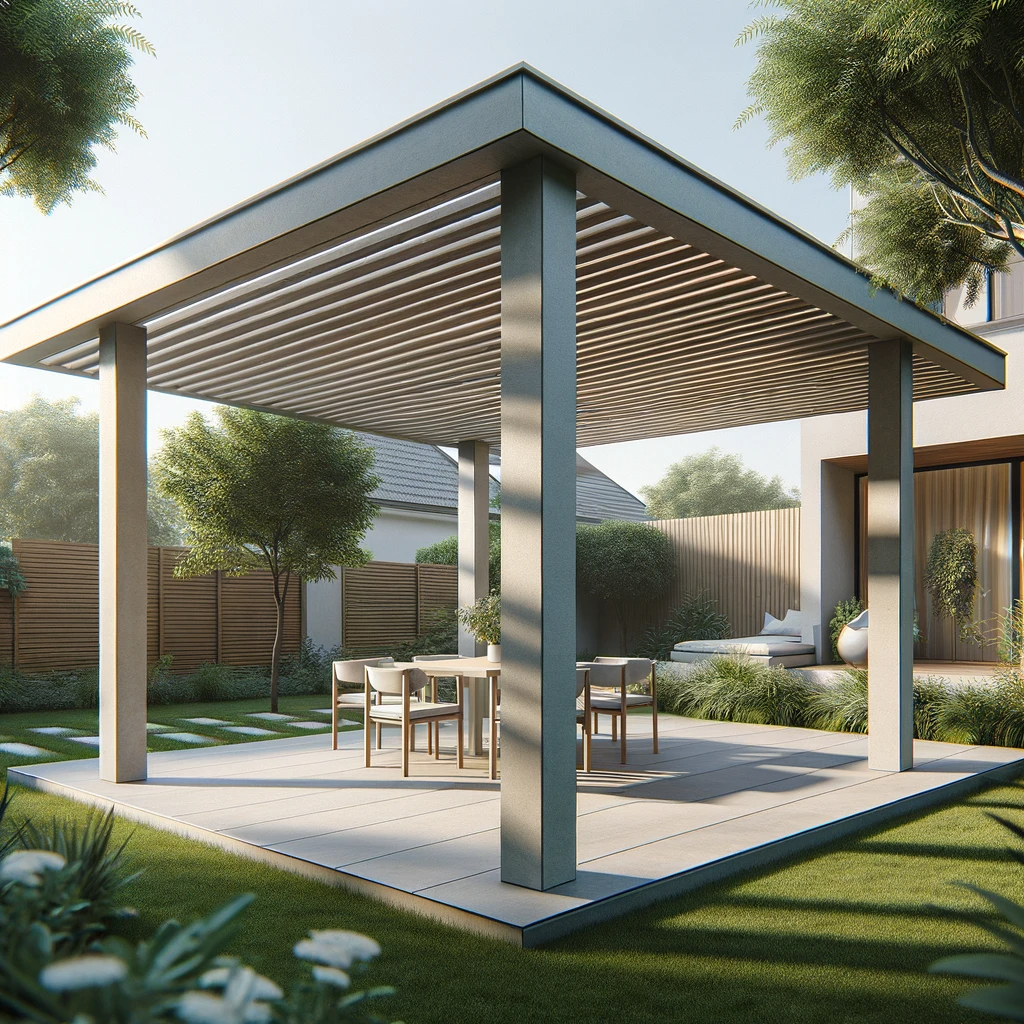 Embodying simplicity and elegance, the minimalist-style pergola features clean lines and a sleek design. Made from materials like steel or finely finished wood, it emphasizes functionality and uncluttered space.
The structure often has a flat, unadorned roof and slender, unobtrusive pillars, making it a subtle yet stylish addition to any modern garden. This pergola is perfect for those who prefer understated beauty and a focus on the essentials.
37. Modern Streamlined Pergola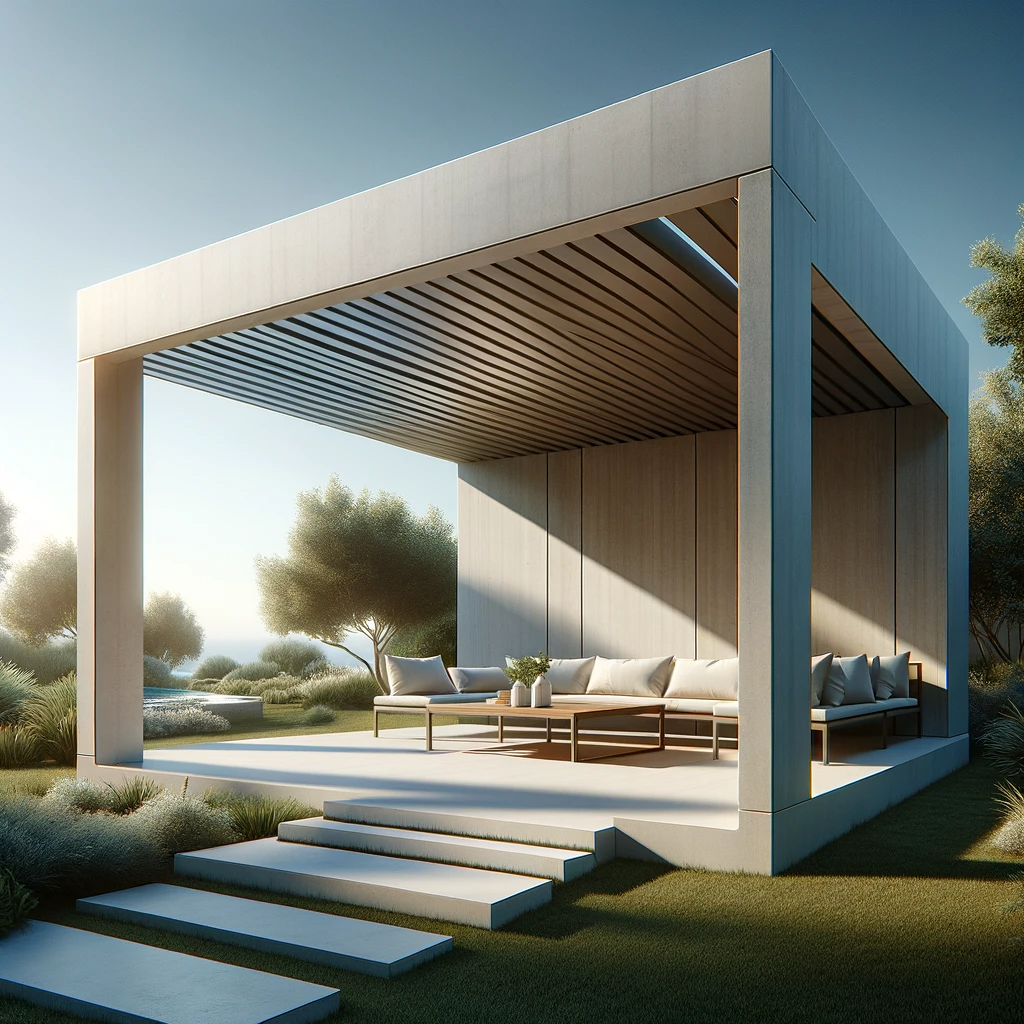 This pergola style is characterized by its contemporary design, featuring smooth, straight lines and a minimalist aesthetic. Made from modern materials like powder-coated aluminum or composite wood, it often comes in neutral colors to blend with a variety of landscapes.
The roof may be adjustable or fixed, providing tailored shading solutions. It's a perfect choice for those seeking a chic, low-maintenance addition to their outdoor space.
38. Pergola with Hammock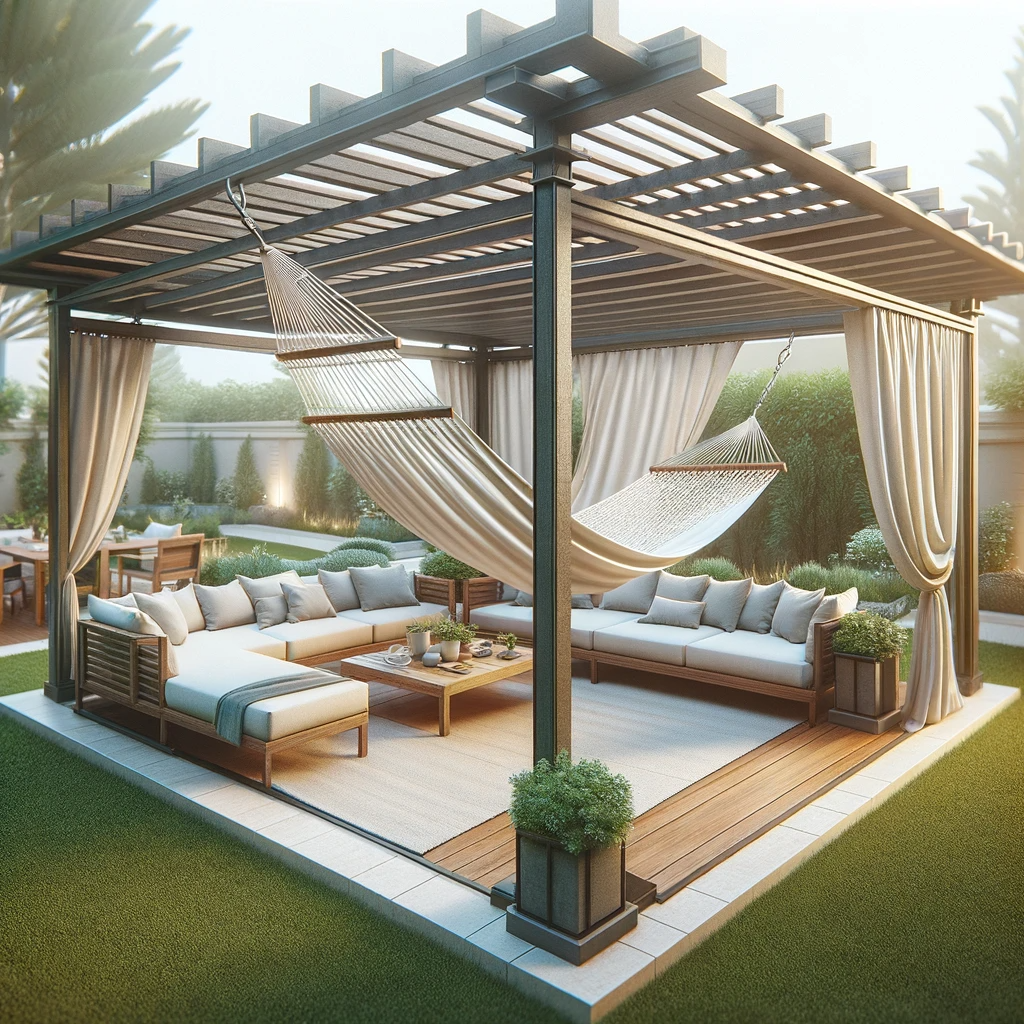 Designed for ultimate relaxation, this pergola includes a hammock suspended beneath the roof, creating a perfect spot for lounging and enjoying the outdoors. The structure can be made of wood or metal, providing sturdy support for the hammock.
This pergola often features additional comfort elements like side tables or integrated planters, enhancing the leisure experience. It's an ideal choice for anyone looking to create a personal retreat in their backyard.
39. Yoga and Meditation Space Pergola
Tailored for tranquility and mindfulness, this pergola is designed as a serene spot for yoga and meditation. The structure often includes elements like smooth wooden floors, calming colors, and space for mats or cushions.
The open design allows for natural light and airflow, creating a peaceful environment for relaxation practices. This pergola is perfect for those seeking a dedicated outdoor space to unwind and connect with nature.
40. Raised Pergola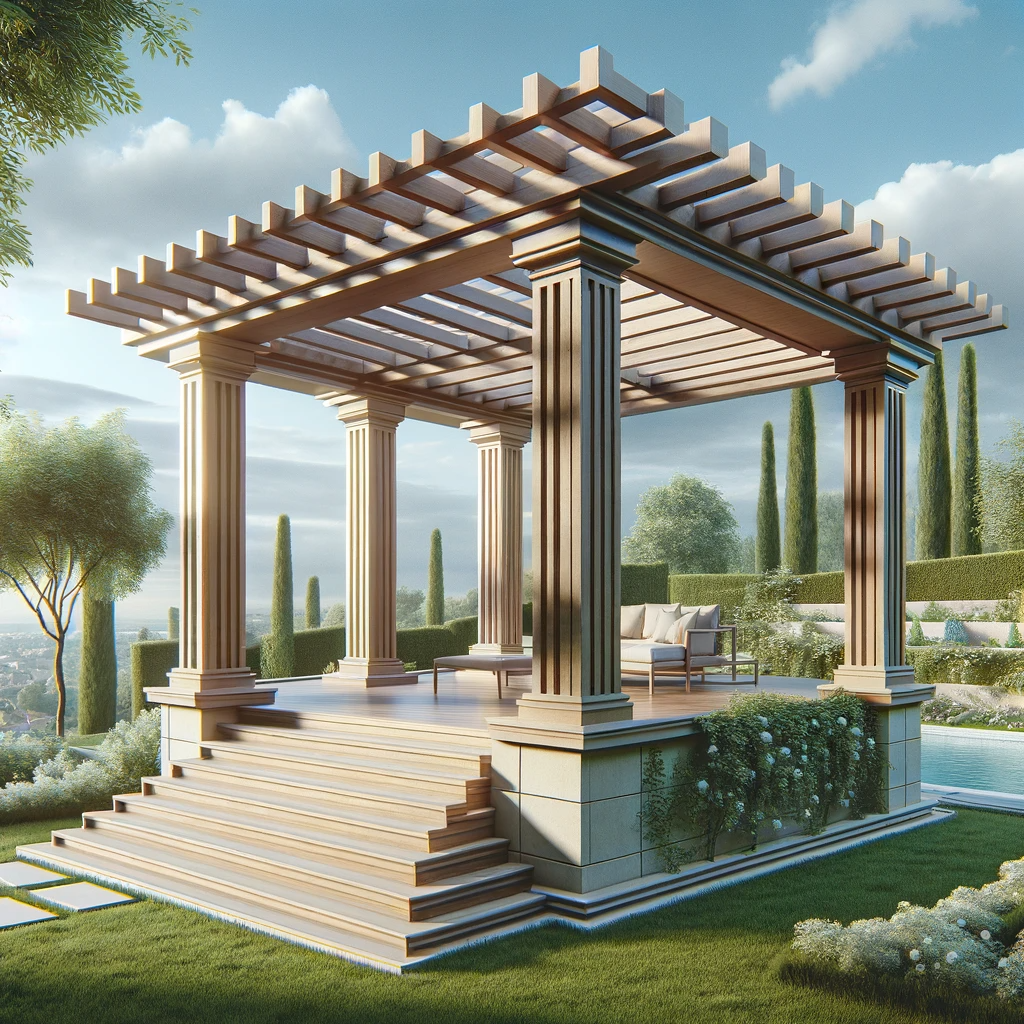 Standing above the ground level, the raised pergola offers a unique vantage point, overlooking the garden and surroundings. Accessible by steps, it creates a distinct, elevated area for dining, entertaining, or simply enjoying the view.
41. Roman Temple Style Pergola
Inspired by the grandeur of ancient Roman architecture, this pergola features classic columns and arches, evoking the elegance of a Roman temple. Made from stone or stucco, it often includes detailed carvings and ornamental designs that add to its historical charm.
The roof may be open or partially covered, typically with climbing vines or lightweight fabric, creating a regal yet inviting outdoor space. This style is perfect for those looking to add a touch of classical sophistication to their garden.
42. Green House Pergola
Merging the concepts of a greenhouse and a pergola, this style is ideal for garden enthusiasts. It features transparent or translucent panels, often made of glass or durable plastic, that protect plants from harsh weather while allowing sunlight to filter through.
The structure usually includes shelving or planters for a variety of flora, creating a lush, green environment. This pergola is perfect for cultivating a miniature oasis of plants and flowers, offering both functionality and aesthetic appeal.
43. Extra Large Pergola
Designed to cover a vast area, the extra large pergola is perfect for spacious backyards. It can accommodate large gatherings, making it ideal for parties, outdoor dining, or as a versatile communal space.
The structure's significant size allows for various design elements, like multiple seating areas or even an outdoor kitchen. Made from materials like wood or metal, it provides ample shade and space, making it a grand centerpiece for any garden.
44. Chandelier Pergola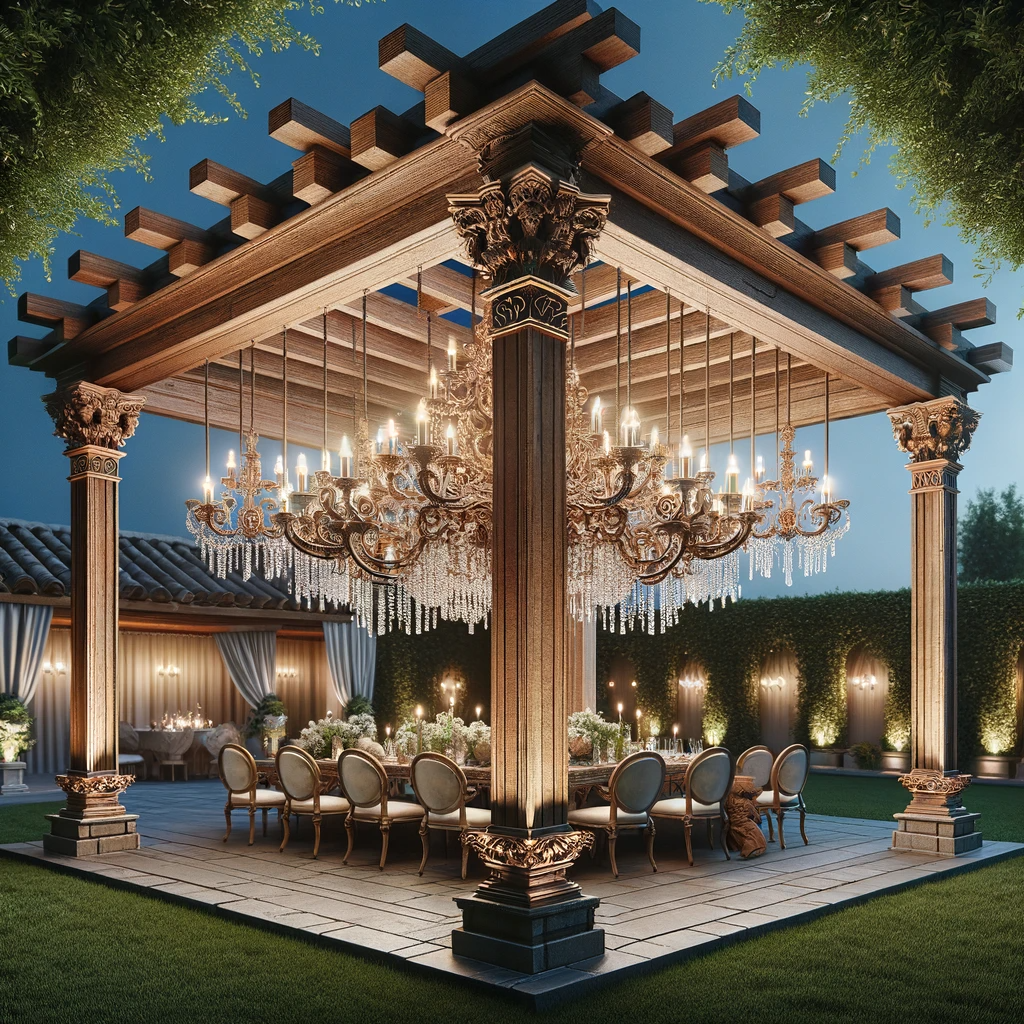 This pergola style exudes luxury and elegance, featuring one or more chandeliers hanging from its beams. The combination of the rustic structure with the sophistication of chandeliers creates a unique and opulent outdoor setting.
Perfect for evening entertaining, it provides soft, ambient lighting that enhances the atmosphere. This pergola is often made of finely finished wood or decorated metal, suitable for formal events or romantic evenings in the garden.
45. Chinese Style Pergola
Drawing inspiration from traditional Chinese architecture, this pergola features distinctive curved rooflines and decorative latticework. It often incorporates elements like red and gold colors, dragon motifs, and intricate wood carvings.
The design creates a tranquil, oriental ambiance, making it a peaceful retreat for relaxation and contemplation. This pergola style is ideal for adding a touch of cultural flair to the garden.
46. Brick Fireplace Pergola
Combining the warmth of a fireplace with the charm of a pergola, this style features a built-in brick fireplace as its focal point. The structure provides a cozy, sheltered area to gather around the fire, making it perfect for cooler evenings.
Made from materials like wood or metal, the pergola complements the rustic brick fireplace, creating a homely outdoor living space. This pergola is ideal for those who enjoy outdoor cooking or simply want a warm spot to relax and socialize.
47. Glass Detail Pergola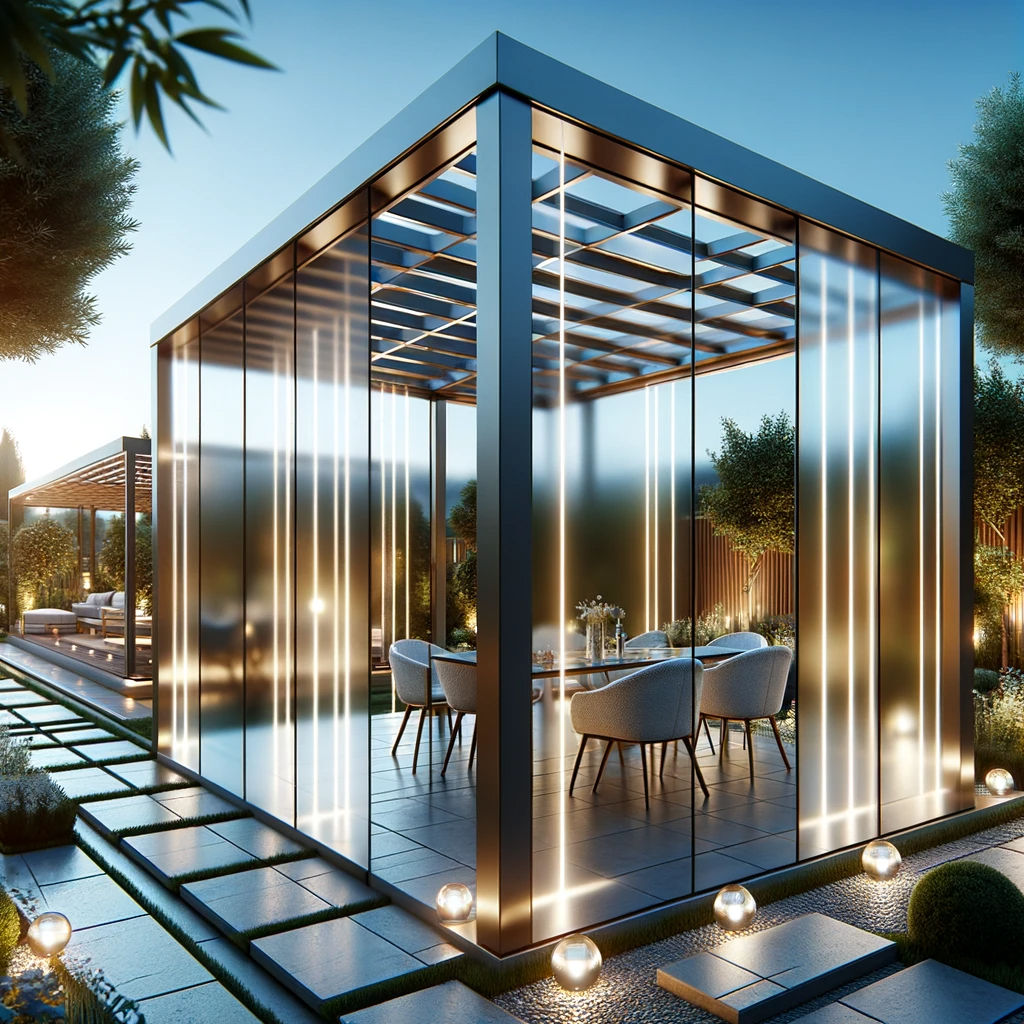 This modern pergola incorporates glass elements into its design, often in the form of panels or accents. The glass details add a contemporary touch, reflecting light and creating interesting visual effects.
This style is perfect for those who want a modern, sleek outdoor space with a hint of sophistication. The combination of traditional pergola structure with glass accents makes it an elegant, yet functional addition to any garden.
48. Peaked Roof Pergola
Featuring a distinct peaked or gabled roof, this pergola stands out with its unique architectural design. The peaked roof provides extra headroom and can be covered with materials like shingles, metal, or fabric, offering both shade and aesthetic appeal.
This style often resembles a traditional garden gazebo, making it a charming addition to any outdoor space. It's perfect for those looking for a pergola with a more enclosed, cozy feel.
49. Brick Pergola
Made predominantly from bricks, this pergola offers a sturdy, timeless look. The brick pillars provide a strong foundation, while the top can be a traditional lattice of wood or metal beams.
This style blends well with classic and contemporary landscapes, offering durability and a rustic charm. It's an ideal choice for those who prefer a more solid, permanent structure in their garden.
50. Black and White Pergola
Characterized by its striking color contrast, the black and white pergola features a sleek, modern design. The black framework against the white accents creates a bold visual statement, making it a centerpiece in any garden.
This contemporary style suits minimalistic landscapes and can be made from various materials like painted wood or metal. It's perfect for those who appreciate a modern, stylish outdoor living area.
Read more: