Our readers support us. This post may contain affiliate links. We earn from qualifying purchases. Learn More
As the holiday season approaches, the festive spirit beckons us to transform our outdoor spaces into winter wonderlands. In 2023, the trend for Christmas decorations is leaning towards a blend of traditional charm and innovative DIY projects, offering something special for every style and budget.
Our comprehensive ideas guide is designed to inspire homeowners, craft enthusiasts, and festive decorators alike. From twinkling light displays that illuminate the winter night to handcrafted ornaments adding a personal touch to your yard, these ideas are not only eye-catching but also celebrate the joy and creativity of the season.
Whether you're looking to make a bold statement or seeking simple touches to add festive cheer, this article promises a treasure trove of ideas to make your outdoor space the highlight of the neighborhood this Christmas.
1. Winter Wonderland Dining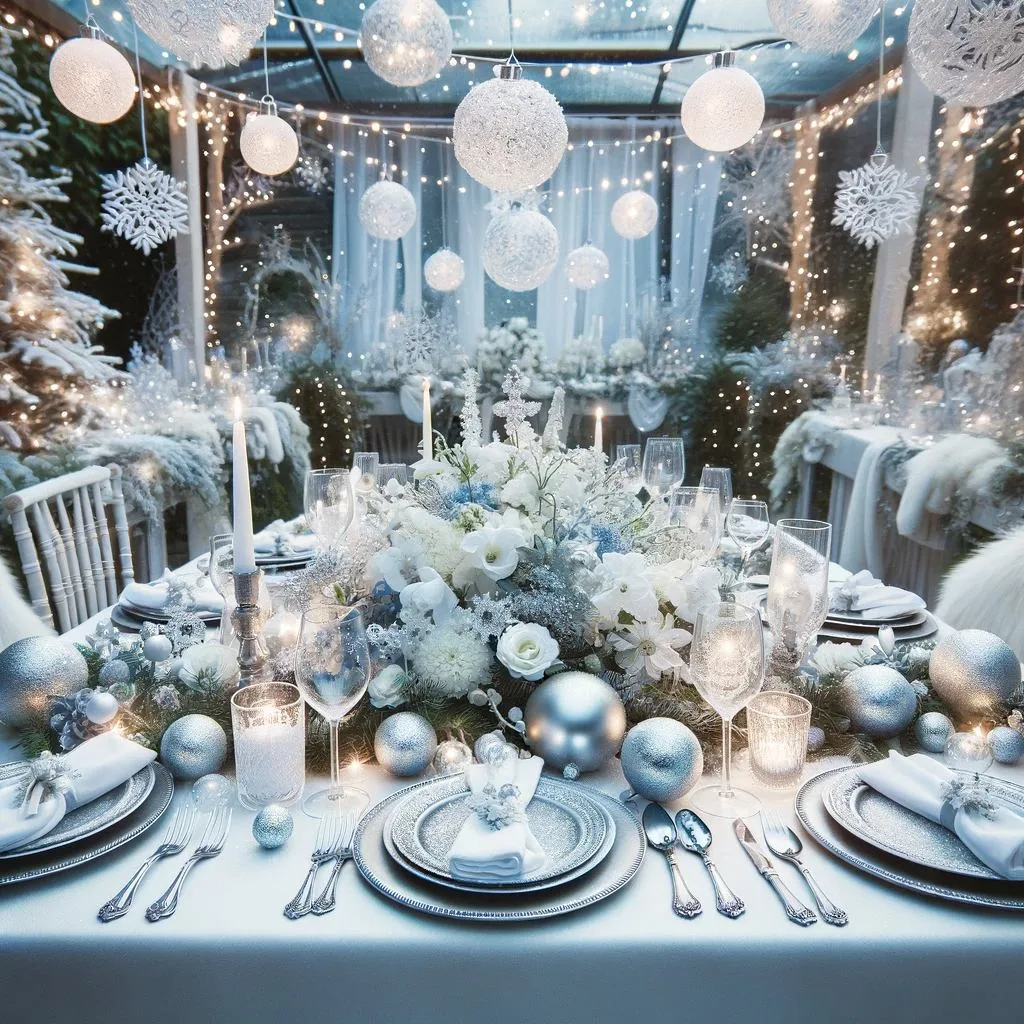 Transform your outdoor dining area into a magical winter wonderland. Adorn your table with a crisp white tablecloth, sparkling silverware, and crystal-clear glassware. Surround the area with white and silver decorations, including twinkling fairy lights and delicate snowflake ornaments. To complete the theme, add a centerpiece of white flowers and silver baubles.
2. Festive Front Door Archway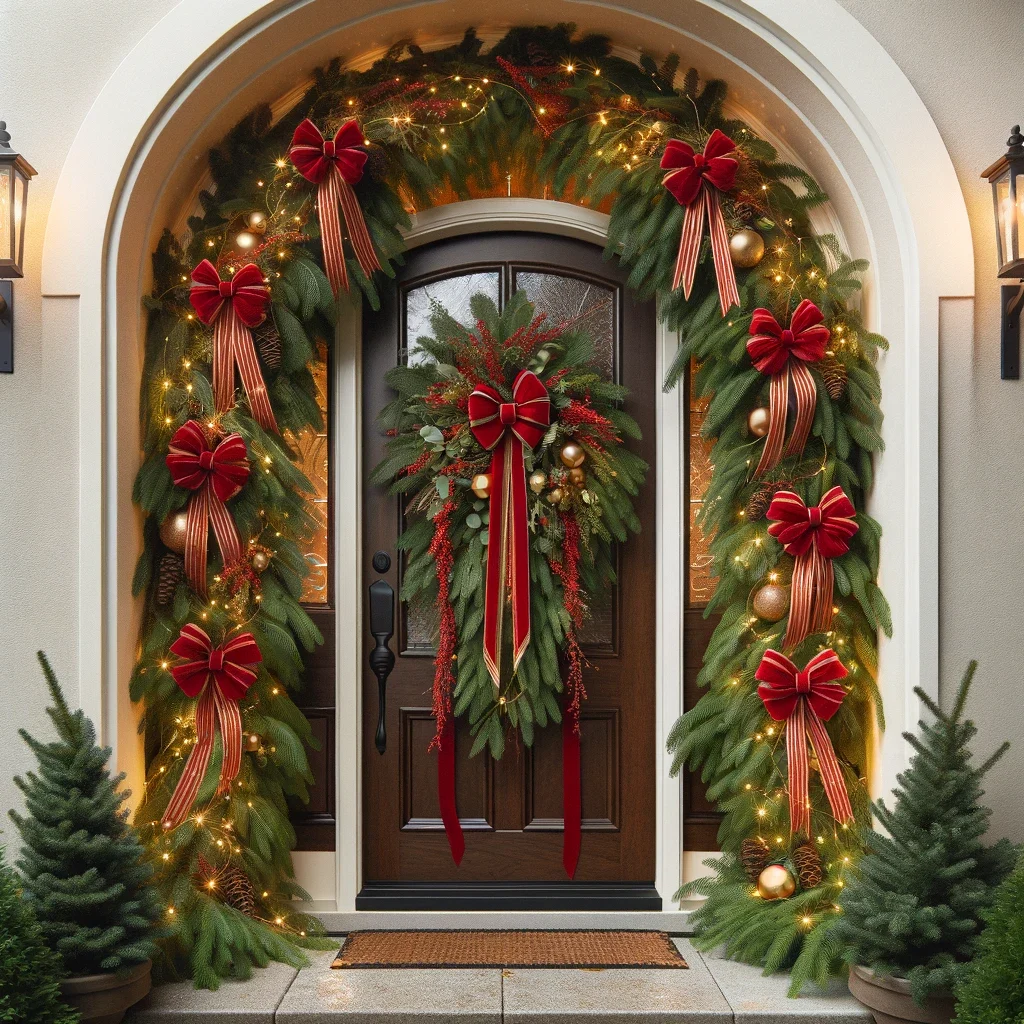 Create a welcoming entrance with a festive archway over your front door. Use fresh evergreen branches intertwined with red and gold ribbons for a classic Christmas look. Incorporate string lights within the greenery for a warm, inviting glow. Add large red bows and golden bells for a touch of traditional holiday charm.
3. Enchanted Forest Pathway
Line your garden pathway with small, decorated Christmas trees to create an enchanted forest effect. Each tree can be adorned with battery-operated lights, colorful baubles, and tinsel. Intersperse the trees with lanterns to provide a soft, ambient light. This setup not only lights the way but also adds a magical touch to your garden.
4. Whimsical Outdoor Christmas Train
Set up a whimsical, miniature Christmas train in your garden. Decorate the train with colorful lights, garlands, and miniature Christmas characters. Have the train wind through a small, created landscape of fake snow and tiny Christmas trees. This playful decor idea is perfect for families and adds a touch of nostalgia.
5. Icy Lighted Igloo
Construct an igloo out of white plastic milk jugs or similar materials in your yard. Inside, place a cluster of LED lights to give the igloo a soft, icy glow. Surround the igloo with faux snow and add some polar bear or penguin figures for a playful touch. This unique decor idea is both creative and eye-catching.
6. Fairy Light Garden Trees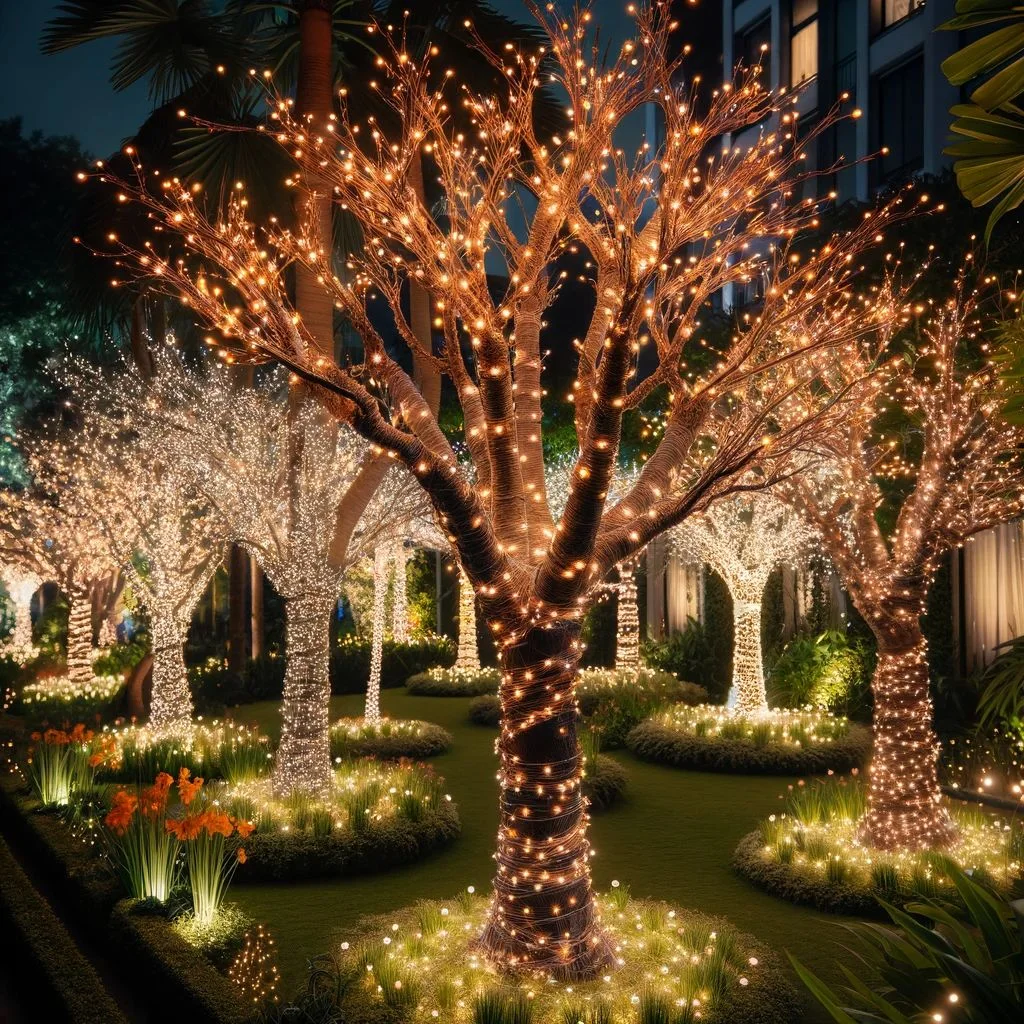 Wrap the trunks and branches of your garden trees with warm white fairy lights. The lights will create a serene and magical atmosphere, especially against the backdrop of the night sky. For a more colorful display, mix in strands of colored lights. This simple yet effective decoration adds elegance and charm to your outdoor space.
7. Santa's Workshop Scene
Create a small Santa's workshop scene in your front yard. Use wooden cutouts of elves, reindeer, and Santa himself. Decorate the scene with colorful lights, faux snow, and small Christmas trees. This festive setup is not only charming but also tells a story, making it a hit with kids and adults alike.
8. Glowing Snowflake Garden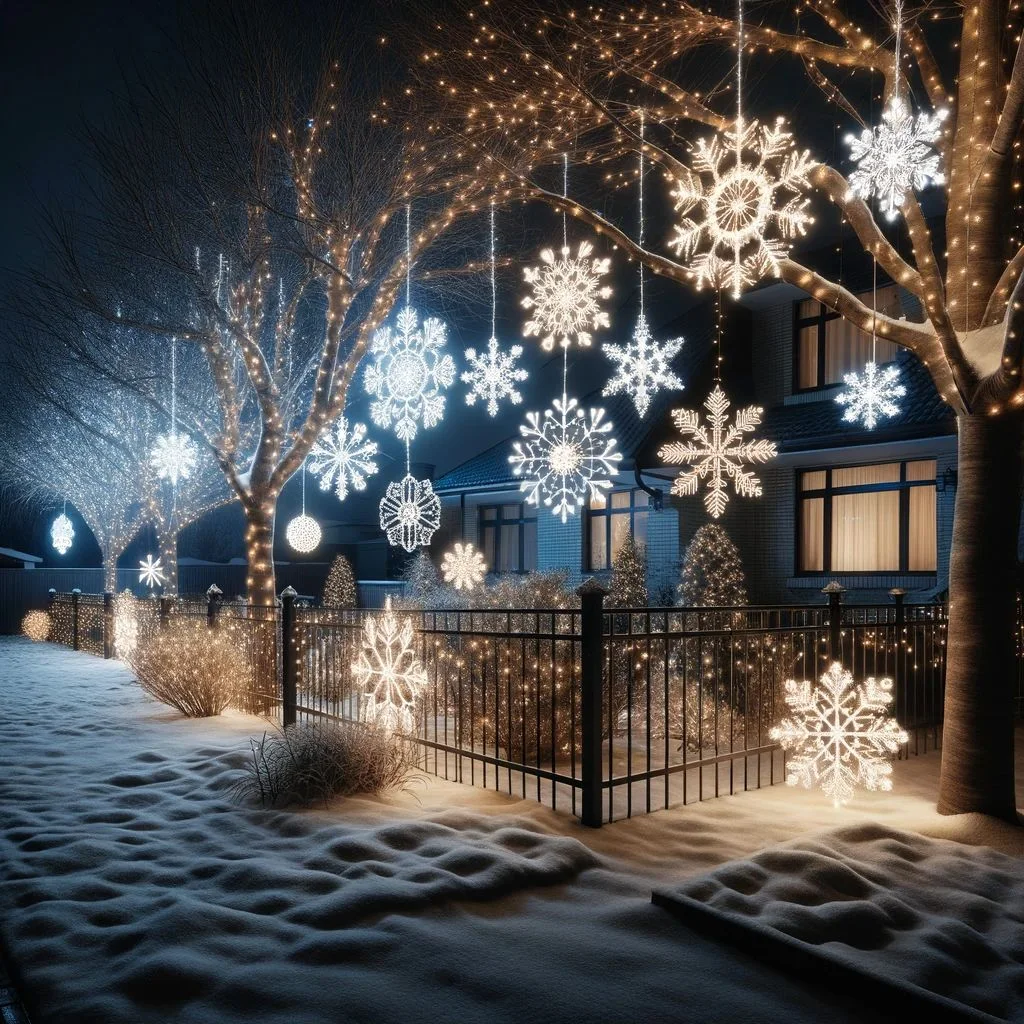 Hang large, glowing snowflakes from trees and along your fence. Use a mix of sizes and designs for variety, and illuminate them with spotlights or LED lights. The glowing snowflakes against the dark sky will create a serene and mesmerizing winter landscape. This idea is perfect for adding a touch of elegance to your outdoor space.
9. Candy Cane Lane
Transform your home's walkway into a festive Candy Cane Lane. Install red and white striped poles, mimicking the iconic candy cane design, along the path. Add a curved hook on top of each pole for an authentic look. Enhance this merry trail with twinkling lights for a magical evening ambiance.
10. Mason Jar Luminaries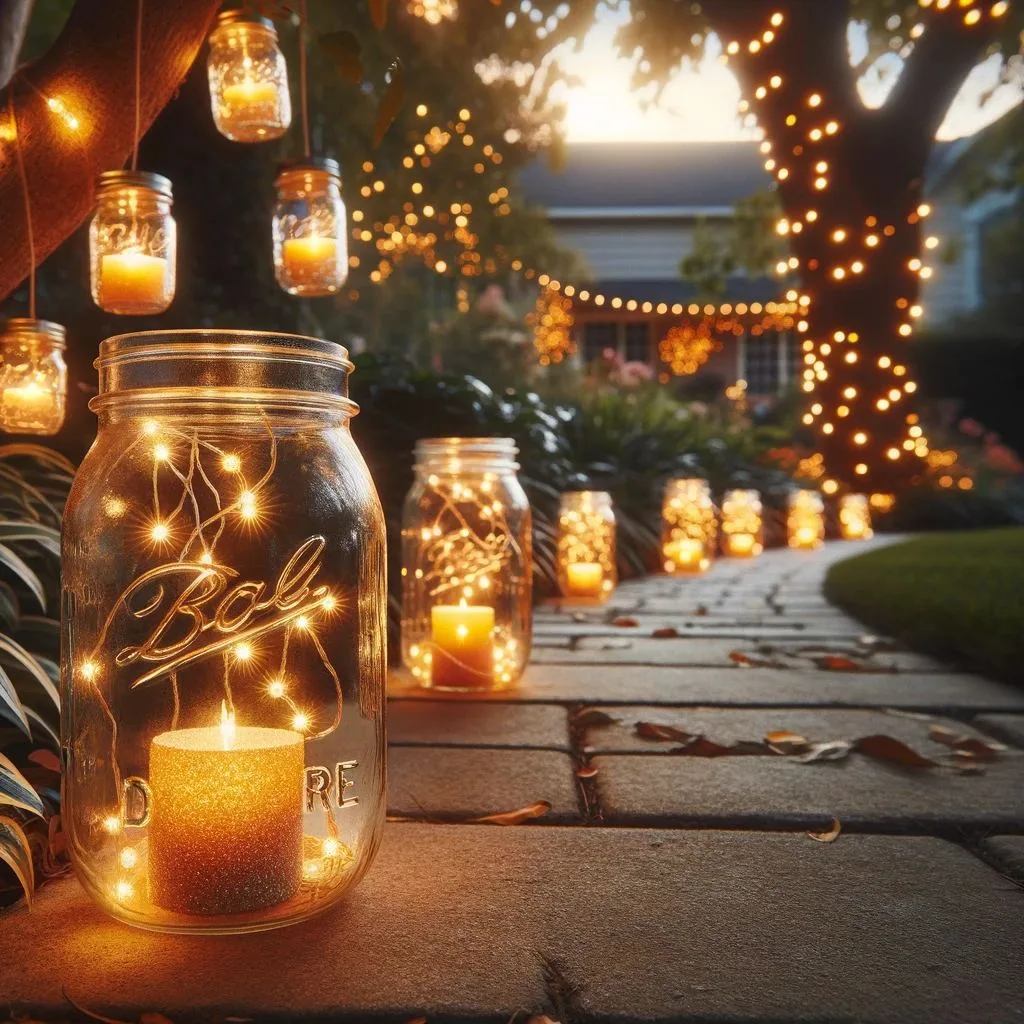 Create a warm, inviting glow along your driveway or garden paths using mason jar luminaries. Fill these jars with battery-operated fairy lights or candles. Securely hang them from tree branches or place them along walkways. This simple yet elegant lighting adds a cozy touch to your outdoor decor.
11. Wooden Pallet Christmas Tree
Construct a unique and eco-friendly Christmas tree from wooden pallets. Paint the pallets green, decorate with string lights, and add handmade ornaments for a personal touch. This rustic and creative tree can be a standout feature in your garden. It's a great way to recycle and celebrate the festive season.
12. Winter Wonderland Snowmen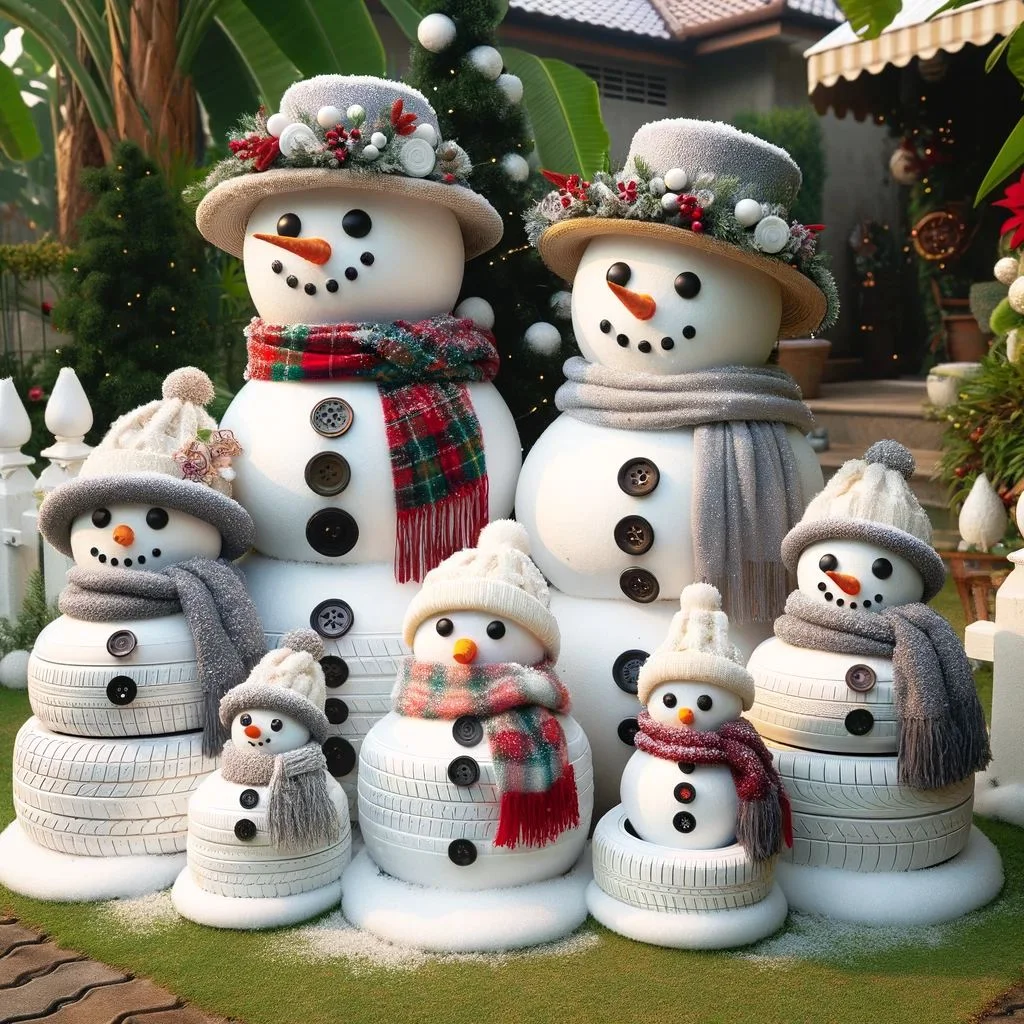 Build a charming family of snowmen using old white tires or painted Styrofoam balls. Accessorize each snowman with scarves, hats, and buttons for character. This whimsical display can be arranged on your lawn or near your entrance. It's a playful and creative addition to your outdoor Christmas decorations.
13. Recycled Bottle Wind Chimes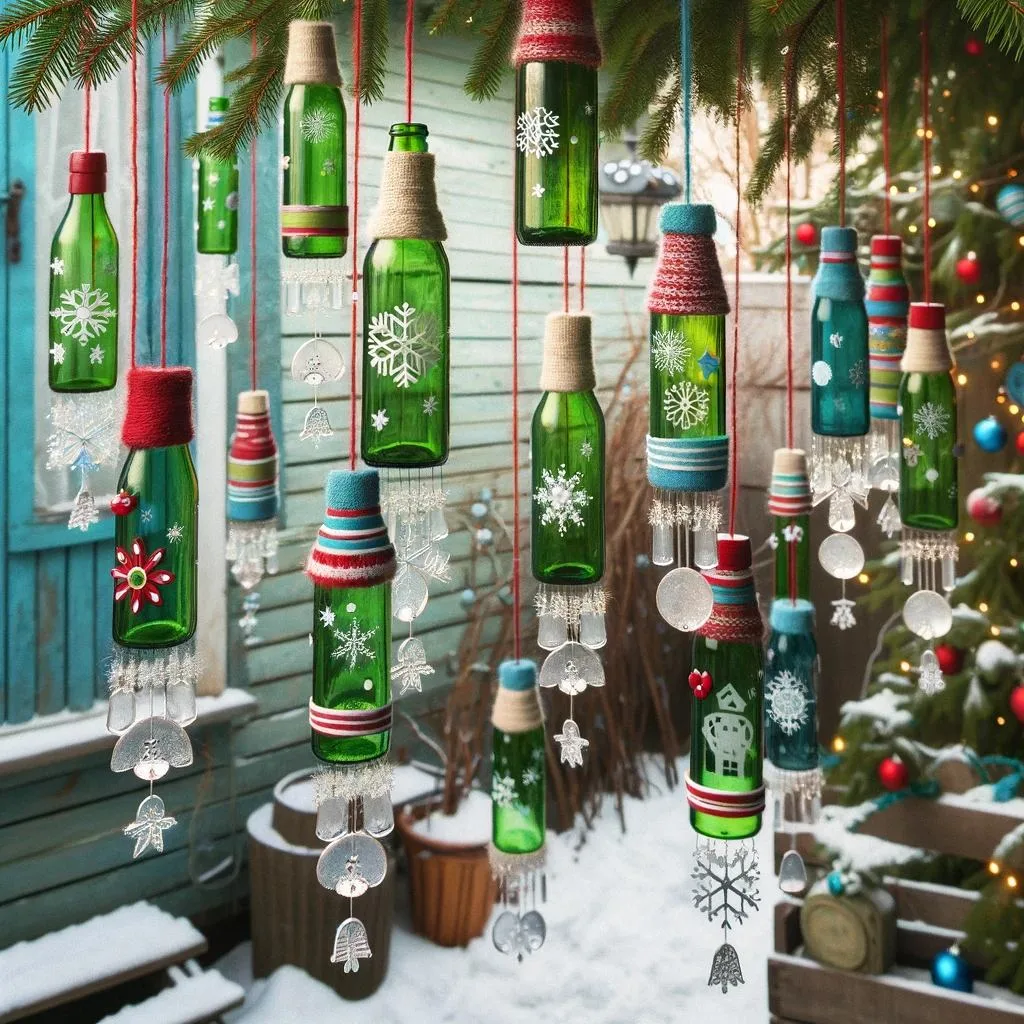 Turn old glass bottles into a festive and musical decoration with DIY wind chimes. Paint the bottles in cheerful Christmas colors and hang them at different lengths. The gentle clinking of the bottles creates a delightful sound in the winter breeze. This eco-friendly decoration adds both visual and auditory charm to your outdoor space.
14. DIY Outdoor Christmas Wreaths
Handcraft your own Christmas wreaths using evergreen branches, pinecones, and festive ribbons. These wreaths can adorn your doors, windows, or fences, adding a traditional holiday charm. Personalize each wreath with unique decorations like family initials or themed ornaments. This DIY project is a fun way to engage the whole family in holiday decorating.
15. Homemade Wooden Reindeer
Create a whimsical outdoor display with homemade wooden reindeer. Cut reindeer shapes from plywood, paint them in festive colors, and arrange them on your lawn. Spotlight these charming figures for a magical nighttime effect. They add a playful and creative touch to your holiday decor.
16. Festive Wheelbarrow Planter
Repurpose an old wheelbarrow into a festive planter filled with poinsettias, evergreens, and sparkling Christmas ornaments. This mobile decoration can easily be moved around your garden or yard for different looks. The combination of flowers and ornaments makes for a vibrant and rustic holiday feature. It's a unique way to showcase your gardening passion during the festive season.
17. Elegant Globe Display
Arrange a series of varying-sized clear globes on your lawn or porch. Inside each, place a combination of fairy lights and small Christmas ornaments. This creates a sophisticated and magical effect, particularly enchanting in the evening. The reflective surfaces of the globes amplify the lights, creating a mesmerizing display.
18. Festive Bird Feeders
Transform ordinary bird feeders into festive ones by decorating them with red and green ribbons and filling them with birdseed. Hang these adorned feeders on tree branches or from your porch. Not only do they add a festive touch, but they also attract winter birds, bringing life to your garden. This decor is both beautiful and functional, adding a natural charm to your outdoor space.
19. Snowy Pinecone Garland
Create a snowy pinecone garland by painting pinecones white and sprinkling them with glitter. String them together with twine and drape the garland along your fence or porch railing. The glitter will catch the light, mimicking the sparkle of fresh snow. This simple yet elegant decoration adds a rustic winter charm to your outdoors.
20. DIY Lighted Gift Boxes
Construct lighted gift boxes using frames of wire or wood, wrapped in festive outdoor fabric or weather-resistant wrapping paper. Install LED lights inside for a glowing effect. These can be placed on your porch, in your garden, or along walkways. The illuminated boxes create a whimsical, welcoming atmosphere for visitors.
21. Vintage Sled Decor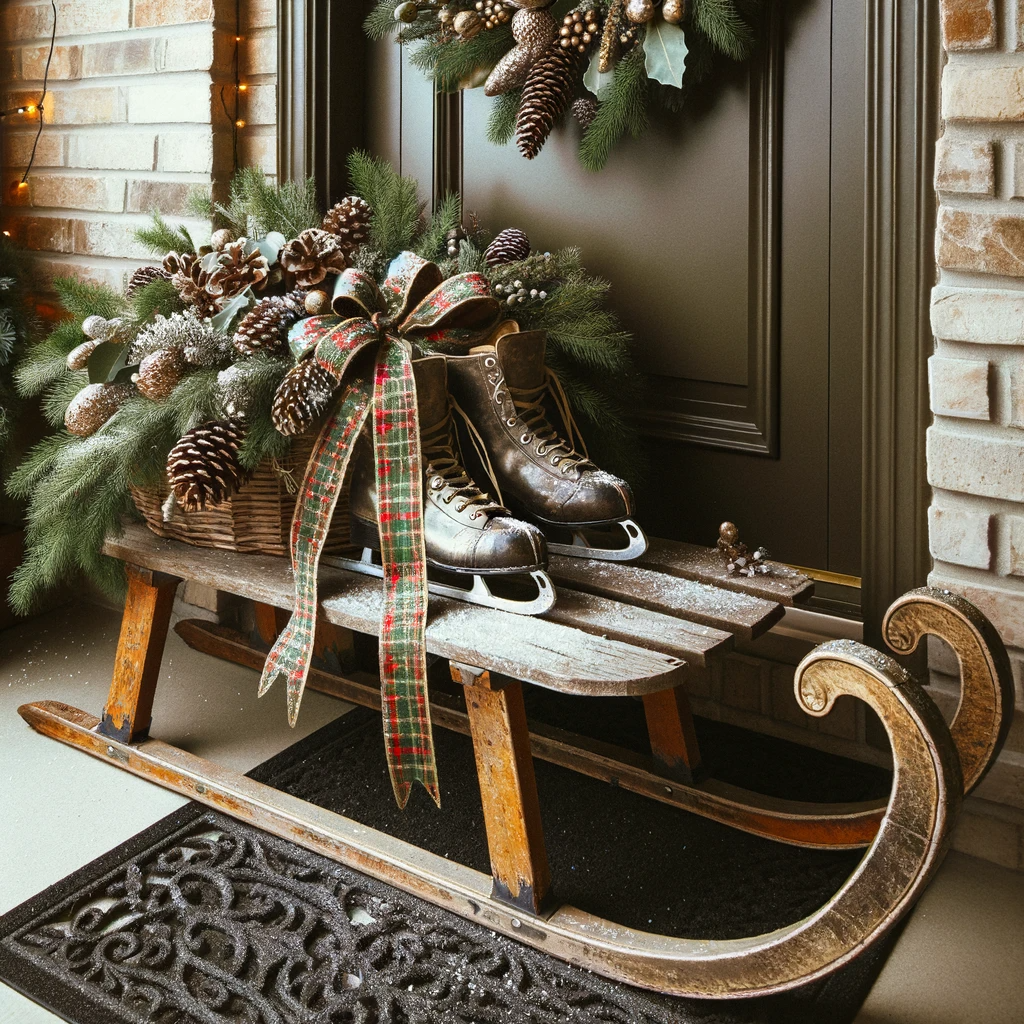 Prop a vintage sled against your front door and decorate it with greenery, pinecones, and a string of lights. Add a festive bow or a pair of old ice skates to enhance the vintage feel. This nostalgic piece brings a classic and homey touch to your holiday decor. It's a simple yet effective way to evoke memories of winters past.
22. Holiday Themed Scarecrow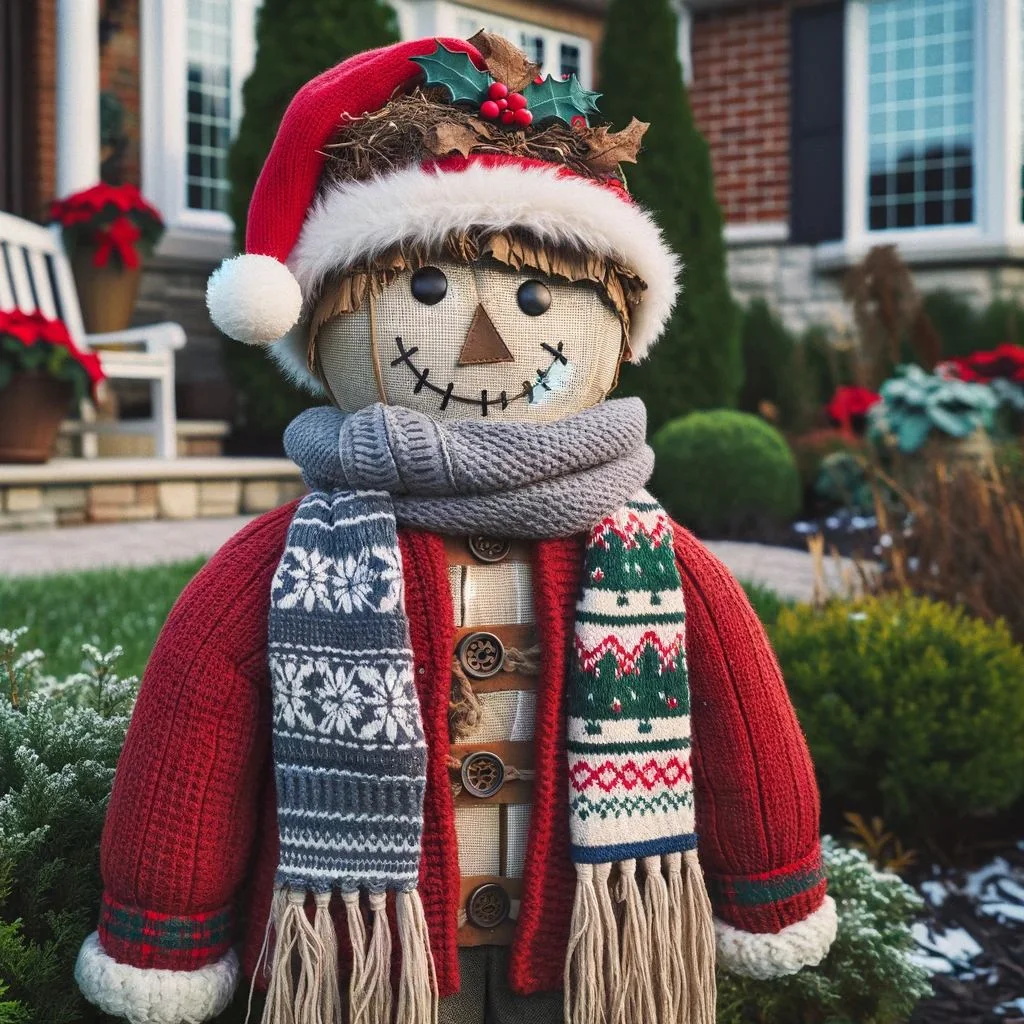 Create a holiday-themed scarecrow dressed in winter attire, such as a Santa hat, scarf, and coat. Position it near your garden or front porch. This whimsical figure adds a playful and unique element to your outdoor decorations. It's a creative way to repurpose seasonal items for festive cheer.
23. Lit Topiary Animals
Shape wire or use pre-made forms to create topiary animals like deer or snowmen. Wrap them in white or colored lights to illuminate your garden or yard. These lit figures add a touch of elegance and fantasy to your outdoor space. When lit at night, they offer a magical and captivating scene.
24. Flameless Candle-lit Snow Lanterns
Fill large transparent bags with snow or white sand and nestle flameless candles inside (battery operated or LED). Place these lanterns along pathways or steps for a soft, welcoming glow. The candlelight through the snow or sand creates a warm and inviting ambiance, perfect for chilly winter evenings.
25. Reflective Bauble Tree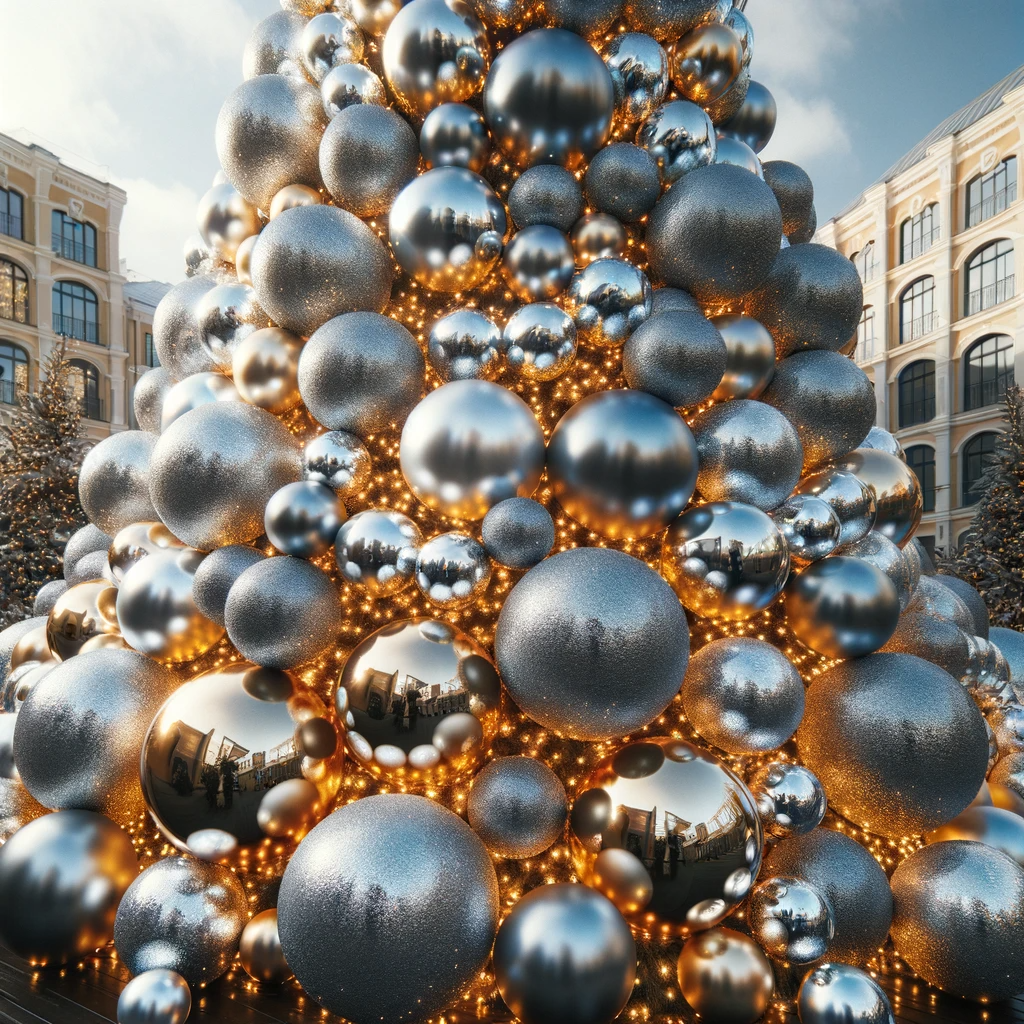 Hang shiny, metallic baubles on an outdoor tree, focusing on using silver and gold colors for an elegant look. The reflective surfaces will catch and play with the light, both natural and from your home's decorations. This creates a dazzling and sophisticated outdoor feature that's especially striking in the sunlight or under night lights.
26. Festive Front Porch with LED Candles
Transform your front porch into a holiday haven with garlands, string lights, and a beautifully decorated Christmas tree. Add a cozy seating area with red and green cushions and blankets, perfect for enjoying hot cocoa on chilly evenings. Hang a large, festive wreath on the door and place lanterns with LED candles for a warm, inviting glow. This setup is ideal for holiday gatherings.
27. Santa's Landing Strip
Transform your lawn into a whimsical landing strip for Santa's sleigh, complete with runway lights made from red and green solar garden stakes. Create a sleigh silhouette and reindeer figures from plywood, and light them up with outdoor lights. This playful decoration is especially delightful for children and adds a touch of magic to your home's exterior. Don't forget to include a 'Santa Stop Here' sign for extra charm.
28. Holiday Movie Projector
Set up an outdoor movie area with a projector screening classic holiday films on a large white sheet or garage door. Provide cozy seating with blankets and outdoor heaters, and serve festive snacks like popcorn and hot chocolate. This interactive decoration idea is perfect for hosting holiday movie nights with family and friends. Decorate the area with string lights and holiday-themed props for a complete experience.
29. Festive Flora Arrangement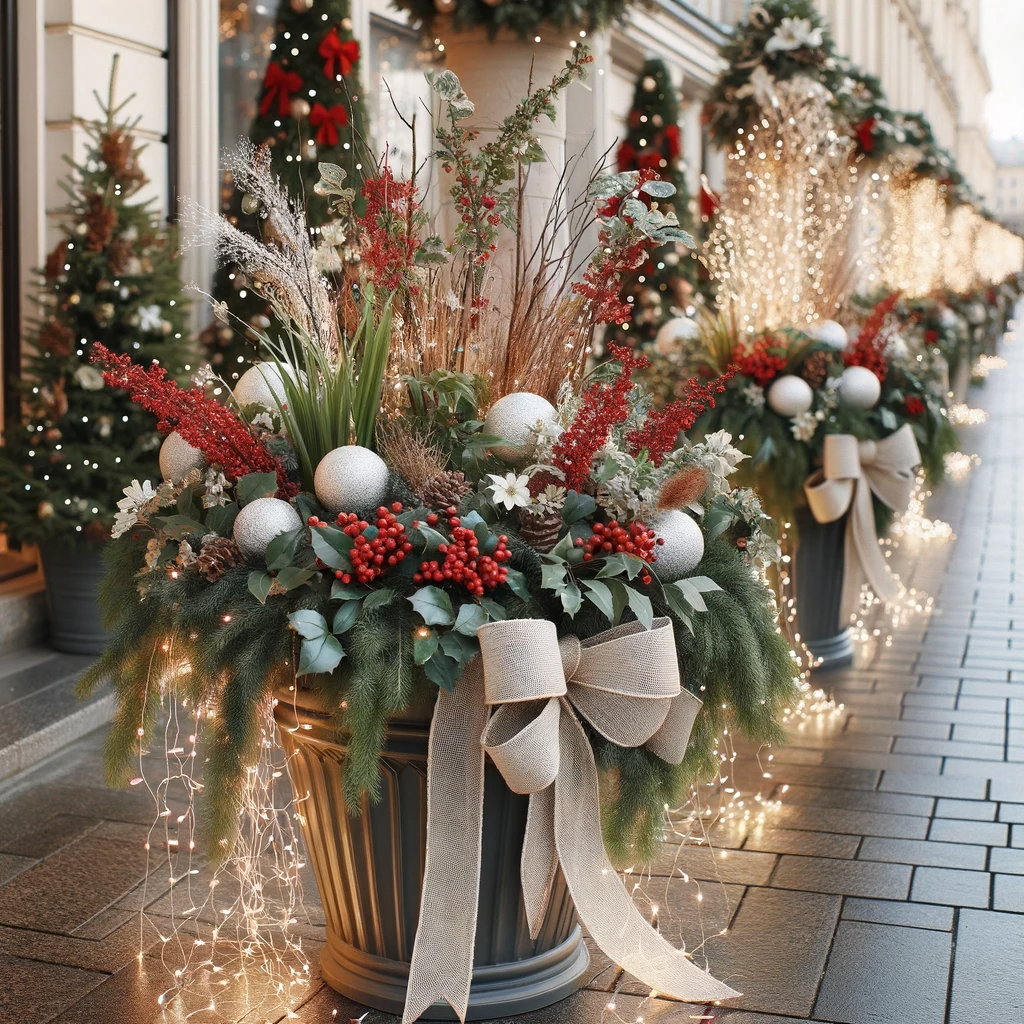 Arrange a series of large planters filled with seasonal plants like holly, evergreens, and red winter berries along your walkway. Intertwine these with white fairy lights and place large, festive bows on each planter. This natural and elegant decoration approach brings a touch of holiday cheer while complementing the winter landscape.
30. Starlit Garden Archway
Construct an archway at the entrance of your garden using flexible metal or PVC pipes. Wrap it in strings of LED star lights and adorn it with silver and gold tinsel. This creates a magical entry point into your garden, especially in the evenings when the stars light up, adding a celestial charm to your holiday décor.
31. Santa's Mailbox
Set up a decorative mailbox in your yard. Encourage children to drop their letters to Santa in it. Decorate the mailbox with red and green ribbons and a light-up sign. This can become a charming interactive element of your holiday decorations.
32. Holiday Light Maze
Create a mesmerizing light maze in your backyard using strings of multicolored LED lights. Design paths for guests to walk through, weaving between lighted arches and walls. At the center, place a large, illuminated Christmas tree or a festive sculpture as a focal point. This interactive decoration not only dazzles visually but also provides a fun activity for visitors of all ages.
33. Holiday Message Board
Set up a large chalkboard or whiteboard in your yard where guests and passersby can write their holiday wishes and messages. Decorate the board's frame with festive lights and garlands, and provide colorful chalk or markers. This interactive decoration fosters community spirit and becomes a living, evolving part of your holiday display.
34. Snow Globe Scene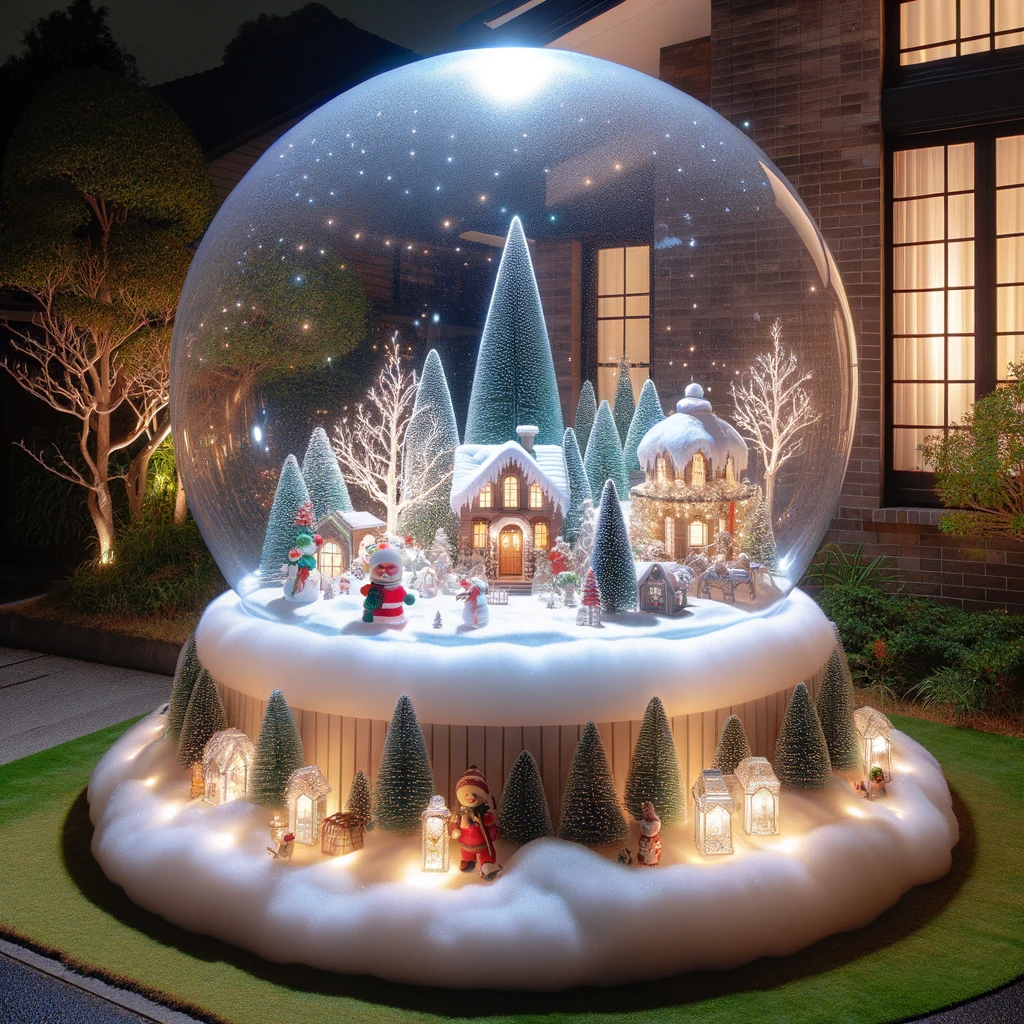 Construct a life-sized snow globe scene in your front yard using a clear inflatable dome. Inside the dome, create a miniature winter wonderland with artificial snow, small evergreen trees, and a collection of holiday figurines. Illuminate the scene with soft lighting for a magical nighttime display, inviting passersby to admire a life-size holiday snow globe.
35. Christmas Kaleidoscope Tunnel
Construct a walk-through tunnel in your yard, lined with mirrors and multicolored lights. As visitors walk through, the lights and mirrors create a kaleidoscope effect, offering a mesmerizing and unique visual experience. Incorporate holiday music to enhance the atmosphere. This tunnel can be a magical journey for guests, especially captivating at night.
36. Winter Wonderland Mini Golf
Set up a mini-golf course in your yard with a winter wonderland theme. Design each hole with holiday decorations, like miniature Christmas trees, snowmen, and candy canes. This fun and interactive decoration is great for family activities and holiday parties.
37. Cascading Light Waterfall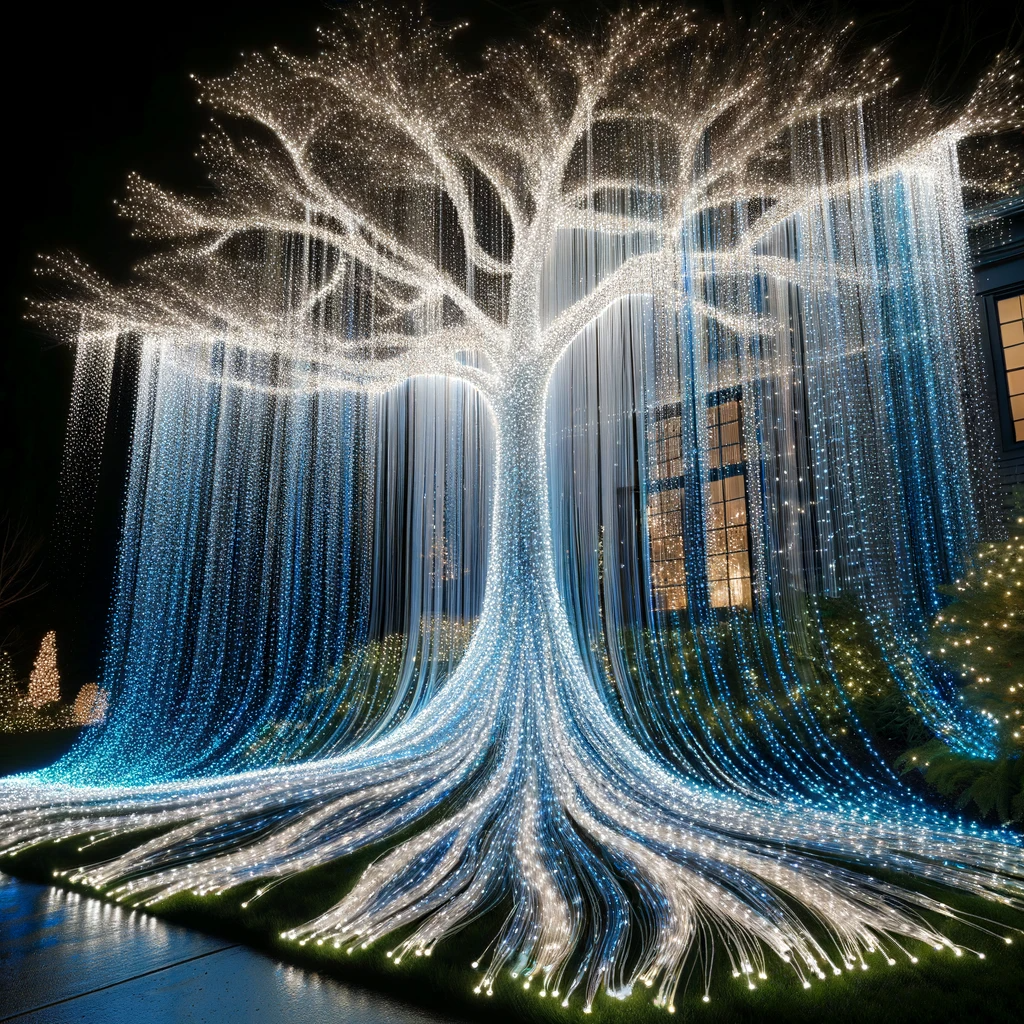 Use strings of blue and white LED lights to mimic a waterfall cascading from a tree or your roof. This dynamic light display adds a sense of movement and is particularly mesmerizing after dusk, creating a stunning visual effect in your holiday decor.
38. Glowing Orb Pathway
Create a magical pathway in your yard using large glowing orbs. Place these orbs along the path, alternating colors for a whimsical effect. These can be made from weather-resistant materials and illuminated with LED lights, providing a charming and inviting walkway for evening strolls.
39. Holiday Wind Spinners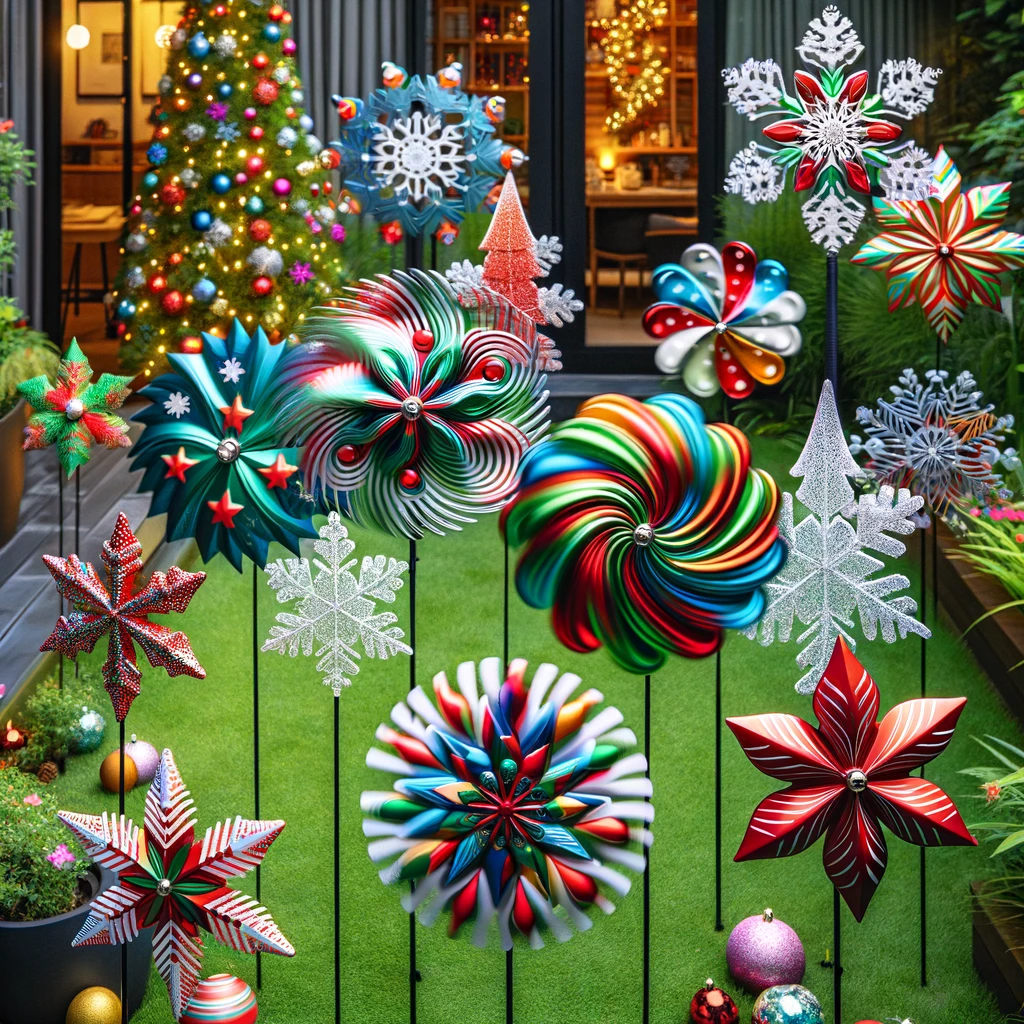 Place wind spinners with holiday designs, like snowflakes or Christmas trees, around your garden. As they spin in the wind, they can create a dynamic and playful atmosphere, adding movement and color to your outdoor holiday decor.
40. Candy Cane Ring Toss
Set up a ring toss game in your yard using large candy cane stakes as the targets. Paint wooden or plastic rings in festive colors and challenge guests to hook them on the candy canes. This simple game adds a playful touch to your outdoor holiday festivities and is enjoyable for all ages.
41. Elf Bowling Alley
Set up a small bowling alley in your driveway or yard with pins decorated like elves. Use a red and green bowling ball to knock down the elf pins. This game can be a hit at holiday parties and a fun way to engage guests in friendly competition.
42. Glowing Snowball Toss
Create a snowball toss game using white glowing balls and buckets decorated with holiday lights. The aim is to toss the glowing balls into the lighted buckets. This game is particularly enchanting in the evening and adds a glowing element to your holiday yard games.
43. Festive Doorway Arch
Welcome guests with a festive doorway arch made of evergreens, twinkling lights, and red and gold ornaments. This arch can frame your front door, creating an inviting entrance. Integrate some pine cones and red berries for a natural touch, and consider adding a matching wreath on the door for a cohesive look.
44. Festive Garland Bridge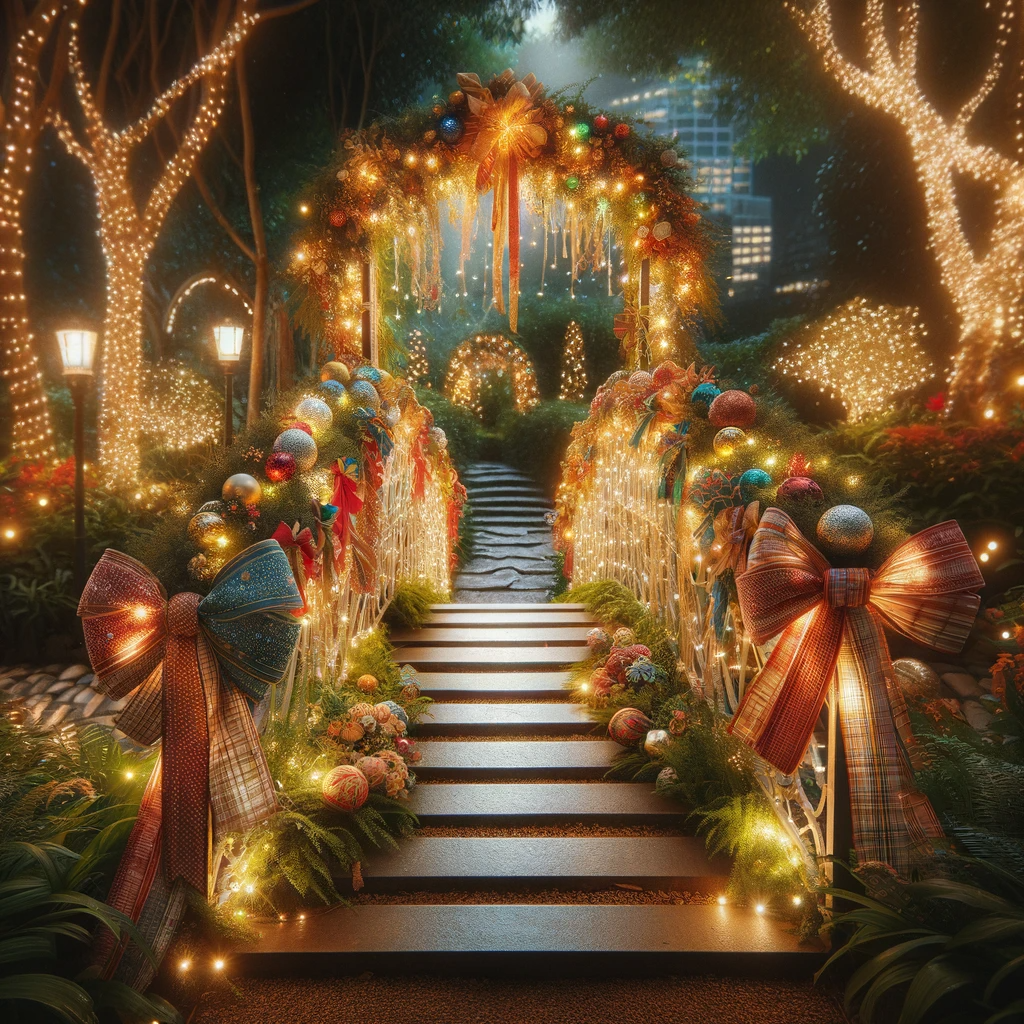 If you have a bridge or pathway in your garden, drape it with festive garlands, lights, and ribbons. This creates a charming walk-through experience, especially in the evening when the lights can be fully appreciated. Add some bows and ornaments to the garland for extra color and texture.
45. Outdoor Christmas Tree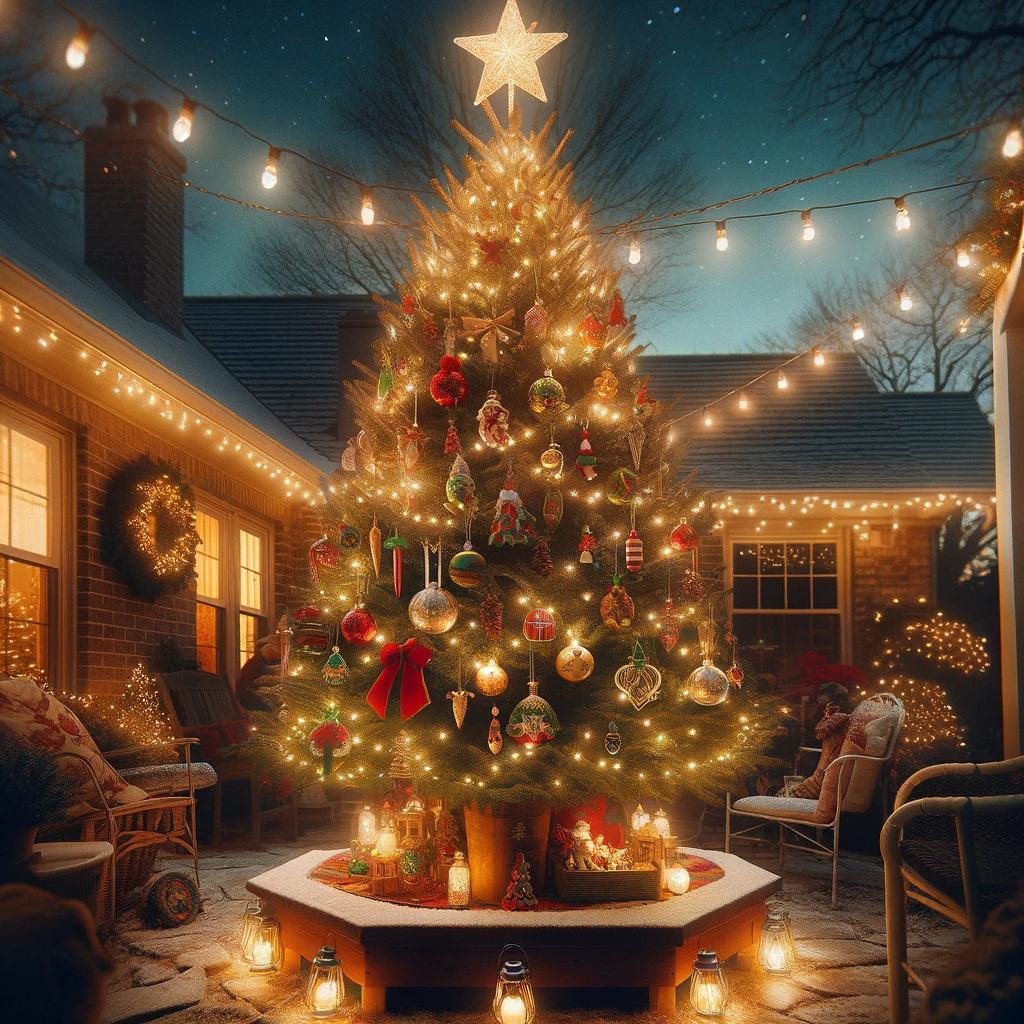 Set up an outdoor Christmas tree in your yard or on your porch. Decorate it with weather-proof ornaments, lights, and a star topper. You can choose a real tree or an artificial one designed for outdoor use. Lighting the tree during a small gathering can become a special family tradition.
Read more: