Our readers support us. This post may contain affiliate links. We earn from qualifying purchases. Learn More
What are Oriental Rugs?
Oriental rugs are hand-knotted in the Middle East, by specialized rug makers, that pay particular attention to every little detail. They are old and timeless pieces of textile, which embellish years of tradition and cultural heritage within them. All of these features elevate their value and make them even more desirable than other carpets.
When speaking about rugs, Oriental rugs are probably the most precious and appreciated in the interior design realm. They are especially valuable due to their interesting and creative design motifs, in addition to the peculiar craftsmanship required to produce them.
They come in a variety of sizes, materials, and colors, which allows anyone to find the right fit for the empty space they are trying to fill. Picking an Oriental rug is almost an expression of one's artistic soul.
Rugs are some of the most important elements you can find in any room. While some might consider them as accent pieces, or last-minute additions to a space, the reality remains that a room without a rug is unsatisfying and cold.
It is, in fact, the placement of a rug that brings a new layer of detail to the entire decor of a space, making it look more charming and complete. You may want to check our in-depth guide on rug placement.
Oriental Rug Uses
Oriental rugs display powerful features such as bold colors, attractive motifs, and creative designs. This is why they are mainly used to anchor all the furniture in a room together and add a splash of creativity and character to the space.
Whether it is a neutral living room with pale textures or a colorful space with bold furniture, an Oriental rug can bring the entire design together by making it more authentic and charismatic.
Since Oriental rugs do not come cheap, they are mostly used as prominent design elements in living rooms, spacious dining rooms, hotel lobbies, continuous hallways, or fancy stores.
In some instances, this rug type is also used as wall decorations due to their immaculate level of detail. See our article on 'Hanging Oriental Rugs as Wall Art' for some inspiring decor ideas!
Identifying Types of Oriental Rugs
Identifying an Oriental rug is not easy. These types of rugs have been in the market for decades and even centuries. They originate from Oriental countries, which have some of the most complex artistic representations in the world.
The designs of the rugs bring to life all the symbols of their countries of origin, as well as the unique craftsmanship techniques used to produce them.
There are a few common tells that can help you figure out what type of Oriental rug you have in front of you. Here are some of them:
Color
Most Oriental rugs feature bright and bold colors such as red, brown and blue. There are some rugs however that display natural wooden colors such as brown, beige and cream. These are known as Chobi rugs.
Motifs
Motifs are also a big tell of what type of Oriental rug you are dealing with. Some rugs have flowers on them, others have lines. There is one type of rug, however, that features tribal abstract shapes. These are called Ikat patterns, and the rug itself is known as an Ikat rug.
Weaving
You may have noticed that some Oriental rugs are much thinner than others. These thinly weaved textiles are called Kilim rugs.
Material
Most Oriental rugs are hand-knotted in wool on a cotton foundation. New modern Oriental rugs can also be found in cotton only. There is a specific type of rug however, that is made in silk. Not surprisingly, this is known as the Silk rug.
Production time
While Oriental rugs are mainly appreciated for being old and traditional, some rugs are in fact produced in today's modern era. These are the Vogue rugs.
Origin
Origin is probably the most distinguishable characteristic of Oriental rugs. You must have heard about the Bokhara rugs and the Persian rugs. These two types are distinguished by the places where they originate from.
Different Types of Oriental Rugs
Here is a list of some of the most noteworthy Oriental rugs you can come across.
Chobi Rugs
The Chobi rug is a type of Oriental rug that is different from the rest due to the pale palette that it uses. This rug was originally crafted in Turkey and is quite appreciated in Western countries nowadays.
Once the Chobi rug started to gain popularity, Pakistan took over its production, becoming one of the main countries to manufacture it. It features a beige background with brown and wood colored patterns on it.
Some noteworthy Chobi rugs include:
Peshawar hand-knotted rugs
Ziegler rugs
Afghan Chobi
Pakistani Chobi
Persian Chobi
Ikat Rugs
The Ikat rug is a very special type of rug that uses bold colors and geometrical shapes such as triangles, lines, and diamonds to reminisce stories from ancient cultures. This feature gives historical meaning to the rug, in addition to the design value that it already beholds.
Ikat rugs are mainly woven by village tribes that reflect their cultural heritage rather than symbols of peace and power.
The origin of Ikat rugs is unknown. These rugs are so old that it cannot be pinpointed for sure where the technique was first used. What is apparent however is that Ikat rugs have been seen in many countries of the world, with Latin America, Northern Africa and Asia being the most common.
Linguistics however argue that Ikat is an Indonesian word that means knot, which could lead to the assumption that the first people to make Ikat rugs are the Indonesians.
Here are some of the most popular Ikat rugs:
Egyptian Ikat rug
Turkish Ikat rug
Modern Ikat rug
Bright Ikat rug
Adirondack rug
Kilim rugs
Kilim rugs are soft, woolen rugs that feature linear designs in bright bold colors, with red being the most prominent. They are thinner than all other Oriental rugs.
These rugs were hand-woven in different countries of the Persian Empire, such as Turkey, Azerbaijan and the Balkans.
Kilim rugs include:
Chalk kilim
Handmade Afghan Veg Dye Kilim
Handmade Persian Shiraz Kilim
Handmade Persian Shiraz Runner
Handmade Circular Persian Patchwork Kilim
Silk rugs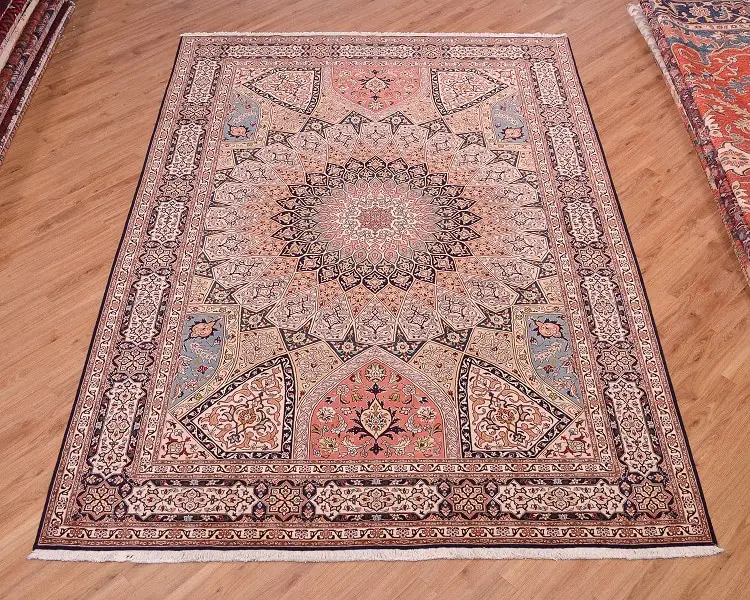 Silk rugs are softer to the touch, plusher and have a distinct shiny finish.
Here are some of the most common Silk rugs:
Nain rug
Indian Suzani Embroidery
Tabriz rug
Kerman Lavar Antique rug
Tehran rug
Vogue rugs
These have been the years of fashion not only regarding clothing items but also interior design. As a result, having a Vogue Oriental rug comes as no surprise.
Vogue rugs are easy to spot as they are brand new looking rugs that use the traditional designs of Oriental rugs and mix them with modern features.
Vogue rugs are somewhat more commercial and include names such as:
Milano rug
Hollywood rug
Radiant rug
Ritzy rug
Panache rug
Bokhara rugs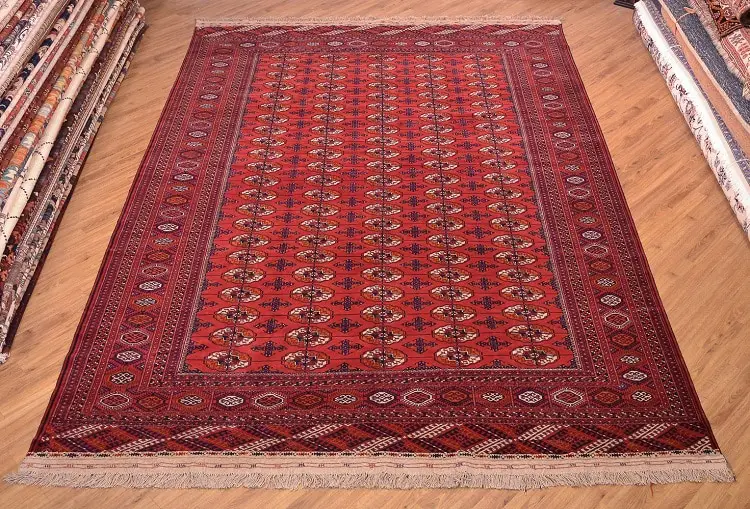 Bokhara rugs were first hand-woven in the Bokhara region, an area known today as Uzbekistan.
This region was widely known for the production of rugs of very high quality and immaculate detail. As a result, the Bokhara rugs started to become extremely popular, which led to surrounding countries such as Turkey, Afghanistan, Pakistan, Iran, India and Central Asia start to produce the same type of rug.
In terms of design, despite their origin, Bokhara rugs feature oval motifs in somewhat empty backgrounds.
The knot characteristics however differ from one country to the other. The knot used in Pakistan is the symmetrical knot (single knot), whereas Central Asia and Afghanistan use the Senneh knot (double / asymmetrical knot). Central Asian and Afghan based Bokhara's are well-known for their intricate design and amazing quality.
Some of the most popular Bokhara rugs are listed below:
Salor Bokhara Rugs
Tekke Bokhara Rugs
Princess Bokhara Rugs
Royal Bokhara Rugs
Yomud Bokhara Rugs
Persian rugs
Persian rugs are produced in former Persia, which is now known as Iran. They are some of the oldest and most traditional types of Oriental rugs, which makes them also extremely famous. The craftsmanship of these rugs is unique and utterly precise.
Learn about all the different types of Persian rugs.
Their design is quite special as well, featuring flowers, fruits, crosses and lotuses, basically more organic shapes, contrary to other Oriental rugs that display geometrical figures. The most traditional colors that these rugs display are red, blue and gold.
Some of the most well-known Persian rugs are listed below:
Heriz Rugs
Kashan Rugs
Gabbeh Rugs
Isfahan Rugs
Balouchi Rugs
Persian rugs include numerous other rugs as their subcategory, featuring some similar characteristics. Here are a couple of them to help you get an idea of what these pieces look like and symbolize:
The Afshar Rug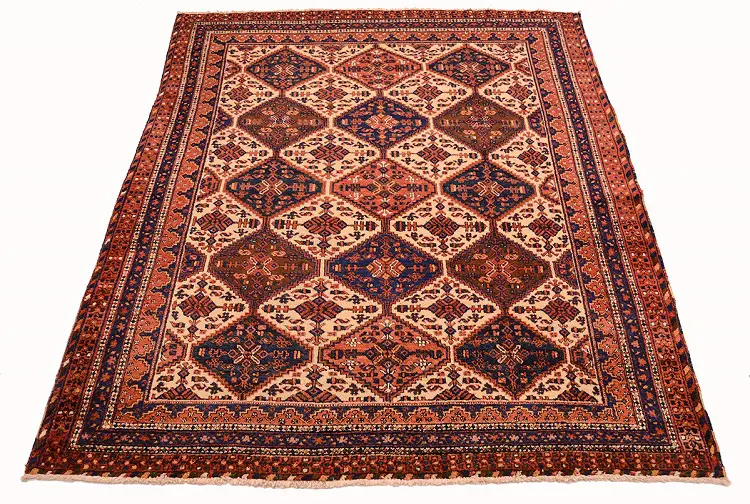 The Afshar rug is an Oriental rug that became popular during the 19th century. It is categorized as a Persian rug due to its origin and color scheme.
Name and origin
This rug is named after the Afshar tribe located in Kerman, Iran. It takes the name of the tribe because it is also handwoven by them in the same area. Speaking of keeping tradition and cultural heritage alive!
Material
In terms of material, these rugs offer a blend of wool and lanolin, which gives them an extra sheen. This kind of technique is mainly seen in old Afshar rugs, while the new products of today are using cotton as a base material.
Motifs
The designs and motifs of Afshar rugs are similar to other Persian rugs, with a twist of Kurdish influences. The surface of the rug displays clean geometrical patterns, in addition to boteh shapes, diamonds, and medallions.
Some models also feature organic shapes like tulips, birds, and animals. What makes the design of these rugs extra special is the tree of life that is usually found in the middle of the piece.
Colors
The colors of Afshar rugs are noteworthy as well. Afshar rugs use hues of red, ivory, blue, brown and gold, all warm colors that evoke a sense of charm and seduction to the space they are used in.
Despite their attractive designs and color scheme, the Afshar rug is not used as a central piece in a room due to its size.
Size and price
Oriental rugs come in a variety of sizes, and these are mostly square-shaped and smaller than the rest. The reason for this is because Afshar rugs are handwoven in horizontal looms which makes it hard to create full-size carpets.
Their size does come with an advantage, however, price! Usually, Afshar rugs are sold at around 350 US dollars, which can be perceived as more affordable than other Persian rugs. The prices do vary however according to the age and level of detail found on the rug. The older it is, the better!
The Mashad Rug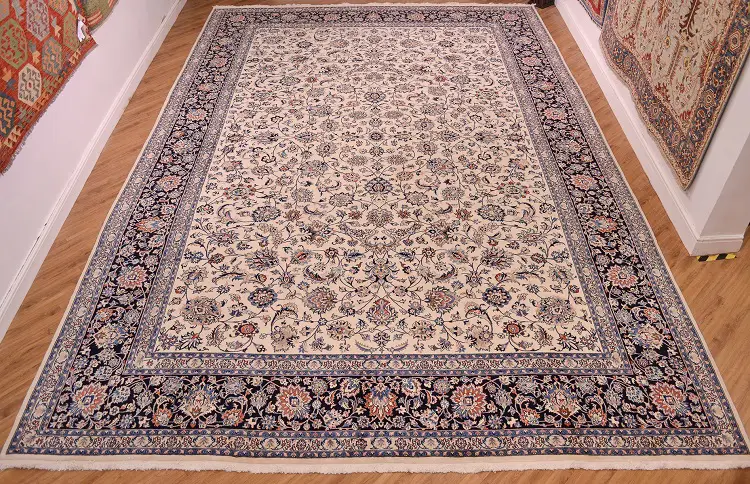 Mashad Rugs are famous Persian rugs produced in Mashad, Iran. If you are somewhat knowledgeable about rugs, then you have probably heard about this rug.
Name and Origin
Mashad rugs are hand-knotted in one of the most popular weaving towns in Iran, Mashad. This area is famous for its rug craftsmanship, immaculate level of detail and precision in the production of Oriental rugs.
Material
These are wool rugs of very high quality. Despite being known as wool rugs, the foundation of the Mashad rug is actually cotton. This is a great weaving technique that allows the wool to maintain its softness and quality while allowing the rug to remain tight and elegant.
Motifs
The design of the Mashad rug is something to be admired as well. This rug features a central medallion and a detailed background full of flowers and organic motifs. The corners of Mashad rugs are also quite detailed with flowers and curvy lines.
What distinguishes Mashad rugs from the rest are indeed the corners, as they have been designed as elongated lines.
Color
In terms of color, the most predominant are typically red and blue. The design details can often be seen in blue or khaki. These are attractive rugs that evoke a sense of passion and charm to whatever setting they are put in.
Size and price
The weaving process of these rugs is quite peculiar. They use 4 wraps of asymmetrical knots rather than 2 as most other Persian rugs. In addition, the Mashad rug weavers go back and forth between straight and sinuous wefts to create a two-level foundation.
The result of this entire complicated but highly attentive process is a full-size carpet of very high quality.
These rugs demand to be the center of attention due to their high-quality materials and mesmerizing designs. As a result, Mashad rugs do not come cheap. They can amount to thousands of US dollars depending on the size.
Motifs And Symbolism In Oriental Rugs
The design of an oriental rug comes across in shapes, patterns, motifs, weaving techniques, and color.
These designs are not random, however. They are deeply rooted in the cultural background of their places of origin and display some symbols and meanings behind each line, as an intention to record history and facts on the rug itself.
There are two main design symbols from which you can define whether an Oriental rug has been produced by craftsmen in the city or by tribes.
Generally, if the rug has floral and organic patterns on them it comes from city producers, while if it has clean geometric lines then it has most probably been woven by a village tribe.
In addition, all other design elements that behold symbolism are plants, animals and colors.
Plants
Plants are mostly used as positive symbols in the Oriental rug design.
Some common symbols include Lotuses and Lilies that represent purity, the Tree of life which represents paradise, fruit trees such as Cyprus and Pomegranate represent health, while Bamboos and Peonies represent wealth.
Animals
Animal symbols are also very common in Oriental rugs. They represent happiness and wellbeing, such as bats, butterflies, and deer. Doves represent peace, dragons, elephants, and phoenixes represent power, the horse is used to show speed while fish is a symbol for abundance. Lions are used to show victory, while ram horns show male fertility.
Colors
Bold colors are very dominant in Oriental rugs. These rugs use mainly primary colors such as red, blue and green. Some more strong colors can also be seen.
Generally red is used to show happiness, while black shows destruction. Brown represents fertility, while blue is the color of the truth. Green and orange have more of a spiritual meaning, where green represents paradise and orange is used to show devotion. Some rugs also feature yellow and white, where yellow means power and white is purity.
FAQ
What do you call Oriental rugs?

Sometimes they are also called Persian rugs, Turkish rugs or most commonly Islamic Carpets due to their Islamic cultural origin.
Why are they called Oriental rugs?

The Orient refers to countries in the Middle East and Asia. The Oriental rugs that we know and appreciate today, were mainly crafted in these countries and exported to the west.

Some Oriental rugs are produced in Morocco and North Africa. However, the features and craftsmanship of these rugs are the same as the Oriental rugs from Asia. Therefore the name 'Oriental rugs' is used for convenience.
What is the difference between an Oriental rug and a Persian rug?

A Persian rug is, in fact, an Oriental rug. Persian rugs are only crafted in Iran, formerly known as Persia, from which the name comes from.

Oriental rugs are crafted in the Orient, and more precisely in an area called the "Rug Belt" which includes Morocco, North Africa, the Middle East, Central Asia, and India.
How do you know if an Oriental rug is hand-knotted and authentic?

There are some details that you can rely on to make sure you are dealing with an authentic hand-knotted Oriental rug;

1. The back of the rug

One of the first tells about the authenticity of an Oriental rug is the back of it. A hand-knotted Oriental rug has a softback featuring the same image as the front, just mirrored. A fake rug will have a harder back, displaying just a dull color on it, with no hint of design at all.

2. Material

Authentic Oriental rugs are made in silk or wool, on a cotton foundation. If you are dealing with a very old traditional rug, then chances are it is produced in wool.

If the rug has a sheen on it, then it is made of silk. Some modern rugs are entirely made in cotton and are still regarded as authentic.

3. Fringe

The third and most important tell on whether you are dealing with an authentic rug or not is the fringe. In hand-knotted Oriental rugs, the fringe is part of the structure of the rug, while in fake rugs, this element is usually a last moment addition to the piece.
What makes a good Oriental rug?

There are a few features that come together to make a good Oriental rug, including high-quality materials, authentic motifs, designs, a good combination of colors, and last but not least, being hand-knotted in one of the countries of the "Rug Belt", the most experienced in this craft.
Why are Oriental rugs so expensive?

Oriental rugs are hand-knotted with perfect precision, which is a long and tiring process that deserves monetary appreciation.

In addition, they are made in silk or wool which are high-quality materials. Also, these are traditional rugs that come from very old cultures, which makes them unique and historically valuable, and as a result, quite expensive.

Learn more about why Oriental rugs are so valuable and see some of the most expensive ever sold.
Are Oriental rugs a good investment?

Oriental rugs are mostly handwoven, which makes them unique. This is a greatly appreciated feature in the interior design world. In addition, Oriental rugs are made of silk or wool, two soft and ecologic materials of high quality which are also long-lasting.

Moreover, Oriental rugs display special motifs rooted in the cultural heritage of a variety of countries around the world, that makes them creative and charming in terms of design. As a result, the answer is yes! Oriental rugs can be a very good and long-lasting investment!
What can I do with old Oriental rugs?

Old Oriental rugs are some of the most precious rugs you can come across, as come with their own history and character. They are perfect design pieces that can bring all the other furniture elements of a room together.

An old Oriental rug can be used in a hotel lobby, fancy restaurant or even a simpler living quarter in need of an authentic design piece to elevate its character.

Old Oriental rugs can add a splash of color and charm to a room while evoking the feeling of relaxation associated with exotic getaways in the Orient.

See more: How To Care For Hand-Knotted Oriental Rugs
Can an Oriental rug be repaired?

Yes, an Oriental rug can be repaired, however, it needs to be done by a professional in order to preserve the integrity of the rug and avoid any mishaps during the repairing process.

Oriental rugs are high quality, expensive rugs that require proper care and attention by professionals.