Our readers support us. This post may contain affiliate links. We earn from qualifying purchases. Learn More
Modern and contemporary rugs are sleek and elegant. They typically feature a minimalistic design that is both functional and fancy. And while these two concepts do differ from one another, one thing is for sure, both modern and contemporary rugs can make a living room seem more appealing.
These rugs can reinvent a living room and make its interior decor seem less flat and more rooted in the present. They have the unique ability to make a room more dramatic and impactful.
All in all, a living room with modern or contemporary rugs to anchor the furniture is way more exciting than a traditional decor.
Modern vs Contemporary Rugs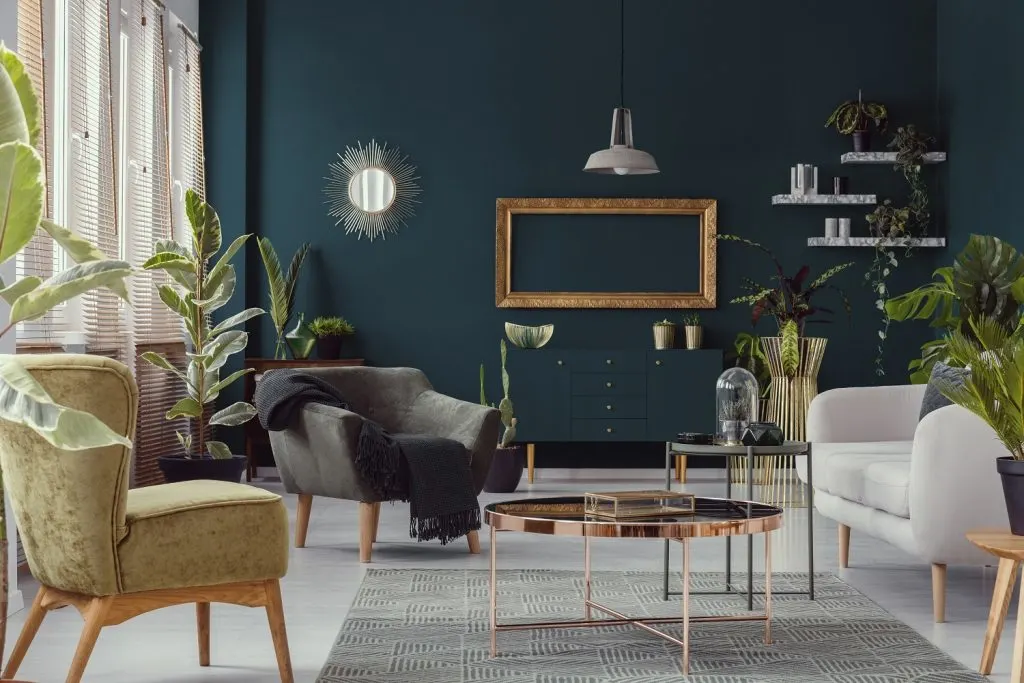 Modern and contemporary rugs are not the same thing.
Despite being used to refer to the same style, modern rugs technically refer to a design originating in 1920 up until 1950. These rugs are also known as Mid-Century Modern.
Contemporary rugs, on the other hand, refer to current trends. This could be modern, traditional, rustic, or anything that is popular at the moment. Therefore, contemporary rugs do not feature a style in themselves.
Many people still confuse modern and contemporary because modern rugs are still very much appreciated. As such, these rugs continue to be best sellers and inspire current trends, resulting in becoming contemporary pieces of decor. So modern rugs can be contemporary, but contemporary rugs are not necessarily modern.
Therefore, a Mid-Century Modern living room with a large open floor plan, clean crisp lines, eccentric colors, hints of Scandinavian charm, and an abstract rug is both modern and contemporary!
10 Favourite Modern Living Room Rug Ideas
While for most people, modern equals contemporary, modern rugs are not contemporary ones. Modernism is a style that originated in 1920 and Modern rugs feature designs from that era and onwards, until the 1950s.
They have minimalistic and abstract designs, with very big motifs. You will also find them with pop culture elements and bold colors.
In fact, most modern rugs originate from the Mid-Century modern style (designs from 1945 instead of 1920) and are shortly referred to as Modern.
Modern rugs come in nylon, viscose, polypropylene and wool. Compared to most contemporary rugs, modern ones are more expensive and offer a high luxury feel and atmosphere.
The main element that defines a rug as modern however is the design and what it brings to a living room. Bright and bold modern rugs can make a room feel larger and bigger. Darker modern rugs however make a living room feel moodier, yet charming and sophisticated.
All in all, modern rugs do make a living room seem more curated and expensive. It shows the owners of the home have a refined sense of style and appreciated beautiful accents throughout the space.
Here are some of our favorite modern rugs of 2021:
Mid-Century Modern Pastel Area Rug
|
When it comes to modern shaggy rugs, this one is a popular choice. The Mid-century modern design of the rug, combined with the pastel palette, brings a sense of joy and excitement to the room.
In addition, the thick pile of the rug is a nice touch that makes any living room seem more homely and comfortable. And let's not forget, a thick modern rug can also be a nice warm layer where the whole family can sit on the floor.
Checkered Modern Rug with a Twist
|
There is nothing more modern than a checkered black and white large area rug. What really sets this design apart however is the interesting shape and dimension of the rectangles. The design is more compelling and interesting.
This rug goes perfectly with fancy and elegant decors and dark colors such as grey and green.
Modern Accent Rug
|
Modern accent rugs are fun to have in the house. They are smaller than area rugs and can make for a perfect addition next to a reading nook or armchair.
This cheerful modern rug in various geometric shapes and bright colors can really add some excitement to an otherwise plain corner of the living room. It goes particularly well in white living rooms in need of a spruce of color.
Modern Abstract Area Rug
|
A modern abstract area rug is like a very articulate painting placed on the ground. If you want to add such a carefully designed rug to your floors, make sure to leave it visible and do not obstruct its view with coffee tables or layered throw rugs.
Add a playful wool rug to your living room and turn your floors into the most interesting layer of your home.
Earthly Modern Area Rugs
|
While most modern rugs have bold colors and geometric blocks, there are some rugs that feature earthly tones and wireframe designs such as this one. The best thing about modern rugs is that you can find a design for any living room.
These rugs are so versatile and sophisticated that matching them with suede couches and polished furniture pieces feels like a perfectly coordinated dance.
Blue Abstract Sunset Area Rug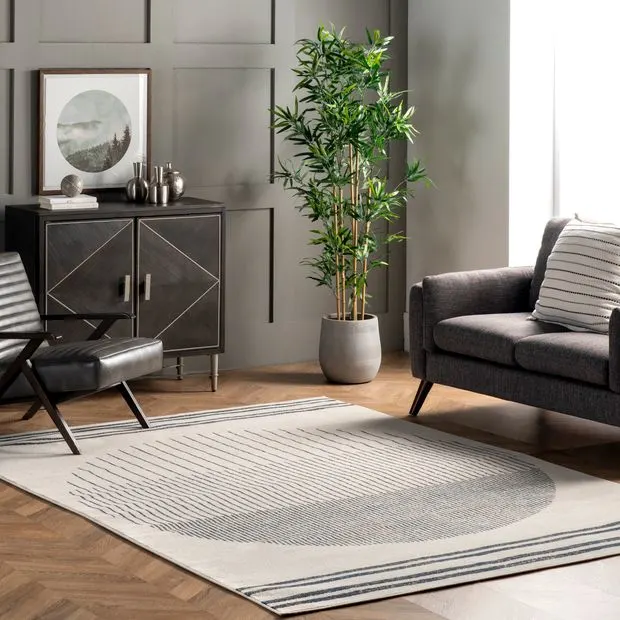 There is something very modern about this whole ensemble. The dark walls combined with the abstract rug, create a balanced color palette with a subtle romantic hint.
This small throw rug is made of polypropylene and offers durability and flexibility. It is quite resistant to stains and works perfectly if you have pets.
See more:
Gray Modern Abstract Area Rug
This machine-made geometric rug feels like it came straight from modernism as an era. The design of the rug combined with the colors sets the tone for a time of ingenuity and invention.
Use it in a small living room to brighten up the space. Match it with leather furniture to showcase your creative side and bring character to the room.
Ivory Naomi Wool Chevron Washable Area Rug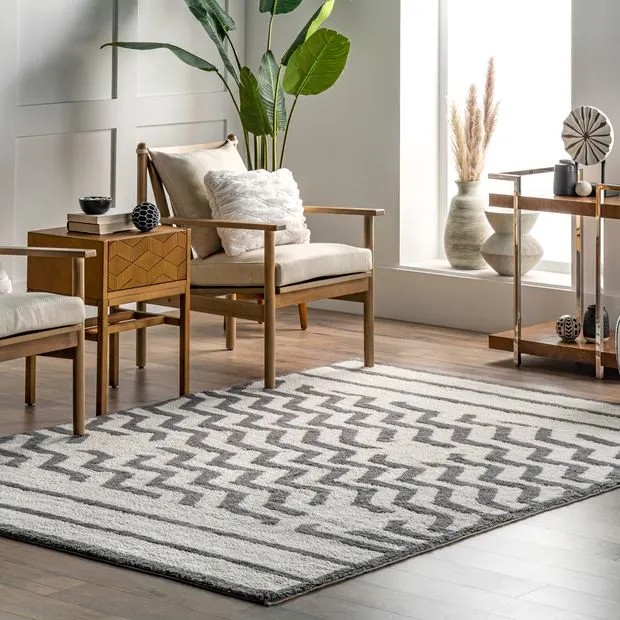 If you love being surrounded by warm wooden features, then this rug is perfect for you. The modern design adds some fanciness to the space while the ivory tones intensify the calming Japanese theme of the living room.
To add to the natural appeal, the 100% wool composition of the rug is a great detail that allows you to be closer to the environment. It also feels great under your feet and pushes you to be barefoot in this spa-like living room.
Ivory Diamond Pinstriped Area Rug
Thin rugs are quite versatile especially when they are made of wool. This modern design in diamonds and pinstripes is a great addition to a small living room with dark hues.
It intensifies the formal character of the room through the design but it also adds a touch of homely coziness through its warm material.
Black And White Accordion Stripes Area Rug
Dark Turkish rugs with modern patterns work really well in offices. Picture this one for instance, in front of a large desk. It pulls the room together and adds more eccentricity to the floors, becoming a piece where the eye gravitates towards.
10 Favourite Contemporary Living Room Rug Ideas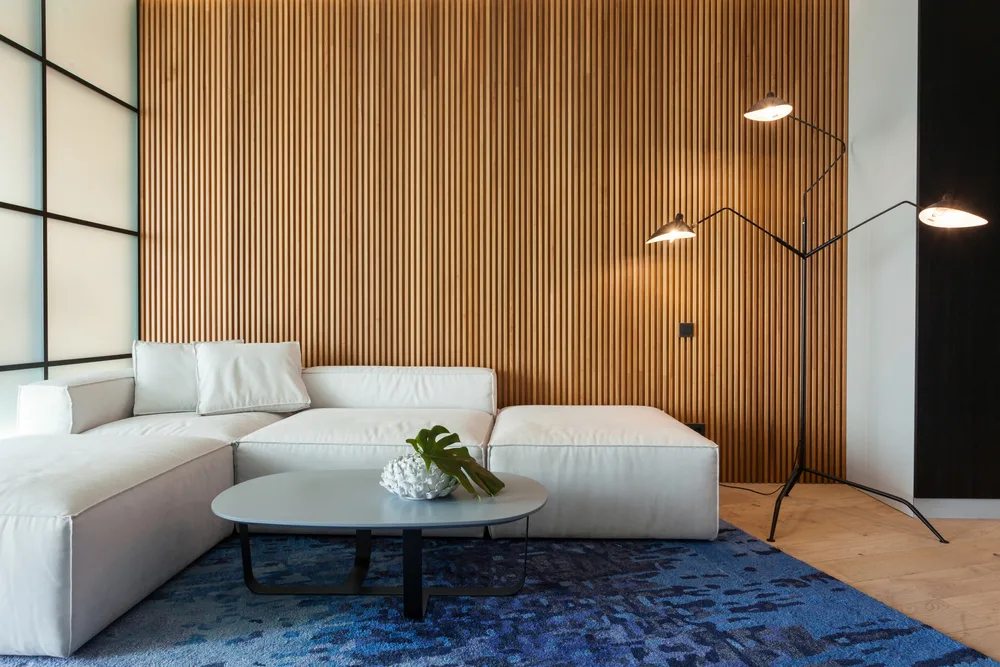 Contemporary rugs feature designs that are imaginative and popular right now. Most of these rugs are new entries in the design world that quickly become integral pieces of decor in most homes.
In addition, contemporary rugs are less expensive than modern or even vintage and Persian ones. They are produced using synthetic materials that allow for a specific design to be replicated easily on the surface of the rug. These materials are also good at displaying bright colors which is another defining feature of contemporary rugs.
Despite a lower price range than most rugs, contemporary ones are still a very nice addition to a living room. They offer captivating designs that will go well with most interior decors.
As such, contemporary living rooms are welcoming, cheerful, comfortable, and really homely.
Have a look at our 10 favorite contemporary rugs of 2021:
Fancy Contemporary Area Rug
|
The cool thing about contemporary rugs is that they rely on attractiveness. There is no formula for their design. Basically, as long as it is something that the majority of people love right now and uses as a style in their home, then it is considered contemporary.
As such, this large grey rug with a sheen is a great representation of a fancy and luxurious contemporary rug. The way it pulls the room together and adds glamor to the design is just priceless.
Contemporary Round Area Rug
|
Large round rugs are an emerging trend that seems to have captured the hearts of many designers.
The soft edge of the rug combined with the large scale of the weaving, make this room feel more secure and bring it down to a human scale. While you can still appreciate the super high ceilings, the rug also allows you to notice the floors and feel comfortable in this space.
Large Abstract Area Rug
|
Abstract rugs with a distressed design are very popular right now. They blend ultra modernism with vintage and manage to deliver a style that is both romantic and refined.
You can use this rug to create a traditional-modern rustic look and thus introduce your living room to contemporary design themes.
Contemporary Layered Rug Ideas
|
Glamorous, elegant, sophisticated, and ultra-modern, this is how this living room can be described.
The two-layered rugs add to the appeal not only through the dark color but also through their rectangular shape that allows the room to feel longer.
See more:
Asian Style Contemporary Living Room
|
Many contemporary rugs have a subtle design. Instead of becoming artworks, they become the canvas and allow the furniture to come through and emanate the style.
The same goes for this large beige area rug. The rug is tucked under the beautiful Asian furniture pieces and allows them to be more prominent. This design move is great when you have expensive furniture pieces by some of the most noteworthy brands in interior design.
Beige Amalia Contemporary Collage Area Rug
Contemporary rugs can also be used to make a statement, such as this very creative collage rug. You can use it in minimalist living rooms to show that you do appreciate art and design.
You can also place it into more stuffed living rooms to create a balance in the decor through the simple and lightweight feel of the Amalia rug.
Stone Wool Shag Area Rug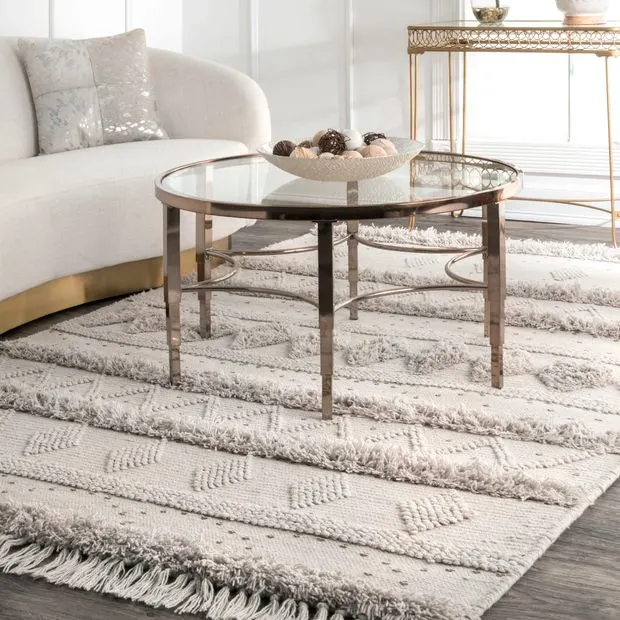 The Stone wool shag area rug is not only contemporary but also fun. Its wool composition makes for a perfect family rug while also bringing elements of luxury into the room.
Match it with brown leather furniture if you want to create a multilayered style that is both sophisticated and comfortable.
Rust Abstract Contemporary Area Rug
Abstract rugs are perfect for contemporary interiors as they allow you to mix and match colors to achieve the atmosphere you want in your room. You can pull colors from the rug and add some throw pillows in the same shade and continue building up the decor of your living room from there.
This design method is not only creative but also affordable. All you have to do is follow your imagination and go shopping, even on a budget.
Natural Handwoven Jute Ribbed Solid Area Rug
Jute rugs are not only contemporary but also timeless. They offer a natural color that works well with any type of decor. In addition, these rugs are durable and never go out of style.
So if you are not sure what goes well in your living room, and cannot postpone choosing a rug anytime, get a Jute! It is always a good option.
Gray Faded Abstract Washable Area Rug
This grey faded abstract rug is not only contemporary but also very convenient. The thin throw rug can be washed like any piece of clothing, simply in a laundry machine. As such, you do not need to worry about spills or stains. You can use it in high-traffic living rooms and enjoy how easy it is to maintain it.
See more: