Our readers support us. This post may contain affiliate links. We earn from qualifying purchases. Learn More
When it comes to kitchen cabinet colors, gray walls have emerged as a versatile and stylish backdrop for various design aesthetics. The subtle elegance of gray makes it an ideal choice for walls, while the cabinets offer an opportunity to inject character and personality.
For kitchens with gray walls, white cabinets offer a timeless, crisp contrast. Navy introduces depth and sophistication, while ivory adds a touch of warmth and elegance. These hues seamlessly complement gray walls, ensuring a cohesive and stylish kitchen space. Perfect for a modern yet classic aesthetic.
In this article, we'll explore some of the best kitchen cabinet colors that beautifully complement gray walls.
13. Ivory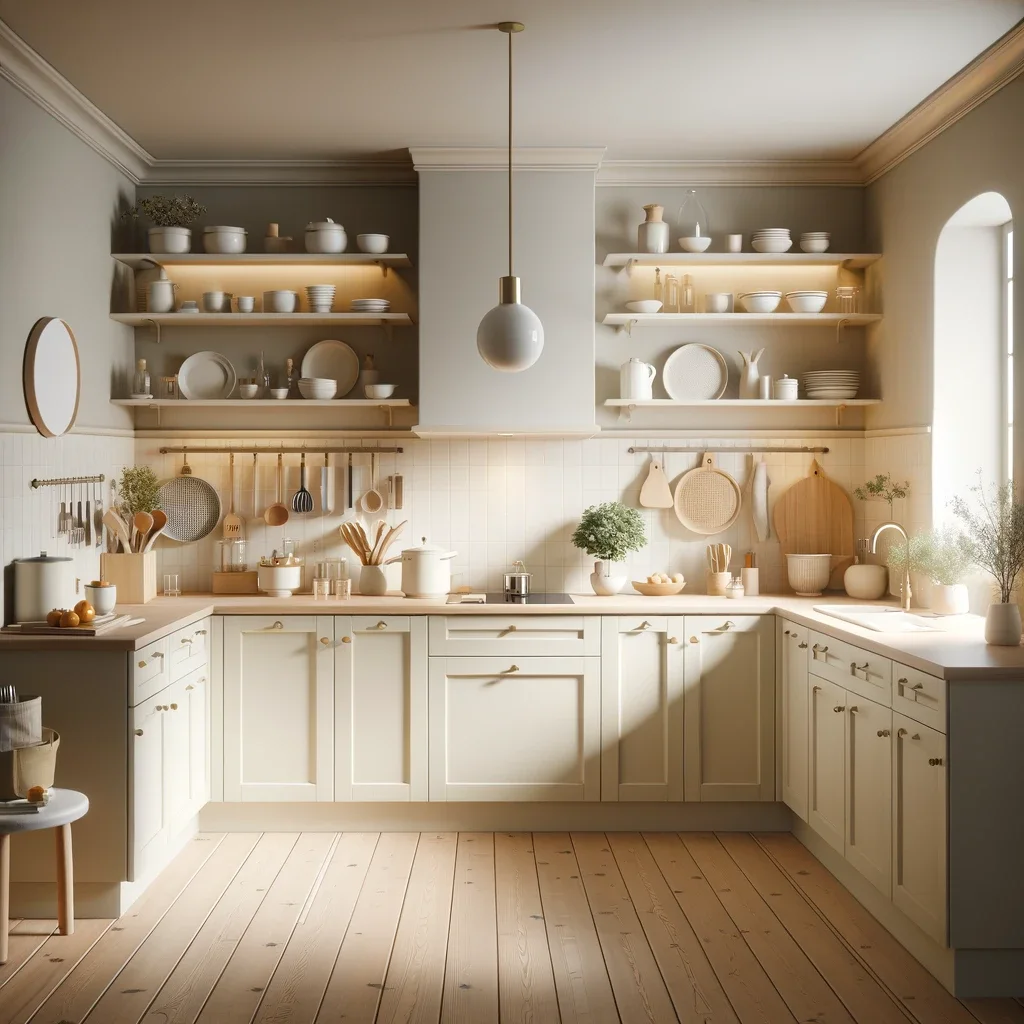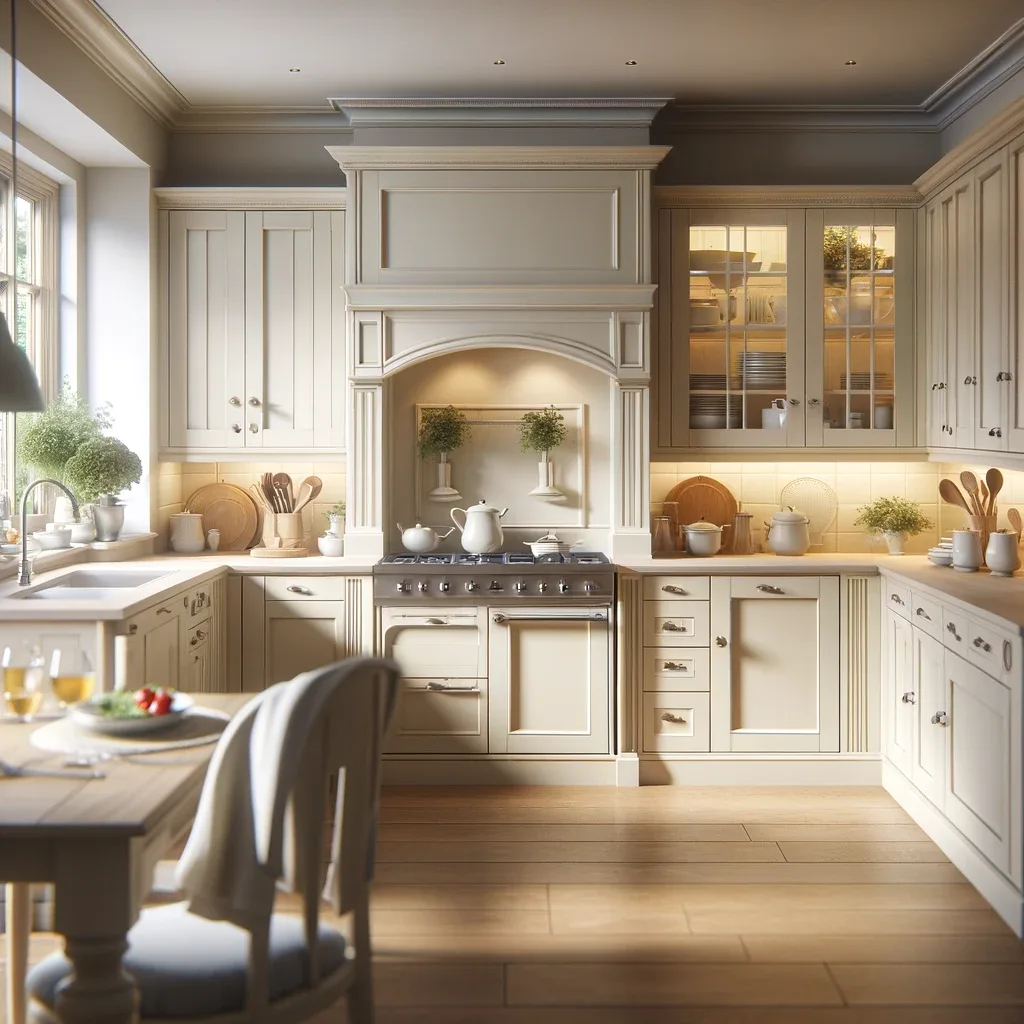 Combining ivory kitchen cabinets with grey walls can create a classic, timeless, and elegant kitchen design. The contrast between the warm, creamy ivory and the cool, neutral grey can result in a visually appealing and versatile space.
Furnishing Tips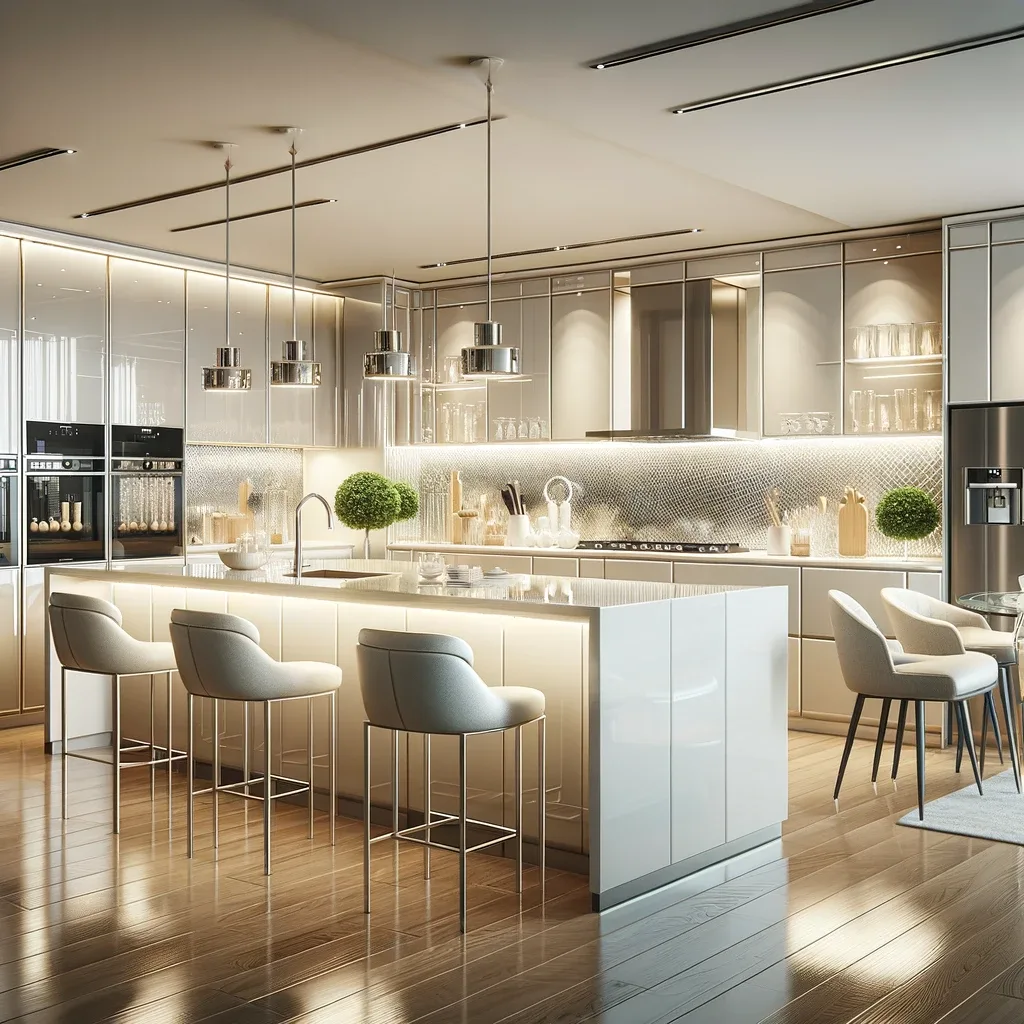 Choose a shade of grey for the walls that complements the ivory cabinets. Light to medium grey tones work well to provide a neutral backdrop and create a balanced look.
Pendant lights in ivory, grey, or metallic finishes can add a stylish element to the kitchen and tie the color palette together. Invest in stylish storage solutions that help keep the kitchen organized and clutter-free.
12. Teal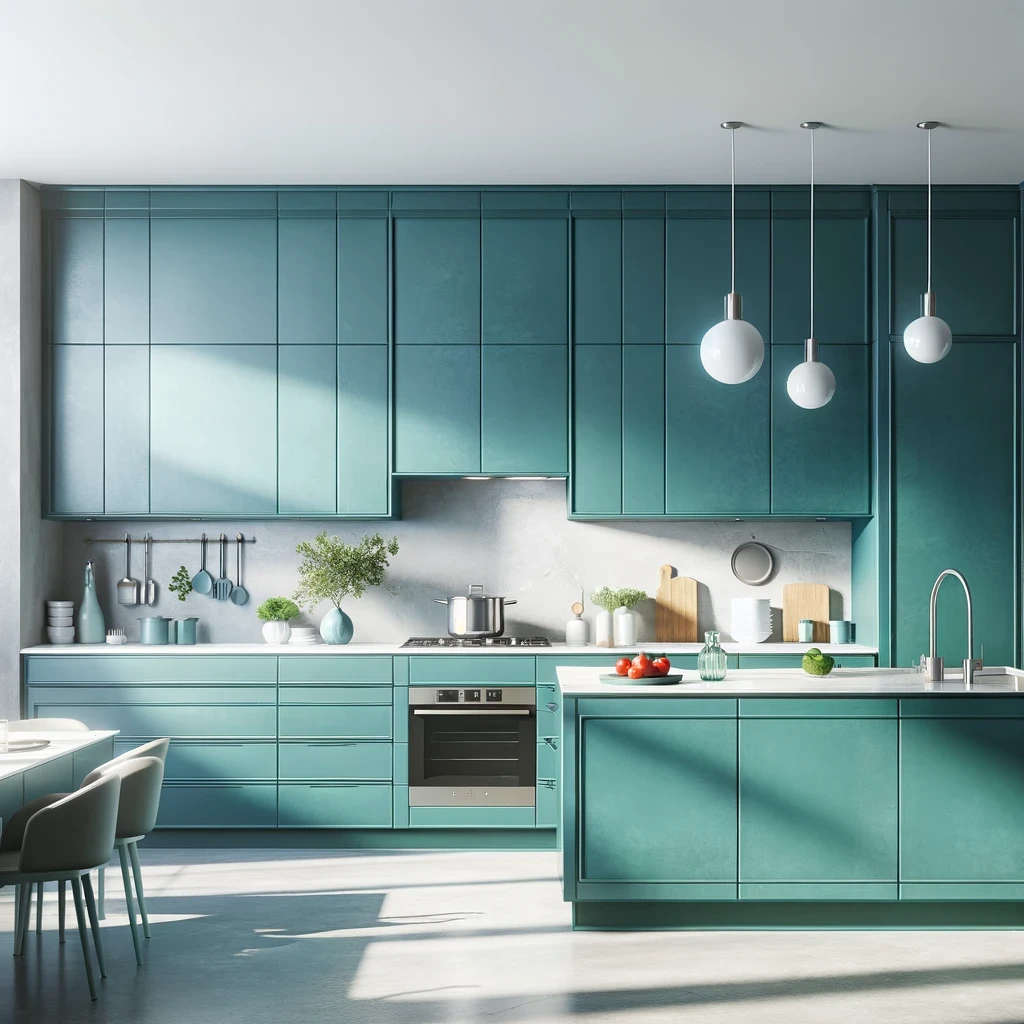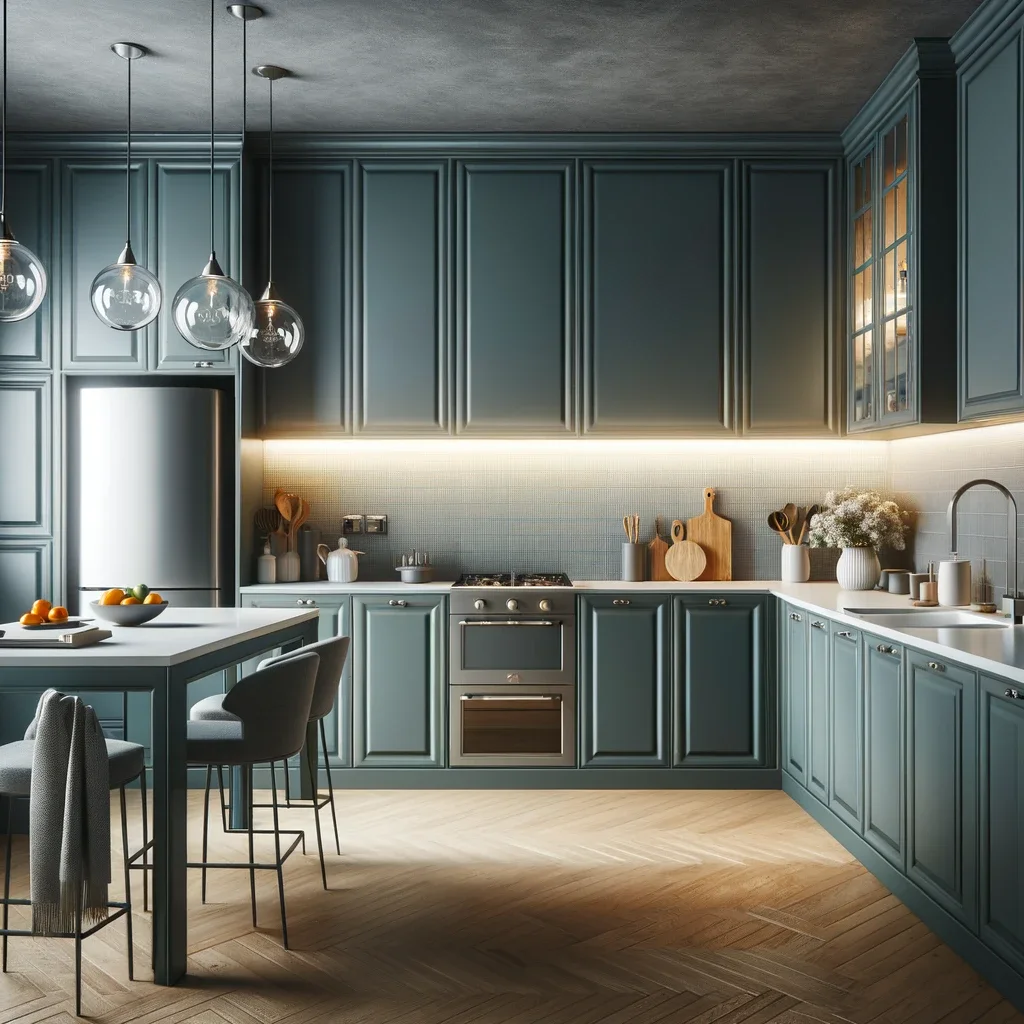 Teal kitchen cabinets with grey walls can create a striking and visually appealing kitchen design. The contrast between the bold, vibrant teal and the cool, neutral grey can result in a unique and stylish space.
Furnishing Tips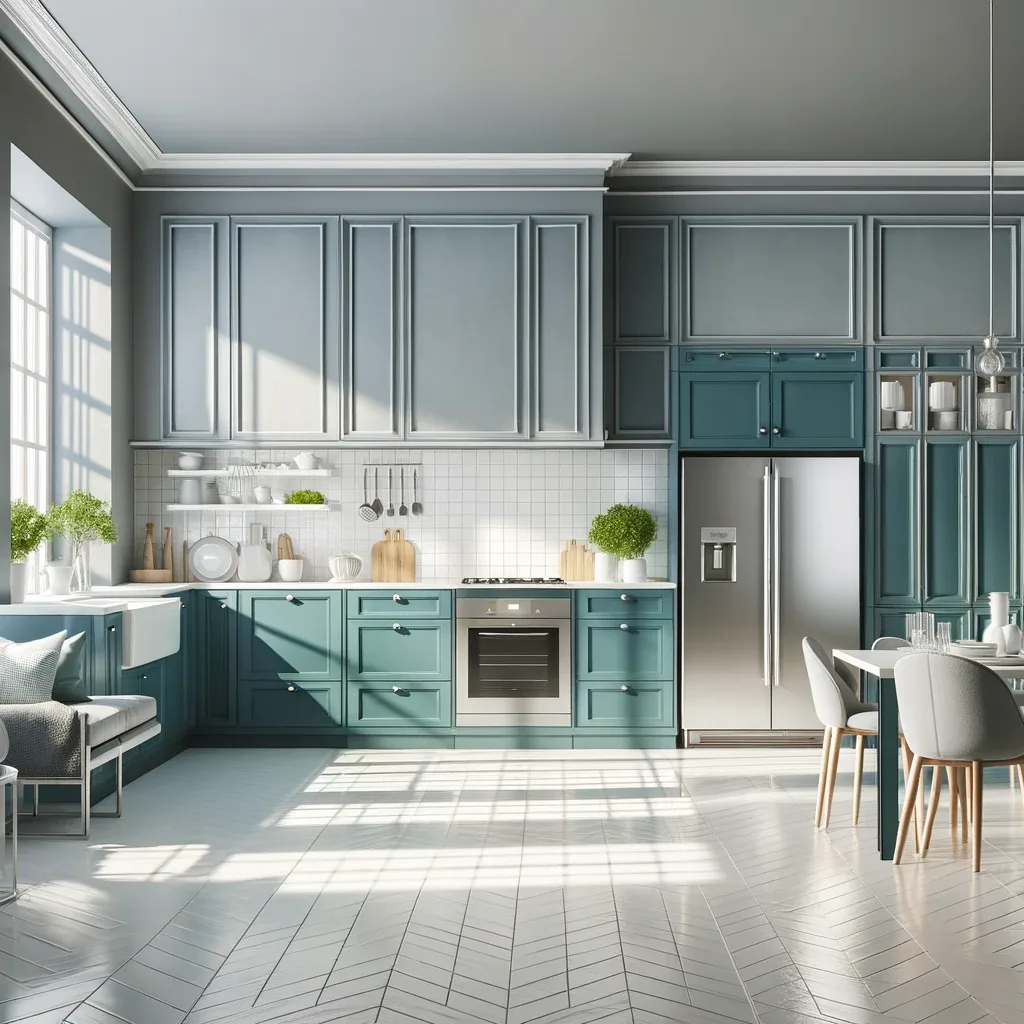 Choose light to medium grey or white flooring to create a cohesive and balanced atmosphere. Incorporate open shelving in the kitchen to display decorative items or dishes, breaking up the solid color of the teal cabinets. Add elements in black steel to give a modern edge to your kitchen.
11. Sage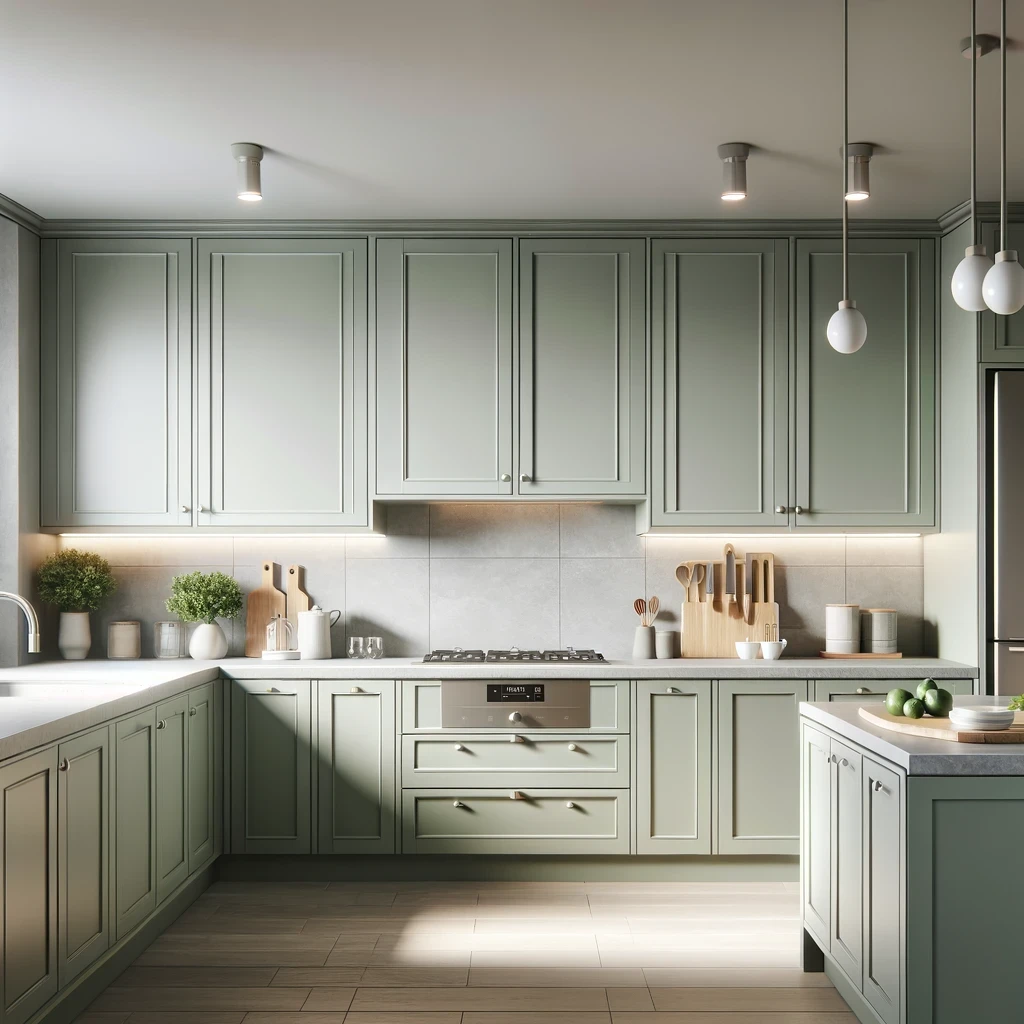 If you prefer a softer and more natural ambiance, sage green kitchen cabinets harmonize beautifully with gray walls. The muted green tones add warmth and a touch of nature to your kitchen, creating a calming and inviting atmosphere. This pairing works well in both rustic and contemporary kitchen designs.
Furnishing Tips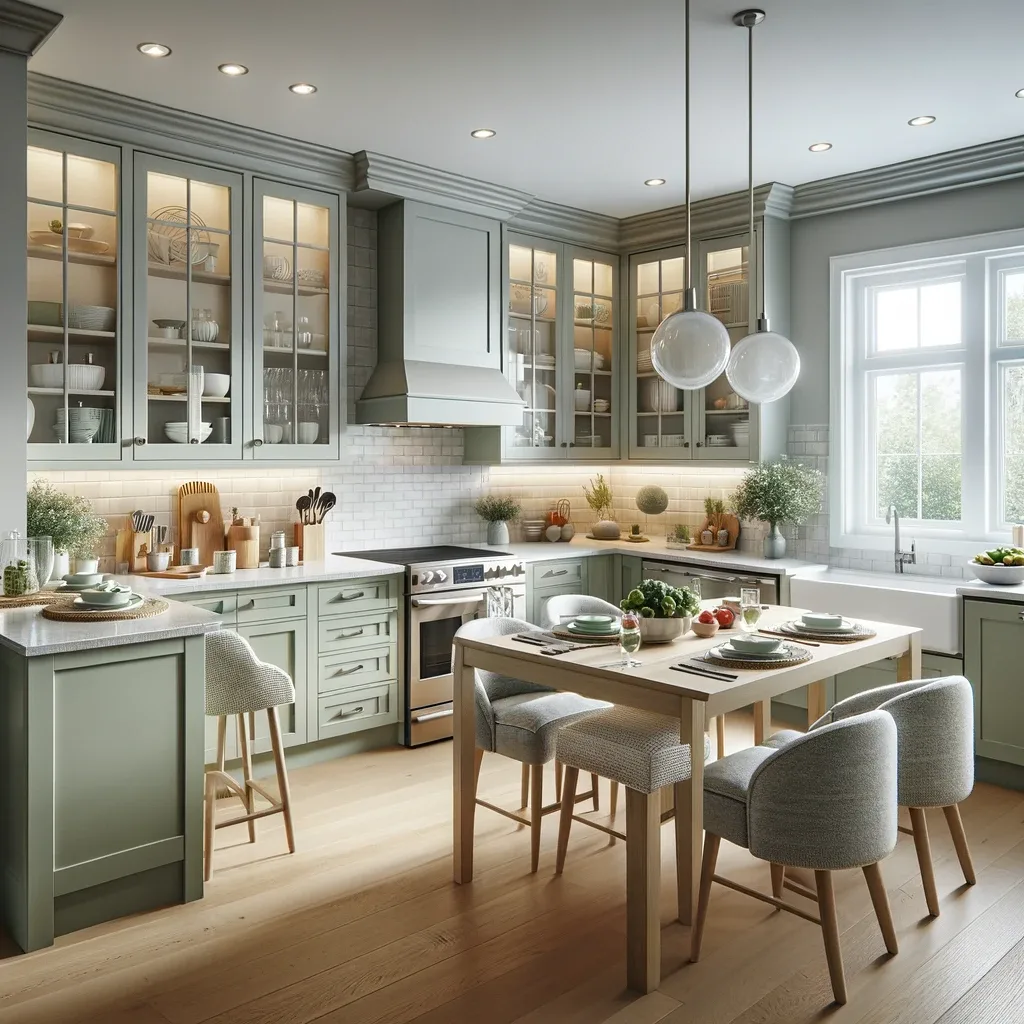 Consider a white or light grey subway tile backsplash to add a classic touch and maintain a clean, timeless appearance. Ensure a balance of colors, textures, and materials to maintain a visually pleasing and harmonious design. Get furniture in a retro or vintage look to make your kitchen more charming and inviting.
10. Dusty Blue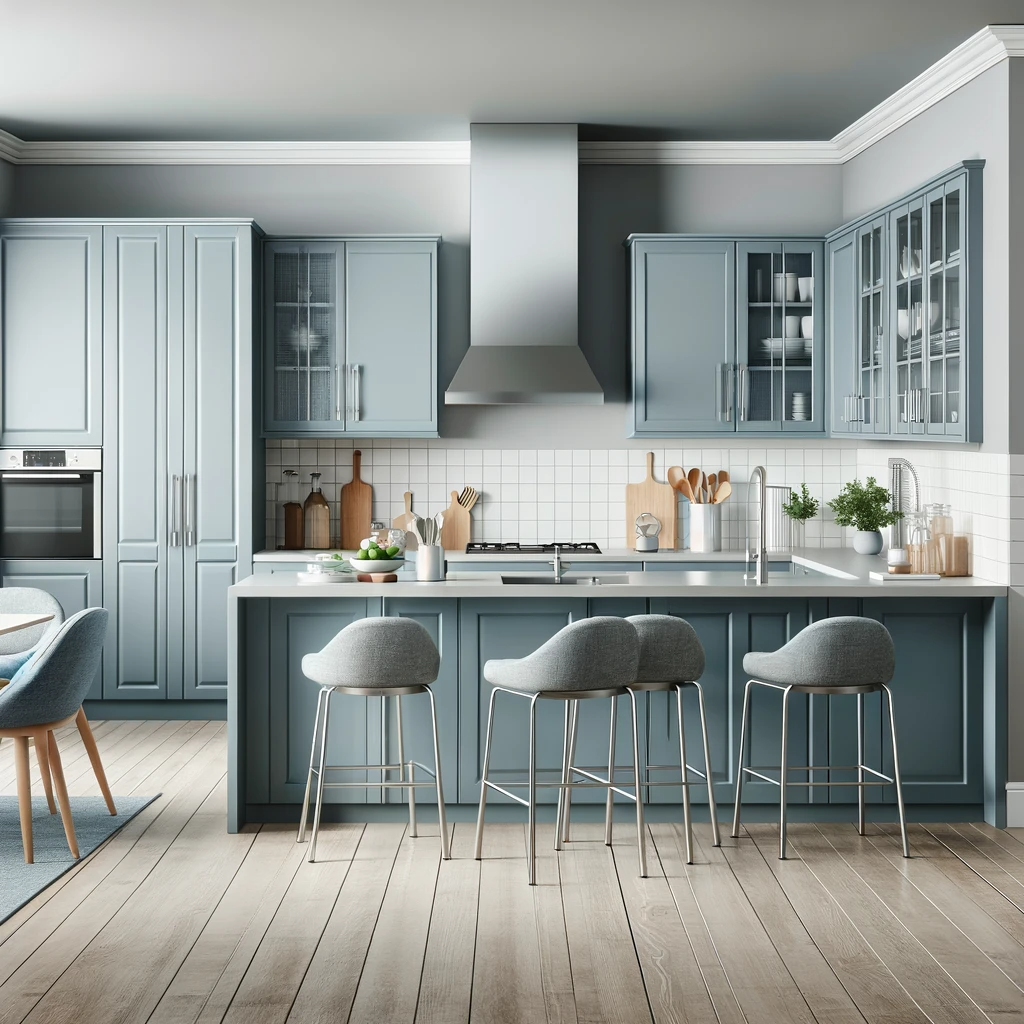 Dusty blue kitchen cabinets with grey walls can result in a stylish, calming, and timeless kitchen design.
Furnishing Tips
Dusty blue, also known as powder blue or muted blue, offers a serene and elegant look. Choose a dark shade that is almost grey in hue. Consider glass doors for some of the cabinets to soften up the dark shades of the kitchen. Add elements in natural wood or even green plants to make the kitchen feel more inviting.
9. Grey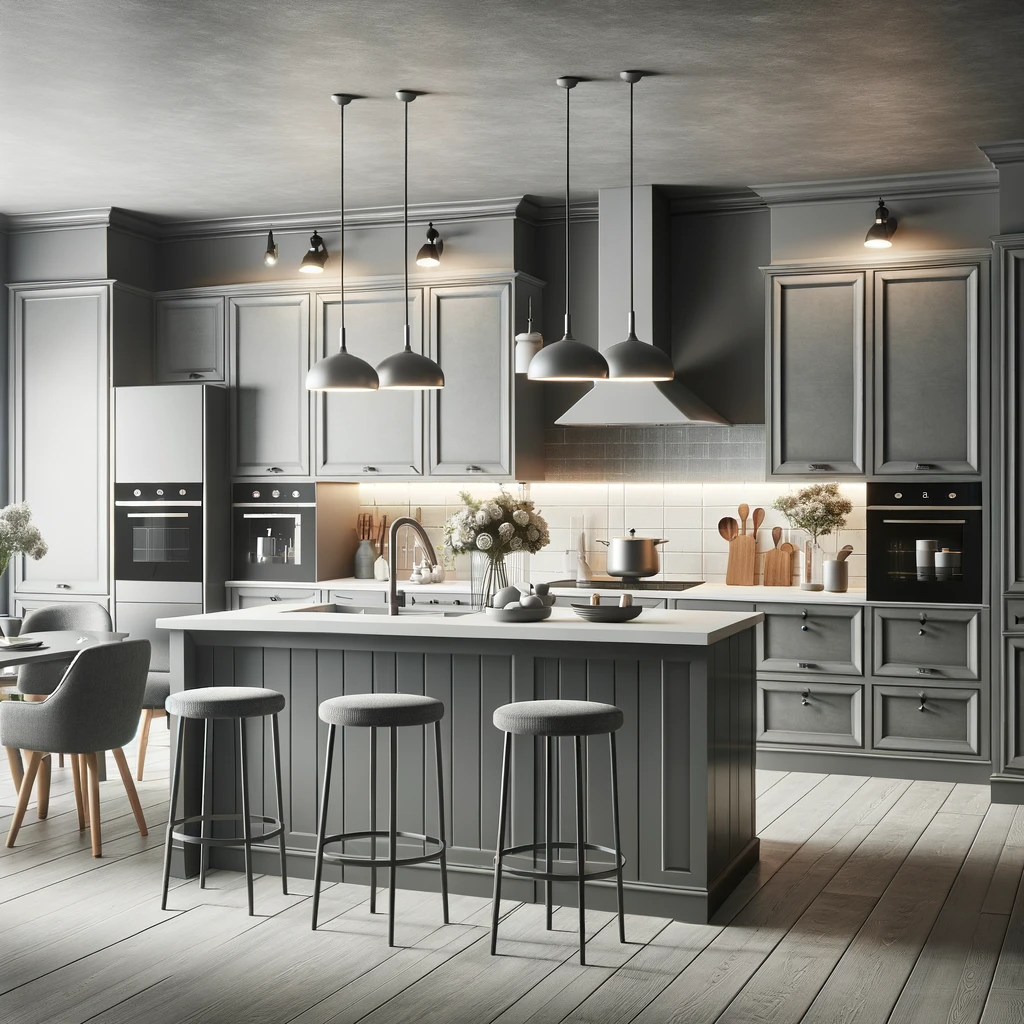 For a sleek and modern look, you can use different shades of gray for both the walls and the cabinets. Light gray walls combined with dark gray cabinets create a contemporary and minimalist atmosphere. To add visual interest, use various textures, materials, and finishes.
Furnishing Tips
Use various shades of grey for your cabinets and walls. For instance, you can have light grey walls and medium or dark grey cabinets to create a contrasting but harmonious look.
Choose a flooring material with a different texture or pattern, such as hardwood, white tiles, polished concrete or even a subtle patterned tile, to break up the uniformity. Incorporate decor elements in contrasting colors and materials. Items like glass vases, artwork, or dishes in bold colors can provide visual interest.
8. Green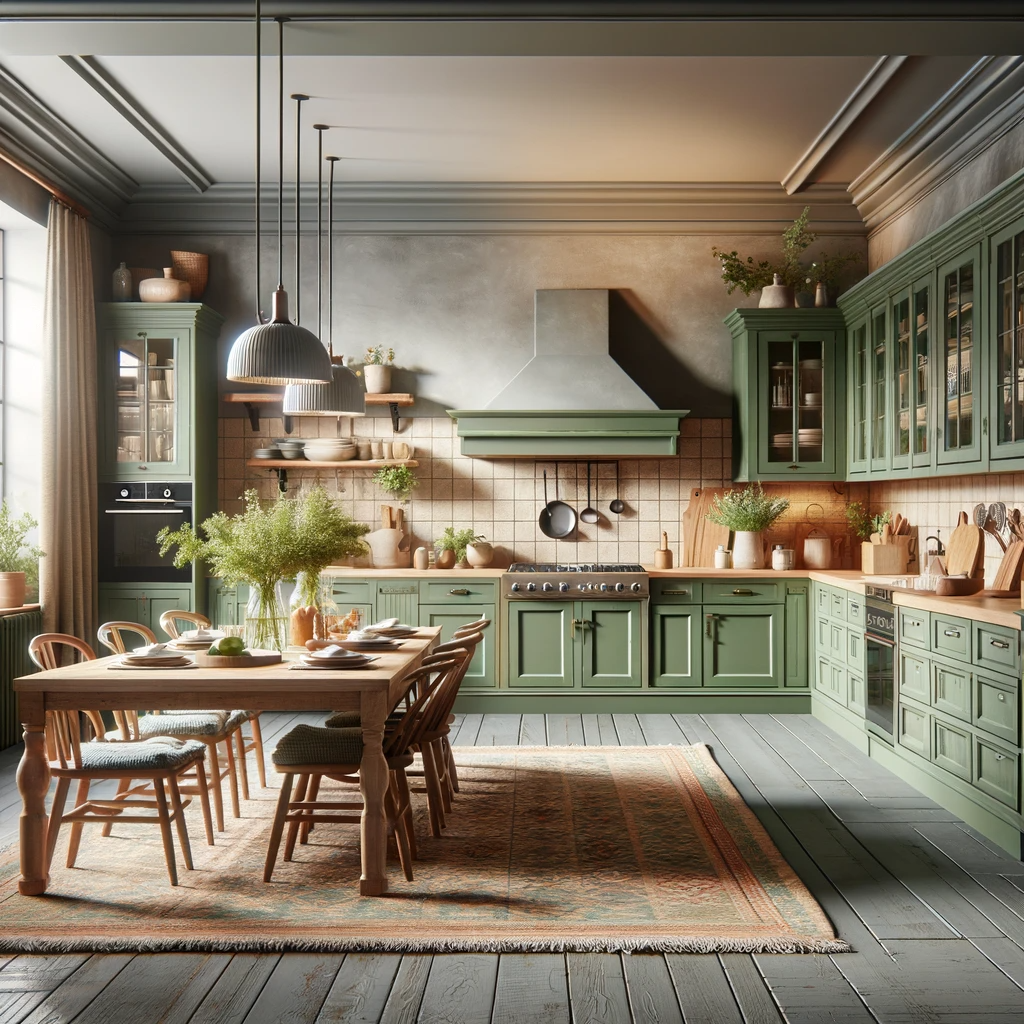 Green kitchen cabinets with grey walls can result in a stylish and soothing kitchen design, with a hint of nature on every surface.
Furnishing Tips
Choose your desired shade of green for the kitchen cabinets. Consider shades like sage green, forest green, or olive green based on your style and preference. Opt for countertops that complement both the green and grey, such as white or light gray quartz or marble. Choose hardware in god to make the kitchen look more luxurious.
7. Yellow
If you want to add a pop of color and vibrancy to your kitchen, bold yellow or orange cabinets can be an exciting choice when contrasted with gray walls. This striking combination creates a sense of energy and personality, making your kitchen the focal point of your home.
Furnishing Tips
Consider shades of yellow, such as buttercup, sunflower, or soft pastels, depending on your preferred style. Choose a playful floor design such as hexagon tiles in various colors to create a playful look that complements the style of yellow cabinets.
6. Pink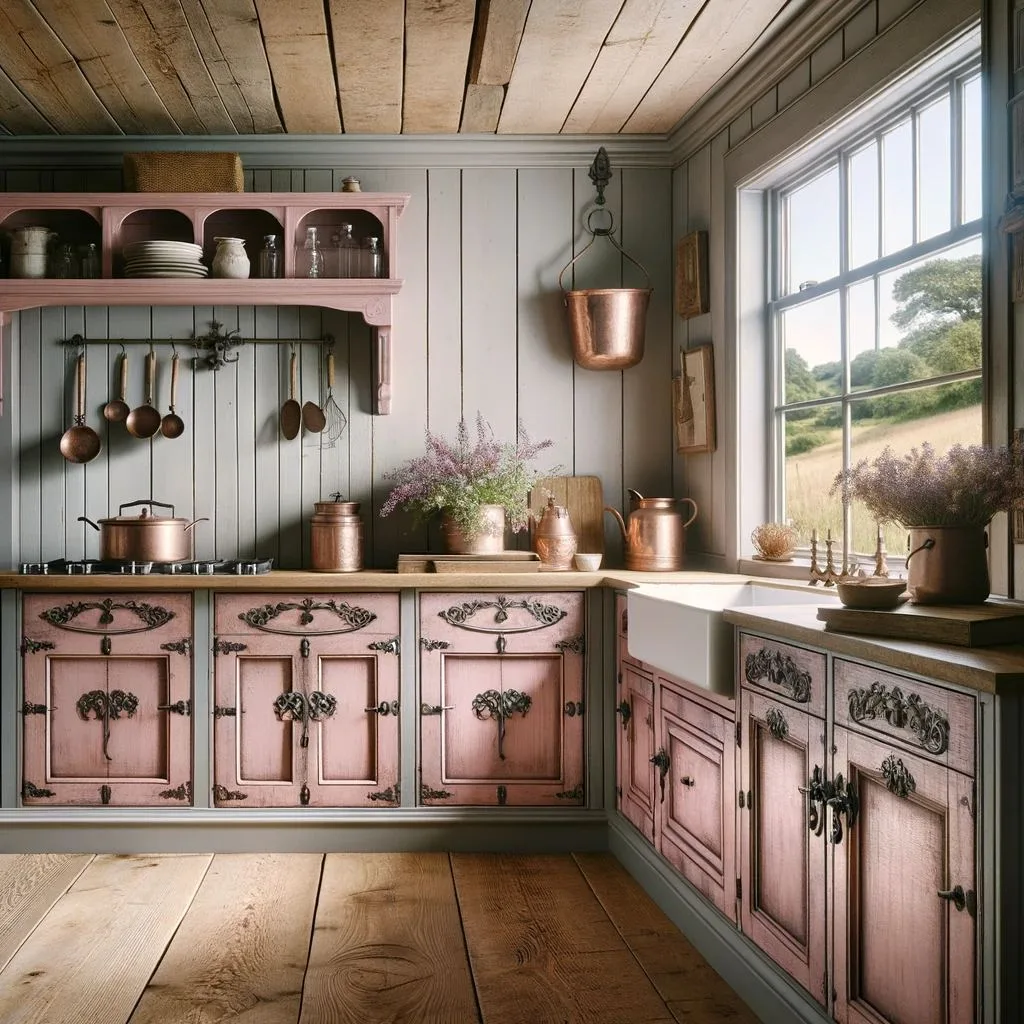 Designing a pink kitchen with grey walls can create a unique and stylish space. This combination offers a harmonious contrast between a warm, energetic color (pink) and a cool, neutral tone (grey).
Furnishing Tips
Choose pink kitchen cabinets as the central element of your kitchen design. Shades of soft pink, blush, or dusty rose work well. Hang artwork or wall decor in pink or grey frames to enhance the overall aesthetic.
Use pink, burgundy or wine red for textiles like curtains, dish towels, placemats, table cloths, and seat cushions to enhance the color scheme.
5. Navy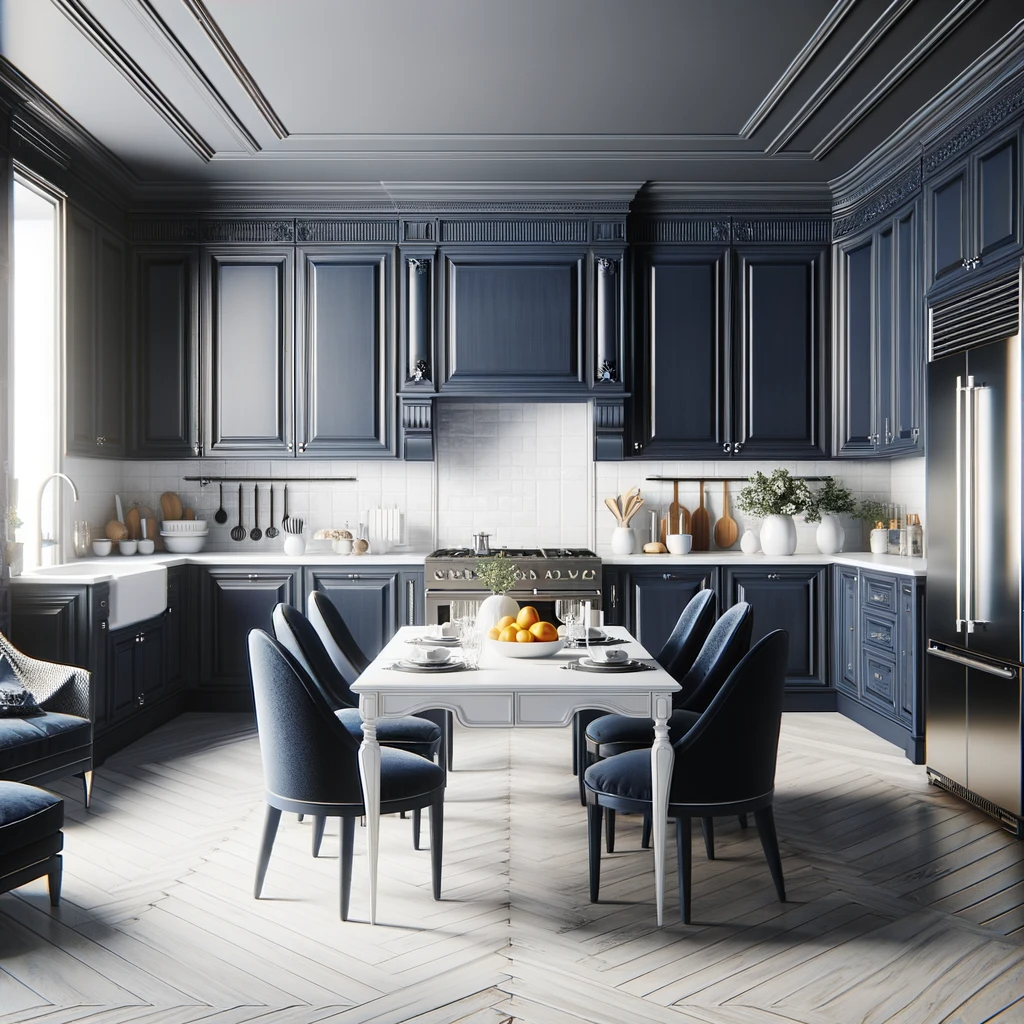 For a more daring and sophisticated look, consider pairing gray walls with navy blue kitchen cabinets. The deep, rich tones of navy create a striking contrast with the soft, neutral gray. This combination exudes a sense of depth and drama, giving your kitchen a sense of luxury and opulence.
Furnishing Tips
Choose a strong and contrasting countertop such as white marble wth grey veins. Opt for a thick slab that complements the visual heaviness of dark navy kitchen cabinets.
This design works well with both contemporary, classic and traditional kitchens. Mix elements of all styles to create an inviting room in your house. Use brass hardware and faucets to give some warmth and rustic charm to your navy blue and grey kitchen.
4. Pale Blue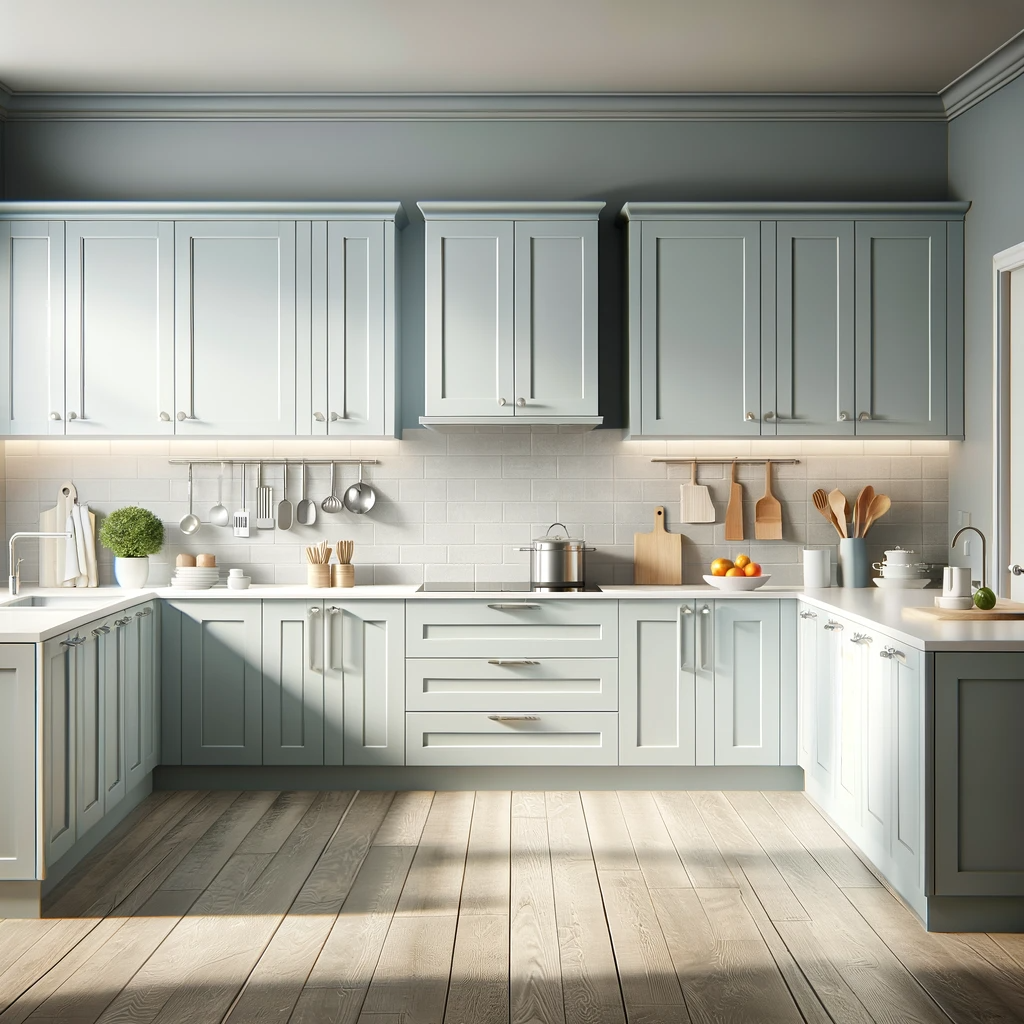 For a soft and calming ambiance, pairing gray walls with pale blue kitchen cabinets is an excellent choice. The combination of gray and pale blue evokes a coastal or beachy feel, making your kitchen a serene and tranquil retreat. This combination is ideal for a relaxed, cottage-style kitchen.
Furnishing Tips
Maintain a cohesive color palette throughout the kitchen to ensure a balanced and harmonious look. For a dining area within the kitchen, opt for a dining table and chairs that match the pale blue or grey color scheme. A wooden table can add warmth and contrast.
Introduce accent colors through decor items like dishes, pots, pans, or small kitchen appliances. Colors like soft coral, mint green, or pale yellow can add a pop of vibrancy.
3. Cappuccino
For a bold look, you can opt for dark gray or cappuccino cabinets against light gray walls. The varying shades of cappuccino create a seamless and sophisticated appearance, allowing other design elements to take center stage, such as colorful accents or unique lighting fixtures. This combination is especially suitable for modern and minimalist kitchens.
Furnishing Tips
Select a backsplash that harmonizes with the color scheme. Subway tiles in a neutral tone, glass mosaics, or even a plain quartz slab with both cappuccino and grey accents can provide a cohesive look.
Use greige, beige, and grey textiles, such as curtains, tablecloths, and seat cushions, to maintain a harmonious color palette. These textiles can help soften the overall look.
2. Greige
To infuse a touch of rustic charm and warmth into your kitchen, consider greige cabinets in a variety of finishes. The greige earthy tones contrast beautifully with the cool gray walls, creating a balance between modern and traditional elements. Greige cabinets add a cozy, timeless appeal to the space.
Furnishing Tips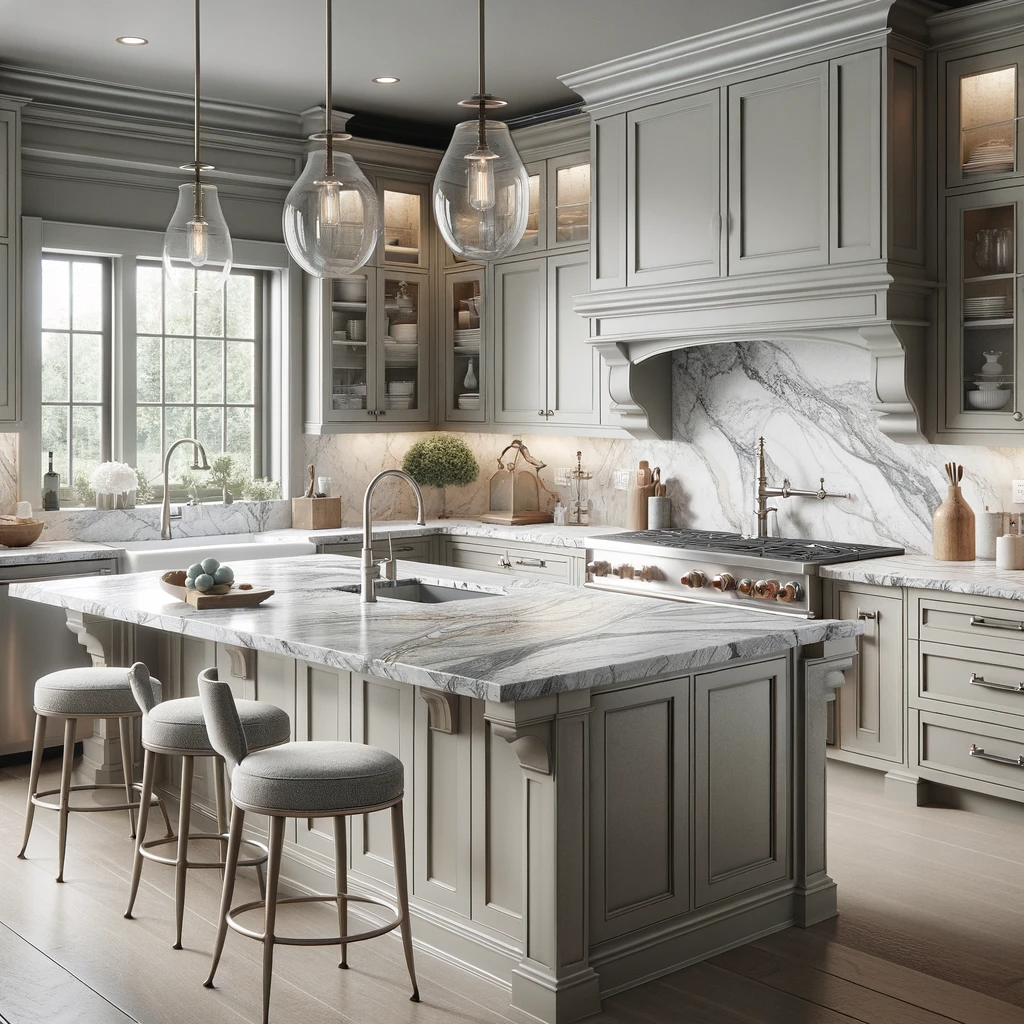 Opt for greige or light taupe-colored cabinets to set the tone for your kitchen. Greige cabinets add warmth and a touch of earthiness to the space. This color works well with various decor styles, from contemporary to traditional.
Granite, marble, or quartz countertops in soft, neutral tones can enhance the greige and grey color scheme. For the backsplash, consider tiles that incorporate both grey and greige hues to tie the colors together.
Open shelves or glass-front cabinets can break up the greige cabinetry and allow you to display colorful dishes, glassware, or decorative items that add a pop of color and personality to the space.
1. White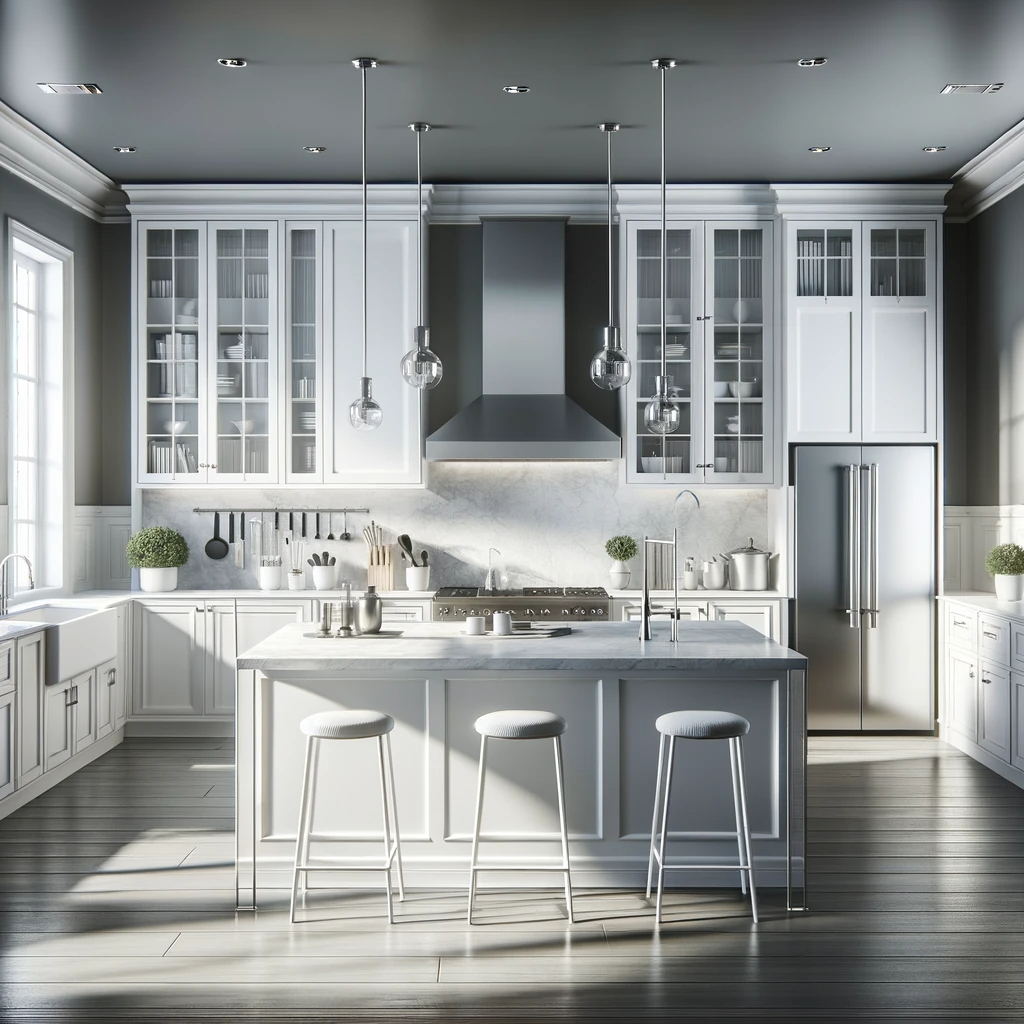 The timeless combination of gray walls and white kitchen cabinets never goes out of style. White cabinets against a gray backdrop create a clean and crisp look that can work in any kitchen style, from traditional to modern. This pairing also makes your kitchen feel brighter and more spacious, making it a perfect choice for smaller kitchens.
Furnishing Tips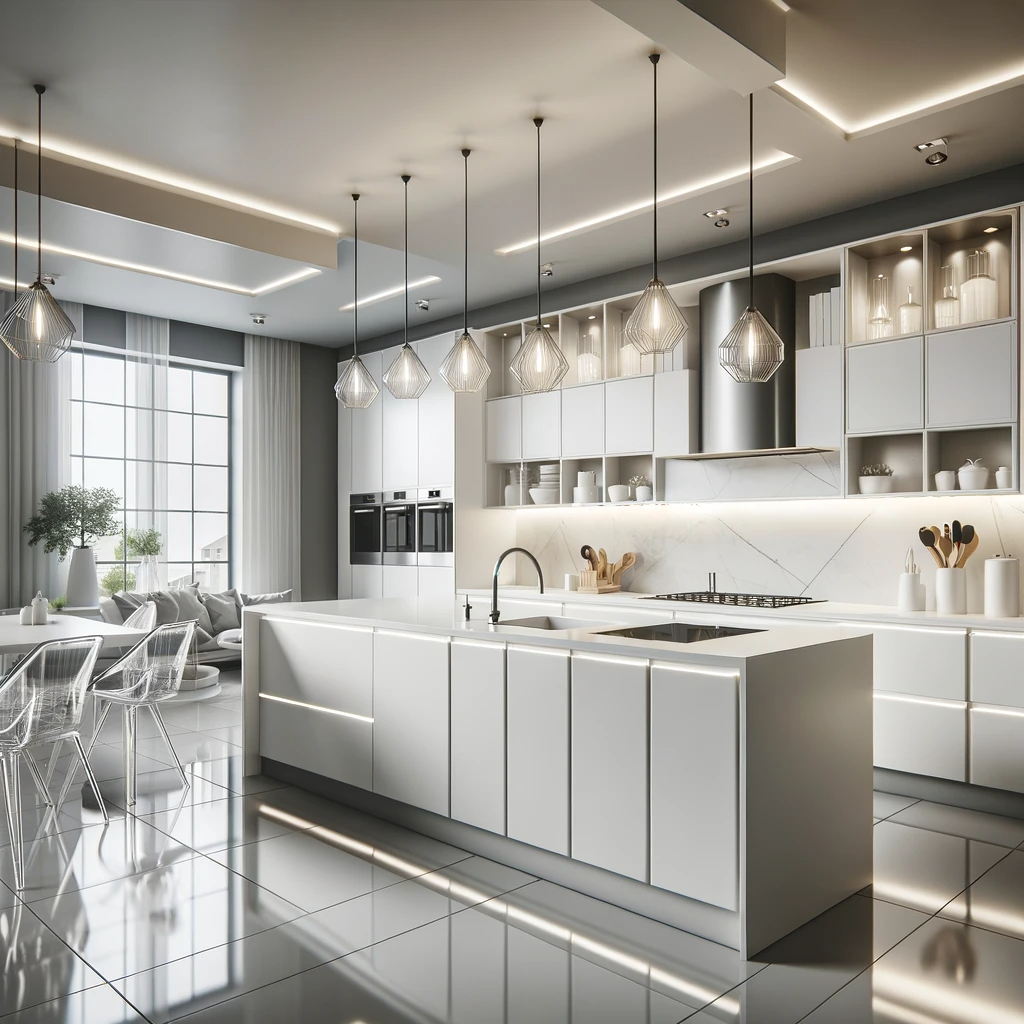 When selecting a grey color for your walls, consider the undertones. Warm grey tones with hints of beige or taupe can create a cozy and inviting atmosphere, while cool grey tones with blue undertones can give your kitchen a crisp and modern look.
Light or medium-toned wood floors or grey tiles can work well with this color scheme. They add warmth and texture while complementing the grey walls and white cabinetry.
Since white can show dirt and stains easily, be mindful of keeping your white kitchen clean and well-maintained to maintain its pristine appearance.