Our readers support us. This post may contain affiliate links. We earn from qualifying purchases. Learn More
The kitchen is undeniably one of the most important spaces in your home, and when it comes to design, selecting the right color scheme can be a daunting task. Gray floors have become a popular choice for modern kitchens, as they offer a versatile and neutral foundation for your space.
To make your kitchen truly stand out, it's essential to choose the perfect cabinet color to complement those gray floors.
With gray floors, kitchen cabinets in off-white introduce a bright, clean contrast. Charcoal adds depth and a cohesive flow, while teal brings a hint of color, ensuring a harmonious and modern aesthetic.
In this article, we'll explore some of the best kitchen cabinet colors to pair with gray floors, helping you create a harmonious and stylish kitchen that suits your taste.
10. Teal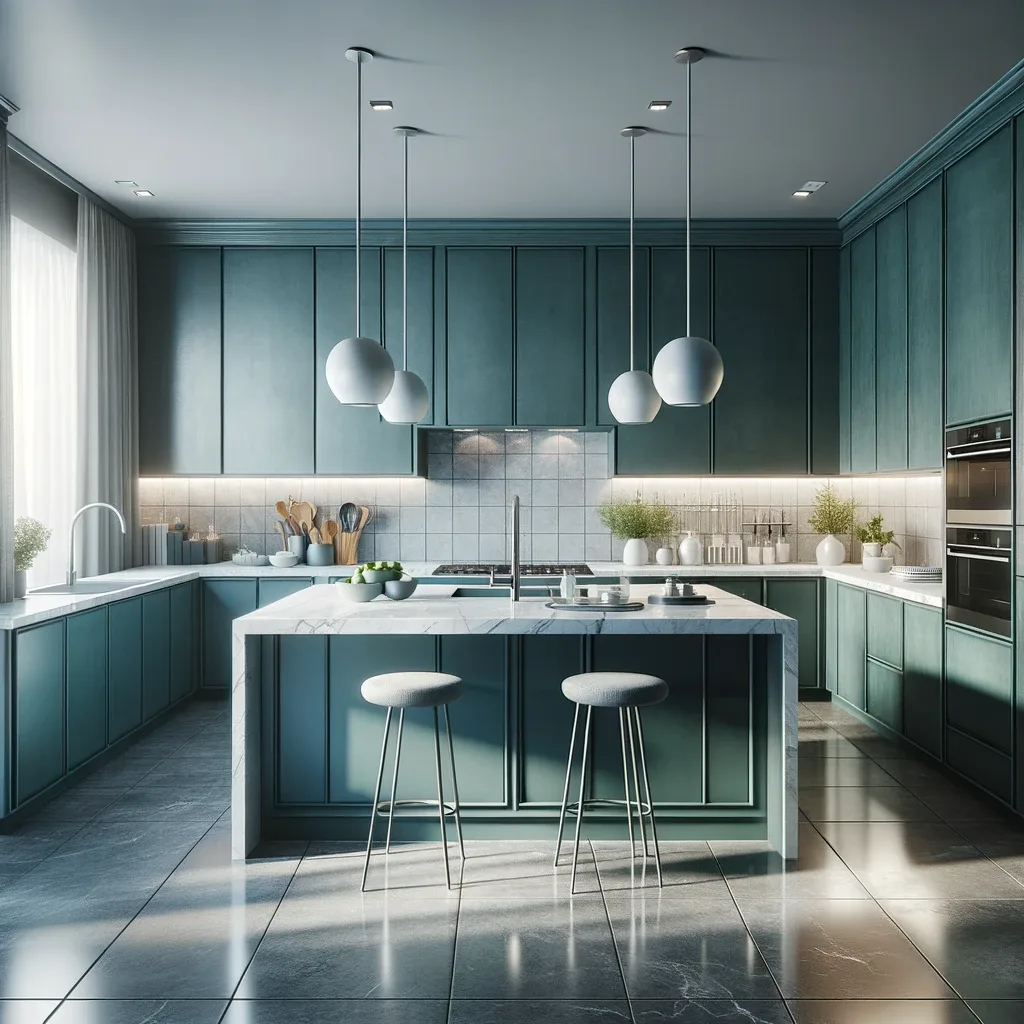 Designing a kitchen with teal cabinets and grey floors is a bold and stylish choice that can create a contemporary and eye-catching space. Teal is a vibrant and attention-grabbing color, while grey is more subdued.
Furnishing Tip: Incorporate Yellow, Green, Red, Wooden, Metallic Accent Colors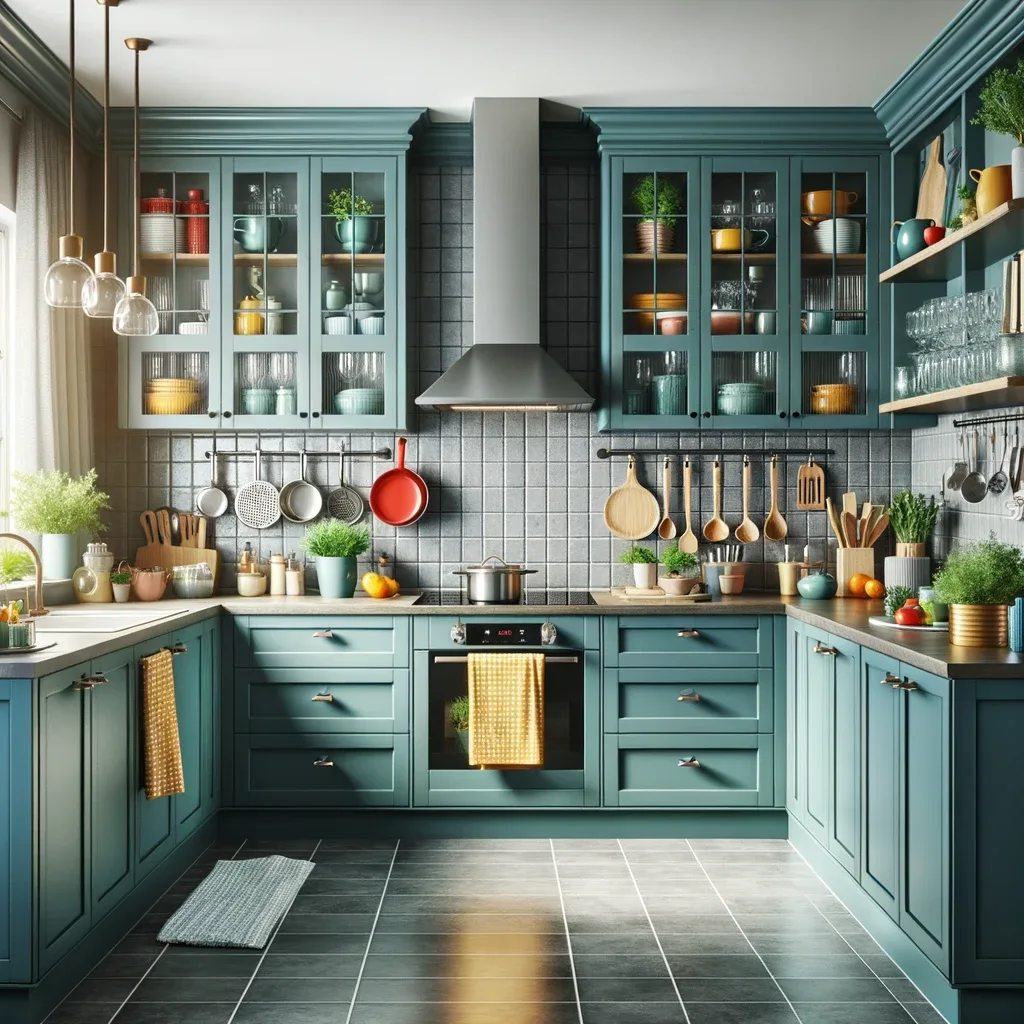 Teal and grey make an excellent base for incorporating accent colors. Use items such as kitchen utensils, dishware, or small appliances in colors like yellow, coral, or even metallics to add pops of interest to the space.
Try a patterned grey floor to add depth to the design. You can use a natural stone or marble to add some fanciness to the design.
9. Buttercream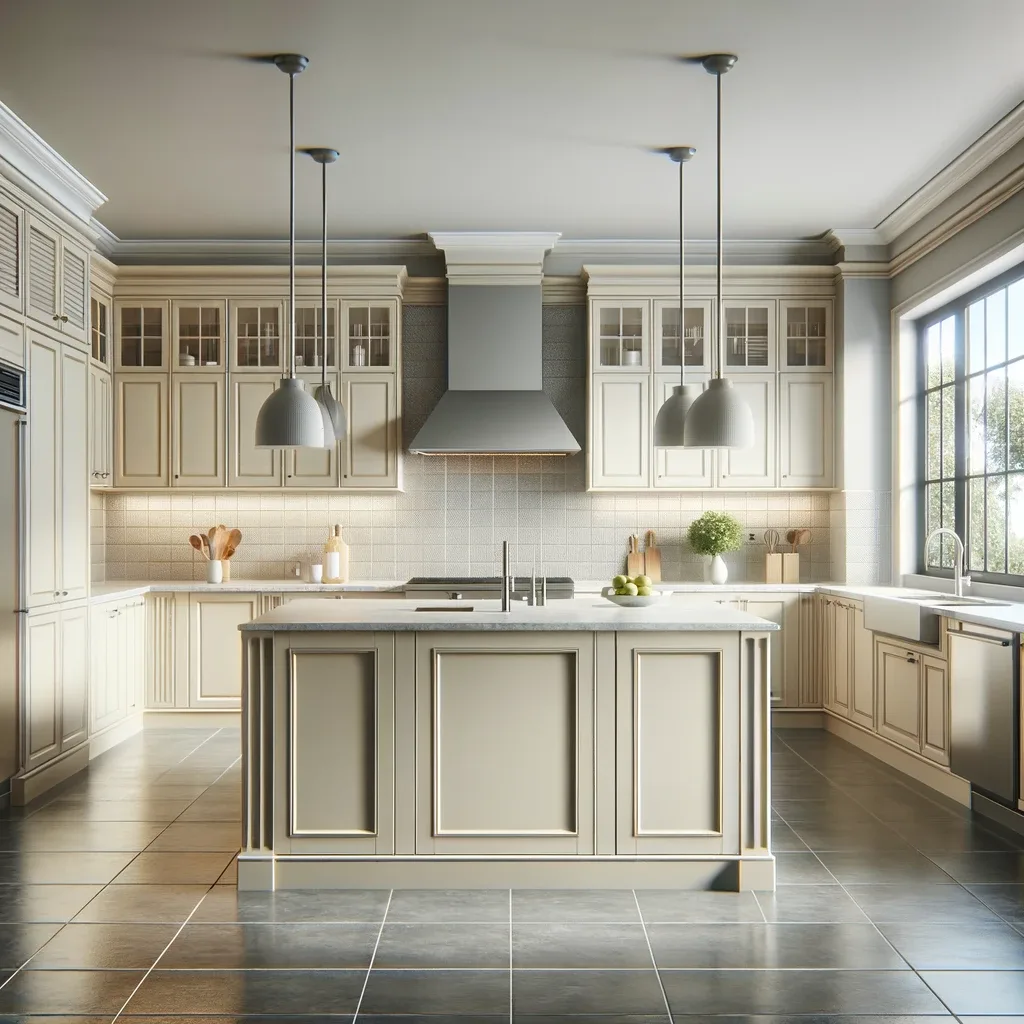 Soft yellow colors like buttercream can introduce a touch of playfulness and charm to your kitchen. This shade offers a subtle contrast against gray floors, creating a light and airy ambiance. This combination is ideal for kitchens with plenty of natural light.
Furnishing Tips: Add Potted Plants to Infuse the Space with Shades of Green
Soft natural shades like warm brown or sage green added through kitchen boards and potted plants can complement the buttercream and grey color scheme.
Maintain a cohesive look, consider countertops that complement both the buttercream cabinets and grey floors. Quartz or granite countertops in shades of charocal, black or grey work well to create a harmonious color palette.
8. Mustard
Designing a kitchen with mustard cabinets and grey floors is a bold and trendy choice. The warm, vibrant tones of mustard can create a lively and inviting atmosphere when paired with the cool, neutral backdrop of grey floors.
To make this color combination work beautifully, consider the following decor tips:
Furnishing Tips: Accessorise with Copper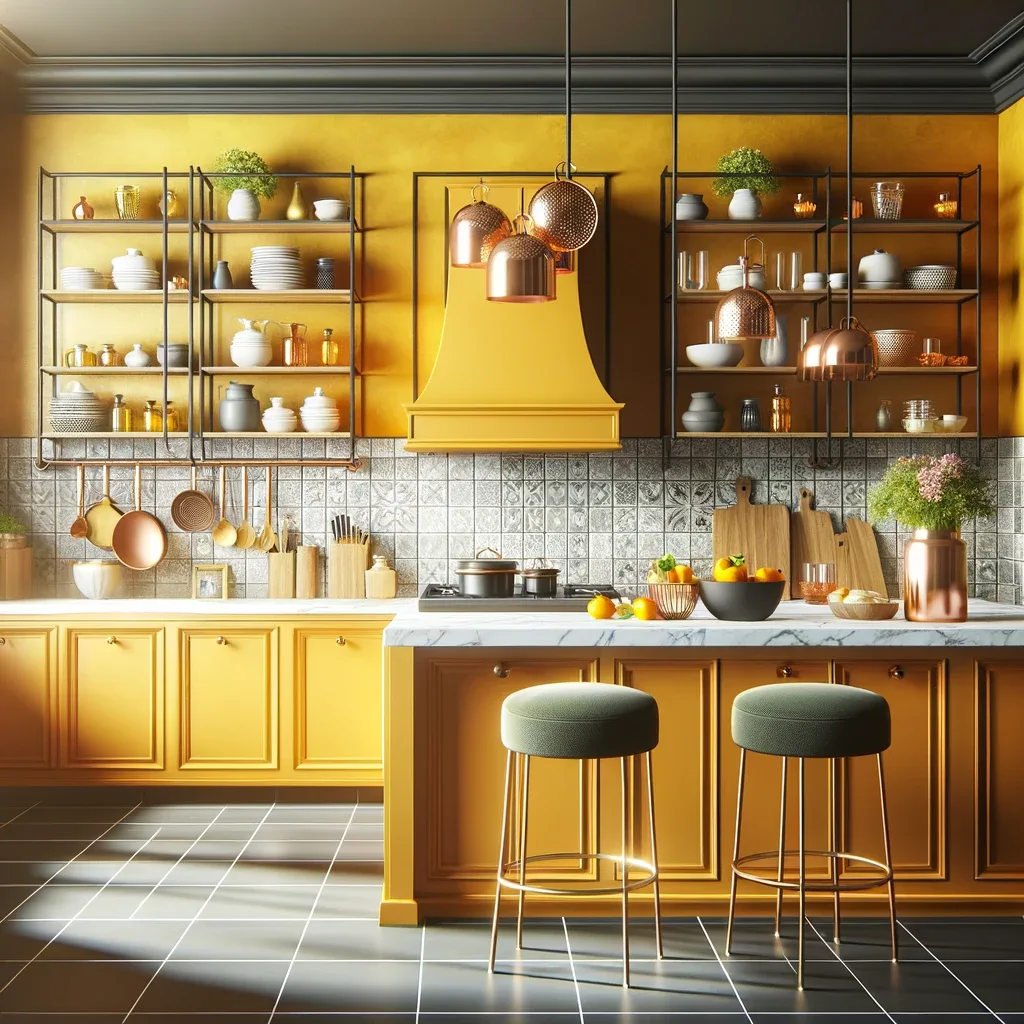 Balance is key when working with a strong color like mustard. Use mustard for the cabinets and consider grey for the floors, creating a visually pleasing contrast. Ensure that one color does not overpower the other.
Ample lighting is essential in any kitchen. Pendant lights, chandeliers, or under-cabinet lighting with metallic finishes (shiny copper or brushed nickel) can add a touch of elegance while ensuring adequate illumination.
Infuse your personality into the kitchen with artwork, decorative items, and unique dishes or glassware. These personal touches can make the space feel uniquely yours.
7. Coral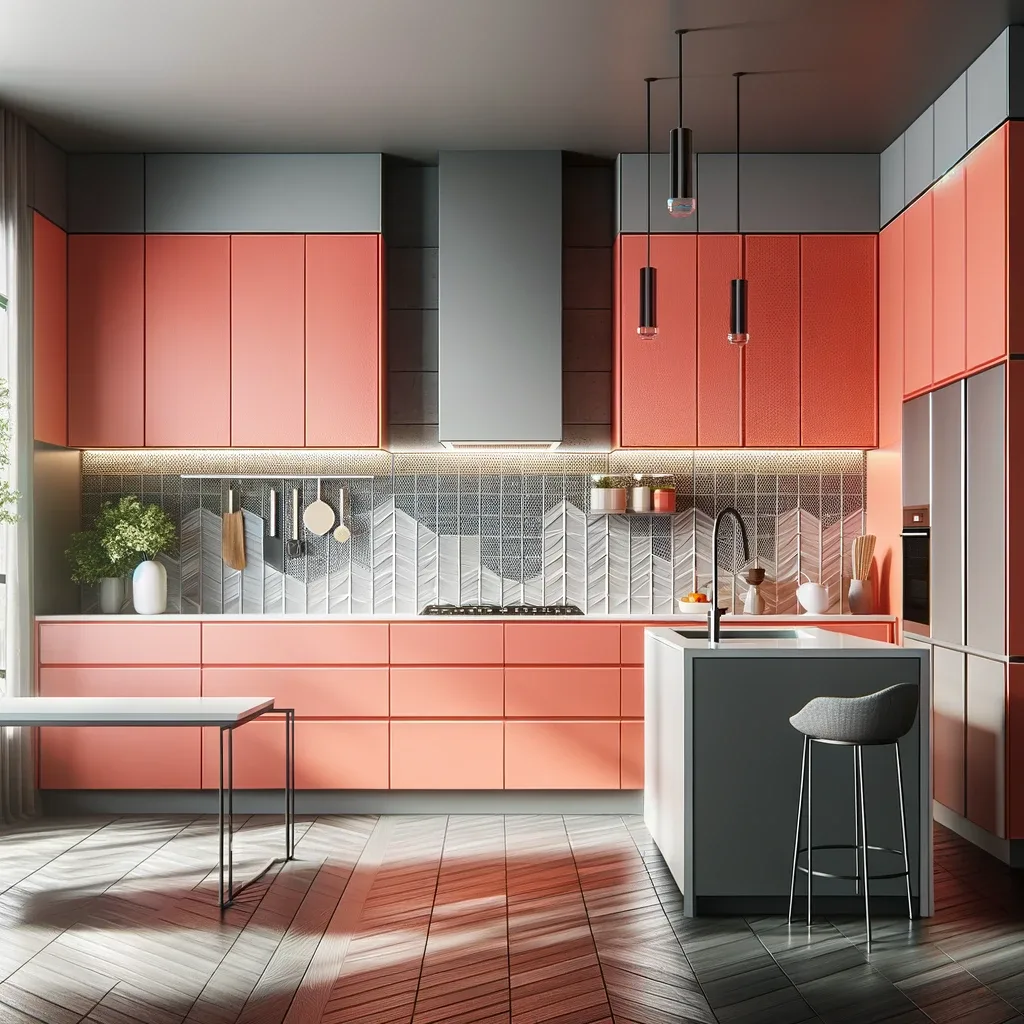 To infuse your kitchen with warmth and character, pair gray floors with coral kitchen cabinets.
Furnishing Tips: A Rich Palette with Grey, Off-White, Copper and Coral
Mix and match other colors into the design of your kitchen to add a richness to the design. Try copper accessories, an off-white backsplash and and a grey sink to create a link with the grey floors.
For a cohesive look, select countertops in neutral tones like white or light grey. You can also introduce coral as an accent on the kitchen island or in the form of a kitchen island countertop.
6. Yellow
Designing a kitchen with yellow elements and grey floors can create a cheerful and modern space. Yellow is a vibrant and energetic color that can be balanced with the cool, neutral tones of grey.
Here are some decor ideas for a yellow kitchen with grey floors:
Furnishing Tips: Pick a Heavy Textured Wood in Grey to Match with Yellow Cabinets
Choose a rich wood in grey tones and heavy texture to add charm to your floors and make the yellow cabinets more prominent.
Consider glass cabinets with black hardware to break up the cabinetry and add a touch of character. Display glassware, and decorative items on these shelves.
5. Green
For a more subdued yet refreshing look, green cabinets work wonderfully with gray floors.
This color combination evokes a sense of tranquility and nature, making your kitchen feel like an oasis of calm. Green cabinets can create a balanced and harmonious atmosphere in your culinary space.
Furnishing Tips: Spread the Green All Around the Space
Create a cohesive look and use the green color throughout the kitchen, not only on the cabinets but also on other elements such as accessories on walls or windows.
4. Dusty Blue
If you're looking to add a pop of color and sophistication to your kitchen, consider dusty blue cabinets. This deep, rich hue contrasts beautifully with gray floors, creating a striking and elegant look.
Furnishing Tips: Use Silver Tones to Add Extra Elegance
Create a modern kitchen with dusty blue cabinets and grey polished concrete floors. In addition, add lighting fixtures or stainless steel appliances with silver tones to make the space feel more elegant.
3. Charcoal
To create a dramatic and contemporary look, consider opting for charcoal gray cabinets.
This deep, moody shade adds a touch of elegance and creates a stunning contrast with gray floors. Charcoal gray cabinets can make a bold statement and give your kitchen a modern and luxurious edge.
Furnishing Tips: Play with Warm Lights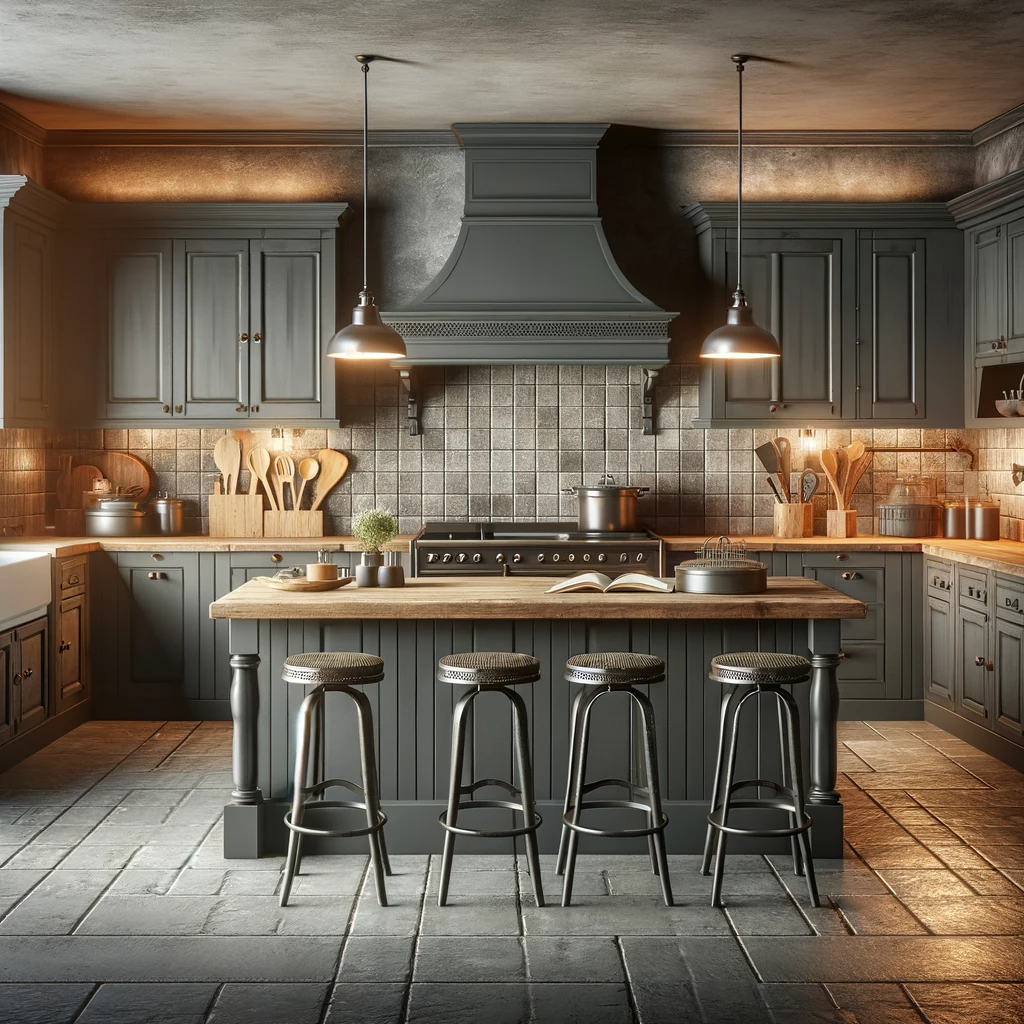 Introduce warm lighting in shades or orange and amber to create a contrasting, vibrant color and a sense of comfort and warmth in the kitchen. In addition, try large grey tiles to match the look of your charcoal cabinets.
2. Off White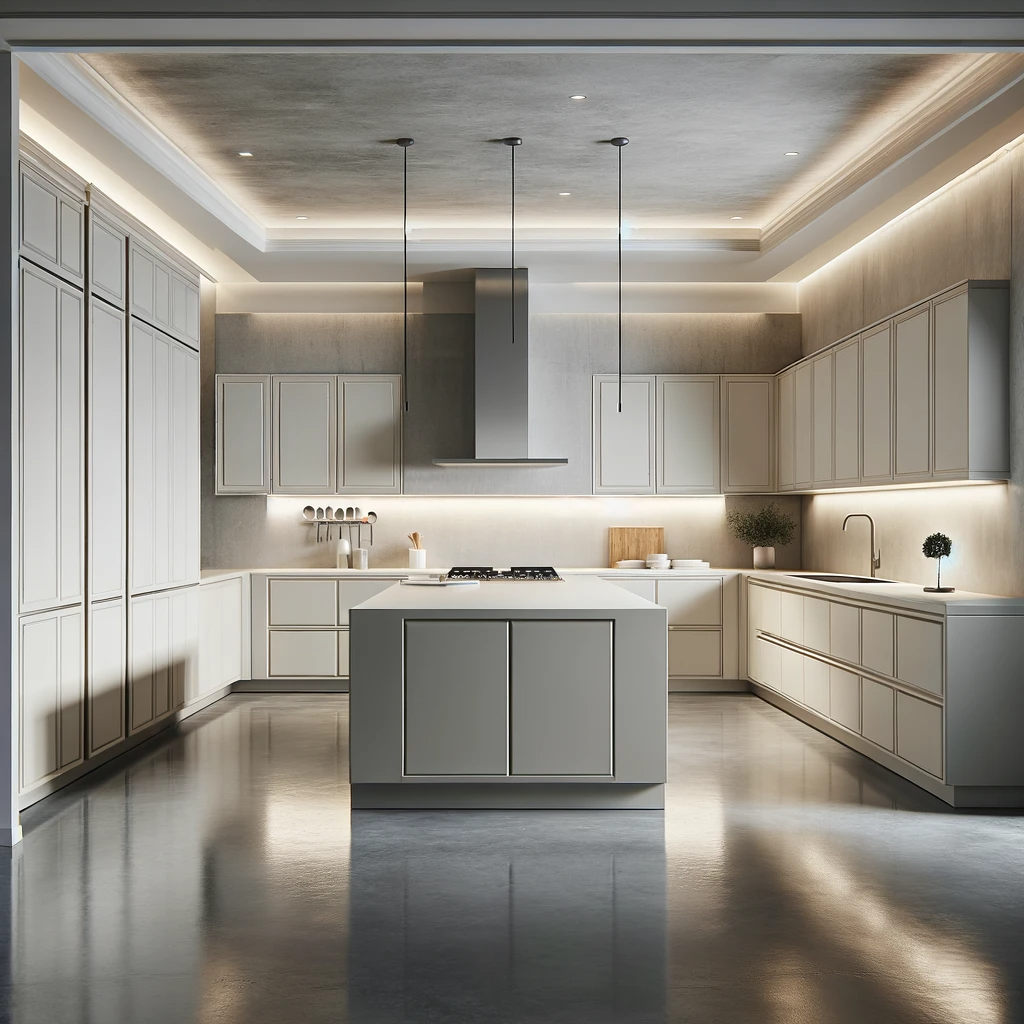 White kitchen cabinets are a timeless choice that pairs beautifully with gray floors. The crisp, clean look of white cabinets adds a sense of freshness and lightness to the kitchen, creating an inviting atmosphere.
This combination works well in both contemporary and traditional kitchen designs, offering a timeless and elegant appeal.
Furnishing Tips: Provide a Balanced Backdrop for an Off-White and Grey Color Scheme with Light Wood Countertops
Choose countertops in neutral shades like light wood, or beige. These colors provide a balanced backdrop for the off-white cabinets and maintain an elegant and cohesive look.
Use cabinet hardware in finishes like brushed nickel, chrome, or even antique brass for a touch of warmth. These finishes can add a stylish and timeless touch to your cabinets.
Install pendant lights or chandeliers with metallic finishes to add elegance and provide adequate lighting. You can choose fixtures that complement your cabinet hardware and appliances.
1. Grey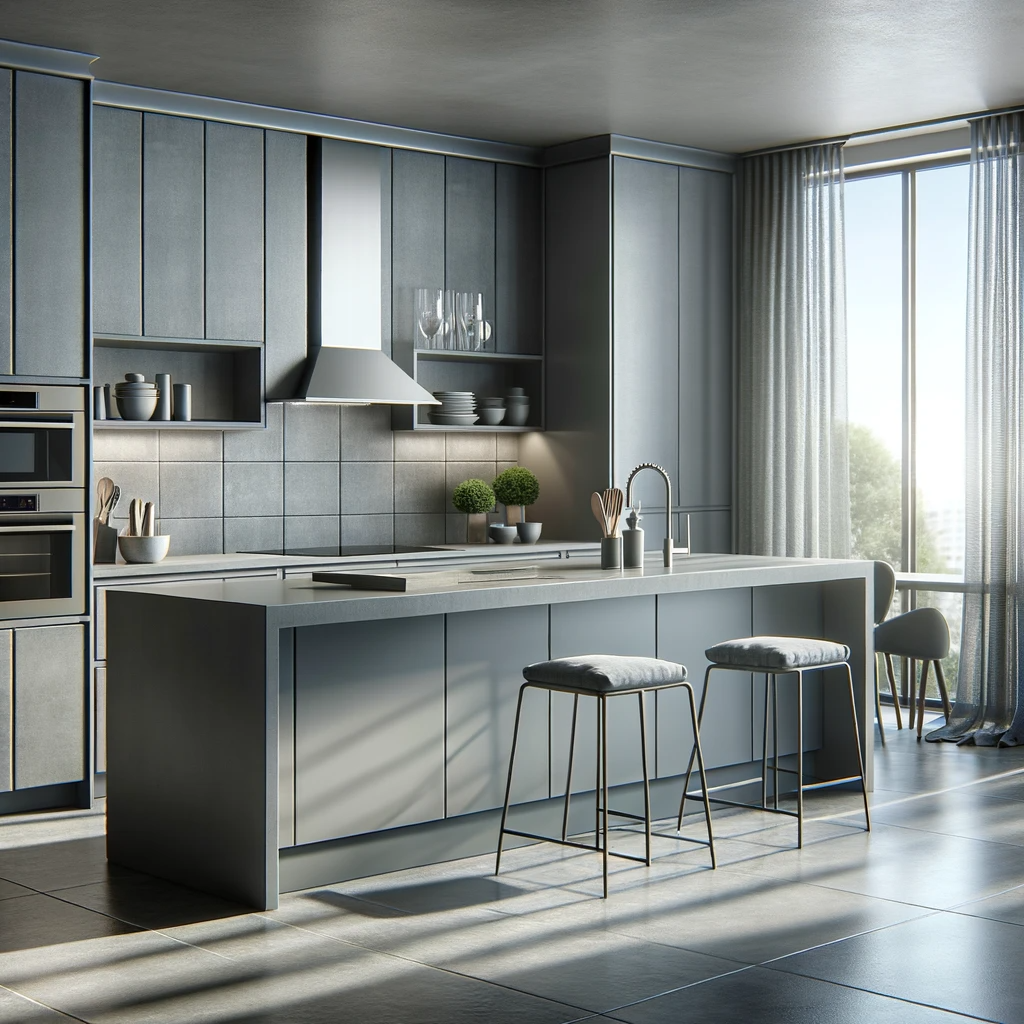 For a more monochromatic and cohesive look, consider matching your gray floors with cabinets in varying shades of gray.
You can choose lighter gray cabinets to create a subtle and seamless appearance or opt for deeper gray hues to add depth and contrast. This approach is especially popular in contemporary and minimalist kitchen designs.
Furnishing Tips: Add Brass or Bronze Kitchen Hardware for a Classic Look
Grey kitchens and grey floors can look monochromatic, but you can add subtle hints of color through brass or bronze accessories to break the grey tones.