Our readers support us. This post may contain affiliate links. We earn from qualifying purchases. Learn More
The kitchen is often the heart of the home, where culinary magic happens and family gathers. When it comes to kitchen design, one crucial aspect is the color scheme, as it sets the tone for the entire space.
If you have brown granite countertops, you're in luck because they are a versatile and elegant choice that can be beautifully paired with a variety of cabinet colors.
For a harmonious kitchen with brown granite countertops, cream cabinets introduce warmth and elegance. Grey offers a modern, neutral complement, while sage green brings in a subtle, earthy touch. These choices create a balanced ambiance, enhancing the richness of brown granite.
In this article, we will explore the best kitchen cabinet colors to complement brown granite countertops, creating a warm, inviting, and aesthetically pleasing culinary haven.
8. Cream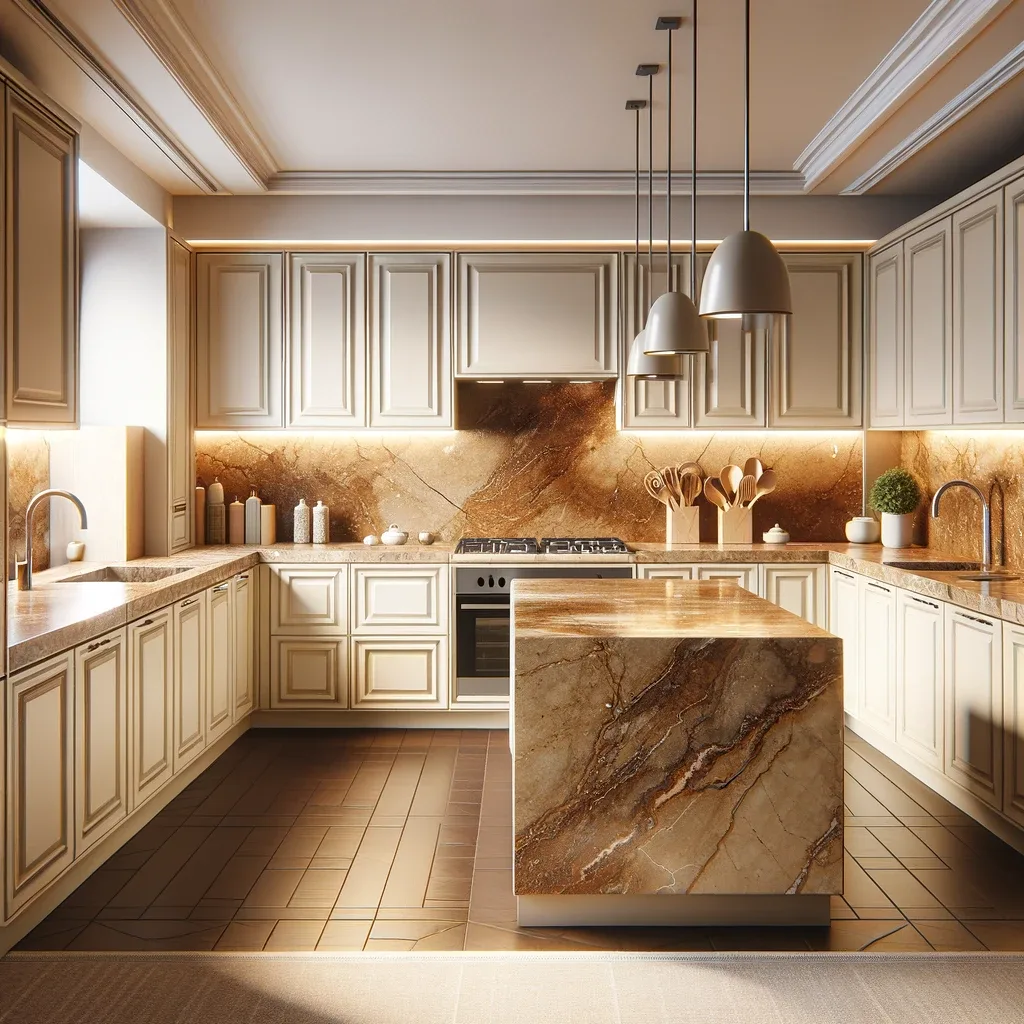 For a rich and sophisticated look, consider cream cabinets. The sweet hue color of cream cabinets complements the darker shades in brown granite countertops, creating a warm and luxurious atmosphere.
This pairing adds depth and character to the kitchen, making it an ideal choice for those who want a cozy, high-end feel.
Furnishing Tips: Create a Super Inspiring Design with Open Shelves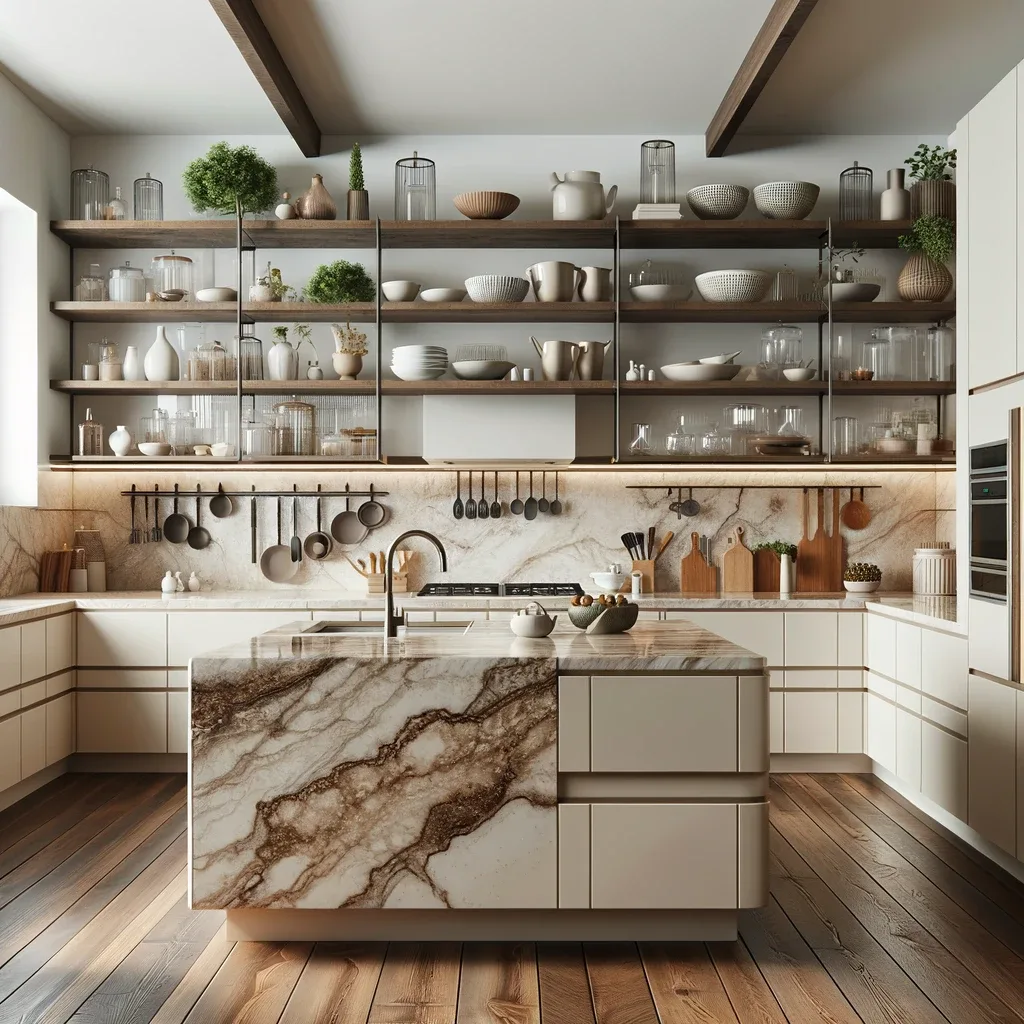 Choose cream-colored or off-white kitchen cabinets. You can opt for classic raised panel cabinets or modern flat-panel ones, depending on your overall style preference.

Consider open shelving with cream or white shelves to break up the cabinetry and add visual interest.
Since your countertops are brown granite, use them as the focal point. Make sure they are well-maintained and clean.
Consider under-cabinet lighting to highlight the beauty of the granite.
7. Sage Green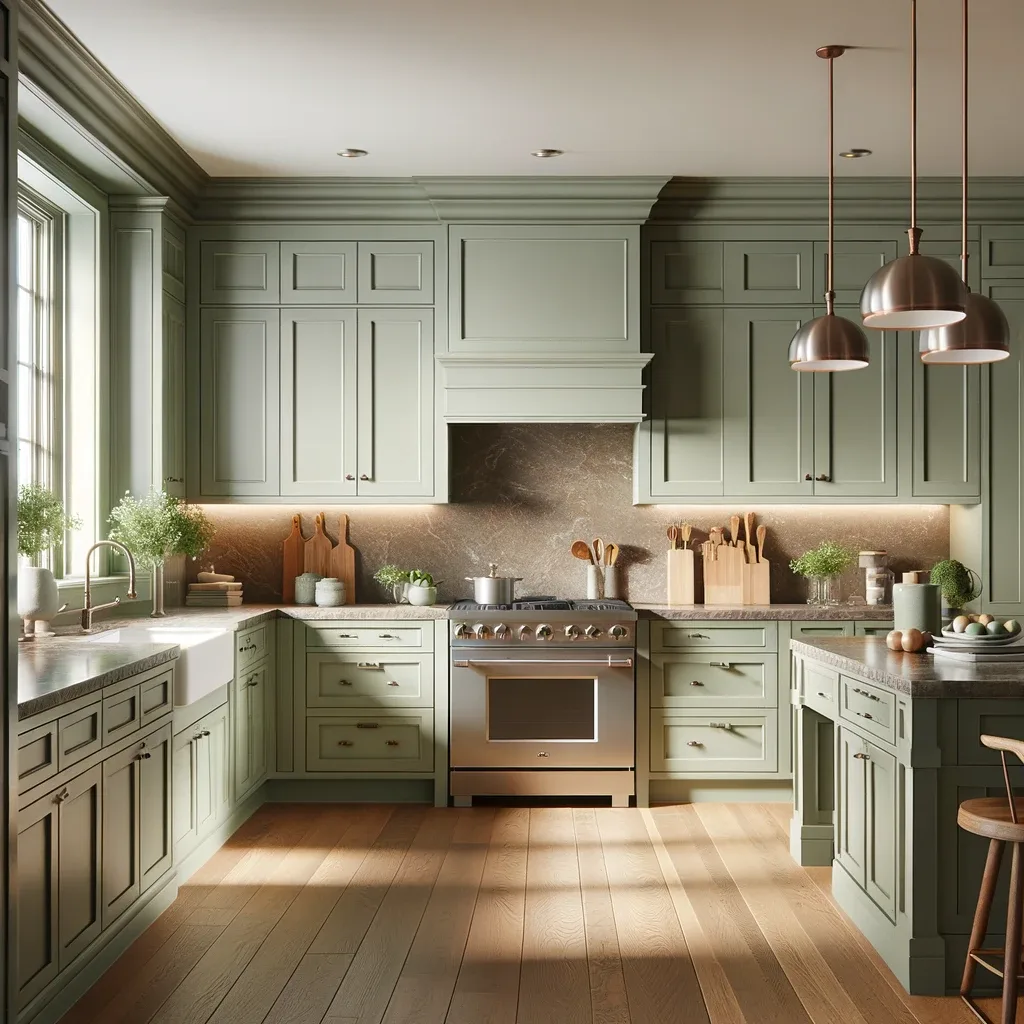 For a unique and refreshing look, consider sage green cabinets. This muted green color adds a touch of nature to the kitchen, creating a sense of tranquillity and freshness.
It complements the earthy tones of brown granite while adding a hint of personality and character to your space.
Furnishing Tips: Intensify the Inspiration from Nature with Potted Plants Over the Countertops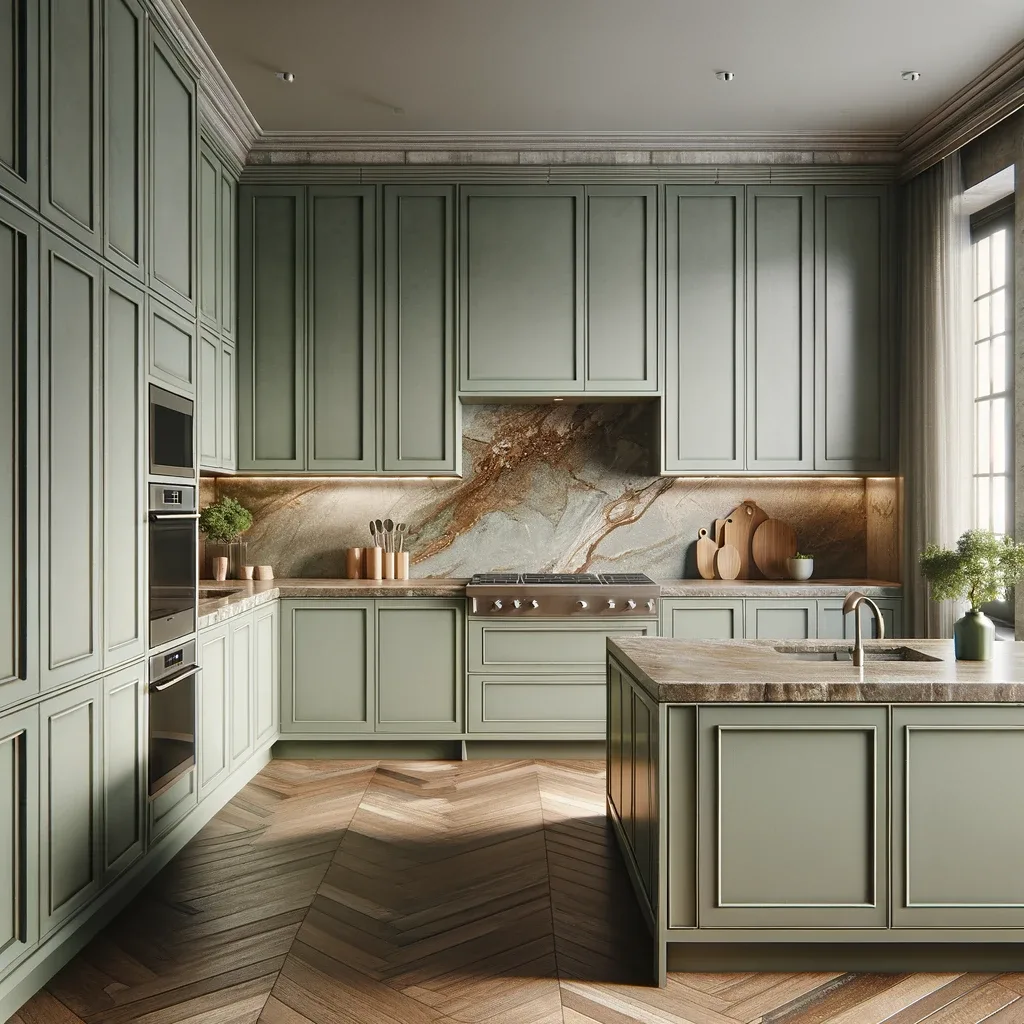 Choose cabinet hardware that complements the overall style. You can go with brushed nickel, oil-rubbed bronze, or even sage green cabinet pulls.
Add depth and warmth with brown and green accents like vases, decorative pillows, dishware, and small kitchen appliances.
Install pendant lights over the island or dining area. Choose fixtures that match the cabinet hardware or have a touch of brown or green in them.
6. Dusty Blue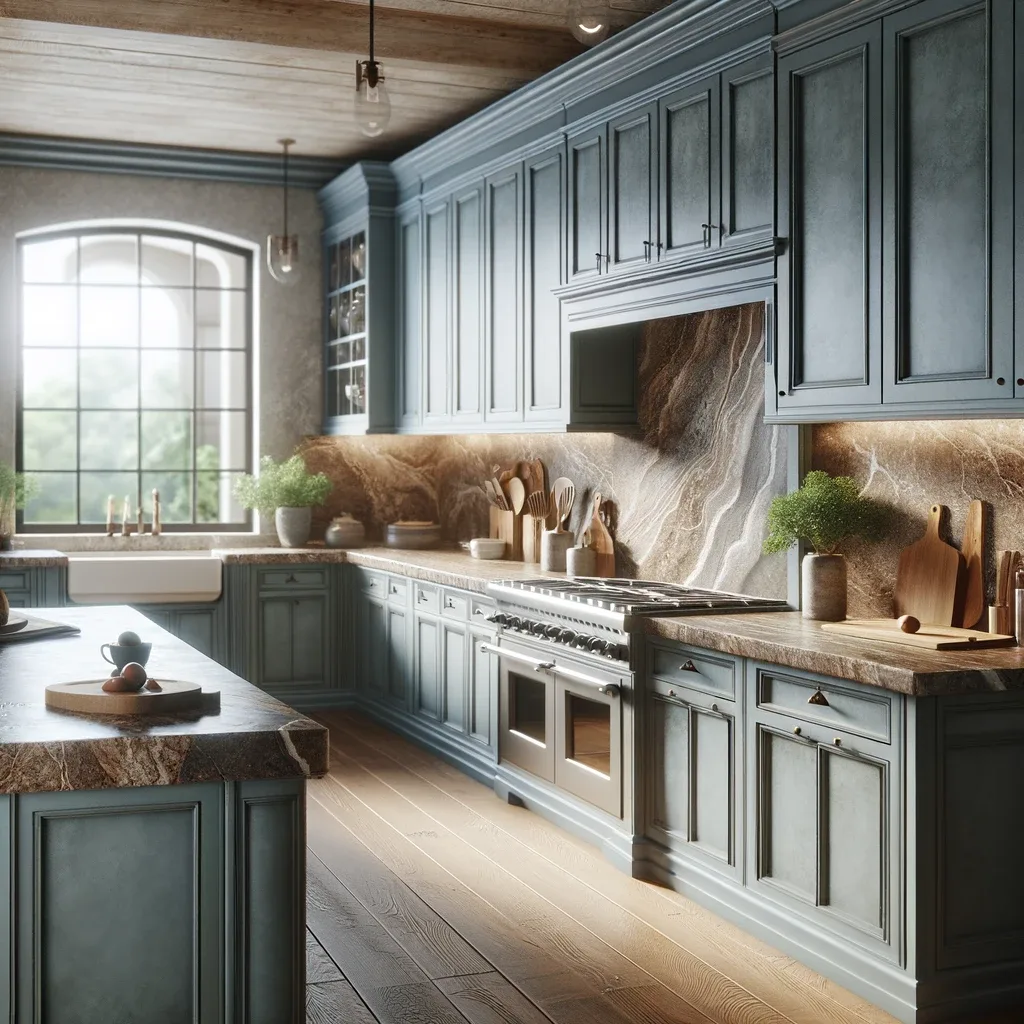 Decorating a kitchen with dusty blue walls and brown granite countertops can create a lovely, soothing space with a touch of elegance.
Furnishing Tips: Create a Charming Industrial Look with White Subway Tiles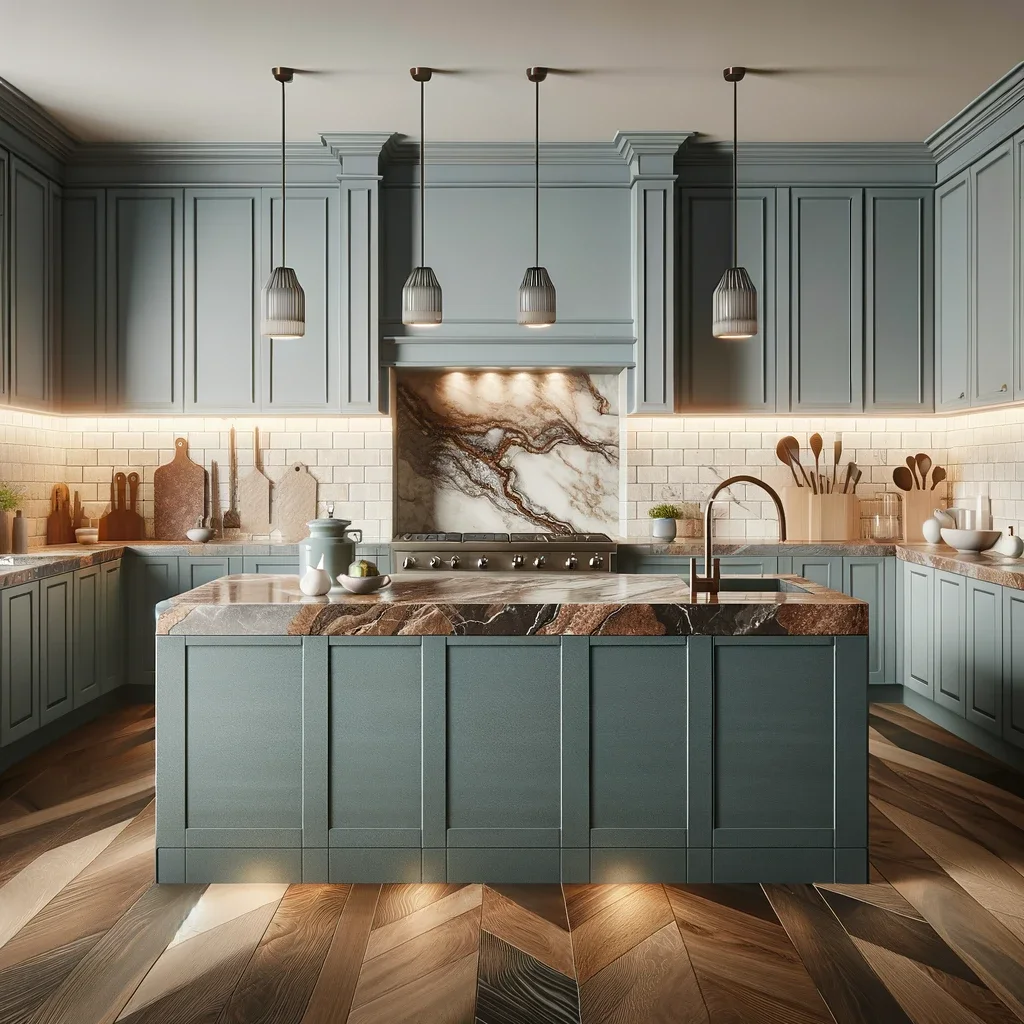 Select a backsplash that bridges the blue walls and brown countertops.
Options like beige or cream subway tiles, mosaic patterns with brown accents, or even blue and brown glass tiles can complement the color scheme.
Consider a neutral or light-colored floor, such as light wood, beige, or gray tiles, to balance the blue and brown elements in the kitchen.
5. Navy Blue
Navy blue is a bold and striking choice that can create a stunning contrast with brown granite countertops.
The deep blue hue adds drama and sophistication to the kitchen, making it a perfect choice for those looking to make a statement. The combination of blue and brown creates a sense of depth and style.
Furnishing Tips: Add Charm to Your Navy Blue Kitchen with Brown Hardwood Floors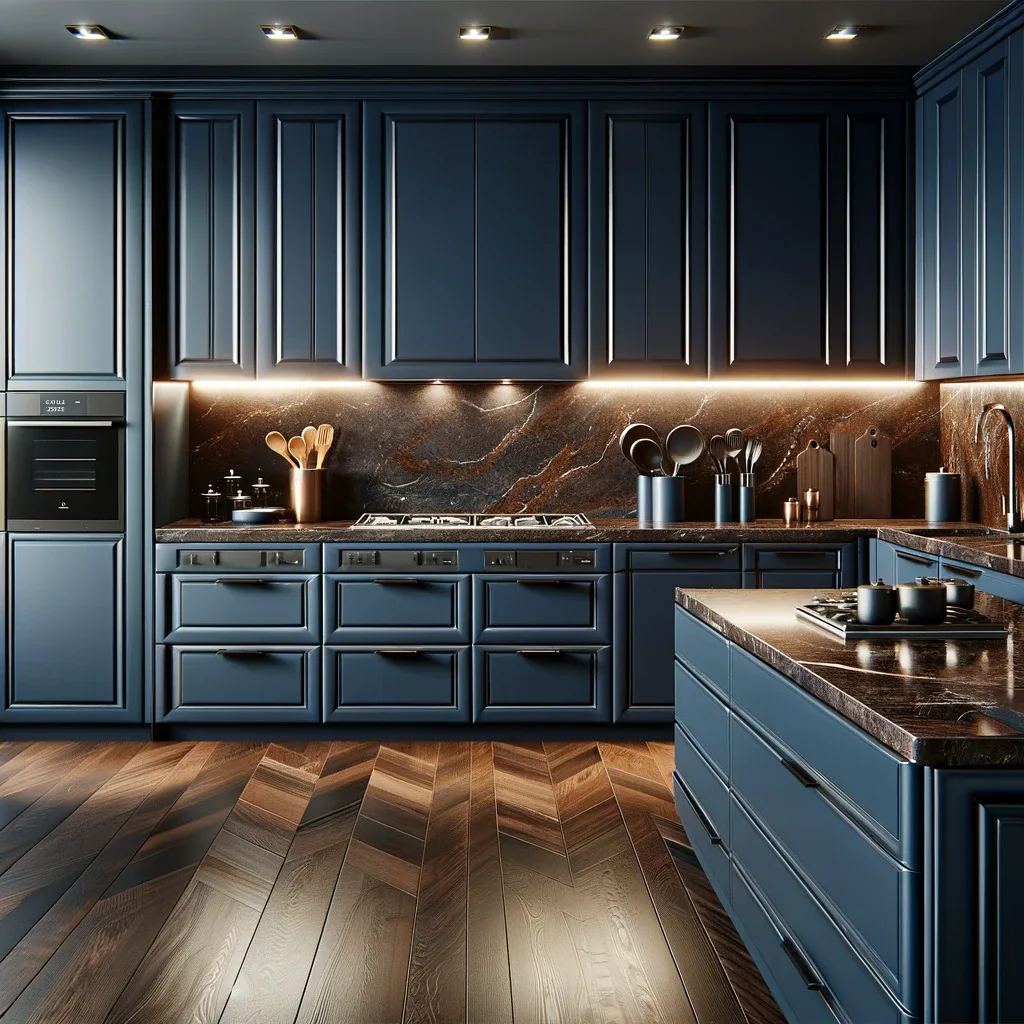 Match the navy blue and brown granite kitchen with warm hardwood floors to create a softer look.
Add open shelves and glass panels for the cabinets in the kitchen if your space is small. This move will make the kitchen feel bigger.
4. White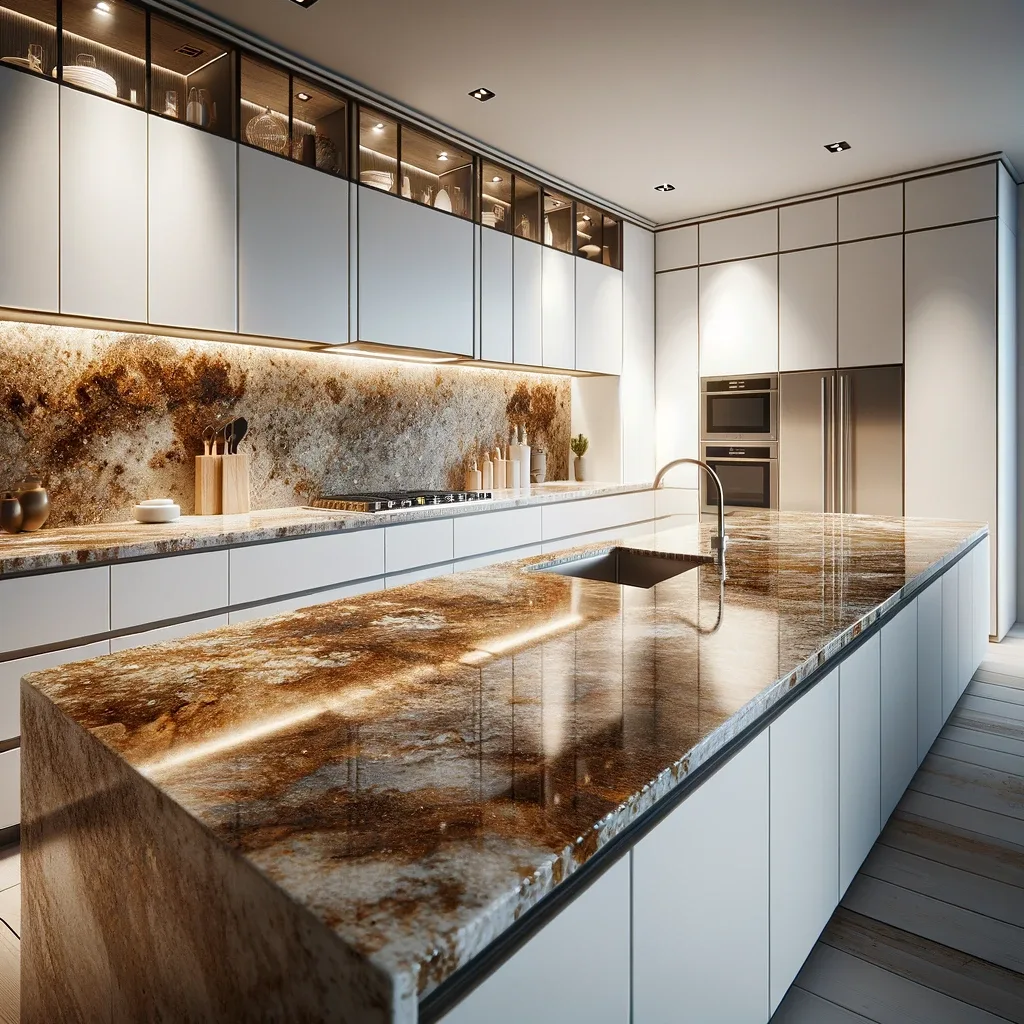 White cabinets are a timeless choice that pairs wonderfully with brown granite countertops. The crisp, clean look of white cabinets creates a striking contrast with the warm and earthy tones of brown granite.
This combination brings a sense of freshness to the kitchen while allowing the countertops to take center stage. It's a classic and elegant choice that works well in both traditional and modern kitchens.
Furnishing Tips: Make a Difference with an Off-White Shade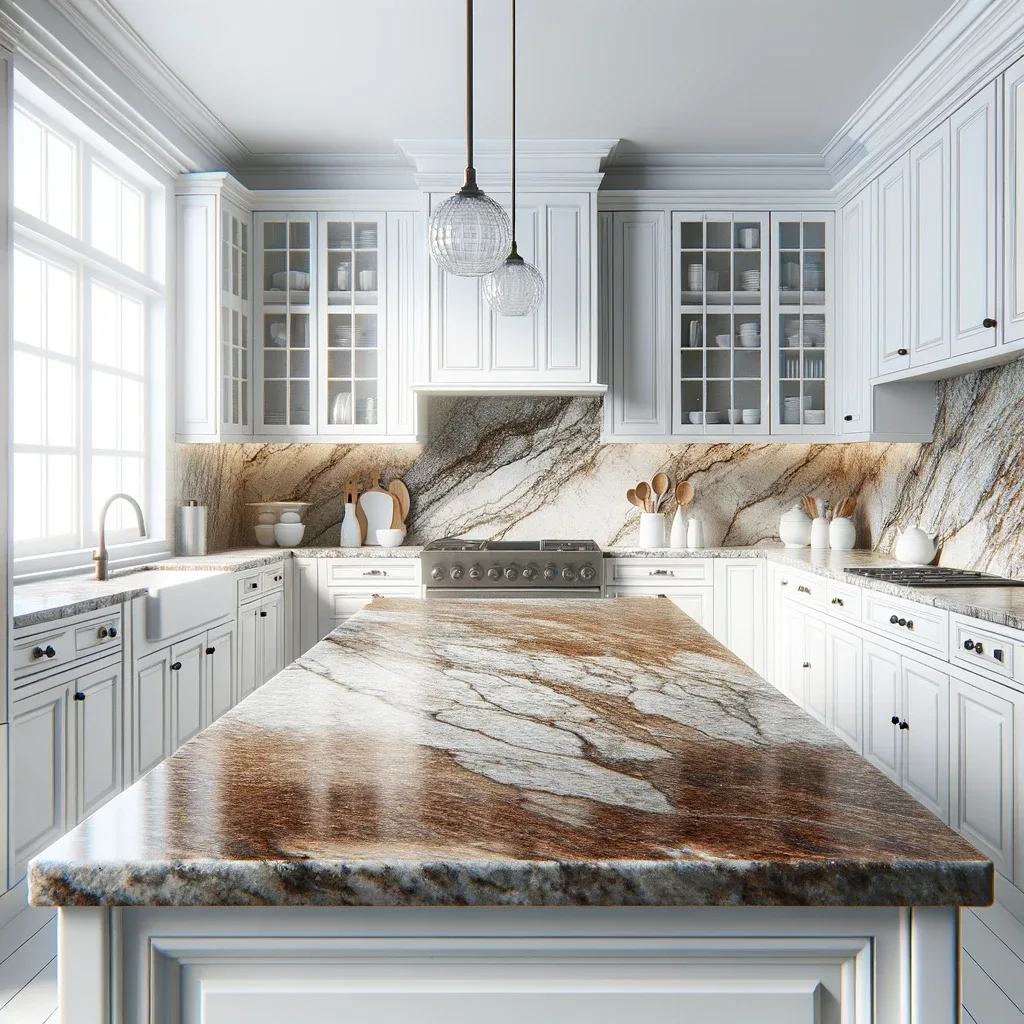 Choose white or off-white cabinets to maintain a clean, bright, and timeless aesthetic. You can opt for shaker-style cabinets, flat-panel cabinets, or any style that suits your taste.
Stainless steel appliances can add a modern touch and work well with this color scheme. They create a sleek contrast with the white cabinetry.
Personalize your space with artwork, plants, or wall storage accessories that bring in colors, patterns, and textures to complement the white and brown theme.
3. Grey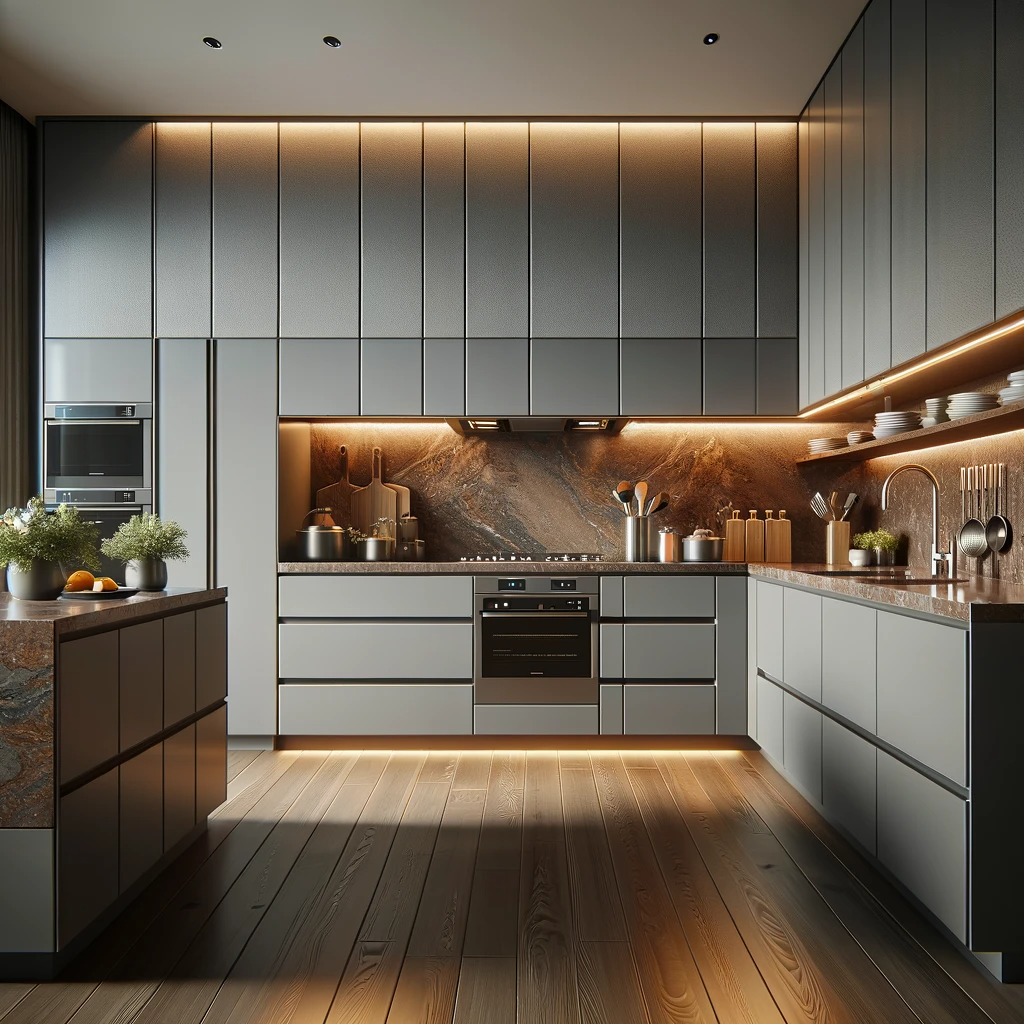 Gray is a versatile and neutral color that pairs beautifully with brown granite countertops.
Gray cabinets provide a subtle contrast, allowing the brown granite to shine while adding a touch of modern elegance to the kitchen.
The combination of gray and brown creates a balanced and harmonious design that can suit a variety of kitchen styles.
Furnishing Tips: Add Metallic Accents in Copper or Silver
You can opt for light grey, dark grey, or even a combination of both for a two-tone look.
Try a panel design for the kitchen cabinets to infuse the space with a cabin or farmhouse charm.
Add accessories or kitchen appliances and pots in copper or silver to make the space feel warmer and more rustic.
2. Dark Green
Designing a kitchen with dark green cabinets and brown granite countertops can create a sophisticated and earthy aesthetic.
Furnishing Tips: Match Your Farmhouse Kitchen with a White Subway Tile Backsplash
To add some contrast to the dark green and brown combination, consider a backsplash with light-colored or neutral tiles.
White or beige custom tiles, for example, can provide a striking contrast and brighten up the space.
Choose dinnerware that fits the color scheme. Earthy, stoneware dishes or green-colored plates can be a great addition to your kitchen.
Add decor elements or even faucets, pendants, and other items in brass or brushed gold to complement the green shade and offer a more luxurious tone to the kitchen.
1. Charcoal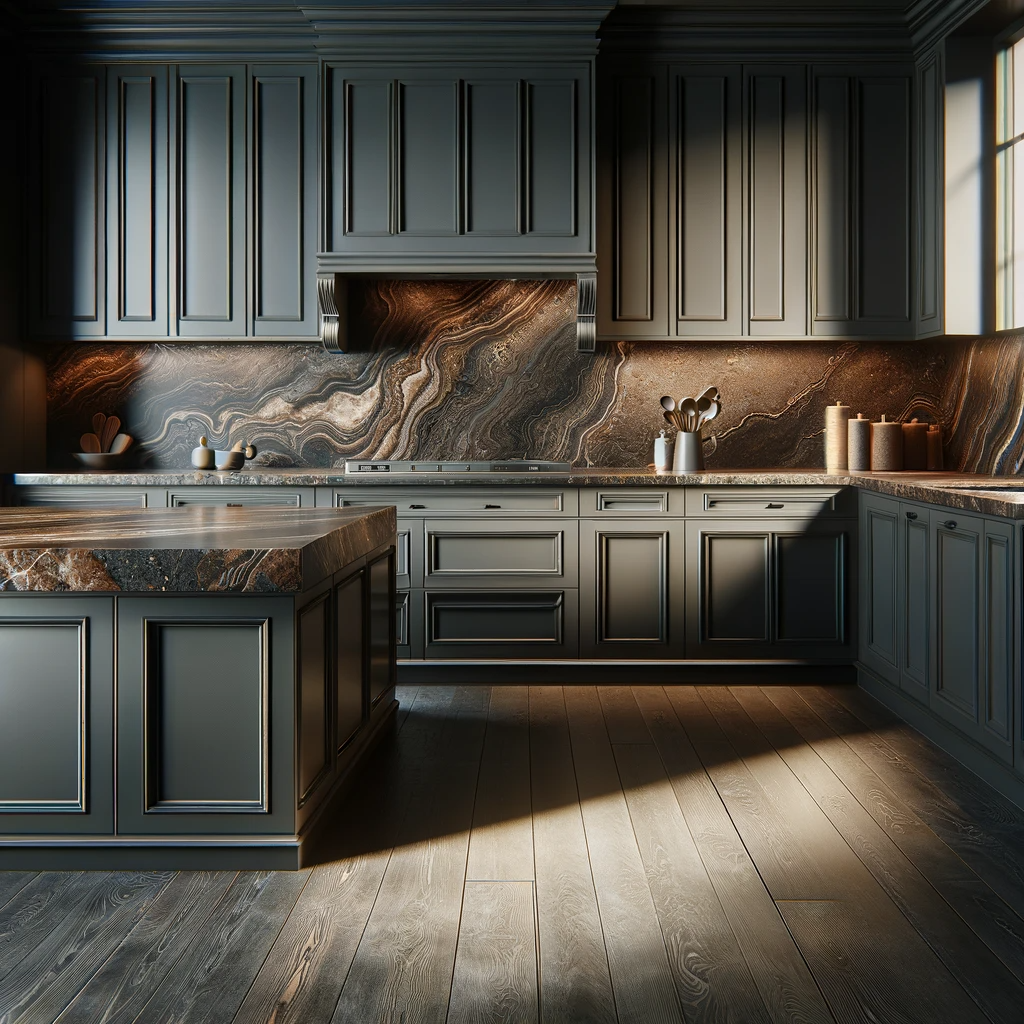 When designing a kitchen with charcoal cabinets and brown granite countertops, it's important to balance the dark and heavy elements with lighter and contrasting elements to create a visually appealing and well-balanced space.
Furnishing Tips: Add Charm with a Round Area Rug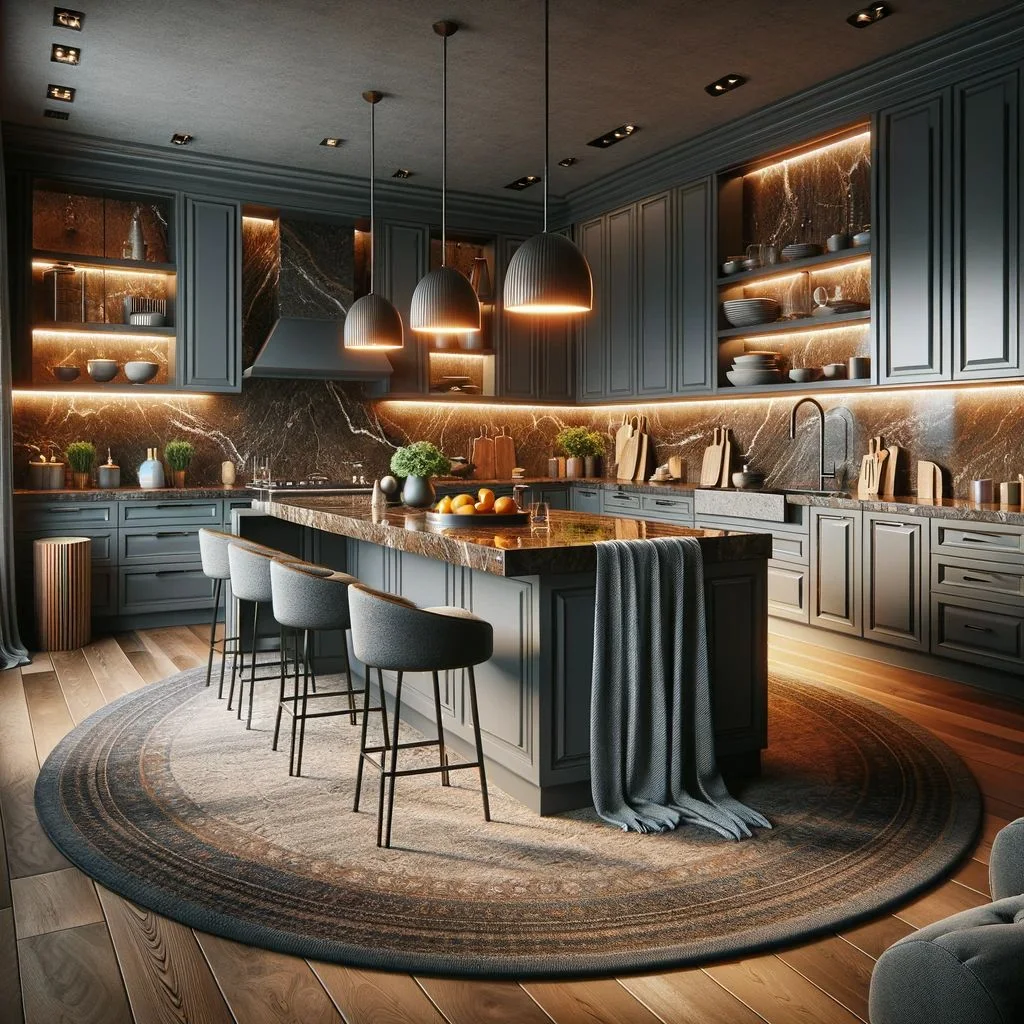 The lighting and the size of your kitchen can greatly influence the overall feel of the space. So make sure to add pendants especially if you have a kitchen island or place under cabinet lighting whenever possible.
Make sure not to overwhelm the space with charcoal. Keep it as an accent color and use it mainly on the kitchen island or a few small parts of the kitchen, while leaving the rest in a neutral color, to make the space feel bigger.
Introduce soft furnishings like area rugs and curtains that tie in with the color scheme. Earthy tones and patterns can complement the dark green and brown while adding warmth to the space.
Read more: 37 Quartz Countertop Ideas with Pictures