Our readers support us. This post may contain affiliate links. We earn from qualifying purchases. Learn More
When it comes to designing your dream kitchen, the combination of cabinet colors and countertop materials can make a significant impact on the overall aesthetics and functionality. One of the most striking and timeless combinations is pairing black granite countertops with the right cabinet colors.
Black granite provides a luxurious and elegant feel, and when paired with the perfect cabinet colors, it can truly transform your kitchen. For black granite countertops, ivory cabinets offer a timeless and elegant contrast. Grey complements the stone's depth while maintaining a modern aesthetic.
Lastly, rich espresso deepens the ambiance, creating a seamless blend of luxury and warmth. Each choice ensures a harmonious kitchen palette. In this article, we will explore the best kitchen cabinet colors that beautifully complement black granite countertops, creating a space that's both stylish and functional.
14. Ivory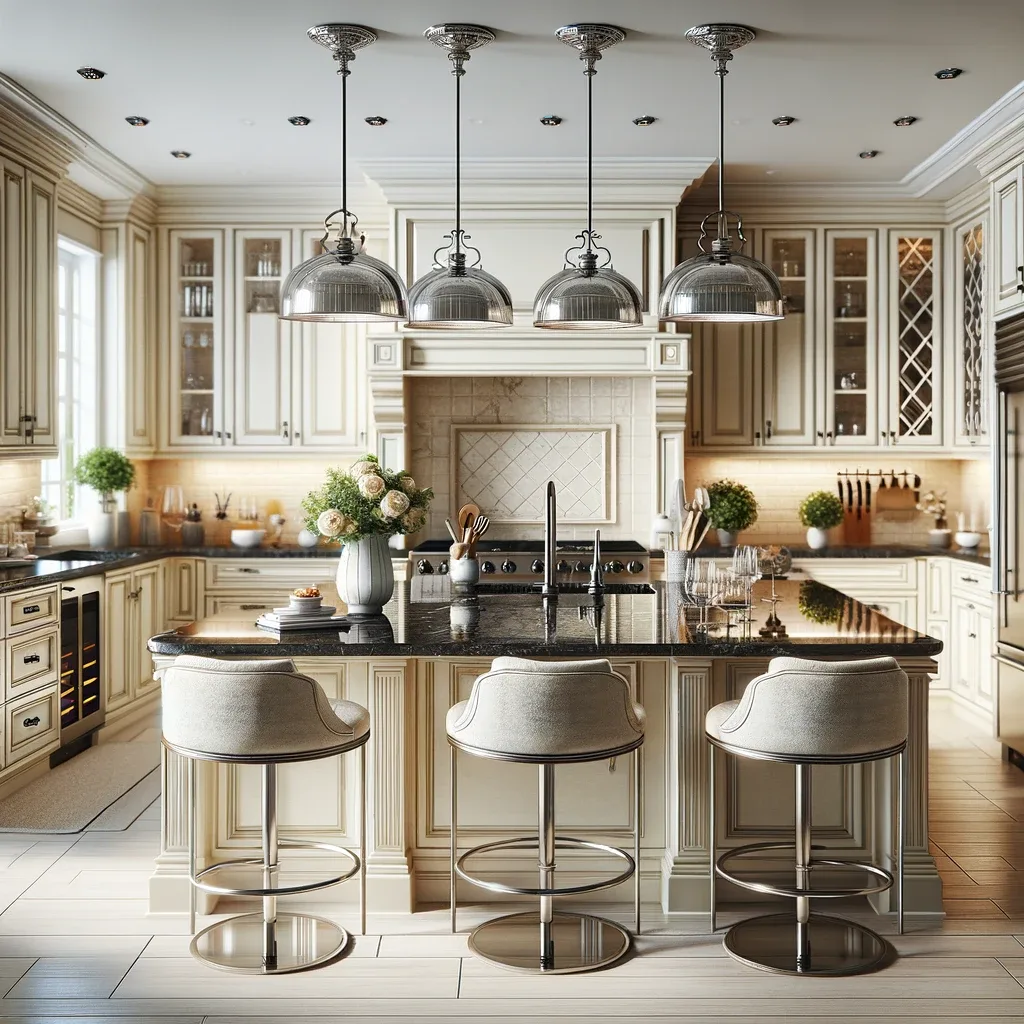 Ivory cabinets exude a sense of classic charm and warmth, while black granite countertops add a touch of modern sophistication. The blend of traditional and contemporary elements creates a timeless aesthetic. This combination is incredibly versatile and can be adapted to various kitchen styles, whether you prefer a traditional, transitional, or modern design.
Furnishing Tips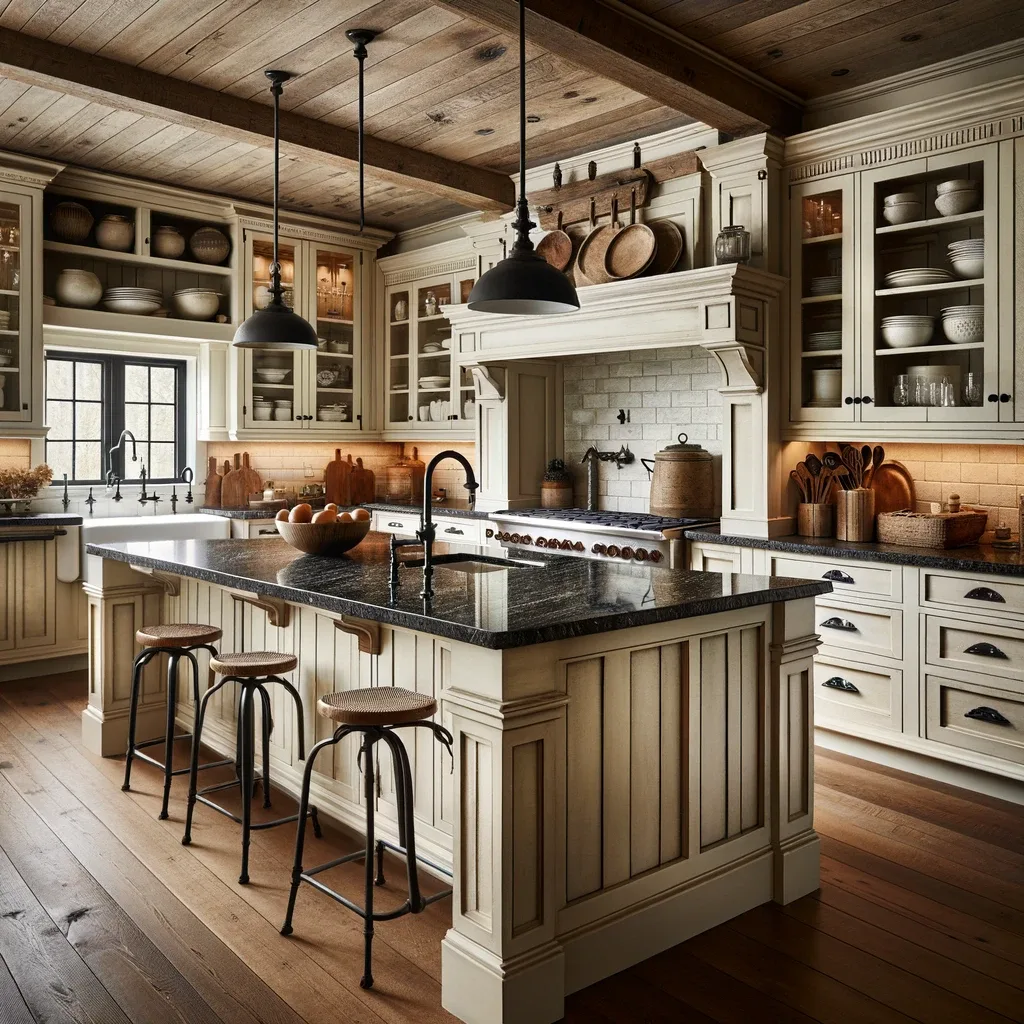 The flooring in your kitchen plays a vital role in the overall aesthetics. To complement the ivory cabinets and black granite countertops, opt for warm-toned wood floors or light-colored tiles.
These choices will harmonize with the color scheme and contribute to a balanced and inviting atmosphere. Add an area rug in earthy tones to make the floors more prominent. In addition, add depth to the design by using classic wallpaper on the wall, combined with framed artwork and brass hardware.
13. Beige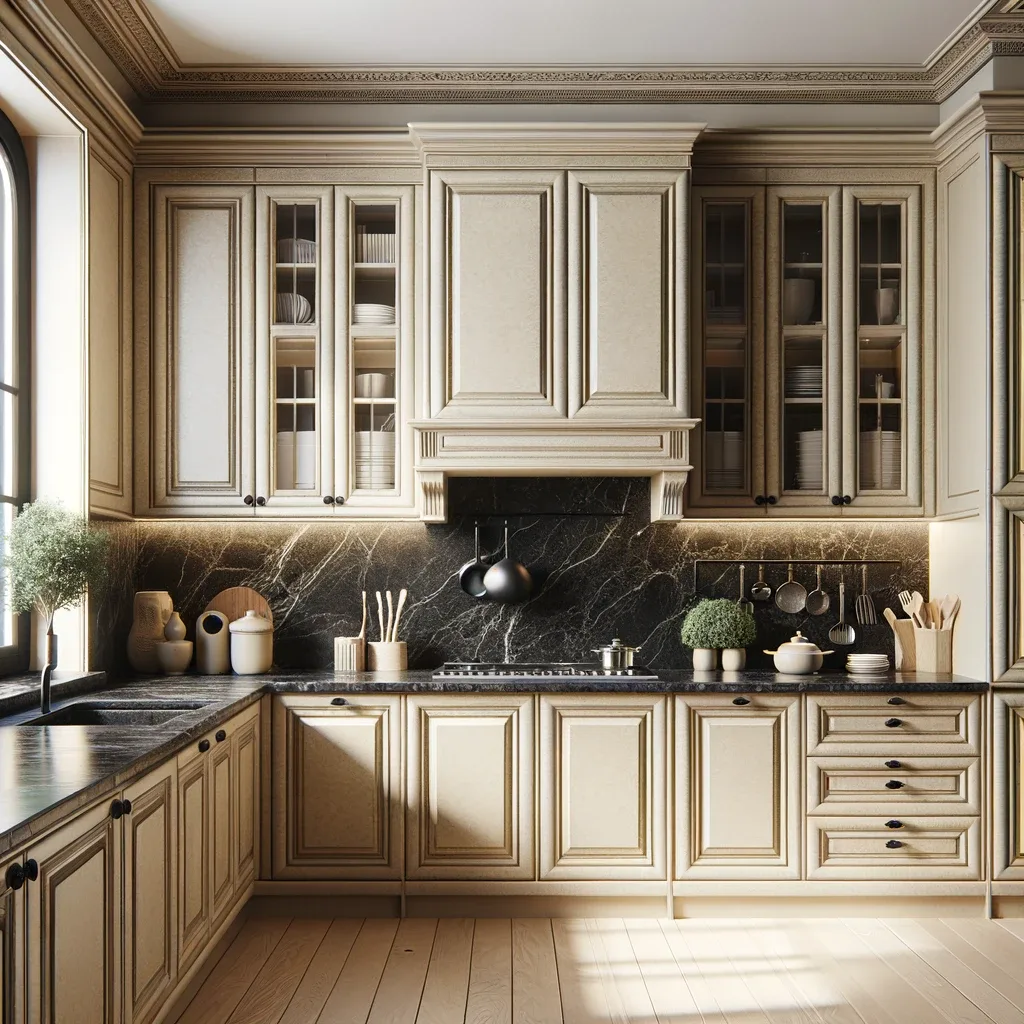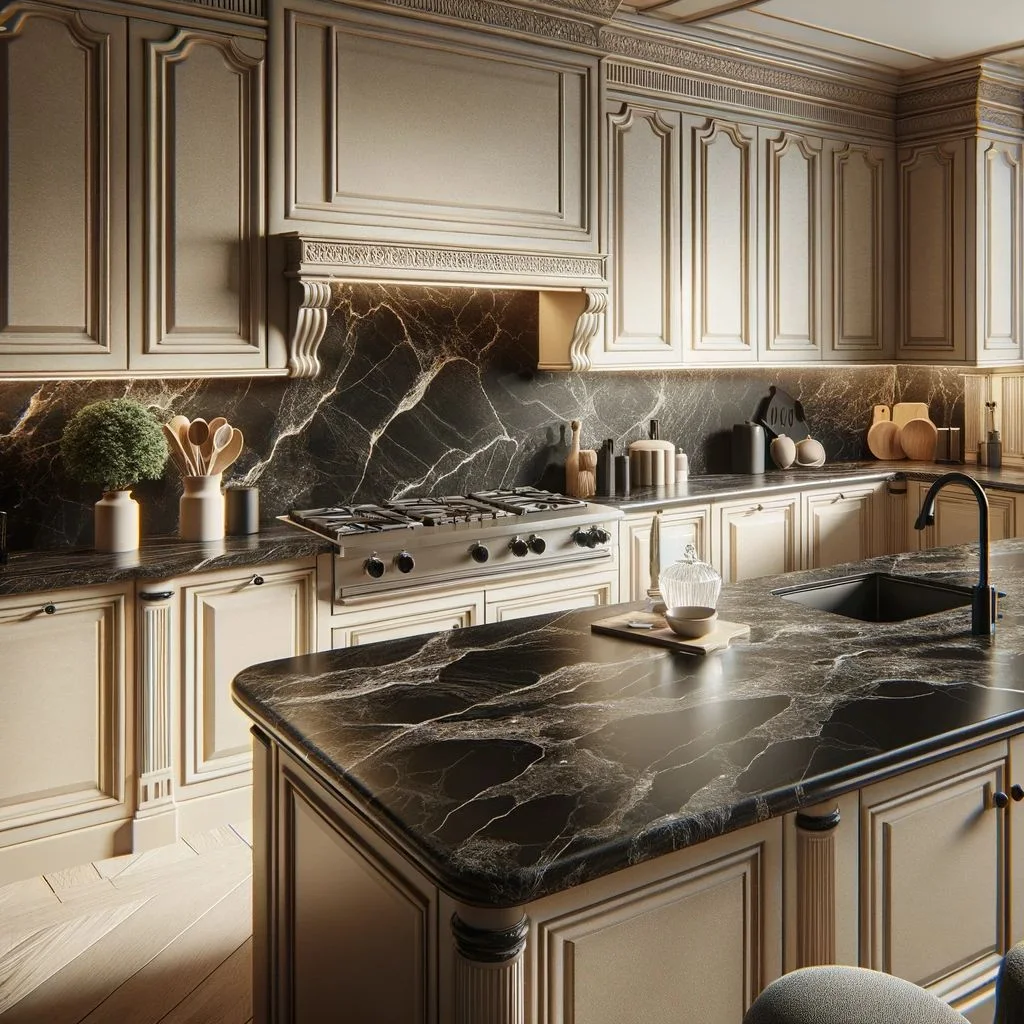 Cream or beige cabinets can help create a harmonious and warm environment in your kitchen. These light and neutral colors blend seamlessly with black granite countertops, offering a classic and understated look. This combination is an excellent choice if you want your kitchen to feel inviting and charming.
Furnishing Tips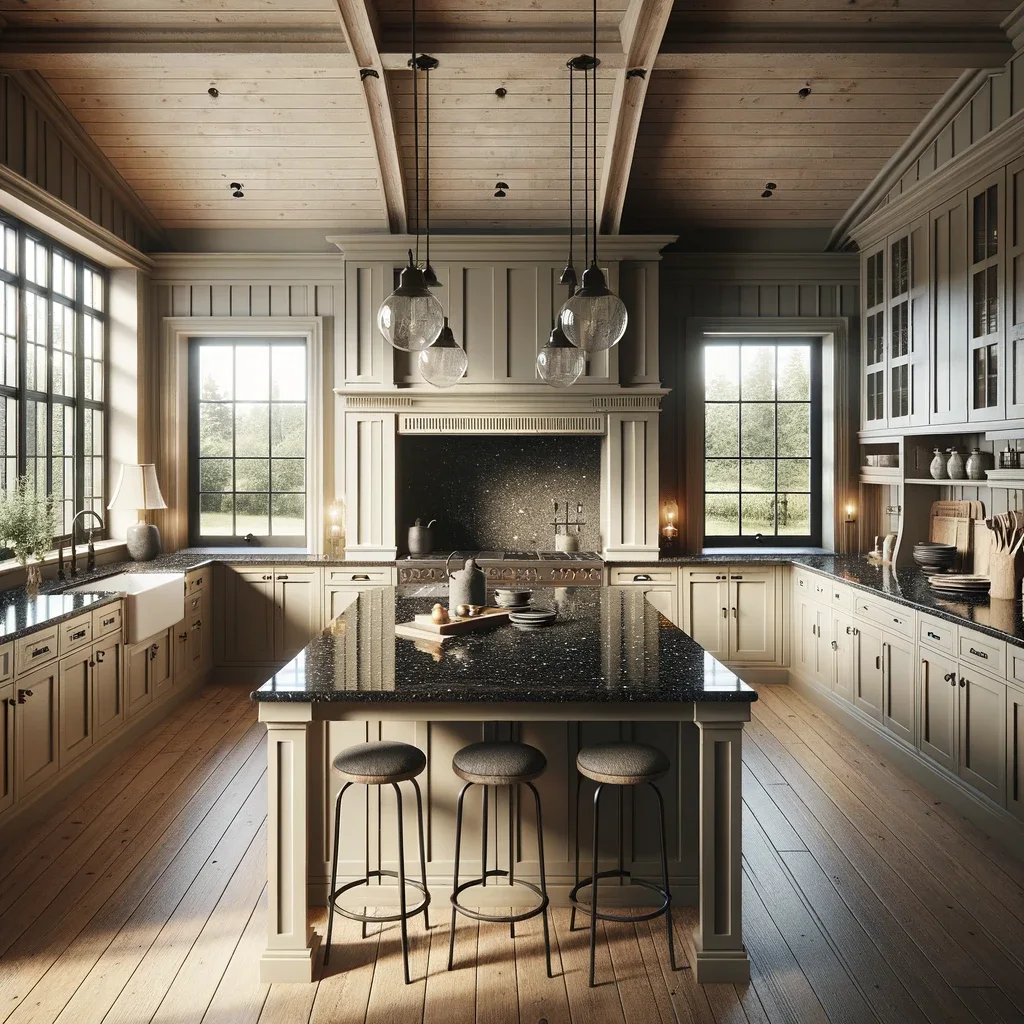 This combination is perfect for cosy and messy kitchens, where the countertop is always full of items. You can choose a design for the cabinets to prevent the look from feeling too plain. Make sure there is plenty of natural light in your kitchen if you have beige cabinets and black granite countertops. So if you have a window, keep it plain rather than covered with a roller or curtains.
12. Yellow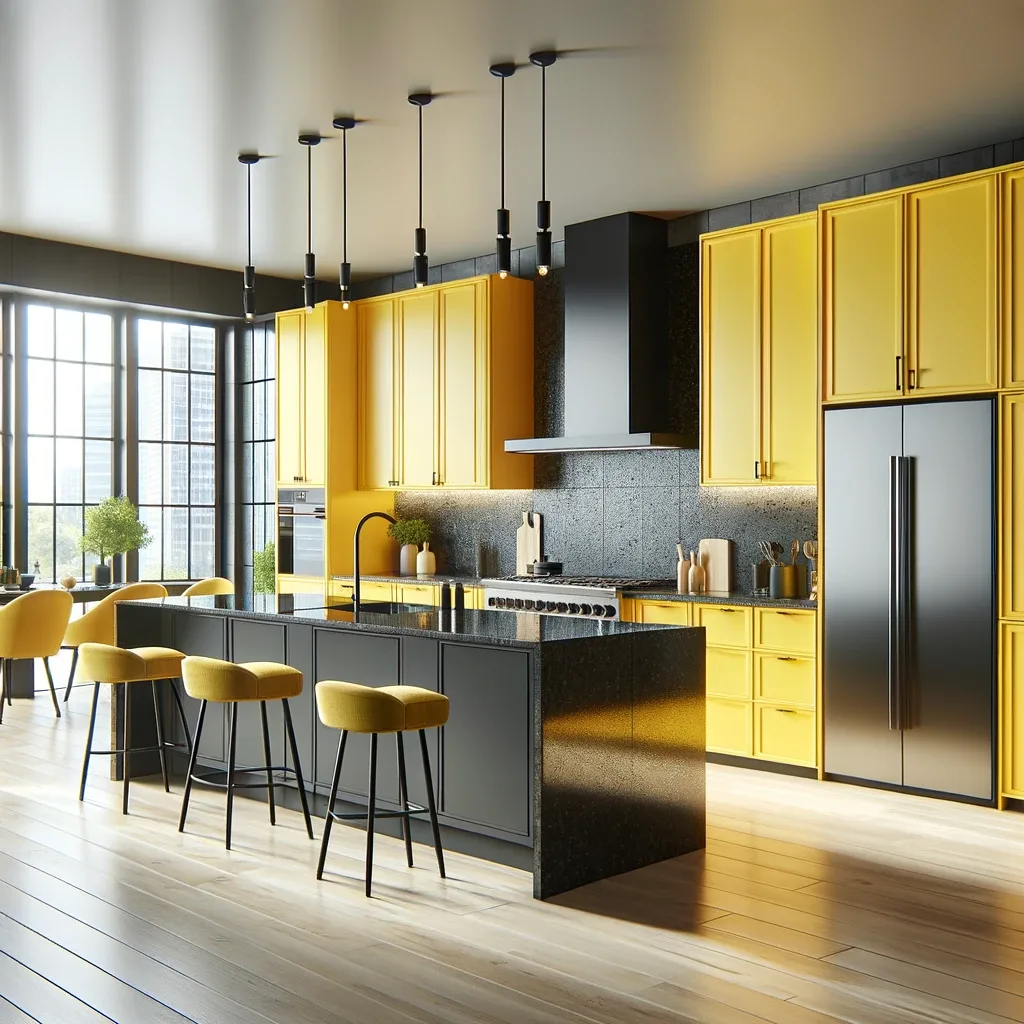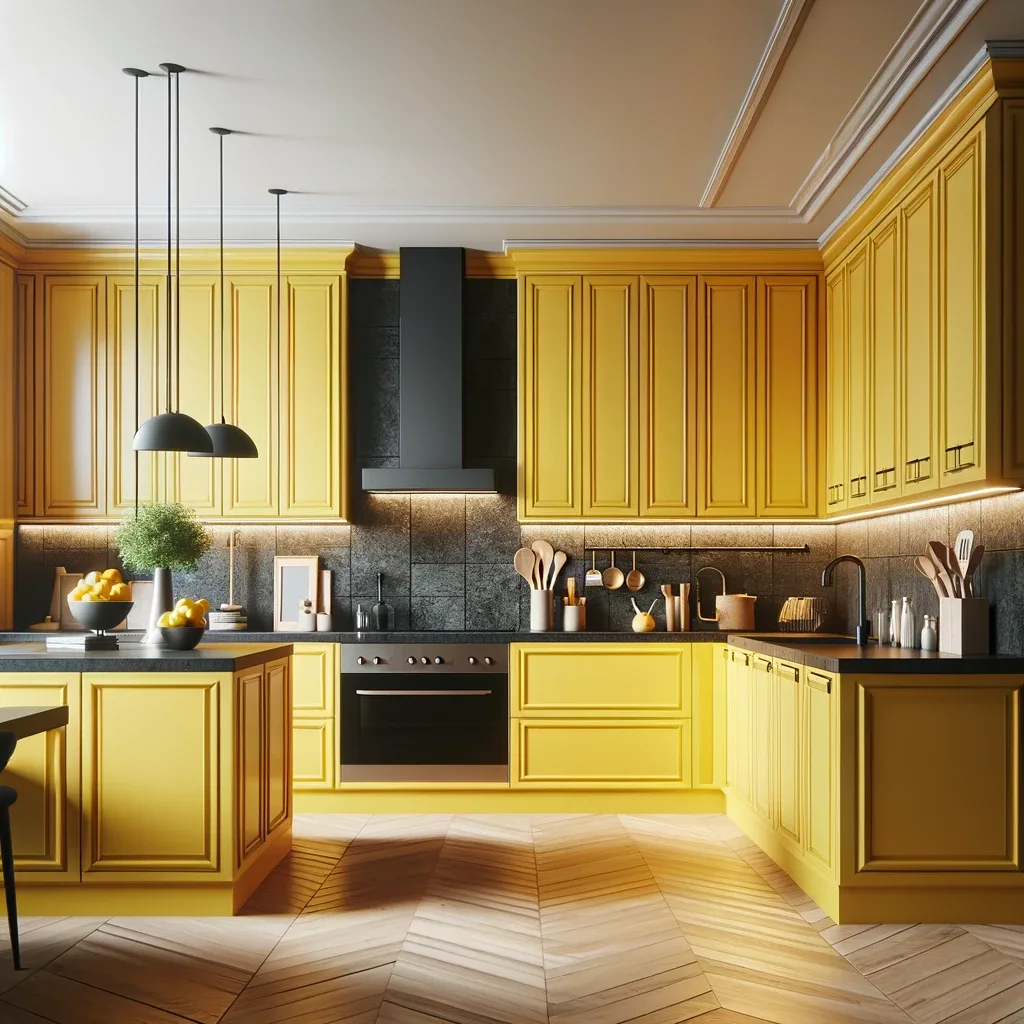 Decorating a kitchen with yellow walls and black granite countertops can create a striking and stylish look. The combination of bright, cheerful yellow and the sleek, elegant black can make your kitchen a visually appealing space.
Furnishing Tips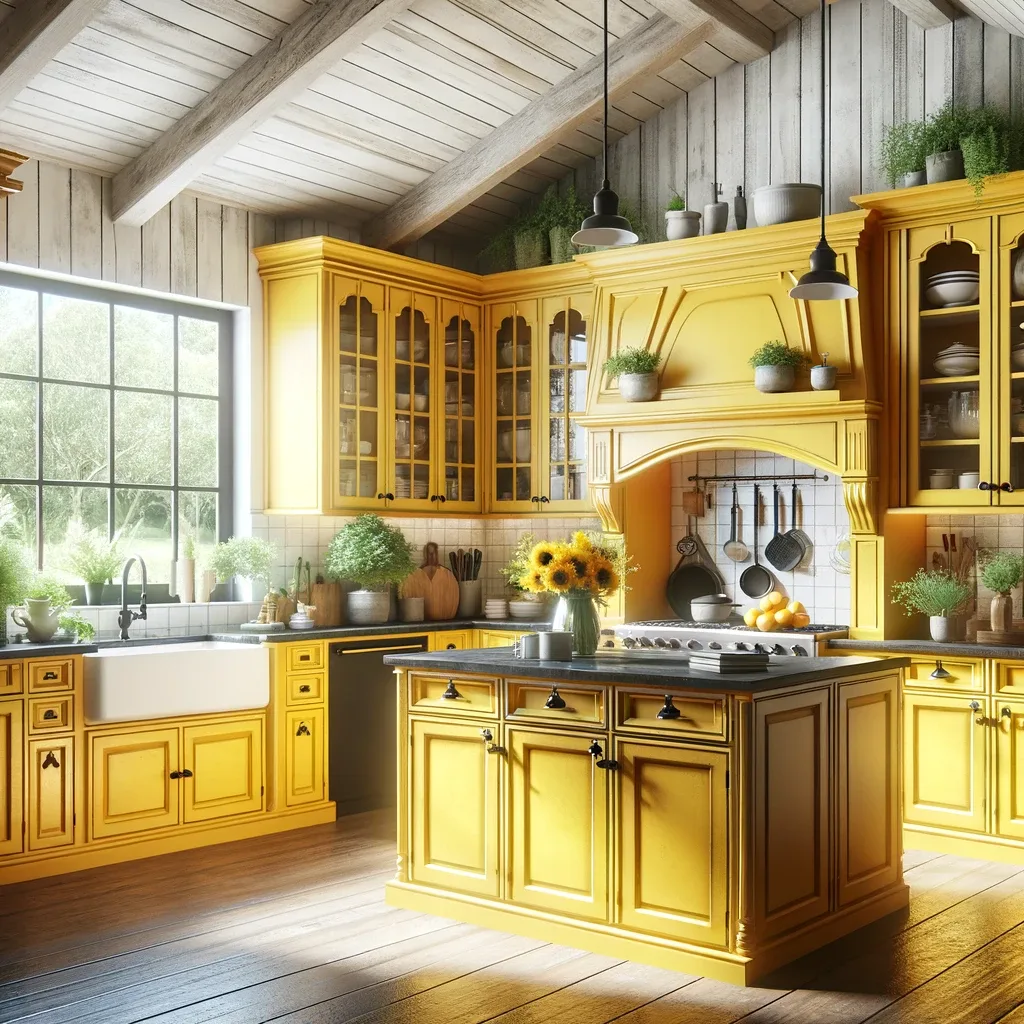 Incorporate metallic accents like stainless steel appliances, brushed nickel or chrome hardware, and light fixtures. These metallic elements can add a modern touch and create a harmonious blend with the black granite countertops.
Use yellow as an accent color for kitchen accessories. This can include items like kitchen towels, tablecloths, dishware, or small appliances. Yellow accents can bring warmth and continuity to the overall kitchen design.
Bring in some greenery with potted plants or fresh herbs. The green will complement the yellow and black color scheme and add a touch of nature to the space.
11. Pink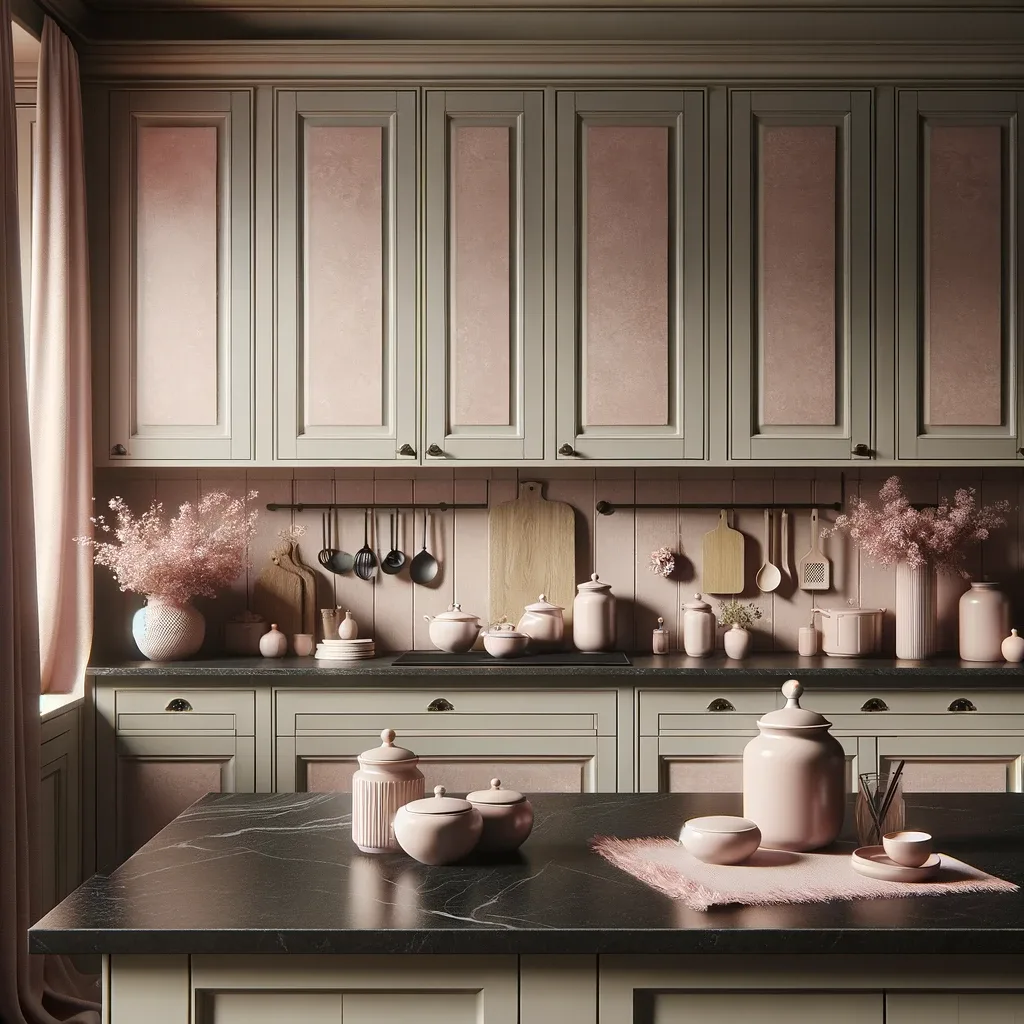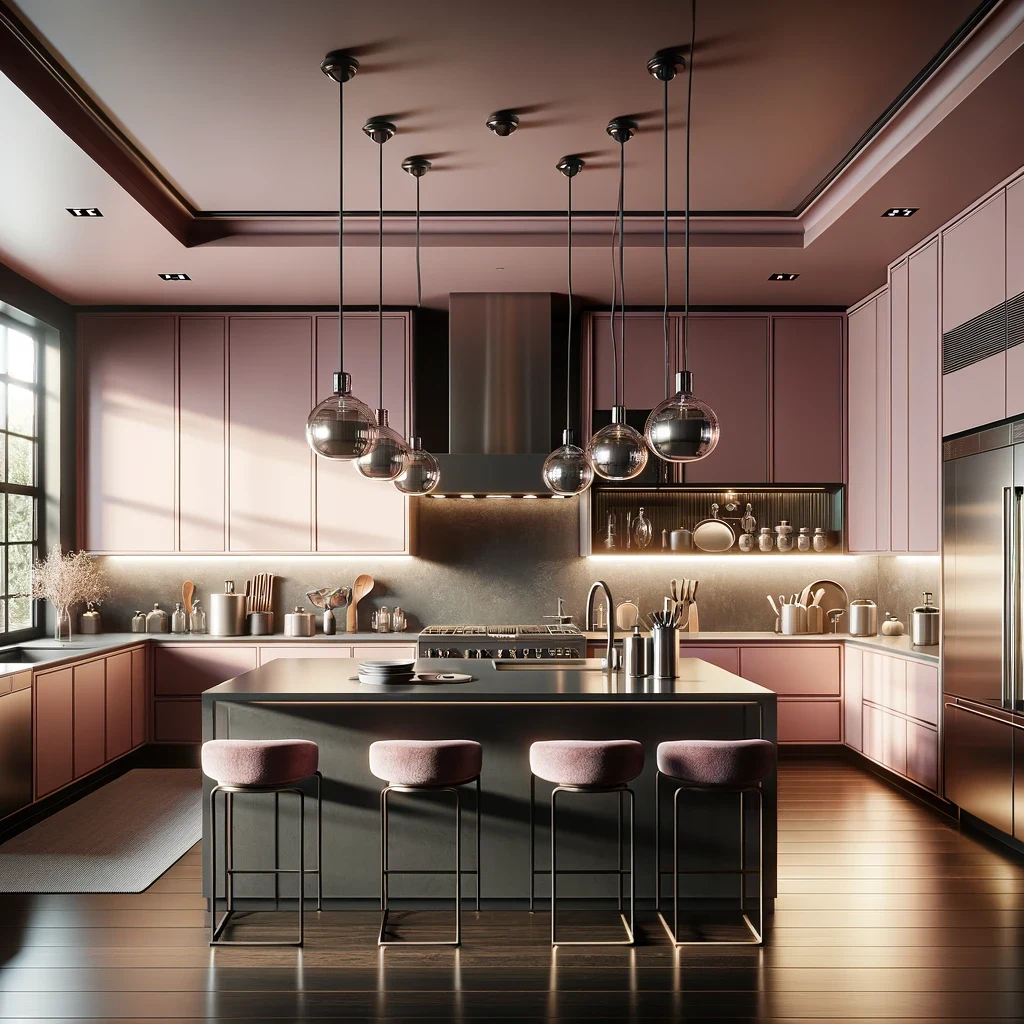 When decorating a kitchen with pink cabinets and black granite countertops, it's important to achieve a balance between the boldness of the colors and the overall aesthetics. Experiment with different shades of pink and various decor elements to create a kitchen that reflects your personal style and preferences.
Furnishing Tips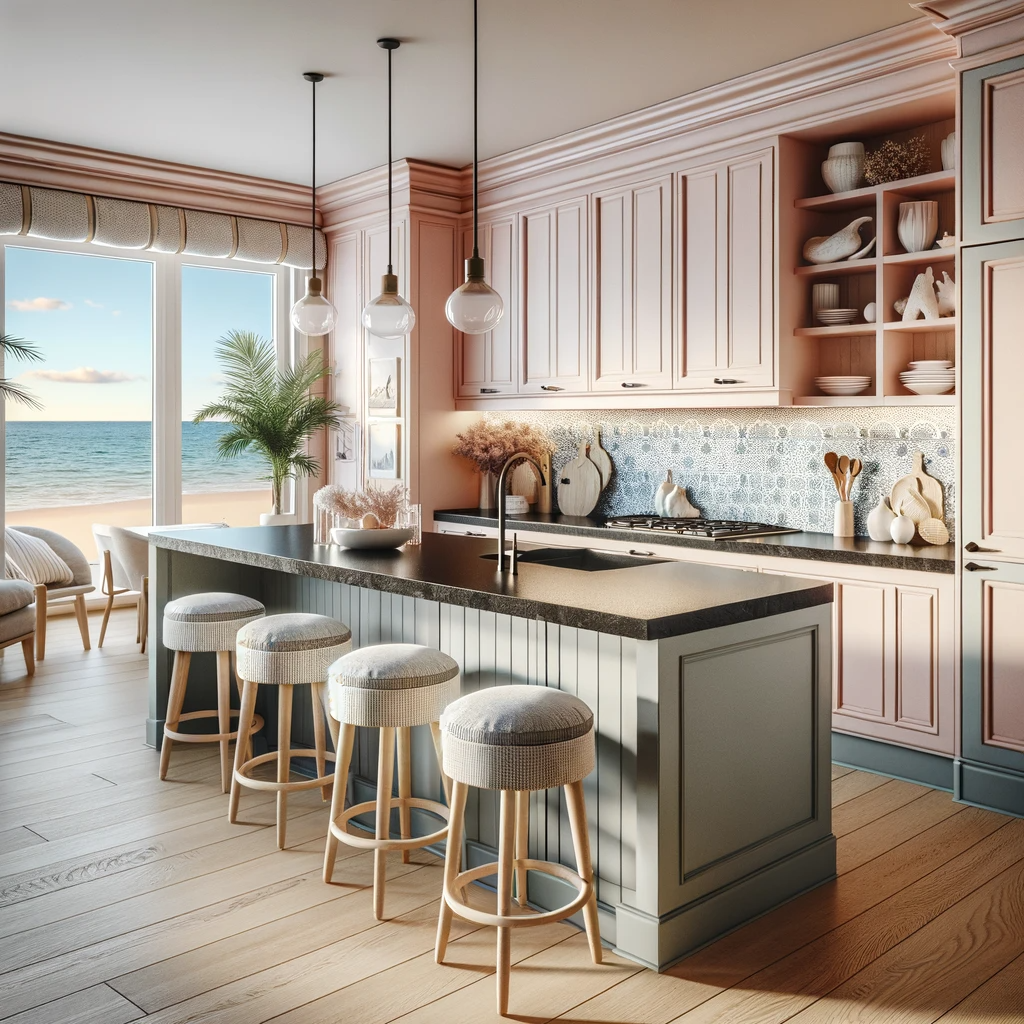 To balance the boldness of the pink cabinets and the richness of the black countertops, consider using neutral or complementary wall colors. Soft grays, whites, or pale pastel colors like light mint green or soft blush pink can work well as wall colors. This will create a harmonious backdrop for the cabinets and countertops.
Use bold patterns and textures in your kitchen decor to create interest. For instance, you could opt for a white geometric patterned backsplash or use patterned curtains, rugs, or seat cushions that incorporate black and pink accents.
10. Cream
Decorating a kitchen with cream cabinets and black granite countertops can create a classic and timeless look. The combination of the soft, warm cream color with the sleek, elegant black granite can be both inviting and sophisticated.
Furnishing Tips
Consider a grey and cream patterned or mosaic tile backsplash to tie in the color scheme and add visual interest. A subway tile backsplash with black grout can also be a striking choice. Bring in natural wooden elements to add warmth to the space. Wooden cutting boards, bar stools, or a kitchen island can complement the cream and black color scheme beautifully.
An organized kitchen is essential for maintaining a clean and inviting look. Consider using efficient storage solutions, like cabinets that go up to the ceiling, pull-out drawers and pantry space, to reduce clutter and maximize functionality.
9. Lime Green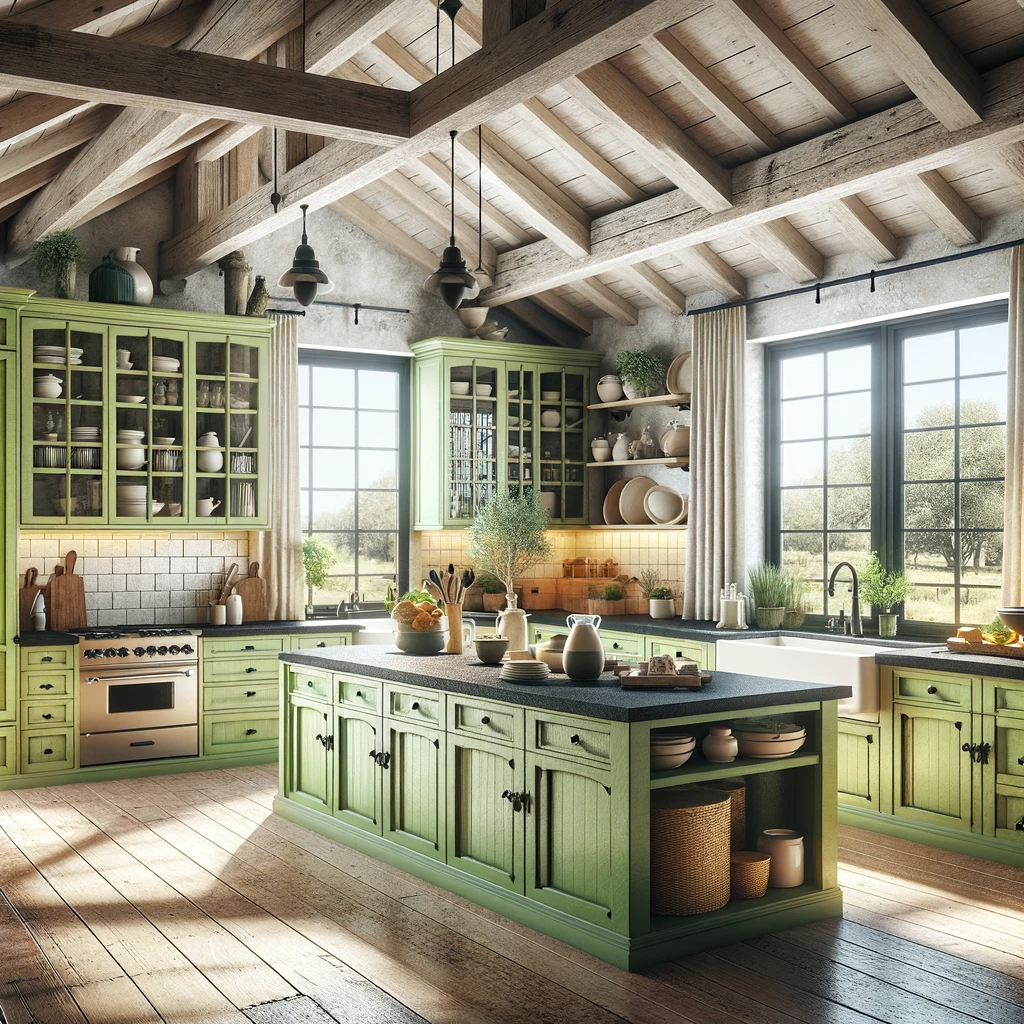 Decorating a kitchen with black granite countertops and lime green cabinets can result in a bold and vibrant design. The contrast between the sleek black and the energetic lime green can make for a striking space.
Furnishing Tips
Balance the boldness of the lime green cabinets and black countertops, with neutral or understated wall colors and light oak hardwood floors.
Add personal touches that reflect your style and preferences. Whether it's unique decor items, personalized dishes, or a chalkboard wall for notes and recipes, these elements can make your kitchen feel inviting and distinctive. Keep the backsplash plain and minimal to allow the lime green to be in the forefront to the design.
8. Light Olive Green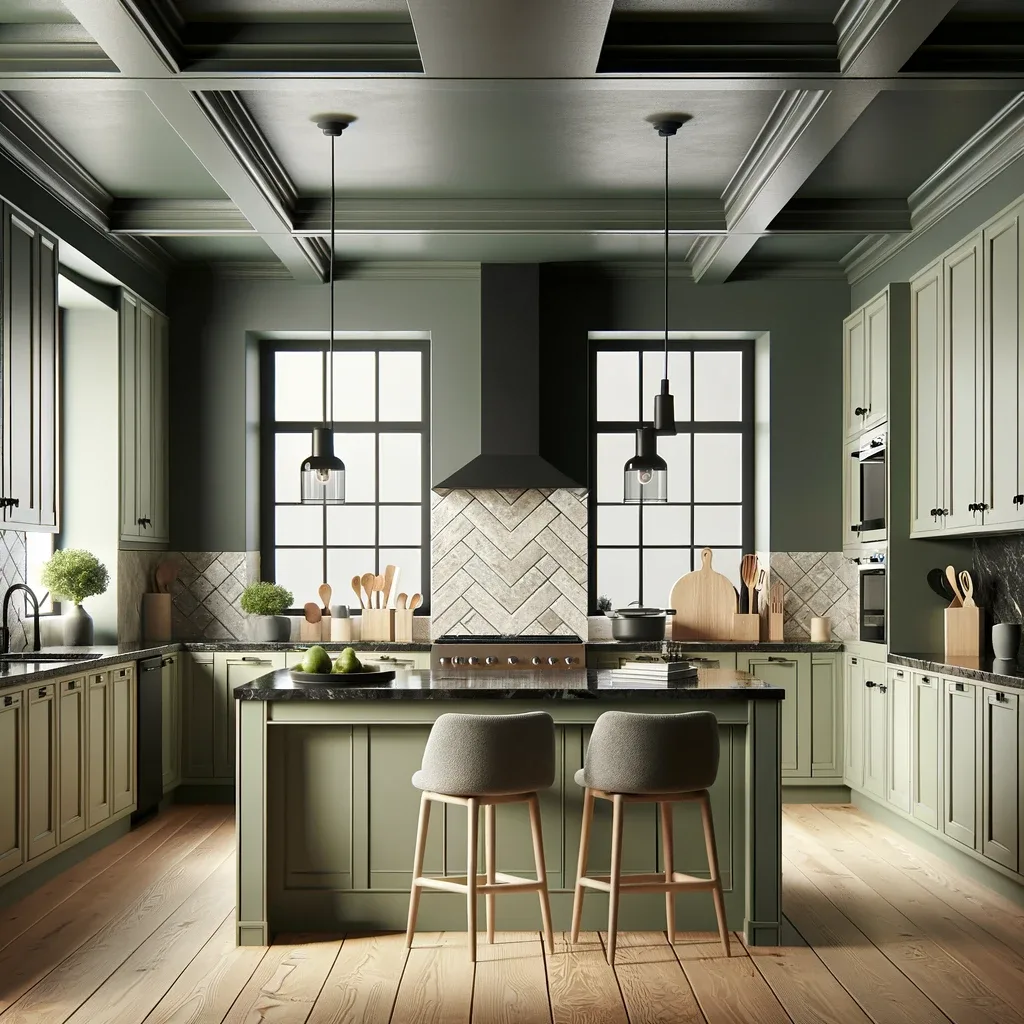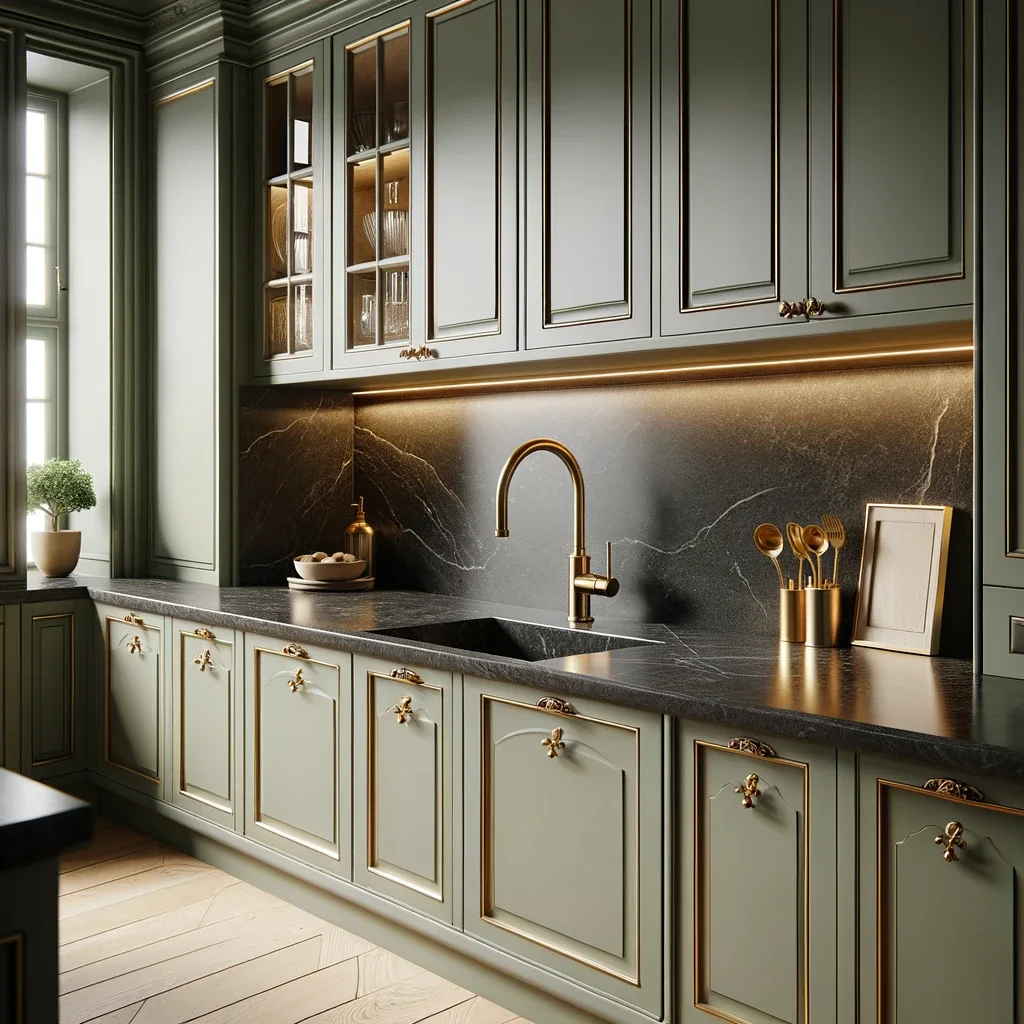 For those who appreciate unique and unconventional color combinations, olive green cabinets can be an excellent choice to pair with black granite countertops. The deep, muted green tones provide a sense of tranquility and balance, while the black granite countertops add a touch of luxury.
This combination adds a bit of personality to your kitchen while maintaining a soothing and elegant atmosphere.
Furnishing Tips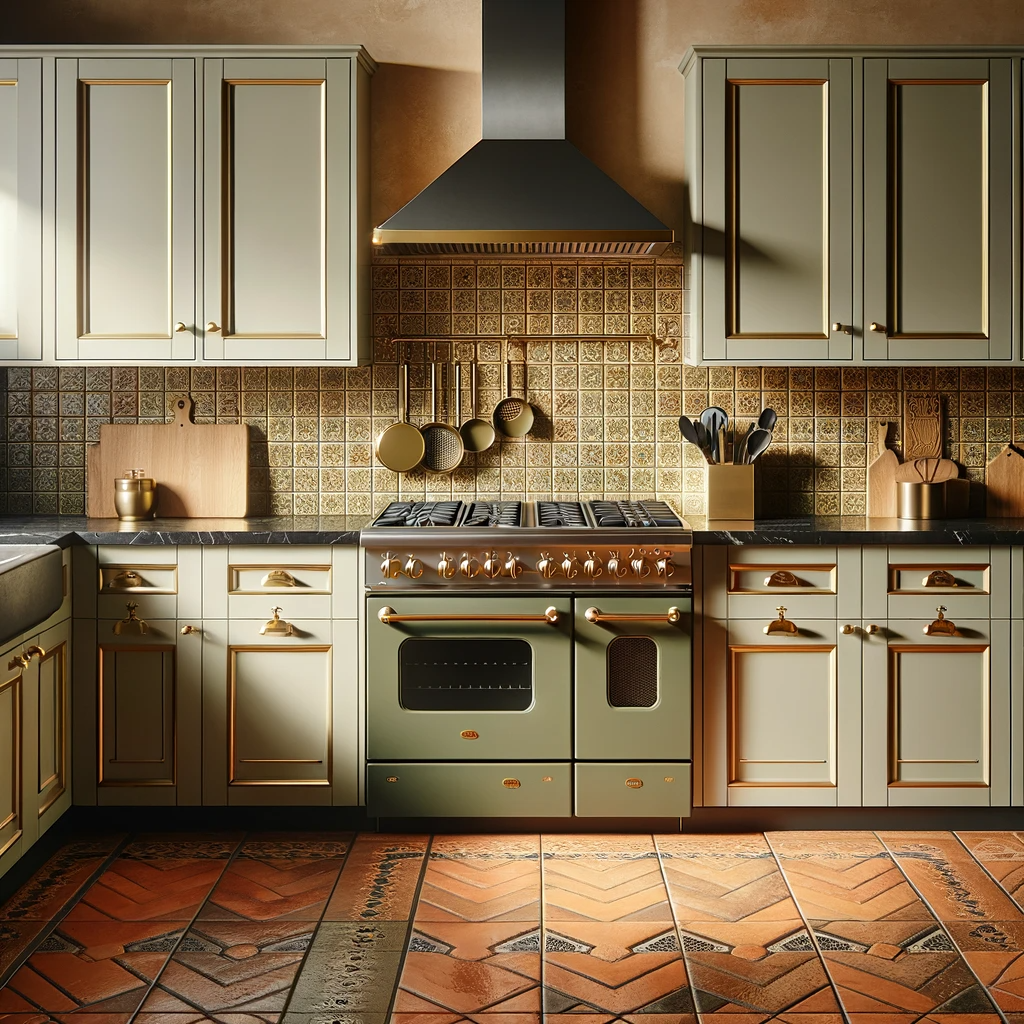 Green kitchen and black granite countertops look perfect when matched with terracotta tiles. They give off a Mediterranean vibe that is both charming and coastal.
Match this combination with white walls as not to overwhelm the space more. Use hardware in brushed gold or brass to add a sense of rustic charm to the room.
7. Navy Blue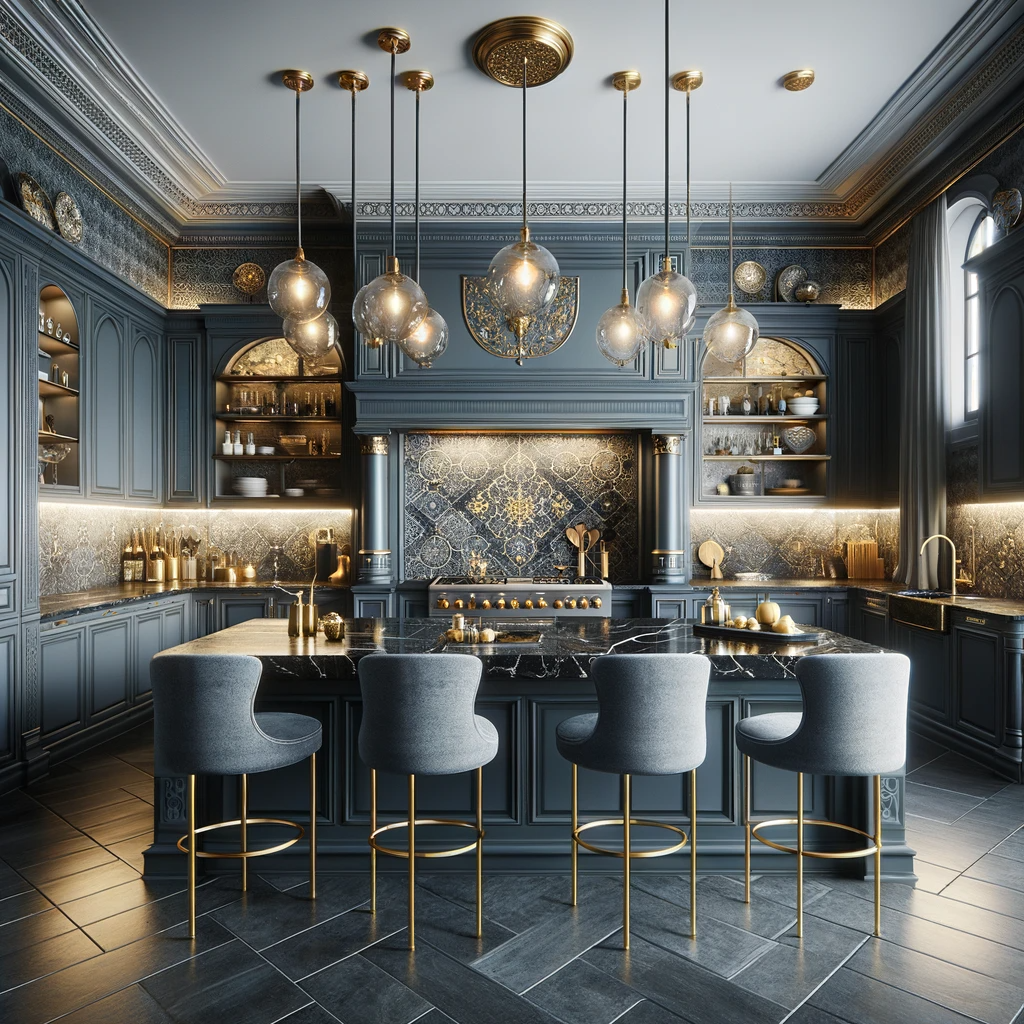 Navy blue cabinets can bring a bold and dramatic element to your kitchen while enhancing the beauty of black granite countertops. This combination infuses a sense of sophistication and depth into your kitchen design. The rich, dark blue hues create an intriguing contrast with the black granite, making your kitchen an eye-catching focal point in your home.
Furnishing Tips
Match the backsplash with the black granite countertop. You can even choose to use the same slab to allow for some coherence in the room. Use light colored wood for the floors to prevent the kitchen from being too dark and overwhelming.
Make sure to place different forms of undercabinet lighting to make the room feel brighter and make the counter more visible despite the dark colors.
6. Grey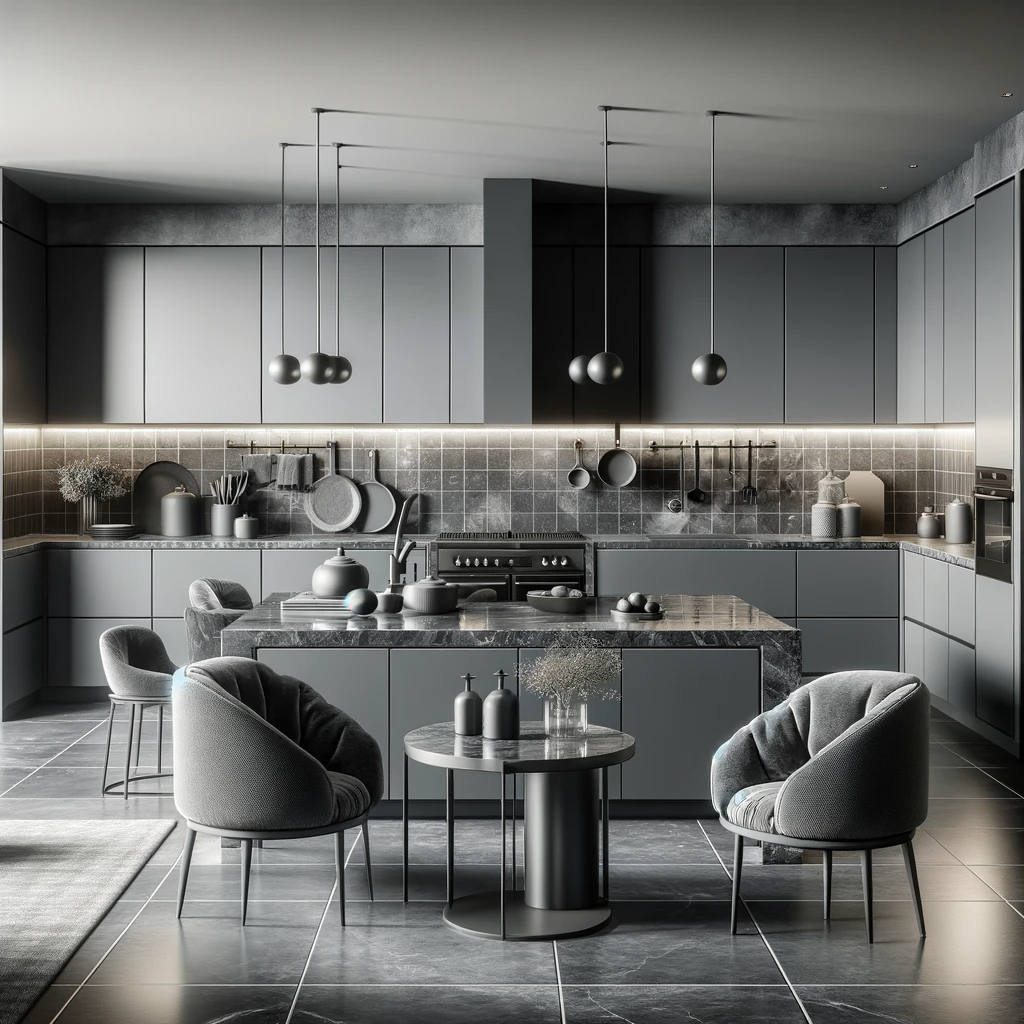 Gray and charcoal cabinets offer a modern and sleek aesthetic that pairs wonderfully with black granite countertops. The various shades of gray create a contemporary vibe while still maintaining a sense of timelessness.
This combination works exceptionally well in both traditional and modern kitchen designs, providing a neutral and versatile backdrop for your decor.
Furnishing Tips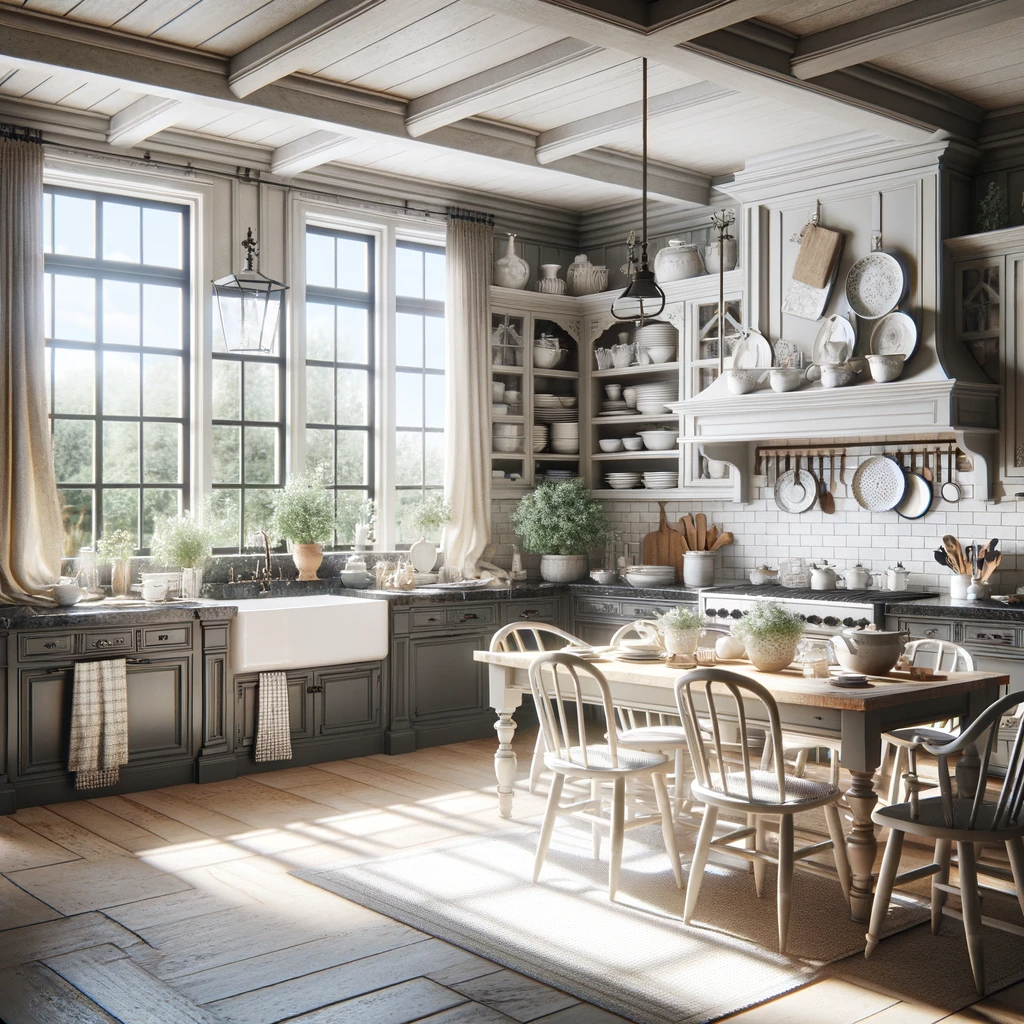 Use different shades of grey to add more depth to the design. Keep the color scheme monochromatic, without any other accent colors, to create a ultra modern look. Choose stainless steel appliances and faucets to match this color scheme.
5. White
One of the most popular choices to accompany black granite countertops is classic white cabinets. The sharp contrast between black and white creates a visually stunning effect, offering a timeless and sophisticated appeal to your kitchen.
White cabinets not only make the space look brighter and more open, but they also create an excellent backdrop for showcasing the beauty of black granite.
Furnishing Tips
You can use black granite countertops on white kitchen cabinets if you have a large farmhouse kitchen and you want to make it more prominent. Add different layers of lighting options to make the kitchen brighter and more inviting.
4. Light Oak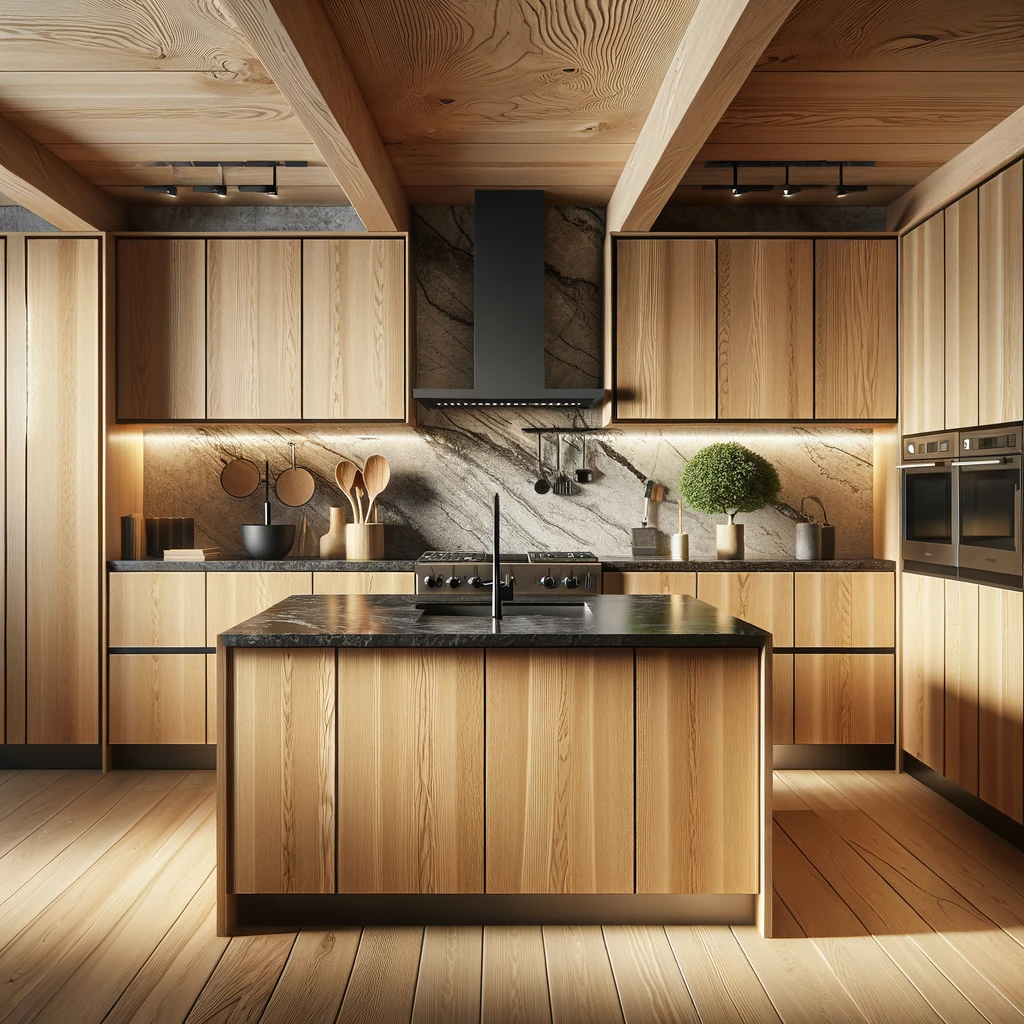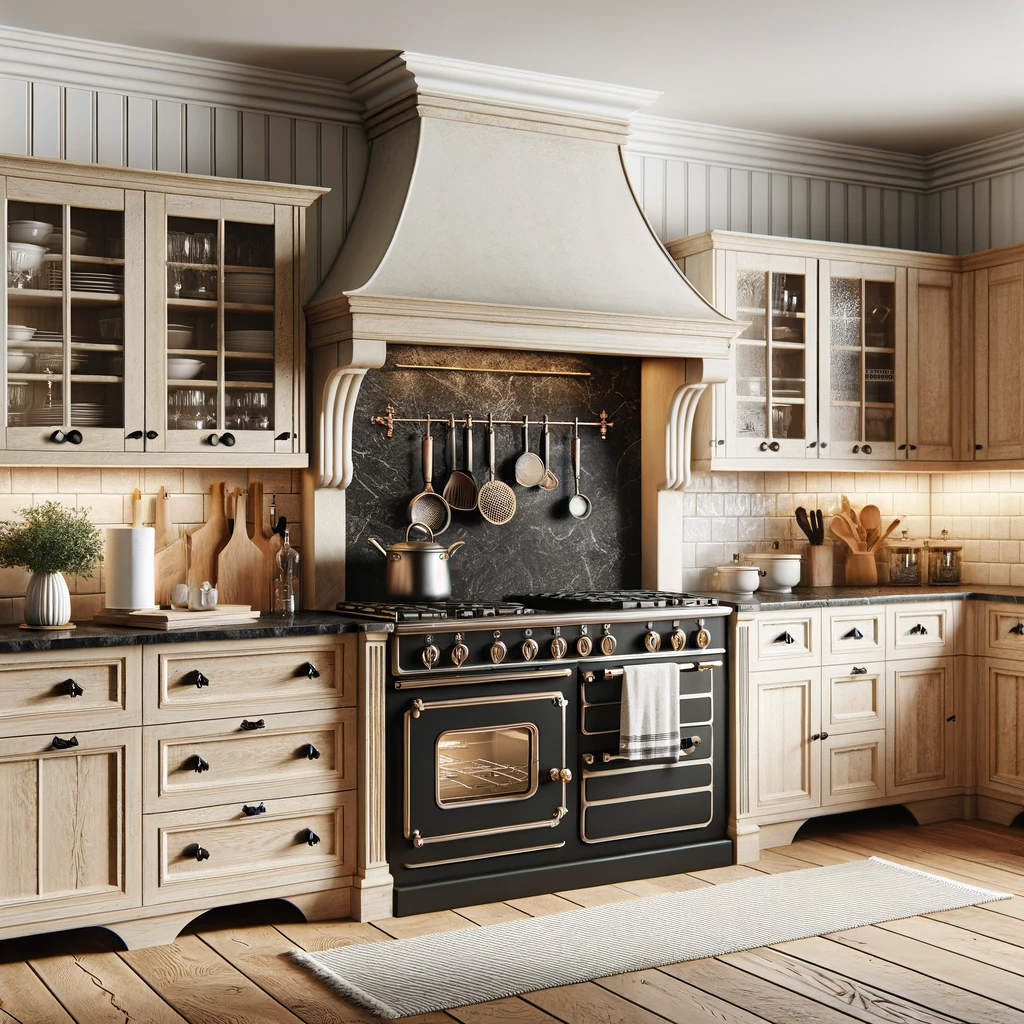 If you're aiming for a softer contrast that still highlights the beauty of black granite, light oak cabinets are a great option. The light oak cabinets create a subtle and elegant ambiance that complements the dark granite. This pairing can work well in kitchens of various styles, from contemporary to traditional, offering a timeless look.
Furnishing Tips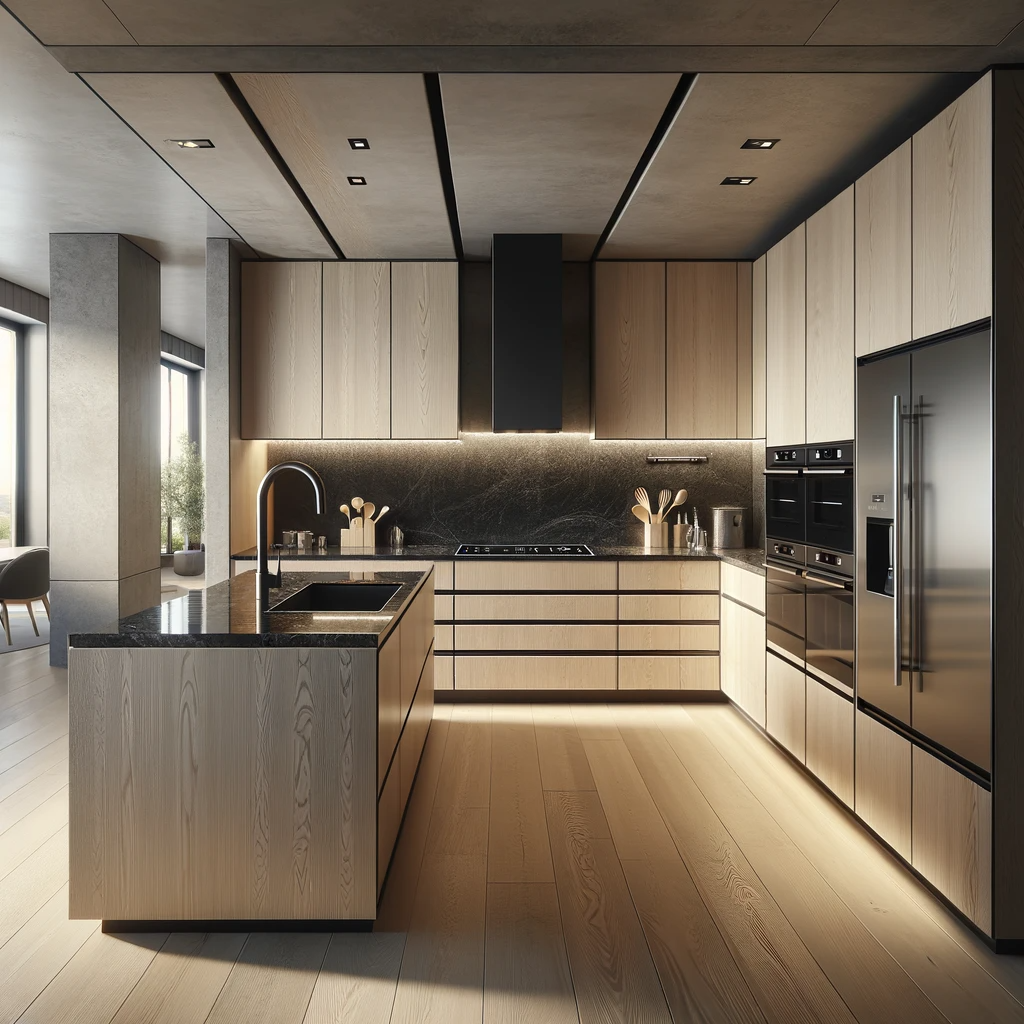 Light oak complements various interior design styles, from traditional to modern. You can easily change the kitchen's decor or color scheme without worrying about the cabinets clashing. If you opt for a modern design, add some black elements such as the bottom skirting of the kitchen or long contemporary kitchen handles in black to create a cohesive look.
3. Red Cherry Wood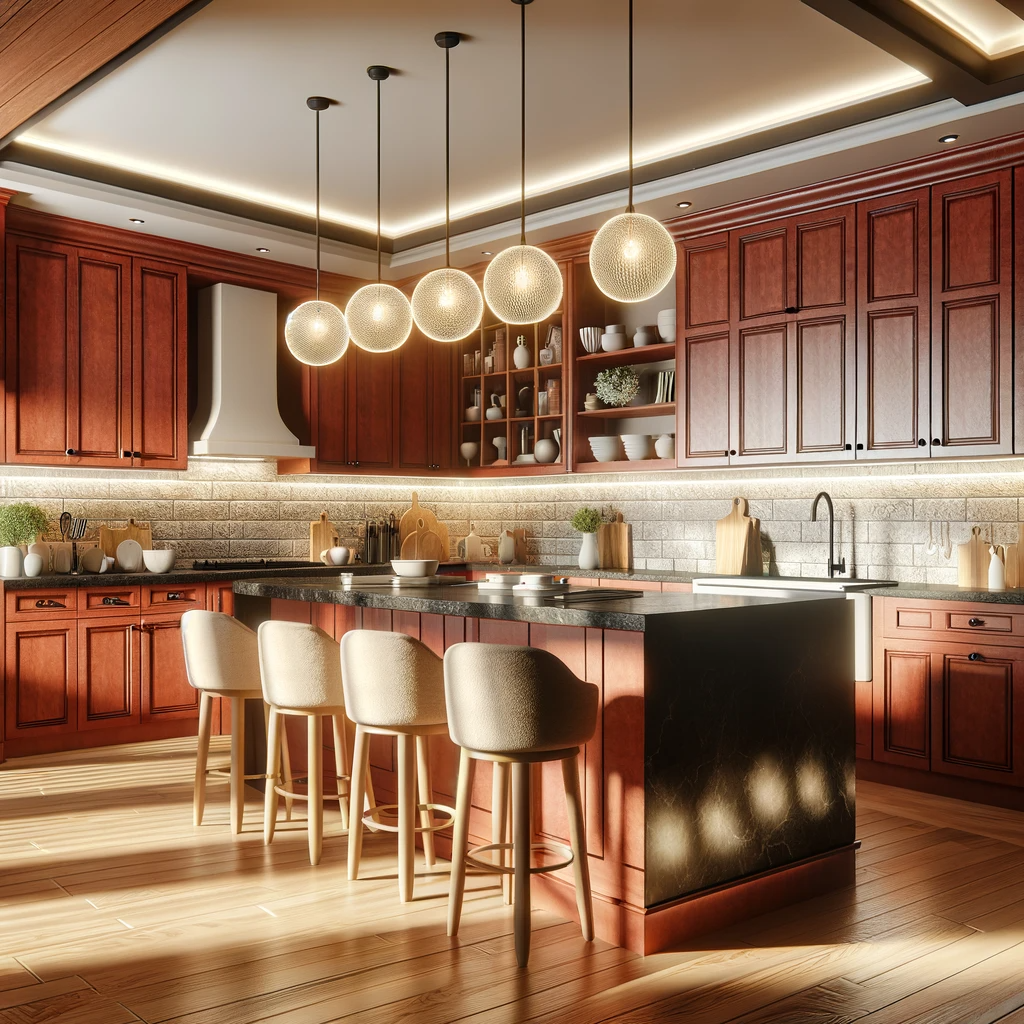 Red cherry wood exudes a sense of luxury and opulence. The deep, warm tones give your kitchen a lavish and upscale feel that's perfect for those who want a touch of elegance in their homes.
Furnishing Tips
Cherry wood is versatile and can be easily customized with different finishes to match your preferred style, whether it's traditional, transitional, or contemporary. Over time, cherry wood tends to darken and develop a rich patina, adding character and charm to your kitchen. As such, keep your walls a light shade.
You can try cool tones such as mint green or pale blue to add more character to the space and avoid the predictable plain white choice.
2. Rich Espresso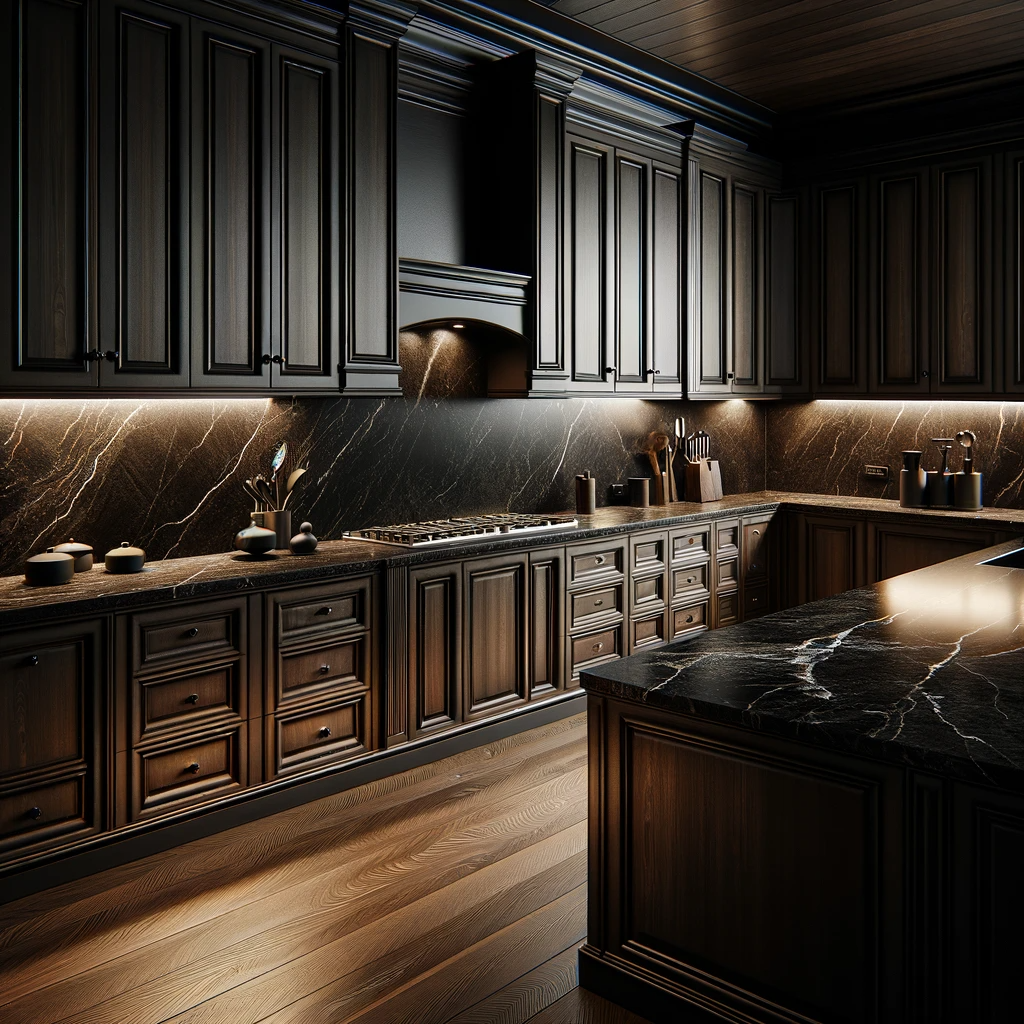 Espresso cabinets, with their deep brown and almost black hues, create an attractive contrast to black granite countertops. This combination exudes warmth and sophistication. The dark cabinets bring a cozy ambiance to your kitchen, while the black granite countertops add an element of luxury. This pairing is an excellent choice if you're looking for a traditional, elegant look.
Furnishing Tips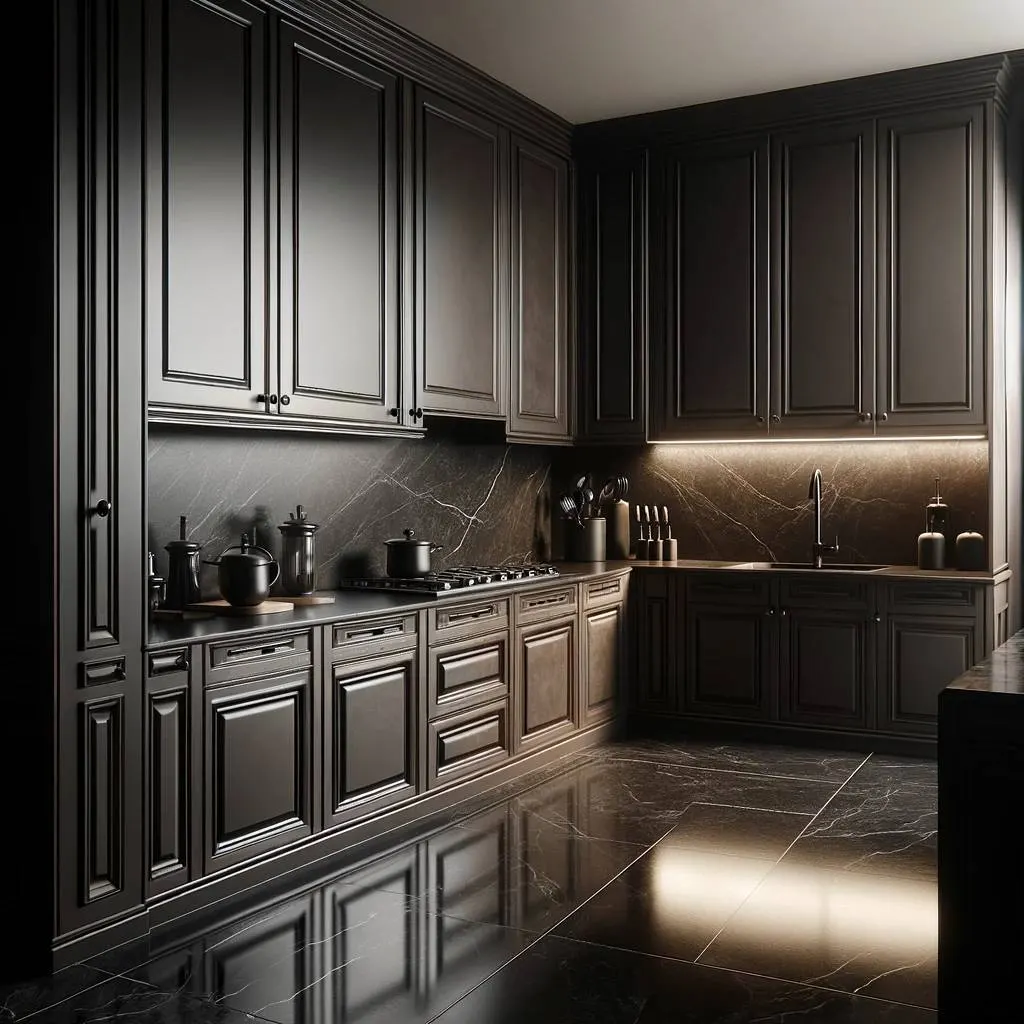 Espresso cabinets look particularly appealing when on contemporary kitchen cabinets. The combination with black granite countertops makes this design futuristic and sleek. Aim for cabinets without hardware to keep the design cleaner and more minimalistic. Choose beige or cappuccino floors as well to make the minimalistic contemporary look complete.
1. Black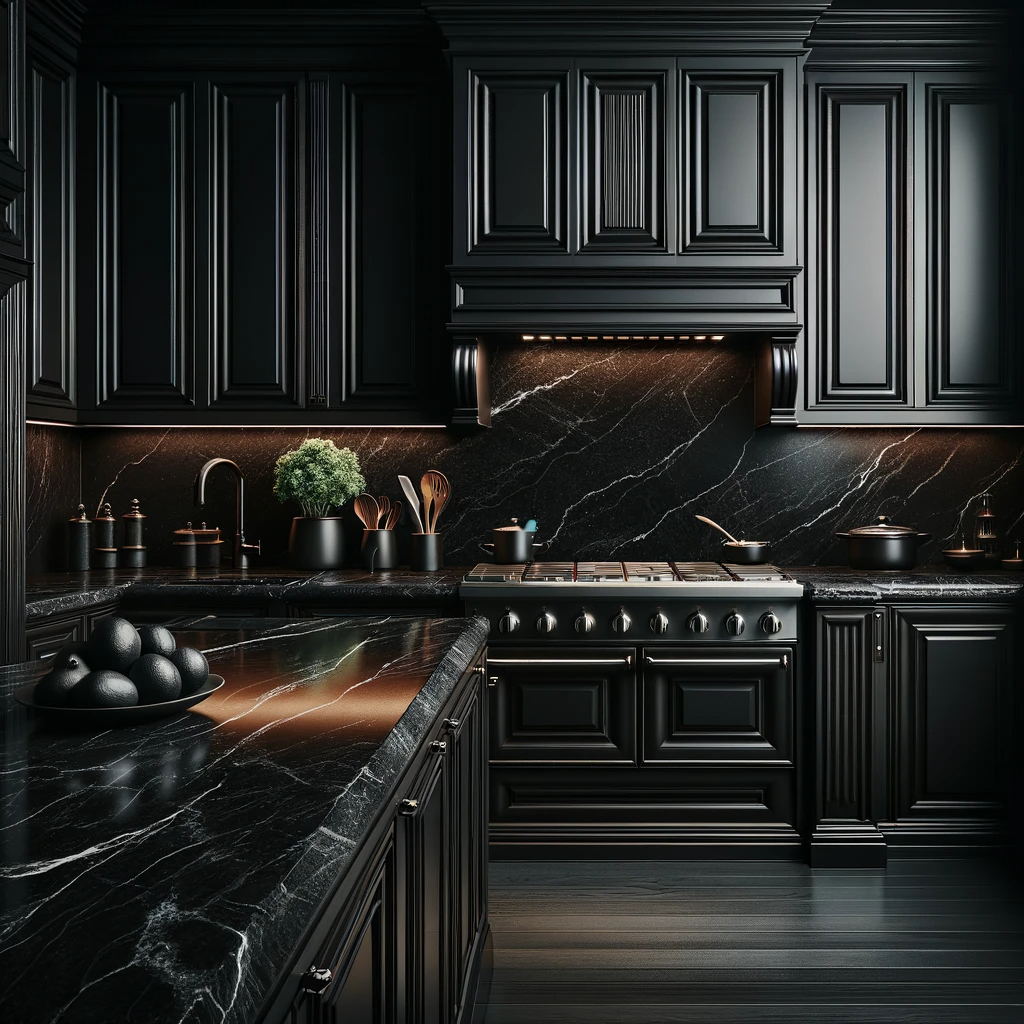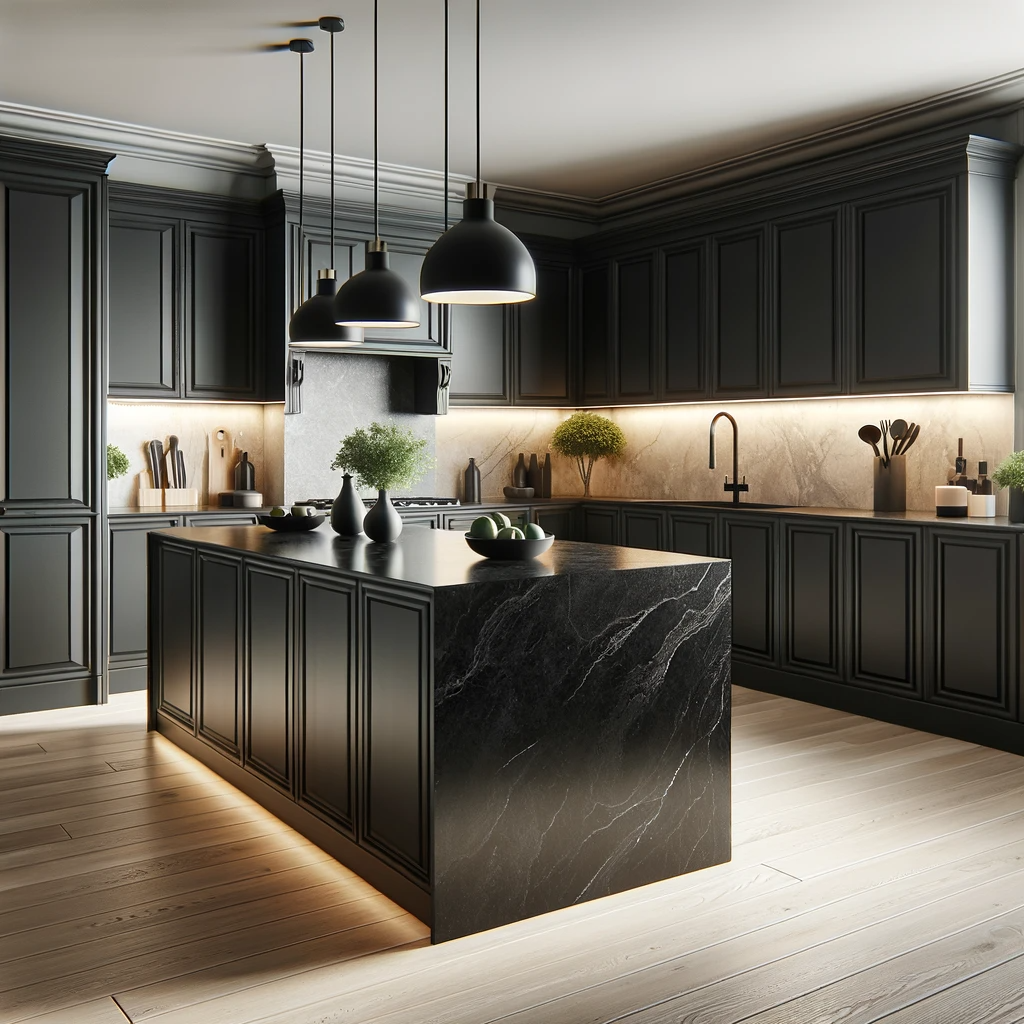 Black kitchen cabinets and black granite countertops exude sophistication, drama, and modernity. This bold design choice can transform your kitchen into a luxurious and sleek space that's both stylish and functional.
Furnishing Tips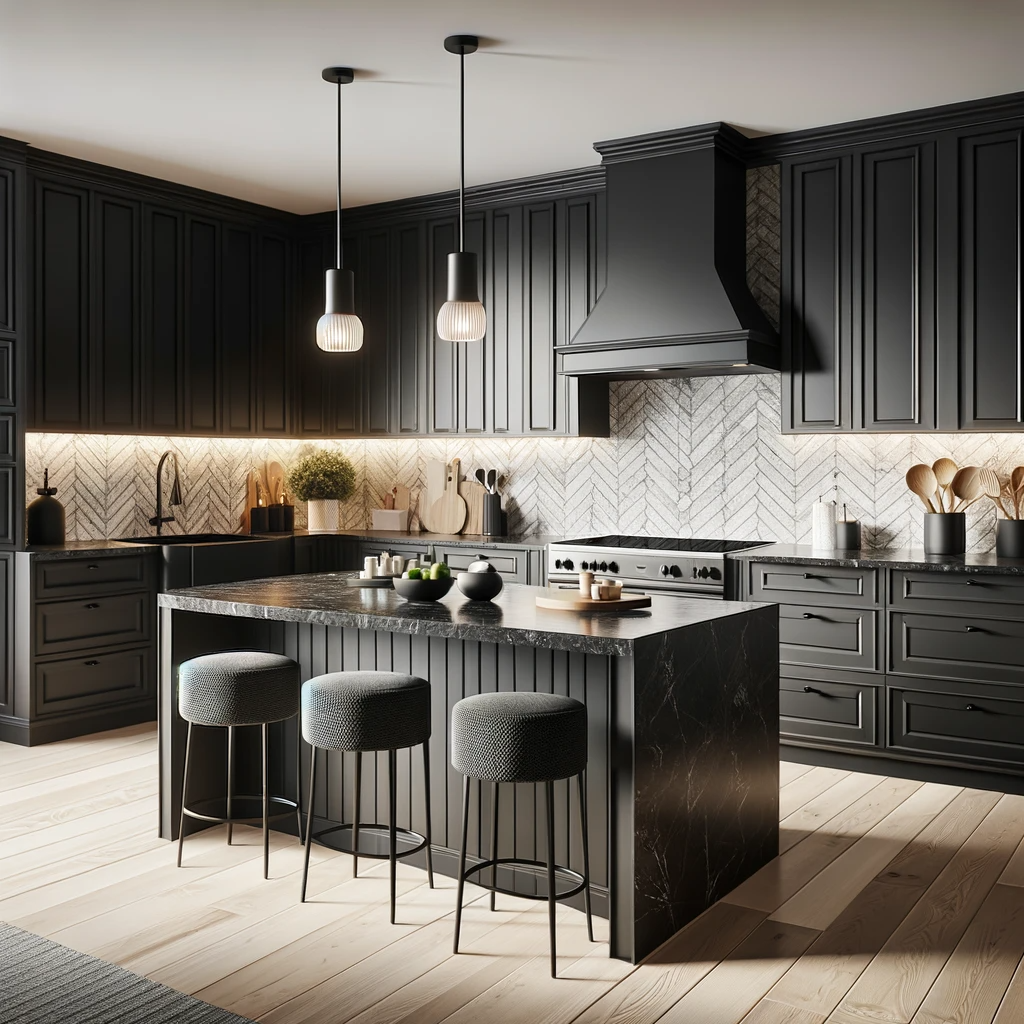 Dark kitchens can sometimes feel gloomy, so it's crucial to balance the darkness with adequate lighting. Incorporate a mix of ambient, task, and accent lighting. Pendant lights over the island, undercabinet lighting, and well-placed fixtures can brighten up the space and create a warm, inviting atmosphere.
Black is a fantastic canvas for creating contrast. Introduce contrast with light-colored walls, backsplashes, and flooring. White, light gray, or even bold colors like red or teal can work well as complementary elements to break up the darkness and add visual interest.