Our readers support us. This post may contain affiliate links. We earn from qualifying purchases. Learn More
Knowing the size of the rug you currently own, or what size rug you need to buy is important. You need to be aware of just how much space your textile should cover to make a positive impact on your home. This way it will be easier for you to figure out how to place the rug properly in your living room, bedroom, kitchen, or other space in the home. The overall goal is to create an exciting and inviting look that complements your interior decor.
Rugs are measured in a Length x Width format. Keep reading to learn how to measure rugs properly so that you can deliver information on the size as accurately as possible.
How to Measure a Rug: A Step by Step Guide
Measuring a rug is no rocket science. There are however a few steps you need to follow not only to report the size well but also to preserve the rug and not cause any damages during the measuring process.
In some cases, the measuring tape might be harsh and cut the fibers of the rug. In addition, even handling the rug improperly might cause tears if you are dealing with a vintage or old one.
Therefore, follow our simple guide to get the rug size right without damaging its material.
Wash your hands properly or wear gloves if you are handling very antique rugs such as oriental rugs. These rugs might get ripped easily by particles of dirt or improper handling.
Lay the rug on a hard flat surface. If the rug has been rolled and folded for too long, make sure to give it enough time to flatten. You can also use rug tape to keep it straight so you can get the measurements right.
Start by measuring the longest side. Use a measuring tape and place the 0 on one side. Unroll the measuring tape until you reach the other end of the rug. Make sure to keep it as flat as possible to get an accurate measurement. This is how you find the length.
Remove the measuring tape with care before measuring the width.
Repeat the same process with the shorter part of the rug to find out the width.
Use a clothing measuring tape that is soft rather than a contractor's steel tape, if possible.
How to Measure a Round Rug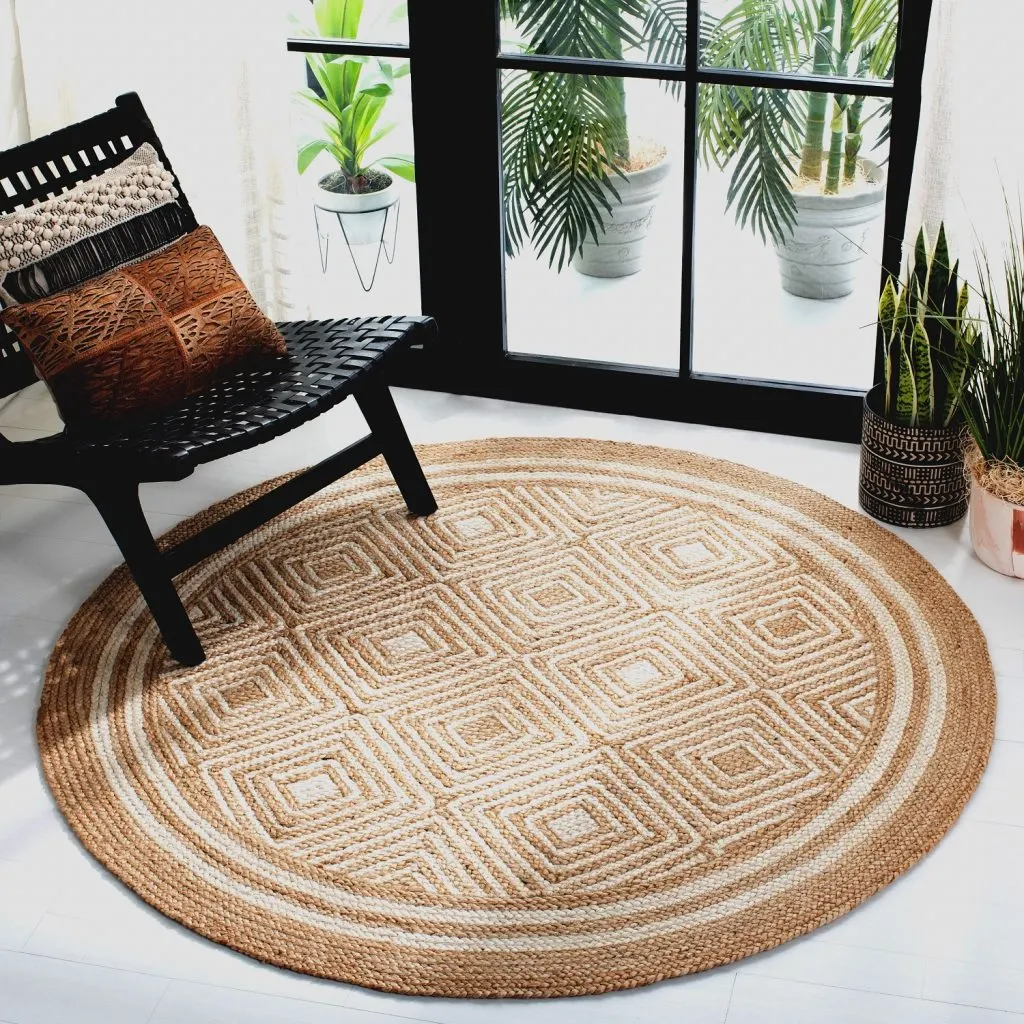 Contrary to rectangular or square ones, round rugs are measured and sold by the diameter. So if you have a round rug you need to measure, the steps are almost the same as the ones outlined above, with a few minor changes.
Yes, you still need to be careful when handling the rug, lay it flat on the ground, and tape it down if necessary. Next, there is only one dimension you need to measure and that is the diameter. Place a tape in the middle of the rug and measure its size.
How to Measure Rug Pile Height
Measuring a rug's pile height is very easy. All you need is a ruler and a good eye. Place the ruler on the side of the rug and check where the pile reaches.
Measuring rug pile height however is not as accurate. Rugs get flattened the more you walk on them.
The best way to define the pile of a rug is through the adjective: low pile, high pile, fluffy or flat.
How to Measure a Rug Pad
The rug pad is a small flat item that goes underneath your rug. It is used to secure your rug in place by offering a sticky layer between the rug and the floors.
Most rug pads are used for throw rugs or lightweight rugs such as low pile and flat woven ones. These types of rugs can slip on the floor and cause you to trip and fall which is why they need a pad.
Measuring a rug pad is the same as measuring a rug. What you need to keep in mind though is that once you have the dimensions of the rug, get a rug pad that is 2 inches smaller than the rug on each side.
If you want help in choosing a rug, see our size guide for help.
How to Measure a Rug for the Living Room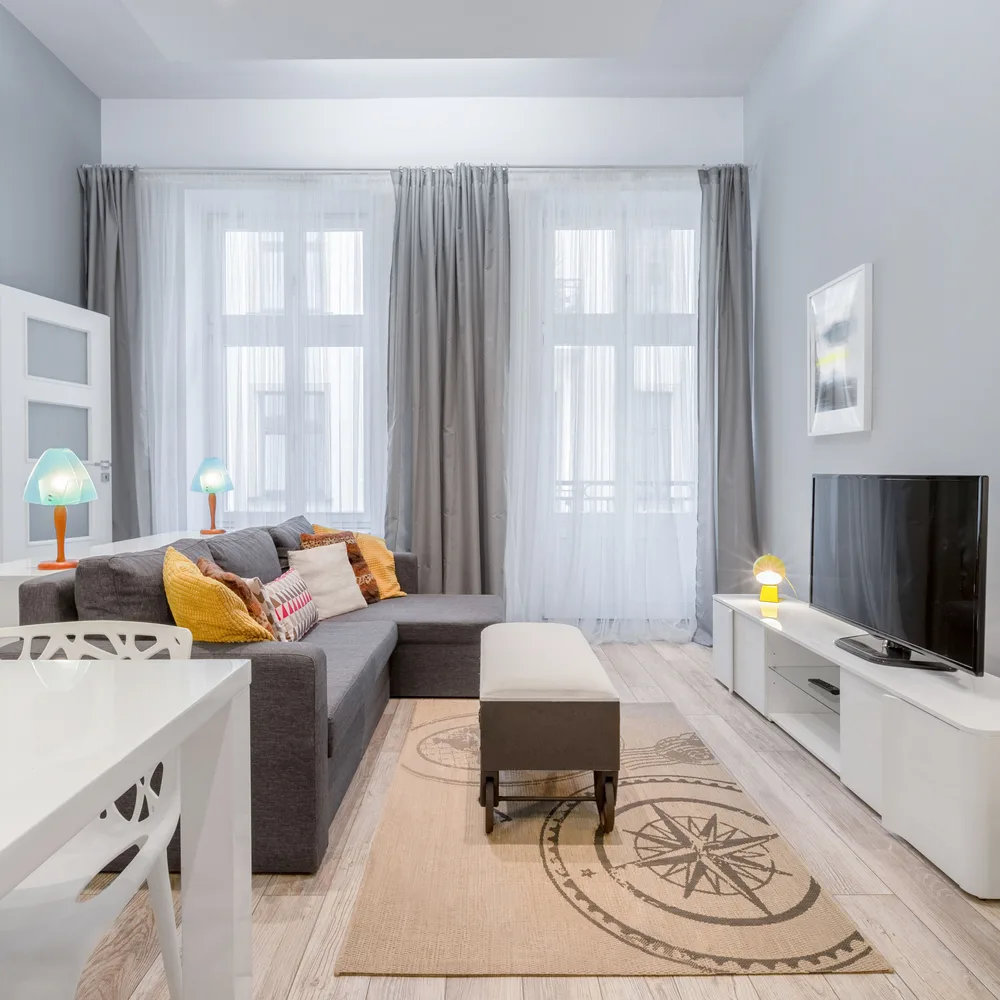 Most living rooms come in two common sizes, either 9'x12′ or the smaller 8'x10′ rug.
Depending on your living room's size, however, as well as its layout, you might choose to go with a different-sized rug. Check out our guide on how to position a rug in the living room for some ideas.
Here are some general tips you can follow:
Start by knowing the size of your living room and. Next, place the furniture correctly and measure the empty space that is left in the middle where the rug is meant to go.
Get a rug that is 6 or even 8" larger than your sofa.
Place the rug at least 18 to 24" away from any furniture.
Leave a 30 to 36" space for a walkway between rugs or the rug and the furniture.
How to Measure a Rug for the Dining Room
Placing a rug in the dining room can give warmth and depth to that space and allow you to enjoy your meals in style. Make sure however to get the right dining room size rug.
Get a rug that is larger than your dining table by about 4 feet. Make sure to use a round rug if you have a round table, a square one for a square dining table, and a rectangle rug for, yes you guessed it, a rectangular table.
A good rule to remember is to keep about 18 to 24 inches of rug space from the edge of the table to the edge of the rug.
Learn more about choosing the right dining room rug size.
Read our other articles for tips and ideas on the most appropriate rug sizes in bedrooms and other rooms of the house to style your home like a pro.