Our readers support us. This post may contain affiliate links. We earn from qualifying purchases. Learn More
There is a certain charm and attractiveness to rugs that sometimes it feels like a shame to place them on the ground and cover them up with furniture. You want to look at a rug and appreciate its design. Rugs and especially Oriental rugs feature an impeccable level of detail embodied in the creative patterns and their inspiring colors.
In addition, Oriental rugs are handwoven in the Oriental countries and carry with them all the cultural heritage of their countries of origin. And what is more interesting than trying to uncover the mysteries and legends of The Orient?
Sometimes, the design of an oriental rug tells a story, other times they witness historical events. Either way, old rug-men used symbolism in their designs, which can be interpreted in different ways, whether spiritually, historically or emotionally.
You can stare at a rug for hours, trying to find out the hidden meaning behind its motifs. Basically, you can read a rug as a proper piece of artwork. So why not hang them on the wall and actually consider them artwork?
Hanging Rugs for Interior Design
The practice of hanging rugs as wall art has become quite popular in the last few years. People are always trying to upgrade their interiors and add more character to their living spaces.
The past few years have seen a change in the interior design industry, from the desire to purchase generic popular items to the appreciation of unique elements that embody a certain level of identity and charisma.
Rugs check all the boxes above, thus becoming one of the most valued pieces for an interior designer, which is why they have been used for more than just floor coverings. Using an Oriental rug as wall art will definitely refresh the entire space. Rugs add layers of importance to an interior in two main dimensions:
Visually
Rugs are large pieces of textile which can cover up entire areas in a beautiful and bold way, adding color, texture, and character to a space.
A single rug is enough to fill up a large wall. It adds depth and warmth to the wall as a piece of art. In addition, it becomes the centerpiece that will bind together the rest of the design elements of the room. So do not be afraid to let it become the center of attention. Dare to be bold!
Emotionally
A rug can change the atmosphere of a room through its colors and designs. Every color represents a feeling which is released by this large piece of artwork you see on a wall. In addition, every design symbolizes something that is personal to anyone looking at the rug.
Oriental rugs add another advantage to any interior by splashing them with the exotic atmosphere of oriental cultures and bringing a feeling of relaxation associated with holiday getaways.
Using Rugs As Wall Art
There are different ways on how to use rugs as artwork in order to upgrade an interior from dull to chic!
Gallery Wall
You can cover your entire wall with smaller rugs, such as Afghan rugs, and create your own little gallery wall. Why not collect these pieces from your trips and place them on a long hallway or home office to show and impress your visitors. Also, use them as a reminder of all the places in the world you have been and the vast opportunities you still have to travel.
Bedhead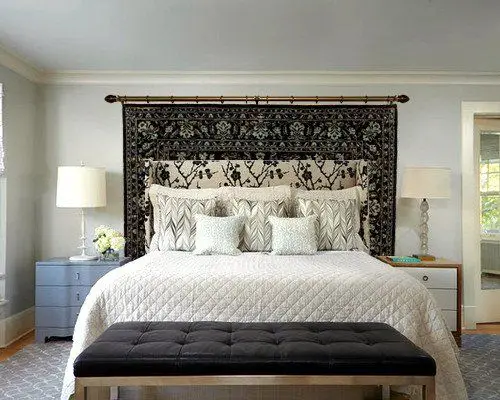 One very unconventional usage for a rug is as a bedhead. These textile pieces are woven in wool, cotton or silk, all great materials to have besides your bed. They are soft and warm to the touch. And most importantly, quite attractive.
Using rugs as bedhead is a bold move that will give a splash of exotic character to your bedroom while adding a level of maximal decor and personality. Oriental rugs are handmade which means every rug has unique features and designs, and as a result, your bedroom will be one of a kind too!
Living Room
You can hang a large Oriental rug behind the couch in your living room and make that empty wall pop. Oriental rugs have bold bright colors that can complement your couch and make it more prominent in the room. All in all, they add a level of elegance and character to the living room.
Dining Room
Placing a rug on the wall behind the dining table in a large dining room is a professional designer's move. It adds warmth to the dining room and opens up your appetite for more than just-food.
You will find yourself immersed in interesting conversations at the dining table with all of your guests. Wall hanging Oriental rugs are perfect for breaking the ice and avoiding that awkward dinner silence!
Home office
If you have a library or home office in your residence, then you can make it more personal with an oriental rug as wall decor. Oriental rugs look perfect beside old books and paperwork.
The balance created between the intellectual items in the office and the spiritual design that the rug brings to the room can lower stress levels and allow you to concentrate better on your work.
Commercial lobbies
A large hotel lobby or office reception can benefit from an Oriental rug as wall decor. Rugs are soft and warm pieces of textiles. It does not matter whether you touch them or not.
Just seeing a rug hanging on a wall creates a sense of comfort within the commercial space, which makes it more relatable, approachable and therefore more appealing to all potential customers.
Stores
Stores are the ultimate users of Oriental rugs as wall art. Vintage stores or those retro, hipster shops can make their brand more appealing to the younger generation by adding a rug on the wall. The rug will intensify the Oriental and shabby character of the store and also prove to be a powerful fashionable feature of the interior design of the space.
Hanging an Oriental rug in a store shows customers that your brand does more than just cold sales. Instead, it shows attention to detail, a keen eye for design as well as a proper sense of style.
Are you in need of inspiration?
Here are some interesting rug decor ideas roaming the web:
Elegant Oriental
This large Persian rug is a great substitute for a painting. It is larger than a conventional canvas and features more colors and motifs.
Captivating and charming! It looks great above the modern credenza, mixing together old tales from the past with new edgy details from the present. A great idea for that empty space over a low piece of furniture in a hallway!
Exotic vintage
You throw together a dark red Afghan rug with a dark green Monstera plant and rustic furniture and you get the perfect recipe for a freestyle, free-spirited corner of the house.
This is the perfect reading spot or relaxation area. The rug on the wall is inspiring and warm while the plants complement the entire picture.
Mix and match
Create your own personal style by mixing together some small Ikat rugs with other wall decor items to complete the ultimate shabby-chic look.
This style shows the importance of a 360 interior, where every part of the room has been given enough attention, whether floor or wall. There is nothing more creative than throwing in lots of textures, patterns, textiles, materials and soft items around the house into a picture-perfect interior.
Think outside the box
There is no reason to be timid when it comes to hanging rugs on the wall. This great interior shows that any space can benefit from a wall rug. Even a simple bathroom can look like a real sauna when enough attention is placed on the walls.
This Kilim rug looks perfect over the wooden wall. It counters the room and adds an extra level of character to the space, turning it from a toilet to a fancy bathroom!
From wallpaper to wallrug
Upgrading from wallpaper to a wall rug is the best idea when it comes to bedrooms. Wall rugs are softer, plusher and warmer, all feelings you need to have in your bedroom.
The rug in the picture is the centerpiece of the room. It has turned the bedroom into a vibrant space full of unique character and identity.
Different Types of Oriental Rugs to Hang on Walls
Oriental rugs display different designs and characteristics. Each of them can be related to a certain space depending on their patterns, motifs, and symbolism. Here are some of the most popular rugs and wall decor ideas on where to place them for an amazing interior.
Persian Rug Wall Decor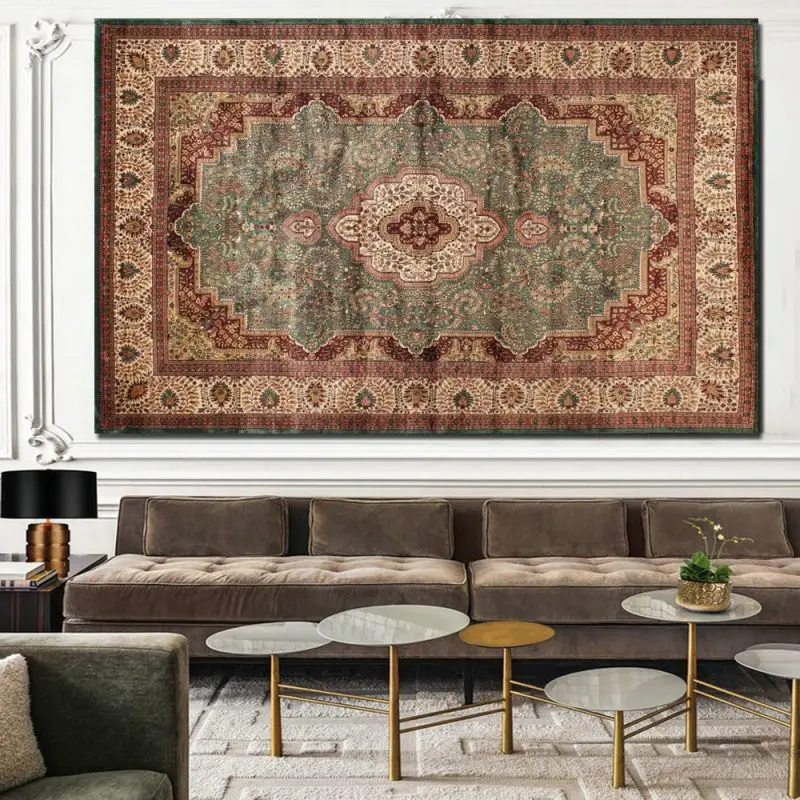 Persian rugs are full of details and symbolism. Their design usually features organic shapes and patterns that you find in nature, such as animals or plants, with flowers being the predominant design.
They are carefully organized in a symmetrical way, making the entire rug design more powerful. In addition, they usually feature a central piece that is the main symbol of the rug, displaying a piece of history from the Persian producers.
Persian rugs have bold colors such as gold and blue in a red background. These rugs demand to be the center of attention in a well-put-together living room of considerable size.
They add elegance to the room and go quite well with suede or silk materials. Basically any material with a sheen on them. In addition, Persian rugs as wall art look good besides dark oak wood or steel and marble furniture.
Ikat Rug Wall Art
|
Ikat rugs reflect a more free-spirited design which is perfect as wall decor for stores such as Urban Outfitters, Hollister or Fatface.
They reflect the nomadic character of the tribes that used to make them in the past. Therefore, they fit perfectly in the houses of people with a carefree life and crowded interior designs containing lots of colors and other decor elements.
Kilim Rug Wall Art Decor
Kilim rugs work perfectly as bedheads. They are soft and thin pieces of textiles that can be arranged as one pleases on the wall behind a bed. They feature linear designs and geometrical shapes that emphasize the horizontality of the mattress and make the bed the most prominent feature in a room.
Kilim rugs usually have bright colors, with red being the main one. They go perfectly well in both darker rooms such as navy blue or grey, as well as some paler wall palettes.
Chobi Rug Wall Art
A Chobi rug features natural colors. They usually have small geometrical motifs in wood brown placed on a beige background. These soothing designs are perfect for a calm interior that features natural colors such as the grey of rocks, the brown of trees and the green of plants.
They would look perfect as a wall decor behind a wooden couch in a small living room, used to give the space a warmer feeling. Paired with a few broadleaf plants and banana wallpaper walls, this decor idea can create a cozy and relaxing setting, like a scene taken right out of a travel magazine.
Moroccan Rug Wall Decor
Moroccan rugs feature very interesting and playful designs. Used as wall decor, they can add some artistic creativity to any formal space, making it more approachable as a living space. They feature horizontal designs and custom sizes, such as squares.
Moroccan rugs work as proper pieces of artwork when hung on a wall. They give off a Bohemian feeling and can be paired perfectly with leather seats and black steel structures.
See more:
Conclusion
All in all, Oriental rugs are more than just carpets. They can be interpreted and read as proper pieces of artwork when placed on the wall. The creative design of Oriental rugs gives off a sense of relaxation and exotic getaway to any environment they are placed in, which is why hanging them on walls is such a great idea to create amazing interiors!
Have any of the ideas in this article inspired your next piece of art? Let us know!