Our readers support us. This post may contain affiliate links. We earn from qualifying purchases. Learn More
Hand-knotted and hand-tufted rugs are some of the most popular and precious rugs you can buy. The reason being that they are made by hand. As such, every single piece of textile is unique and extremely detailed.
These area rugs however are not the same. They differ in price, durability, and manufacturing time from one another.
Keep reading our guide to find out what the difference between hand-knotted and hand-tufted rugs is and how you can use them in a room, what designs work best with specific styles, and what these rugs offer to an interior.
What Is the Difference Between Hand-knotted and Hand-tufted Rugs?
Hand-knotted and hand-tufted rugs are quite different from one another and offer a completely different feel.
Hand-knotted rugs are uniquely made into special looms and creative designs, entirely by hand. The process of making these rugs is ingenious and skillful. Talented weavers use natural materials such as cotton, wool, and silk to make the best hand-knotted rugs.
What really sets hand-knotted rugs apart is you can reverse them still get the same exquisite design. In addition, they mostly come with a fringe.
Hand-tufted rugs, on the other hand, are only partially made by hand. The rest of the rug is made by a machine and offers a slightly different finished feel from hand-knotted rugs due to the making technique. These rugs are made of wool and are created by punching wool into a canvas. The process is easier and less time-consuming than creating hand-knotted rugs.
Hand-tufted rugs are made with a backing and a fridge glued at the end. Contrary to hand-knotted ones, these ones are not reversible.
All in all, hand-knotted rugs are more expensive and durable than hand-tufted ones.
How to Make Hand-knotted Rugs?
Most hand-knotted rugs include Persian and other Oriental rugs, made of several knots per square inch. More knots mean a more dense rug as well as a more precious and princely one.
A hand-knotted rug can take up to a month to make. Skillful weavers can work with about 10k knots in a day.
These rugs are completely unique and very durable. As such, they have become family heirlooms and passed on through generations.
Hand-knotted rugs come in various qualities too, where in order to save time making them, some weavers use false knots which are not as durable as the real ones. The best hand-knotted rugs are made using Turkish and Persian knots.
How to Make Hand-tufted Rugs?
A hand-tufted rug is made using strands of wool punched into a canvas through a tufting tool. The design is created on the back, the wool is placed on the front. After the design has been created, the whole textile is removed from the frame.
The fibers are kept in place through latex glue and the fringe is added when the whole rug has been completed.
General Tips on Hand-knotted and Hand-tufted Rugs
Here are some quick tips on how to tell hand-knotted and hand-tufted rugs apart. Also, you will find some ideas on how to care for these rugs properly and increase their durability.
Check the backing of the rug to find out if it is hand-knotted or hand-tufted. If the back has a latex material, then it is hand-tufted. If the rug is the same on both sides, then it is definitely hand-knotted.
Pick a hand-tufted rug if you are looking for a couple of decades of durability. Opt for a hand-knotted rug if you want something that lasts for generations.
Rotate these rugs often to protect certain spots from excessive foot traffic.
Vacuum hand-tufted rugs once a week to get rid of extra shedding.
Do not shake these rugs in order to preserve their quality.
Clean stains with warm water and soap, without scrubbing too hard.
Use a hand-knotted rug instead of a hand-tufted one in a space with a lot of foot traffic.
Remove hand-tufted rugs from a room when you start to see pieces of the glue in the back shedding, or if you smell glue from the rug.
Hand-knotted Rug Ideas 2021
Hand-knotted area rugs are precious and very valuable. They will add a charming effect to any room. Here are some of the most impressive hand-knotted rugs of 2021.
Ivory Hand Knotted Fluttery Diamonds Area Rug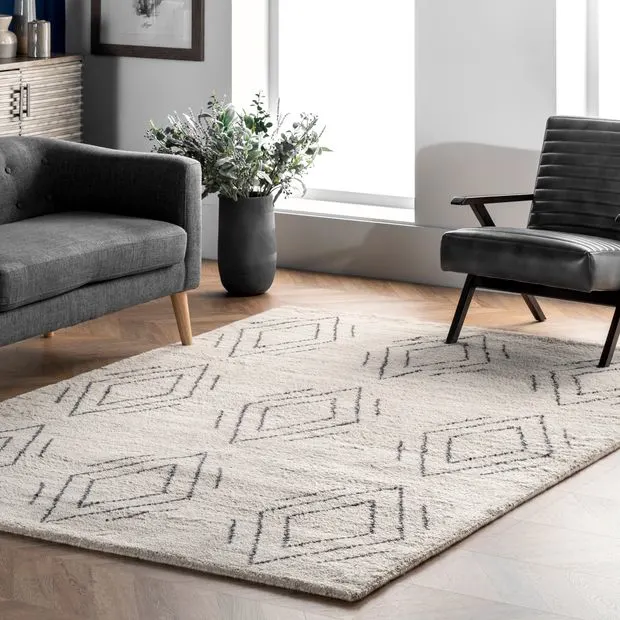 This hand-knotted ivory rug is a perfect fit for busy living rooms. It can handle both a lot of people as well as a highly decorated space. In addition, the minimal diamond design of the rug allows for a balanced look to be established in your room.
Also, the Ivory hand-knotted fluttery diamonds area rug is entirely made of wool, which means it is warm and soft. You can use it in mountain cabins and stone floors. Thanks to its thick pile, the rug offers a rustic and casual feel while maintaining its precious character.
Last but not least, you can place it in a bedroom to complete the decor of this room. It works perfectly beside the bed or in front of the vanity mirror.
Multi Hand Knotted Ivied Oriental Area Rug
This oriental rug offers the beauty of fine hand-knotted construction combined with the durability and affordability of blended materials such as wool, cotton, and polyester.
Its design is perfect for contemporary rooms in need of some fanciness and spark. As such, you can use it on plain stone floors or light hardwood floors to create a gentle and subtle decor. Alternatively, you can place it on dark hardwood floors to create a bold contrast and make the rug more prominent. By doing so, you will allow the rug to be a focal piece in the living room.
Multi Hand Knotted Crowned Medallion Area Rug
Similar to the previous one, this rug also offers a mixture between fine hand-knotting techniques and durable materials, perfect for high traffic areas.
The somewhat abstract design, with an Oriental charm and distressed look, allow this rug to be easy to maintain. You can use it in sunrooms and not worry about the color fading from the sun.
In addition, the color palette used to create this rug makes it a flexible piece of decor that can easily be inserted into both contemporary and traditional settings thanks to the neutral background with sparks of red.
Ivory Woolen Modern Trellis Area Rug
Ivory Trellis rugs offer a subtle and carefree design that is great for dark and moody living rooms. They can make the floors more prominent and anchor different pieces of furniture in different styles, to create a design full of character.
In addition, you can place them in front of the fireplace and enjoy its warmth while sitting on the floor. Make sure to protect the rug from flying sparks or pieces of wood as it is entirely made of wool. As such, extreme heat can ruin the rugs and the floors.
Multi Hand Knotted Floral Medallion Area Rug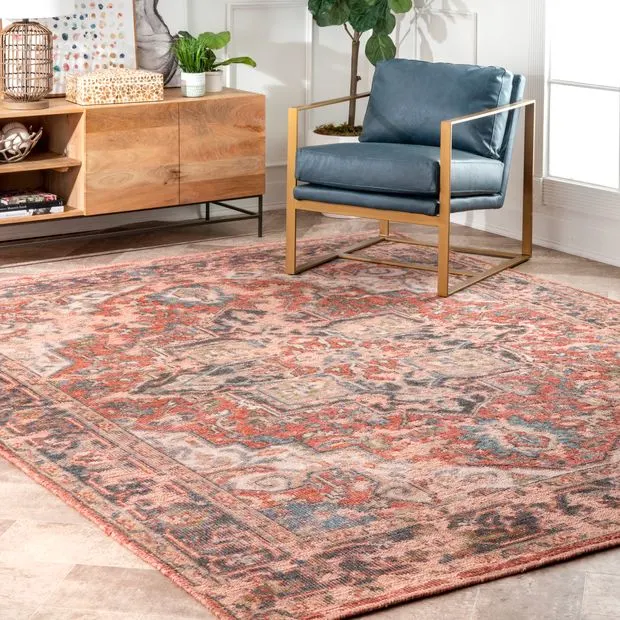 Hand-knotted rugs come in many different designs and colors. This one offers a warm palette that works well with wooden accents and warm hardwood floors.
You can also try placing it in an all-white interior to inject some color and life into the room. This rug will definitely become a piece of decor that does not go unnoticed.
Beige Hand Knotted Double Diamond Helix Area Rug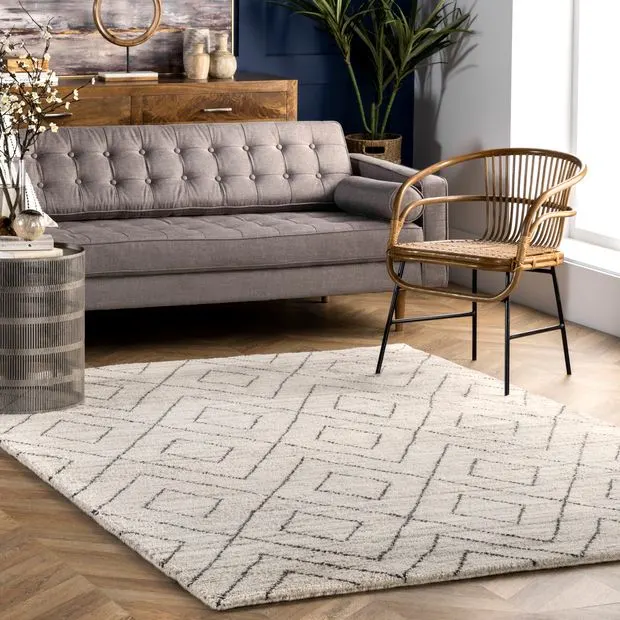 Beige hand-knotted rugs with diamond textures are great if you want to give your room, whether bedroom or living room, a nice laid-back vibe. In addition, the pile of the rug complements the Bohemian style and goes perfectly with bamboo or wooden furniture.
You can use this rug as a single layer and still get a full warm padding on the floors due to the 100% wool composition. Alternatively, try it layered with a jute bottom rug to give extra detailing and warmth to your room.
Hand-tufted Rug Ideas 2021
Hand-tufted area rugs are beautiful and affordable. They can become a focal point in your interior decor. Here are some of the best hand-tufted area rugs of 2021 you can choose from.
Natural Shag Area Rug
Shag rugs are very popular right now. It might be due to their natural look and laid-back feel that offers a sense of comfort which really sets them apart. This is why this natural shag area rug is one of our favorites for 2021.
The super versatile hand-tufted rug is not only soft and warm but also easy to match with a variety of interior styles. You can place it in bedrooms and living rooms with dark colors to elevate the mood without taking away the elegance of the decor. In addition, you can insert it in bright and neutral interiors to complement the soft tones of the room and create a relaxing feel.
Bonus tip: combine some natural design elements such as tree trunk coffee tables or broadleaf plants with your hand-tufted natural shag area rug to give your room a resort vibe.
Ivory Shaggy Trellis With Braided Tassels Area Rug
The ivory shaggy trellis with braided tassels area rug offers a unique design that can really elevate the look of a living room. This rug is made of wool and cotton and is perfect to sit on.
Its plain and light colors make it an ideal anchor piece for dark furniture and other bold elements in a room. In addition, its mixed design with a longer pile in diamonds and flatweave background is a very creative feature that makes a living room more intriguing.
Last but not least, you can use this rug in a bedroom with dark hardwood floors and have a very detailed and warm layer. The rug will add a nice touch to your room decor. You can also place it in your walk-in wardrobe or in front of a vanity mirror.
Dark Blue Coventry Area Rug
This hand-tufted rug is made of a unique blend of Indian and New Zealand wool which makes its surface super soft to sit on. In addition, its design is perfect for wooden accents and white walls. As such, you can place it in a Scandinavian interior and make the decor more contemporary.
A great place for this rug is the dining room. The dark blue Coventry area rug is not only a conversation starter but also a durable and flexible floor cover for this space.
Off White Tranquility Area Rug
This small but charming hand-tufted area rug is a unique piece of decor that will give a special retro feel to your room. Combined with golden accents, it will catapult your decor to the 'Austin Powers' era.
In addition, the soft surface of the white tranquility rug is not only refreshing but also easy to maintain thanks to the polyester composition. While most prefer a wool hand-tufted rug, this polyester rug is a contemporary solution that allows it to be more affordable while offering the same design characteristics as the rest.
Natural Hand Woven Jute with Wool Fringe Area Rug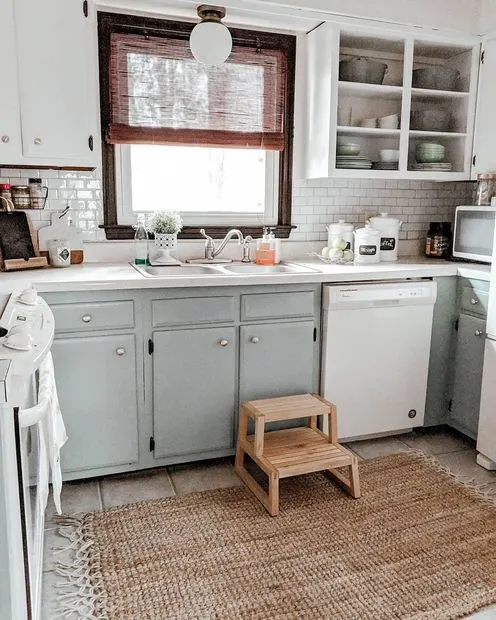 The hand-tufted jute and wool rug offer a refined design perfect for a classic interior. Its large surface and muted tones provide a great area rug for a bottom layer in a layered design.
In addition, this versatile textile is easy to maintain and comes at an affordable price which makes it a great choice for high traffic areas. You can use it in the living room as well as the kitchen, bathroom, or laundry room. These rugs work well with splashes of water.
Orange Vibrant Adileh Area Rug
The Orange vibrant Adileh area rug is a traditional rug with a contemporary color palette where warm strikes of orange inject a cheerful vibe to your room. You can place it in white or plain interior and get a more interesting design.
This rug is perfect for warm countries and eclectic interiors. You can place it in children's rooms to promote their sense of curiosity. The 100% wool surface of the rug will make for a warm and safe floor cover for children to play and sit on.