Our readers support us. This post may contain affiliate links. We earn from qualifying purchases. Learn More
White and grey area rugs offer a subtle design and a balanced color combination that goes well with any interior style, from ultra-modern to shabby chic. These rugs provide a solid decor foundation that can anchor all furniture pieces in a graceful and timeless manner.
In addition, white and grey area rugs are elegant as well as functional. These rugs can hide more spills and dirt than plain white rugs while expressing the same fanciness. As such, grey and white area rugs are easier to maintain than solid block color ones.
Living Room Grey and White Area Rug Combinations
Grey and white living room area rugs are perfect to create a contemporary look within any design style. They go well with brown couches, wooden accessories as well as dark walls. Here are some of the most impressive living rooms decorated with grey and white rugs.
The Fancy Living Room
|
Grey and white area rugs come in many styles, such as the fancy and sheen large round area rug that has become a great anchor piece for the multiple ultra-modern furniture pieces of this interior. The size and shape of the rug accentuate the volume of the room. The subtle color combination with mostly grey hues creates a dashing balance between the white floors and the black walls.
Tip: Use a round grey and white area rug if you have a large living room with dark walls. The colors of the rug will brighten up the space in a subtle way.
The Layered Grey and White Design
|
Some living rooms are bright and colorful thanks to the furniture pieces and the artwork on the walls. You can layer a white and grey area rug over a Jute or sisal rug within such a setting to provide extra depth and details to the floors while maintaining the carefully designed hierarchy of the room. The top Mid-Century modern rug provides a trendy look that fits perfectly the entire decor.
Tip: Layer white and grey area rugs in a colorful living room to provide more patterns and textures without messing up its color palette.
The Rustic – Modern Combo
|
Mixing modern features with traditional decor creates a timeless living room that is comfortable and inviting. White and grey area rugs are a perfect choice for such a design move as they offer a harmonious blend of both styles. The rug used in this decor makes the living room seem less old-school vintage and more lavish-rustic.
Tip: Incorporate a Moroccan partly-shag rug within a rustic living room for a softer feel. Combining these two styles prevents the decor from looking flat.
Bedroom Grey and White Area Rug Combinations
Bedroom grey and white area rugs are used to add texture to the room without disrupting a pale and calming color palette. In addition, they make the bedroom feel warmer through the cool tones, which is quite a pleasant design conundrum and a perfect move if you want to look like a design pro!
Here are some ways to make your bedroom more alluring with white and grey rugs.
The High-End Bedroom
|
In most cases, grey and white rugs with an abstract design and a sheen finish, are considered luxurious and ultra-modern. This bedroom is a perfect definition of that look: perfectly curated thanks to the large white and grey area rug with a neutral design.
Tip: Place a large grey and white modern rug underneath a king-size bed to make a fancy bedroom seem not only classy but also homely.
The Stripes Design
|
Stripes are often used to give depth to the design of the room. This is why white and grey striped rugs are quite popular in bedrooms with a minimal color palette. The clean and crisp texture of this rug adds a captivating design feature to the bedroom without making the room look overcrowded.
Tip: Use a high contrast white and grey area rug in stripes to give your floors more depth and make the design of your bedroom more intense.
The Modern Chic Bedroom
|
Shabby chic grey and white rugs in a bedroom can always generate a warm fuzzy feeling that makes the room seem cozier. In addition, this combination adds texture to the plain minimal room while giving it a romantic appeal.
Tip: Use a large washout grey and white rug with a floral design to make a bedroom look more chic and feminine. This trick works well with modern rooms in need of some charm and unique identity.
Kitchen Grey and White Area Rug Combinations
Grey and white rugs are more suited for white kitchen cabinets. Have a look at some ideas of how to place these rugs within different kitchen styles.
The Oriental Runner
|
Grey and white area rugs are a perfect choice for hardwood floors and black and white kitchens. Whether you have modern cabinets or traditional ones, an oriental white and grey runner can always add character to the entire design.
Tip: Give your kitchen floors more attention with an oriental grey and white runner.
The 70s Area Rug
|
A modern kitchen with shiny cabinets can seem very cold, especially when the floor finish is also white tiles. The grey and white runner in a 70s pattern, makes the kitchen feel homely without interfering with the minimal modern design of the cabinets.
Tip: Add a grey and white 70s style runner to a minimal white kitchen to make it feel warmer. The rug will allow the kitchen to feel like a home rather than a showroom.
The White and Grey Rug on Dark Floors
|
A white and grey area rug is perfect to brighten up dark hardwood floors. This graceful runner also creates a harmonious link between the pure white kitchen cabinets and the dark hardwood floors.
Tip: Pick a white and grey area rug if your kitchen floor is too dark, to make the space look lighter and more delicate.
Dining Room Grey and White Area Rug Combinations
Grey and white area rugs work best with dining rooms that have brown and wood dining tables and chairs.
The Bold Dark Look
|
Dark colors are very 'in fashion' right now, especially for dining rooms. Dark walls combined with natural browns manage to create a moody and cozy space that looks contemporary and luxurious. A high-contrast grey and white rug fit perfectly within the design concept of this room. It creates a cohesive decor that makes the light wooden features thrive.
Tip: Use a high-contrast white and grey area rug to complement black walls and create a stylish dining room.
The Modern Minimal Look
|
The minimal and abstract design of the white and grey rug in this image creates a stylish contrast with the modern rustic dining table and chairs. This combination manages to deliver a very unique sophisticated look. In addition, it makes the plain tiled floors seem way more interesting.
Tip: Mix and match two contrasting styles between the dining table and the rug to create a unique design with a hint of eccentricity.
The Coastal Look
|
Grey and white rugs with a coastal striped design can make a dining room seem less formal. The large rug in this dining room looks modern thanks to the rug, despite the traditional furniture pieces within.
Tip: Use a casual grey and white rug with traditional wood furniture pieces to make a dining room feel more comfortable.
Best Grey and White Area Rugs of 2021
Here are the most preferred grey and white rugs of 2021 that will make any room in your house look glamorous.
Salt and Pepper Solid Braided Indoor/Outdoor Area Rug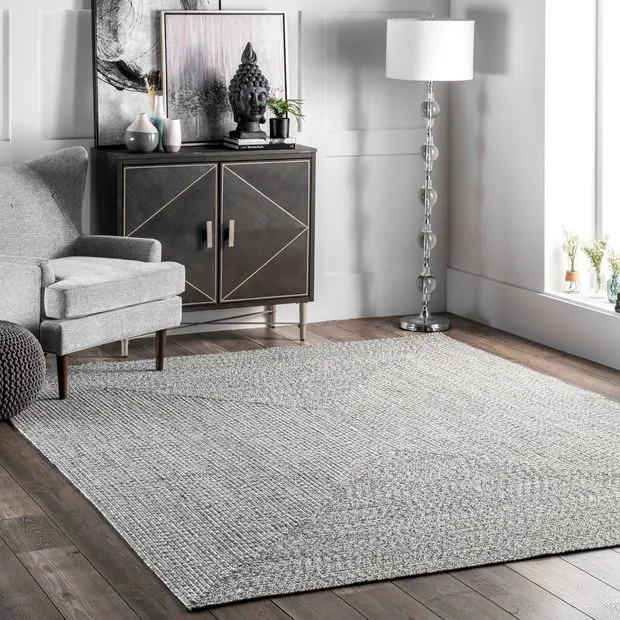 This braided polypropylene rug offers subtle hints of white within a grey background. In addition, it provides a durable and interesting cover for your floors. This rug works perfectly for outdoor spaces as well. So, if you have a patio or wood deck, the Salt and Pepper Solid Braided area rug will surely turn it into a comfortable and modern outdoor living room.
See more: Best Outdoor Rugs for Decks and Patios
Black And White Woven Ombre Pinstripe Area Rug
The second one on our list is the warm and soft Black And White Woven Ombre Pinstripe Area Rug. This rug is made of 70% wool and 30% cotton. Natural fibers are always a good choice for any interior thanks to the luxurious feel. Add the beautiful ombré design and this rug instantly becomes a bestseller. It makes an impact, especially on dark hardwood floors.
Gray Mist Shades Area Rug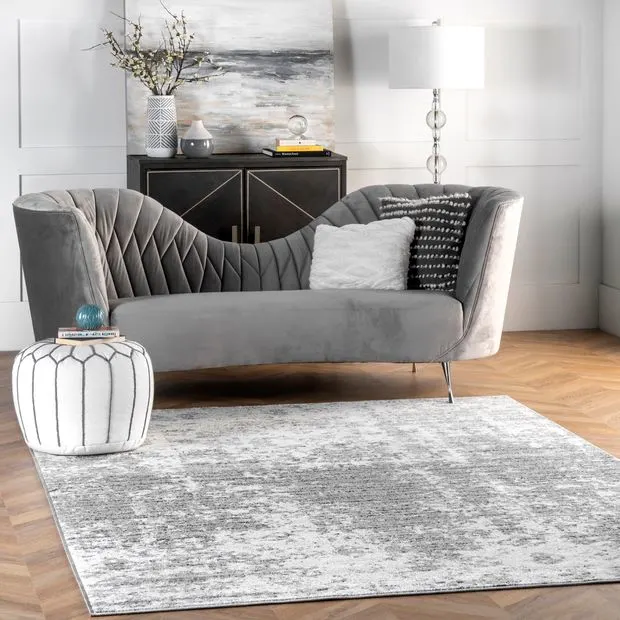 The unique combination of traditional motifs with abstract designs makes this rug a great accent piece for any room in the house. You can place it close to the fireplace, in a modern bedroom, traditional dining room or a rustic living room. It will always make the space look more curated and authentic. Bonus fact: it comes in a variety of shapes and sizes so you can be extra creative with your home decor.
Gray Broken Lattice Area Rug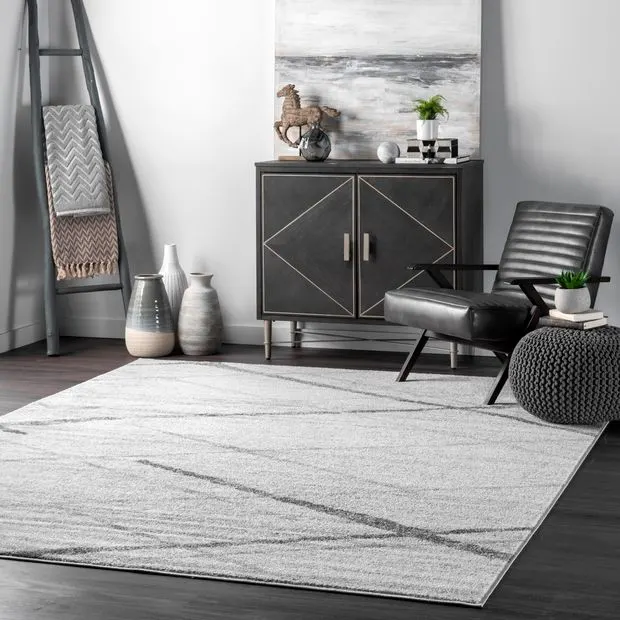 This polypropylene solid and stripes rug in grey and white offers a sophisticated modern design. It is a perfect rug to place underneath an office desk. The monochrome tones combined with the mature design can create a very refined office look.
Gray Ring Around The Rosette Area Rug
The distressed grey and white Rosette area rug can turn any room into a chic setting. Use it underneath a king-size bed within a monochrome decor to instantly make the room look utterly stylish. You can even place it in a shabby chic dining room for an elegant and romantic touch.
Gray Wrought Iron Trellis Area Rug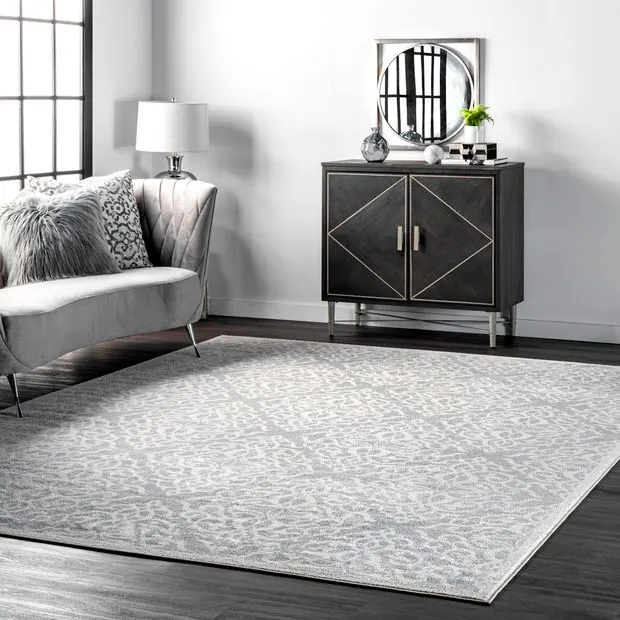 Trellis rugs are always a good choice for kitchens. Their particular pattern adds depth and charm to these rooms. You can place a grey and white trellis runner between your kitchen aisles to soften the harsh edges of the cabinets. This design move will add a nice feminine touch to the cold kitchen floors as well.
Black Shaggy Moroccan Lattice Fringe Area Rug
This handwoven 100% wool rug is a gem not to be ignored. You can place it into any room of the house, match it with brown furniture pieces and mustard cushions to create a contemporary design that benefits from the warm and rich Moroccan tradition.
Gray Maren Abstract Marbling Art Area Rug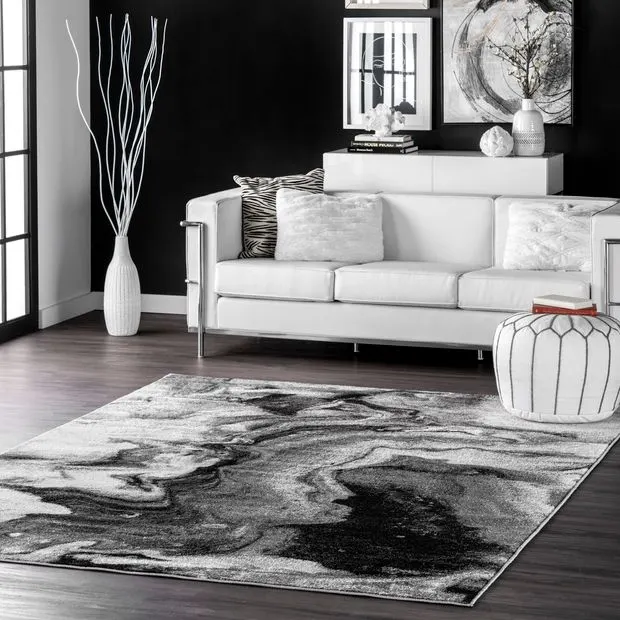 This high-contrast grey and white area rug is a perfect choice for an ultra-modern interior. It works well combined with black walls to create an elegant living room with a luxurious feel. Last but not least, its low pile is quite in fashion right now, not to mention practical. As such, you can use this rug for high traffic areas as well.
Gray Hazy Waves Area Rug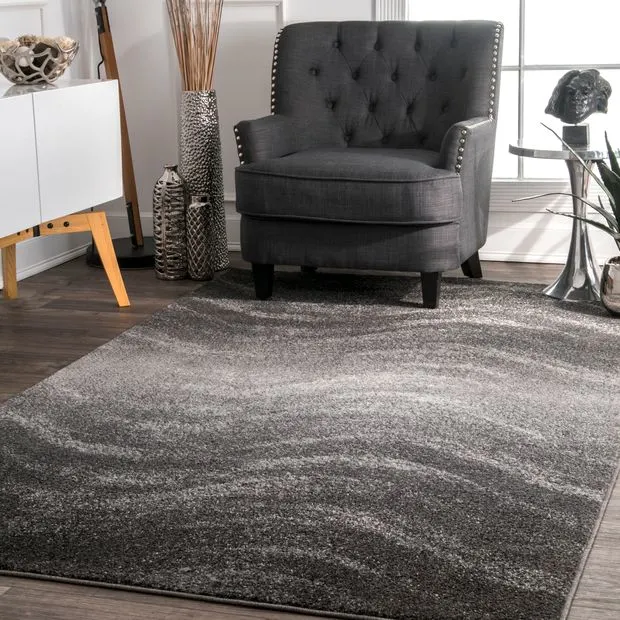 The strong and durable Gray Hazy Waves Area Rug offers a soft design in cool shades. The modern look of the rug makes it a perfect choice for an office or meeting room. You can use it in both a home work station or a commercial office space.
Gray Geometric Waves Area Rug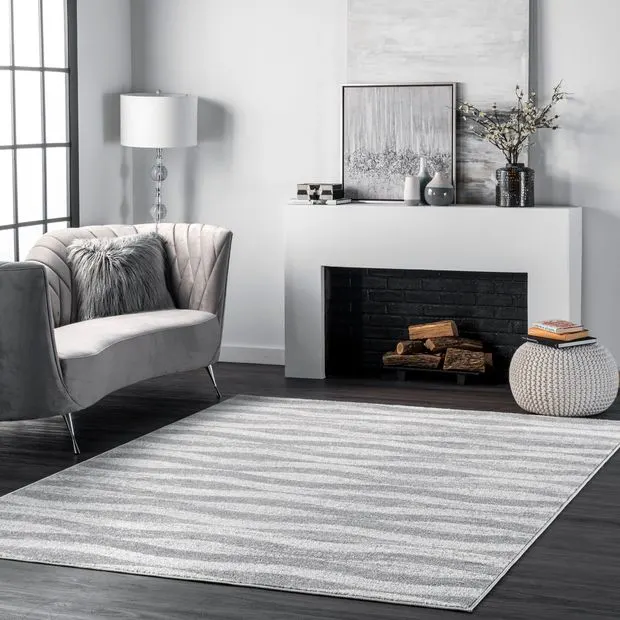 Geometric rugs tend to convey a harsh feel, but this is not the case when the patterns of the rug are wavy lines. The Gray Geometric Waves Area Rug provides a stylish design that is modern and inviting. The balanced combination of grey and white make this rug a perfect choice for minimal interiors.