Our readers support us. This post may contain affiliate links. We earn from qualifying purchases. Learn More
A game room is also known as an entertainment center. Typically, this room will have plenty of games and consoles, like an arcade. To make it more homely however some other elements are added. The gaming room rug is indeed one of these elements that makes the game room a more comfortable and inviting setting.
With today's technology evolving so rapidly, gaming has been growing more and more in popularity. As a result of this massive jump in popularity, many gamers are looking to design their perfect game rooms.
Gaming rugs make a great addition to a game room as they provide much needed comfort as well as extra sound insulation to your room. If you are looking to incorporate a modern gaming design, you can choose a rug that complements the size and shape of your room and makes it feel larger and more detailed.
The most common gaming rug today features a black background with a bold pattern. That is not to say that you cannot use other rugs to decorate your own gaming room and make it more individual and also inspiring.
Here are some tips to help you decorate this unwinding and fun space in a cool manner.
Gaming Rug Tips
|
The thing about gaming rooms is that they might feel cold due to all the cables and consoles that are spread throughout the room. They can also seem quite messy or child-ish as the main theme in the space is actually games. However, if you want to create a more mature and expressive game room, here are some tips.
Keep to a Theme
Keeping to a specific theme is always a great interior design hack for any room in the house. Themes create consistency and allow your space to tell a story while displaying creativity and character.
Here are some of the most common gaming room rug themes.
Modern Gaming Room Rug
|
Modern or contemporary gaming rooms include the latest gadgets and consoles that anyone could dream of. In terms of furniture and interior designs, these rooms are usually elegant and sleek. They can be cold and resemble a futuristic setting or space station interior.
These rooms can benefit from low pile area rugs with a sheen finish that complements the futuristic feel. Silk rugs are probably the best option. Their luxurious material will intensify the modern theme of the room. When it comes to design, pick an abstract geometric pattern on a cool background such as gray, blue, yellow, or black.
Retro Gaming Room Rugs
|
The most common look for a gaming room is probably an arcade. These rooms are fun, messy, vintage, and chaotic. As a result, they allow you to be creative and experiment when it comes to area rugs. You can choose anything from flat weave colorful rugs to plush retro or shabby chic pieces.
Also, you can even experiment with different designs from mid-century modern styles to abstract geometric patterns. Make sure to avoid floral or oriental designs however as these rugs clash with the consoles and the games in the room.
Space Gaming Room Rugs
Many gamers like to feel as though they are in outer space when they are playing and socializing. As a result, a space station theme is quite common in gaming rooms. To immerse yourself fully into this theme, you need to find the right area rug.
A full black or navy blue area rug is a good choice for this theme. In addition, any rug with a space or galaxy design can also become a cool accent piece within this setting. A white plush rug can also do the trick and provide for a very comfortable layer.
Last but not least, you can experiment with a bold yellow or orange rug that takes inspiration from the sun, thus becoming the focal point of the room.
Neon Gaming Room Rug
|
There is a recurrent theme amongst gaming rooms with dim neon lights in blue or purple. If this is the theme for you, then here is your rug of choice: a plush area rug in one single color. Aim for a pale or neutral color such as white or gray. These rugs will allow the room to feel comfortable without overwhelming the design.
A low pile rug can also be used. Try to avoid flat woven pieces however as they are neither comfortable to sit on nor do they offer good soundproofing for the floors of the room.
Get a Cool and Comfortable Material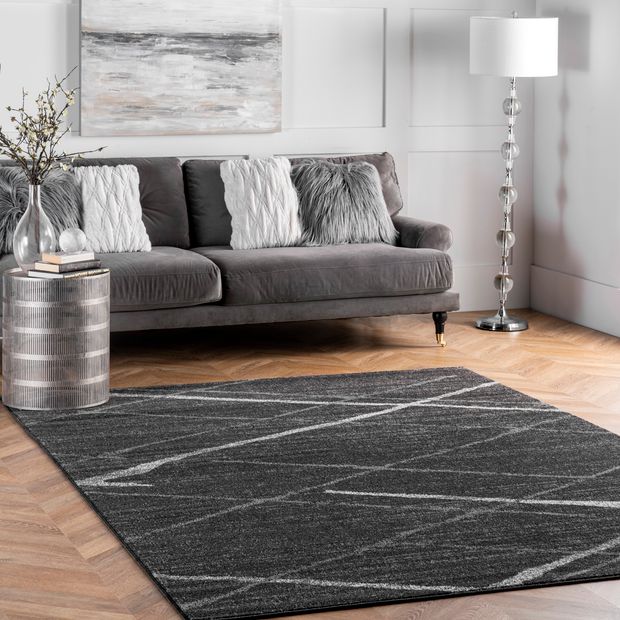 Gaming rooms can get pretty hot, so it's ideal if the rug material is cooling, yet comfortable. Cotton rugs are a perfect choice. Cotton is fresh, soft, versatile and easy to maintain. You can wash these rugs in the washing machine at home. This is a particularly good feature for when you and your friends spill anything on the floor while playing.
In a room where you will spend a lot of time, you want a rug that is also durable. Synthetic rugs such as polypropylene are a good choice for a gaming room. These rugs are durable, water resistant, stain resistant and quite affordable as well. They perform well in rooms with plenty of foot traffic and even shoes (if you have friends over all the time).
In terms of pile, opt for something that is neither flat nor plush. Make sure you find a rug that does not shed so that the room remains clean. Also, aim for something that is both cool and soft.
Pick an Appropriate Shape and Size
|
Shape and size is important when it comes to a gaming room. People using these rooms are usually careless when walking around the space. Their attention is always elsewhere, like a screen or console. So it is important to choose a large rug that can be tucked underneath the furniture and remain secured in place at all times.
In terms of shape, keep it simple. Follow the shape of the room and get a rug that has the same proportions. If you find a rug you like that is lightweight, make sure to secure it in place with a rubber underlay.
Anchor Your Area Rug
|
Here is our bonus tip: anchor the rug with the rest of the furniture in the room and make sure to match it in terms of color and design with other decor pieces.
You can match the rug with the curtains, the posters of the walls, the wall color or wallpaper. In addition, you can anchor it to the desk, the TV stand, the couch or armchair.
Cool Gaming Room Rug Ideas
Here are some ideas on how to decorate your gaming room with the coolest rugs.
Arcade Rug
|
Everyone loves reminiscing about the good times they had playing games. A gaming room is a place to be enjoyed, and many will enjoy the retro feel of an arcade rug.
An arcade rug is probably the most literal and symbolic rug you can use in a game room. These rugs go with an arcade decor that is fun and artistic. It can be chaotic and full of color and still maintain a balanced interior that submerges you into a full gaming world.
An arcade rug will typically have a black background and several small game related patterns on top of it.
You can place it over hardwood floor or better yet, layer it on carpet.
Play Rug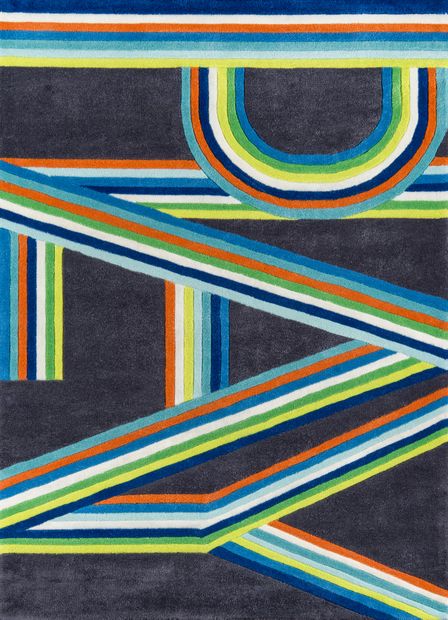 If subtlety is not your strong suit, you can make your game room more obvious with the Blue LMT14 Area Rug. This rug has the word 'Play' written in large colorful letters. It's plain background combined with the cheerful colors of the word allows this rug to be matched to various decors. The design of the word 'Play' itself seems perfect for a game room as it looks like it has been inspired by the colorful cables that are inevitable in such a room.
This hipster rug is made of 100% polyester and comes in many sizes, adaptable for any game room.
Funky Rug
Apart from the obvious arcade rug, there is also another one that matches a retro style and is perfect for a classic game room design. This is the funky colorful Multi Bright Square Area Rug.
This rug is great for cheerful and fun game rooms, especially old-school ones. It features an inspiring pattern composed of squares of different sizes that can be matched with other items in the room to create an eccentric design. It is a polypropylene rug, easy to clean and maintain.
Pac-Man Rug
Pac-man is one of the most iconic and addictive games ever played, which makes the Pac-man rug a great choice for a games room.
This rus has a 7mm thickness and a high quality printed Pac-man logo which is fade resistant. These are great qualities in a rug that experiences a lot of foot traffic. In addition, this polyester rug is durable and dustproof, allowing you to focus more on your games and less on cleaning and maintaining the rug.
Last but not least, the Pac-Man rug is sawn around the edges and maintains its stability which makes it a perfect base for kinect games.
Ombré Rug
Experiment with an ombré rug if you want your game room to seem more elegant and sophisticated. The Gray Ombre Area Rug is not only modern and edgy but also soft and comfortable. It features a cool gray color that can soften the cold looking character of all the consoles and flat screens in a game room.
In addition, this polyester rug is durable and easy to maintain. It can be matched with a black leather sofa to complete the mature look of your game room and turn this space into a proper unwinding sanctuary.
Geometric Rugs
The Gray Retro Shapes Area Rug can be a good addition in a game room. It's design adds depth to the space and creates a playful layer on the floor which matches the character and identity of the room itself.
In addition, the various shades of the repetitive pattern create a very nice effect when seen under fluorescent neon lights, thus giving your game room a cool twist when the games are on.
Black and White Rug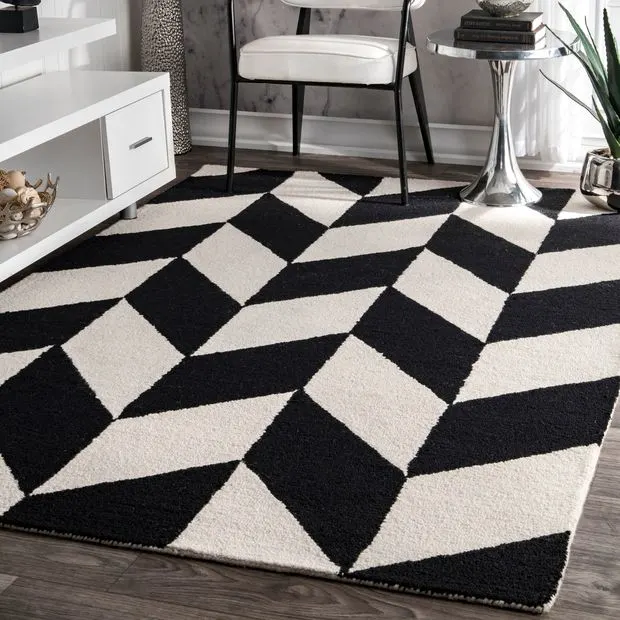 There is always an appeal to black and white rugs. These rugs are greatly appreciated in any room, and especially game rooms, due to their monochrome design. It creates contrast and balance within any decor.
The bold pattern of the Black and White Retro Checker Tiles Area Rug is a perfect choice for a game room that also serves as a family room. In addition, this rug is made of 100% wool, offering a nice and luxurious feel when you play games on the floor. It also adds warmth and sound inspiration to the game room, allowing you to enjoy the entire gaming experience in a comfortable environment.