Our readers support us. This post may contain affiliate links. We earn from qualifying purchases. Learn More
Gabbeh rugs are specific types of Persian rugs that look natural and raw.
There is something super interesting and appealing about Oriental rugs. The intriguing designs, luxurious materials, and fine craftsmanship make Persian rugs unique pieces of decor for any interior. The same goes for Gabbeh rugs.
Follow our guide to find out how these rugs are made, what they can bring to your interior, and how to place them for a decor full of intense character.
What are Gabbeh Rugs?
Gabbeh rugs are Persian rugs with an interesting abstract design. These rugs are handwoven and feature random geometric shapes or tribal motifs on a background full of rich color.
The most common size for a Gabbeh rug is usually 90 by 150 cm. In terms of pile and shape, these rugs are thick and coarse with a raw character as the word Gabbeh also describes (deriving from Persian, it means raw and natural).
Initially, Gabbeh rugs have been used for sleeping by nomadic tribes before becoming decor elements in a room. Their thickness and warmth made them perfect 'custom-made' flexible mattresses.
In addition, they are very durable thanks to the tight knots that compose them. As such, it was easy for nomadic tribes to roll these 'sleeping bags' from one settlement to the other.
How are Gabbeh Rugs made?
The most interesting thing about Gabbeh Rugs is that they are mostly handwoven by women in simple ways, though resulting in pieces of art.
They are made of natural materials such as wool yarn, woven in a few knots per square centimeter. The wool comes from sheep in the mountains. Their wool has a better sheen and more resistance to stains.
Color is then added with natural plant dye in order to maintain the original features of the wool, especially its sheen.
Gabbeh Rug Weaving method
Wool in Gabbeh rugs is handspun with a drop spindle after it has been dyed. The women making the rug, keep the wool into yarn in one hand, and spin the drop spindle with the other hand.
Then, the handspun wool is loomed and hand-knotted into a rug. Gabbeh rugs are made using Turkish knots that are symmetrical, as well as Persian knots that are asymmetrical. The knots are tied into a series of strings that form a weft.
The whole process of creating a Gabbeh rug takes about 22 hours.
Gabbeh Rug Design Method
A Gabbeh rug is made from the bottom up. In addition, its made knot by knot with great precision on horizontal looms. Therefore, the design is created row by row until it reveals the bigger picture.
The design of a Gabbeh rug is usually simple but priceless. The motifs are taught to women by their mothers as family traditions. These motifs derive from natural elements the tribes saw throughout their journeys.
Most Impressive Gabbeh Rugs and Ideas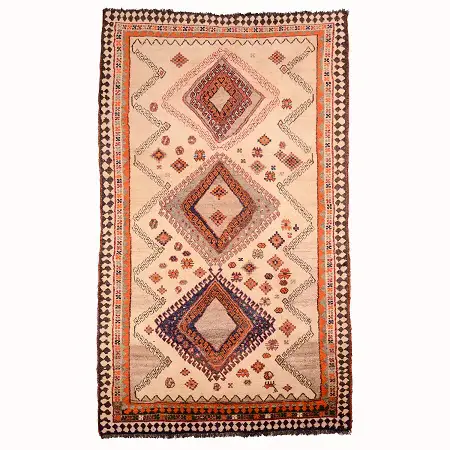 Gabbeh rugs are usually plain with very few decorations compared to other Persian rugs. Their surface is composed of small geometric objects depicting animals.
You can find these rugs in earthly tones or bright and cheerful colors, mainly in red and yellow.
Here are some of the most popular Gabbeh rugs;
Luribaft Gabbeh Rug
Luribaft, also known as Loribaft Gabbeh rugs, are one of the most luxurious types of Gabbeh rugs. Their surface is soft and the thickness of the rug is low. This is a special feature as most Gabbeh Rugs are thick and coarse.
In addition, these rugs have an attractive sheen as they are made of high-end wool which allows you to sit comfortably and enjoy the way it feels on the skin.
Another unique feature of Luribaft Gabbeh rugs is the design which is weaved on their foundation contrary to other Gabbeh rugs.
You can use Luribaft Gabbeh Rugs in the bedroom or vintage rooms with a 'be closer to nature' design concept.
Indo Gabbeh Rug
As you can guess from the name itself, Indo Gabbeh Rugs are produced in India instead of Iran, formerly known as Persia.
These rugs are hand-knotted using Gabbeh patterns. You can barely tell the difference between these rugs and Persian ones, as the quality is quite good.
Indo Gabbeh rugs are durable and warm due to the thickness of the pile. As such, these rugs are perfect for high-traffic areas with a sense of raw Oriental character.
Nowadays you can also find some contemporary patterns that offer the same high quality but at a more affordable price.
Look for Indo Gabbeh rugs in living rooms or sunrooms, especially if you have little children or pets in the house.
Kashkuli Gabbeh Rug
While all Gabbeh Rugs are made in Persia (apart from Indo ones), Kashkuli rugs are made in the South-Western part of this super talented country. They are crafted by nomadic people, using just wool as a natural material. The reason being that wool is the easiest material for these tribes to find.
Kashkuli Gabbeh rugs, similarly to Luribaft ones, are waived finely and have a very short pile. They feature natural designs with tribal motifs, mainly in colors deriving from the earth such as green and brown.
These rugs are soft but still warm and durable, making them great additions in living rooms and dining rooms.
Modern Kashkuli Gabbeh Rug
|
Kashkuli rugs can also take inspiration from traditional motifs and natural elements such as this one. You can use this leaf rug in a bedroom or office and change it periodically and use it in the autumn to add a theme to your decor.
Qashqai Gabbeh Rug
Qashqai Gabbeh rugs are also known as Kashgai, Ghashghai, and Gaschgai (all different spellings of the same name). These rugs are made from a Turkish-speaking tribe in today's Iran.
Same as other Gabbeh rug makers, these people are also nomads moving around in the Zagros mountains and the area of Shiraz, with their sheep. As a result, Qashqai rugs are also made of wool and dyed with color derived from vegetables.
Over the years, Qashqai rugs have become more and more luxurious. You can also find them in various designs, from classic to contemporary. The density of their knot varies from 220 knots per square inch to 3600.
These rugs are perfect for offices in need of some character and cultural diversity in their interior design.
You can also place them in hotel lobby's or dining rooms to spark an interesting conversation about past traditions and super ingenious craftsmanship.
The Statement Rug
|
You can place a large red Qashqai Gabbeh rug in a room with soft tones in order to spruce up the decor. The rug will make the whole space have more character and charm in addition to plenty of soul and artistic expression.
Vintage Gabbeh Rugs
Vintage Gabbeh rugs offer antique designs made by the most talented craftspeople in Persia. You will find them in tribal designs and muted colors in an earthly palette.
The Multi Pattern Vintage Rug
|
Create a perfect setting for a cabin with this vintage multicolor and pattern Gabbeh Rug. The various shades allow you to match it with different decors, while the dark earthy palette injects a vintage charm to any room.
Solid Gabbeh Rugs
Solid Gabbeh rugs come in one color and mostly a vivid one, contrary to most Gabbeh rugs that showcase a neutral and earthy palette. These rugs are luxurious and low pile thus creating a category of their own.
Small decorations can be found on the edges of the rug while the background is one single color, mostly in blue, red, or yellow.
Super Red Gabbeh Rug
|
Red and grey are always a good mix but things get even better when you match a solid Gabbeh rug with a grey interior. The bold color of the rug will break the flatness of the room while the Gabbeh motifs will harmoniously blend with contemporary features.
Modern Gabbeh Rugs
Modern Gabbeh Rugs are mostly up to interpretation. They could be solid rugs or even Qashqai rugs with a subtle tribal design or geometric patterns.
What makes them really modern is the way they are integrated into the room and how they anchor the rest of the decor.
So which type of Gabbeh rug is the right one for your home?