Our readers support us. This post may contain affiliate links. We earn from qualifying purchases. Learn More
As the holiday season approaches, the excitement to adorn our spaces with cheerful decor is palpable. This year, we've scoured the trends and traditions to bring you an exclusive collection of Christmas table decoration ideas that are both fun and elegant.
From the rustic charm of a cabin retreat theme to the whimsical allure of a Candyland setting, our ideas are designed to inspire and ignite your creative spirit. Whether you're hosting a grand holiday feast or a cozy family dinner, our guide offers unique and stylish ways to transform your dining area into a magical Christmas landscape.
Safety Considerations for Candles: While candles add a warm and inviting ambiance to your Christmas table, it's crucial to consider safety. Always place candles in sturdy holders and keep them away from flammable objects. Never leave candles burning unattended, especially if children or pets are present. For a safer alternative, consider using LED candles, which provide the same cozy glow. Remember, safety is paramount to ensure that your festive celebrations remain joyous and accident-free.
1. Whimsical Winter Wonderland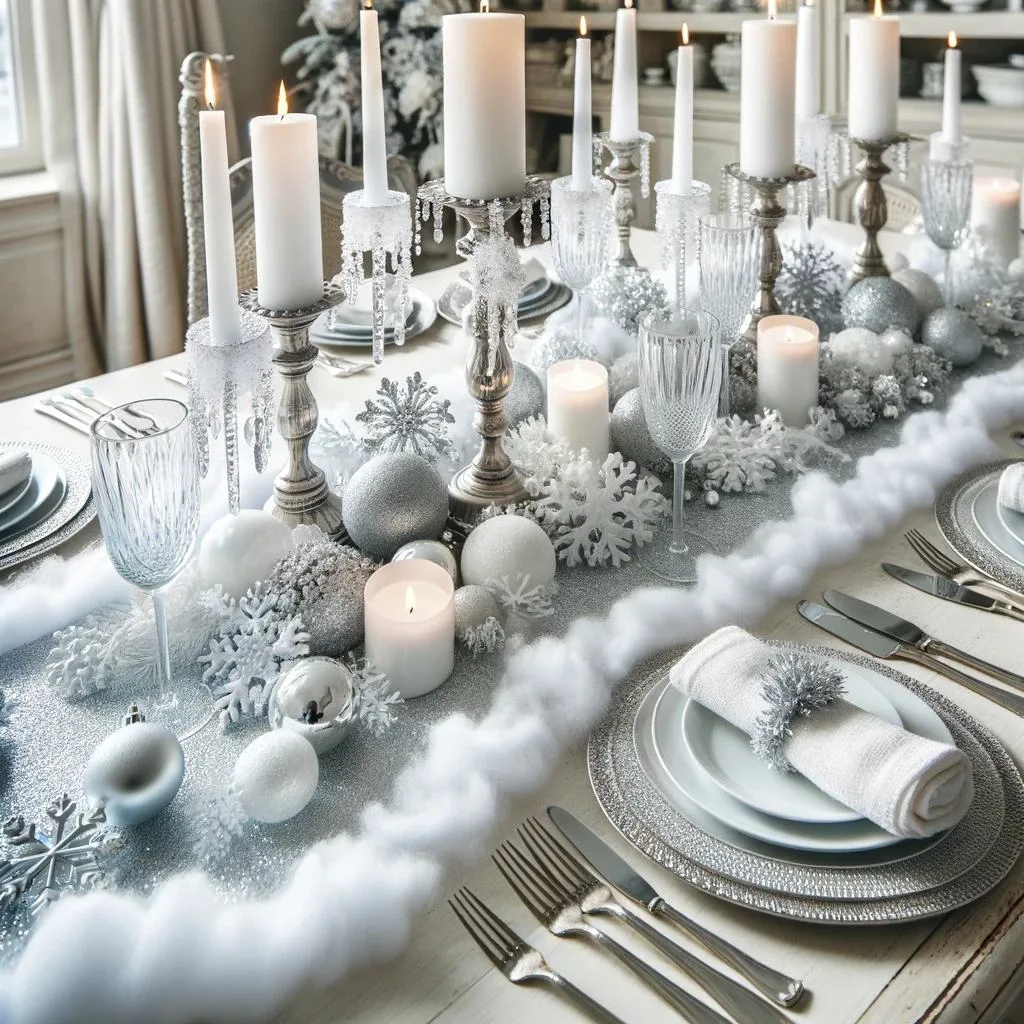 Set a dreamy scene with a white and silver color palette, evoking the serene beauty of a snowy landscape. Use cotton batting along the table runner to mimic fresh snow, and place silver candlesticks and crystal icicles among the "drifts" for a sparkling effect. Finish the look with white taper candles and clear glass ornaments to catch and reflect the light, creating a shimmering, frosty display.
2. Christmas Movie Night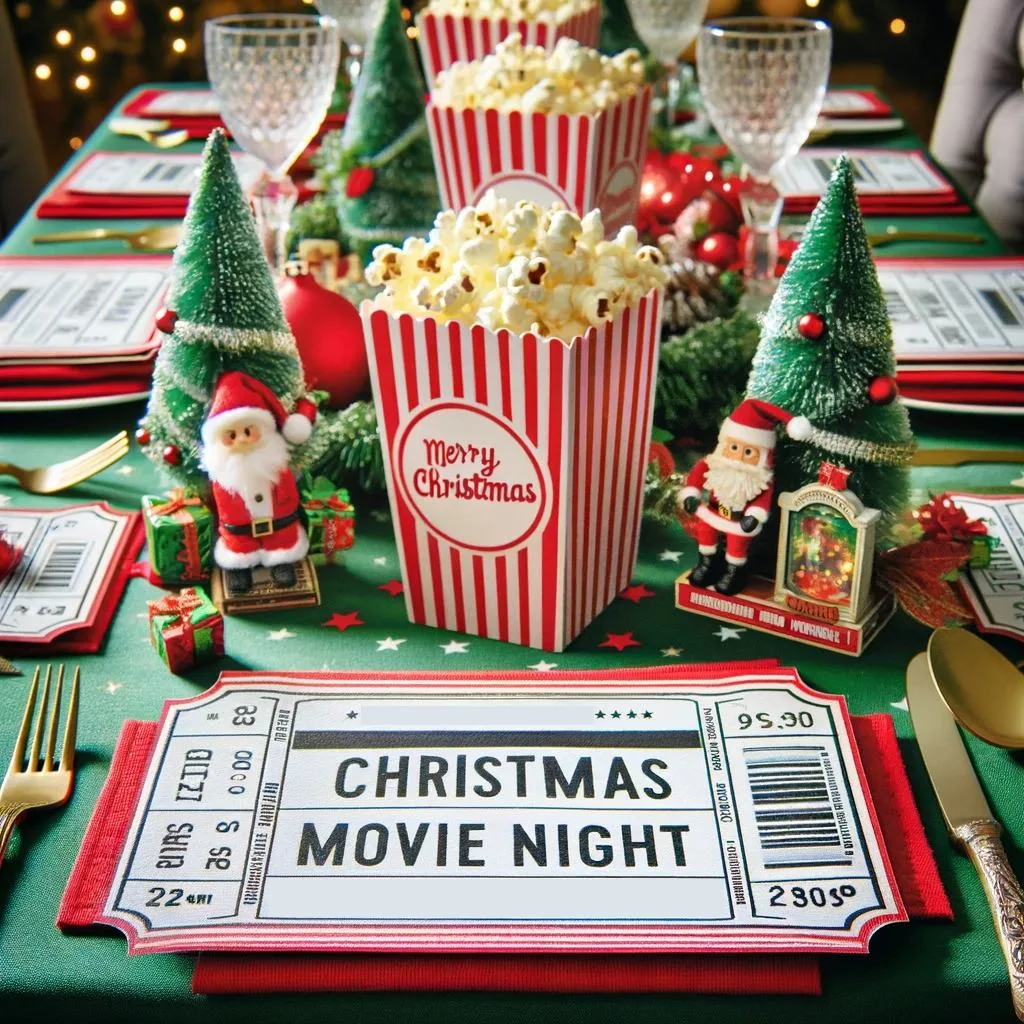 Set the stage for a festive 'Christmas Movie Night' themed table. Envision placemats styled as vintage movie tickets, laying the foundation for an imaginative and playful setting. In the spotlight, popcorn buckets take center stage as whimsical centerpieces, accompanied by miniature figures and iconic images from beloved Christmas films, adding a touch of cinematic nostalgia. The scene is completed with red and green striped napkins reminiscent of classic theater drapes, enriching the merry and engaging ambiance of a holiday film fest.
3. Classic Red and Green Elegance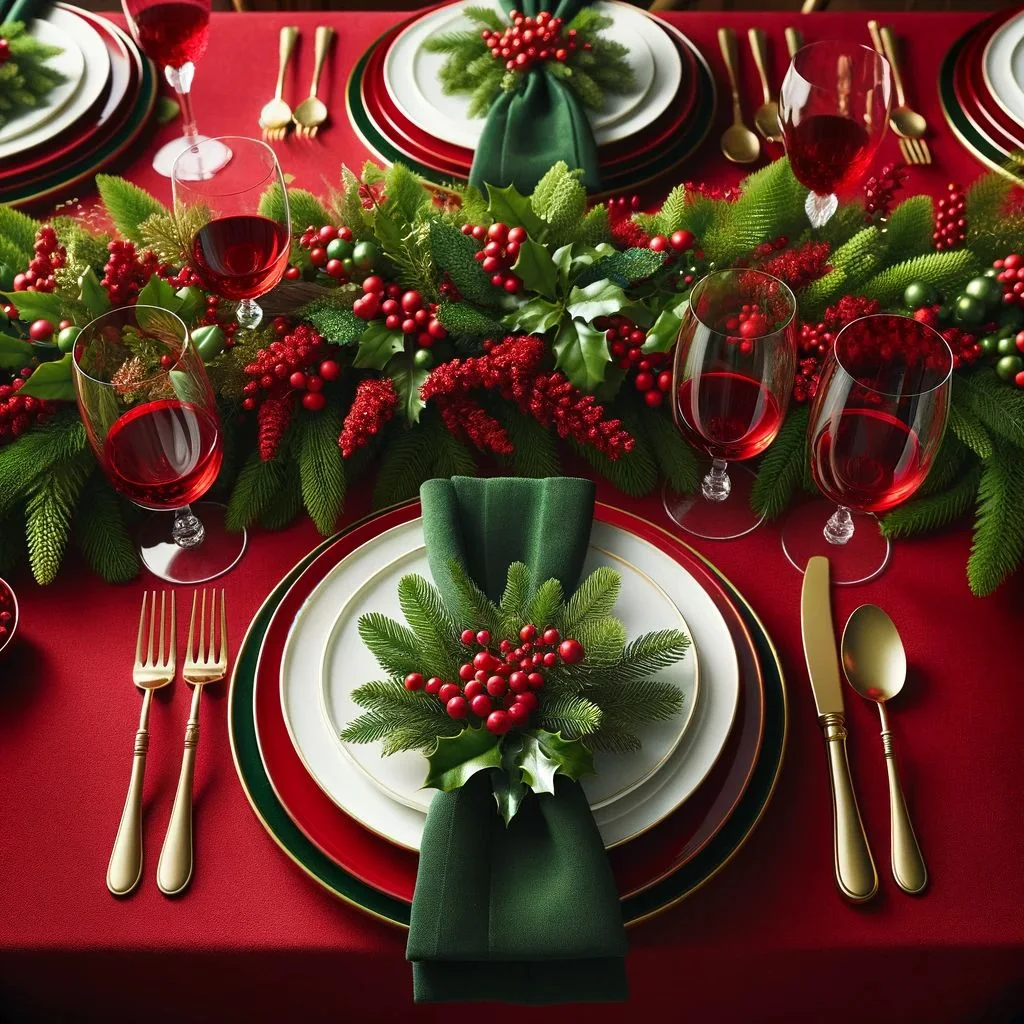 Embrace the timeless Christmas duo of red and green. Lay a deep red tablecloth and center it with a garland of lush greenery dotted with red holly berries. Use green napkins and red chargers under white plates to maintain the theme, and add a touch of sophistication with gold flatware and red wine glasses.
4. Rustic Alpine Retreat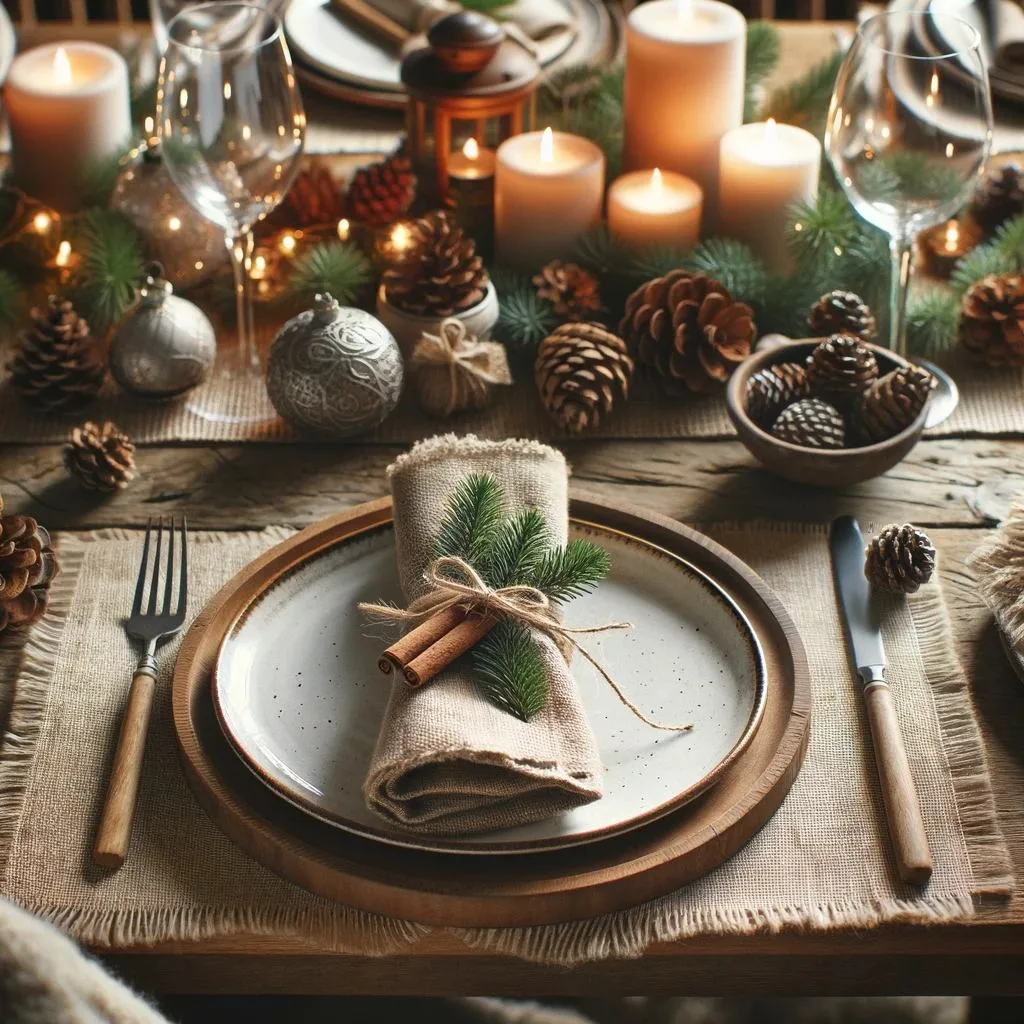 Channel the warmth of a mountain lodge with natural wood elements and pinecone accents. A burlap runner down the center of the table sets a rustic foundation, while small fir tree cuttings and pinecones interspersed with tealight candles create a cozy atmosphere. Use wooden chargers, flannel napkins, and DIY name tags tied to cinnamon sticks to complete the rustic charm.
5. Nordic Minimalist Chic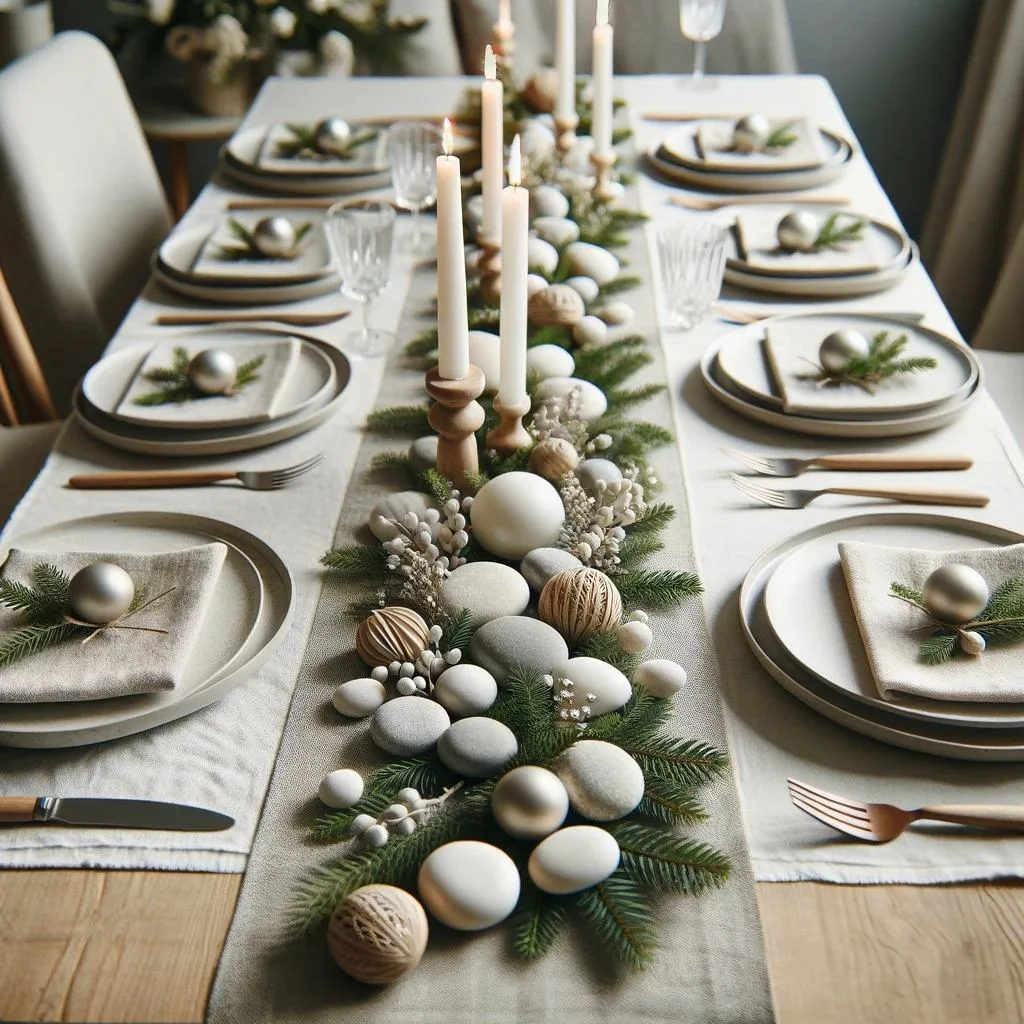 Keep it clean and simple with Scandinavian-inspired decor. Use a neutral tablecloth, place smooth white stones down the runner, and add minimalist wooden ornaments. Include simple geometric candle holders with white candles and utilize natural wood cutlery to maintain a serene, uncluttered table setting.
6. Candy Cane Lane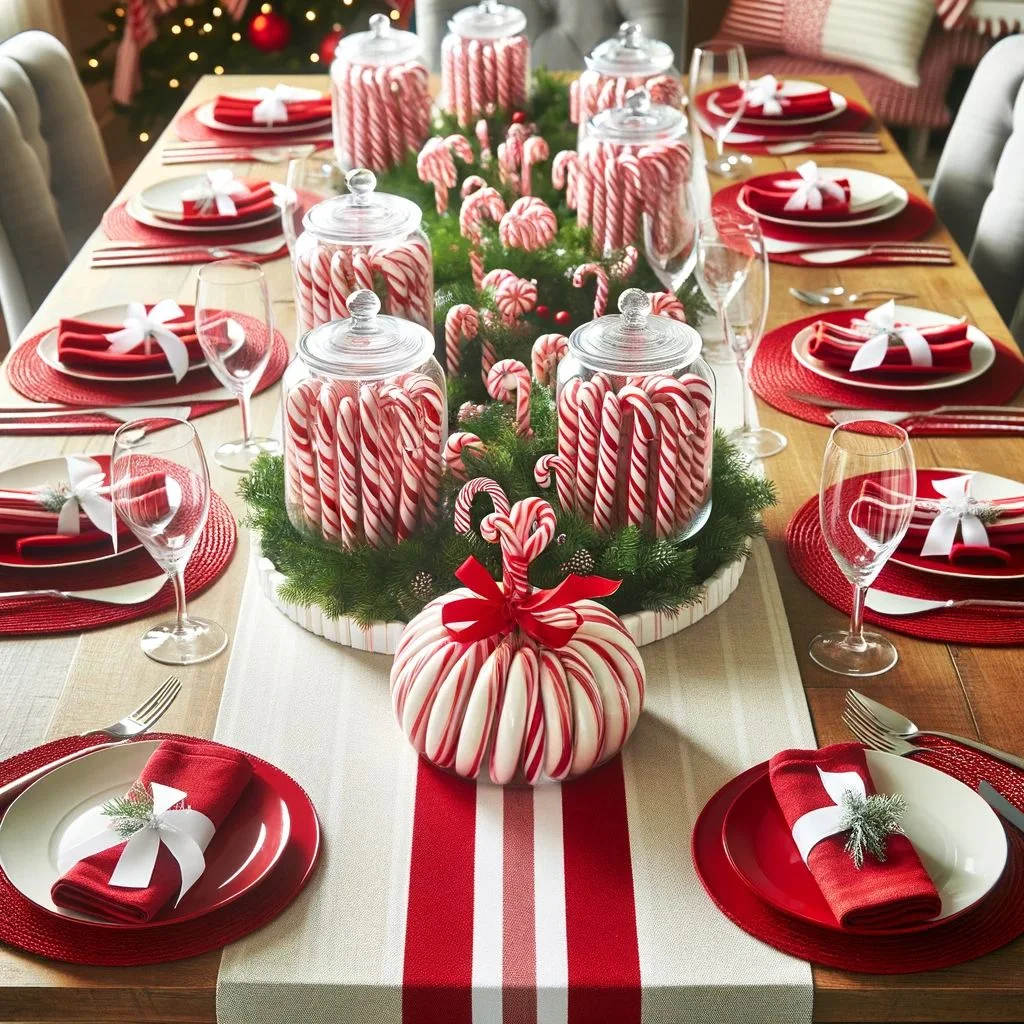 Celebrate the sweet side of Christmas with a candy cane-inspired table. Lay a striped red and white runner down the center, and use round peppermint candy placemats. Clear jars filled with actual candy canes make for a playful centerpiece, and red napkins tied with white ribbon echo the theme.
7. Glamorous Gold Rush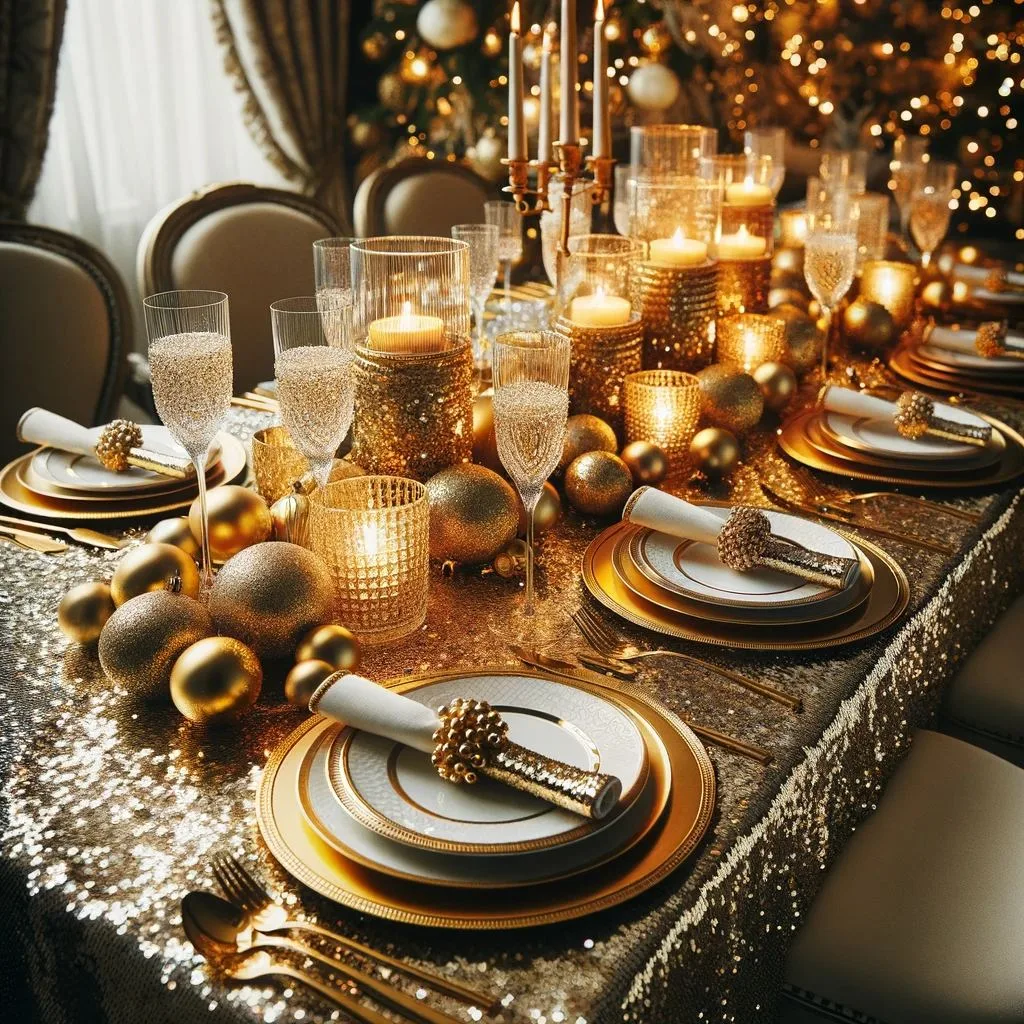 Indulge in opulence with a table draped in gold. A sequined gold table runner will serve as the base for mercury glass votives and golden baubles. White plates with gold rims, golden flatware, and crystal glasses on top of gold chargers complete this lavish setting.
8. Midnight Blue Starry Night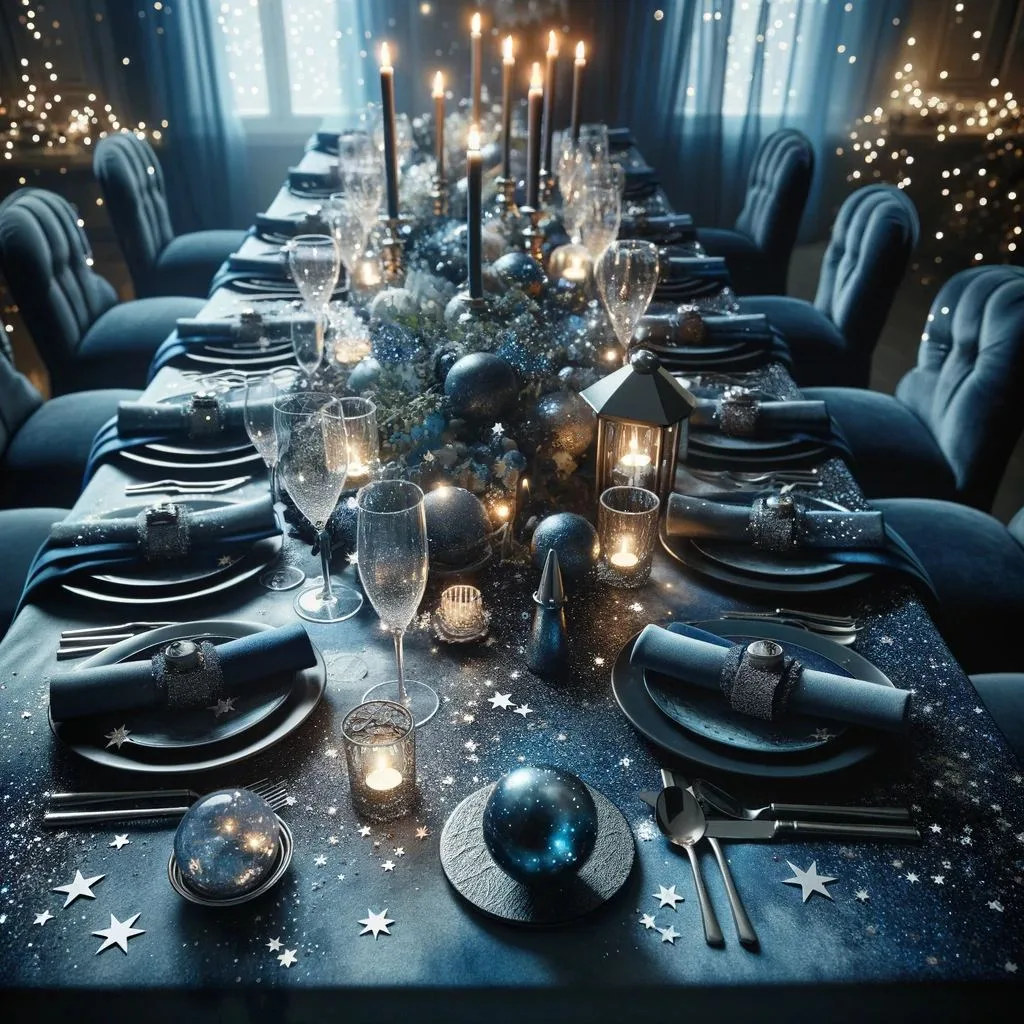 Dine under the stars with a deep blue tablecloth and constellation-themed decor. Scatter silver star confetti across the table, and use dark blue napkins with silver napkin rings. Centerpieces of varying heights with pillar candles and twinkling string lights represent the night sky, while each place setting could include a small telescope or a glass orb to reflect the starlight.
9. Santa's Workshop
Craft a whimsical and joyful 'Santa's Workshop' themed Christmas table. Picture a tableau draped in vibrant red and green, setting a merry and bright stage. The heart of the display features charming centerpieces: miniature toy trains, elves, and reindeer figurines, each evoking the magic of Santa's bustling workshop. At every place setting, small gift boxes, tied with festive ribbons, await guests, while chairs adorned with Santa hat covers add a dash of playful enchantment, transforming your table into a scene from the North Pole's most famous workshop.
10. Retro Christmas Party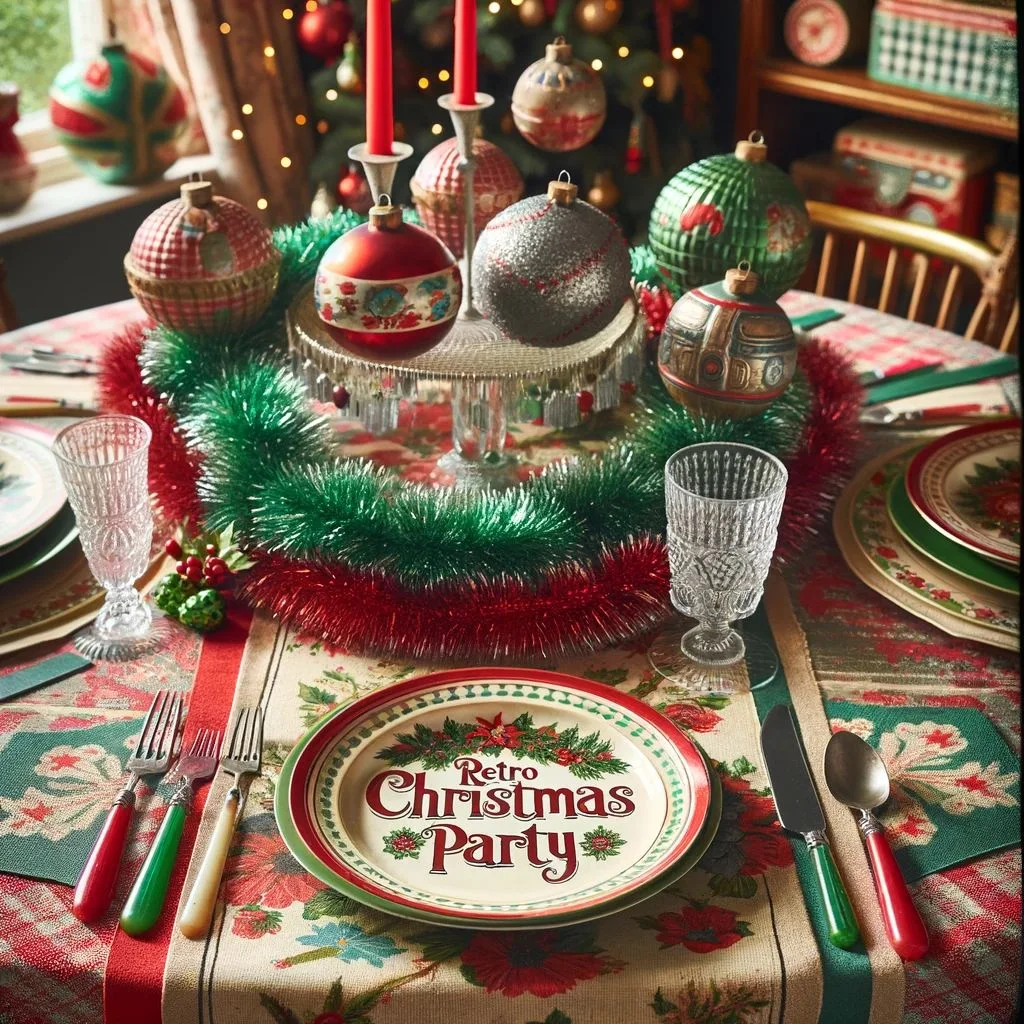 Bring back the charm of the 1950s or 1960s with a retro Christmas theme. Use vintage ornaments as centerpieces, old-fashioned tinsel garlands, and classic red and green tableware. Include a vintage-style tablecloth and napkins with retro patterns.
11. Christmas Pajama Party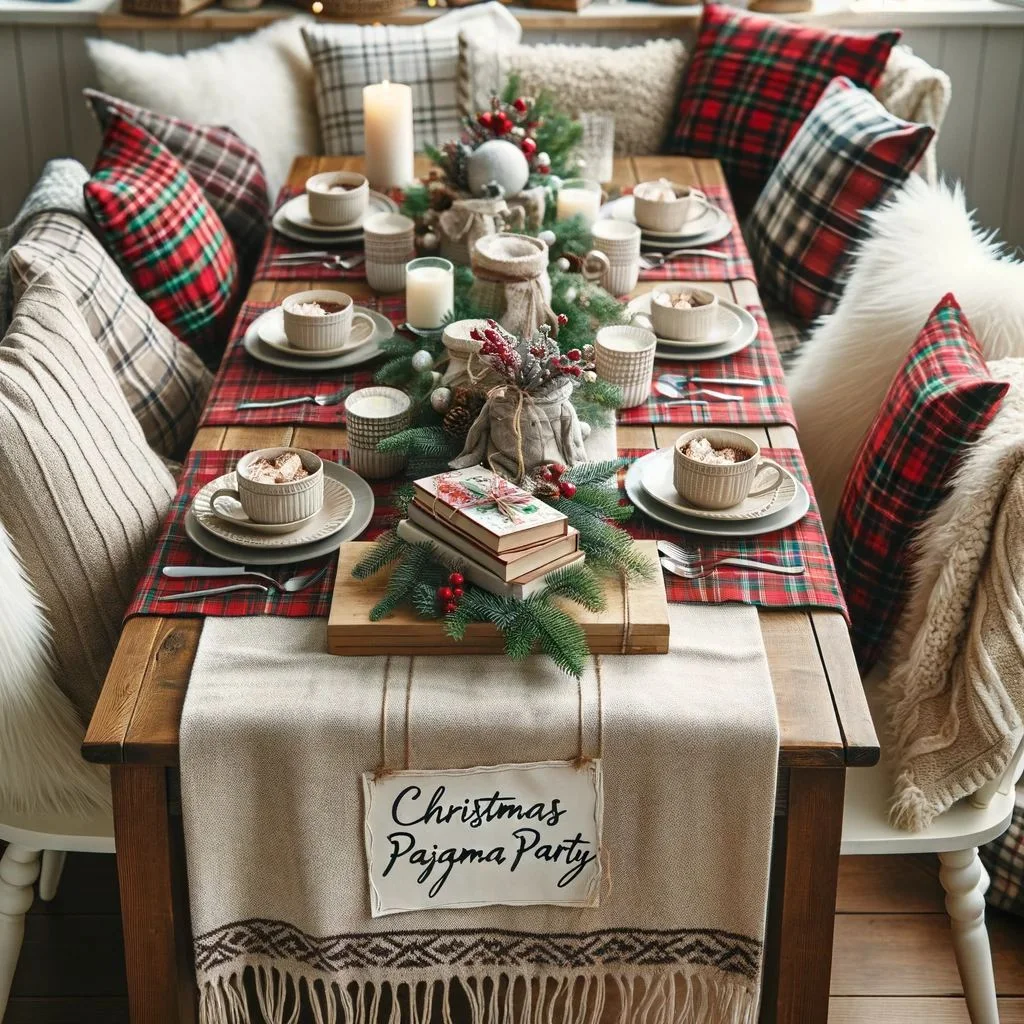 For a casual and fun theme, go for a Christmas pajama party style. Use cozy plaid runners and napkins, and include fluffy pillows and blankets on the chairs. Centerpieces can be simple, like a stack of Christmas storybooks or a tray with hot cocoa ingredients.
12. Christmas Karaoke Night
Make it a musical Christmas with a karaoke-themed table. Use musical note-patterned tablecloths and napkins, and create microphone-shaped centerpieces. Include songbooks or lyric sheets of popular Christmas carols at each place setting for a sing-along dinner.
13. Gingerbread House Party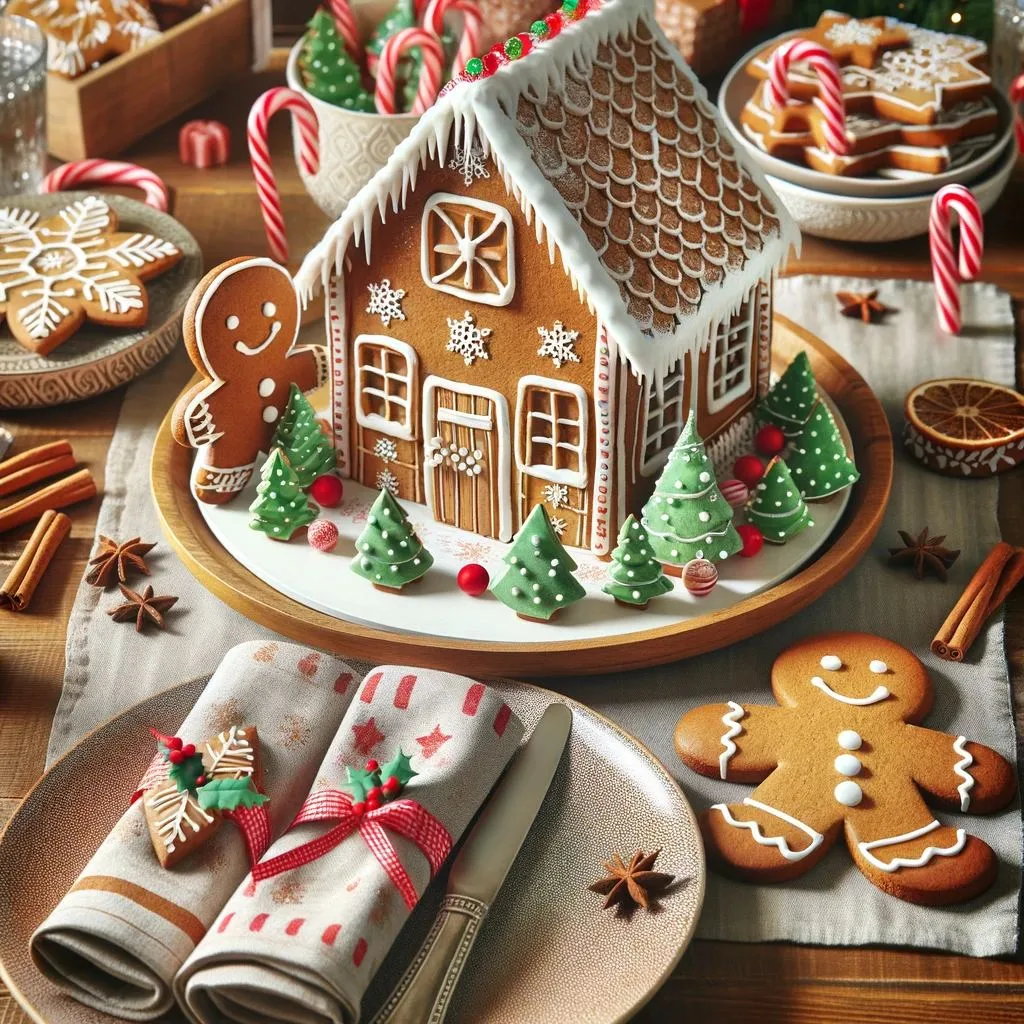 Center your table around a large, edible gingerbread house. Use gingerbread man placemats and cookie cutter napkin rings. Scatter cinnamon sticks and candy canes for a sweet-smelling touch. This delightful theme is both visually appealing and a treat for the senses.
14. LEGO Christmas Wonderland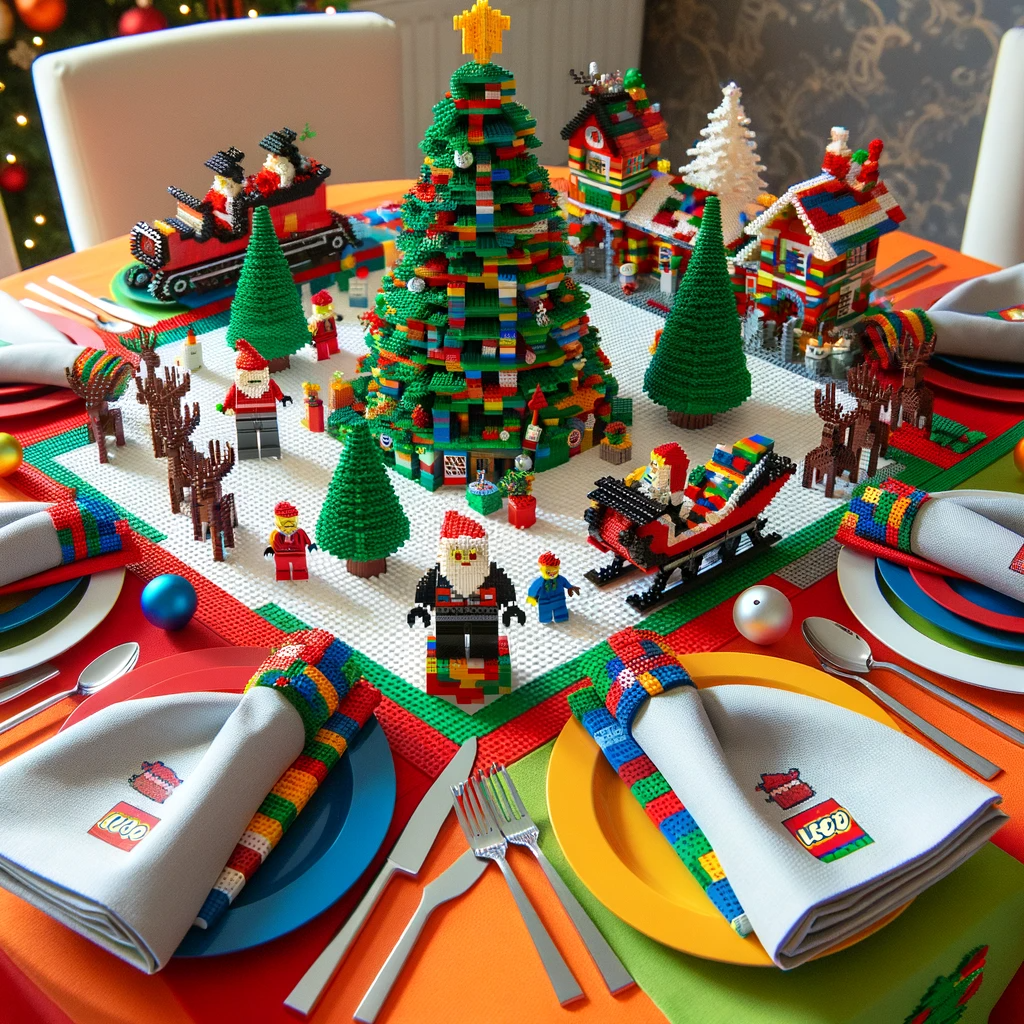 Build a delightful 'LEGO Christmas Wonderland' as your table theme. At its heart lies an impressive array of LEGO creations, starring a festive Christmas tree, Santa's sleigh, and his trusty reindeer, all meticulously crafted from the beloved bricks. The table bursts with vibrancy, adorned with a bright and colorful tablecloth, accompanied by creatively folded napkins. Tiny LEGO figures playfully dot the landscape as charming accents, while bespoke LEGO place card holders infuse a sense of whimsy and invention, crafting an ideal setting for both LEGO aficionados and a joyous Christmas festivity.
15. Large Evergreen Wreath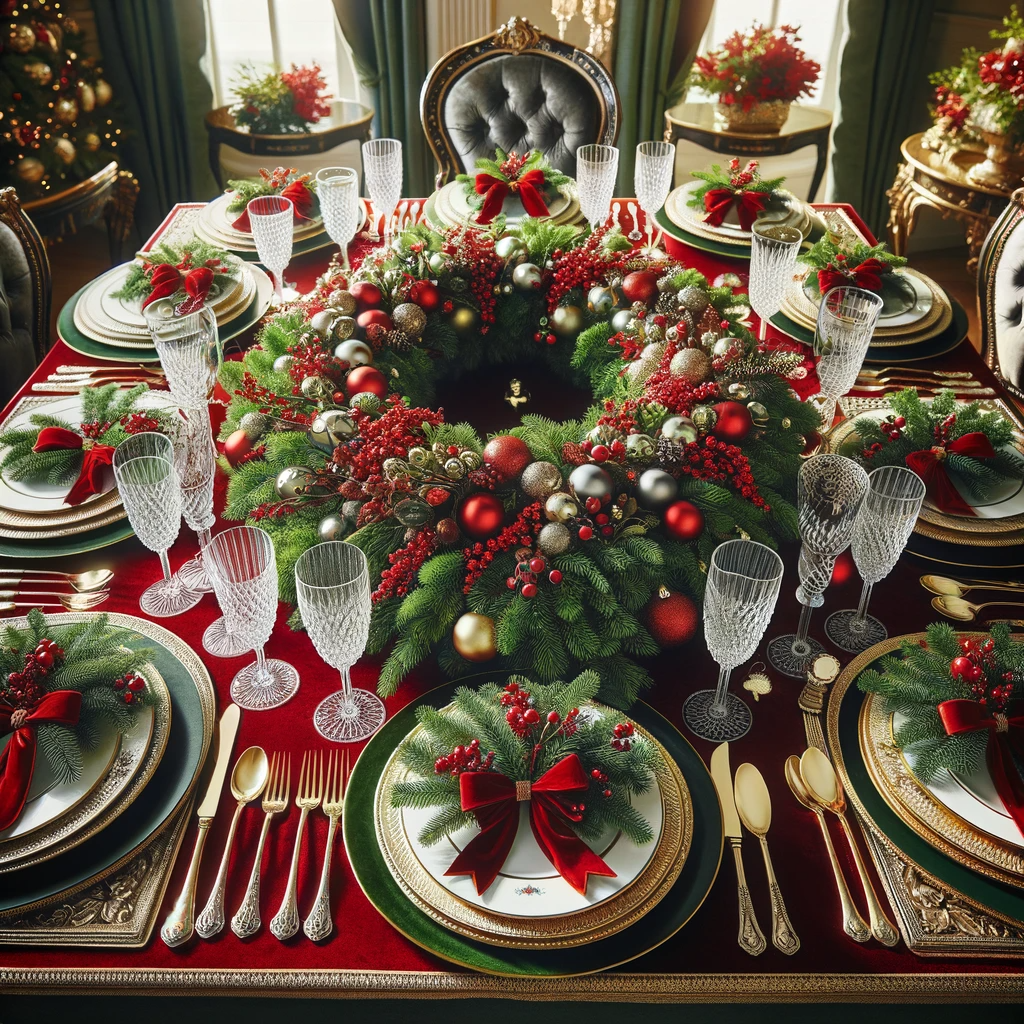 Center your table around a stunning evergreen wreath, the jewel of a lavishly adorned Christmas setting. This lush centerpiece is intricately detailed with vibrant red berries, elegant ribbons, and delicate ornaments, creating a majestic and inviting focal point. Surrounding this natural crown, the table boasts exquisite fine china, sparkling crystal glassware, and gleaming silverware, each piece adding to the sumptuous holiday ambiance.
16. Vintage Christmas Train Set
Craft a nostalgic and expansive holiday scene with a vintage Christmas train set elegantly stretching along your extended table. Adorn the table with antique lanterns and an array of red and green decorations, casting a warm, old-fashioned glow across the space, inviting guests into a timeless Christmas ambience.
17. Vintage Vino Christmas Celebration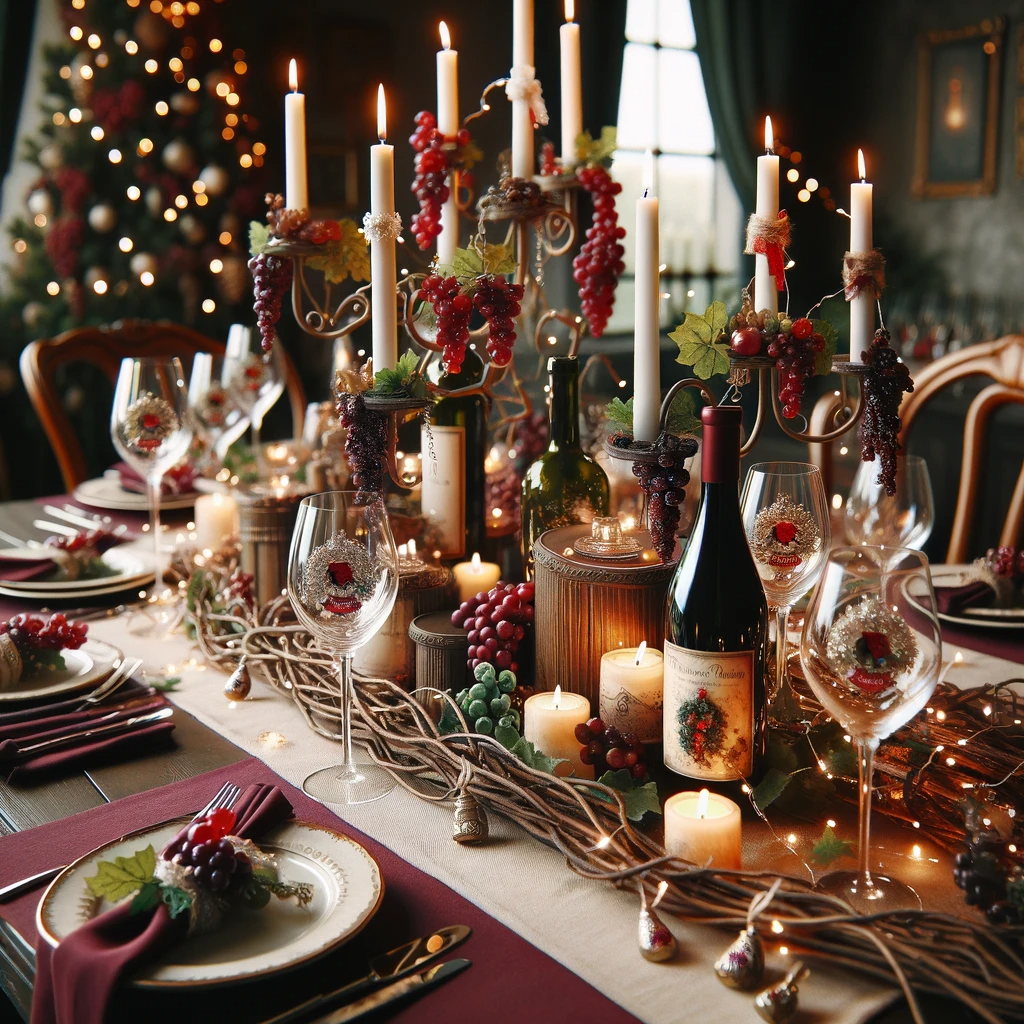 Center your festive table around the theme of vintage wine for a Vino Christmas Celebration. Adorn the table with an array of elegant wine bottles. Drape grapevine garlands, interlaced with soft fairy lights, across the table, evoking the charm of a quaint vineyard. Complete the setting with burgundy and deep green linens, wine glasses, and tastefully placed candles, creating a cozy and sophisticated atmosphere for a holiday celebration steeped in the love of wine.
18. Creatively Folded Napkins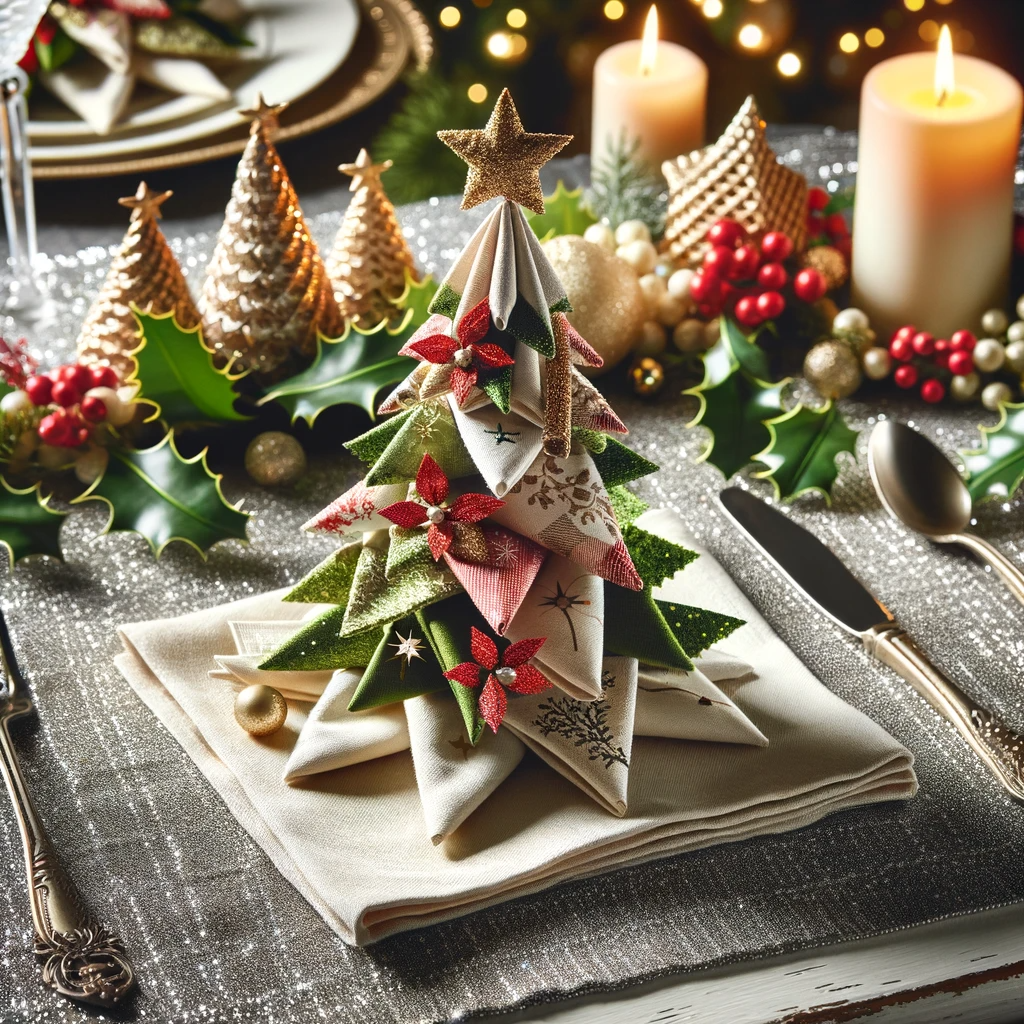 Transform your Christmas table into a winter wonderland with elegantly folded napkins in the shapes of Christmas trees and stars. These sophisticated folds, nestled among a table of holly and flickering candles, bring a touch of festive charm to the setting. A glittering tablecloth underlies the scene, complementing the intricate napkin art and enhancing the celebratory mood.
19. Enchanting Snow Globe Centerpieces
Adorn your Christmas table with enchanting snow globe centerpieces, each a miniature marvel encapsulating a whimsical winter wonderland. These delicate globes, with swirling snowflakes and tiny festive scenes, rest gracefully at the heart of your table, casting a spell of holiday magic. Surrounded by elegant seasonal adornments, they become not just decorations but cherished mementos for your guests to take home.
20. Christmas Crackers
Adding Christmas crackers to each place setting is a delightful way to infuse your holiday table with both charm and a dash of surprise. These colorful, festive crackers double as eye-catching decorations, enhancing the holiday ambiance. As guests pull them open to start the meal, the air fills with excitement and laughter, revealing an array of small toys, humorous jokes, and playful riddles.
21. DIY Place Mat Coloring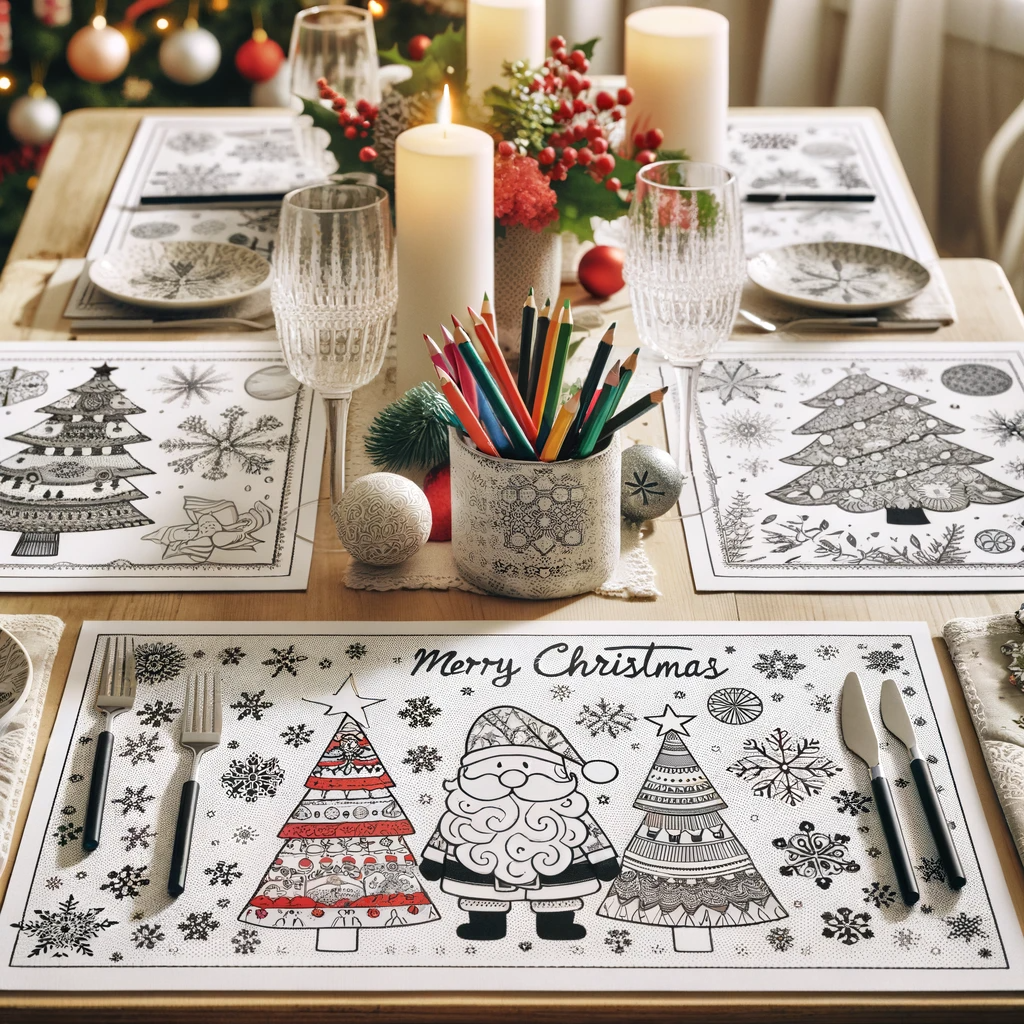 Provide paper place mats with printed holiday-themed outlines for coloring. Guests can personalize their mats with colored pencils or markers, adding a creative and engaging touch to the table.
22. Interactive Tablecloth
Use a white tablecloth and provide fabric markers. Guests can write holiday messages, draw festive designs, or even play games like hangman or tic-tac-toe on the cloth.
23. Christmas Wish Tree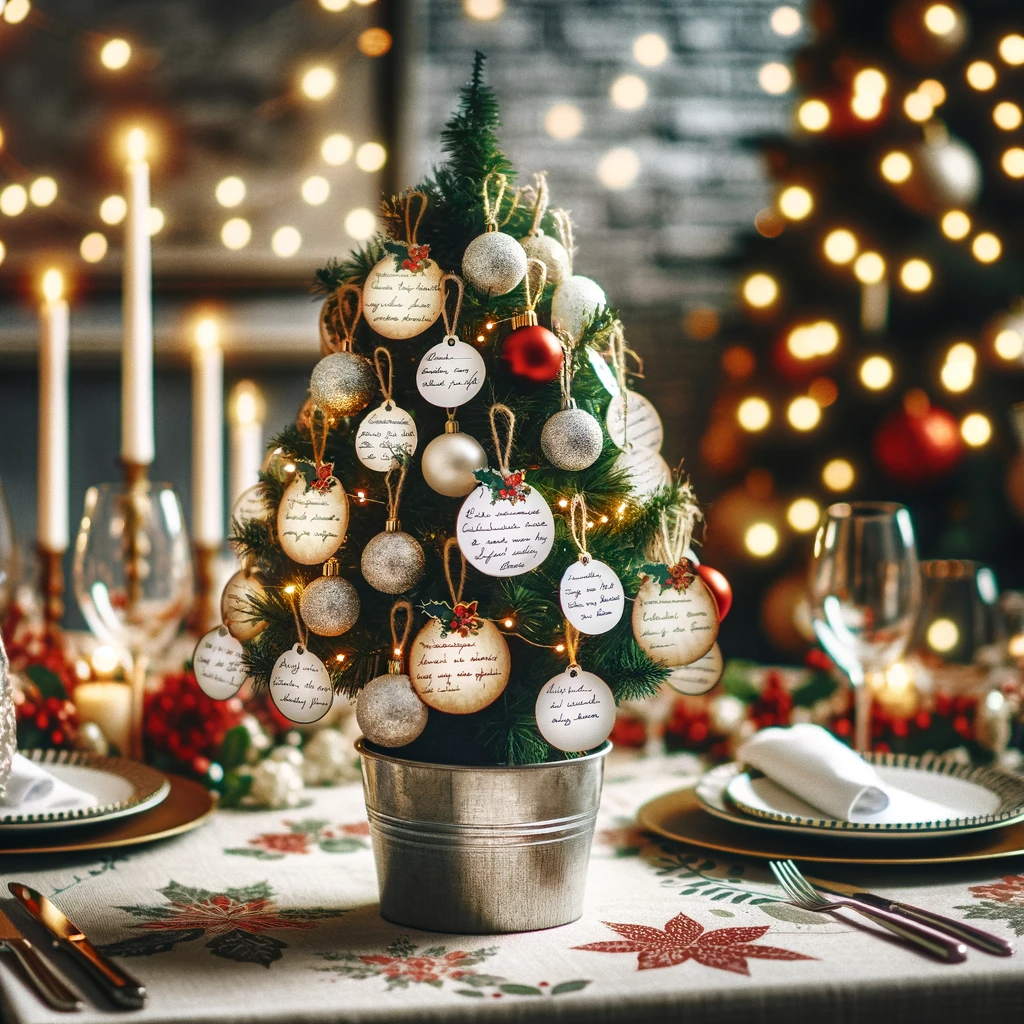 Transform your Christmas table with a charming 'Christmas Wish Tree' centerpiece, where guests can pen their hopes and dreams on paper ornaments and hang them on the tree. This small, festively adorned tree becomes a symbol of shared aspirations, adding a deeply personal and interactive touch to your holiday decor. As each guest adds their wish, the tree blossoms into a heartwarming focal point, embodying the joy and spirit of the season.
24. Christmas Hats
You can place a unique, comically themed Christmas hat at each guest's seat, ranging from exaggerated Santa hats and elf ears to reindeer antlers with twinkling lights or hats shaped like Christmas trees complete with decorations. This lighthearted touch not only serves as a whimsical table decoration but also encourages guests to don their hats, adding an element of festive fun and laughter to your gathering.
25. Fortune Cookies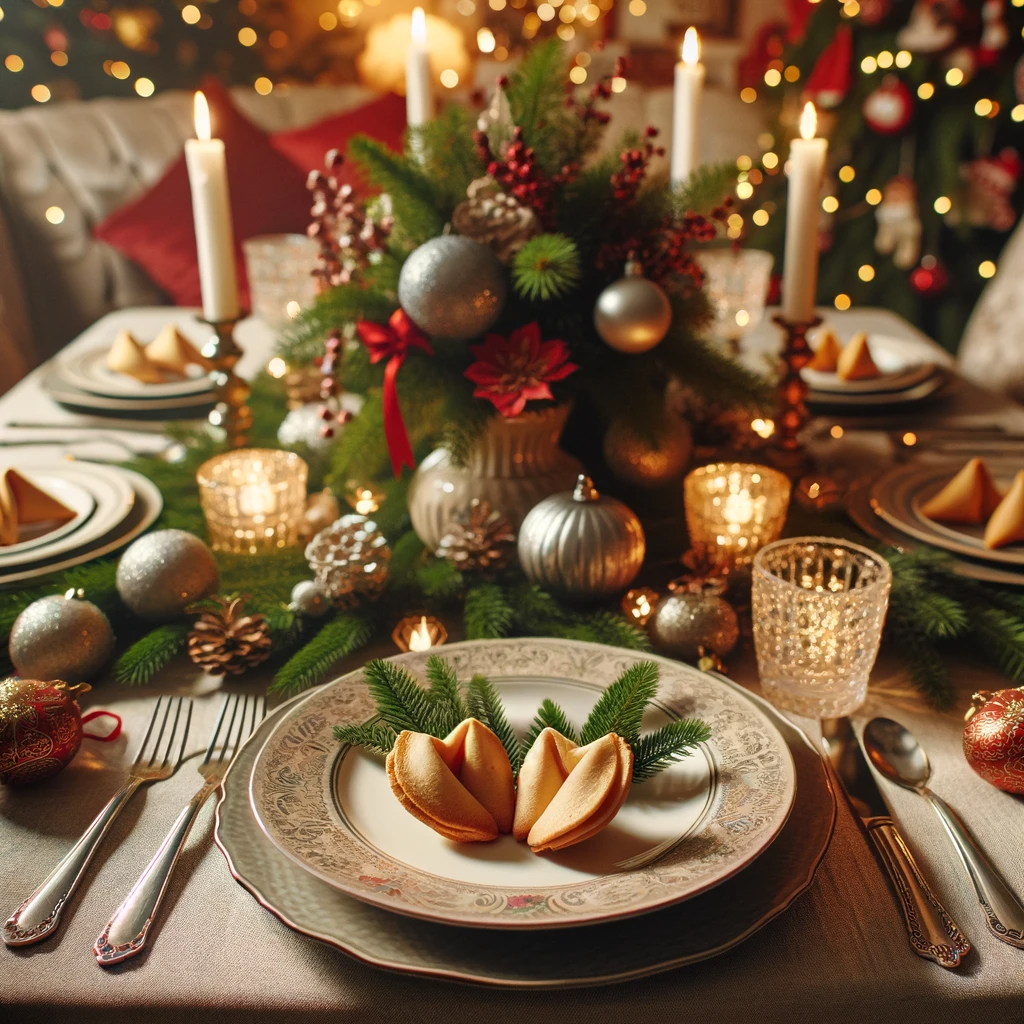 Elevate your Christmas table setting with a whimsical touch, featuring fortune cookies at each place setting, weaving in an element of surprise and delight. Amidst the traditional holiday decor of evergreens and twinkling lights, these fortune cookies emerge as a novel addition, promising to spark conversation and share festive predictions.
Read more: 45 Outdoor Christmas Decoration Ideas including DIY Options