Our readers support us. This post may contain affiliate links. We earn from qualifying purchases. Learn More
Gray kitchen cabinets have become a popular choice in modern kitchen design. Their versatility, elegance, and ability to complement a wide range of styles make them a go-to option for homeowners and designers alike.
Whether you prefer a classic, modern, or eclectic look, there are numerous options to consider. Gray kitchen cabinets radiate contemporary charm. Honey-toned hardwood floors add warmth, creating a balanced contrast. Light hardwood offers a subtle complement, enhancing the neutral palette.
White marble tiles introduce a touch of luxury, elevating the room's sophistication. The right floor color amplifies the appeal of gray cabinets, crafting a harmonious and stylish kitchen space.
In this article, we'll explore the best floor colors and types to enhance the beauty of your gray kitchen cabinets.
10. Honey Oak Herringbone Hardwood Floors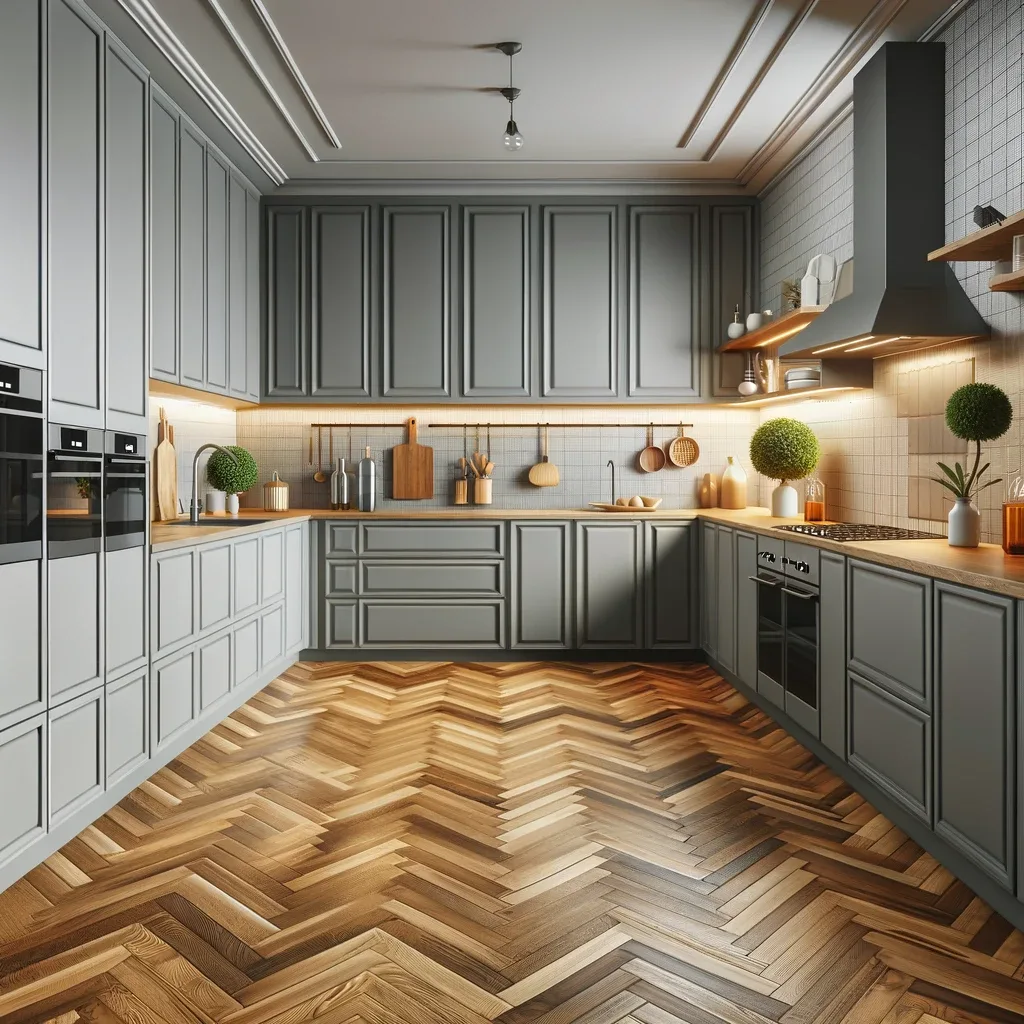 Honey oak hardwood floors like walnut can create a stunning high-contrast effect when paired with gray cabinets.
The slightly dark floors create a sense of drama and luxury while the gray cabinets maintain a modern and clean look.
This pairing works exceptionally well in contemporary and industrial-style kitchens.
Furnishing Tips: Add Elegance with a White Marble Backsplash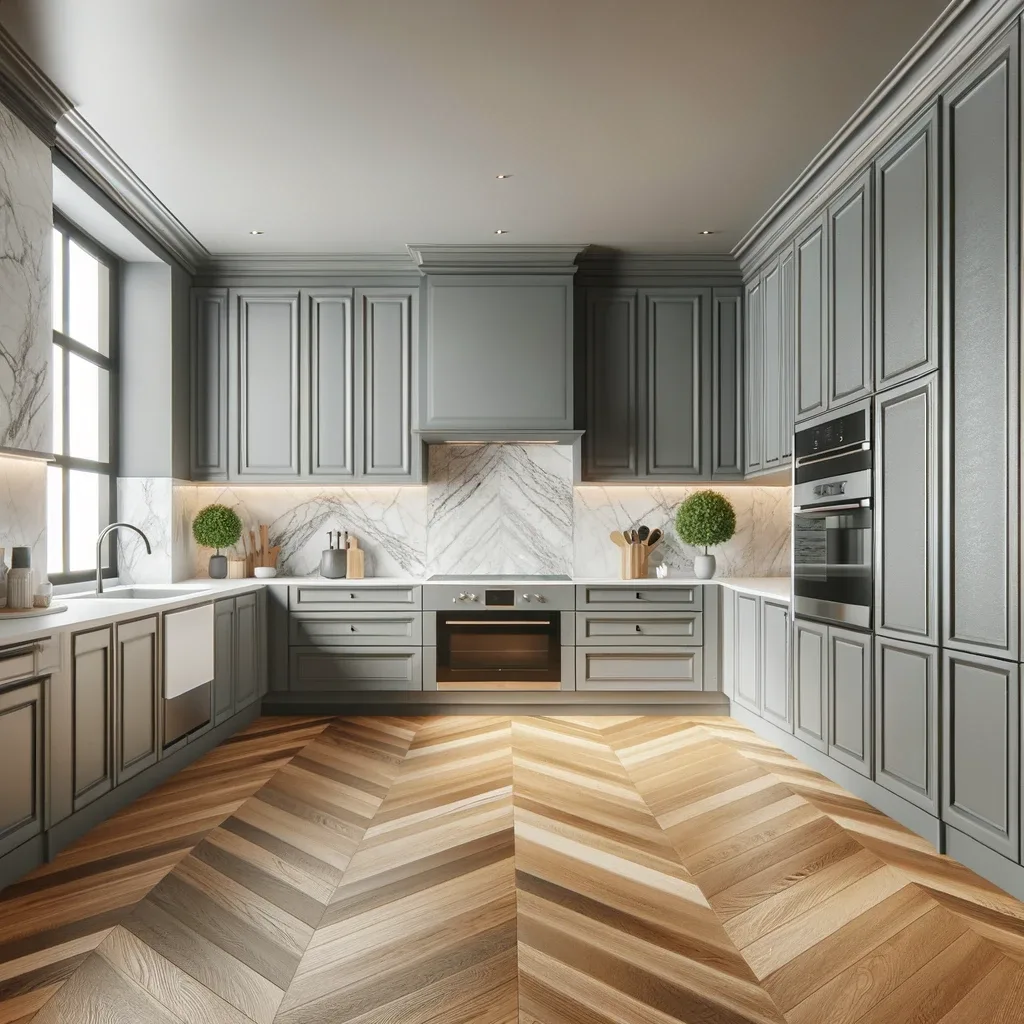 The warm, golden tones of honey oak herringbone hardwood floors create a cozy and inviting atmosphere in your kitchen.
This warmth balances the cool and contemporary feel of gray cabinets, making the space feel more comfortable and inviting.
Together, these elements create a fusion of timeless elegance and modern sophistication. This fusion ensures that your kitchen design will stand the test of time while still feeling current and stylish.
9. White Herringbone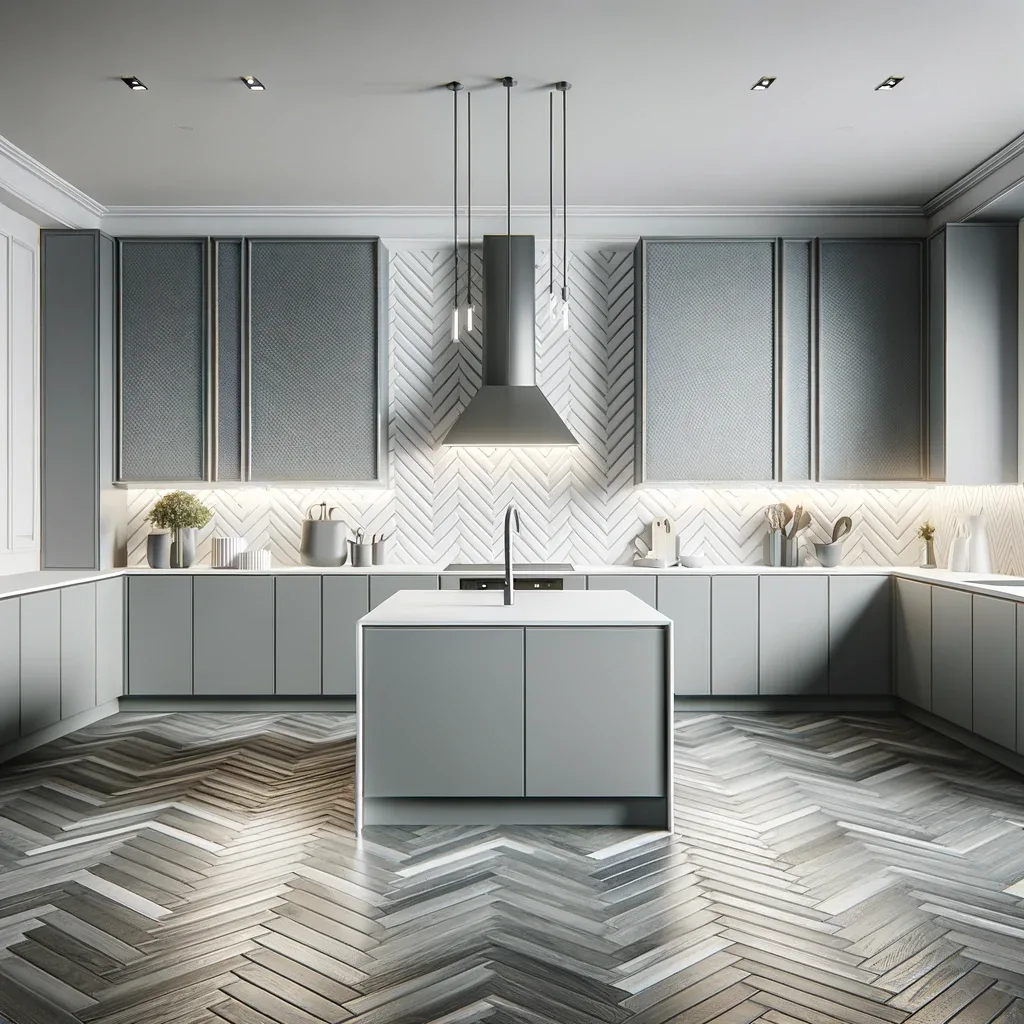 Herringbone patterns have been a symbol of timeless elegance for centuries. When a white tint is applied, this classic pattern brings a sense of tradition and craftsmanship to your kitchen.
White herringbone floors have a bright and airy quality that instantly makes a space feel larger and more open. This characteristic is especially advantageous for kitchens with limited natural light.
In addition, white is the ultimate neutral color, making it incredibly versatile in design. It serves as a blank canvas that can complement various color palettes and styles.
Furnishing Tips: Add Kitchenware in Wood to Inject Warmth into Your Grey and White Design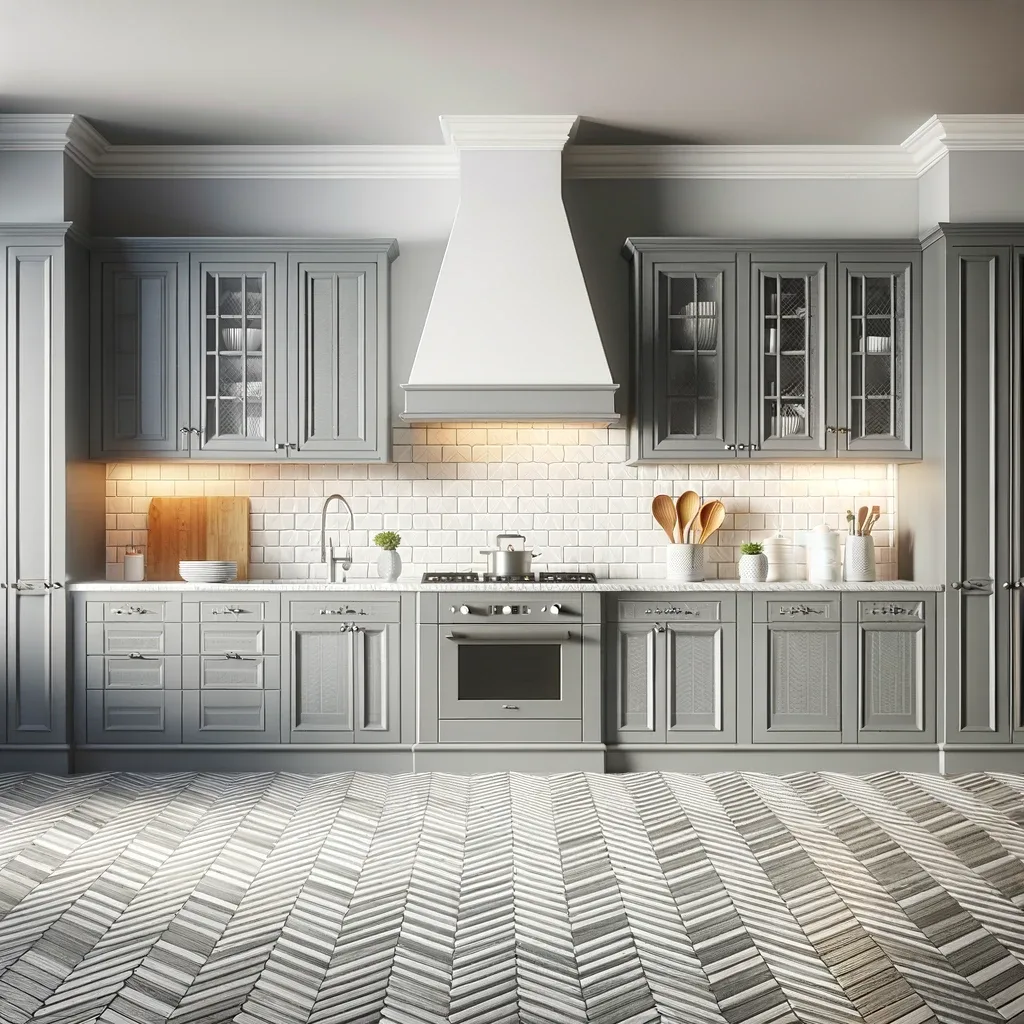 The juxtaposition of white herringbone floors against grey kitchen elements creates a striking visual contrast that instantly grabs attention. This contrast adds a layer of intrigue and drama to your kitchen's design.
The white and grey color scheme promotes a clean and cohesive look that feels both refreshing and calming. It fosters a sense of order and organization in the kitchen.
Lastly, the combination of white herringbone floors and grey kitchen elements offers design flexibility.
You can opt for lighter or darker shades of grey, or even incorporate accent colors if you desire a more personalized touch.
8. Beige Tiles
Beige is a color that has stood the test of time in interior design.
Beige tiles, whether light or dark, bring warmth and a sense of comfort to your kitchen. This warmth can create an inviting atmosphere that encourages gatherings and culinary creativity.
Furnishing Tips: Balance the Classic Look of a Beige Hue with an Ultra Minimal and Modern Kitchen Design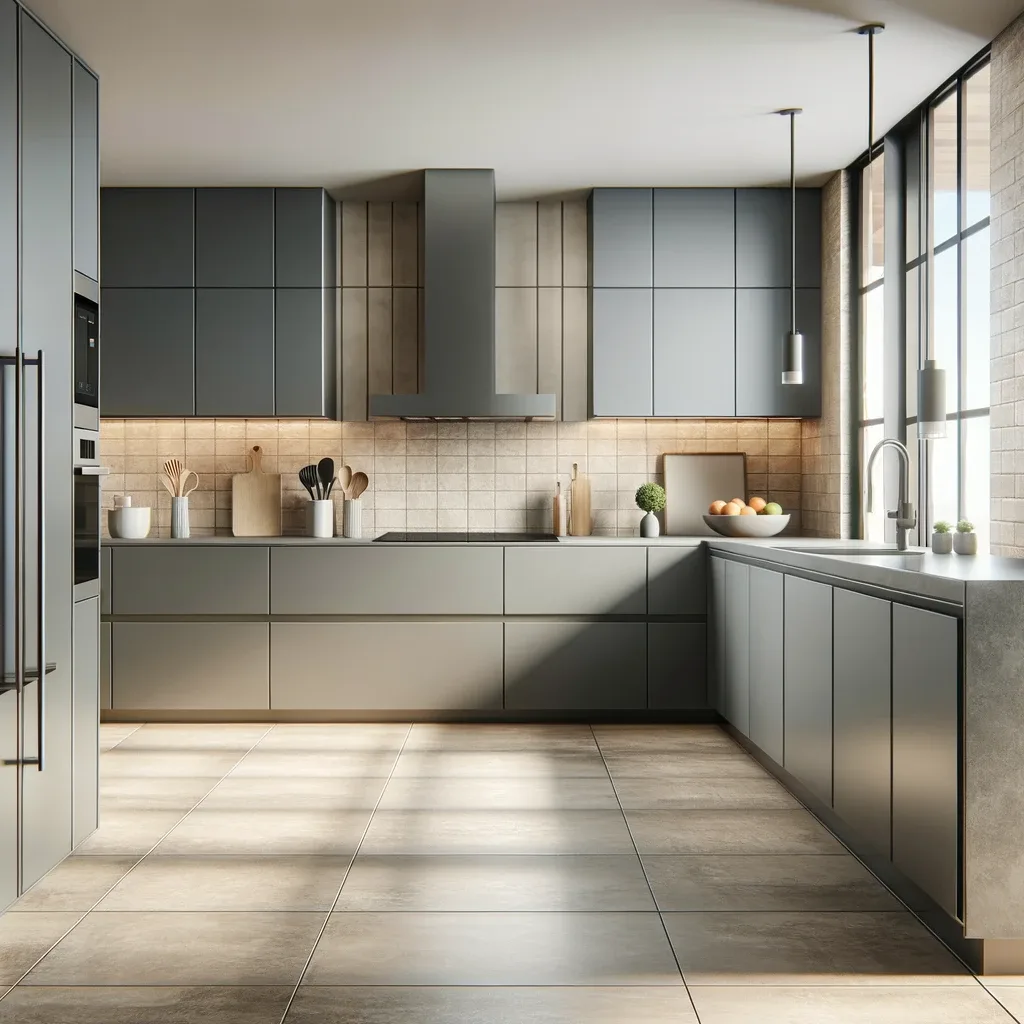 When designing a grey kitchen with beige tiled floors, it's important to maintain a harmonious color palette. Utilize varying shades of grey for cabinetry or wall paint to add depth and contrast against the beige flooring.
To warm up the space, incorporate natural elements like wooden accents or greenery, which complement the neutral tones beautifully.
Lastly, consider using metallic finishes on hardware or lighting fixtures to add a touch of elegance and tie the modern elements together with the earthy floor tones.
7. Beige Hardwood Floors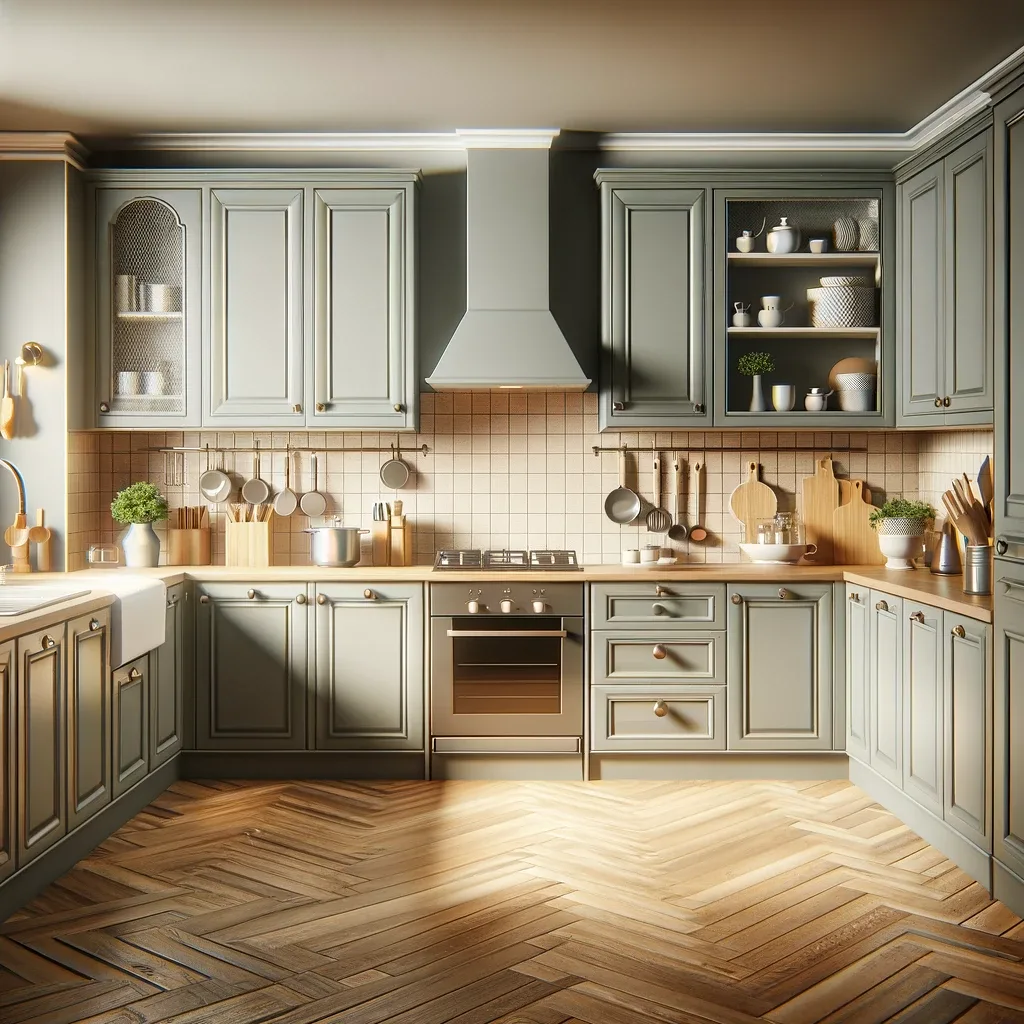 Beige hardwood floors, such as oak or maple, can create a beautiful contrast with gray kitchen cabinets.
The light tones of the wood provide a warm and inviting atmosphere, while the gray cabinets add a touch of sophistication.
This combination works well in both traditional and contemporary kitchen settings.
Furnishing Tips: Add a Personal Touch with Your Colorful Dishes in Your Favourite Color
The neutral backdrop created by beige and grey allows you to introduce accent colors, textures, and decorative elements to personalize your kitchen's design to your liking.
Its muted tone also makes it a perfect choice for shiny cabinets as it creates a soothing balance.
6. White Tiles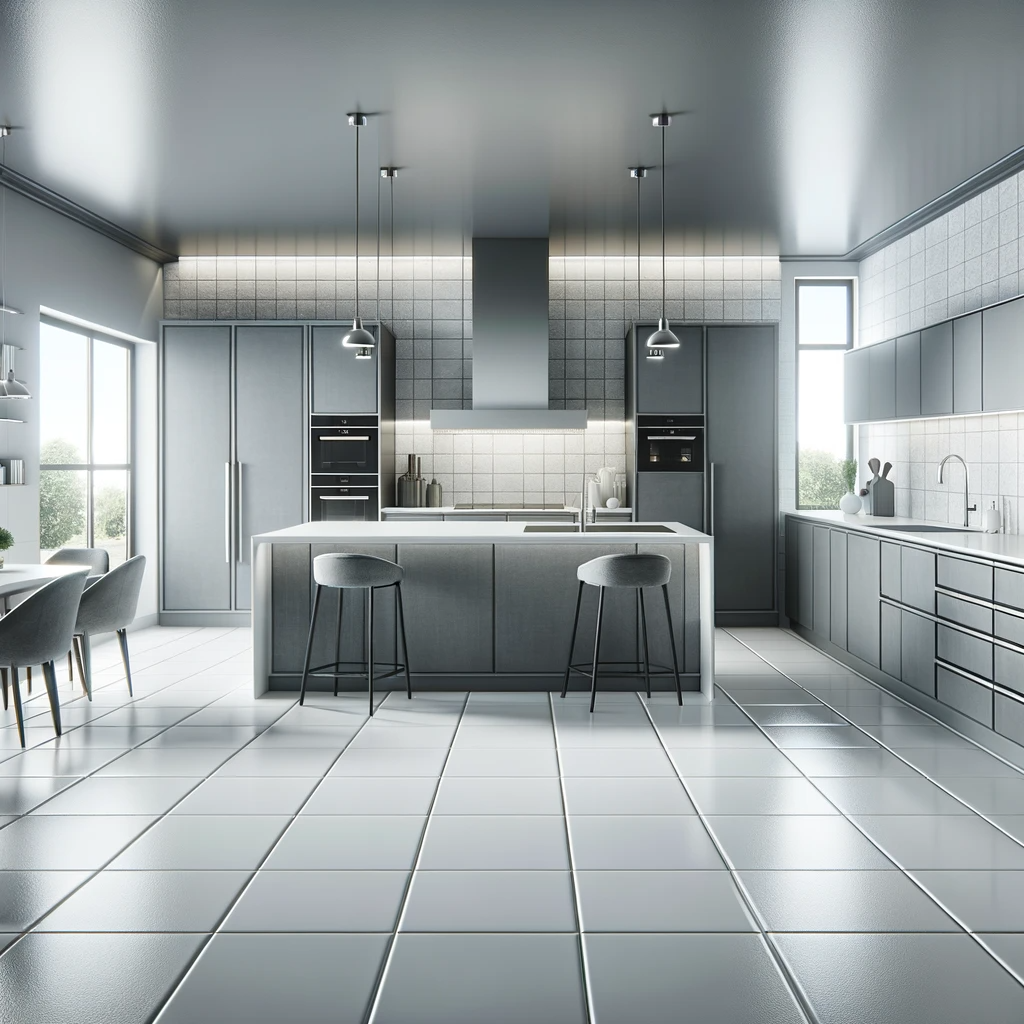 White tile floors offer a clean and airy look that complements gray cabinets beautifully.
These neutral floor colors create a sense of space and brightness in the kitchen, making it an ideal choice for smaller kitchens or spaces with limited natural light.
The combination of gray cabinets and light tile floors can achieve a timeless and classic aesthetic.
Furnishing Tips: Create a Timeless Look with Quartz Countertops
White tiles are a great option for grey cabinets, whether you go for a stone-like texture or a shiny option.
Match this look with a white quartz countertop to create a timeless design.
5. Glossy Grey Tiles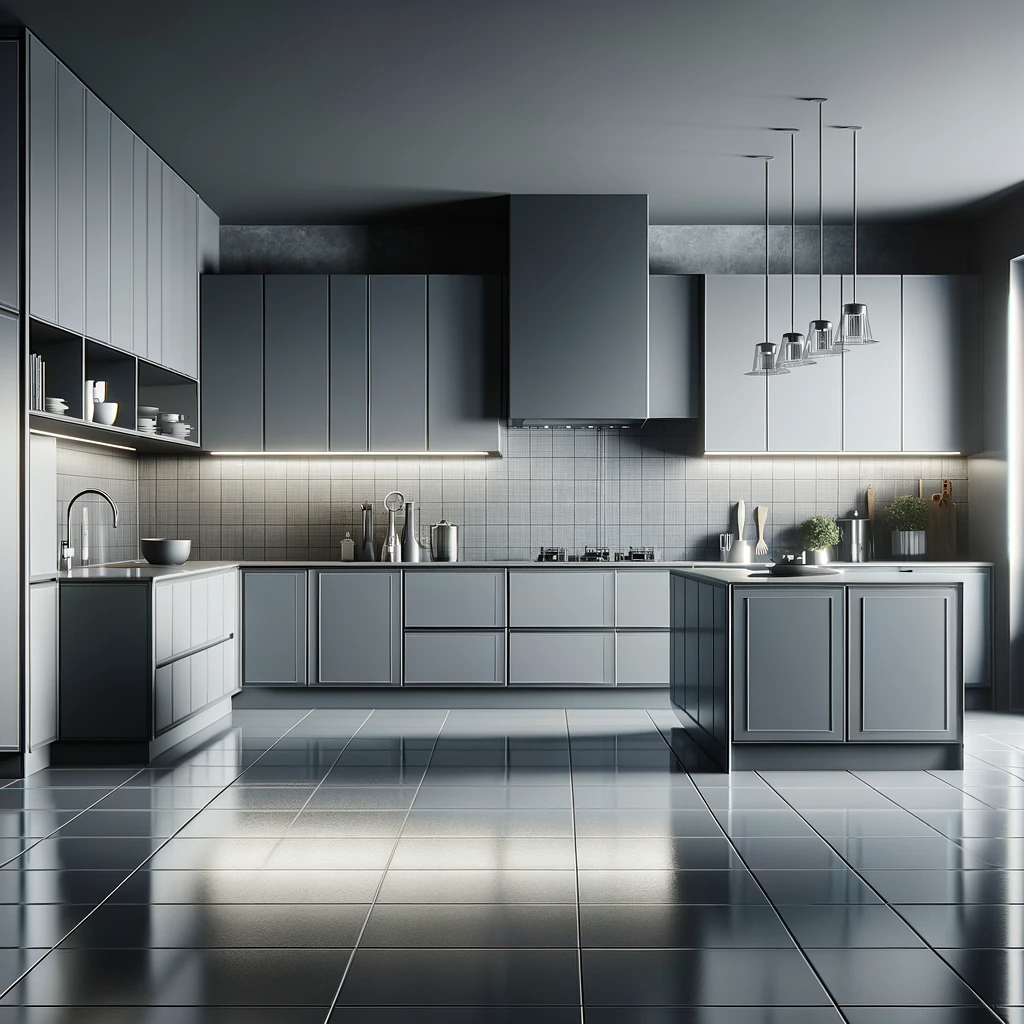 The marriage of glossy grey tiles with a grey kitchen is a design choice that embraces contemporary elegance and sophistication.
It creates a kitchen space that is not only visually striking but also practical and easy to maintain.
This monochromatic approach offers versatility, timeless appeal, and a calming atmosphere, making it an excellent choice for those who appreciate modern design aesthetics.
Furnishing Tips: Use Warm Lights To Create a Soft and Soothing Reflection Accross Your Grey Kitchen with Glossy Grey Tiles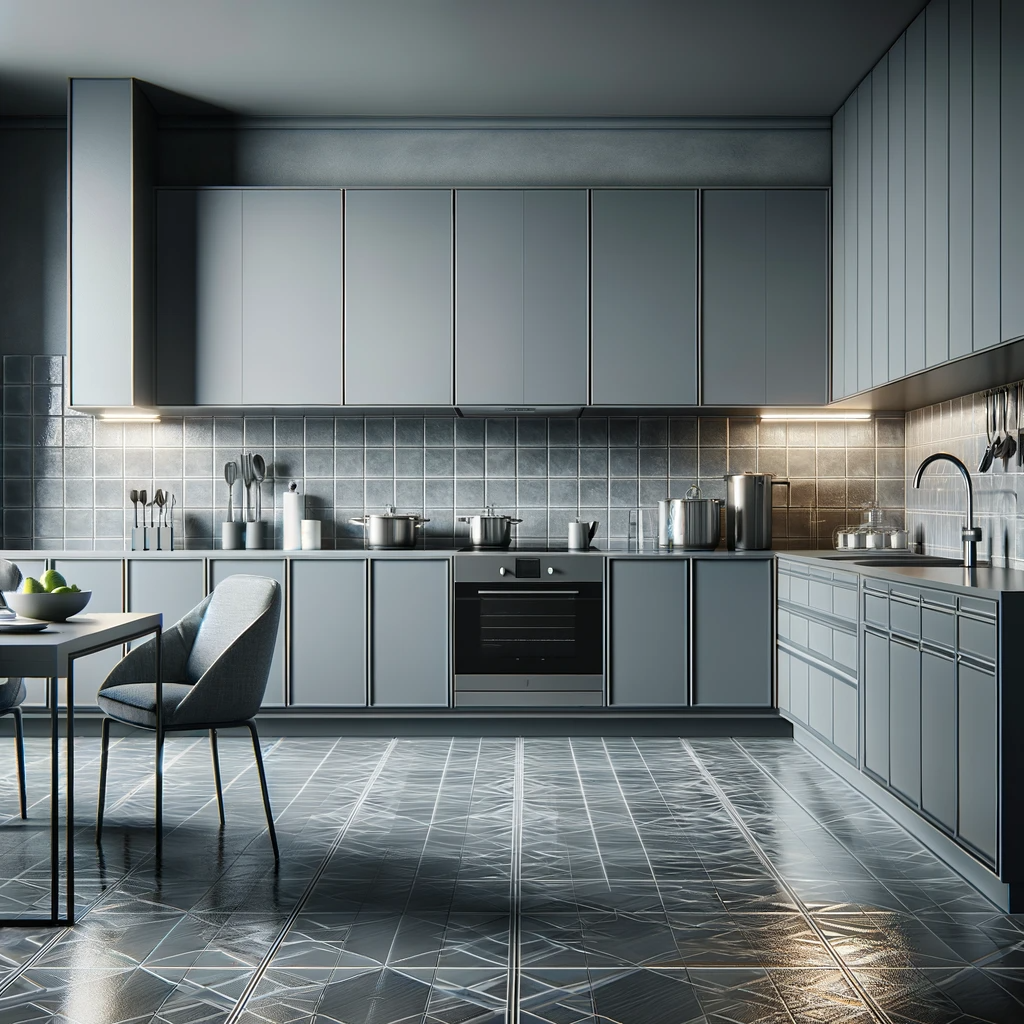 Glossy grey tiles add a touch of modernity with their reflective surface. This shine brings an element of luxury and contemporary style to your kitchen.
The glossy finish of these tiles can create depth and dimension in your space by reflecting light. This effect makes the kitchen appear larger and more open, which is especially advantageous for smaller kitchens.
Lastly, glossy tiles are easy to clean and maintain, making them a practical choice for high-traffic areas like the kitchen. Their smooth surface repels stains and is resistant to moisture.
4. Light Hardwood Floors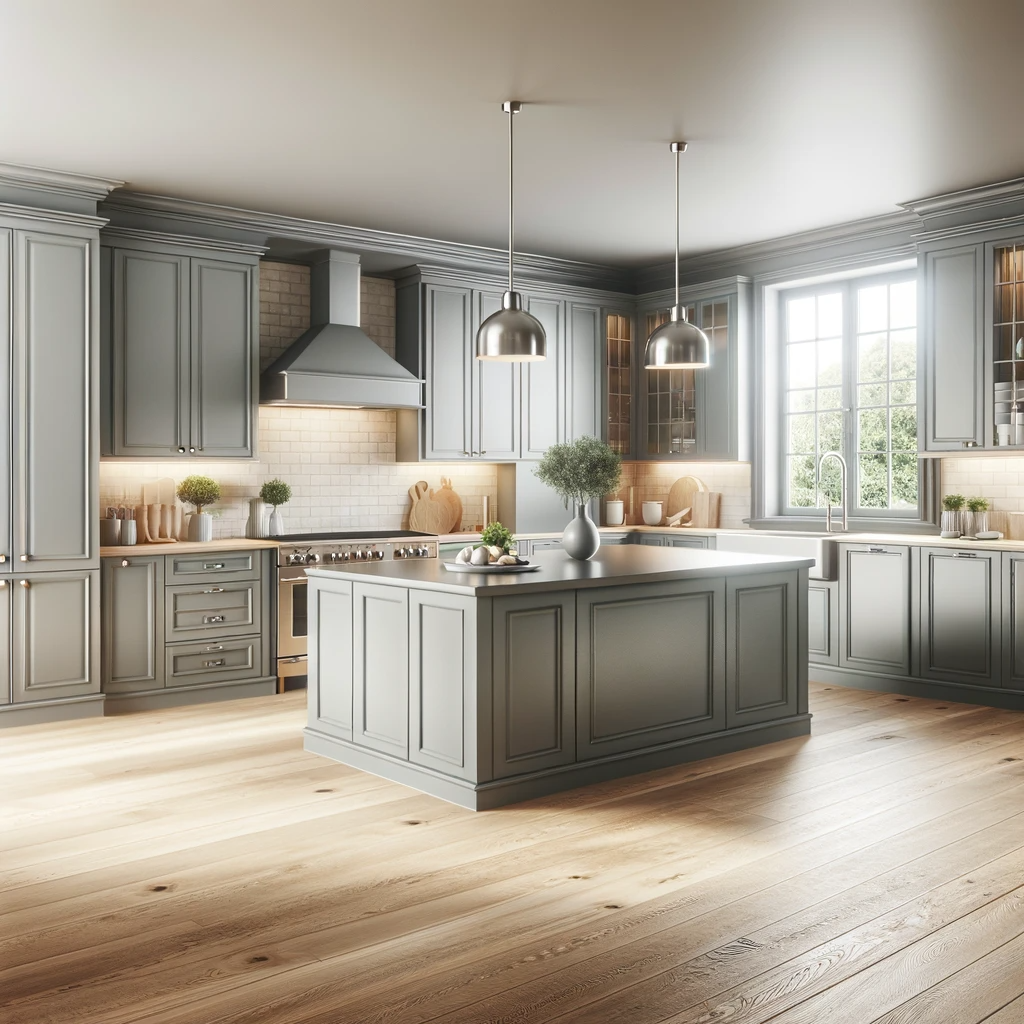 Designing a kitchen with light hardwood floors and grey elements is a fantastic choice, as it combines the warmth of natural wood with the sleek, modern appeal of grey.
Grey comes in various shades, from light to dark. For a kitchen with light hardwood floors, opt for lighter shades of grey to maintain a sense of brightness and warmth in the space.
Light grey cabinets and countertops can complement the light floors beautifully. However, you can also use slightly darker grey accents for contrast and depth.
Furnishing Tips: Be Extra Charming with a Large Area Rug in Your Kitchen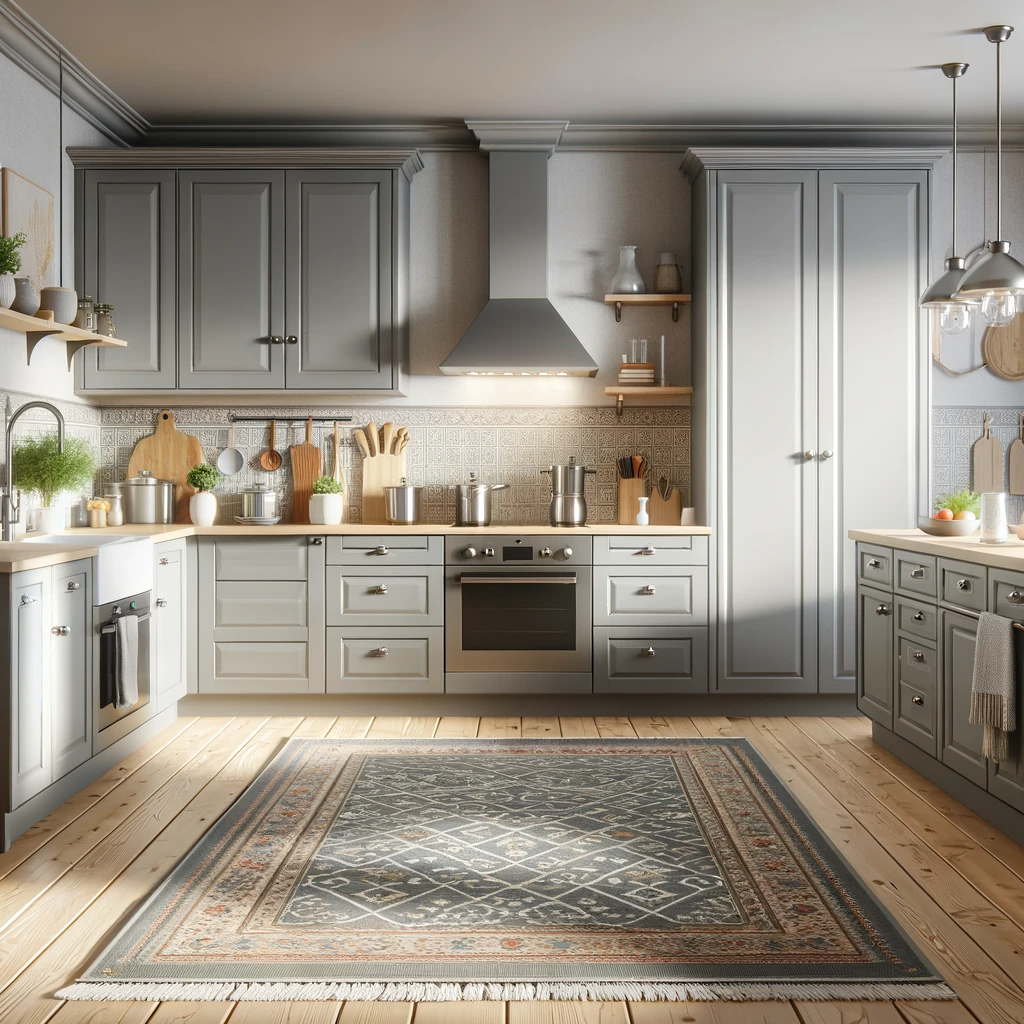 Light hardwood floors bring warmth to your kitchen, so it's essential to strike a balance with the coolness of grey. Avoid using overly cool or sterile grey tones that might clash with the warmth of the floors.
Incorporate texture into your kitchen design to create visual interest. You can achieve this by placing a large area rug in front of your cabinets.
3. Grey Laminate
Designing a kitchen with grey laminate surfaces is an excellent choice for a modern and sleek aesthetic.
Grey is a versatile color that works well in various design styles, and when combined with grey laminate, it creates a cohesive and harmonious look.
Furnishing Tips: Add Depth to Your Monochromatic Kitchen Design Through Elegant Texture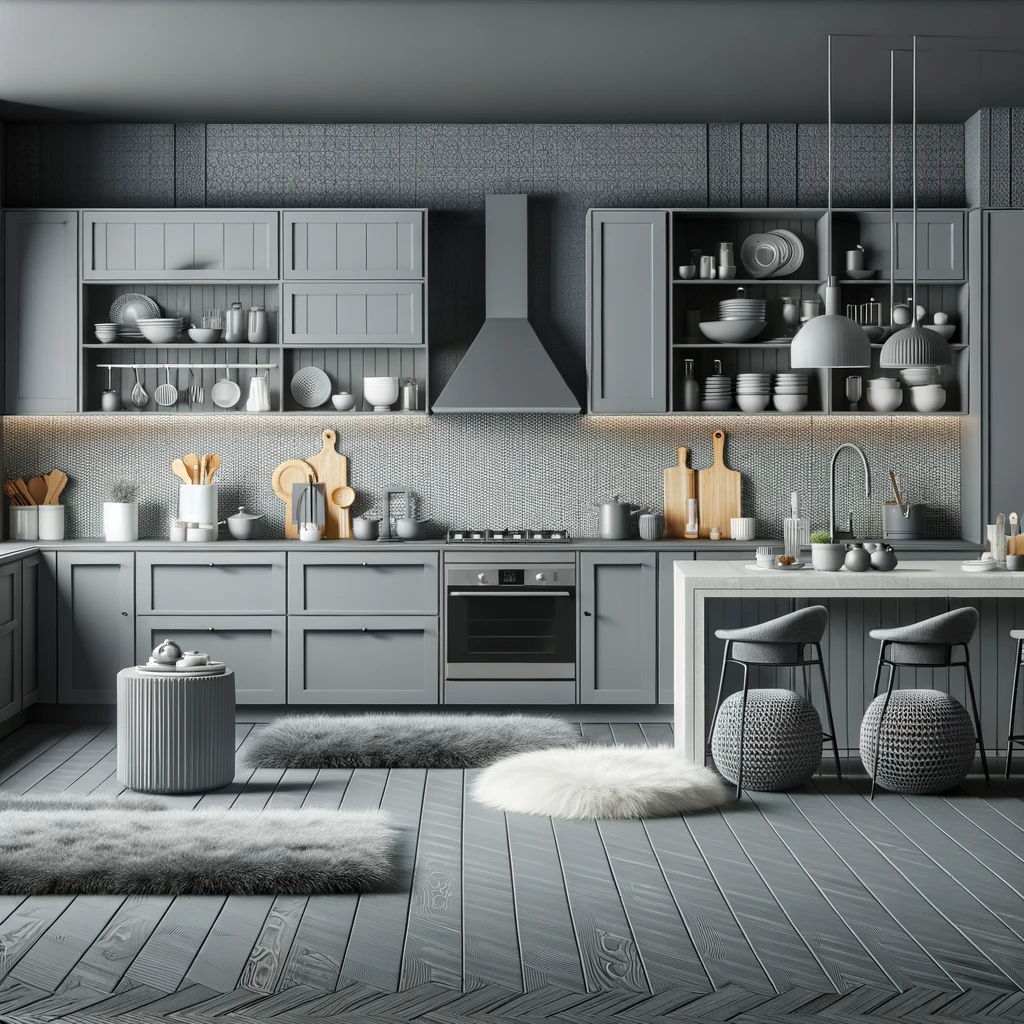 Similar to the use of grey in fashion, the layering of different shades of grey in your kitchen can create depth and interest.
Consider using different shades for cabinets, countertops, and backsplashes. For example, you can have light grey cabinets paired with a darker grey countertop or vice versa.
To prevent your grey kitchen from feeling flat or one-dimensional, incorporate different textures.
For instance, consider using a textured grey laminate for cabinets or a textured tile backsplash. The contrast in textures can add visual interest to the space.
2. White Marble Tiles
The combination of white marble tiles with a grey kitchen is a design choice that exudes timeless elegance, luxury, and sophistication.
White marble, with its classic veining and pristine appearance, pairs harmoniously with the cool, modern aesthetic of grey.
Furnishing Tips: Create a Cohesive Look with White Marble Backsplash and Floors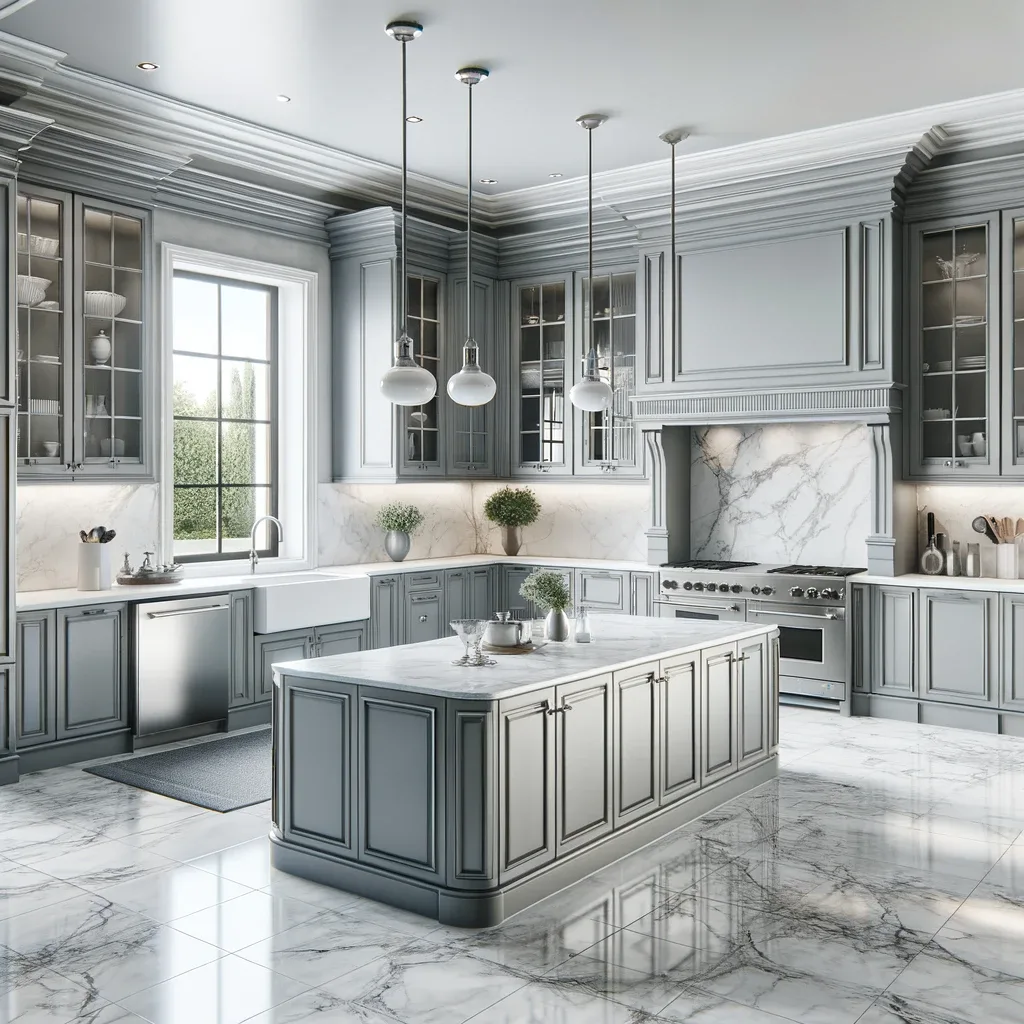 White marble tiles introduce a luminous quality to your kitchen, especially when used for countertops, floors or backsplashes. This brightness creates a harmonious balance with the coolness of grey cabinets and appliances.
The natural veining in white marble adds visual depth and movement to the kitchen, creating a sense of drama and interest. This complements the clean lines and simplicity of grey elements.
White marble has also been a symbol of luxury and sophistication for centuries and continues to be a coveted material in modern design. Its timeless appeal ensures that your kitchen will remain stylish for years to come.
1. Grey Tiles
If you prefer a monochromatic color scheme, gray or charcoal tile floors can be an excellent choice.
These dark shades can create a cohesive and modern look when paired with gray cabinets, giving your kitchen a sleek and contemporary appearance.
Furnishing Tips: Colorful Artwork can Really Make a Difference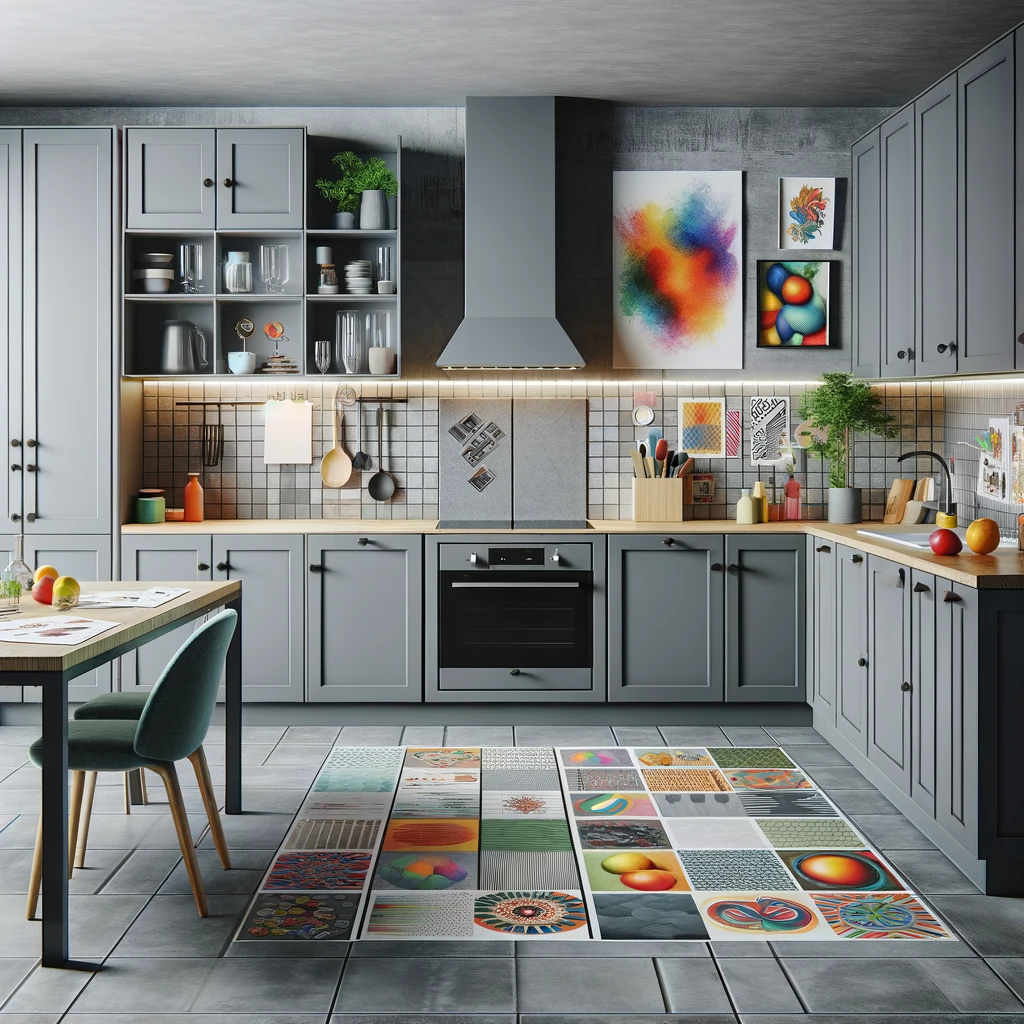 Embrace the principles of minimalism in your kitchen by choosing sleek and handleless cabinets. Minimalistic design keeps the space clutter-free and maintains a focus on the matte grey surfaces.
While the primary color palette is grey, you can introduce accent colors through kitchen accessories, dishes, or artwork to add personality and vibrancy.
Consider incorporating open shelving with matte grey brackets. This not only adds a stylish element but also allows you to display colorful dishes, glassware, or decorative items to break up the neutral tones.
Read more: Best wall colors with gray kitchen cabinets